Learn the difference between ceramic tile vs porcelain tile. What to look for when buying tile. And what tile type is best for your project.
Tiles can be found all through your home. Generally spaces such as bathrooms, laundry rooms, and kitchen backslashes will have tiled surfaces. For wet areas and high-traffic areas tile is a great choice due to its durability and water resistance. When you head to the tile store to buy tile for your upcoming project you want to choose the best option for your space. This blog post will help you through all the classifications, industry terminology, and different tile options that may come up when choosing between ceramic tile vs porcelain tile.
Ceramic tile and Porcelain tile are a good choice for backsplash, flooring, and shower and bathtub surrounds. You may ask what is the difference and what tile is best for your application? Well we are going to jump right into in this blog post and review what kinda of tile is best where and the pros and cons of each. Before we get into all the details, here is a quick summary of the differences between Ceramic Tile vs. Porcelain Tile:
At first glance you will not be able to easily tell the two tiles types apart. Both tiles are fire kiln and are a mixture of clay. They come in a variety of colors and designs. What sets ceramic and porcelain tiles apart and their main difference is the process in which they are made. We are going to focus on the Ceramic and Porcelain tiles as are they are an excellent choice for first time DIY'ers and are more affordable than some of the other types of tile on the market like glass and natural stone.
Technical details for Tiles (boring but helpful info)
Before we jump into the fun stuff here a few technical details about tiles. When looking at tile you might come across terms such as "PEI Rating," "ASTM C," "ANSI," "water absorption," "TCNA," or "PTCA."
PEI Rating
PEI stands for Porcelain Enamel Institute. A tile is given its PEI Rating based the hardness of its glaze (nothing to do with the clay composition of the tile). To determine the durability of a tile's glaze, a standardized test is completed and a PEI rating of #1 – #5 is assigned based the results. The results of this test will determine the proper usage of a product. Here is the PEI scale (source):
Class 1: Generally not recommended for use on floors.
Class 2: Residential floor coverings in areas subject to soft-soled to normal footwear traffic with no scratching dirt. Domestic bathrooms and bedrooms without exterior access. (Light Traffic)
Class 3: Residential floor coverings in areas subject to normal footwear traffic with small amounts of scratching dirt. Rooms in living areas of homes except kitchens, entrances, and other areas that may be subject to high traffic. (Medium Traffic)
Class 4: Residential or light commercial floor coverings in areas subject to normal footwear. Halls, kitchens, entryways. (Medium-High Traffic)
Class 5: Commercial or residential floor coverings in areas subject to high traffic and scratching dirt. Malls, hotels, airports. (Heavy Traffic)
ASTM C and ANSI
"ANSI" (American National Standards Institute), as well as the "ASTM" (American Society For Testing Materials) both provide the testing procedures and standard values and benchmarks for tiles (think industry standards). The "C" behind ASTM is a prefix that shows its testing standards for the Ceramic, Concrete, and Masonry Materials.
Water Absorption
To determine a tiles water absorption a standard test is completed. Tiles are individually weighed, saturated and water, and weighed again. The percent difference between the two results is referenced as the water absorption value. Four categories have been establish by ANSI and the testing procedures set by ASTM C (source):
Impervious: Tile with water absorption of 0.5 percent or less
Vitreous: Tile with water absorption of 0.5 percent to 3 percent
Semi Vitreous: Tile with water absorption of 3 percent to 7 percent
Non Vitreous: Tile with water absorption in excess of 7 percent
The smaller percentage of water absorption the better the tile will perform when placed in a submerged, wet application, or moisture-prone areas. The water absorption tests can also be used as an indicator to predict the stain resistance of unglazed ceramic tile, the lower the absorption the more stain resistant a tile is.
Tile Council of North America
"Tile Council of North America(TCNA) is recognized for its leadership role in facilitating the development of North American and international industry quality standards to benefit tile consumers." (source)
The Porcelain Tile Certification Agency
"The Porcelain Tile Certification Agency (PTCA) was established jointly by the Ceramic Tile Distributors Association (CTDA), representing distributors, and the Tile Council of North America (TCNA), representing manufacturers and the tile industry.
Under the program, manufacturers who want to "prove" their product is really porcelain (meeting the water absorption criteria of the American national standard) can have their product tested to determine compliance with that criteria. Use of the porcelain certification mark on their product packaging, marketing materials, and more confirms that compliance." (source)
Porcelain Tiles
The major difference between ceramic and porcelain tiles are fire kiln at a higher temperature and will have a different clay composition than that of ceramic tiles. Quality porcelain tile is made of a refined clay composite using white clay. Ultimately the porcelain tiles are a higher density and more durable tile that have a lower water absorption rate than that of ceramic tiles.
Porcelain tiles use manufacturing process that results in a lower water absorption rate for the tile. You can find either unglazed porcelain tiles and glazed porcelain tiles. Unglazed porcelain tiles will generally be a solid color and have a better slip resistance. Glazed porcelain tiles will have more pattern options and a shinier finish due to the glazing process.
You can also find through-body porcelain and color-body porcelain. They are slightly difference in the fact that through body porcelain will generally not have a glaze on the top and will be a consistent color throughout the entire tile. These tiles are generally only found in stone like or solid colors. They are great for areas when you think you may get chips.
Color body tiles use pigments and have a glaze that is matched to the body color of the tile. Because of this the color body tiles can come in a larger variety of colors and patterns (due to the glaze and pigments) but chips or scratches may be more noticeable than on a through body porcelain tile.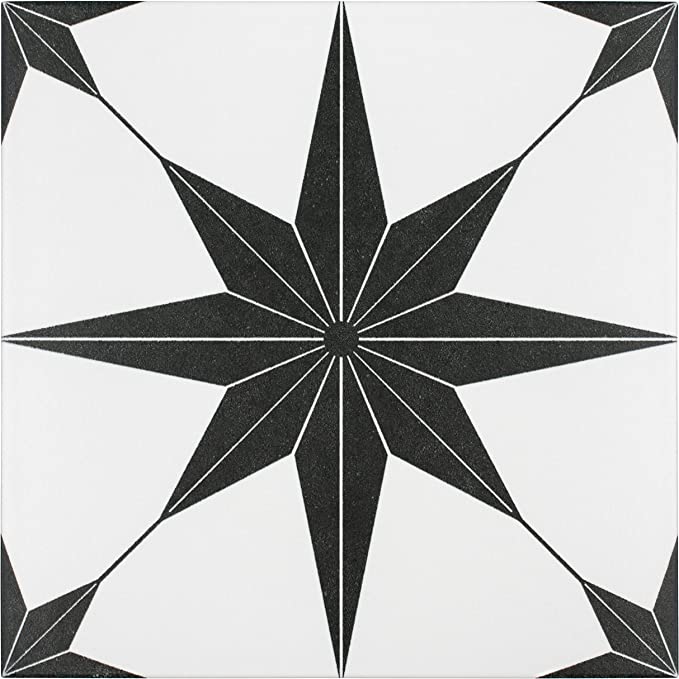 Pros of Porcelain Tiles
Generally a uniform color through out unless glazed on the top. Making chips less noticeable
Harder due to the kiln fire process, thus having a higher durability vs ceramic tile
Due to the standards set by the American Society for Testing and Materials, porcelain tile must have a water absorption rate of 0.5% or lower, meaning porcelain tile are highly water resistant.
Porcelain tile patterns have become better and more detailed (due to new manufacturing methods and new ink jet technology). This means porcelain tile can better mimic natural stone patterns and even copy the look of wood grains.
Because of its low water absorption characteristics and durability, porcelain tiles can be used in outdoor applications, high foot traffic areas, exterior use, commercial applications, where ceramic tile would not be recommended.
Porcelain floor tiles are a great option for kitchen floors and other flooring options due to their durability compared to ceramic floor tiles.
Due to its density it is a great option for rooms with under floor heating
Unlike natural stone and unglazed ceramic tile, porcelain tile dose not need to be sealed
Cons of Porcelain Tiles
Heavy, due to the clay composition and their high density, these tiles will be heavier than a similar size ceramic tile. This can increase labor costs for installation as well as supplies to properly install these tiles.
Due to being a denser tile, porcelain tile can feel "hard" and "cooler to walk on.
Porcelain tiles have the it is prone to chipping on he edges if it isn't installed level.
Due to its weight you need to consider if the sub floor and surrounding support walls are strong enough to hold the extra tile weight if tiling a large area.
Generally porcelain tiles have a higher price due to the extra work to manufacture
Cutting porcelain can be more time consuming and require additional special tools (like a tile saw with a high quality diamond blade) to get a profession finish.
Ceramic Tiles
Ceramic tiles are fire kilned at a lower temperature. They are a softer/less dense tile making them a good economical choice when it comes to tiling your space on a tight budget. Ceramic tiles will be slightly less durable and better suited for low-traffic areas. Ceramic tiles are great option for residential uses, especially on walls and low traffic areas.
Ceramic tiles can come in glazed and unglazed styles. Unglazed tiles are more prone to water absorption and staining, however are generally more slip resistant. Glazed tiles have a thin glass layer applied to the top to help seal the tile and minimize water absorption. However the ceramic glaze can make the tile more slippery.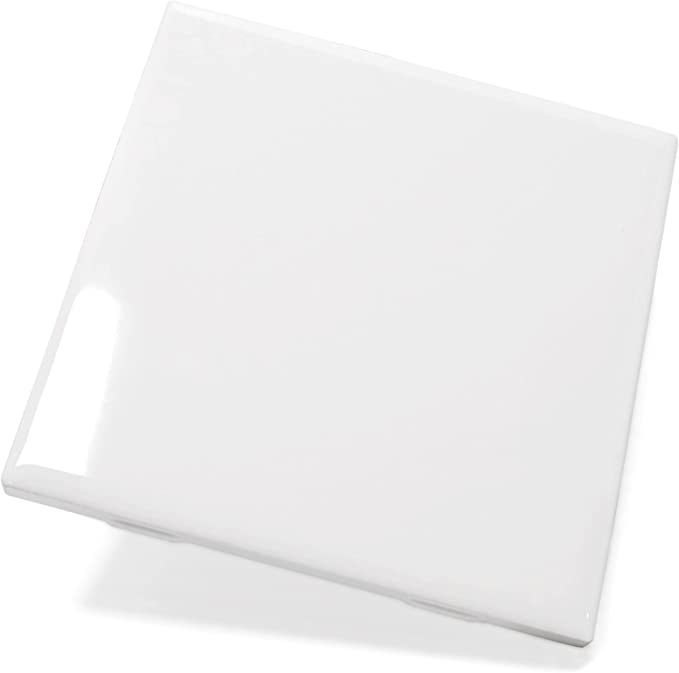 Pros of Ceramic Tiles
Ceramic tiles are lighter and easier to cut, making them the perfect choice for DIY projects.
Generally ceramic tiles are more affordable.
Ceramic tiles come in a large variety

of styles, patterns, different shapes, and colors to choose from.

The

ceramic tiles also have multiple

options for bullnose, architectural moulding, and trim to finish off those edges and corners with a perfect color/design match.
The cost of ceramic tiles per square foot is generally lower than other tile types.
Can be cut with a simple tile cutter
Standard ceramic tile and basic ceramic tile are great options for shower walls, back splashes, and tub surrounds due to their lower cost and ease of installation.
Cons of Ceramic Tiles
Durability – because these are softer tiles they are more prone to chipping and/or cracking.
Ceramic tile is more porous, meaning it will absorb water at a higher rate than porcelain tile. It is not recommended for outdoor use. However is still ok indoor shower and bath applications due to the face and edges of the tiles generally having a glaze finish.
Ceramics are generally a solid color. Limiting its ability to mimic stones and wood patterns like porcelain tiles
The ceramic clays and the kiln process make the ceramic tiles less dense. So these tiles are not as durable and generally not a good idea for floors and high traffic areas.
Unglazed ceramic tiles will need to have a sealer applied and not recommended for prolonged exposure to water. These type of tiles are prone to water damage and staining and are not an ideal choice for wet areas.
Natural Stone Tiles
Natural stone tiles like marble, travertine, limestone, granite, onyx, quartzite, and sandstone are also available for your projects. These tiles have a beautiful pattern and will give a really unique look. The tiles will have a beautiful look but generally require more up keep (sealing, cleaning, etc.) These tiles will also cost more for their initial purchase as well for installation compared to manufactured tiles. Natural stone will also be more susceptible to stains due to being more porous than manufacture tile.
Glass Tile
Glass tile is another great option. It is impervious to water so won't stain. Glass also has a translucent affect and reflects light giving your space a larger feeling. Glass tile however is usually more difficult to get nice clean cuts and finished edges and a professional installation is recommended. Glass tiles purchase costs are on the higher sides compared to ceramic and porcelain tile. These factors generally cause a high cost for the supply and install of glass tiles. Glass tile's finish it is also more maintenance to keep and clean from water marks due to its reflective finish.
Examples of Porcelain and Ceramic Tiles
Bathrooms
Here a porcelain wood-look tile was used for the floor of the ensuite bathroom. A subway white ceramic wall tile for the shower walls, ceiling, sink and tub backsplash. The bathroom floor and niche was a black porcelain hexagon mosaic tile. We did a whole blog here on the entire space!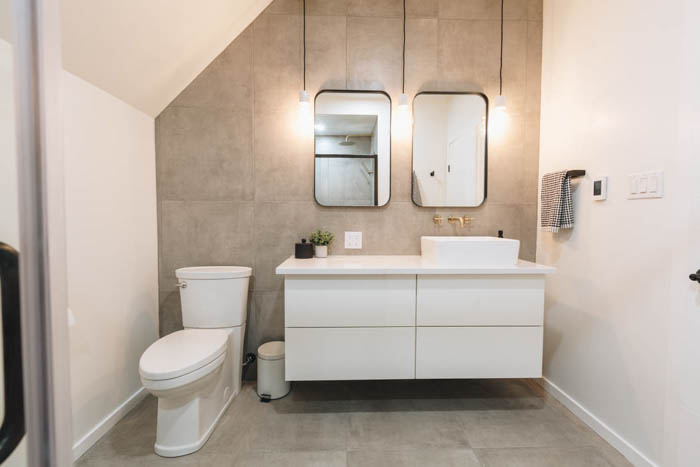 This bathroom used a large format porcelain tile for the shower walls, floor as well as the full bathroom sink wall and bathroom floors. Here is a link to see the entire modern bathroom remodel. The tile was from the Cimone series and was the Antracite color in 24″ x 24″.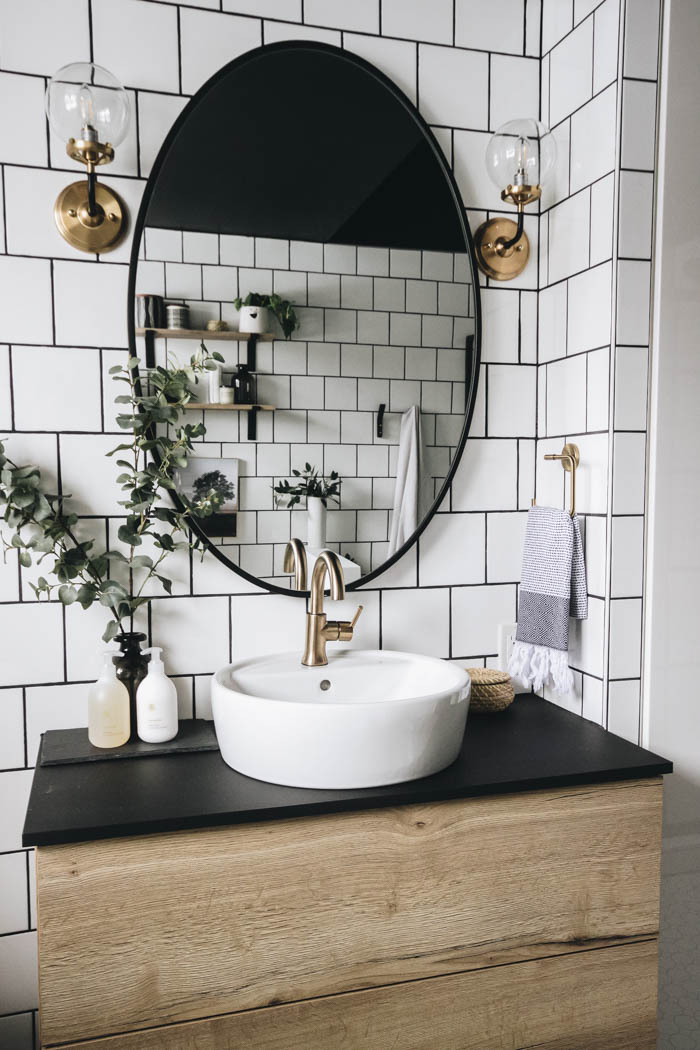 This bathroom had full floor to ceiling square ceramic white subway tile. The floor was finished in a white hexagon porcelain mosaic tile. You can see the whole modern bathroom reveal here.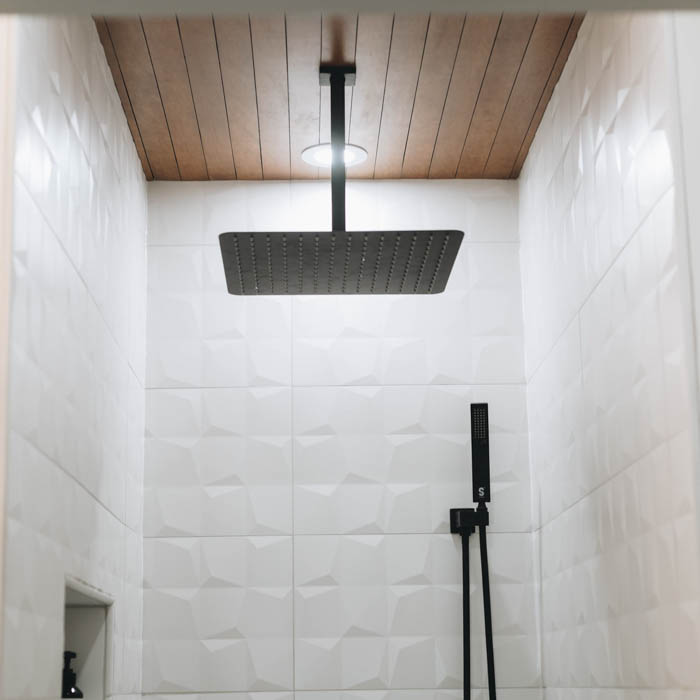 For this ensuite a ceramic white 3D tile was used for the wall. A black glass dimensional tile with marble veining for the floor area. Here you can check out this DIY modern small bathroom to see the finished space.
For a great faux marble look, this bathroom used faux marble porcelain tile in the showers and partway up the walls. Along with a grey porcelain hexagon tile on the floor. This bathroom was part of a DIY tutorial on how to Install a shiplap ceiling in a farmhouse loft above a garage.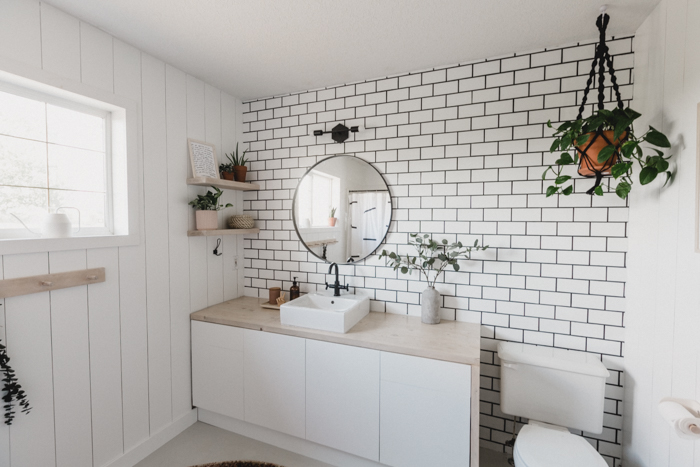 This bathroom had a quick refresh with some 3×6 gloss white subway tiles with 1/4 black grout lines. You can check out how to add a new bathroom accent wall here in just a weekend!
Kitchen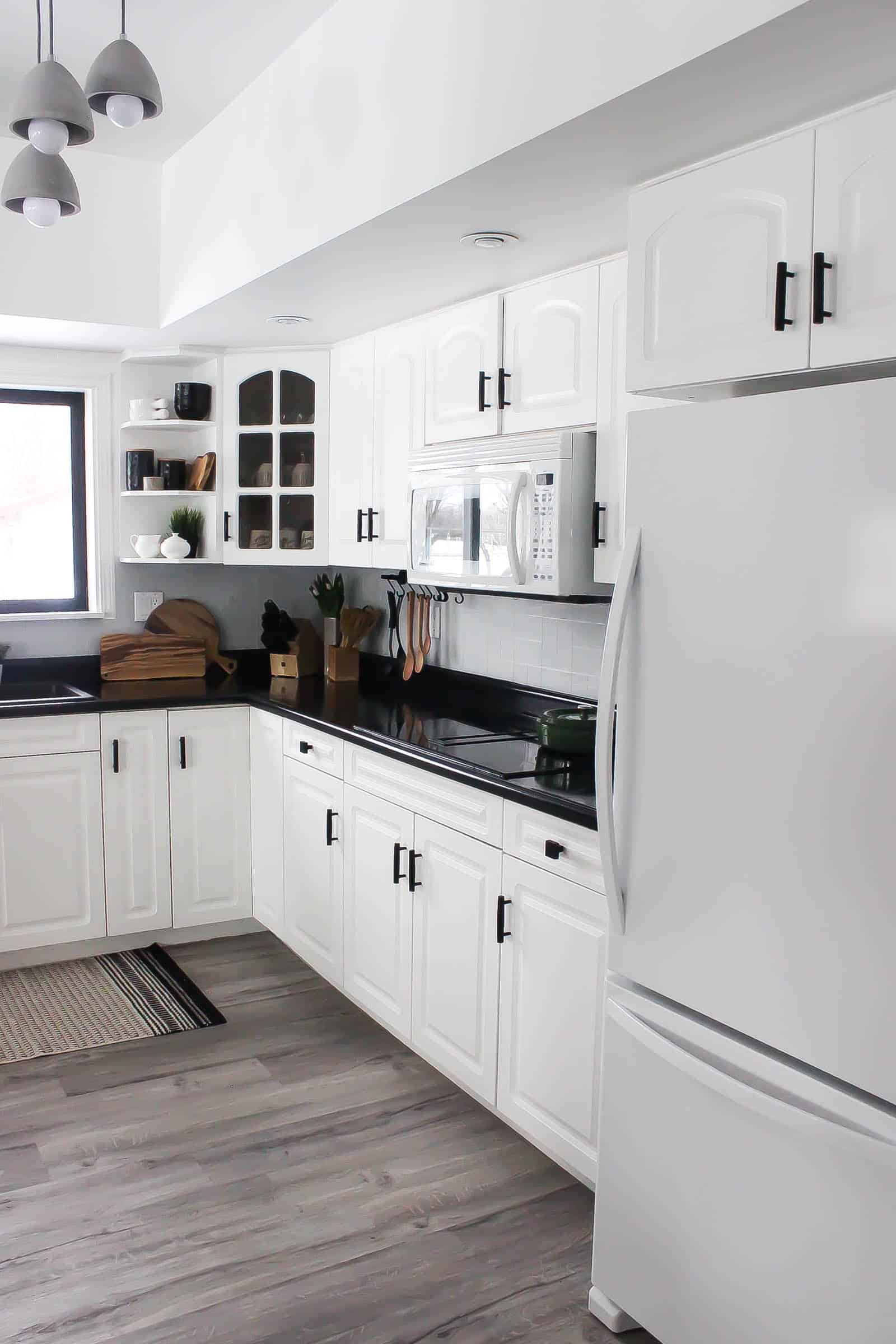 Here is a kitchen with 3×6 peel & stick white glass tile. It was a quick way to update the kitchen on a budget. Check out the aspect peel and stick tile here for a full review a year after installing.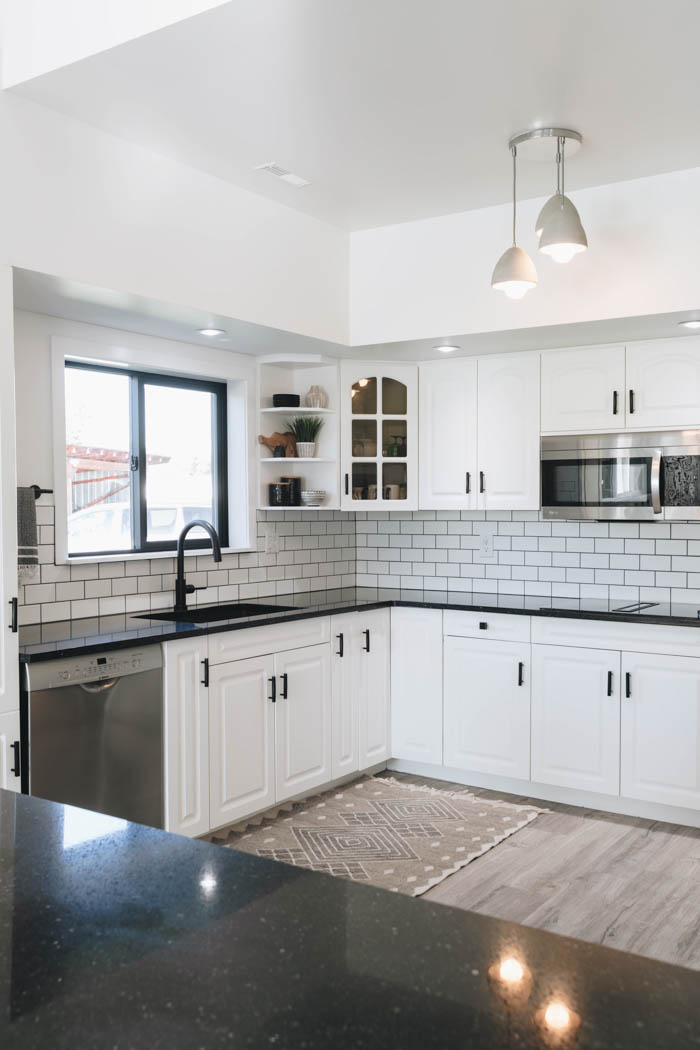 Here you can see a 3×6 matt white ceramic subway tile used in a kitchen. With the black quartz countertops and white cabinets and walls it really finished off the space. Here is a full video on an easy tile install with Musselbound and a look at the finished space.
Around the House
This laundry room got an update with black ceramic subway tile, new cabinets and custom counter tops. It really transformed the space and added a great look and functional storage.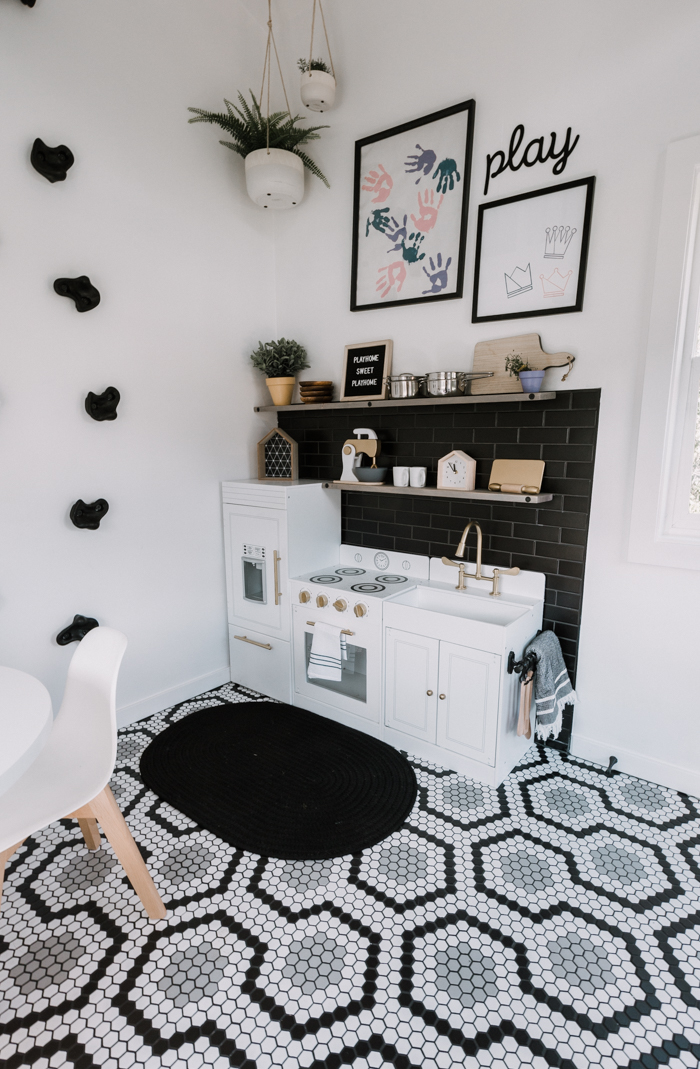 Yes we tiled out playhouse, lol. We used a white/grey/black porcelain mosaic tile on the floor and a matte black ceramic tile for the back splash area of the play kitchen. We love this space and how it turned out. So many fun memories! You can check out this post to see this amazing DIY playhouse for kids.
One of the first projects in our Barn Shaped home was the built-in surround our gas fireplace. We used a faux marble porcelain tile from Ingo Flooring. It turned out amazing and is a statement feature in that space. You can read how to build your own fireplace surround here and see the finished project.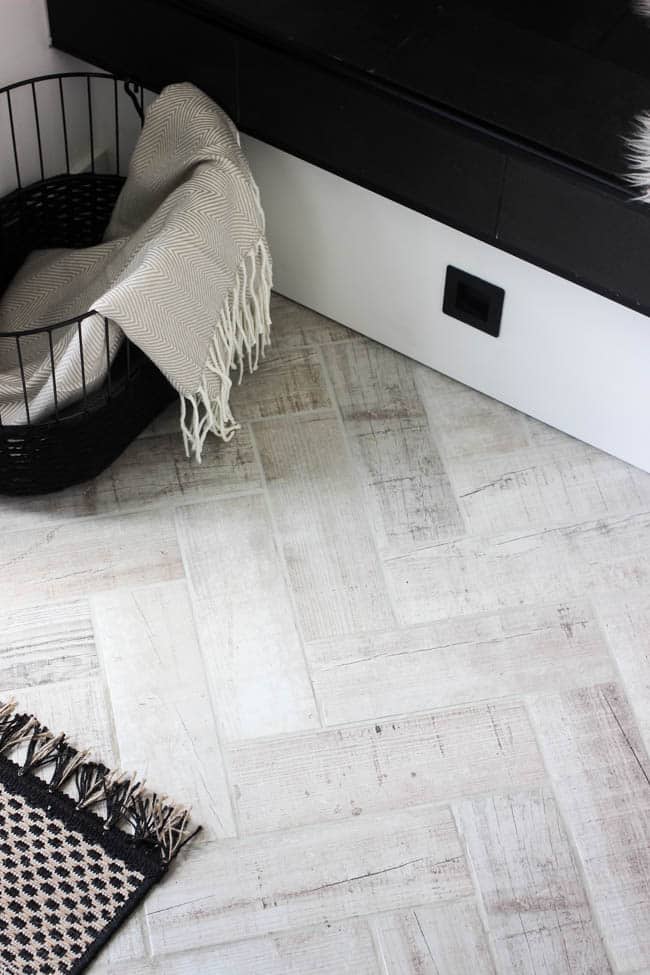 This entry way used a faux wood porcelain floor tile in a herringbone pattern and natural stone basalt tile for the entry bench. You can check out these posts to see the full modern entryway reveal and the tiled entry bench.
This home office used a faux wood porcelain floor tile and a white ceramic fan backsplash. Read all about this modern home office reveal to see the finished space. The tile gave a great high end look and really finished off the space.
Tile doesn't just have to be used in the home. This beautiful DIY fire pit table was a up cycle project with some left over black subway tile. It was a quick and easy project that turned a broken fire table into a show stopping piece.
Ceramic Tile vs. Porcelain Tile – Results
When picking tiling you need to review where you want to use the tile and consider the following options:
Is the space in a wet area?
Is the tile going to be for interior or exterior application?
Is the space prone to high traffic/high use?
Do you plan to install yourself or hire a contractor?
Budget for project?
Generally in past projects we have opted for a porcelain tile for flooring areas and a glazed ceramic tile for walls and backsplashes. Ultimately when choosing your tile you want to ensure it is designed for the application and space you plan to use it in.
If you are looking for tile in high traffic and commercial applications look into the PEI rating and generally you will want to go with a porcelain tile.
Tile is a fairly permanent design choice so you want to get it right the first time and not cut any corners or look over any important factors. Hopefully this post helped clarify some of the questions that come up when selecting tile for your next reno!