It's been about a month since we shared our kitchen makeover plans with you. Remember our insane plans to try and makeover our kitchen in just one weekend? And we invited you all to watch on Instagram as our kitchen unfolded and so many of you did! THANK YOU SO MUCH!! It was so much fun! You helped us make decisions, gave advice, and encouraged us! Three days later we had this beautiful modern kitchen – which I can't wait to show you!
*This post was sponsored by Aspect Tile, Delta Faucet Canada, Liberty Hardware, and Rustoleum Canada. The post may contain affiliate links. When you buy a product through one of my links, I get a commission at no cost to you! For more, see my disclosure page.*
Just to remind you… here's our before picture! We were so lucky that our cabinets were white, and in good shape so we didn't have to worry about painting them on top of everything else! Then there were a few changes we had already made in the six months we had lived here, including a new light fixture, new white paint on the walls (from my Home Colour Palette!), and new vinyl plank flooring (this post shows you how!).
So what did we tackle in one weekend?
1. Painting countertops
2. Putting up new peel and stick backsplash
3. Changing all of the hardware
4. Putting in new faucet, sink, and soap dispenser
5. Putting in new stovetop
6. Hanging new bars and hooks
Without further ado…. our new Modern Kitchen!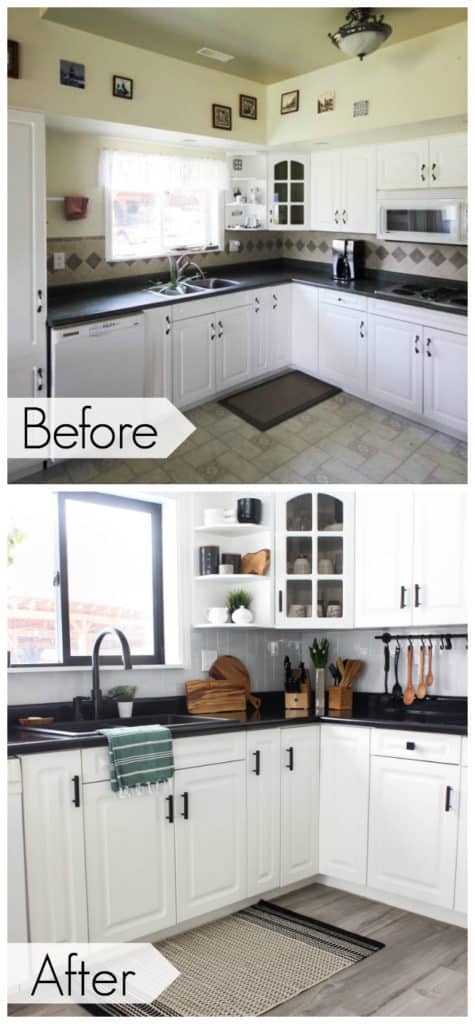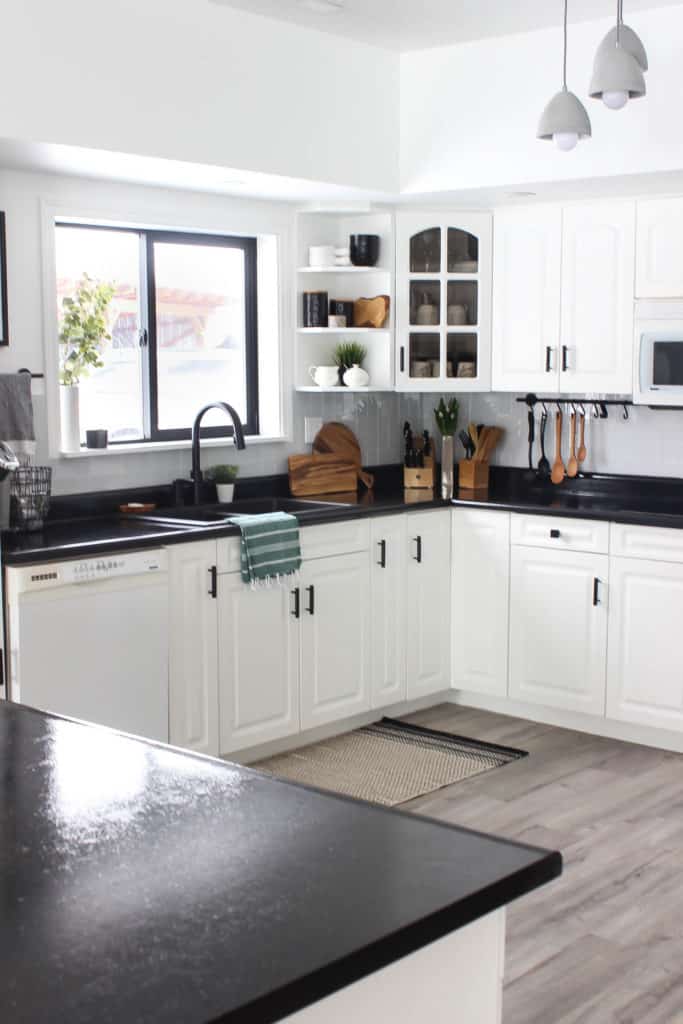 One of the biggest changes we made was the peel and stick tile backsplash. We actually just used a primer on our existing tile, cut these tiles with a small tile cutter, stuck them right on top of the existing tile.
We used the colour "Frost" which added a beautiful soft grey tone to our white and black kitchen! Who knew you could tile an entire kitchen in just one weekend?! I also love the modern square pattern we did with the peel and stick tile!
If you'd like to know how they are holding up a year later, you can read about it here!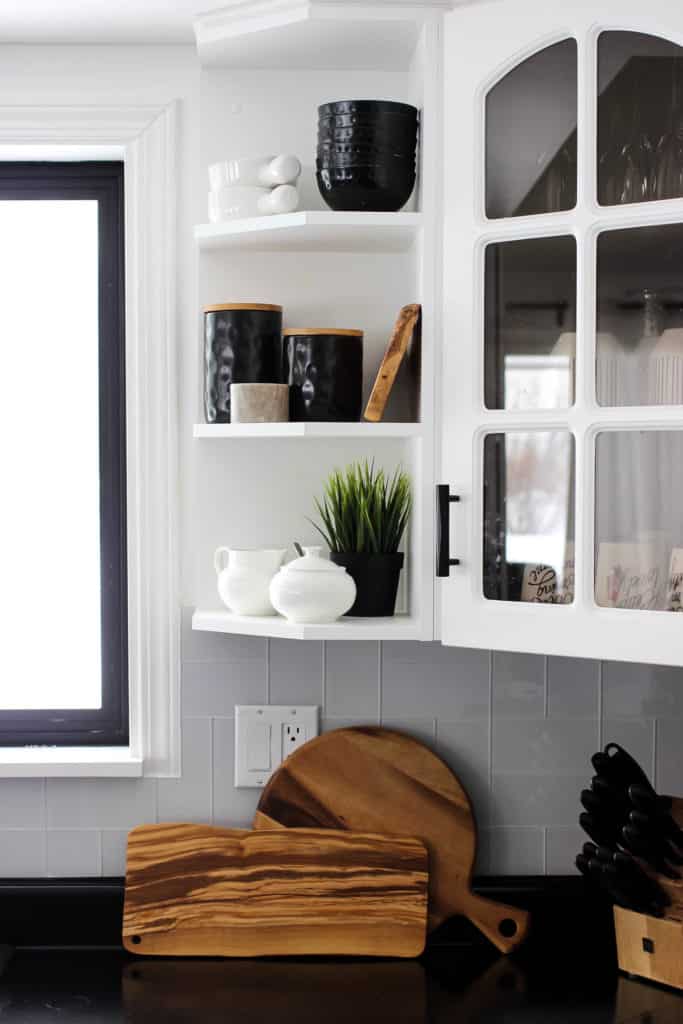 Another huge project in this space was painting the countertops!
I had so many of you write to me over the weekend saying that you had never heard of these products! The paint is from a kit called Countertop Transformations that you can buy at Home Depot.
You can read about how to apply the paint, and how the countertop paint is holding up a year later too!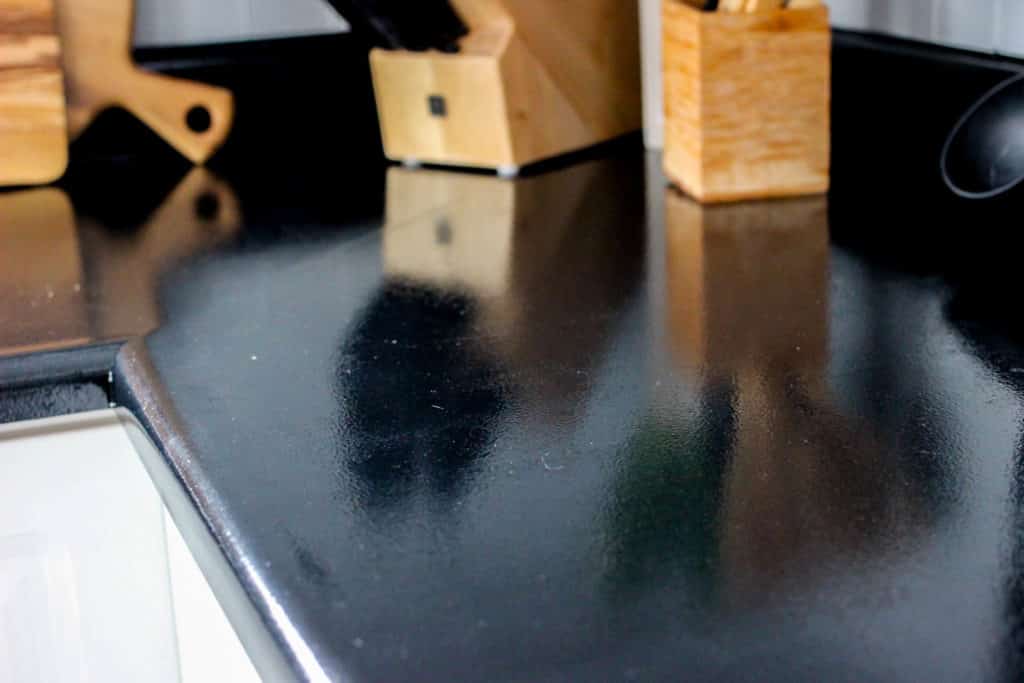 If you watched the live videos, then you know that we literally just painted on the countertops! I was AMAZED by how easily the countertop paint went on and how nice it looked. Honestly, if you're looking for a fast and affordable way to transform some countertops, we would recommend these countertop transformation kits!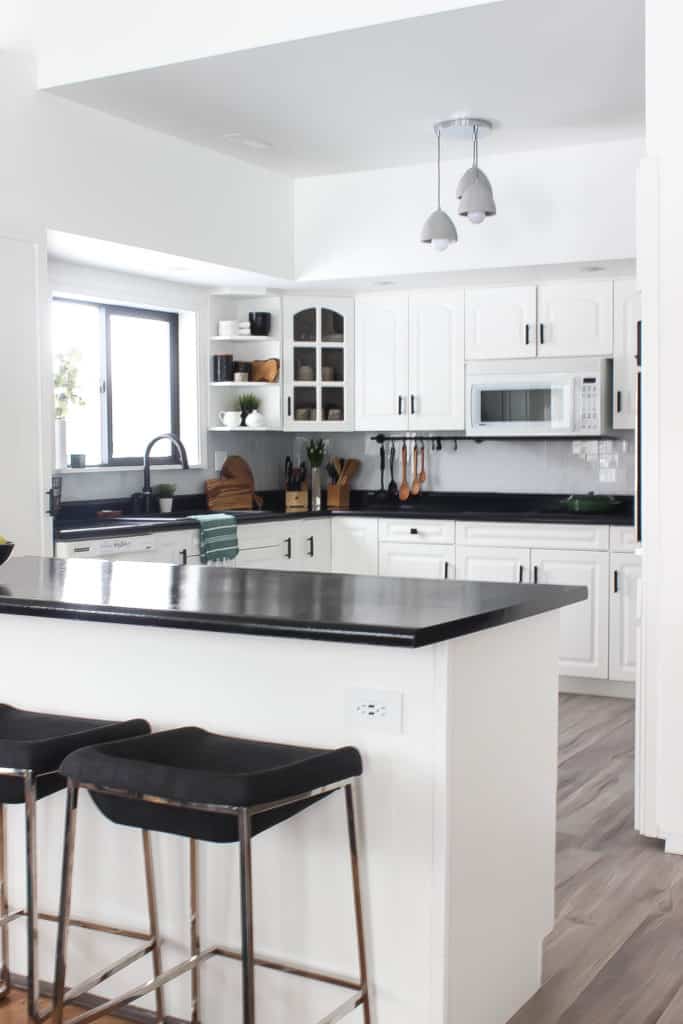 Changing out the stovetop was a bit of an expense for us, but we thought it was worth the splurge in this case. We're hoping we will get a lot of years out of it! And did you see what we were using in the before pics?? It really needed an update!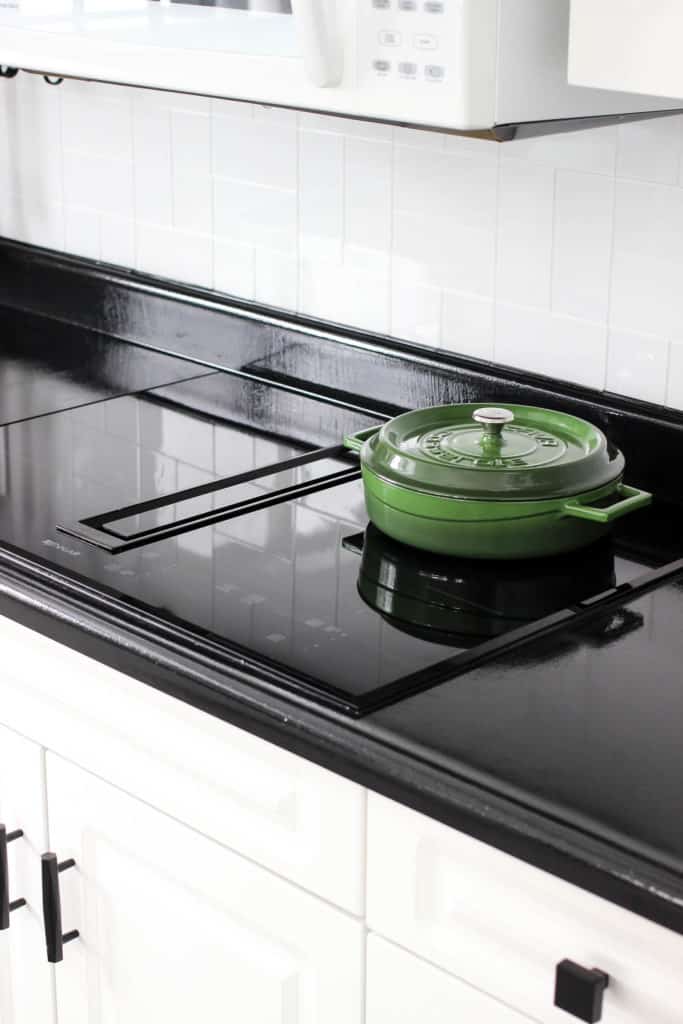 To be honest, I was a bit worried about my choices to use black on black everywhere, but look how beautifully the stovetop blends into the countertops. Gorgeous! Our modern kitchen would not have been complete without it.
Then, since we were replacing the cooktop, it only made sense to replace the sink too!
And then of course, replace the faucet and the soap dispenser! As I was picking these pieces out I really debated whether or not to go with black on black, but in the end I just the visual contrast of black and white kitchen, and I'm so happy with what I chose.
The matte black faucet and soap dispenser both use Touch20 Technology. All you have to do is tap the faucet and it turns on, or put your hand up the dispenser and it senses you and lets out soap. It's a game changer! It's amazing!
Plus… matte black! I used similar faucets in my bathroom at my old house and I always loved the look!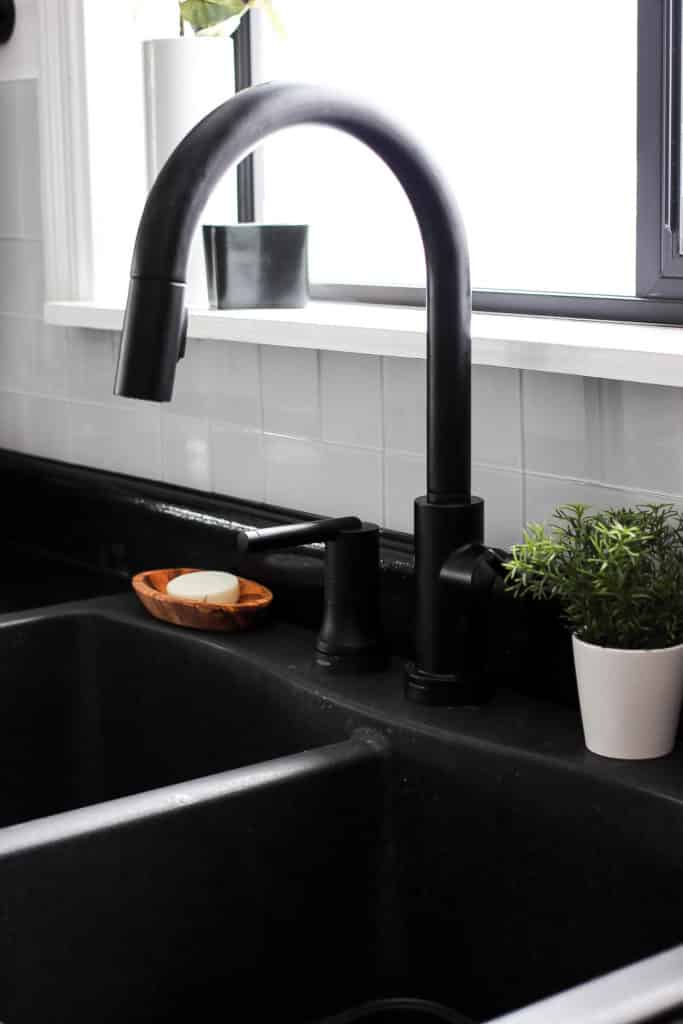 And for one last addition to the contemporary look, we added new knobs and pulls to all of the cabinets. In matte black of course.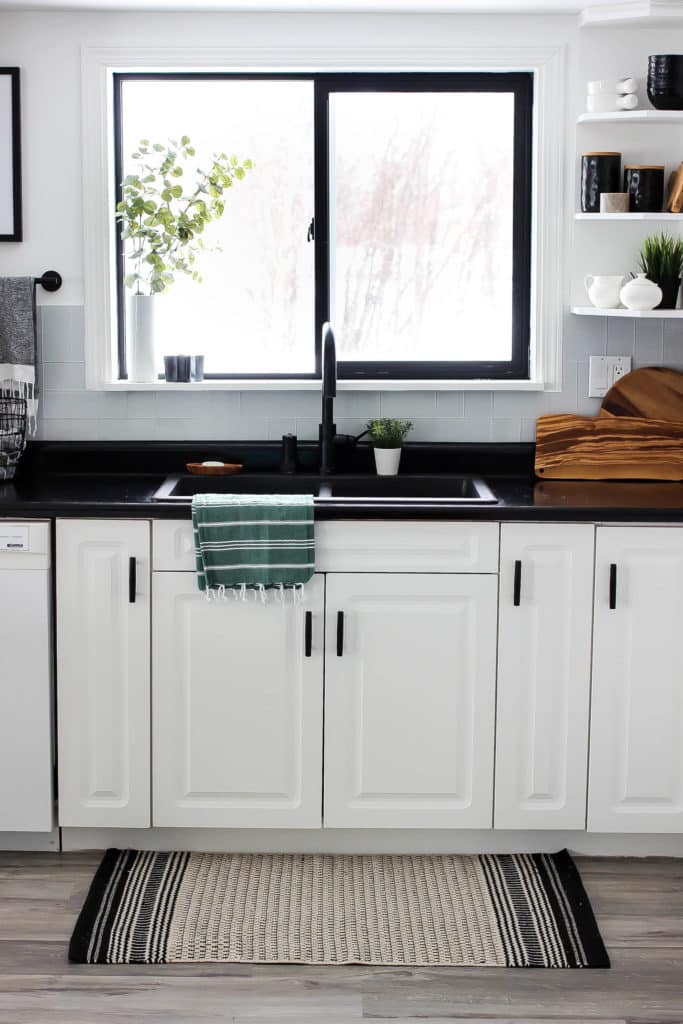 We went with square knobs and geometric pulls, both of which look amazing against the white cabinets and drawers.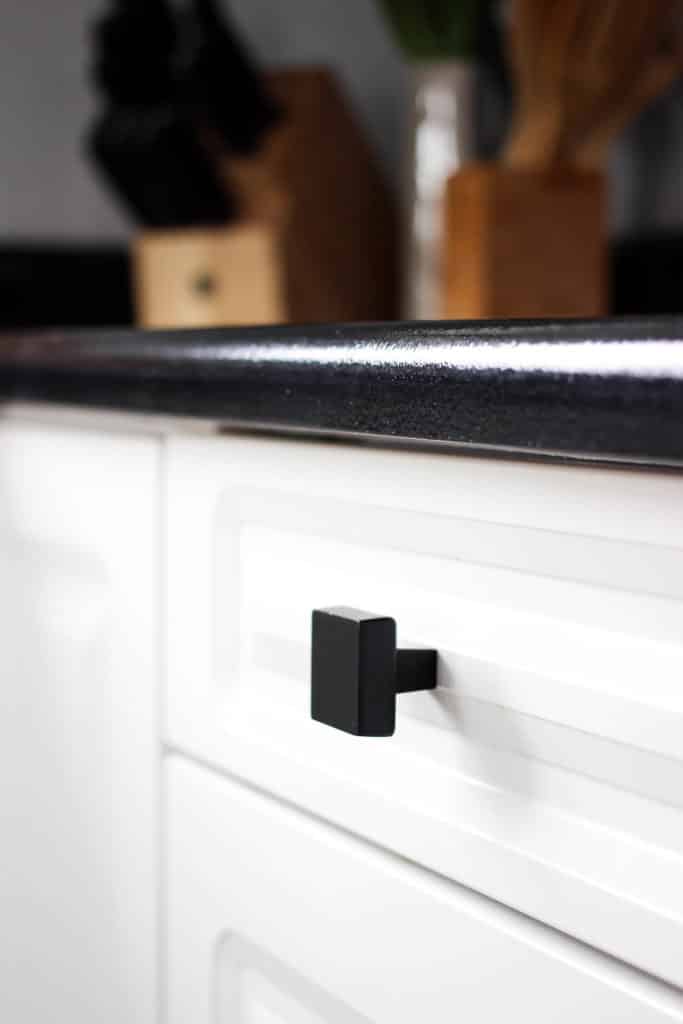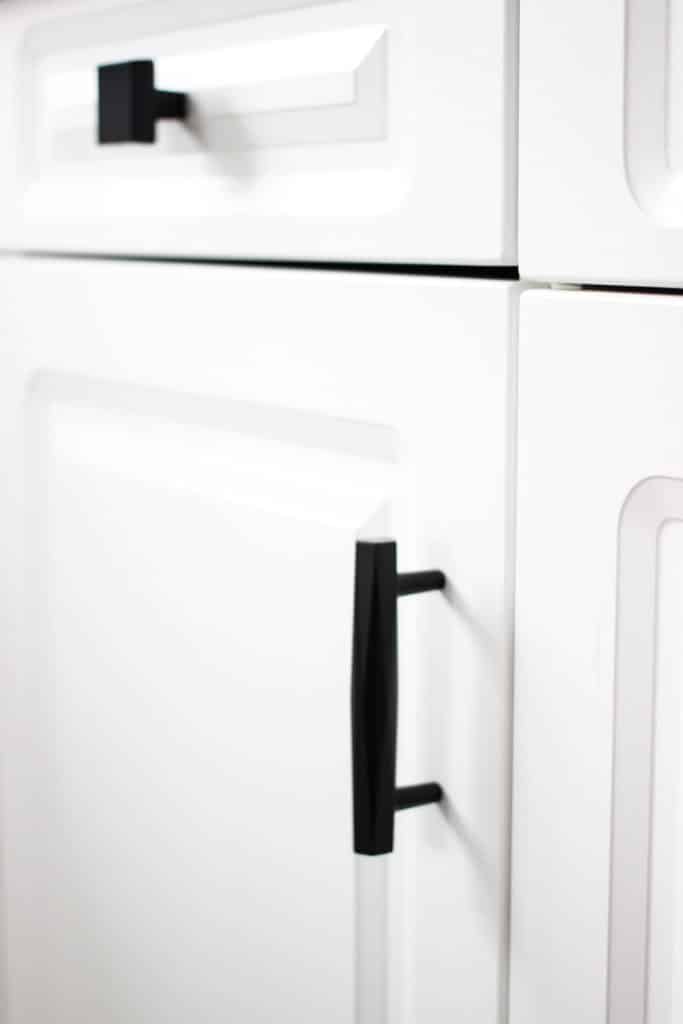 As soon as the hardware went up, it looked like a completely new room. It's amazing how much a simple (& inexpensive!) change can make a huge difference.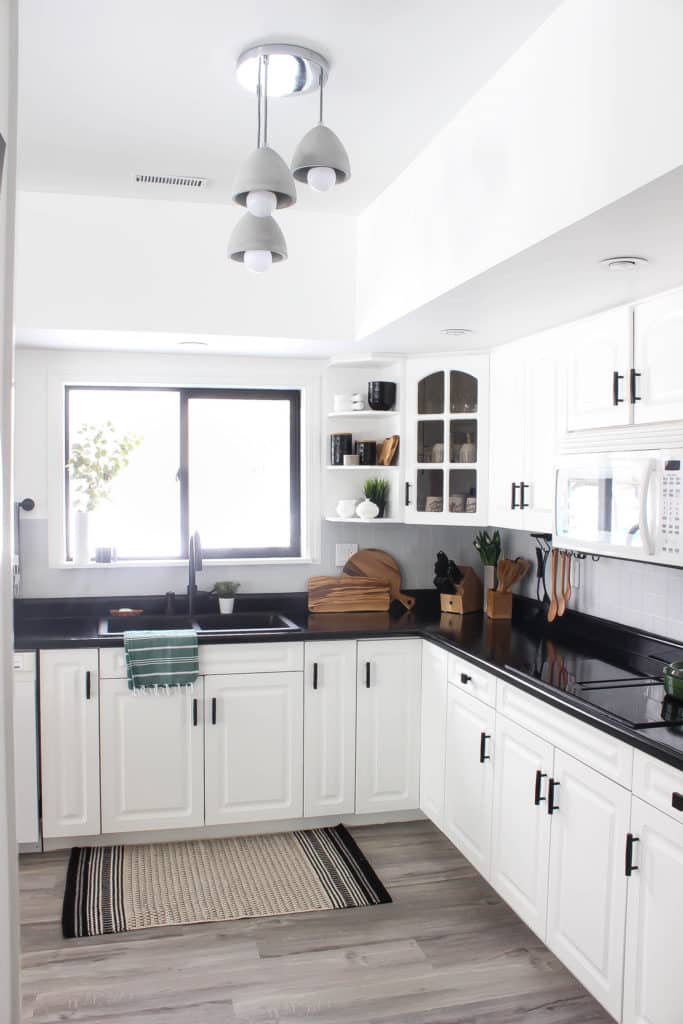 Last but not least, we added a couple of bars and hooks to help us organize the space, all sticking with my black and white kitchen design. The first bar served as a beautiful under-the-counter utensil holder.
The second bar serves as a towel rack.
And the kitchen hooks are for oven mitts and pot holders!
The kitchen hooks and bars are actually all part of a bathroom line, but they look gorgeous here and no one would ever know the difference.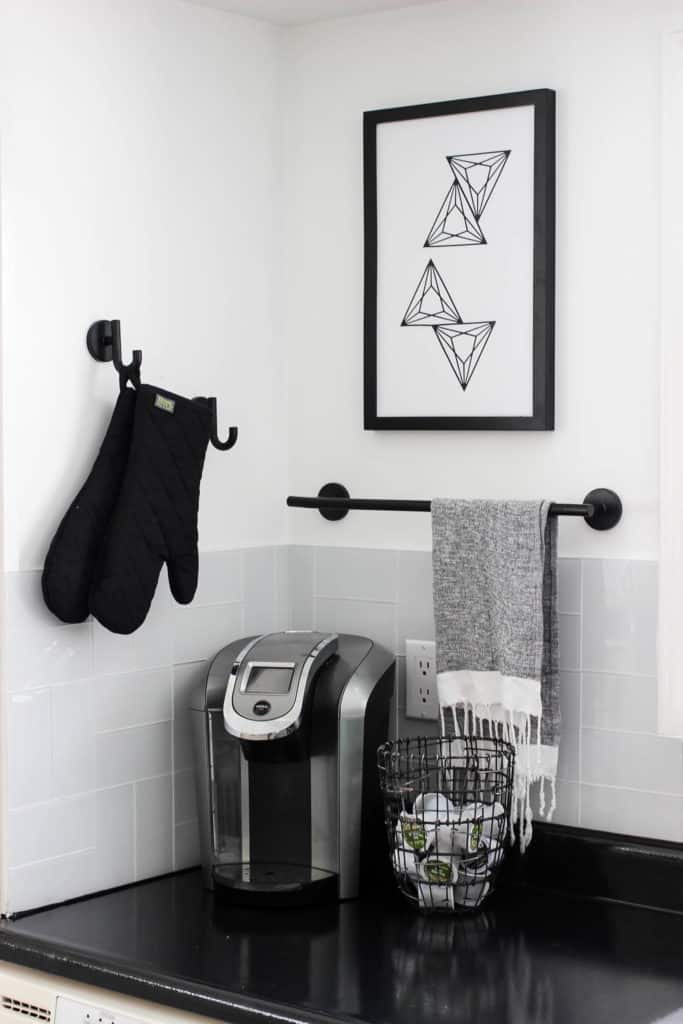 I could not be happier with this space!! It's AMAZING what you can do in one weekend. We went from outdated to a beautiful modern kitchen in just a couple of days!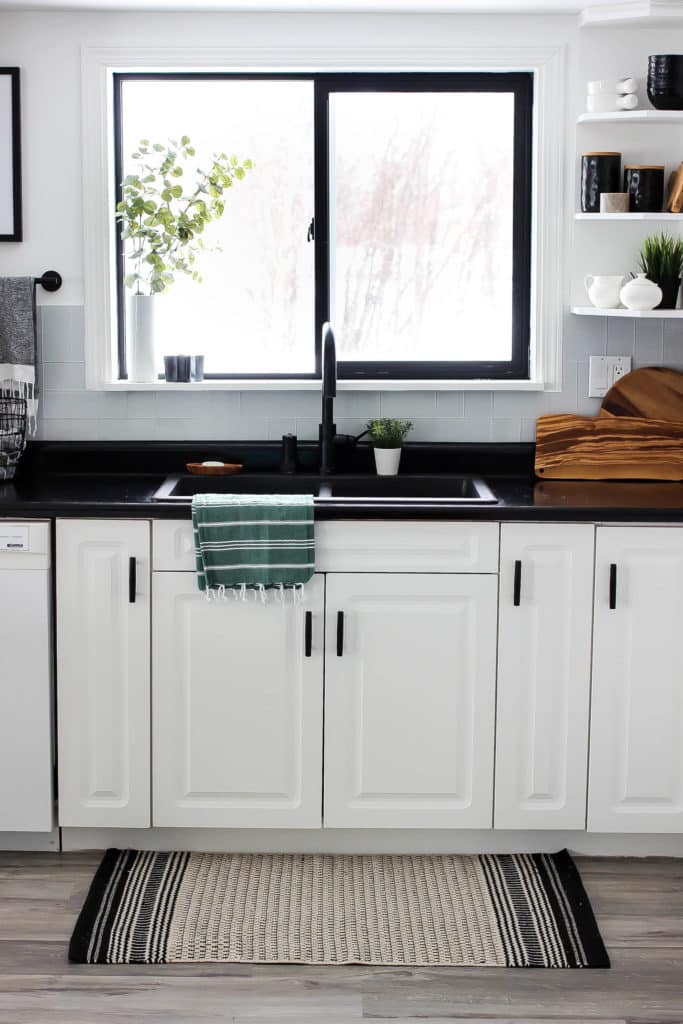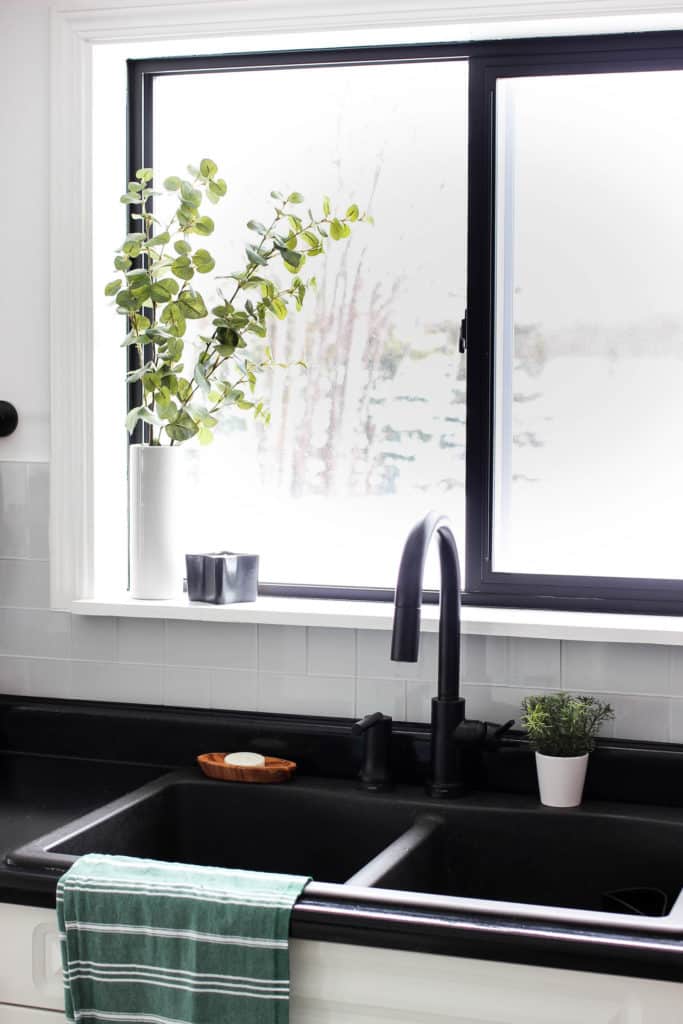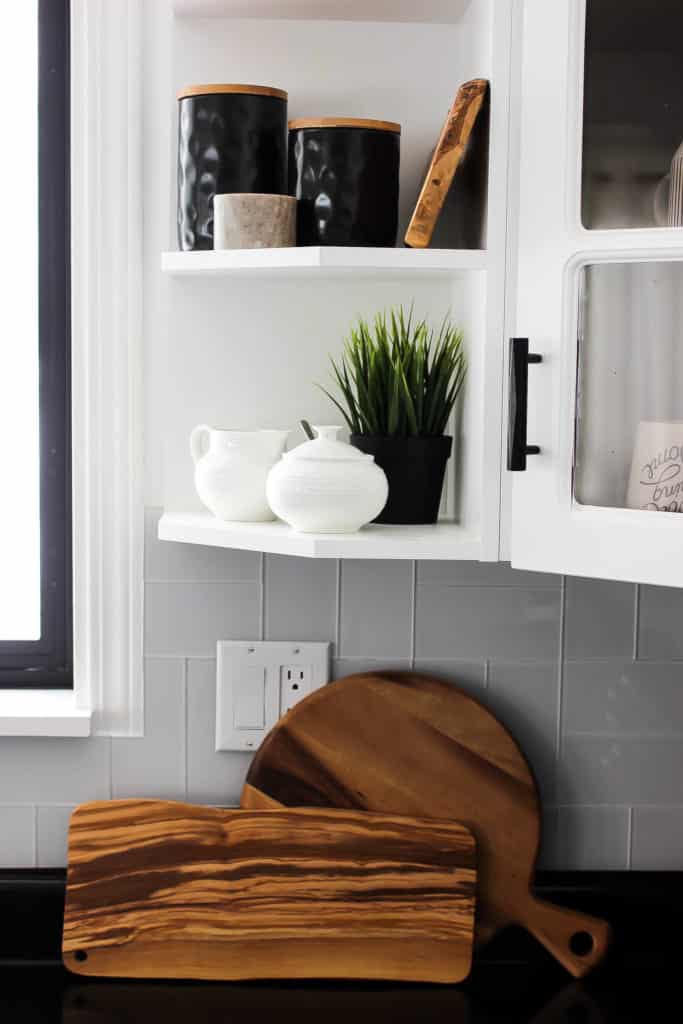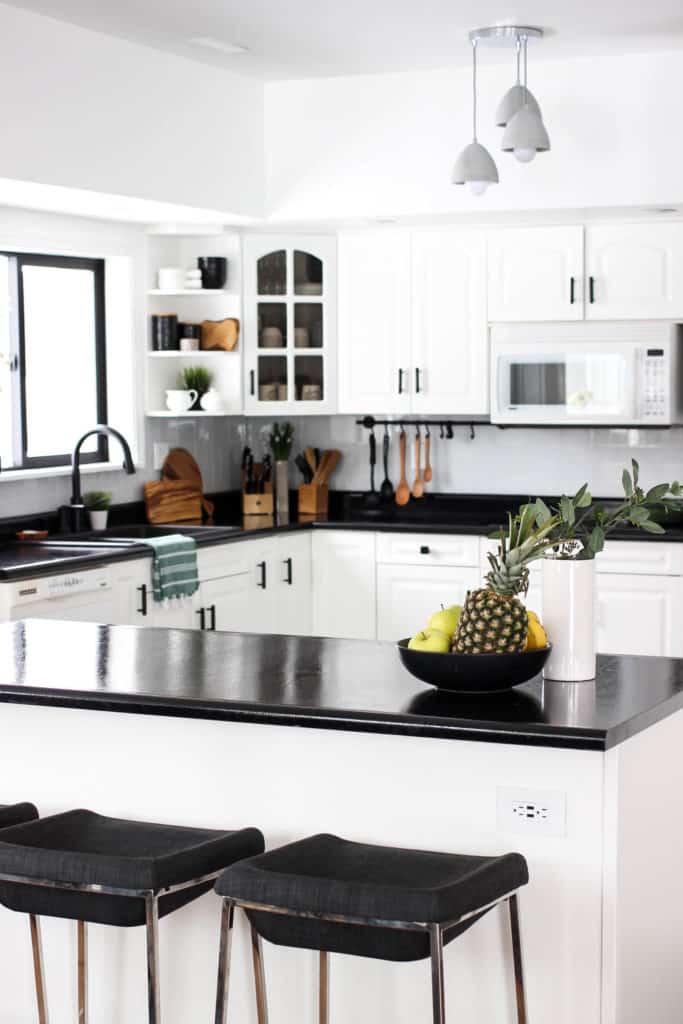 Even though you've seen our new modern kitchen in photos, I thought you may want to watch this video tour of the new space! Enjoy :)
Sources:
Learn more about the Countertop Transformation Kit & how the paint held up a year later!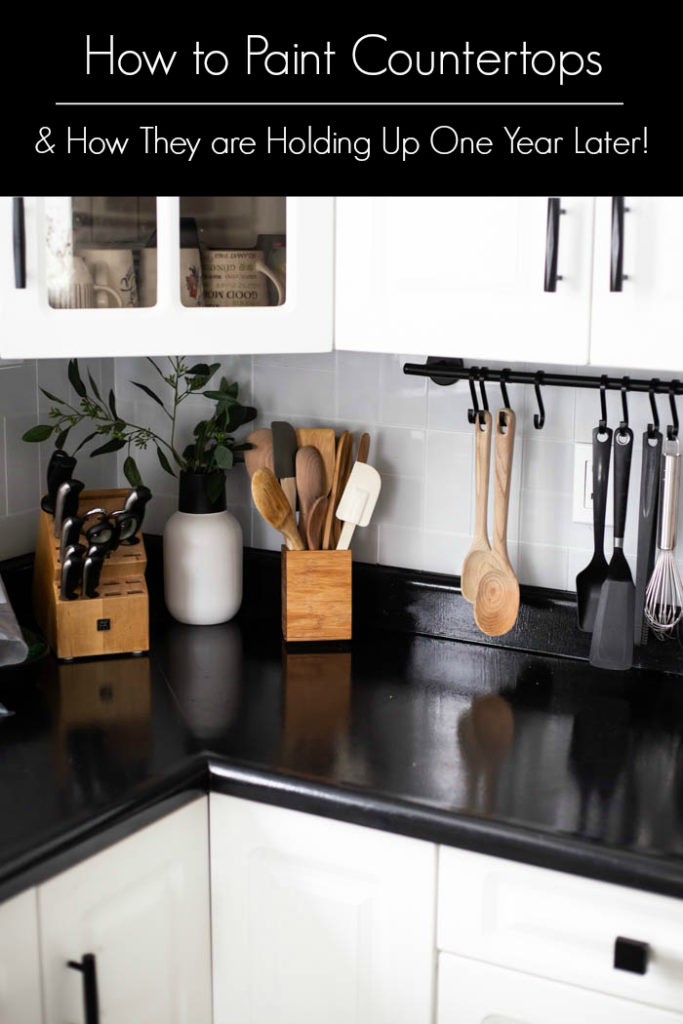 Or check out our Peel and Stick Tile Review – One Year Later!