Everything you need to know about how to paint windows black! Paint your vinyl or wood window frames with this tutorial and helpful tips!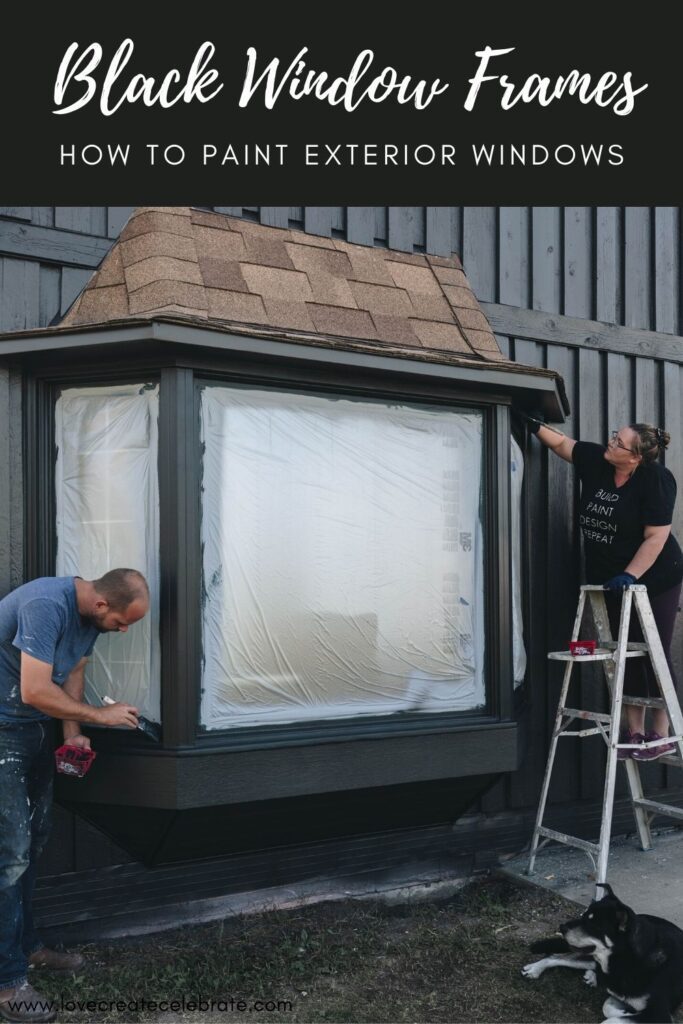 This summer we gave our whole exterior a makeover, and one of the things on our exterior makeover wish list was new window frames black. Quotes for a house of our size, with 11 window frames came back over $20,000, which just wasn't in the cards for us, so we decided to paint windows black ourselves!
Risks of Painting Vinyl Black
Whether you are painting vinyl siding or windows, there are risks associated with painting them a darker colour. Any colour that is darker than the orignal colour of the manufactured vinyl and absorb and trap heat from the sun between the coating and the vinyl, which can cause the vinyl to warp beyond repair.
Fortunately, paint has come a long way, and there are companies like Sherwin-Williams who have created Vinyl Safe Colour Palettes with darker colours to choose from that won't absorb the heat and ruin your vinyl siding or window frames. You can use the vinyl safe colours in many of the popular exterior paints, including SuperPaint, Duration, Resilience, and Emerald.
Other Things to Consider BEFORE Painting Your Window Frames
Before you paint your window frames, there are a few other things you might want to consider.
WARRANTY – If you have a warranty on your windows, painting them will void your warranty so be sure to check your warranty first! We no longer had any warranty on our windows, so we weren't too concerned about this.
SUN EXPOSURE – Homes where we live get the most sun on the south side, and the second most sun on the west side. While we were pretty confident that our black window paint would work, we still took into consideration where most of the sun would hit. For us, the south side only had one vinyl window, and the west side only has wood window frames, so we were pretty assured that worst case we would only be replacing one vinyl window because of heat.
CLIMATE – The amount of sunshine and direct heat you receive should influence this decision as well. We typically get our hottest temperatures around 35C, although this year we had a heat wave in the 40s after we tested a window, and didn't see any side effects!
TESTIMONY – This was probably the biggest factor in our decision to go forward. We spoke on Instagram about painting our exterior vinyl windows, and got several messages like the one below, that made us feel pretty confident about moving forward.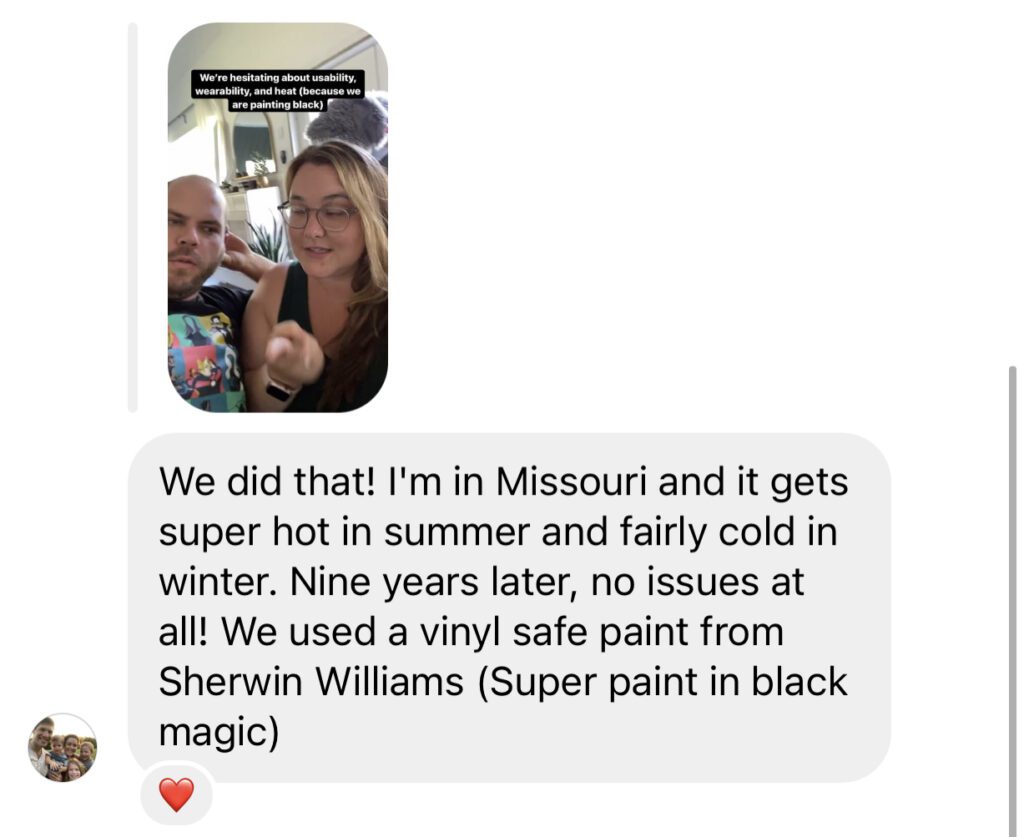 We also pulled from our own experience with a black painted vinyl window. Last summer, we built a playhouse for our kids and added real vinyl windows that we picked up at our local Habitat ReStore. Those windows were spray painted black (not even vinyl safe), and lasted through a year and two heat waves, without any warping or any issues at all. So we felt pretty confident moving forward in our climate.
What materials do you need?
Here's a rundown of the paint and materials that we needed to paint our windows:
Materials
Extreme Bond Primer
Vinyl Safe Paint
FrogTape
Plastic Film
Brushes or paint sprayer
How to paint windows black
What Vinyl Safe Paint can you use for black windows?
There is a whole host of vinyl paint options, but there isn't an option for black paint.
When it came to choosing paint, we tried calling and e-mailing Sherwin-Williams, which was no help at all. We did find, however, that our local paint experts were very helpful! They had great recommendations for us all along the painting process, for both our house and our windows.
Here's the exact mixture that we used. As you can see from the label, it doesn't have any black colorant, so it doesn't react the same way to heat and reduces any risk of painting your windows.
It definitely looks blue when you open the can, and when you put the first coat of paint on (which you will see below), but it dries black after layering the coats.
Do a Test Paint
I would highly recommend doing a test of your window paint before you paint all of the windows.
We tested the side of one of our windows that definitely needed replacing soon (so that if it was ruined, we would've had to replace it anyway!). We primed and painted the window, let it set, and let it live in the elements for a while. It went through a heat wave (literally the hottest month we ever had here!) and survived pressure washing. After that we were confident moving forward and painting the other window frames.
Prep Your Windows
We prepped all of our windows before painting them by pressure washing them, and then wiping them down with TSP (heavy duty cleaner) to remove any debris or grease.
When everything was clean, we taped off the windows and primed all of the frames with Extreme Bond Primer.
We wanted all of the exterior frames painted, but not the interior of the frame, or the track that the window slides on, so we removed the interior sliding window, and taped off the window from the inside, protecting the track.
Do you need to prime vinyl window frames before painting?
One of the questions we received the most was whether or not we actually had to prime all of the frames before painting them. As I mentioned, we primed all of our vinyl window frames using extreme bond primer. This primer is formulated to adhere very well to it's surface. Regular paint, including the vinyl safe formula, will not adhere to your vinyl windows as well without the primer on first.
When we were done painting, we pressure washed and tried to scratch our newly painted windows, without seeing any wear or tear, and I definitely think that's because the primer did it's job so well!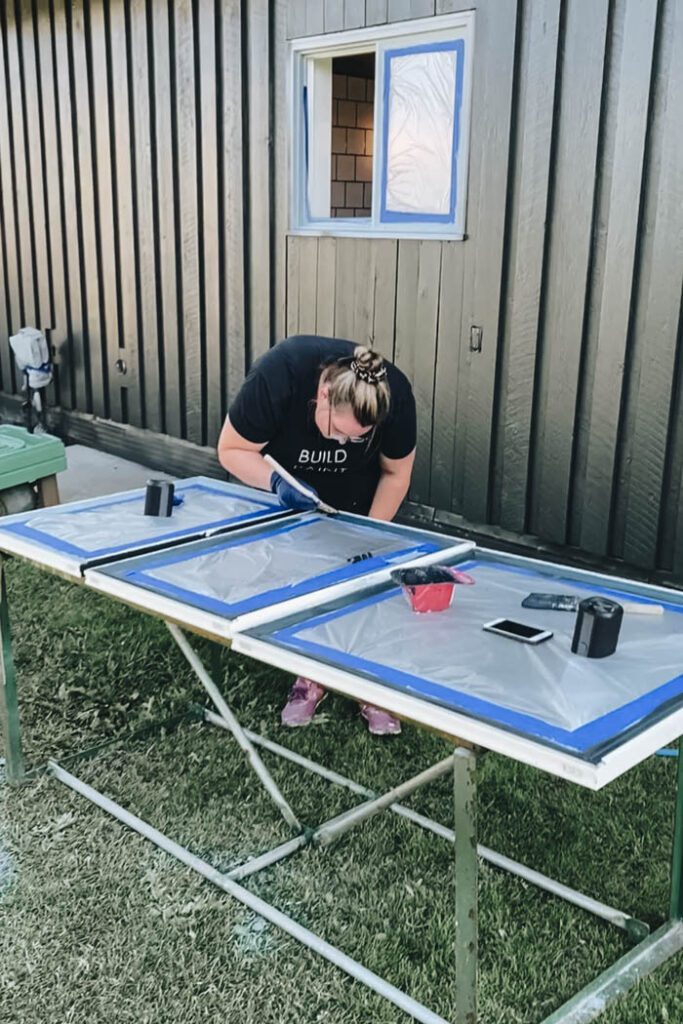 Then with the interior windows removed, we primed those as well. We wanted to lay them flat to prime them so that the paint didn't dip down into the track, or drip into the "fluffy" sliding part of the window. We primed and painted as close as we could to that, so that you couldn't see any white when we put the windows back in.
Brush vs. Paint Sprayer for Painting Windows Black
We painted all of our windows with brushes, and then rolled any of the flat parts with a dollar store foam roller. We love using a paint sprayer, and definitely would've used one if we could have because the sprayer is much faster.
We had painted our window frames during the same time frame that we painted our entire exterior siding. Since our siding was freshly painted, we didn't want to adhere tape to the side of the house, and decided to brush everything on instead. If you use a sprayer, you can tape off the glass in the same way we did, and then tape off the house around the window as well, you would also have to keep the interior windows in place to protect your interior.
Paint sprayers always have overspray, so make sure that you tape off everything well.
We used a straight edge to protect the siding whenever we were brushing paint on the window frames. We also used a small razor to remove any runs or bumps of paint left by the paint brush.
Painting Vinyl Window Frames Black with Multiple Coats
Since we were using the vinyl safe paint that doesn't have any black tint, we needed to do multiple coats before we got a good black finish. You can see in the windows above how the first coat, when dry still looks very blue. The second coat is much better, but you can still see blue through at various spots, so we found it best to do a third coat on every window.
If you watch the video tutorial linked below, you'll see examples of the windows at each stage of the painting process.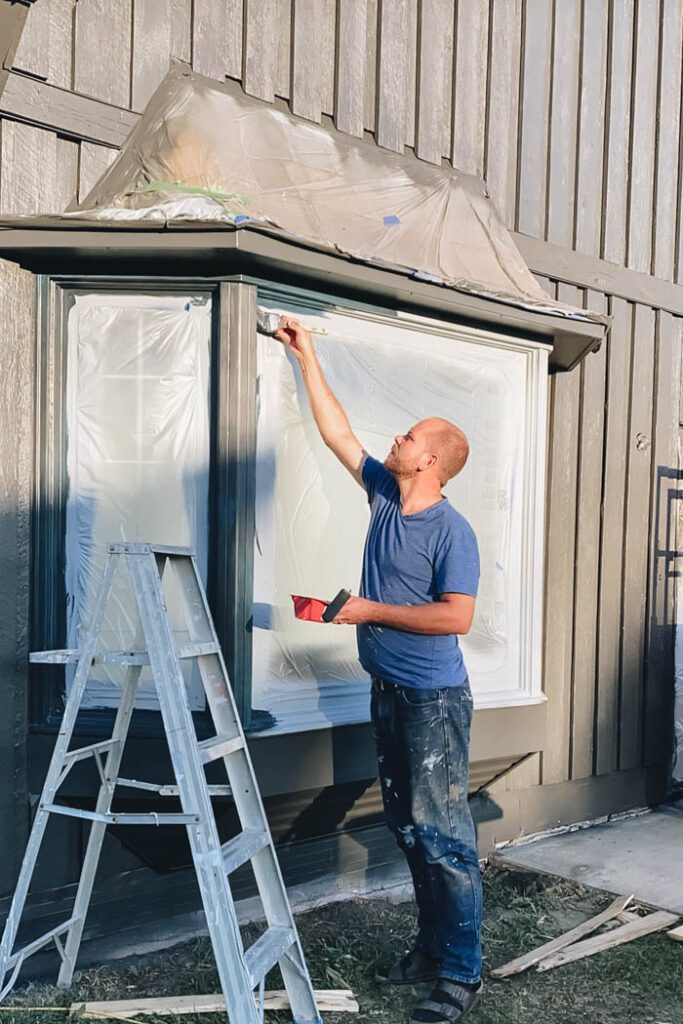 Painting Wood Window Frames Black
Our bay windows and one of our exterior windows had wooden frames. In general you can use the exact same process for window prep, priming, and painting.
If you are painting wooden window frames, you don't need to use the specialized vinyl safe paint because the wooden frames don't have the same risk of warping, but you can use it if you choose to. We still did choose to use the same vinyl safe formula because we wanted all of our frames to match and have the same colour tone.
Finishing Your Newly Painted Windows
As I mentioned before, to get the best finish with a brush, we recommend using a small foam roller as well. When we were done all three coats, we walked around and found a few small spots on the window frames to touch up, but that's it.
If you remove your tape and find that you have any paint on the inside of your windows, if should be easy to remove with a small razor and an SOS pad. The paint inside the frame is likely just from seeping behind the tape, and won't have any primer behind it, so it's still fairly easy to remove.
If I can give one other piece of advice: use the expensive painters tape! It makes such a difference and is definitely worth the extra money to not have paint that needs to be scrapped on the inside after.
Video Tutorial for How to Paint Windows Black
Don't forget to subscribe to our channel for more affordable DIYs!
Our Finished Black Window Frames
We honestly could not be happier that we took the plunge and decided to paint all of our exterior windows black!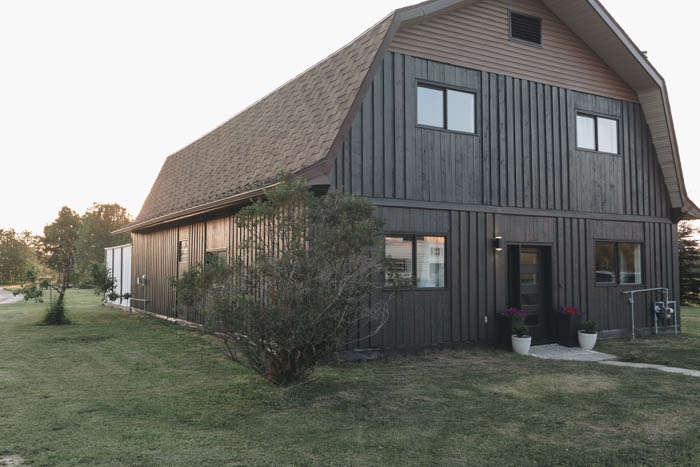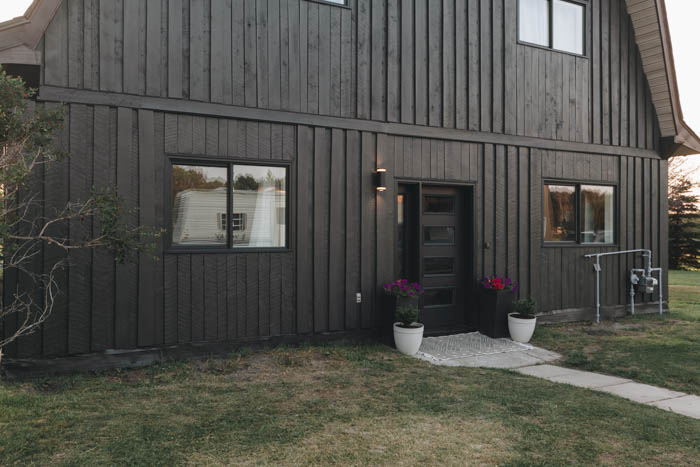 Looking for more exterior inspiration? Check out how we painted our whole home exterior!