Easy DIY Christmas Countdown Calendar! Make this simple dollar store Christmas countdown in minutes to be ready for the holiday season!
We are counting down the days until we can bring out our Christmas countdown calendar, lol. We always start decorating for the holidays in November and there's nothing my kids love more than counting down the days until Santa comes, so I finally made them a little DIY Christmas countdown calendar!
This project is one of six holiday decorations we made, and it's a quick and inexpensive DIY that we did along with other dollar store projects to get ready for the holiday season!
*This post may contain affiliate links. When you buy a product through one of our links, we get a commission at no cost to you! Thank you for supporting our blog so that we can continue to bring you posts like these. For more information, please see our disclosure page.*
How to Make your DIY Christmas Calendar Countdown
Materials Needed
Dollar store wooden letter case
Black paint
Sharpie
Mini wooden block
Step-by-step Tutorial for your Christmas Calendar Countdown
The wooden case I used to make my dollar store calendar actually used to be filled with mini wooden letters. I used the little letters to make a DIY wall letter board and thought the case that they came from was actually a really cute house shape!
I kept the case in my craft stash until the right project came along, and when I decided to make a countdown calendar, it was the perfect size and shape for a holiday craft!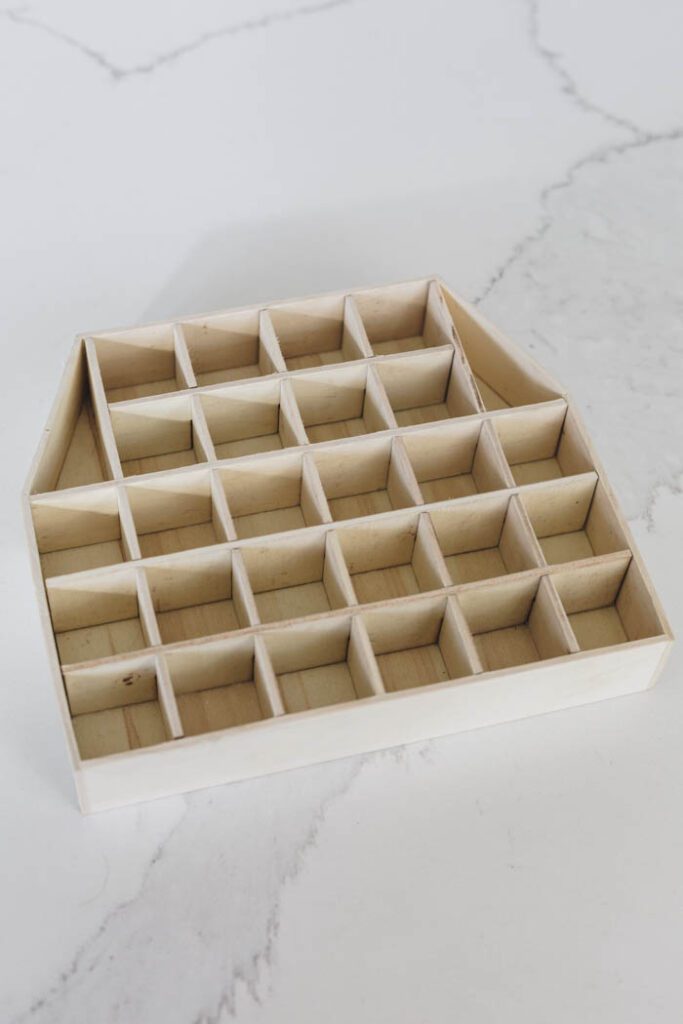 The first thing to do is spray paint the entire wooden case white. Obviously you can use any colour at all, but we had a black, white, green, and wood theme happening for the holiday season and the white fit in perfectly.
The next thing to do is paint the sides, the back and the little front lines on the top with black paint.
None of the dollar store number stickers I found would fit inside these little boxes (although you could use stickers if you can find them!), so I ended up using a Sharpie and my own lettering, which isn't perfect, but it will do for this countdown.
I had some extra squares so I just centered the numbers I needed and planned to leave the other boxes blank.
Next, we need to create something to actually move through the countdown. I used one of these mini wooden blocks to create a tiny, miniature gift.
It's actually adorable! I painted the block, then added a tiny string bow on top, and used a sharpie to continue the look of the lines down the sides of the box. If you actually try to bring string down the sides of a tiny box, it ends up looking kind of lopsided, lol.
This Christmas countdown turned out so cute. My kids are already begging to move the present around and start the countdown.
I added some little mini trees into the empty boxes that I had to help fill the space, and I think it all came together really nicely.
Finished DIY Christmas Countdown Calendar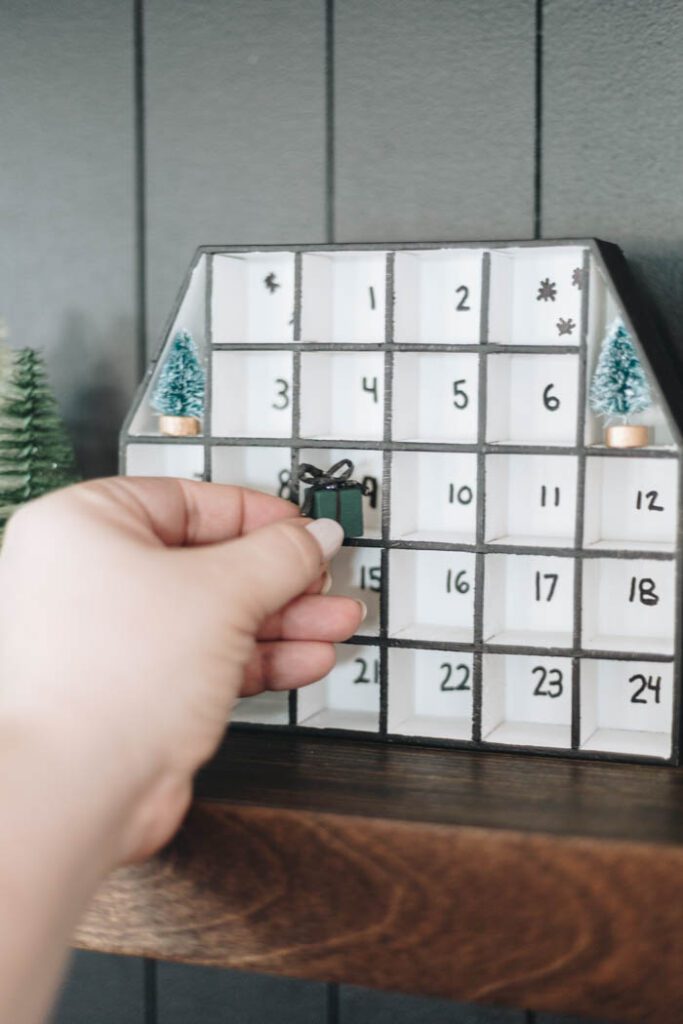 Isn't this the cutest? I love it so much! It's definitely something we're going to use as a family, and definitely has a modern, nordic vibe to it!
More Dollar Store Holiday Season Projects
This Christmas countdown was one of 6 projects I did to get ready for the holiday season using dollar store supplies. Check out the video below to see how I made the other 5 quick and easy projects!
Don't forget to subscribe to our YouTube channel for more great holiday season DIYs!
For more great easy holiday season DIY ideas, check out these beautiful DIY Wood Christmas Ornaments!
Christmas Countdown Calendar
Easy DIY Christmas Countdown Calendar! Make this simple dollar store Christmas countdown in minutes to be ready for the holiday season!
Materials
Dollar store wooden letter case
White spray paint
Black paint
Sharpie
Wooden block
Instructions
Remove the letters from the dollar store wooden letter case
Spray paint the wooden letter case white
Paint the sides, the back and the front lines of the wooden letter case black
Use a sharpie to write the calendar dates inside the container's squares
Create a miniature gift with wooden block to move through the countdown