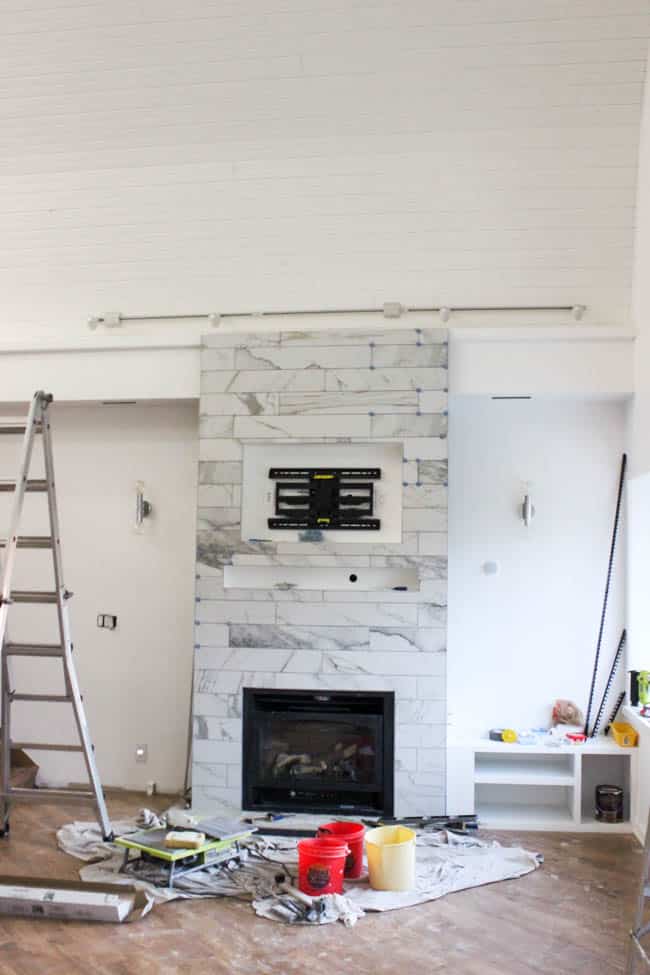 We are officially on week five of the One Room Challenge, hosted by Linda atCalling It Home. Usually, I'd be panicking at this point, like staying up every night until midnight so that I can get the whole room done in time to photograph it for next week's deadline, but I have big news! The One Room Challenge was extended to a 7th week! This was done to help some of the US participants who have been experiencing some not so great natural disasters, and need a bit more time to work on their spaces. But I'm not complaining – you'll see how much more work we have to do, including finishing our fireplace tiling job!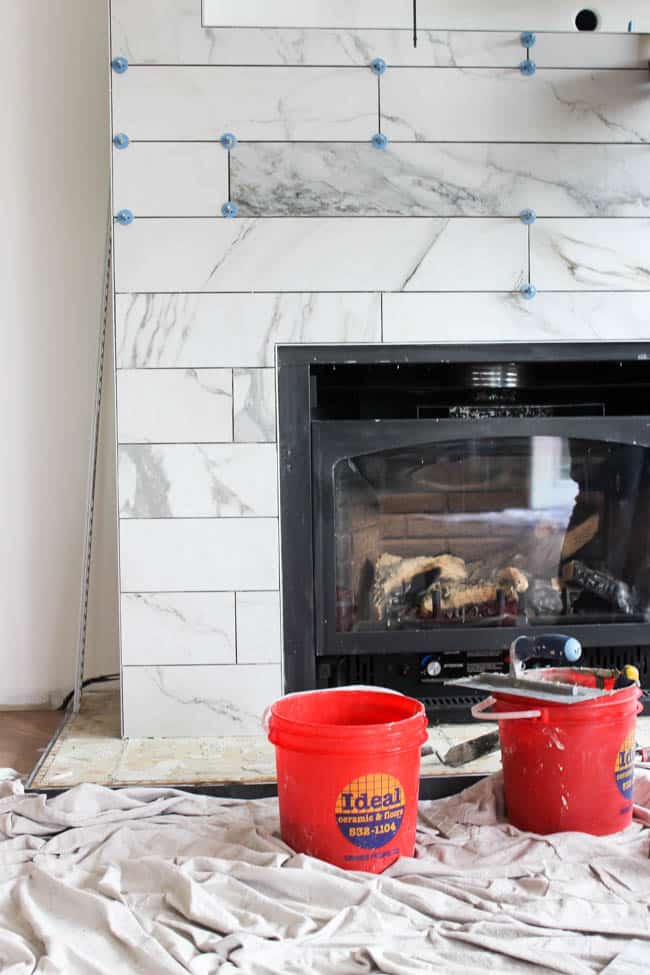 *This post contains affiliate links. When you buy a product through one of my links, I get a commission at no cost to you! Thanks for supporting my blog so I can continue to bring you posts like these. For more info, see my disclosure page.*
If you want to catch up and see our progress, follow the weeks below:
Week 1 / Week 2 / Week 3 / Week 4
Week 5 / Week 6 / Week 7 (reveal)
We finally started tiling our fireplace this week.. and that's basically all we got done! lol. Our best chance to work is in the evenings, and we didn't have every evening free this week, so we sort of failed on the progress front. But good news… we tried a new tiling system that made our lives a HECK of a lot easier!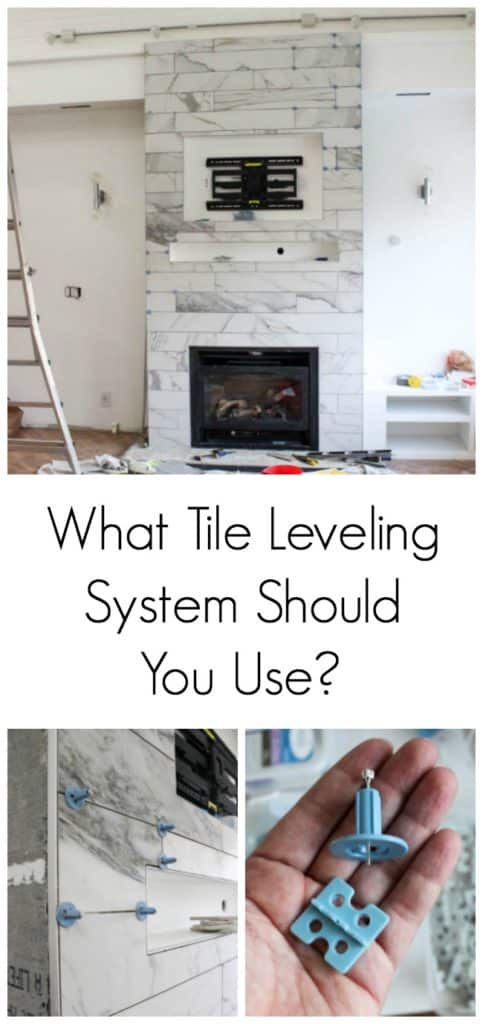 When we tackled our Modern Bathroom Renovation, we did a LOT of tiling. When it came to leveling our vertical tiles, we mostly used a small hand level, our eyes, and our fingers to feel whether it was level or not. This time our fireplace is the main focal point of our new living room and we were looking for something a bit more accurate.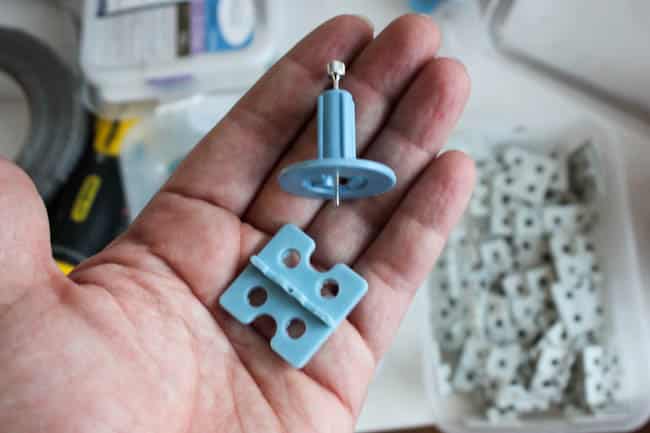 Enter the ATR Tile Leveling System. The way these guys work is that you attach the screw (with the spindle on it) into the flat base, then you put the flat piece down under the tile. You just start setting your tiles, then place one of these bases at each tile intersection. There are bases for two tile, three tile, and four tile intersections.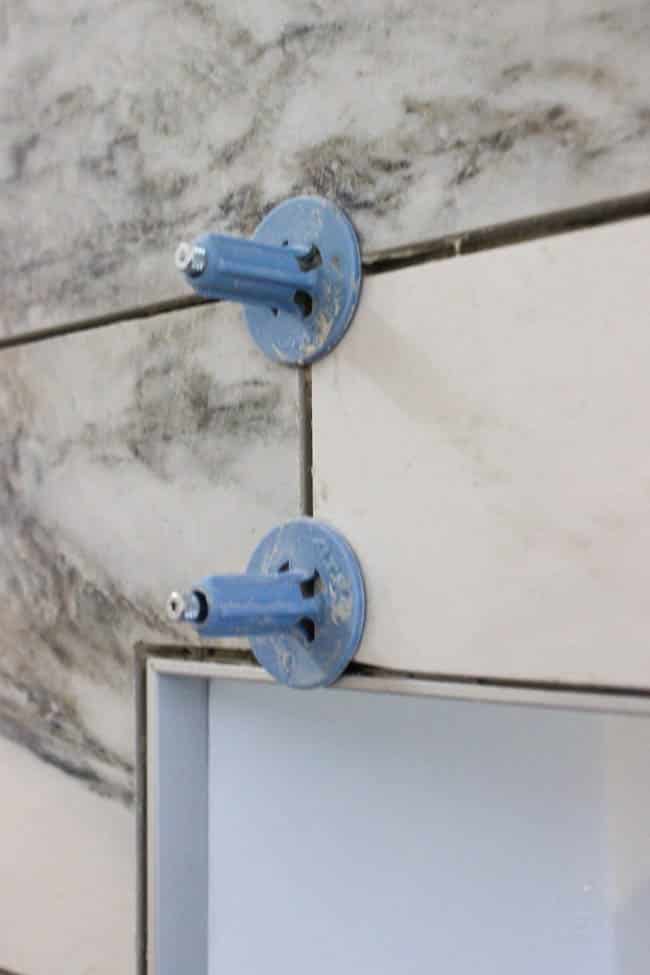 Once you have the tiles layed, you tighten up the spindles. This tightening keeps the tiles perfectly level. It works kind of like a clamp and pulls the adjoining tiles into the same plane.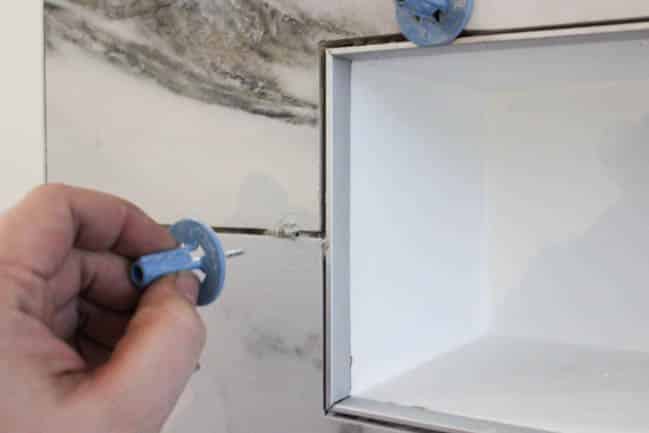 When the tiles are set and the thin set is dry, you can unscrew the screw/spindle and easily pull it off before you grout the tiles.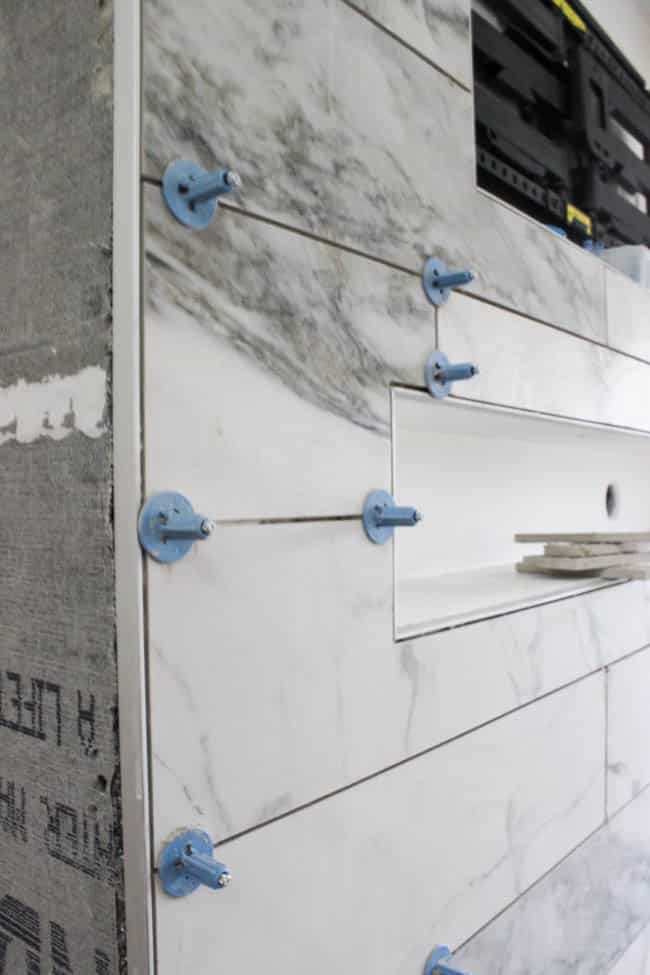 Honestly we were VERY impressed with this system! I couldn't believe how easy it was to use them, and our tiles are set perfectly. They were easy to use and definitely worth the money. I would definitely recommend the ATR System.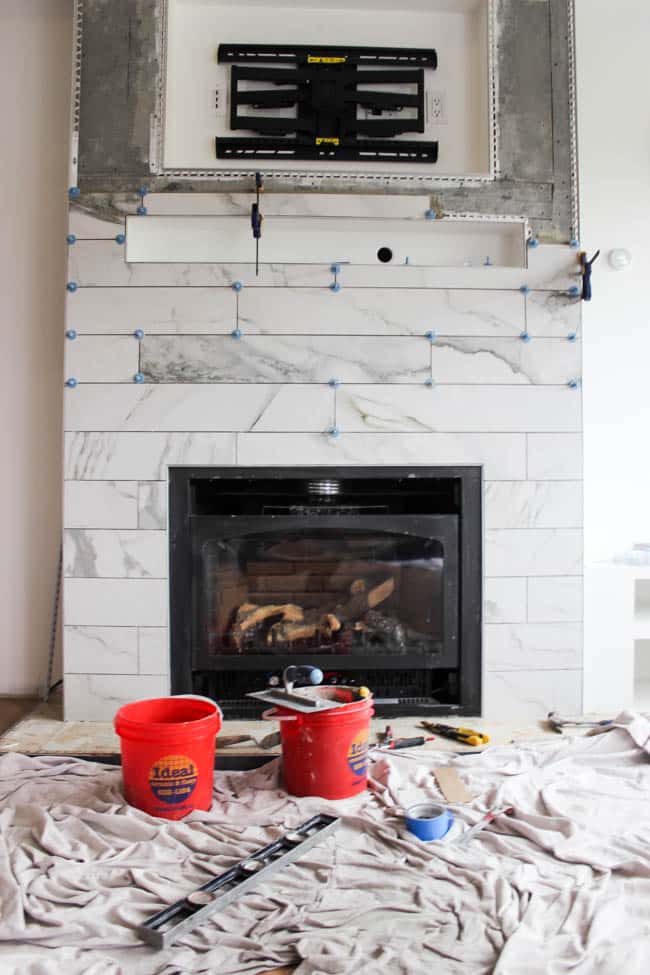 The rest of our renovation progress: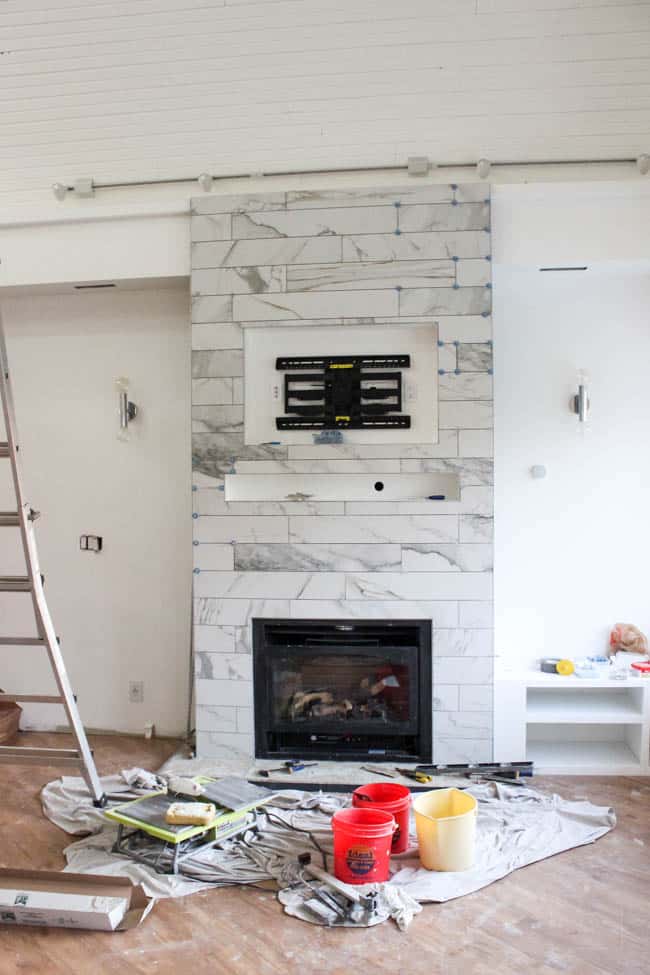 So we got the entire front of the fireplace tiled. Just have to do both sides, and grout it all.... shouldn't be too hard, right?! lol.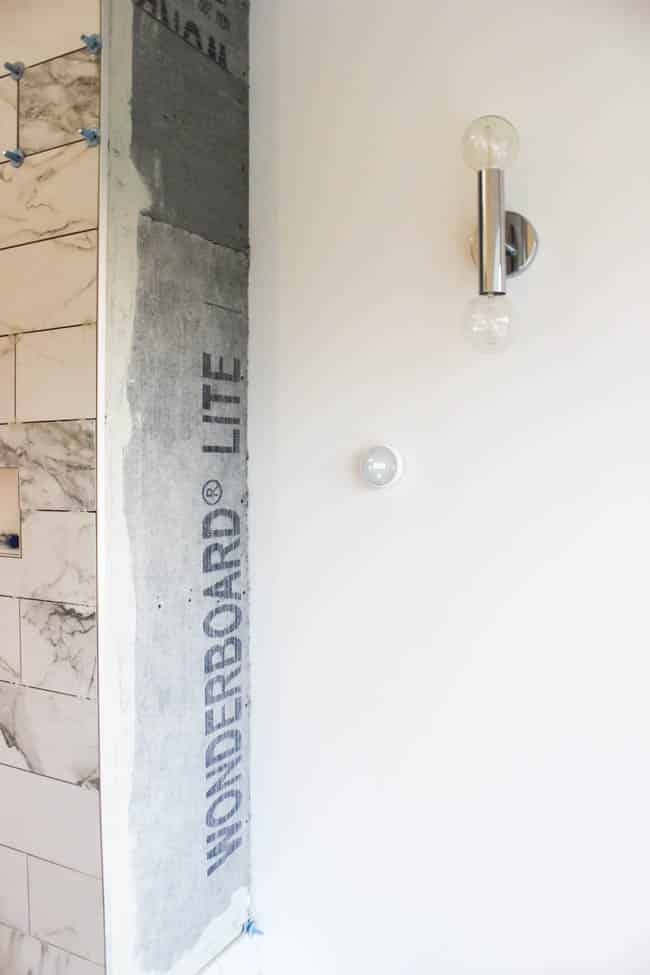 Aside from the fireplace, we got a couple of installs done too. Like our new Nest thermostat to control the fireplace temp!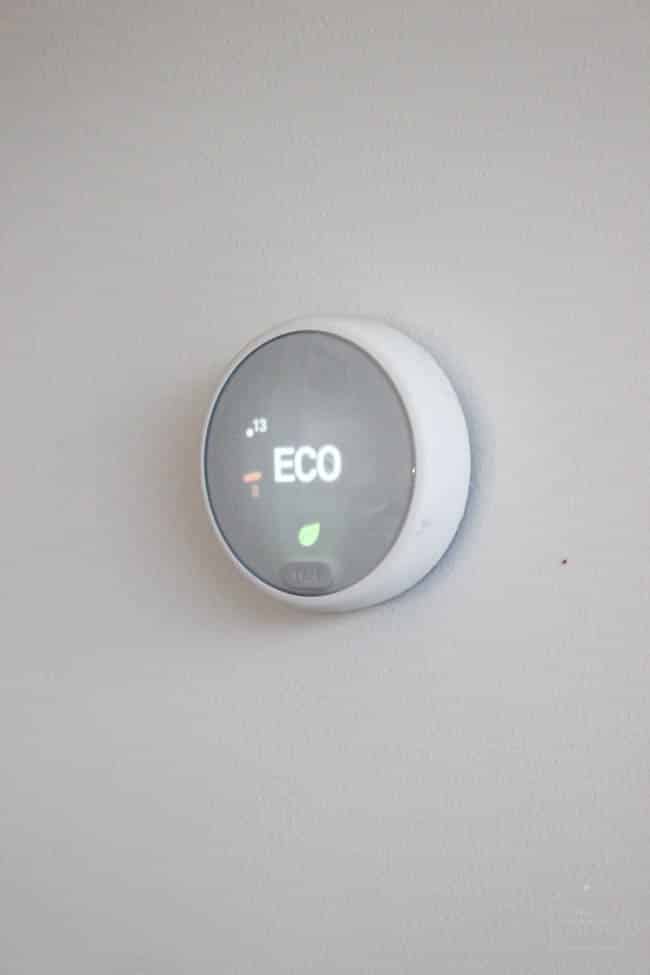 Or our beautiful new sconces beside the fireplace.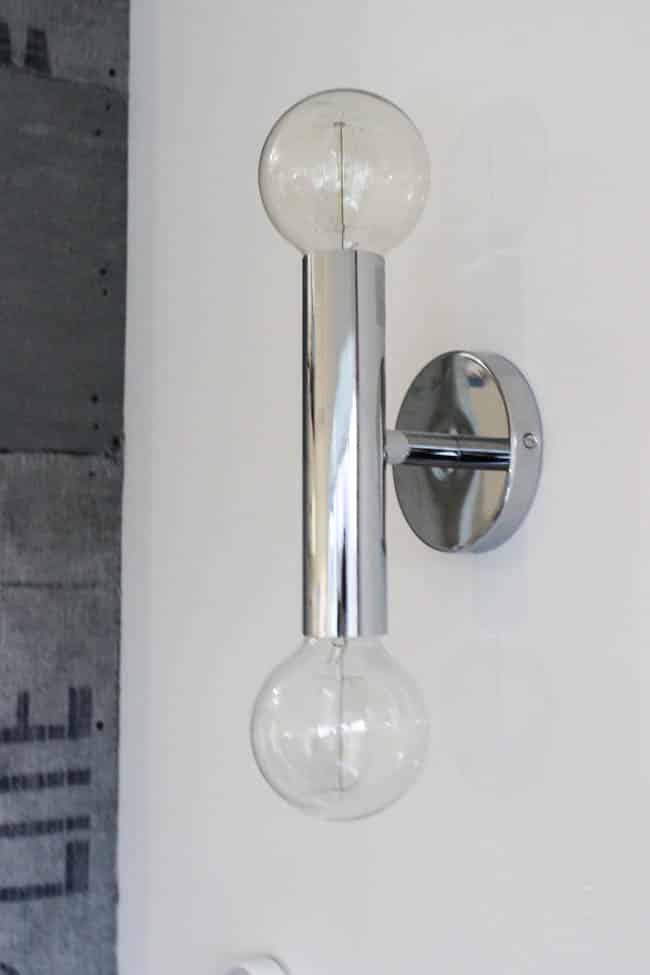 Or our new modern outlets from radiant by Legrand!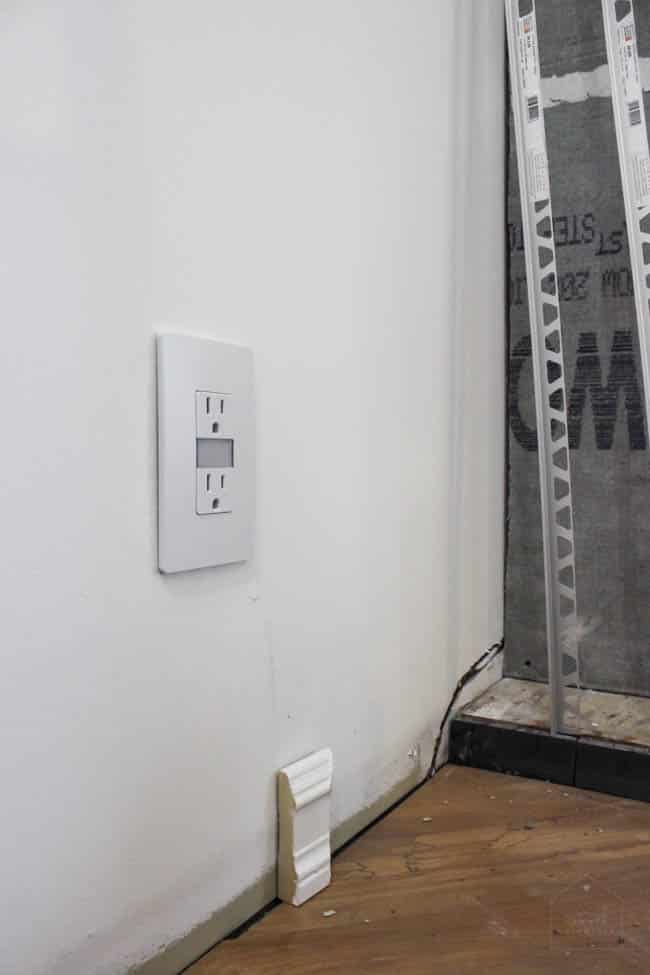 How beautiful are these screwless wall plates? Have you seen anything like this before? I hadn't! And I'm in love with how sleek they look!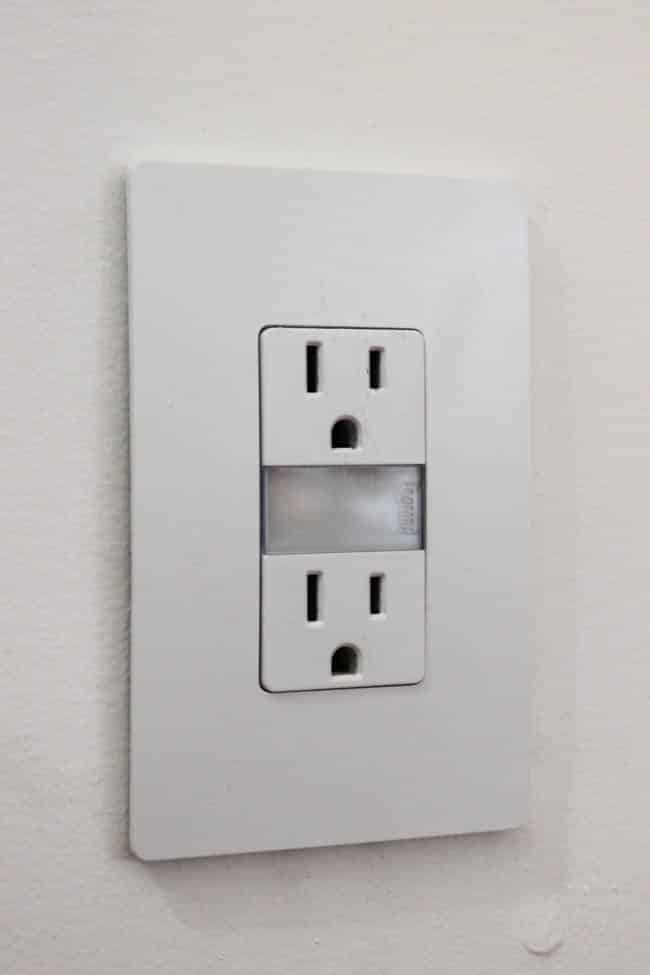 Not to mention the beautiful outlets themselves! Like the one above with a nightlight, or the one below with usb hubs. So perfect for our modern space!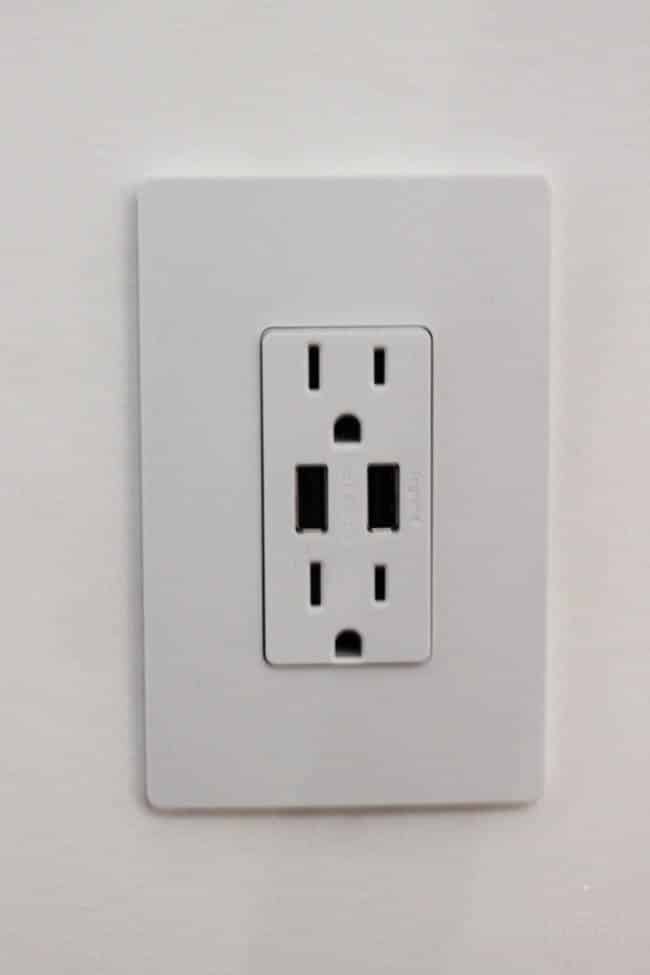 Since I'm an obsessive list-maker, here's how I'm doing on my living room to-do list:
Figure out a colour scheme for the room
Paint walls
Paint Ceiling
Buy a couch
Buy new accent furniture
Build side tables
Build fireplace frame
Tile fireplace
Build bench beside fireplace
Make a bench seat
DIY some artwork
Wire and install new sconces
Replace all switches and outlets
Pick out new decor pieces
Please share your thoughts! I'd love to hear what you think of our progress!