A beautiful Modern Small Bathroom! Gorgeous bathroom layout and design ideas, to turn a small space into a beautifully organized bathroom!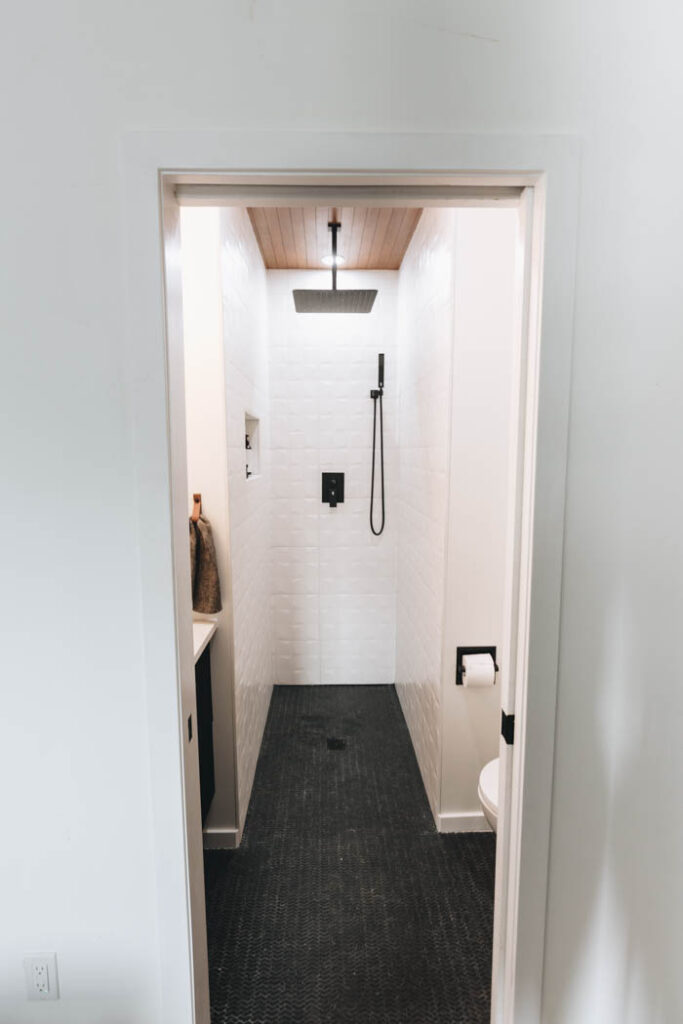 When we originally bought this house, we gave up the ensuite in our old home. We always missed having one, but didn't know if we would get one in this home. This past year we starting tearing into our upstairs hallway, and realized, that if we stole some space from the hallway, we could add our own modern small bathroom onto one of the existing bedrooms. We finally went for it this month, and I'm so glad we did!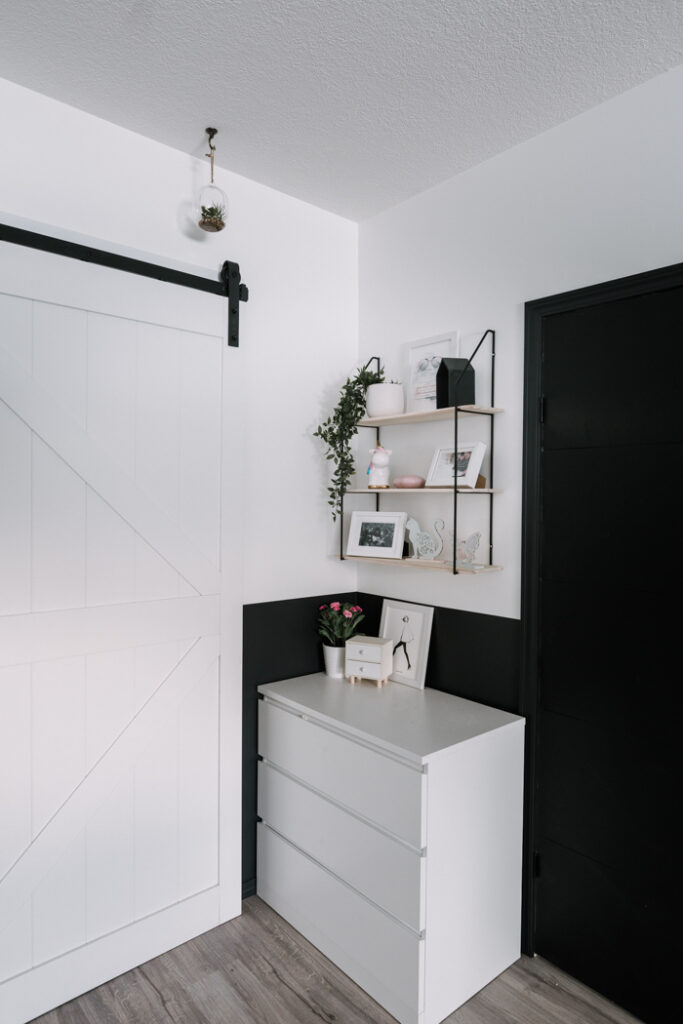 *This post was sponsored by Valspar Canada and may contain affiliate links. As always, opinions are 100% my own. For more information, please see my disclosure page.*
Modern Small Bathroom Layout
Because our bathroom is so small, we didn't have a ton of layout options. Our plan was to steal this bedroom above from our children, and put a wall directly beside that black door. The wall expands across the entire bedroom, and widens a walk-in closet on the other side as well (the video will show this well if you're interested!).
The entire shower stall space was stolen from our hallway, and the vanity and toilet area fit into the space that used to be our bedroom. Our bathroom was about 34 sq ft. total, and our shower stall is about 12 sq ft.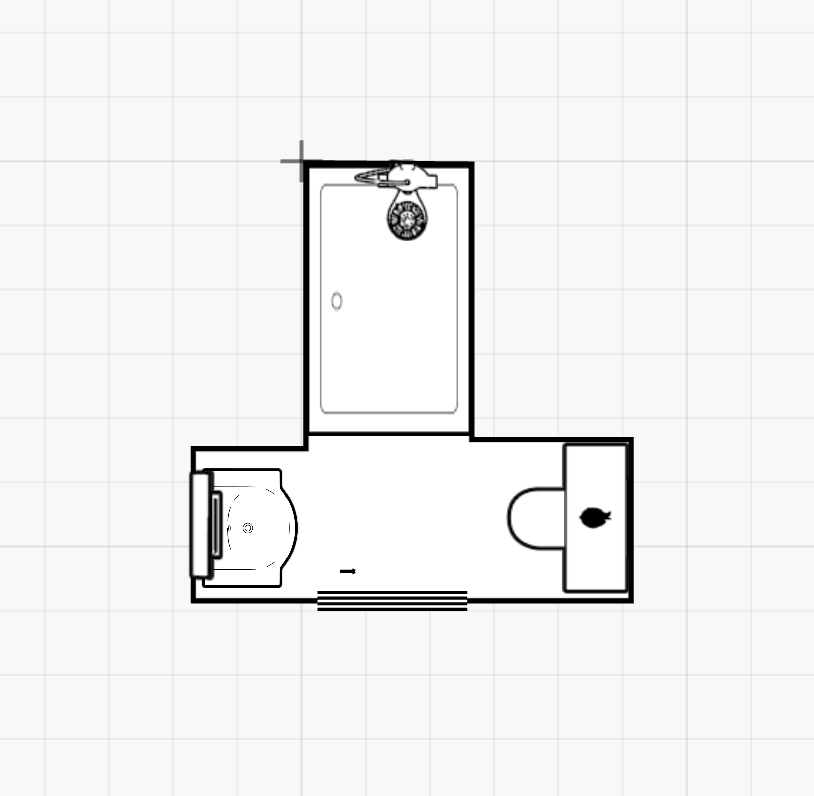 Modern Small Bathroom Design Ideas
There are a ton of space-saving design ideas in this bathroom that help it look and feel bigger! I started by talking through the logistics of the space with my contractor/husband, lol. We chatted about all of the possibilities! Here's a few of the things we decided to do to help the space feel bigger and still be functional:
A bright white paint colour (to keep the light bouncing around the room!)
Light coloured tiles
Ceiling feature to draw the eye up and elongate the space
Curbless shower to keep the space open
Wet bathroom design – no shower door or curtain if possible to keep it open and spacious
Built-in vanity (this was a DIY!)
Hidden storage (medicine cabinet behind wall and wall niches)
Use pocket doors
One other addition that would've been amazing for this space is an interior frosted window (because the ceilings are so high!) or a sky tunnel above the shower. Both of these would've allowed some natural night into our bathroom that is entirely enclosed, but we weren't able to add either this time for various structural reasons.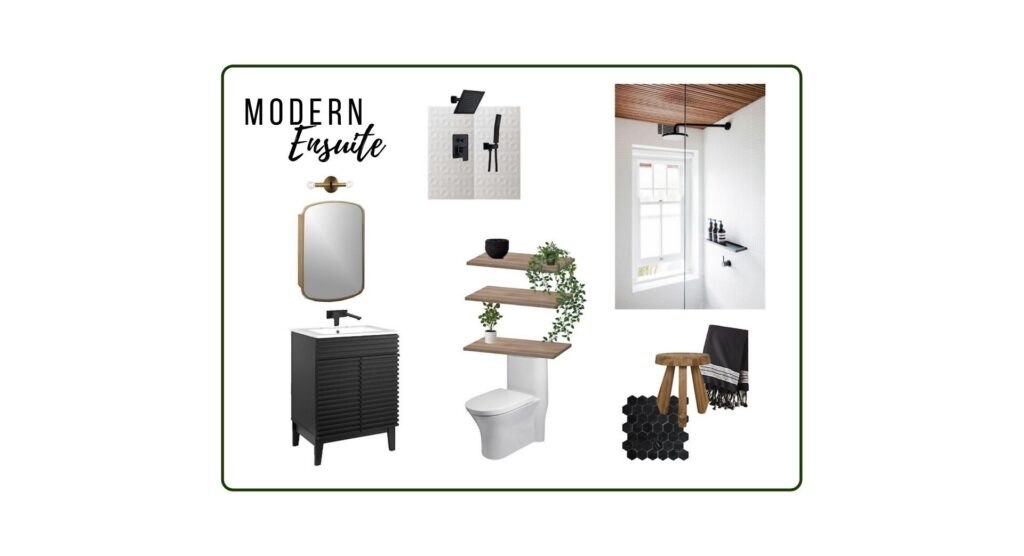 Bathroom Renovation Video
If you want to see the entire bathroom transformation, we filmed every step for our YouTube channel! See a tour of the space when it's just a corner of a bedroom, and watch it transform into a beautiful ensuite!
Don't forget to subscribe to our YouTube Channel for more DIY and Home Renovation videos!
Our Small Modern Bathroom Reveal
After about 6 weeks, we were able to create this beautiful tiny ensuite. We actually only worked for about 3 weeks on the space, but had to re-order tile in the middle of the project, delaying everything by about 3 weeks! Even still, I think 6 weeks to create an entirely new space in our home was time well spent!
We had a bathroom across the hall that we used for all of our plumbing, and we put a vent in the ceiling over the toilet that vents out to the side of the house.
We've been using the bathroom for a week now, and we're so happy with everything we did in here! Here's a huge onslaught of photos so you can see every angle of our beautiful new bathroom!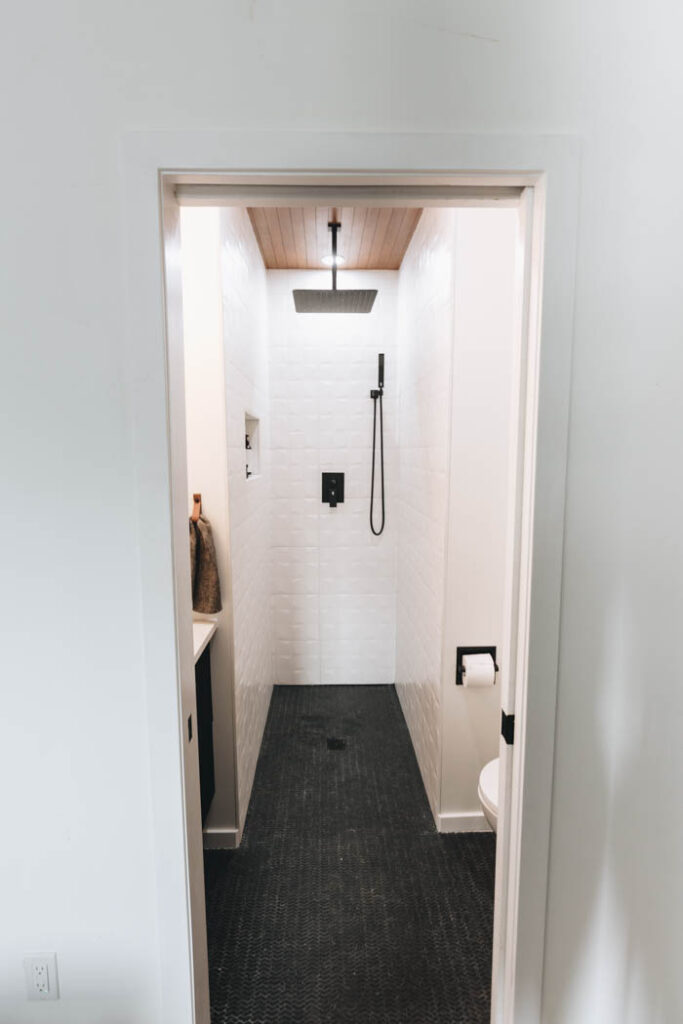 Above you can see a peek at the pocket door that we added. Definitely a huge space saver in here! This photo also gives a full view of the curbless shower. Our shower is pretty deep, and we have a rain can that lets water straight down so it would minimize any water splashing. We also have all of the floors sloped towards the drain, so the water stays in the shower area and allows us to keep the space more open.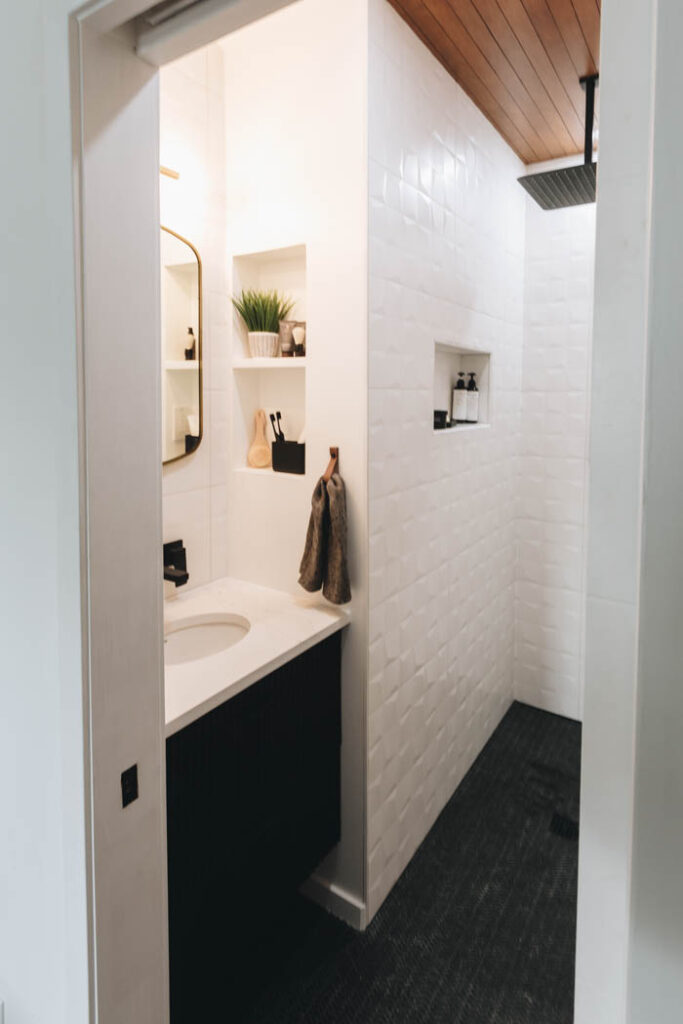 We used a bright white tile with some dimension so that you could still get a beautiful pattern from the design, and we used a beautiful bright paint colour from Valspar.
The Ultra White from Valspar was perfect for the space. It's a really crisp, clean white, and played beautifully against the white and black tones in the space, as well as the wood and metallic accessories and features.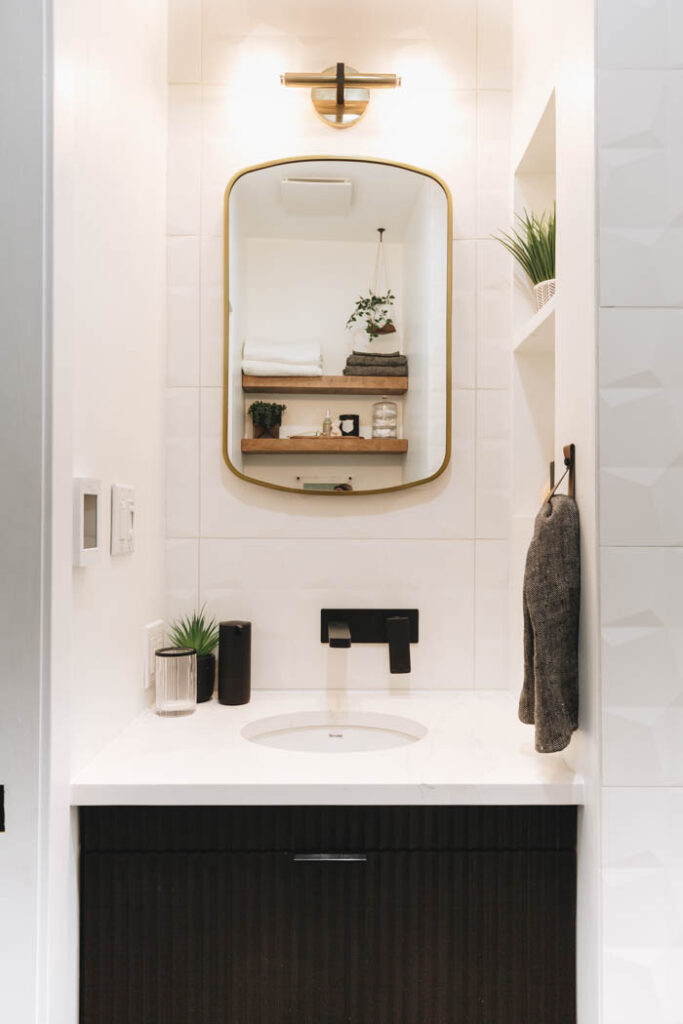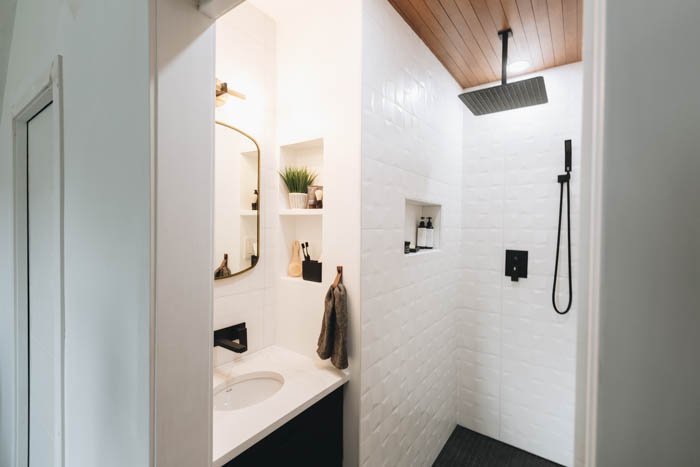 The beautiful medicine cabinet was the perfect way to add some hidden storage! It doesn't protrude into the space, which allows it so maintain the open, airy feeling. We also added another wall niche into the side of the bathroom for our everyday items!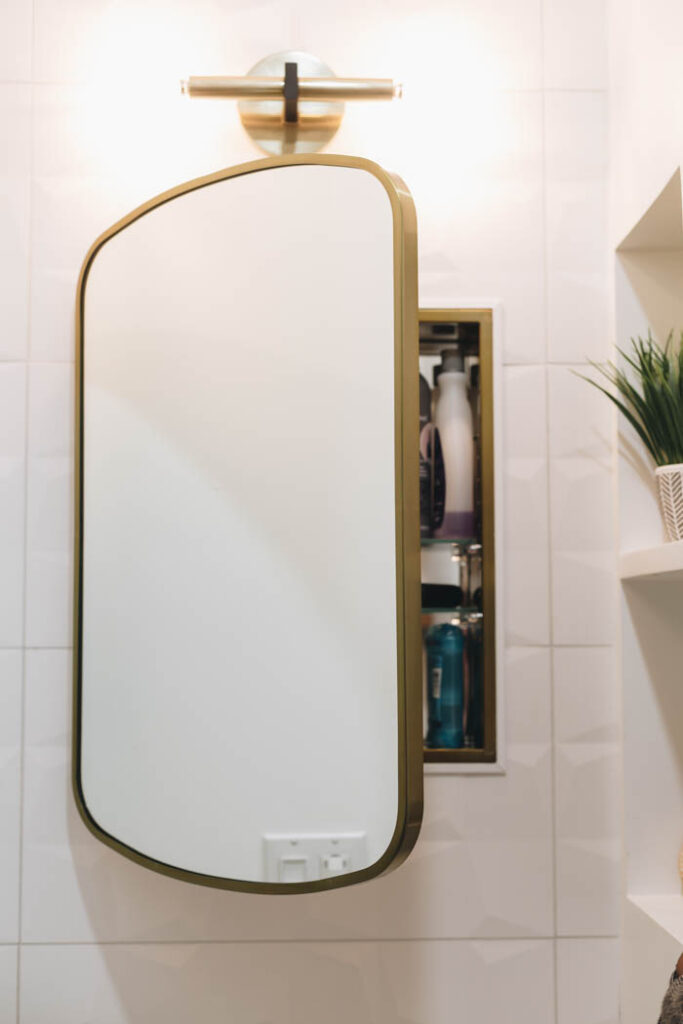 The black vanity below is one of my absolute favourite features of the space! We bought a cheap IKEA vanity, and made it look built-in. Then we made custom door fronts that bring so much texture into the space. It's so hard to capture how amazing it looks on camera, but this IKEA vanity hack is my favourite feature of the whole room!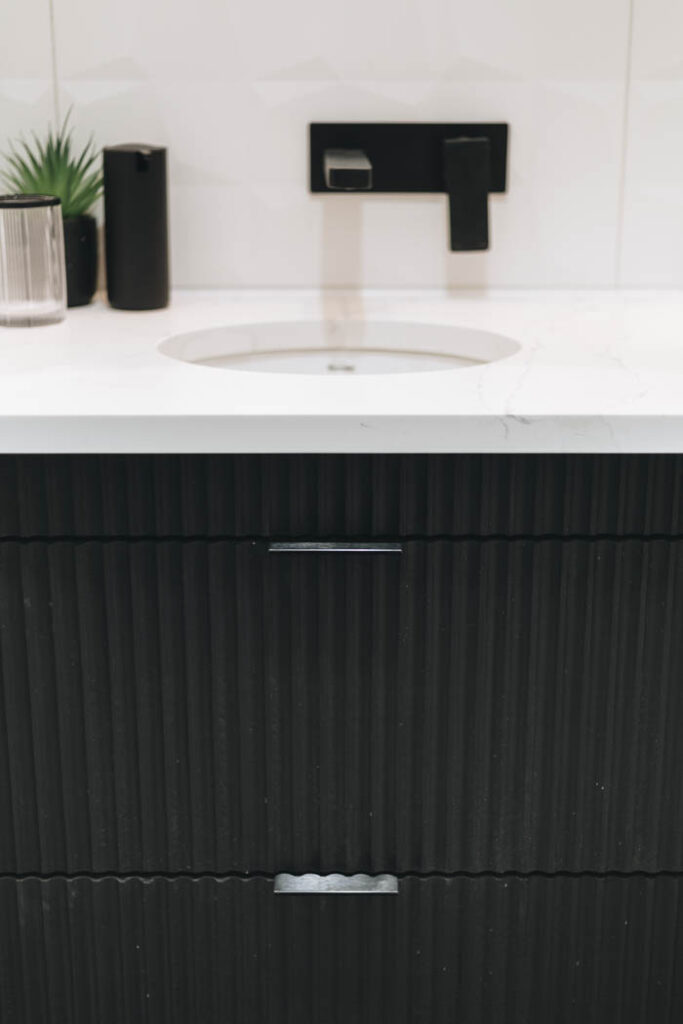 Then we loved every detail of this shower, from the 3D tile install, to the DIY wood ceiling, to the black fixtures. It all came together beautifully, and the wood bathroom ceiling adds so much warmth to the overall design.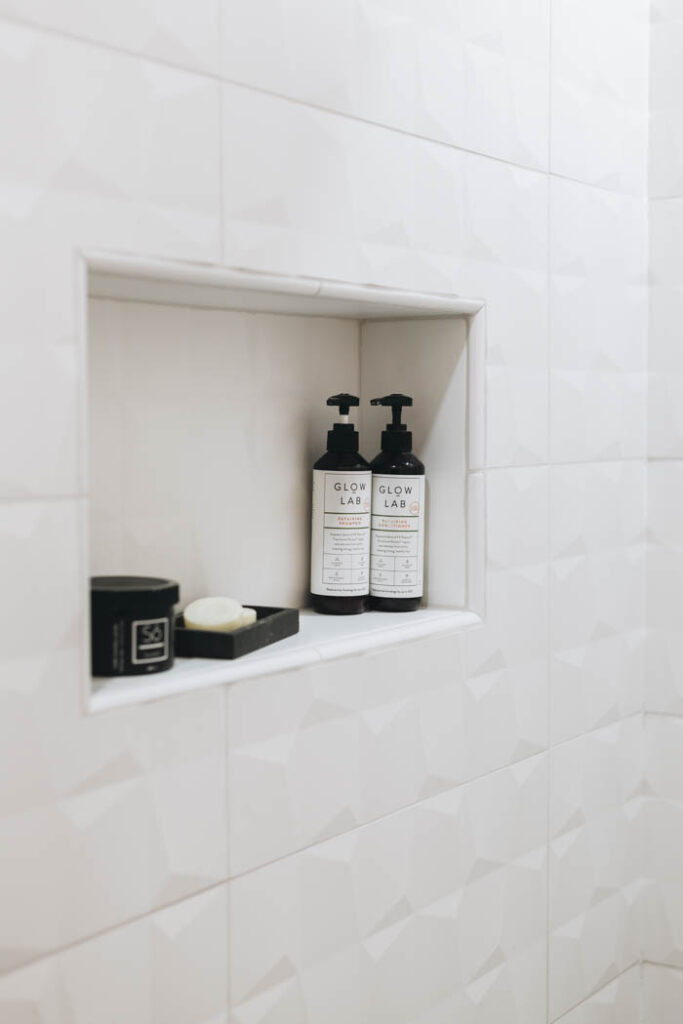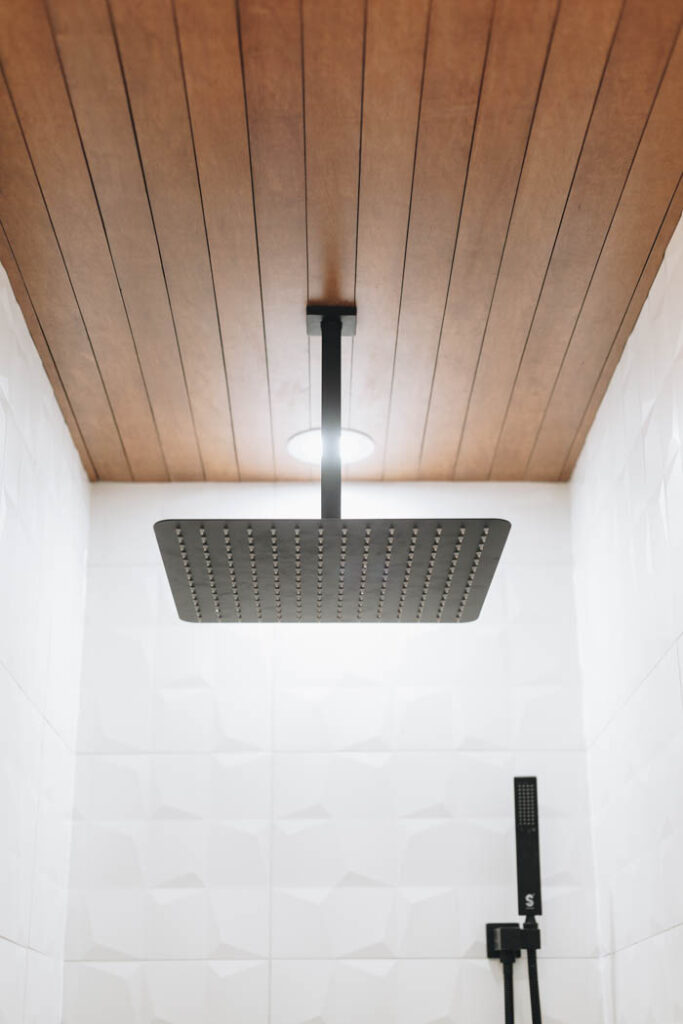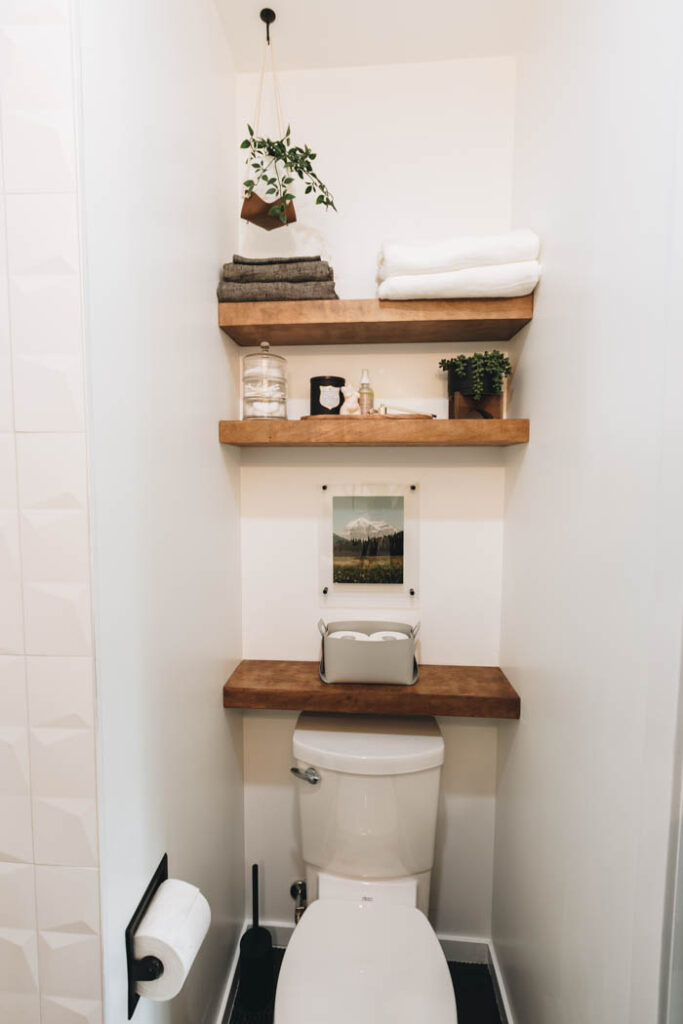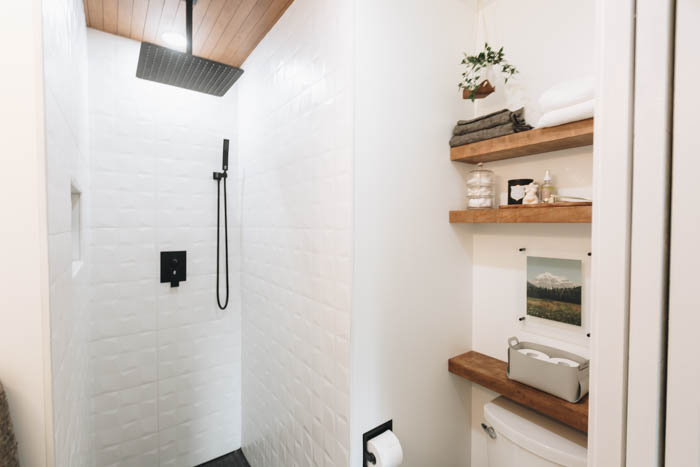 All of the storage above the toilet was another must-have here. Again, it's a great use of the space, and it's beautiful too! The addition of the little toilet paper basket might be one of my favourite features here, lol.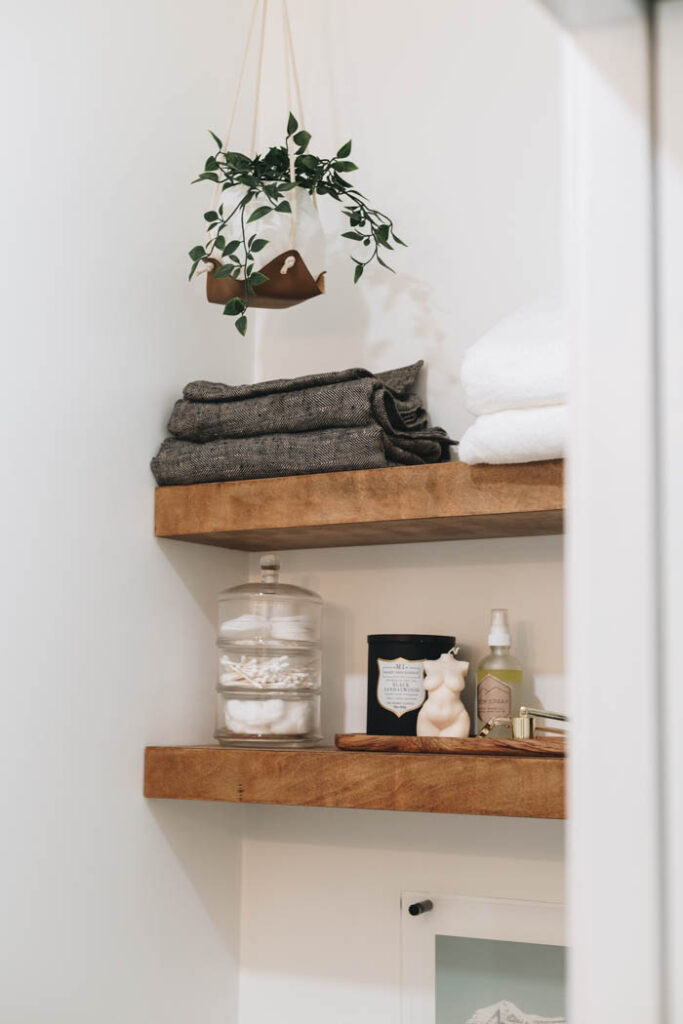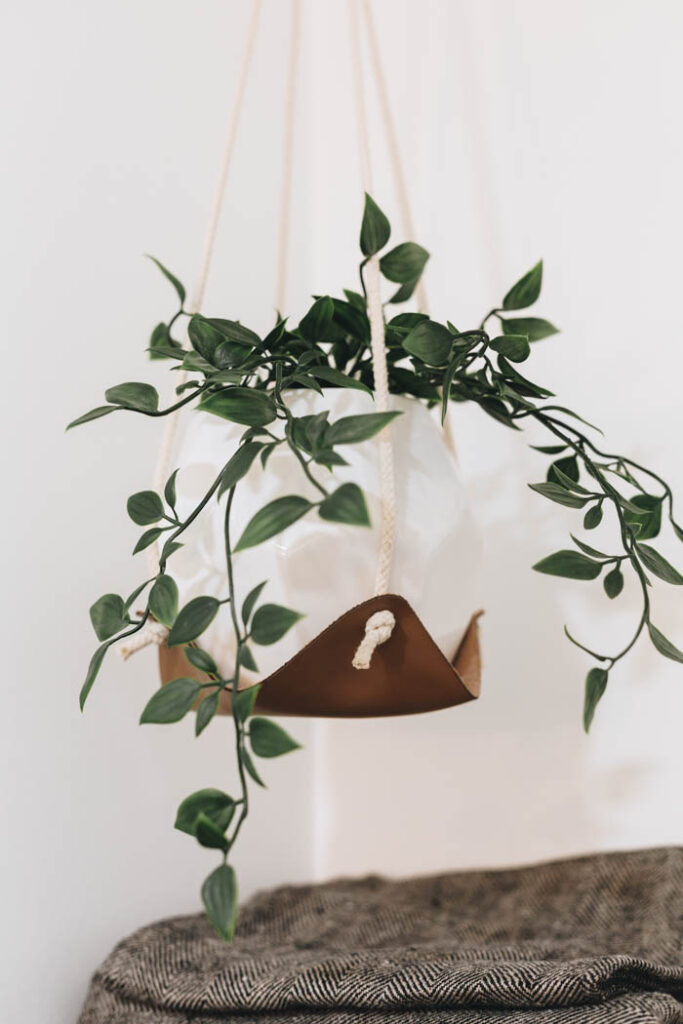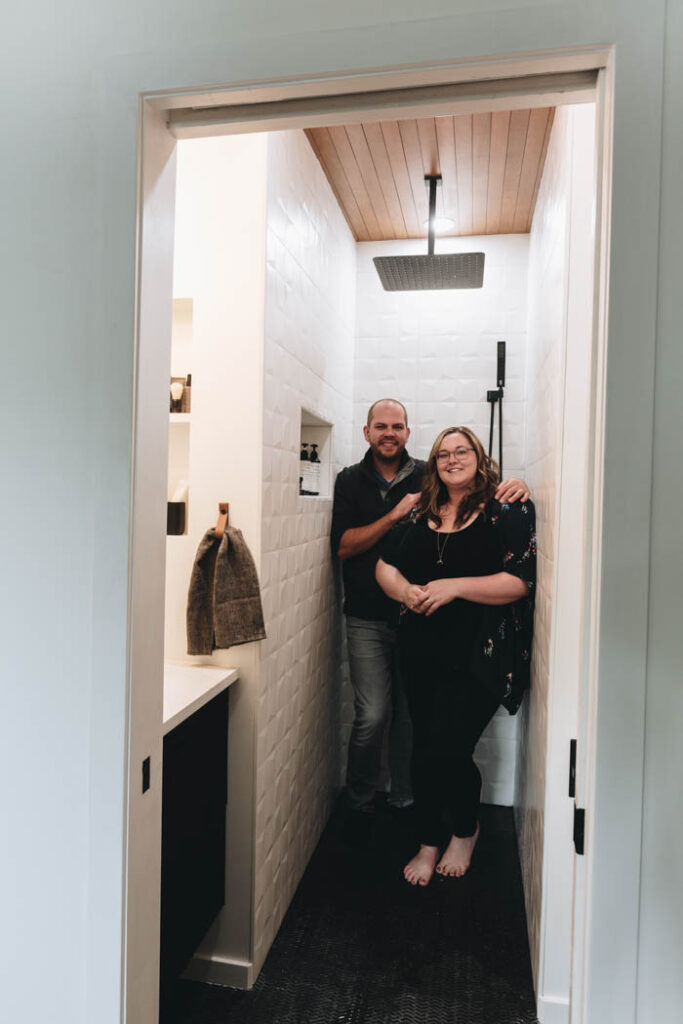 Modern Bathroom Sources
Here's a list of all the products we used in this renovation.
Bathroom DIY Tutorials:
If you're looking for more bathroom inspiration, check out this beautiful Modern Bathroom Reveal!