An amazing DIY Playhouse for kids! This outdoor playhouse build will blow you away with its modern kids furniture, kids kitchen, and upstairs loft!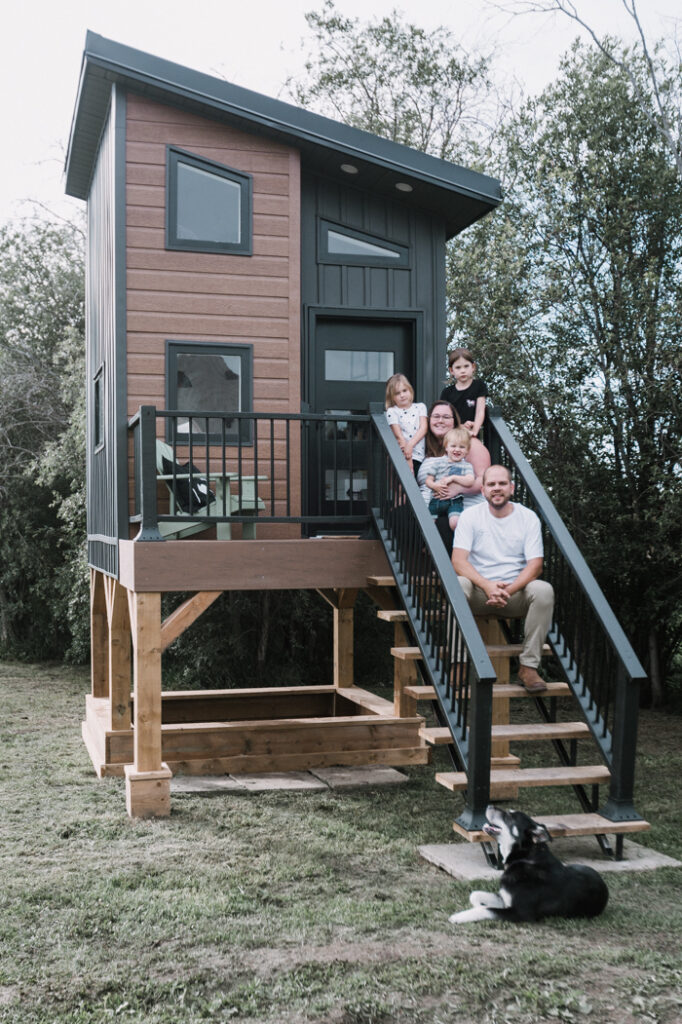 It's a beautiful day for a playhouse reveal, isn't it? We've spent the last 6 weeks building this tiny home playhouse for our three kids and we are so excited to share the finished playhouse today! Our DIY playhouse includes a miniature kitchen, living room, dining room & more!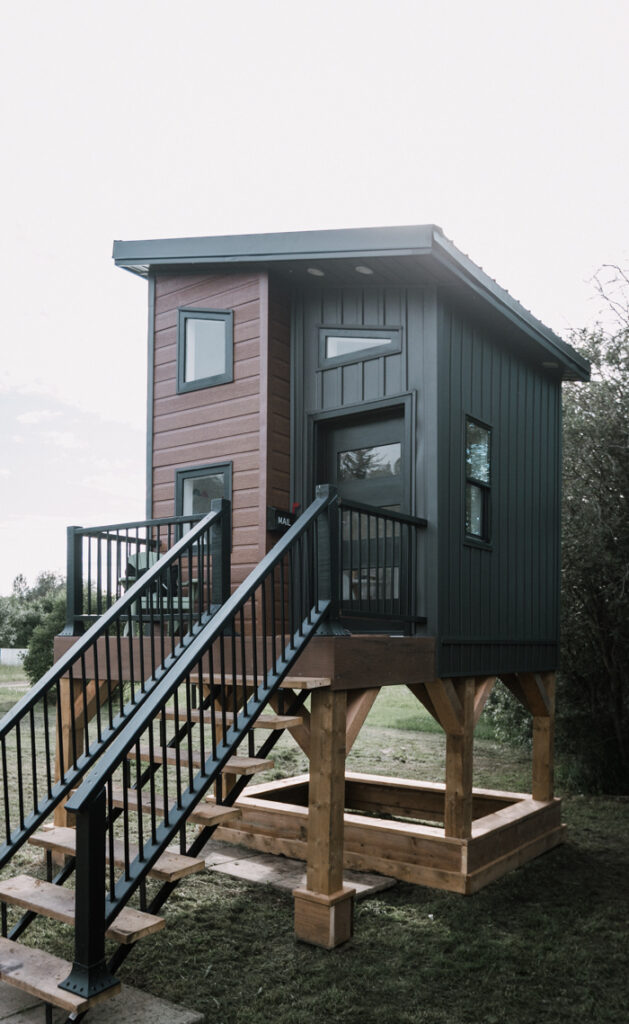 *This post may contain affiliate links. When you buy a product through one of our links, we get a commission at no cost to you! Thank you for supporting our blog so that we can continue to bring you posts like these. For more information, please see our disclosure page.*
This playhouse build was part of the Jeffrey Court Renovation Challenge. We had six weeks to makeover a space, and we chose to build this amazing playhouse. The challenge is hosted by Jeffrey Court, along with Behr Paint and Frogtape!
If you love the playhouse, or enjoyed following along with our build then PLEASE vote for us!
Thank you so much!
Final Touches on Our DIY Playhouse Build
If you're not sure, how we got here, you can follow along with the entire playhouse build starting at WEEK ONE when we shared our design plans!
This week we had a few interior touches to do before we could bring in all of the furniture and decor to make this playhouse a play home!
We started by tiling the floors and mini wall with these beautiful tiles! The mosaic on the floor has me wishing I had done it in my own home. It's soooo beautiful!
The mini black subway tiles are so lovely too! It was the perfect choice for this mini kitchen, but with the black grout it's so pretty! I'm already picturing it in my future laundry room… lol.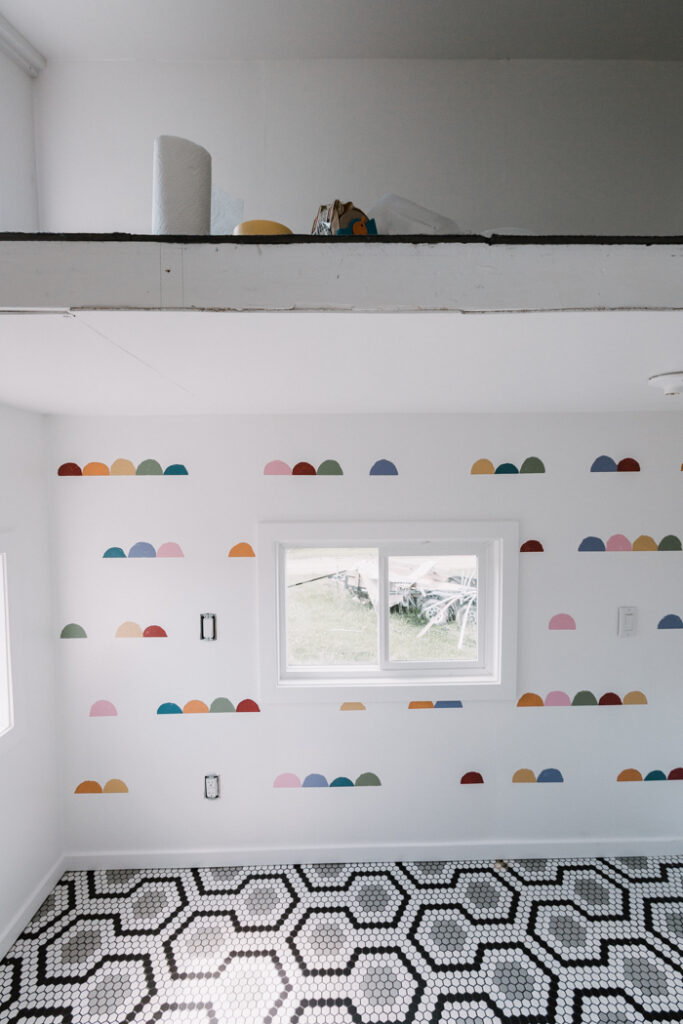 Other other big project before we finished off the playhouse was painting our scalloped rainbow feature wall! Thanks to our Wagner Paint Sprayer we were able to paint the entire interior in just a couple hours (primer and then paint!), and we were ready for feature wall paint!
I love this wall so much. The only thing my girls asked for in here was rainbow colours and this is how I delivered them.
My oldest daughter even helped me do it! We did the whole wall in about an hour. It was super fast and easy. It looks modern and playful and is everything I was hoping for in this space.
Video Reveal of Our DIY Playhouse
Want to see a video tour of the space? Watch the whole video tour of the playhouse and our children's adorable reactions to their new play home.
Don't forget to subscribe to our YouTube channel!
Our DIY Playhouse Exterior
From the outside, you probably wouldn't even know that it's a playhouse. We made this playhouse so that the kids could use it all year round, and covered it in beautiful siding.
With the help of DAP Canada we also finished off the interior, insulating it and making it watertight!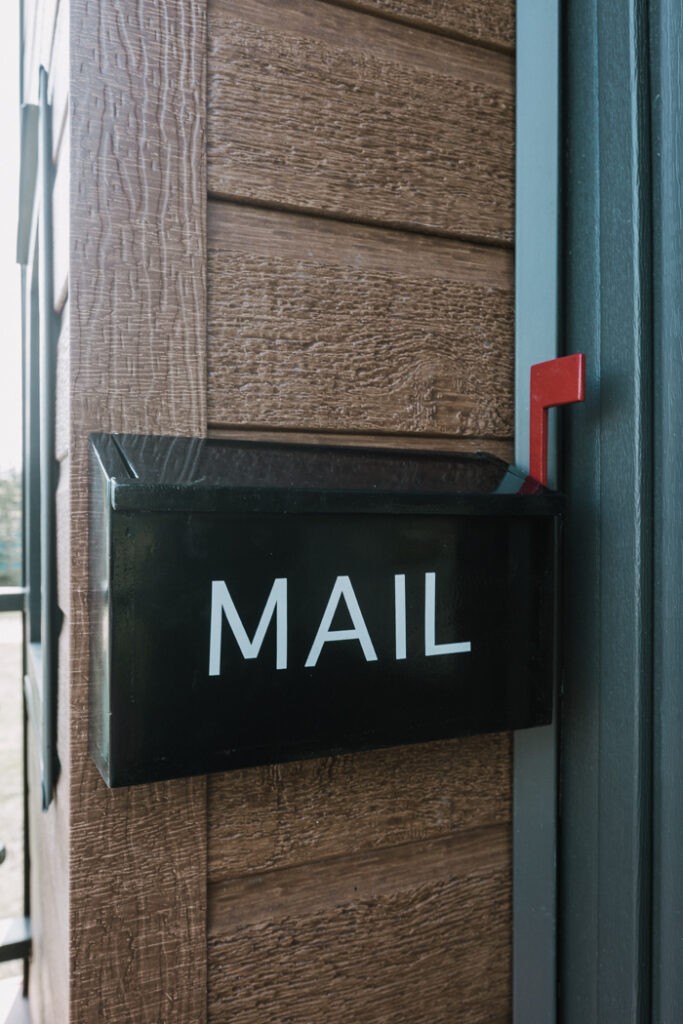 We added a cute, and functioning, mail box beside the door so that the kids had something fun on the exterior too!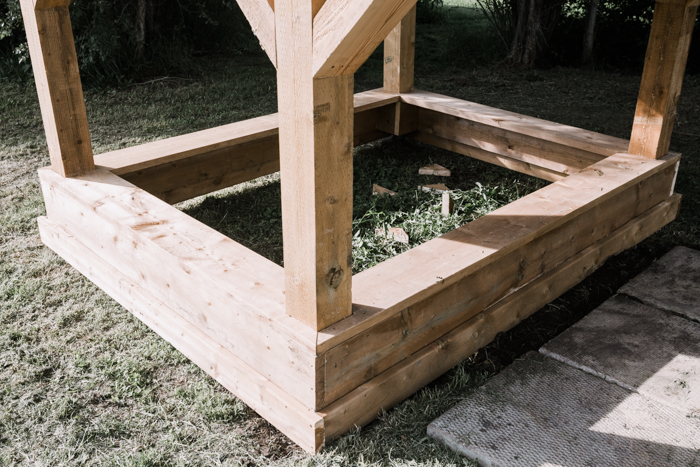 Underneath the house portion of the playhouse, we also built a big sandbox! We didn't have sand for it right away, but we're planning on lining it (so that the sand doesn't go everywhere!), and filling it with sand for the kids.
Our DIY Playhouse Interior Design
We built the front door to mimic our own exterior front door and LOVE the little glass openings. While the outside is that beautiful black paint, the interior is stained and looks amazing from inside.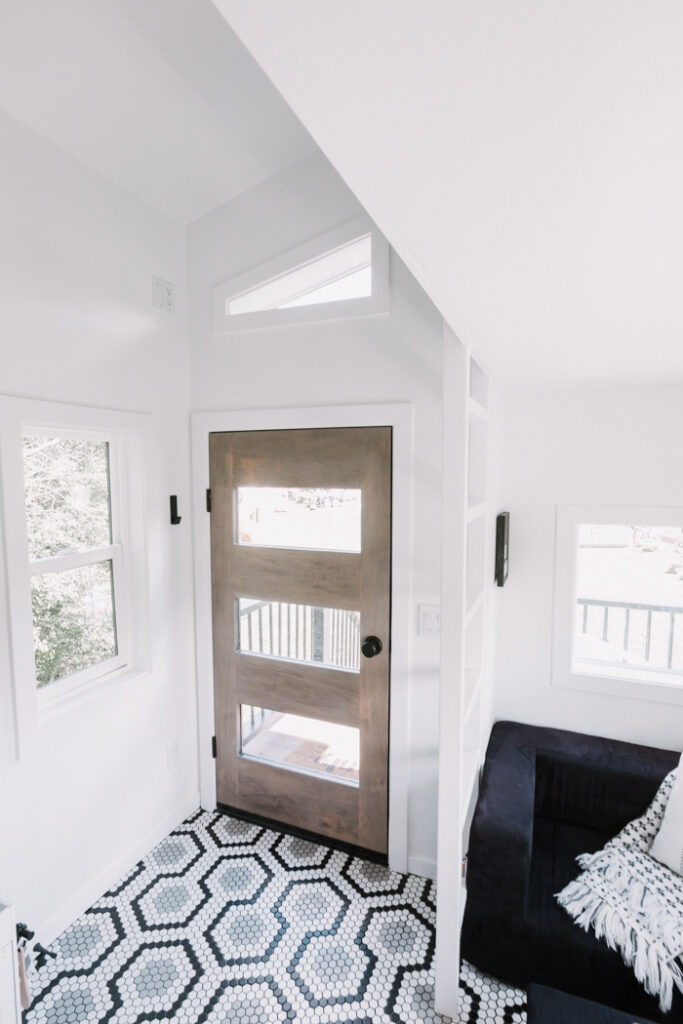 We added matte black knobs and hinges, which really pop against the stained door!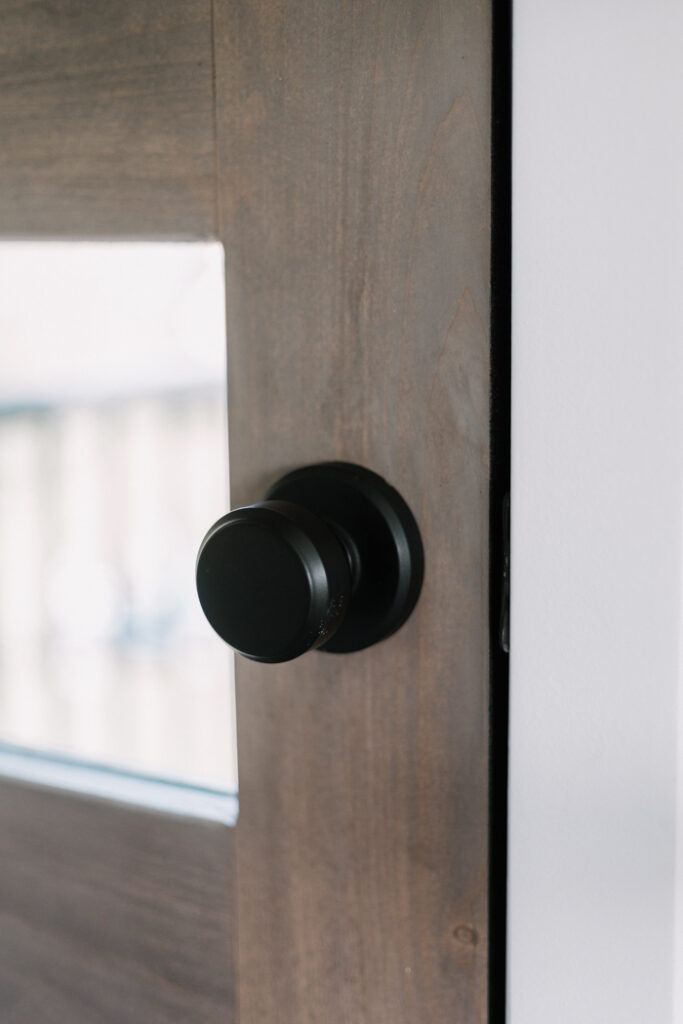 When you walk in, there is a ladder right beside the door leading to the loft, and then on one side is this adorable mini living room and dining room.
Then one the other side is our mini playhouse kitchen, with a rock wall in between as the second way up to the loft!
Our Playhouse Living Room and Dining Room
I cannot get over how cute this place looks on the inside! Everything we bought and DIY'd came together so perfectly.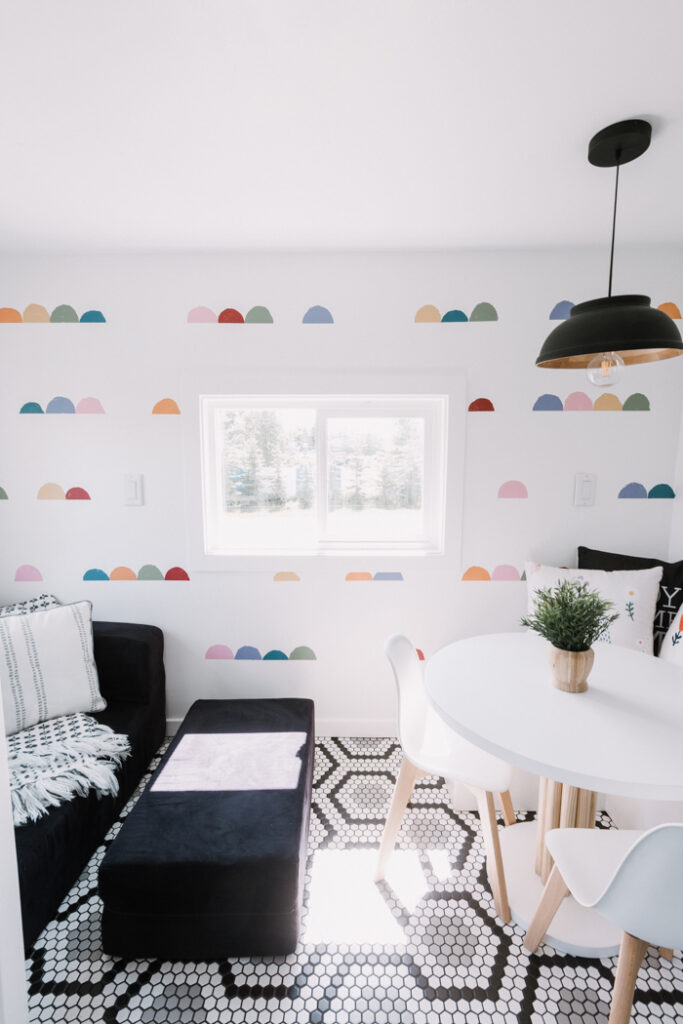 The little couch was an amazing find. I can't tell you how hard it is to find modern looking little furniture pieces, lol. This one comes with removable (& washable!) covers, and the arms fold over the ottoman to make a bed if the kids want to have a sleepover in here one day.
I joked about wanting to bring an adult chair in here one day so that I can hang out too, but the couch is actually super comfortable for adults too. I can sit on there with the kids and they love it!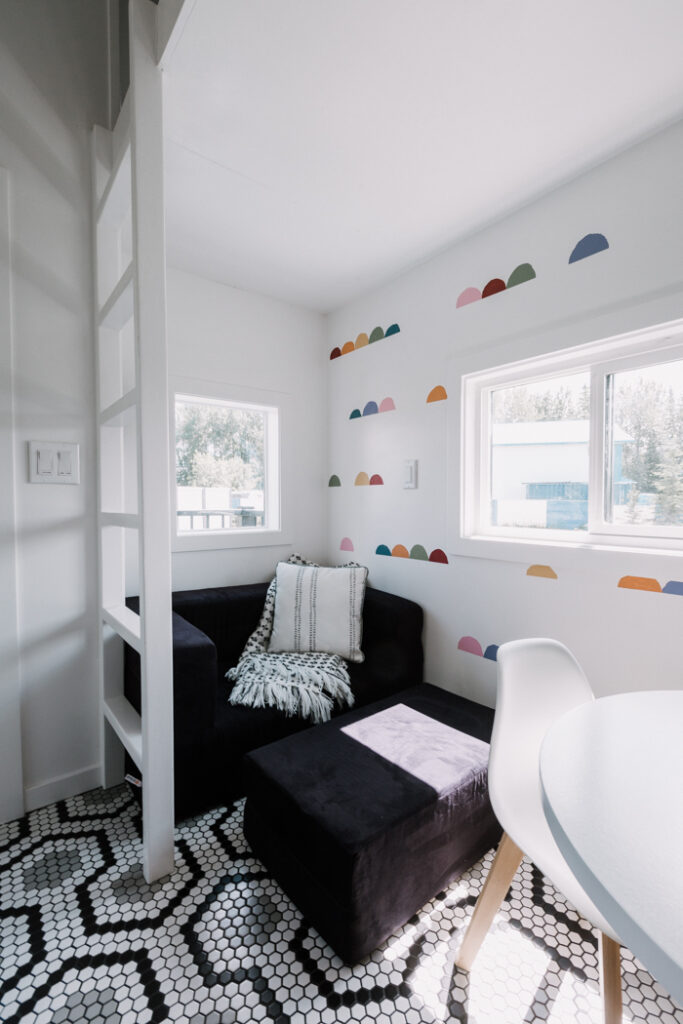 The dining room nook is one of my favourite parts of the space.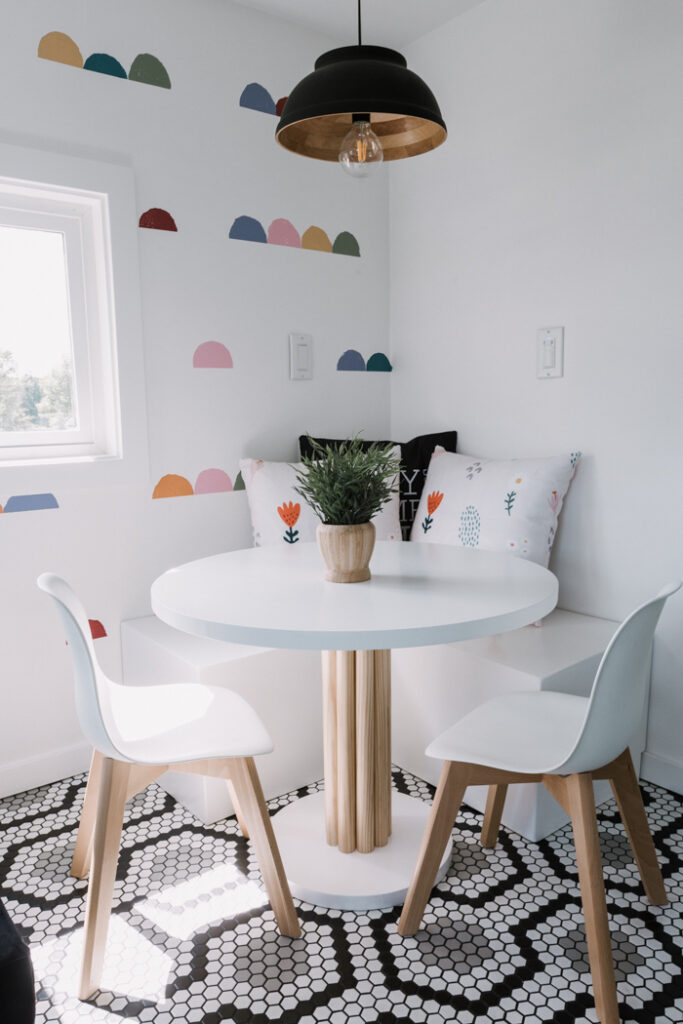 The rainbow feature wall and the mosaic tiled floor both look amazing here and the patterned play off each other so beautifully.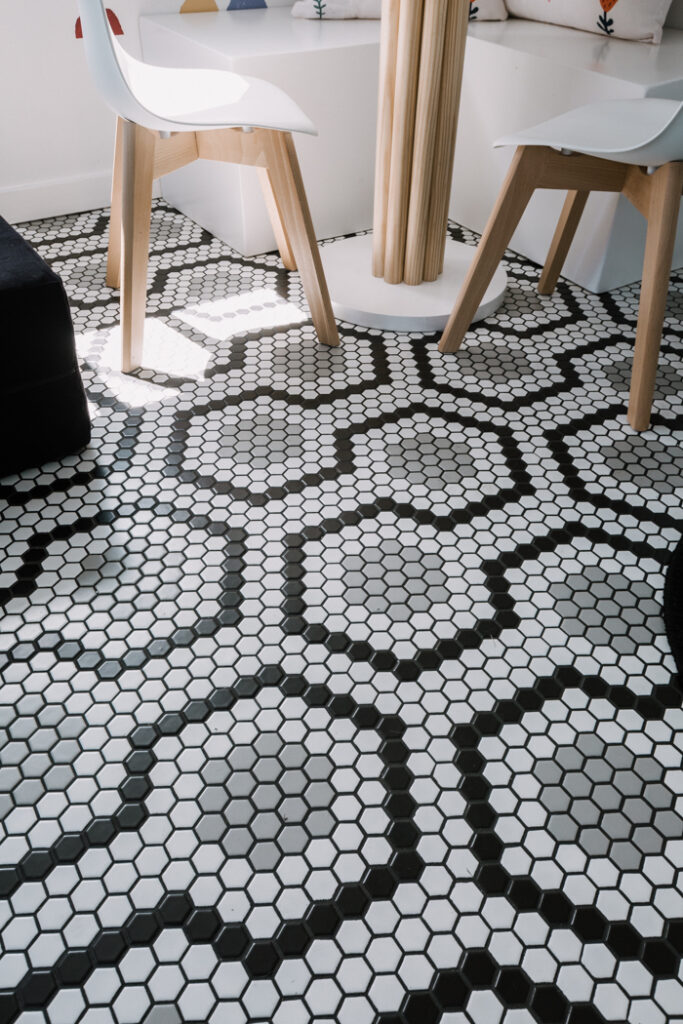 The built-in bench and table were both built by my husband and custom make for the space (let us know if you want a tutorial!). They fit perfectly with the little chairs we bought and really make it all feel like a little kitchen.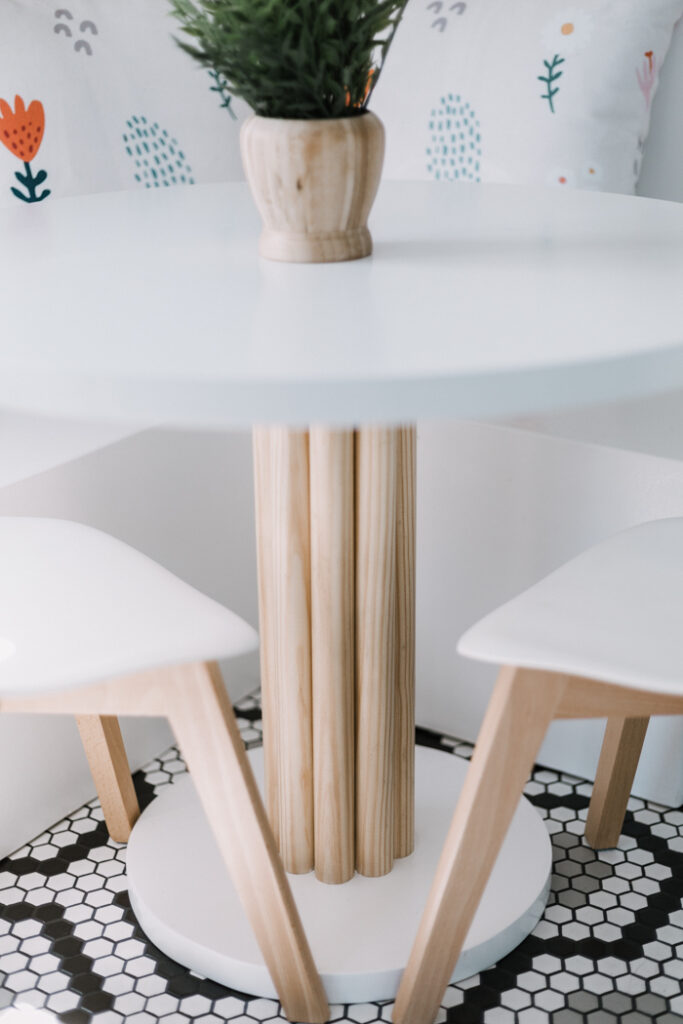 And did I mention that we DIY'd that light fixture? The pendant was actually an old bowl and an old thrifted lamp that we combined into one beautiful pendant light! The whole space is perfect.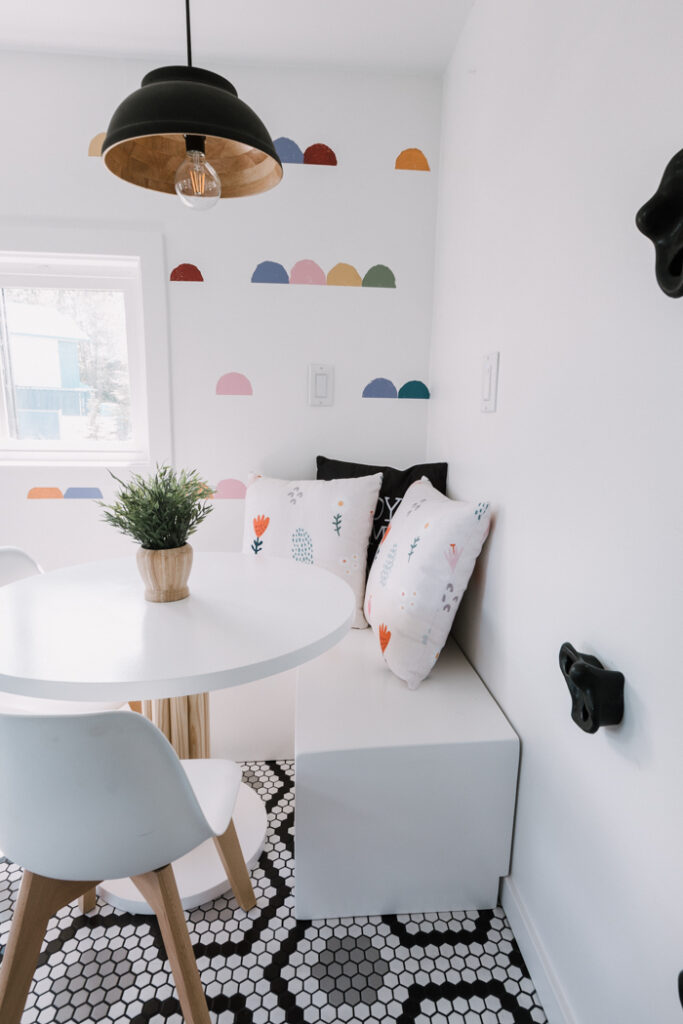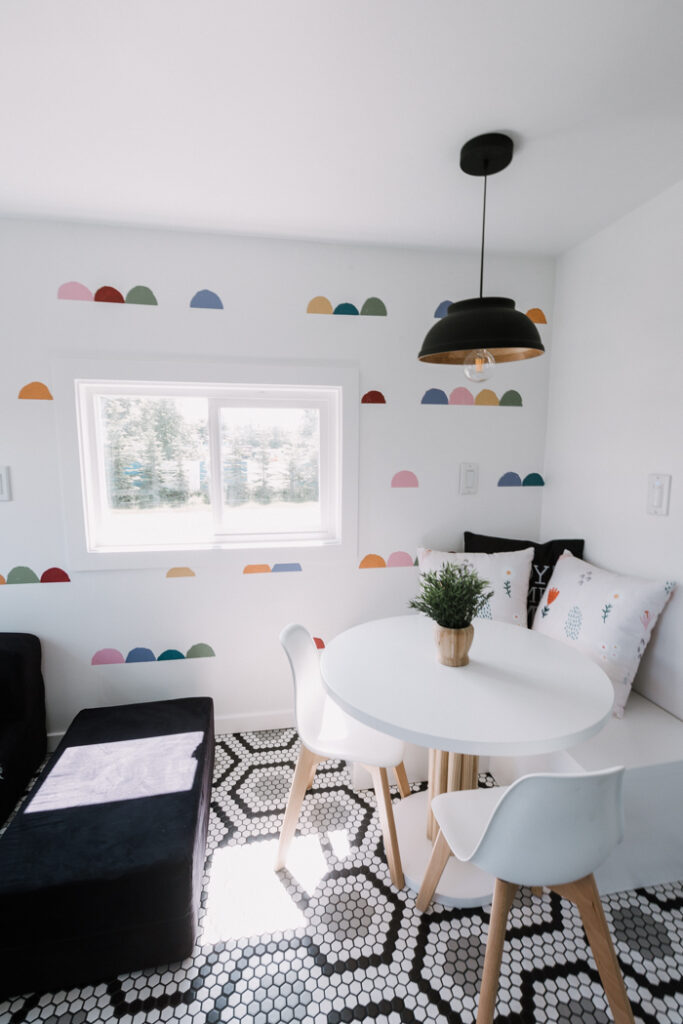 Our Playhouse Kitchen
Then on the other side is our adorable mini kitchen. We bought the kitchen sit online, put up a real tile backsplash, and made some floating shelves, stained to match the front door.
This mini kitchen gets me every time. I wish the kitchen in my real home was this cute!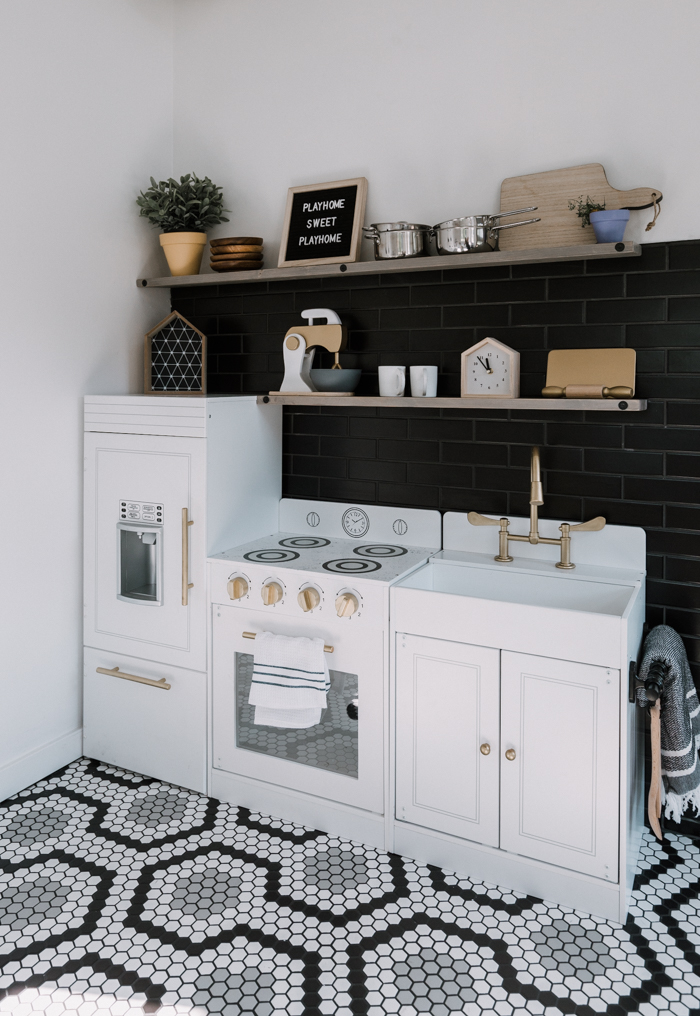 The details in here really make the space come together. I decorated the shelves with a few things we had, and a few dollar store finds, and spray painted all of the knobs, handles and faucet gold to match the rest of the accessories.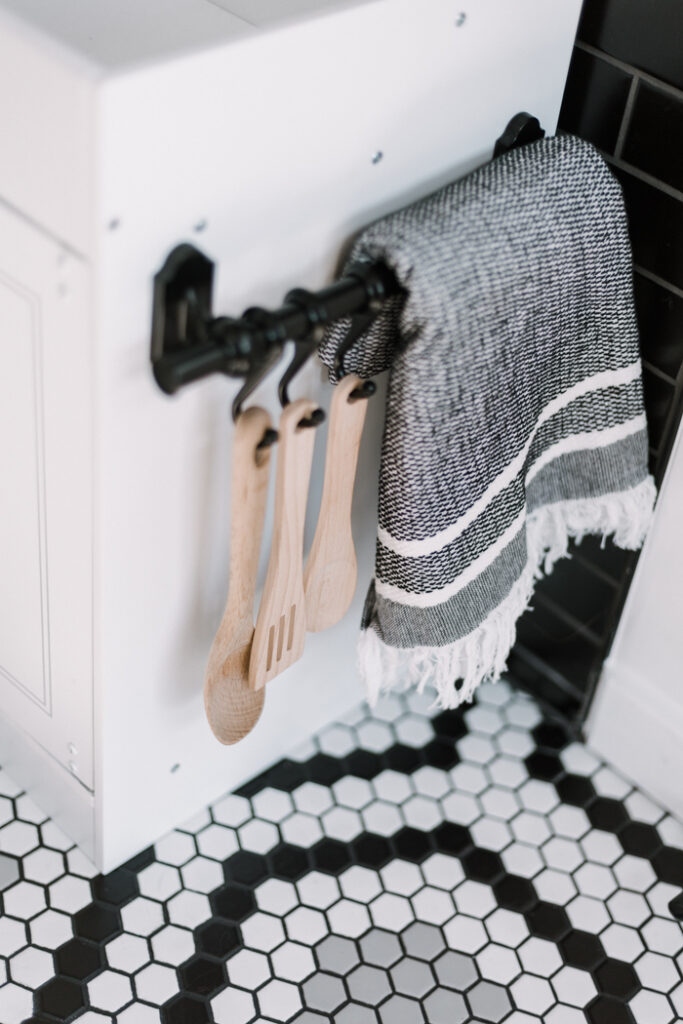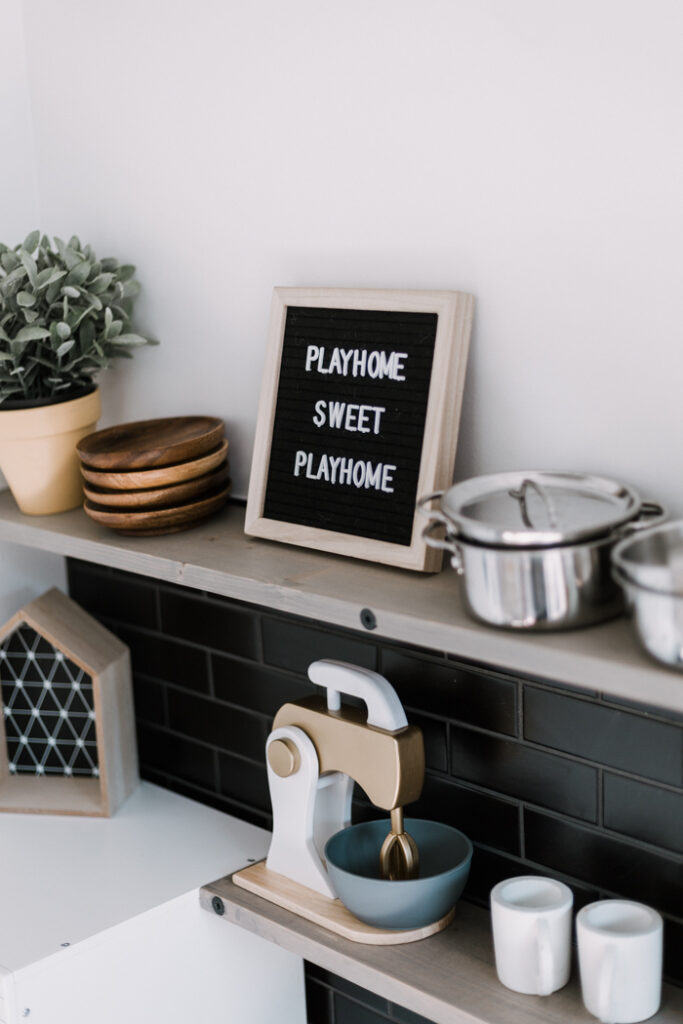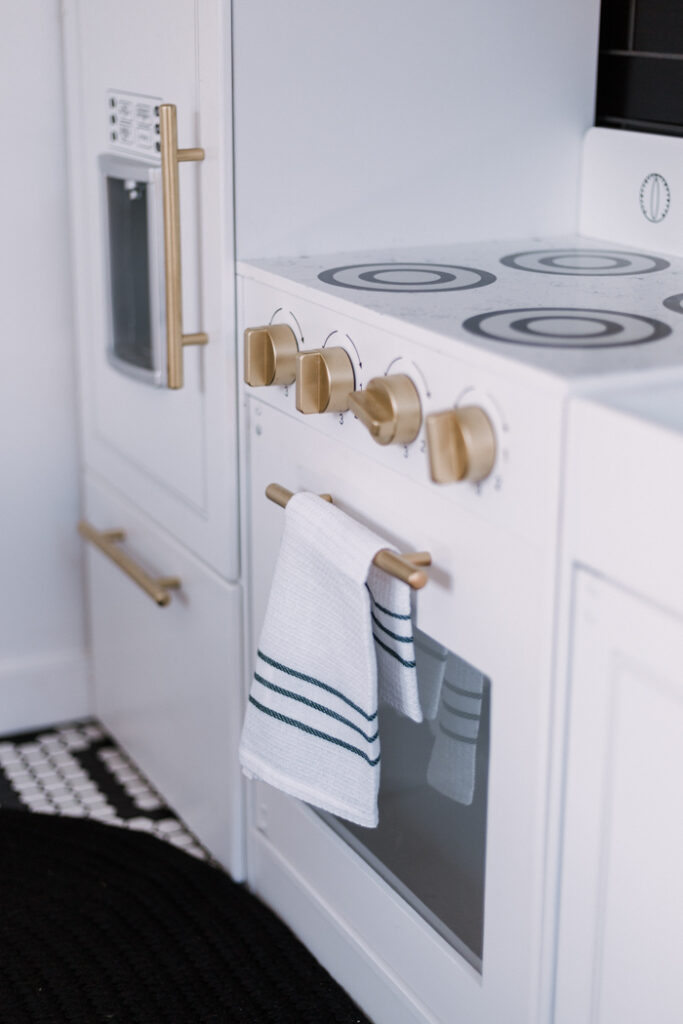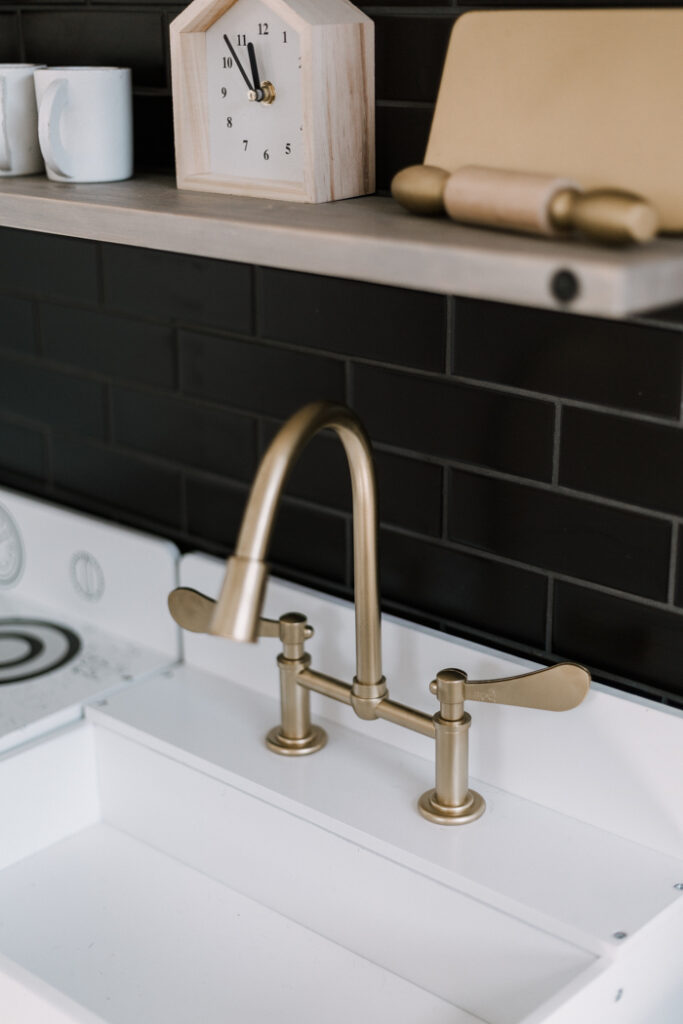 We also did a couple of sentimental art pieces that I added at the last minute. The hand prints are from my three kids, in their favourite colours, so that they can always remember how big they were when we built the playhouse.
The little crowns are for each of my kids too, to go along with our playhouse name "Kids Landing!", and to continue playing off of the "King's Landing" motif.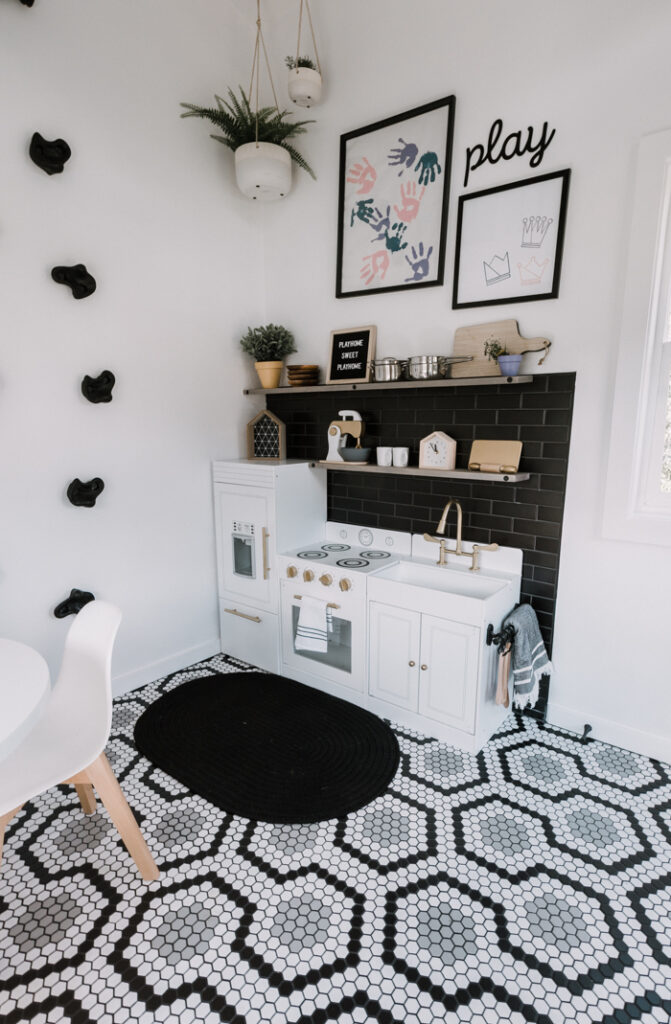 Our Playhouse Loft
Finally we made a loft space for the kids. It may not look that big, but both my husband and I can sit up here comfortably with the kids! It's surprisingly big!
We decided to put the playhouse name on the wall, and play off of the coloured feature wall below it.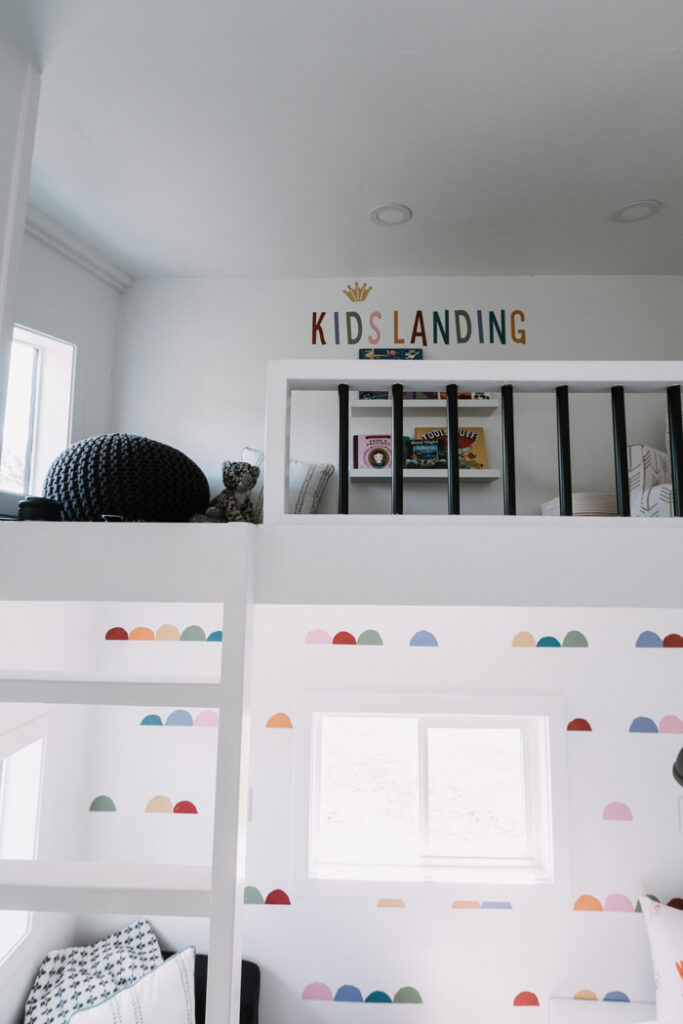 I really wanted this loft space to feel fun and cozy, like their own personal reading nook, so we added some bookshelves that we had on hand from a previous project.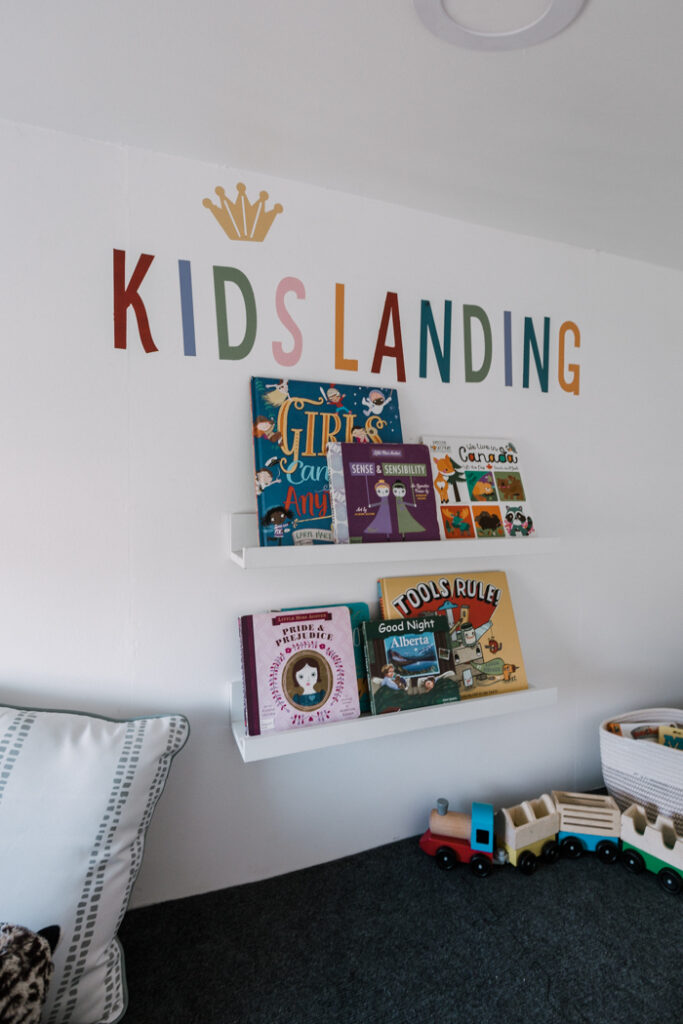 If they even sleep up here, I imagine it will be on this side of the loft, so I didn't want to clutter it at all. I just added some soft pillows, etc. to make it cozy.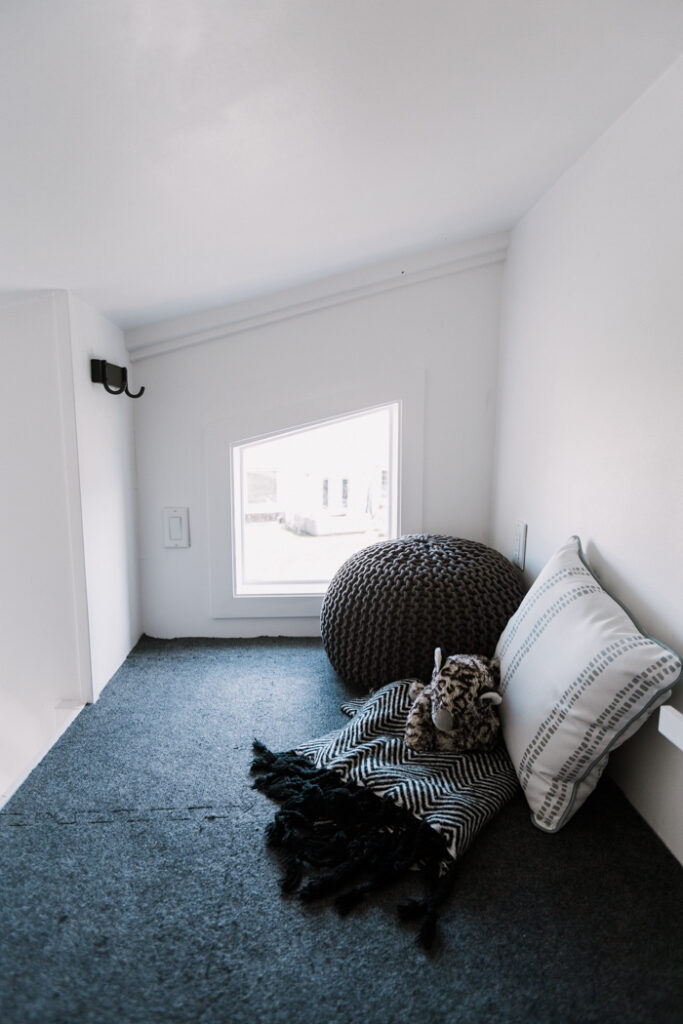 Then the other side holds the mini arm chair that we bought for the space. I think my toddler likes this arm chair more than anything else in here! It makes for the perfect reading nook.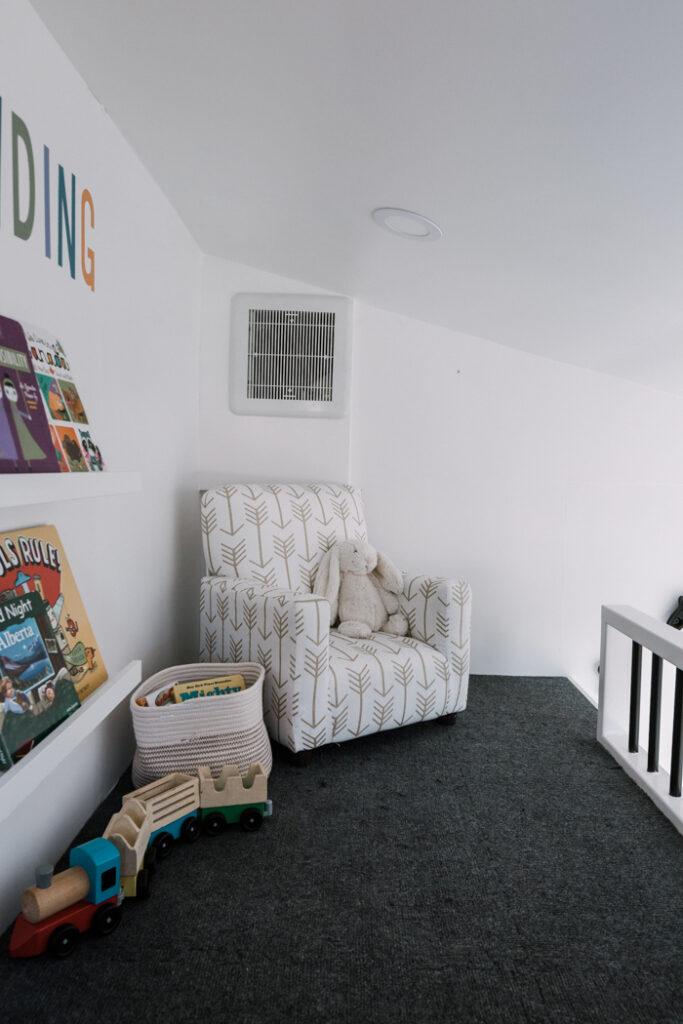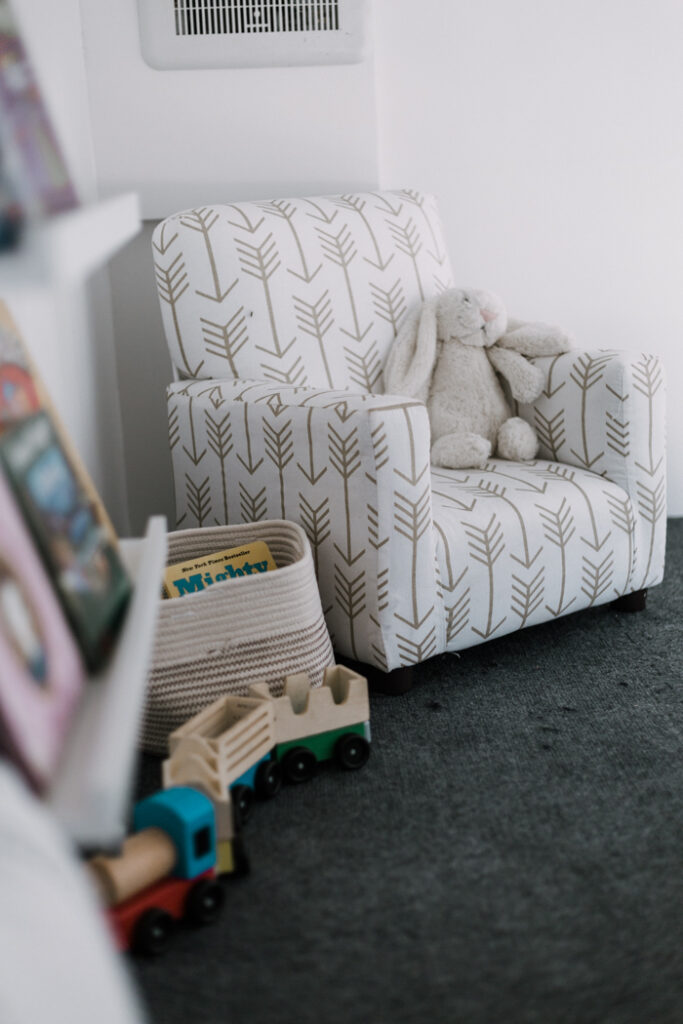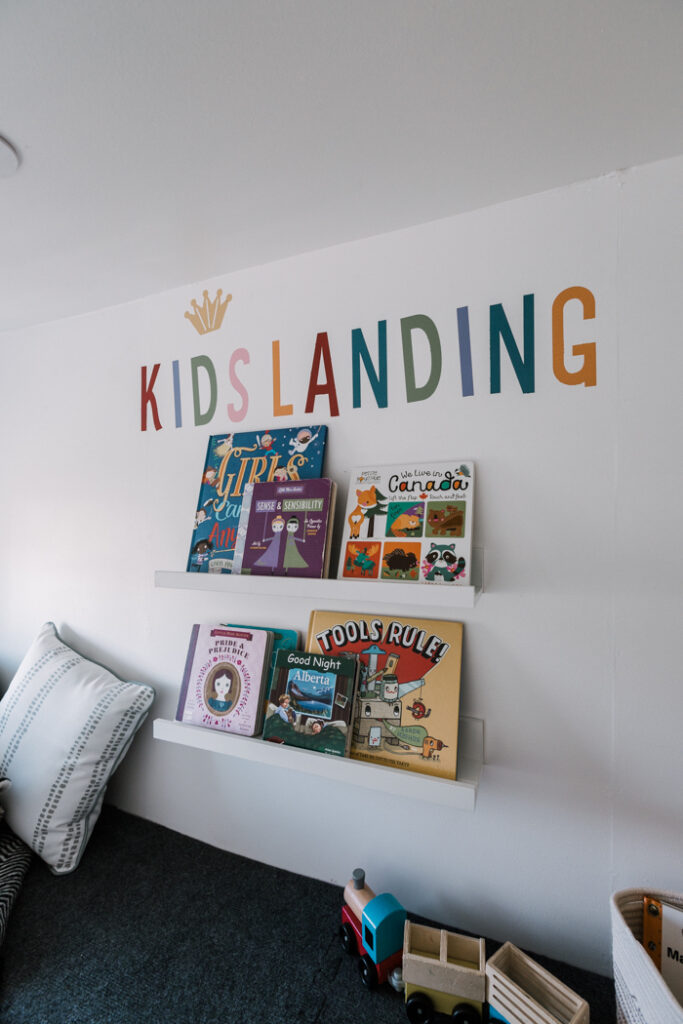 Our Kids in Their New DIY Playhouse
We've been living in the playhouse since it was finished. I'm so happy that the kids love it in here! You can see their full reactions in the video above!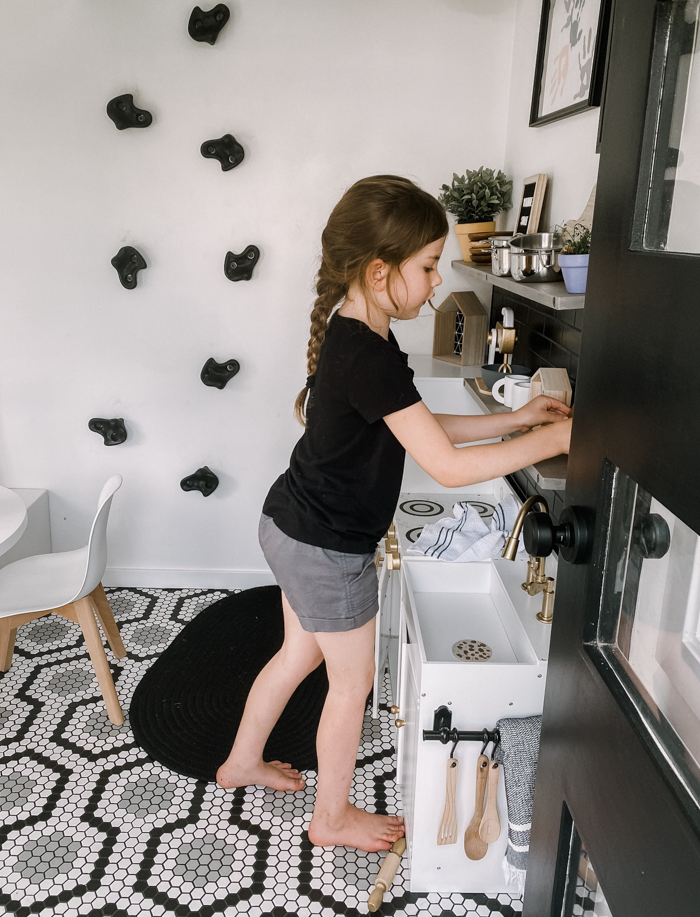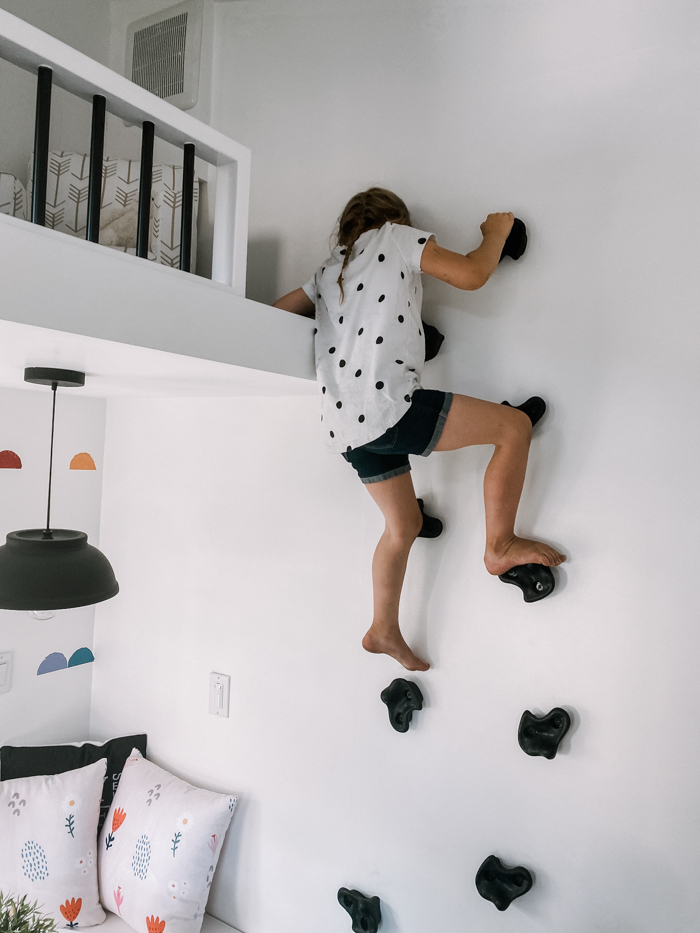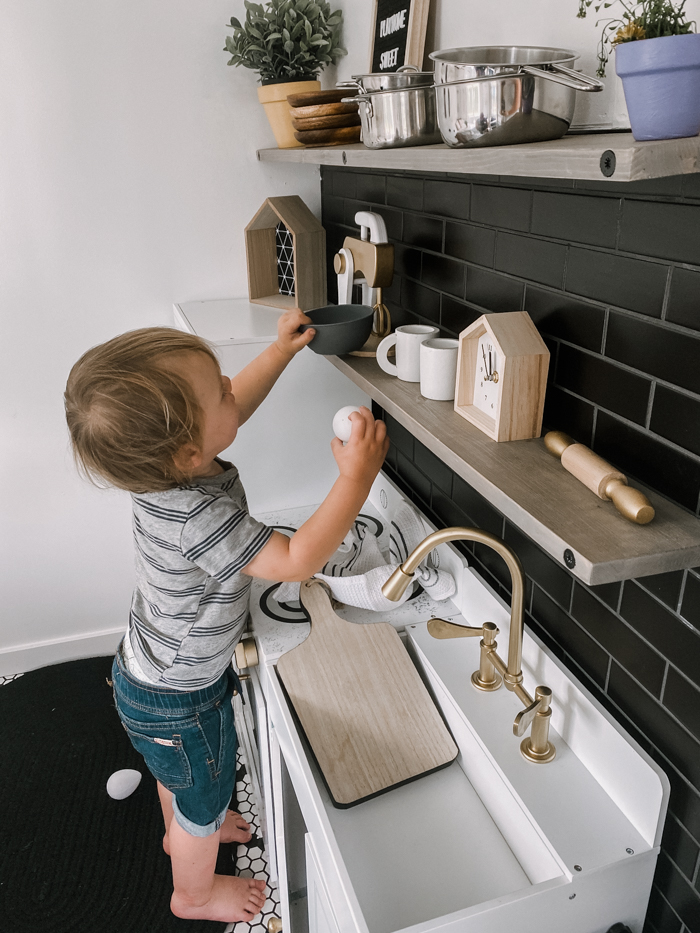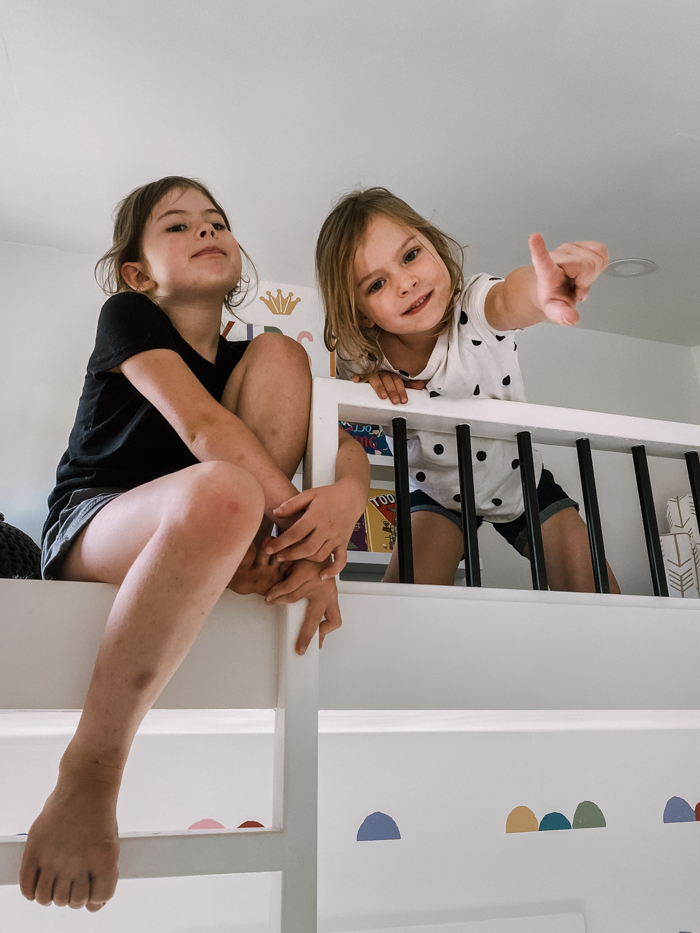 Playhouse Sources
Exterior
Living Room/Dining Room
See paint colours here
Built-in bench (DIY)
Built-in Table (DIY)
Kitchen
Loft
If you made it all the way here and you haven't voted for us, remember that you can vote once a day!
Want to catch up on everything?
A huge thank you to Jeffrey Court, Behr Paint, and FrogTape for hosting the All Star Renovation Challenge.
Also a huge thank you to DAP Canada, Schlage Canada, and Wagner for helping us finish this beautiful space!