A stunning modern home office reveal including IKEA kungsbacka kitchen cabinets! This before and after renovation will amaze you!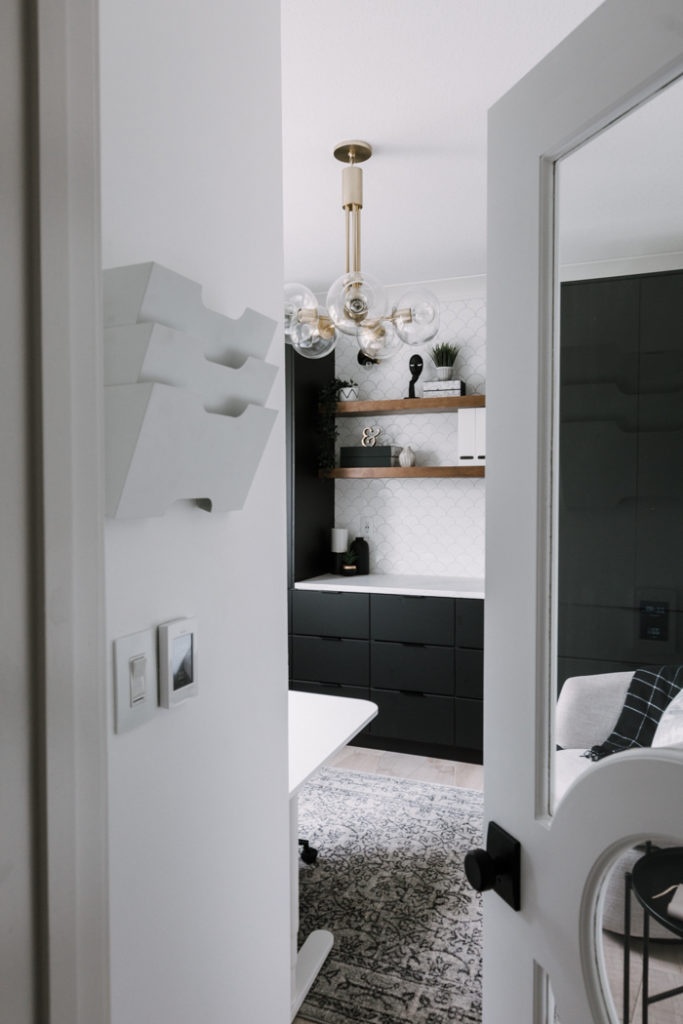 I cannot believe we are here! Months of planning, choosing furniture, picking out light fixtures, and renovating have gone into this space and it's finally finished! I finally have a home office that I LOVE! I have already spent time just sitting in here, staring at the new walls, and feeling in awe of my new space! This was a blank room when we started the renovation – literally boring linoleum floors and white walls. The transformation has been unbelievable!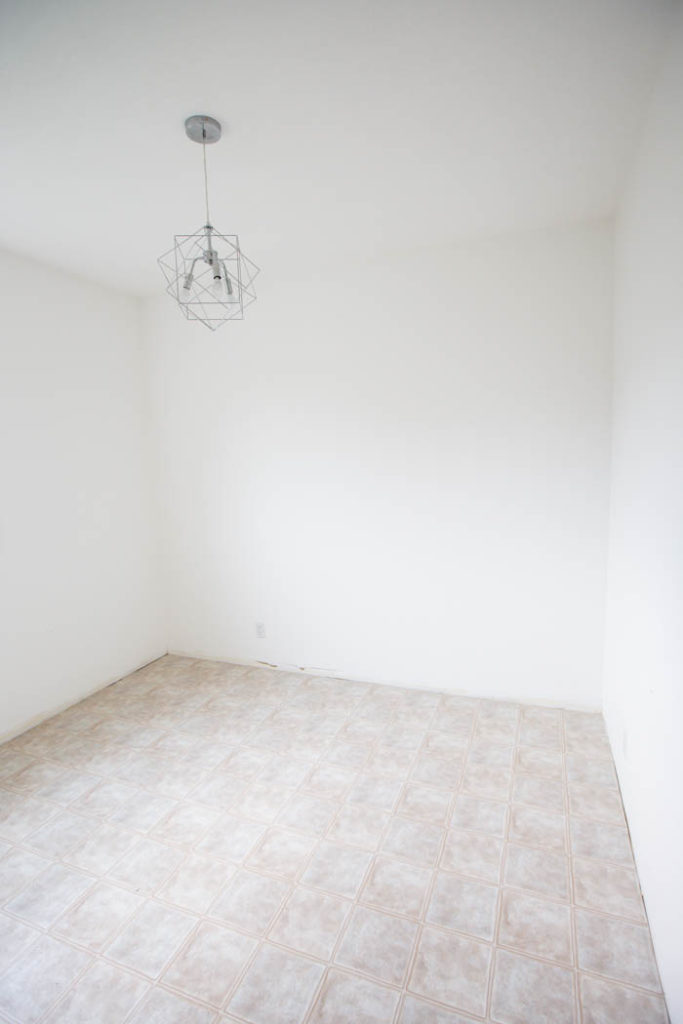 *Items for this room makeover were sponsored by Jeffrey Court, Metrie, Schlage, Murals Wallpaper, Hudson Valley Lighting, Liberty Hardware, Wayfair Canada, and Mercanti. This post may contain affiliate links. When you buy a product through one of my links, I get a commission at no cost to you! Thanks for supporting my blog so I can continue to bring you posts like these. For more info, please see my disclosure page.*
That's the blank slate I'm talking about…. before we dove into this renovation. The room was full of potential! The only draw back was the size of the space. We had to be clever about storage, seating, design and more to maximize the impact in the space.
We shared all of my "needs" for this home office design in a previous post, but here's what we were hoping to achieve:
A lot of storage
A large work-surface
A pretty background (to film video and stage photos)
A chair to cozy up in
An inspiration board
Home Office Reveal Video
If you want to see how the space looks as you walk through it, and here some of our thoughts on the transformation, here's the home office before and after video.
Our New Modern Home Office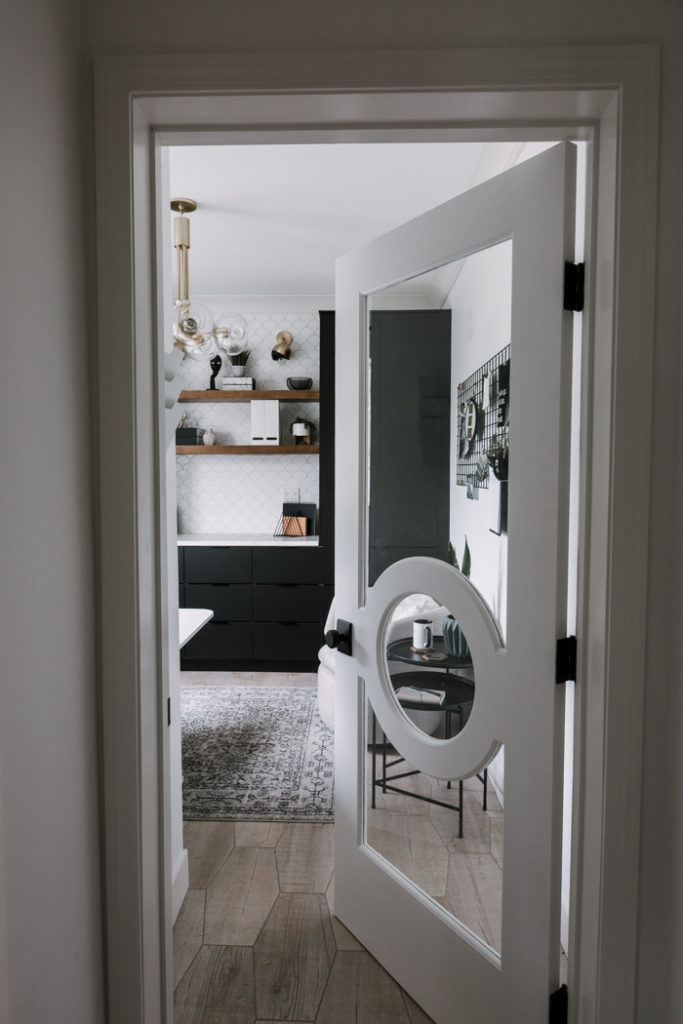 We definitely achieved everything we were going for! Starting with this gorgeous interior door! This is the first time ever that this room has had a door, and I could not be more in LOVE with the glass one we chose! It has so much character, and the open glass allows a lot of natural light to still shine in.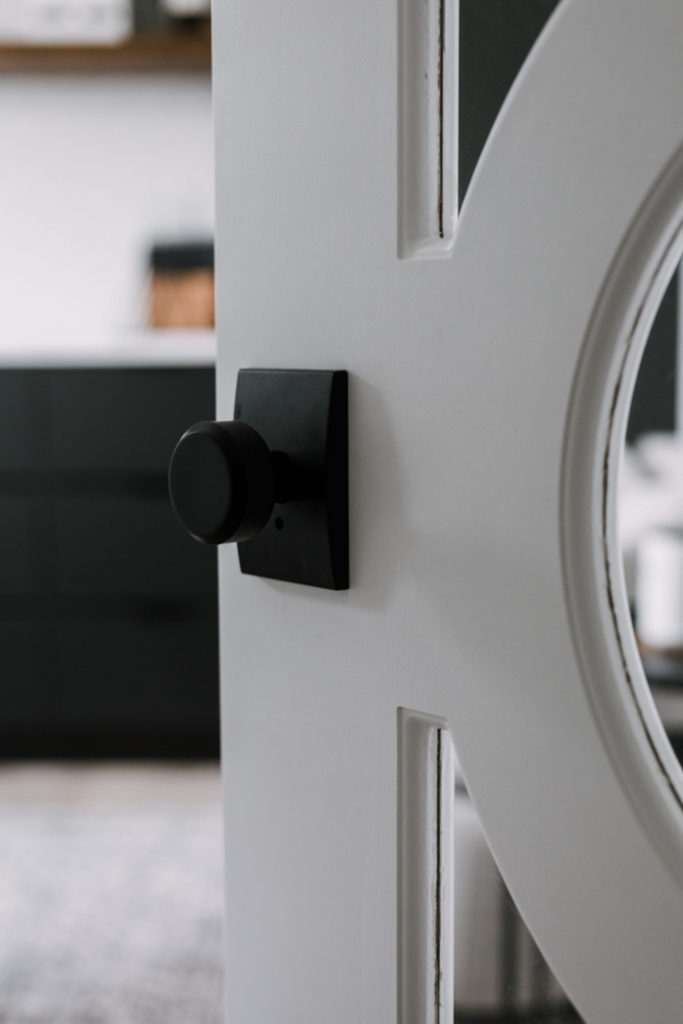 Then, of course, I had to include a new beautiful knob to suite the door! Matte black is always my go-to. I used matching matte black hinges and created a perfect entry into the new space.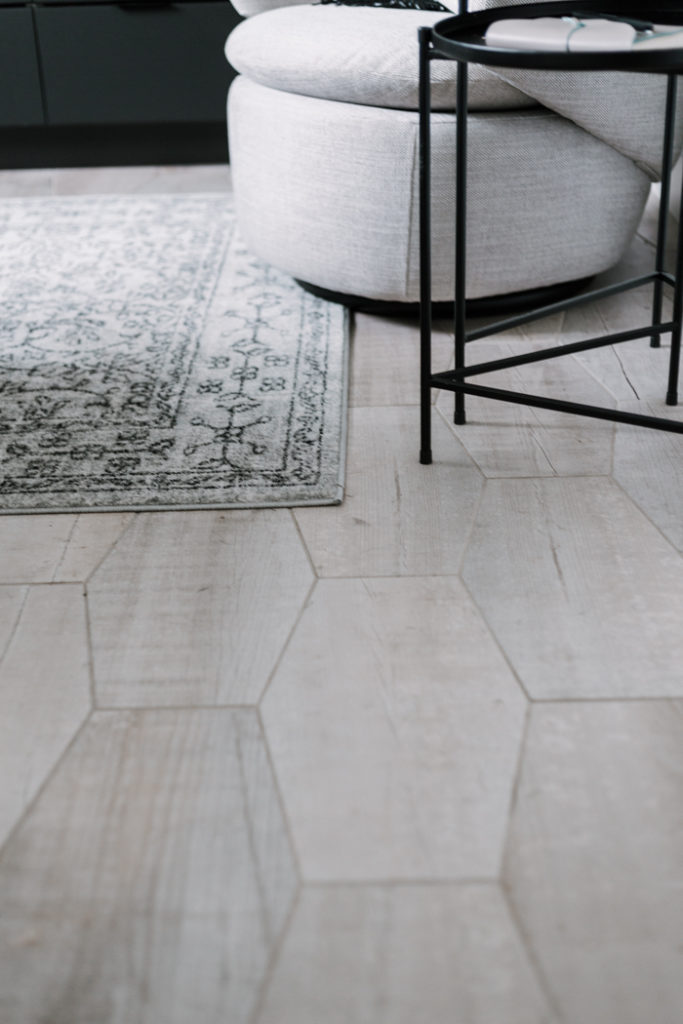 The first thing you notice when you enter the space is this gorgeous floor tile! The faux wood grain and the unique hexagon shape are absolutely perfect.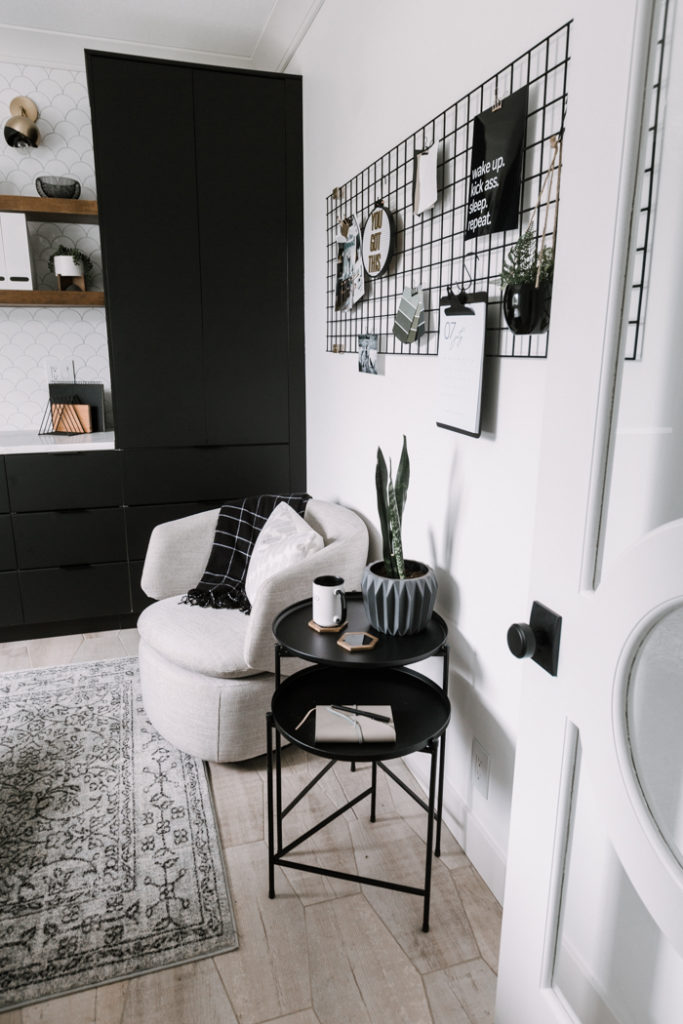 Then we enter into this little nook with a chair and side tables. I really wanted to have a spot in this office that I could curl up and make notes and lists and schedules, but also a spot where my husband or kids could sit when they are visiting me and chatting with me.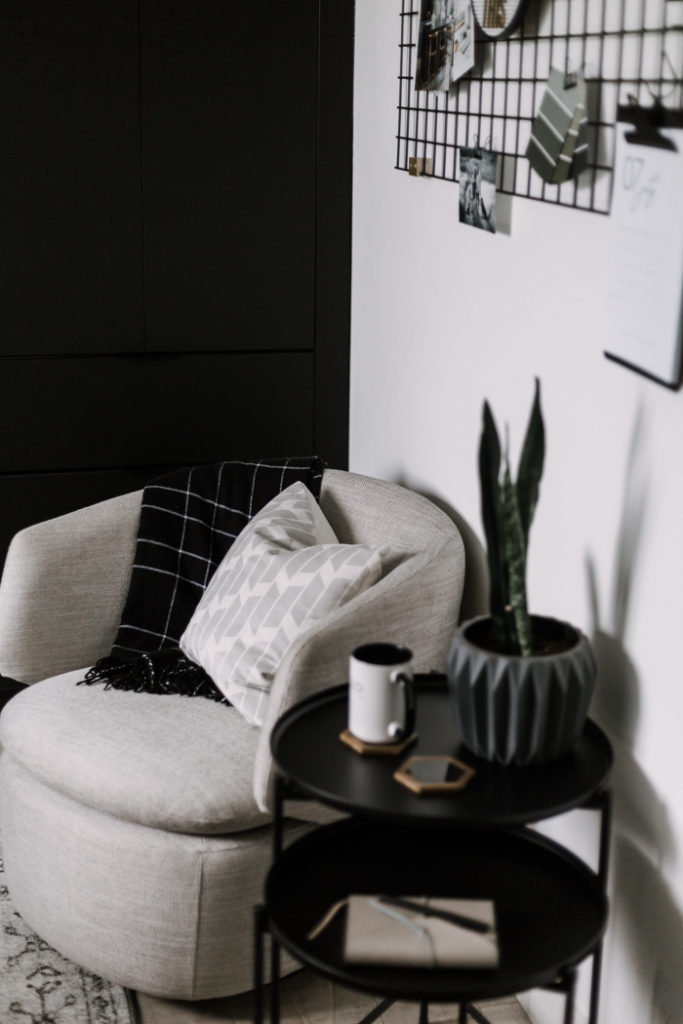 Finding a chair that was narrow enough for the space (i.e. so that I could still walk through and still open the cabinets) was HARD! I must've walked through local stores 20 times hoping that their stock had changed. I literally stalked online websites, hoping a new chair would pop up! This swivel chair was a little bit out of my budget, but I sold some old items to pay for it, and it was 100% worth it! The chair is SO comfortable, and looks like it was made for the small space!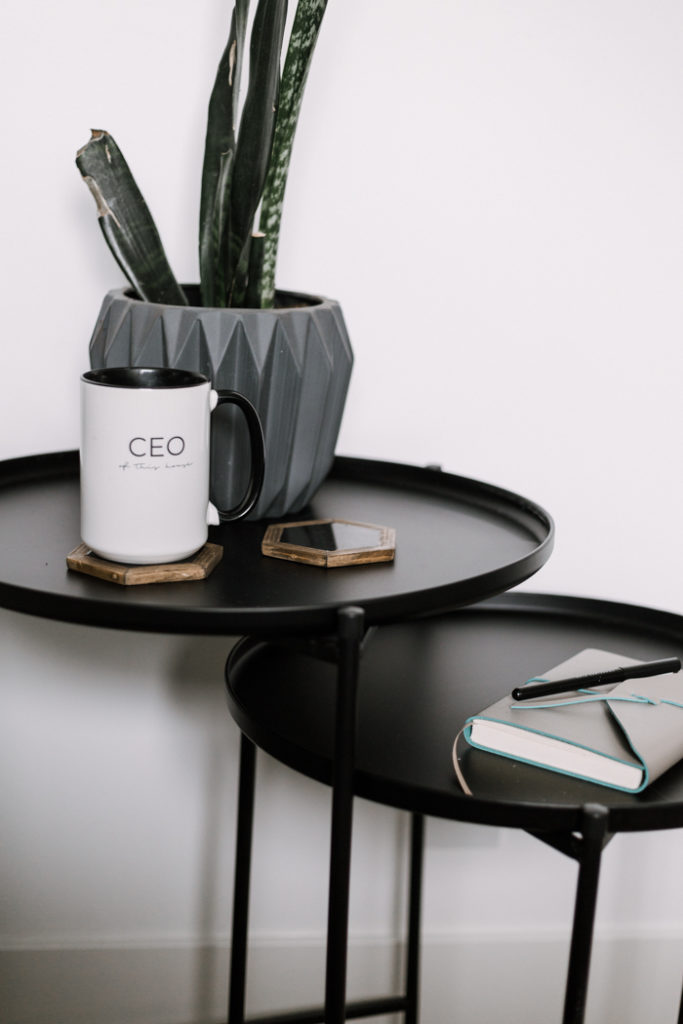 The tables with another hard find. Most nesting tables were waaaay to wide for this space, or too tall for the chair I had finally found. These little modern tables were perfect for the space, and perfect for my "CEO" mug. I didn't need to get nesting tables, but I really wanted them to fill out the space under the large inspiration board.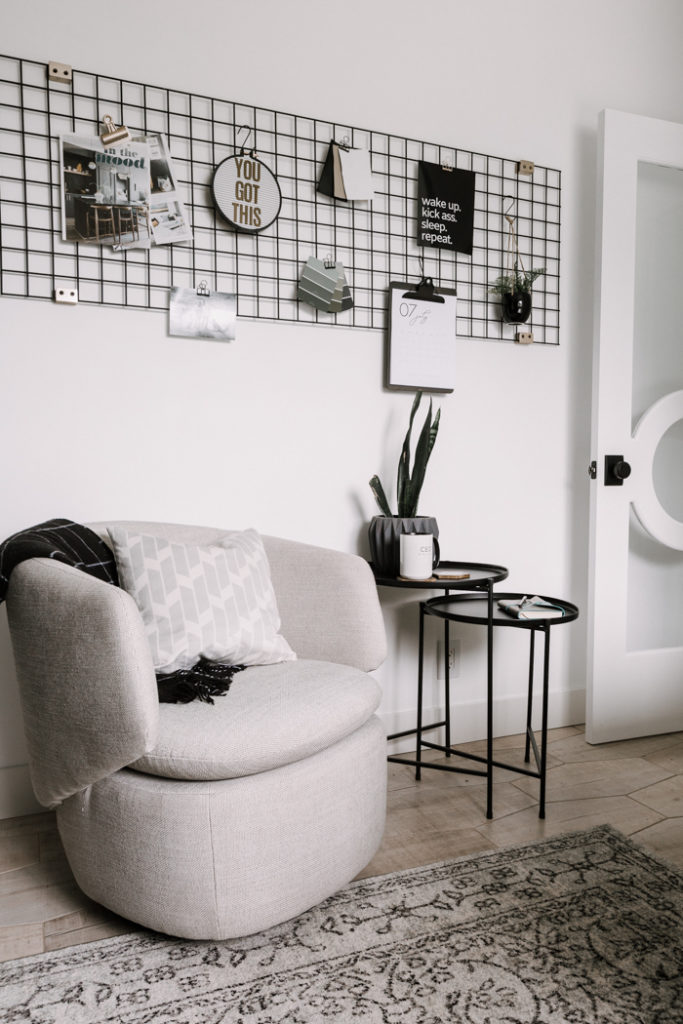 Speaking of inspiration boards… this guy was a quick and easy DIY! Anyone could make their own for their home office!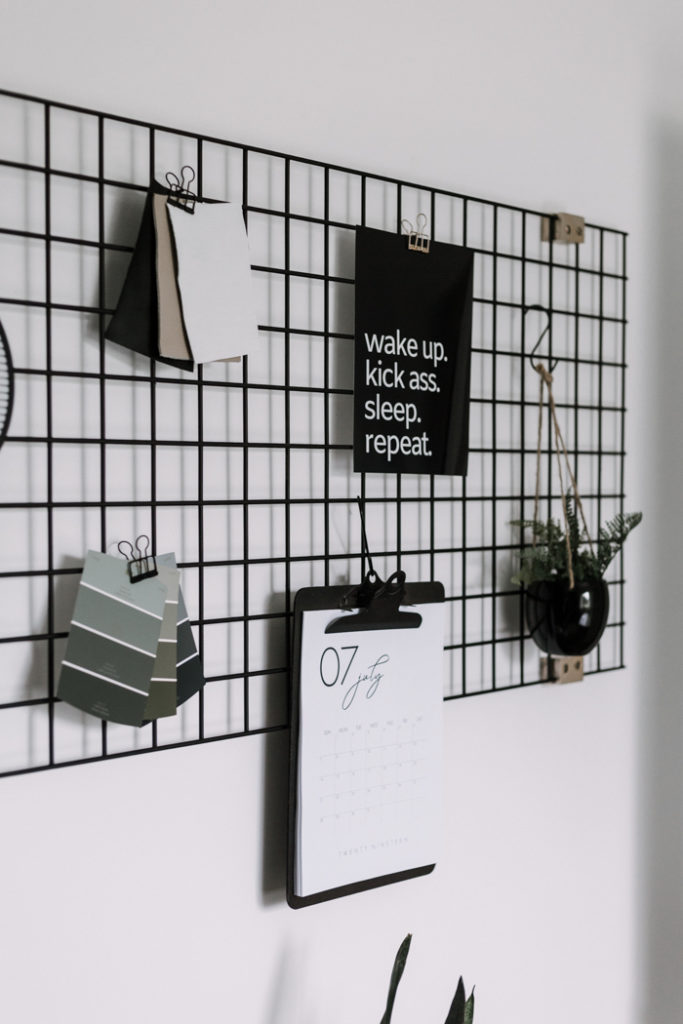 This entire space is defined by the beautiful crown moulding. Crown moulding makes such a huge difference in any space. We went with this modern square version and it was absolutely the perfect fit for the space!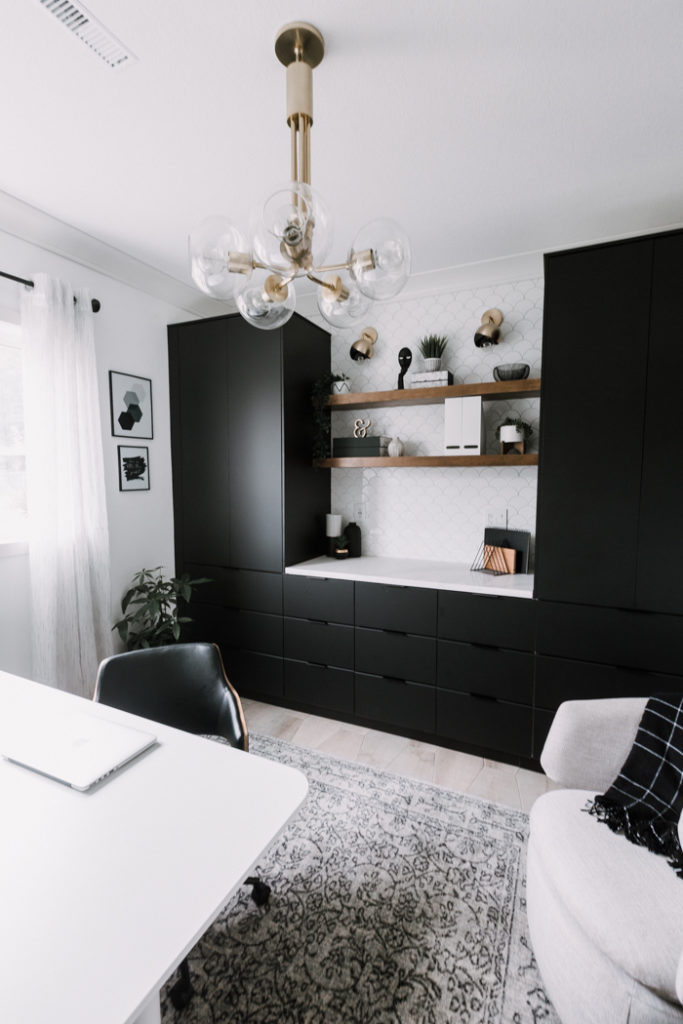 And then…. there it is! The most beautiful looking craft storage you've ever seen! I've been asked about these cabinets so many times already. They're just IKEA kitchen cabinets!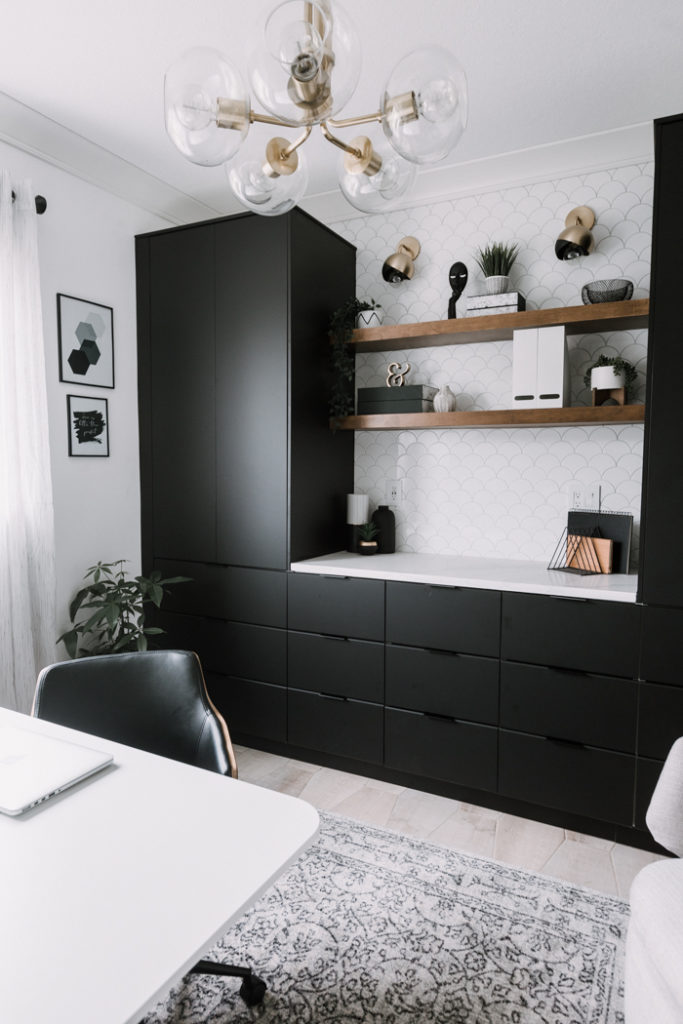 For the cabinets, we used the online IKEA kitchen planner to design the layout in the space, and then chose the black IKEA Kungsbacka fronts for them. The results are GORGEOUS!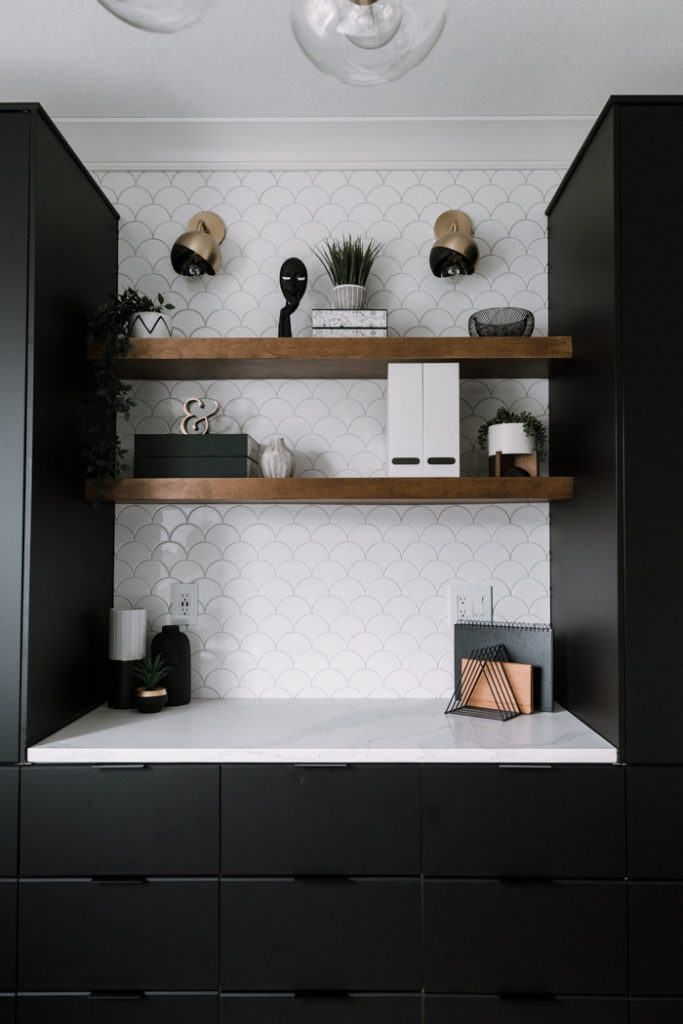 We could've done a full wall of built-ins, but I really wanted this space to serve as a beautiful backdrop for my videos and photography. I used the white fan tiles for the backsplash and absolutely LOVE the look of them!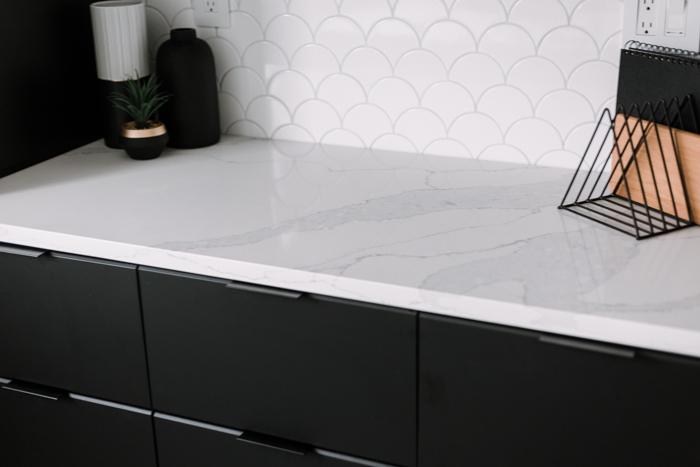 The countertop was custom cut for us at a local countertop company called Mercanti. The quartz slab we got is beautiful! It flows perfectly with the rest of the space and it a gorgeous contrast to the black cabinets.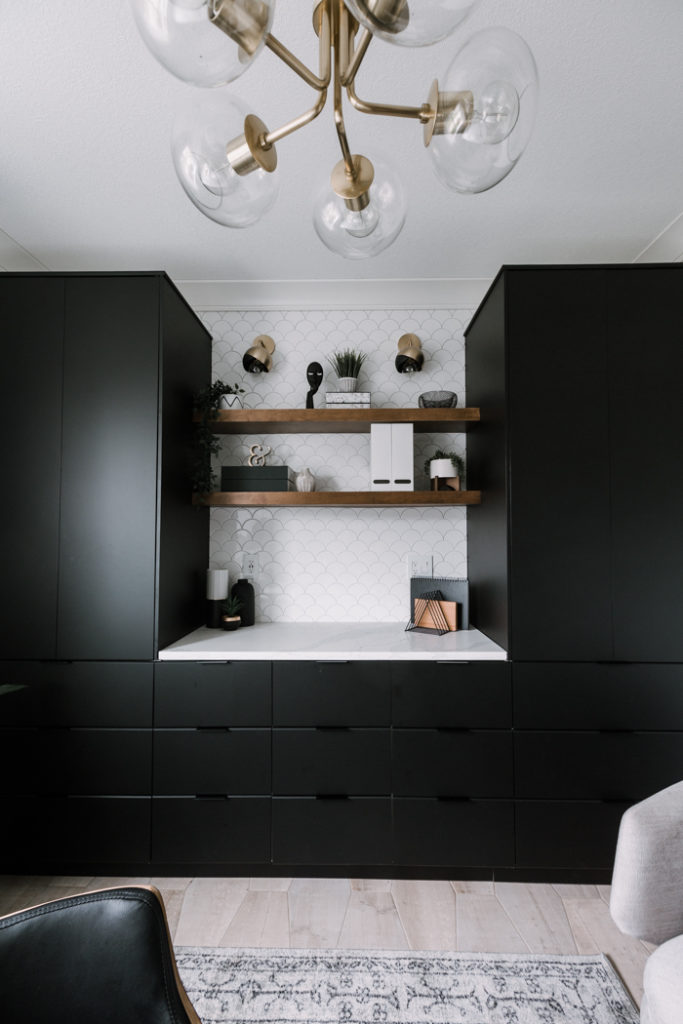 When we installed the taller cabinet doors, we installed hardware that allows them to push open and shut. It works perfectly! But adding that hardware to our drawers would've meant we needed two for each drawer, which would've bumped up our costs significantly! So instead we went for a sleek black pull.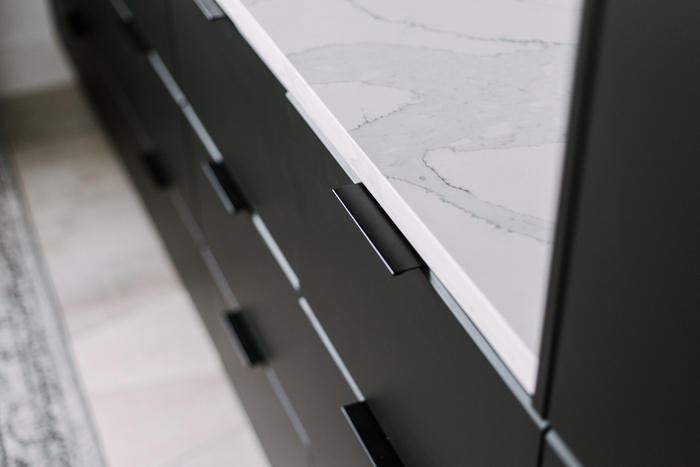 I love these matte black pulls. Looking straight on, they are barely visible. They blend right into the cabinets and have such a minimal profile. Yet they still open easily and look great!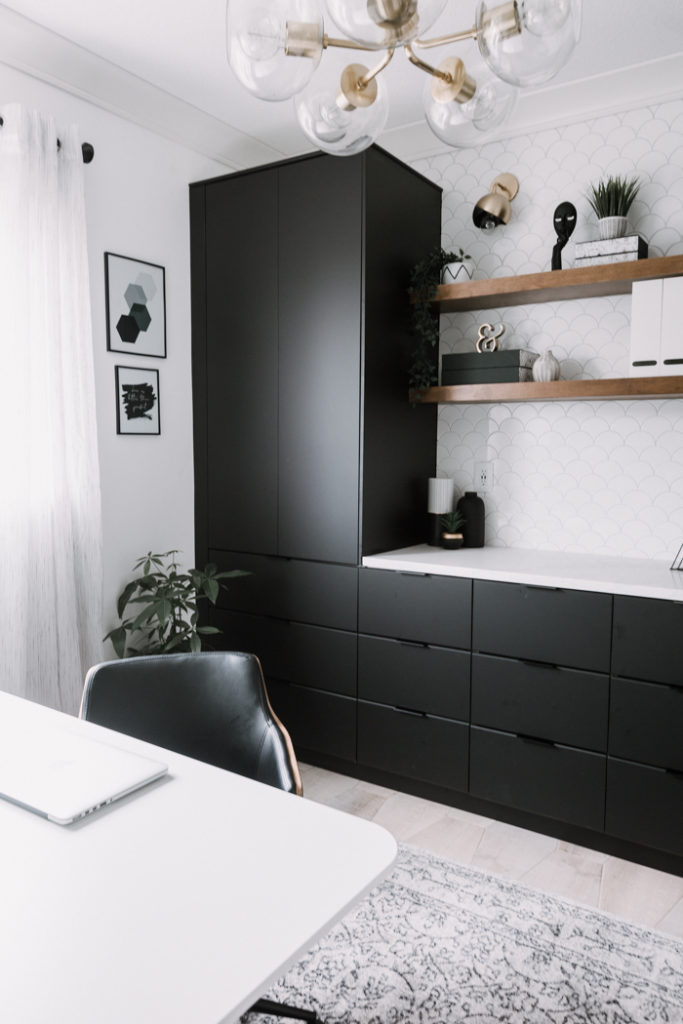 The other features of our "pretty background" include the gorgeous walnut floating shelves (tutorial coming soon!). Spoiler alert… they are an IKEA hack! And the beautiful brass and black sconces!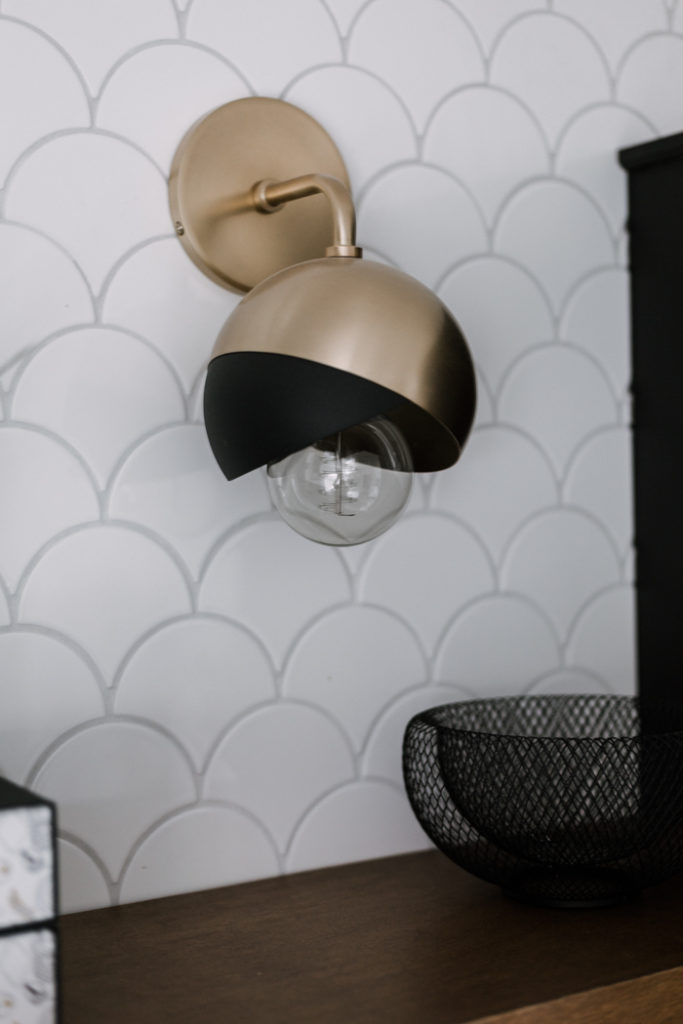 As soon as I saw these sconces I wanted them! They are SO gorgeous! They mimic some of the curves seen around the room (i.e. the tiles and the chairs), and bring in a beautiful metallic to add some warmth to the space!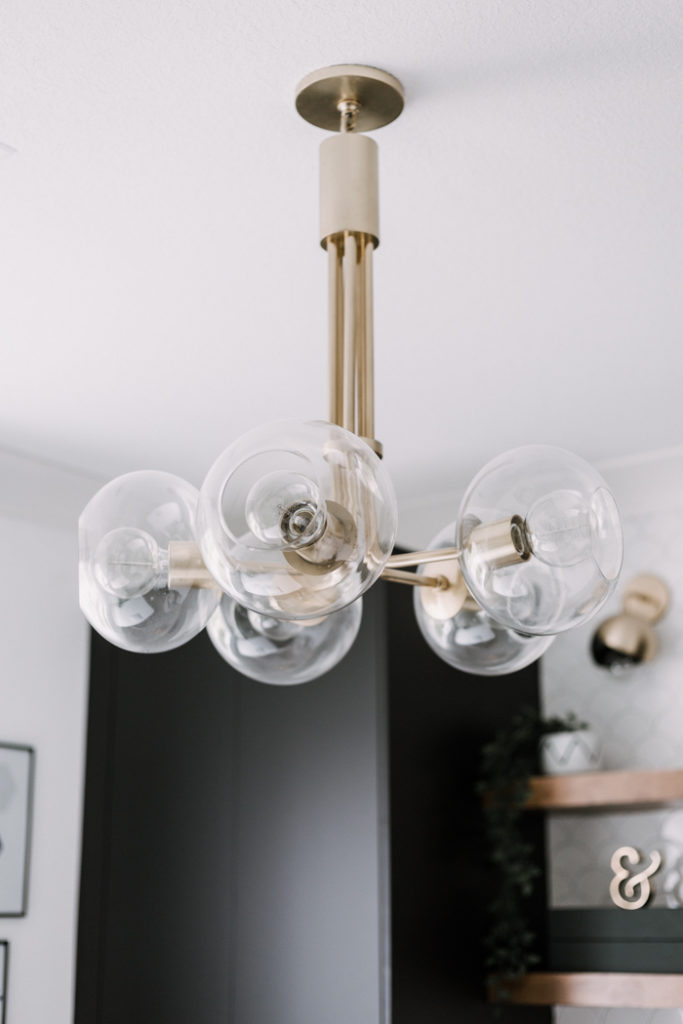 Speaking of lights… we are so lucky to have 9 ft. ceilings so that we can show off a gorgeous chandelier like this. We moved the location of the light by 12 inches and it was 100% worth it! It's in the perfect spot in the space, and it looks unbelievable. If you don't have high enough ceilings, they also have a shorter version that is stunning!
One thing I didn't take into account when planning out the office, was that I wasn't tall enough to actually reach the tall shelves in the cabinets, lol. The little black and walnut stool was a last minute purchase, and I totally didn't need it for staging, but I kept it in the space because I'm truly going to need it every week!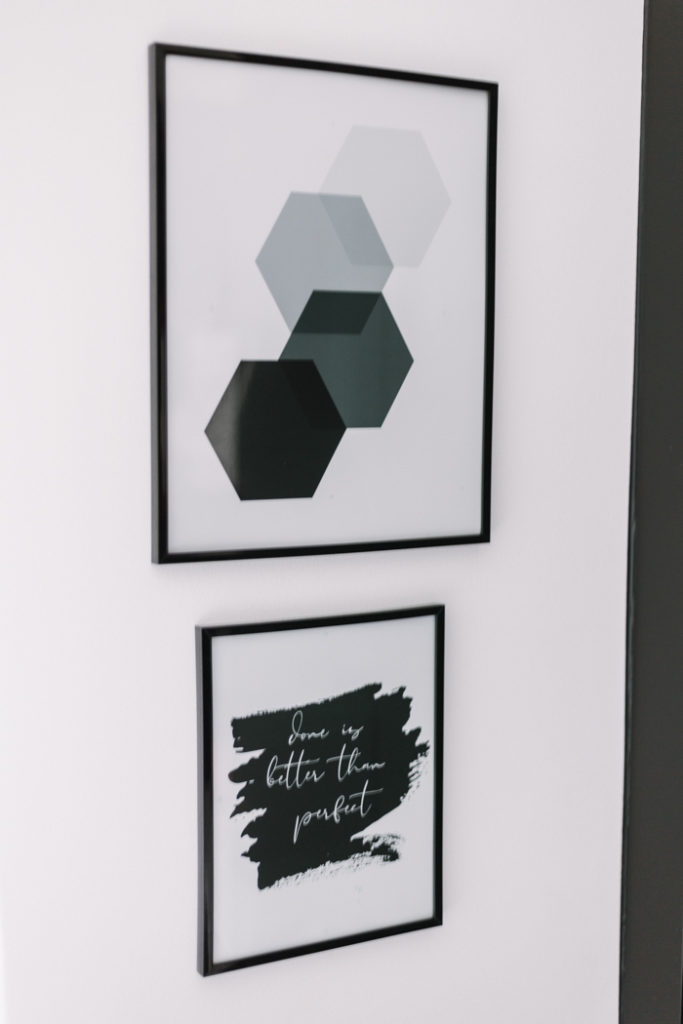 And did you see these frames in the previous picture? I'm so proud of these simple $5 prints! They just finish off the space perfectly. And the phrase "done is better than perfect" is 100% my motto right now! I have a habit of never finishing things because I feel like they have to be perfect, but it's ok to just dive in!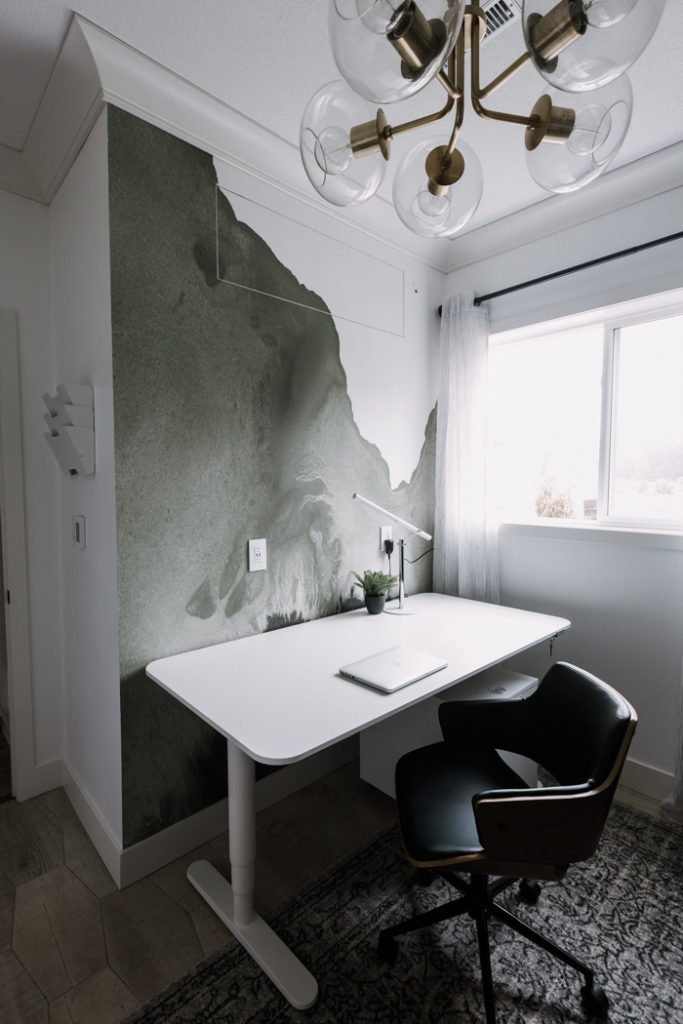 I know you've all been waiting for this wall reveal! How gorgeous is this wall mural?! It's just wallpaper guys! It went on so easily, and gives me something beautiful to stare at while I work.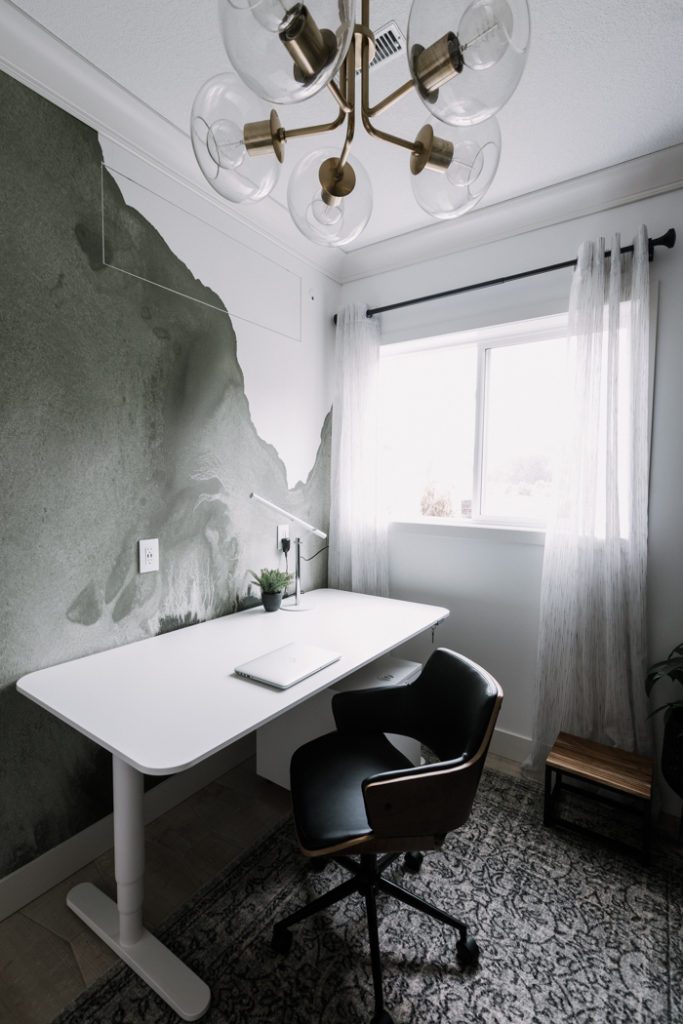 The green colour in this mural is everything. It's just such a gorgeous addition to the space! I wanted a really minimal desk that wouldn't take too much away from the mural, so I went with this sleek one. It's actually a sit-stand desk, so I'll finally be able to stand while I work on projects!
My husband always has to throw at least one custom upgrade into every space that we do, and this little cupboard above the desk definitely counts! If you look at the photo above, you can see it closed. If you look below, you can see it open slightly.
It's a great extra storage space that we are currently using for wrapping paper and faux florals, lol. All the things that you only get out once a month or so!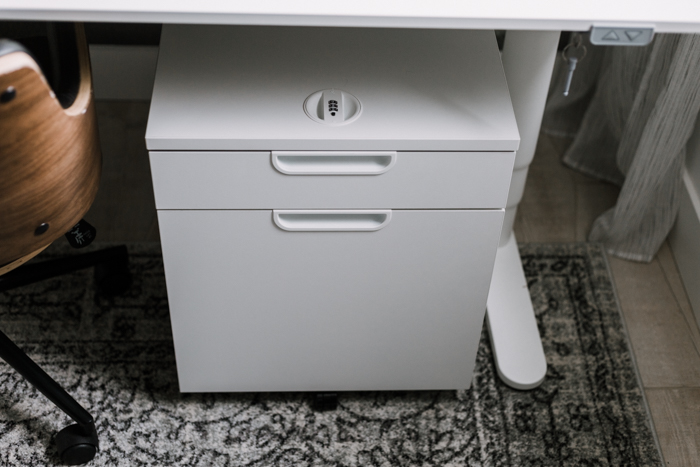 I wanted the desk to be very clean and empty on top. I wanted to be able to easily use it as a work or photography space, which is why the small rolling file cabinet is so handy! It actually has a lock on it, so my pens and paperwork won't disappear, but I don't need to clutter my desktop.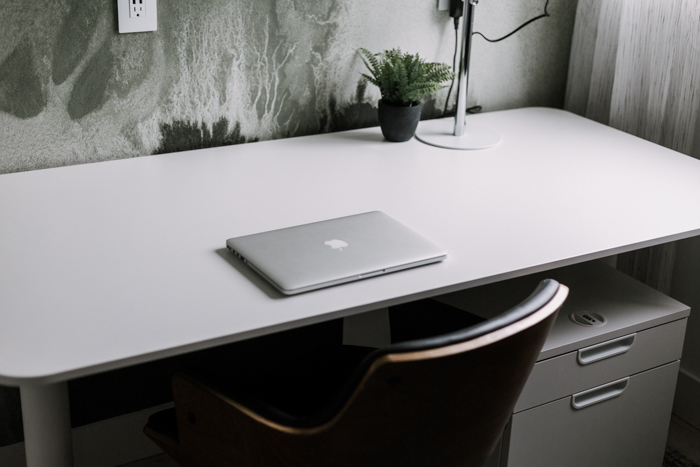 Then there is the office chair! Stylish, minimal office chairs are HARD to find. Really hard! I finally went with this black and walnut chair because I loved the design, but I was really worried that I wouldn't find it comfortable. Fortunately for me, it actually is very comfortable! I would happily buy the same chair again! And it's easy to roll out of the way when I'm standing at my desk.
Last but not least was the rug. To be completely honest with you, I never put that much thought into a rug. That's because when I see one I like, I just know I like it! And somehow they always end up looking good in the spaces! this one adds warmth and texture, and I couldn't be happier with it!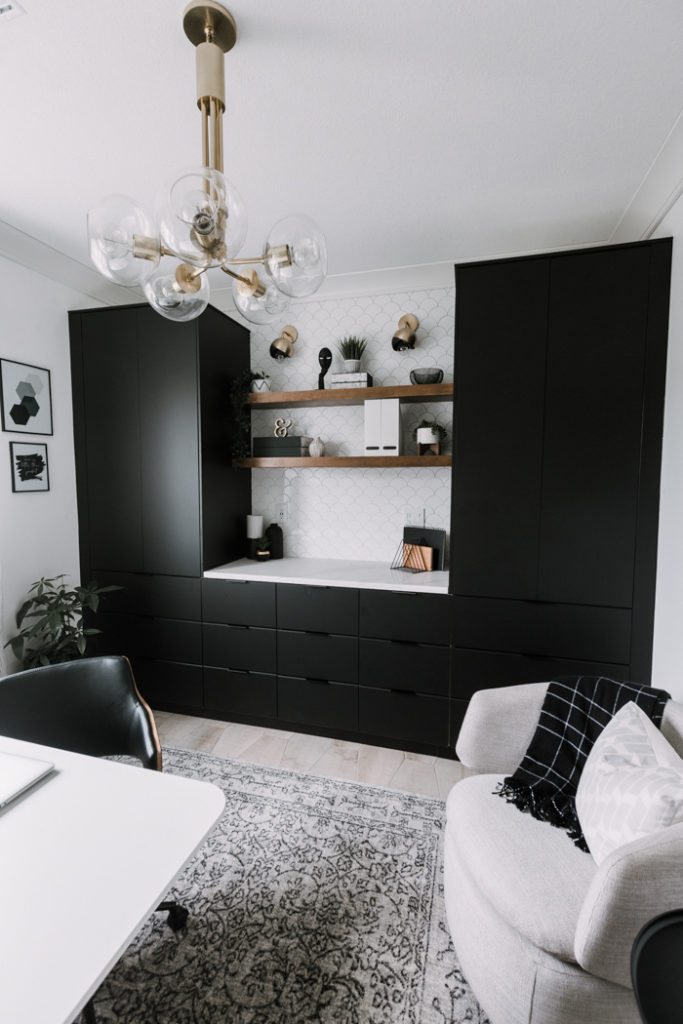 That's all there is! I hope you love the space as much as we do! If you enjoyed the reveal, please let us know in the comments below!
Modern Home Office Sources
Here's a quick list of the sources in all of the photos. If you're looking for anything that I missed, please let me know!
Floating Shelves – DIY coming soon!