We tried it all! Here's everything you need to know about the best tile floor cleaner we've tried!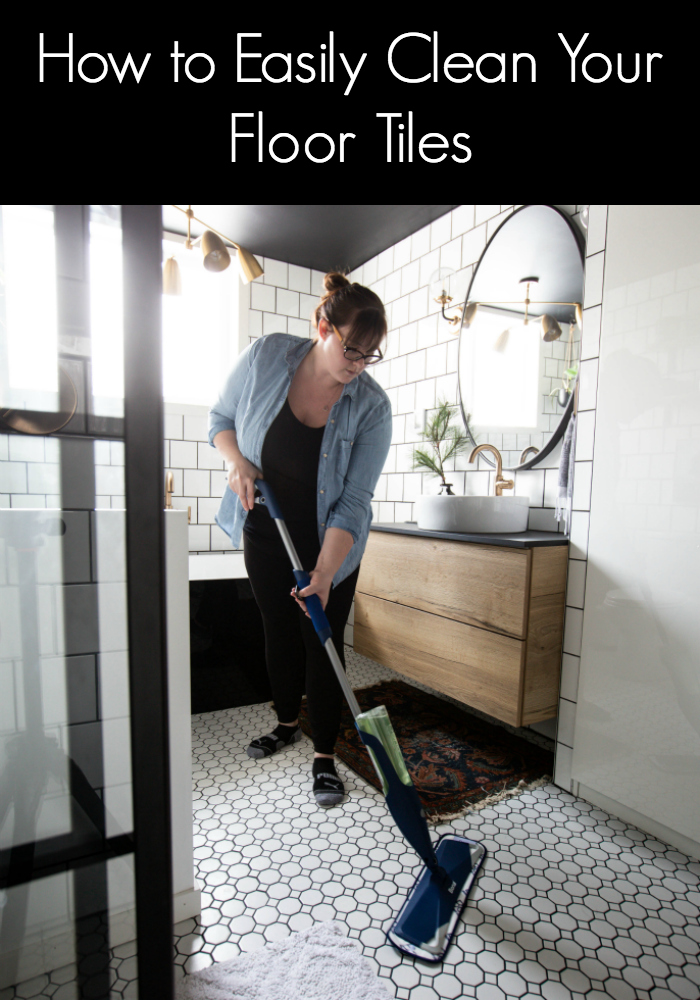 When I can pay a cleaner to clean my house every week, I'll believe that I've "made it", lol. It will be the first thing I pass off. Until then, I'm stuck washing floors on my Saturday mornings, and I'm looking for anything and everything that makes it easier! When we finished our modern bathroom, I was beyond happy with the results. I love the look of everything, including the white tiles, but I haven't loved cleaning them. So I went looking for a new tile floor cleaner, and I wanted to tell you all what I ended up using.
*This post was sponsored by Bona and may contain affiliate links. As always, opinions are 100% my own. For more information, please see my disclosure page.*
Here's the thing about white floors…. they get dirty FAST! Luckily my dog doesn't come into the bathroom, or it would have a whole lot of black dog hairs too (gross!).
The wall tiles seem to stay relatively clean. The worst they've really had from some splashy kiddos can be cleaned with a cleaning cloth and water. But the floor tiles are another story. The high traffic spots, and the areas around the toilet get dirty. I needed a way to clean them that was fast, easy, and effective.
Types of tile cleaners we tried:
Tile floor is beautiful and durable, but can attract dust and dirt easily. Grout lines can also get dirty quickly, but cleaning grout lines separate from tile is not something I want to do (ain't nobody got time for that!), so I wanted a cleaner that could do both.
Our steam mop is something we tried (and others recommended). It worked ok. A lot of people swore by this, but when I used it on other surfaces, it would leave streak on my floor. Like tons of streaks. I also felt like it didn't "scrub" as much as I wanted it to.
We tried a cheaper spray mop, which we weren't too impressed with. I found that I had to push really hard, and even then, the marks on the white tile around the edge of the tub or toilet weren't removed so I would get annoyed and end up on my hands and feet with a cleaning cloth or something.
Water and vinegar is the most affordable option out there, and it works pretty well, but there are two things I don't like about it. A) the smell of vinegar, and B) The fact that I usually end up on my hands and knees again. Not a huge fan of scrubbing Cinderella style. Also, I believe it can be damaging to grout lines over time.
Which brings me to Bona. I actually reached out to them and asked it I could try their cleaner because I had heard that it worked well, and had pretty much exhausted my other options.
Why use a Bona Spray Mop?
Bona's tile floor cleaner is a spray mop. It's still affordable, but works better than some of the other ones I've tried. Here's a few things we liked about this guy:
It's EASY! Obviously a mop is going to be faster than traditional floor cleaning (if it works!), but this guy also has an easy cartridge of cleaning solution so there's no mixing or rinsing needed.
The microfiber pad is machine washable so I can easily wash and reuse it.
It's sturdy! This doesn't seem like that big of a deal, unless you've tried some of the less-sturdy options. I don't feel like I have to put a bunch of pressure on the handle to get it to clean well.
It maneuvers well around my tub and toilet – which is important because we have a freestanding tub.
You manually release the cleaner with a trigger so you're not relying on batteries.
It worked.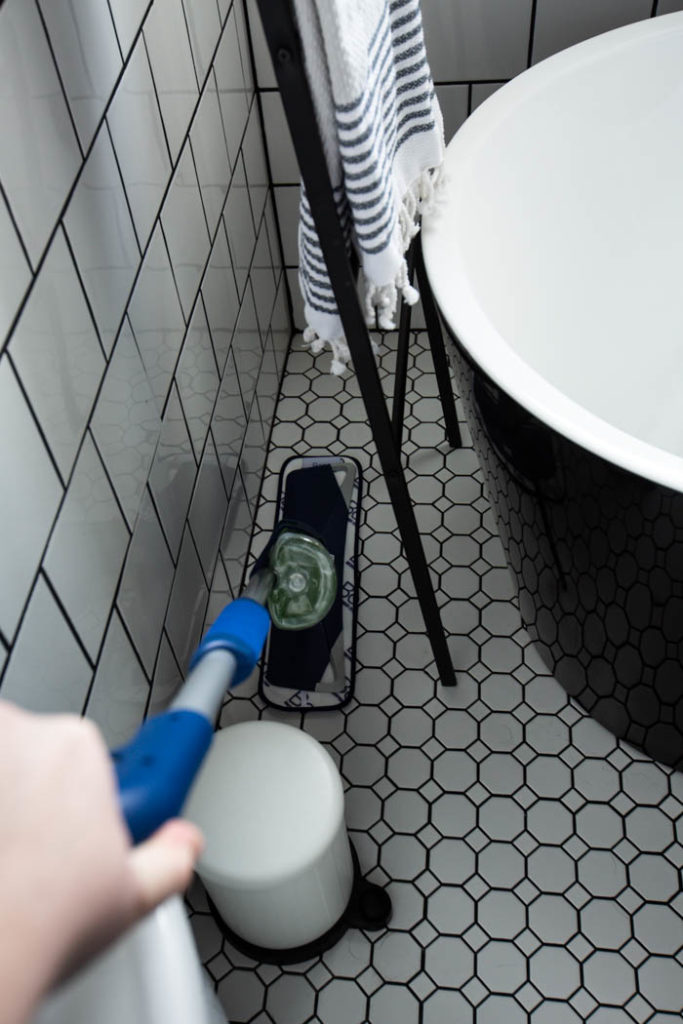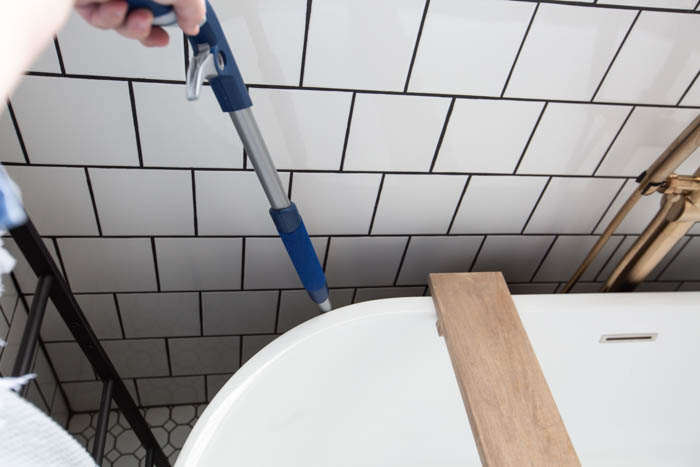 There were a ton of bonuses to using the Bona product! But at the end of the day… it worked! It cleaned so nicely and easily. The floor cleaner spray also works on laminate and linoleum floors, not just tile and stone, because it's a water-based solution that dries quickly. We are definitely going to test it out on our new laminate as soon as we get it in place.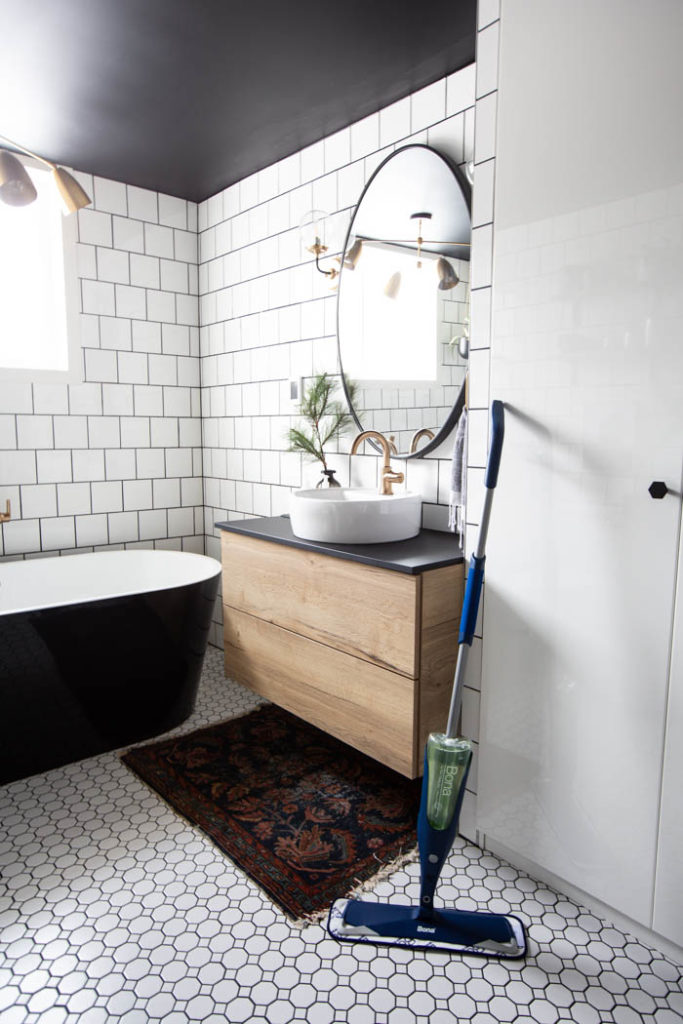 How to clean tiles and grout lines:
Vacuum or sweep the tile to remove any dirt particles.
Attach the microfiber cloth to the spray mop with the Stone, Tile, and Laminate floor cleaner.
Floor tiles are held in place by grout, which can get stained or discoloured if it's a lighter grout. When this happens, use a hand brush and a grout cleaner if necessary to clean the grout.
Allow the floors to air dry (this cleaner does not make the floor slippery either!)
The best way to protect your tile and grout lines is to sweep (to remove debris and dirt) and clean them regularly. When you use good floor cleaners regularly, there is less damage to your floors and it's easier to keep them shiny and new.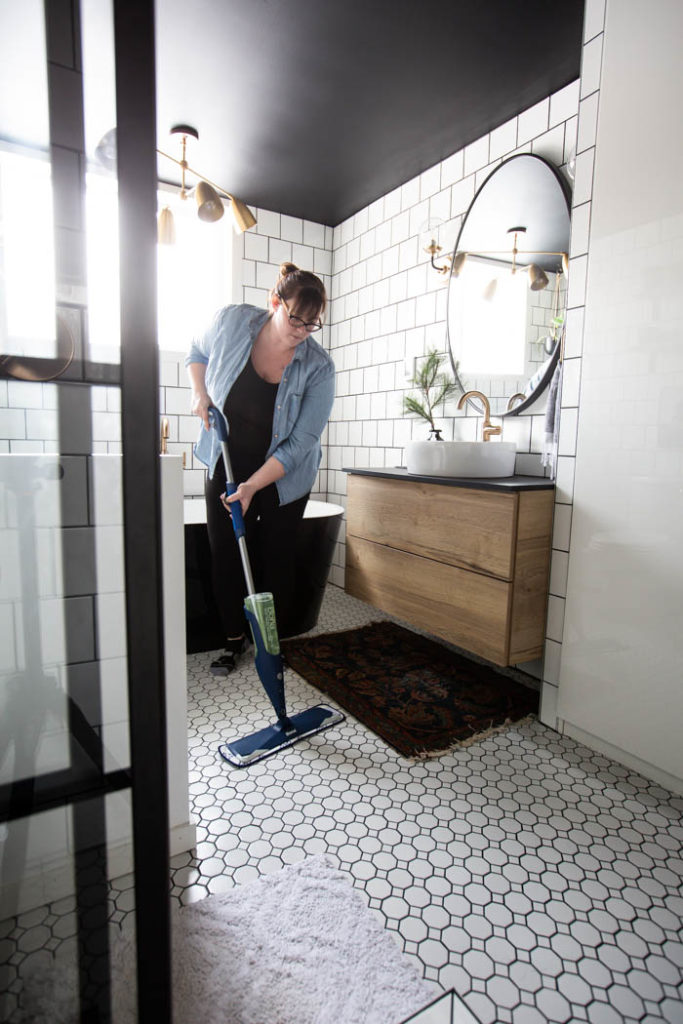 The Bone tile floor cleaner and mop are not that expensive even! And the money you invest into keeping your floors clean will always pay off with better results.
Don't forget to check out the full Modern Bathroom Makeover!