Transform your bathroom in a weekend with a new bathroom accent wall! See how this team tiled a whole wall and learn how to hang a mirror on tile!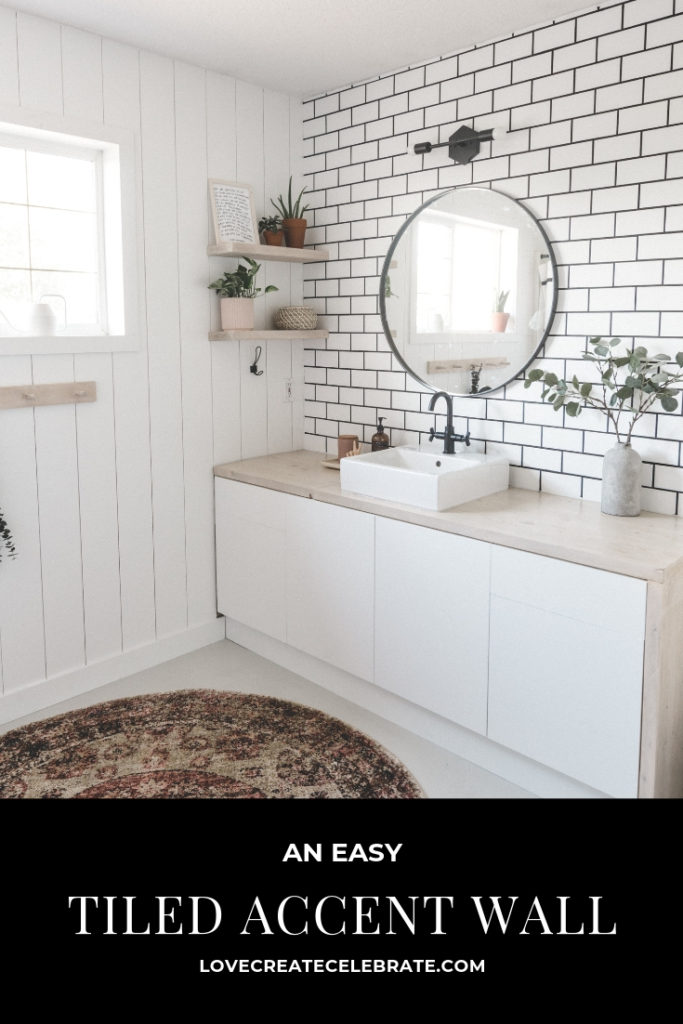 You know when your friend invites you to something, and you know immediately that it's going to be amaaaaazing? That just happened to us. A friend asked us to come teach them how to tile. So we did. We packed up all of our tile gear and headed over there this past Saturday for an impromptu tile lesson and created a stunning bathroom accent wall in just one weekend! We also showed them how to hang a mirror on tile (or anything really!) with just one new drill bit. This before and after will amazing you!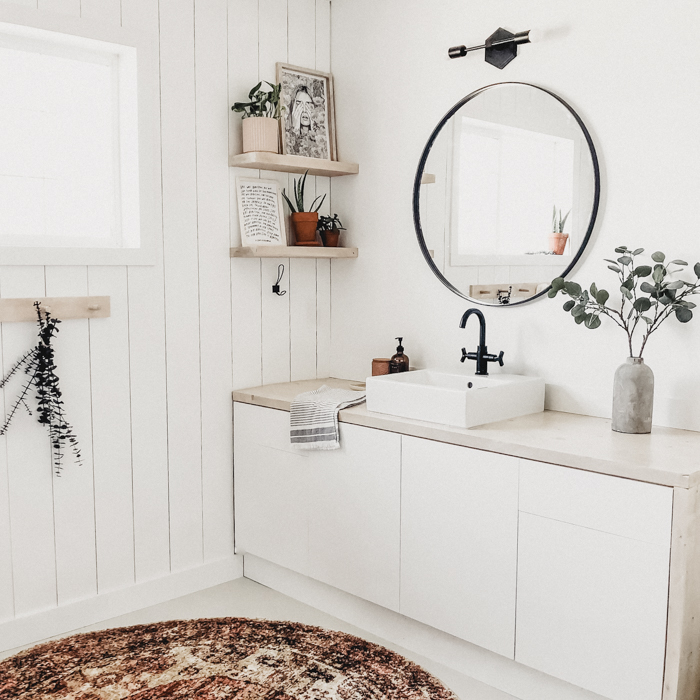 *This post was sponsored by Jeffrey Court Home Depot. As always, opinions are 100% my own. For more information, please see my disclosure page.*
This was the before picture of the bathroom we went to. It belongs to the amazing Sydney (and her husband Zach) from Frankie and Grae (side note: her home is just as beautiful in real life! Go check her out!). This bathroom was already beautiful, but when she told us she wanted to add a new bathroom accent wall I could already envision how stunning it would be!
Adding a Bathroom Accent Wall in a Weekend
When you take down all of the shelving and decor, and take a picture at night, the room looks pretty bare! lol. But we had to remove everything (including the toilet) and put drop cloths on every surface to protect everything from the mess were were about to make with tile and grout.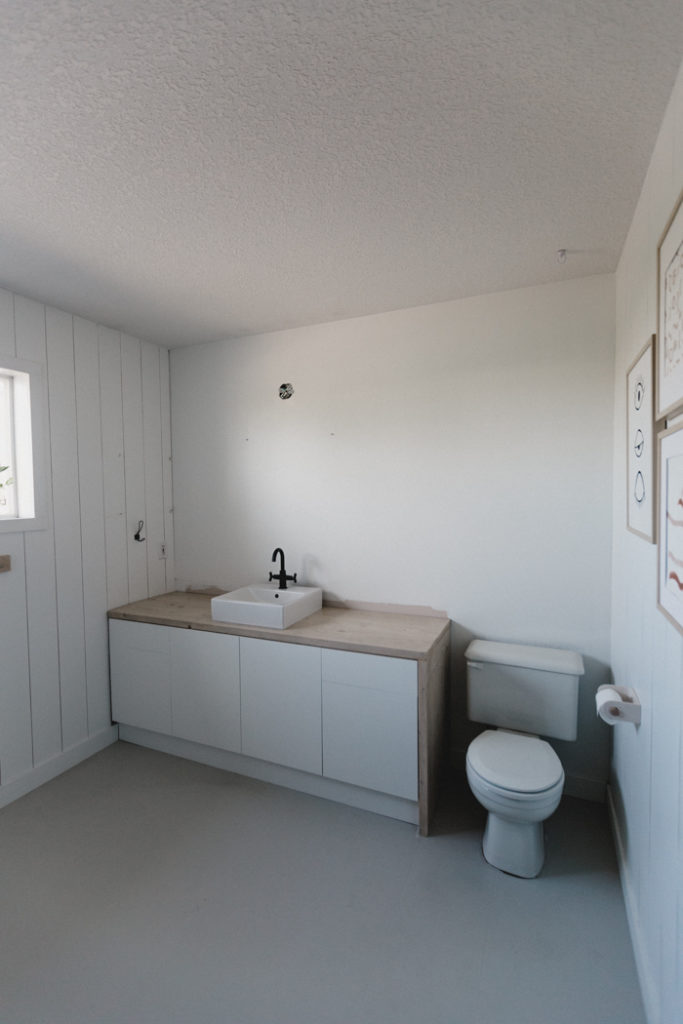 The first step was to tile the space. We used a gorgeous 3×6″ tile with 1/4″ grout lines. At times all four of us were helping, but when the ladies got busy, these men finished the entire wall (about 50 sq ft.) in about 8 hours (including stops for teaching and lunch).
We used mastic instead of thin set to adhere the tile because it's a lot faster, and we didn't need to worry about a perfect seal without air bubbles, since this wall likely won't get much water on it. Mastic typically is cleaner to put up, and faster, so it was a good choice!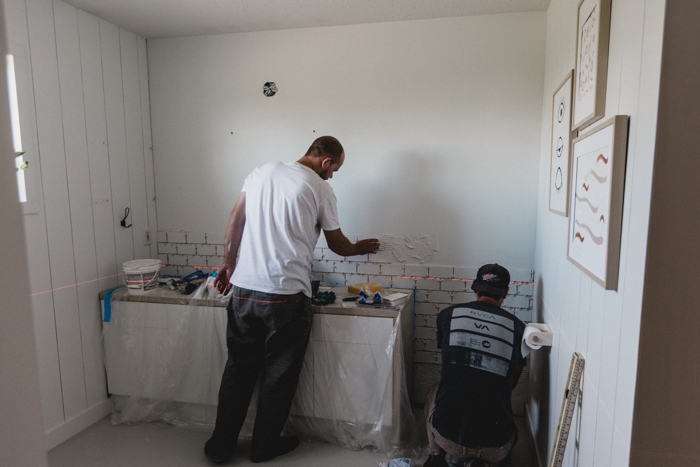 I'd say 8 hours to tile an entire room is pretty good! When the tile was all up, the room already looked amazing. It made such a huge difference, but we were all super excited to grout the next day.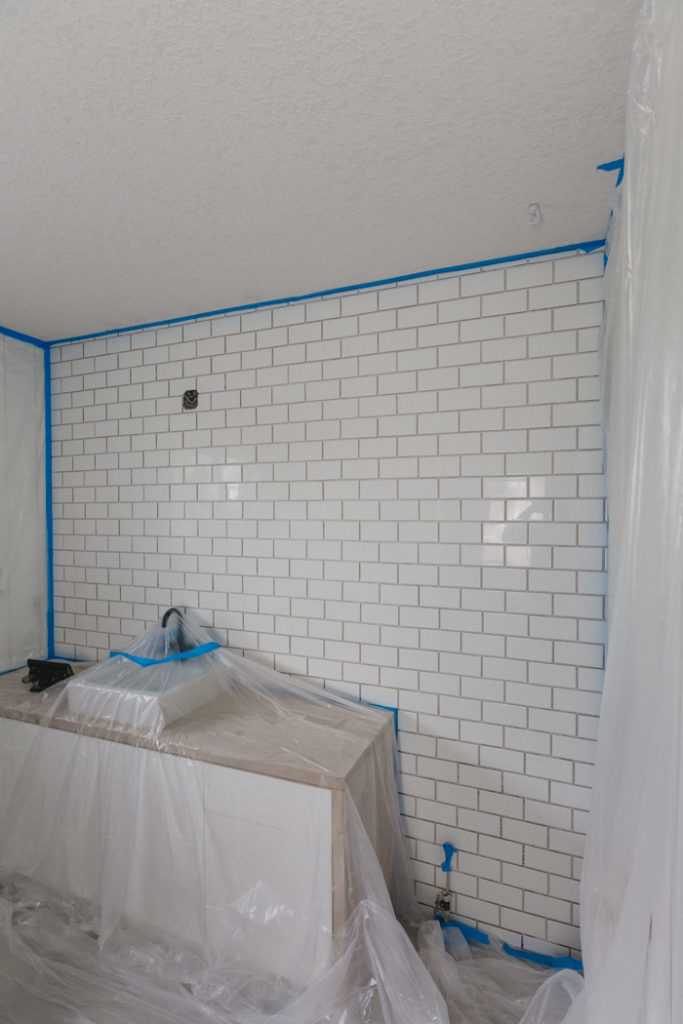 Grouting the walls always looks worse before it looks better. We added a deep grey (almost black) grout which is gorgeous against the white subway tiles!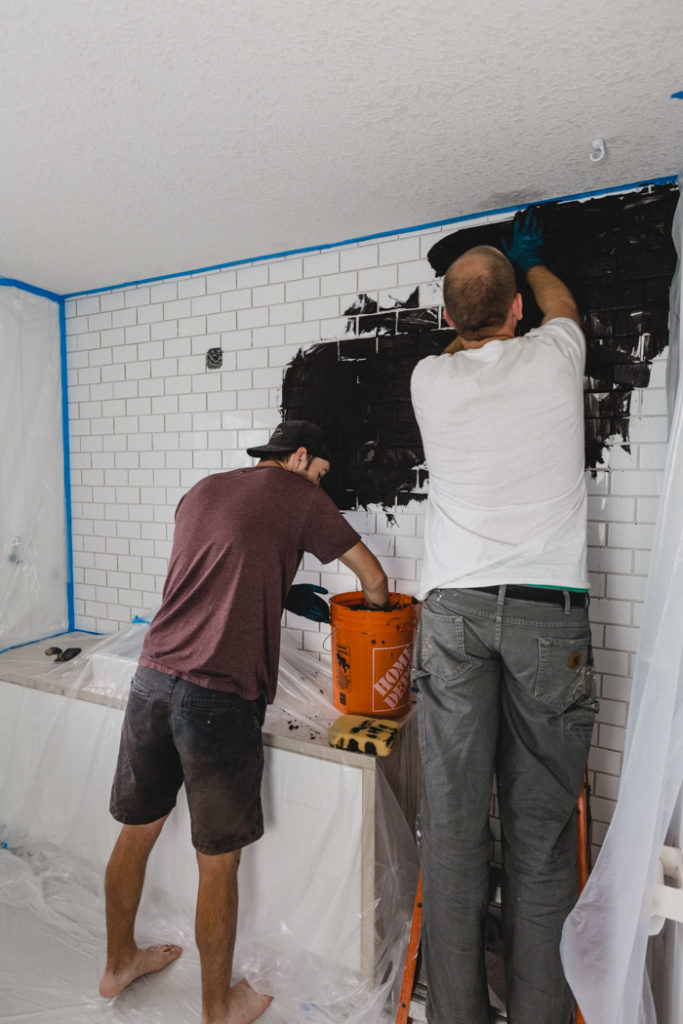 The grout makes a huge mess. If ever you can do your tile work before your space is finished, we highly recommend it! In this case, they already had a beautifully finished bathroom, so we did end up having to do a few touch ups when the black grout got where it wasn't supposed to be… (sorry about your ceiling Sydney!).
But it was worth it! Because in just two days, this bathroom had a gorgeous new feature wall!
How to Hang a Mirror on Tile (or anything!)
A lot of people find this part intimidating. If I do a whole wall of tile, how will I hang my mirror back up? When it's not too heavy, we try Command Strips, but those often fail too, lol. So here's the quick and easy way to drill into tile!
You can drill into the tile or the grout with the diamond drill bit. When you drill into grout it will be faster and easier, so we would always recommend that when you can, as long as your mirror doesn't look too low or too awkward.
Start by pulling out a diamond drill bit. If you don't have one, they don't cost too much and are definitely worth it so that you can get stuff up on your tiles!
We used painters tape to mark out exactly where we wanted to drill. The painters tape lets us leave pencil marks without damaging the tile, and helps us make sure that everything is measured accurately and is level.
Start by drilling at angle. These drill bits don't have a pointed end, so this helps get into the space a little bit better. You don't want your diamond drill bit to overheat, so you need to continuously dip it into the water to cool it down.
After you've broken into the grout line or tile, you can straighten your drill, and drill straight into the wall until you hit the drywall.
You likely won't hit a stud, so you probably need to put a drywall plug into the wall before you drill your screws in. Once the screws are in place, you're ready to add your mirror!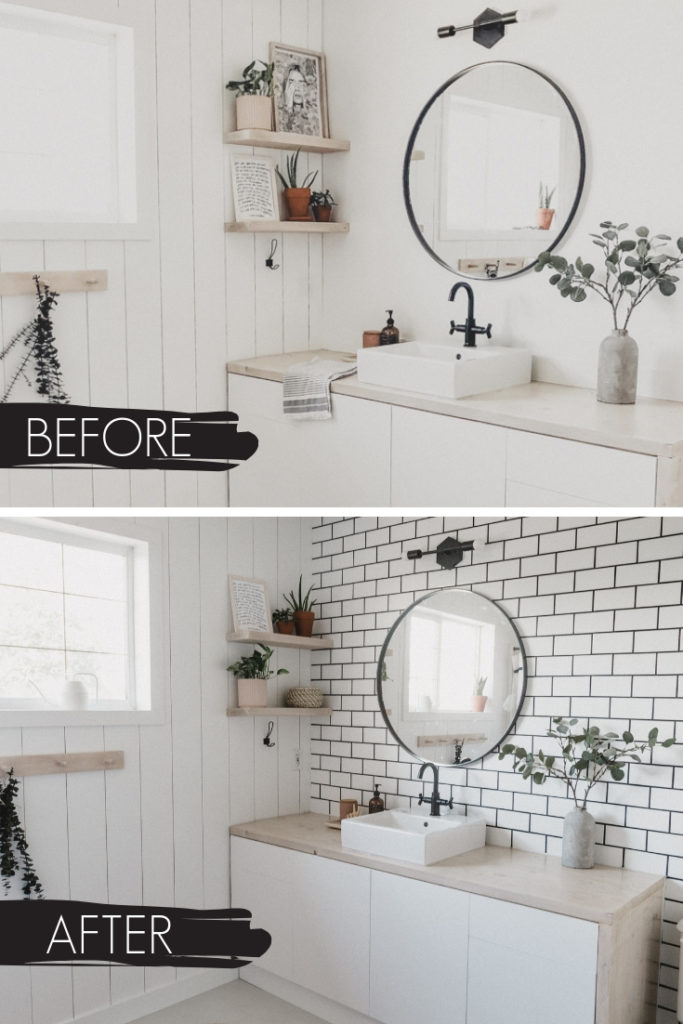 The Finished Bathroom Accent Wall
Seriously, this space is stunning! Seeing it in person was such a treat. I'm so lucky that these guys invited us into their home and we can call them friends. I'll let the pictures do all of the talking, because I know you're just dying to see the wall!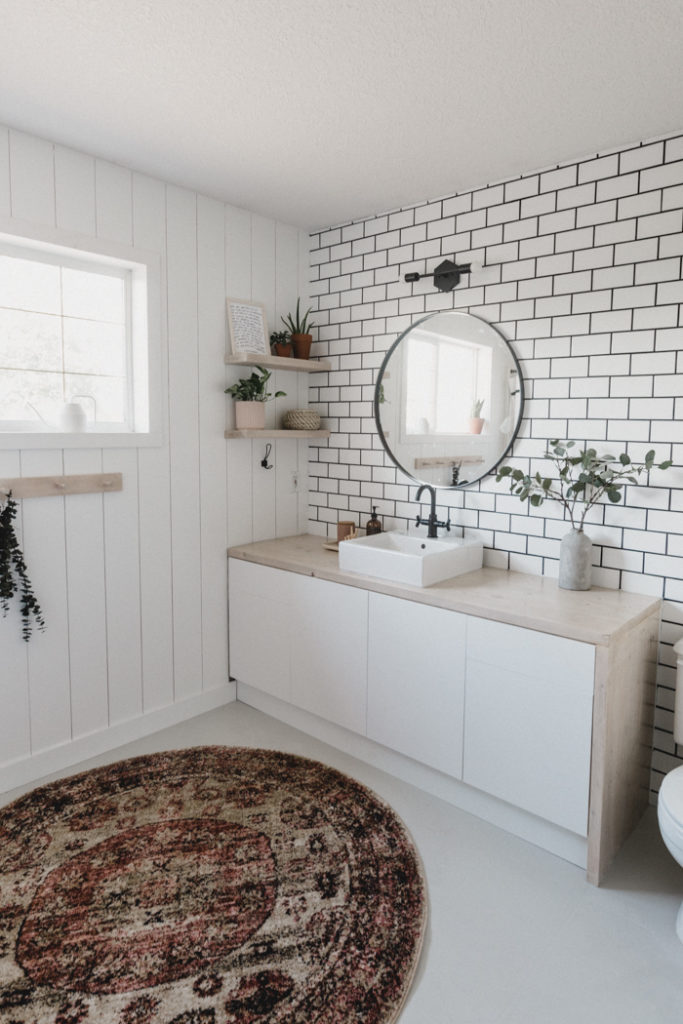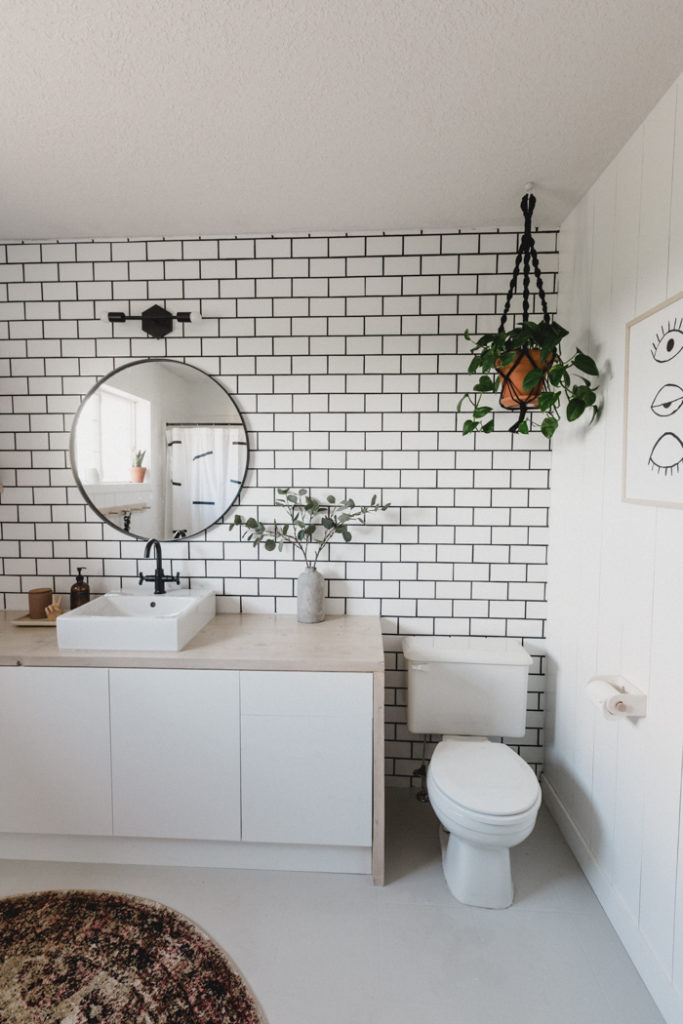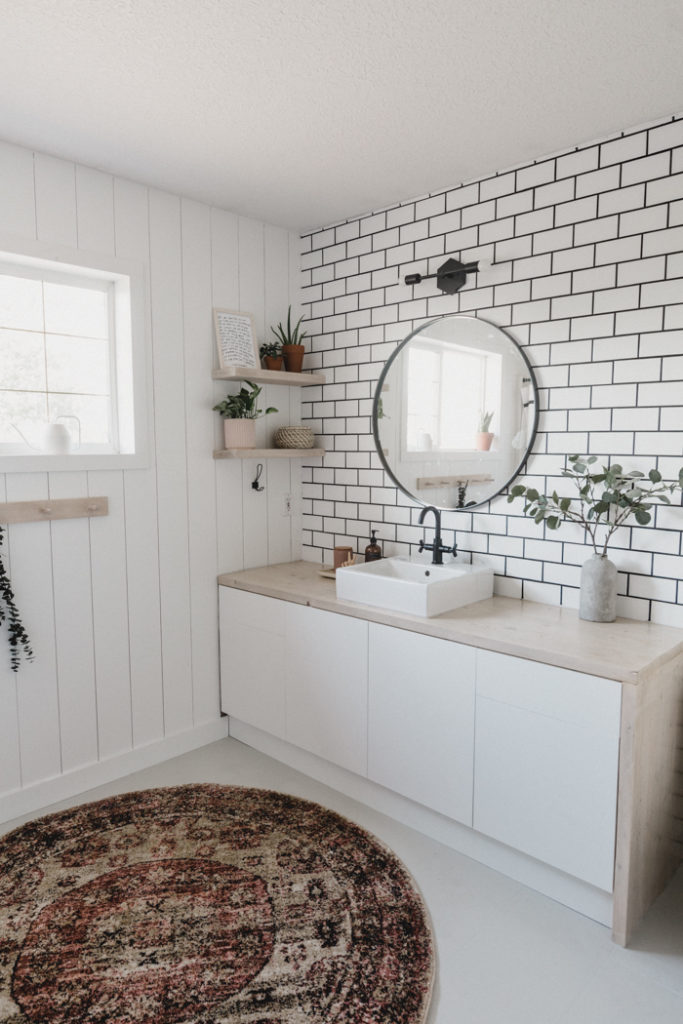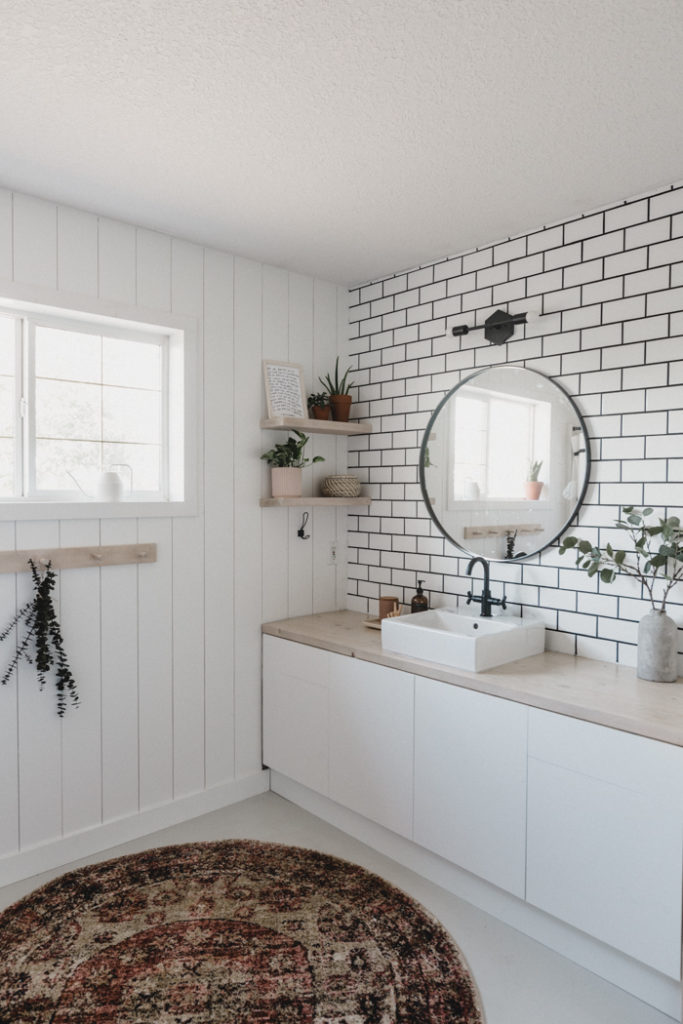 Seriously gorgeous! Two days is all you need to add a beautiful feature wall and completely transform a space! Hope you liked this quick and easy transformation!
For another great Bathroom transformation, check out our Modern Bathroom Renovation Reveal!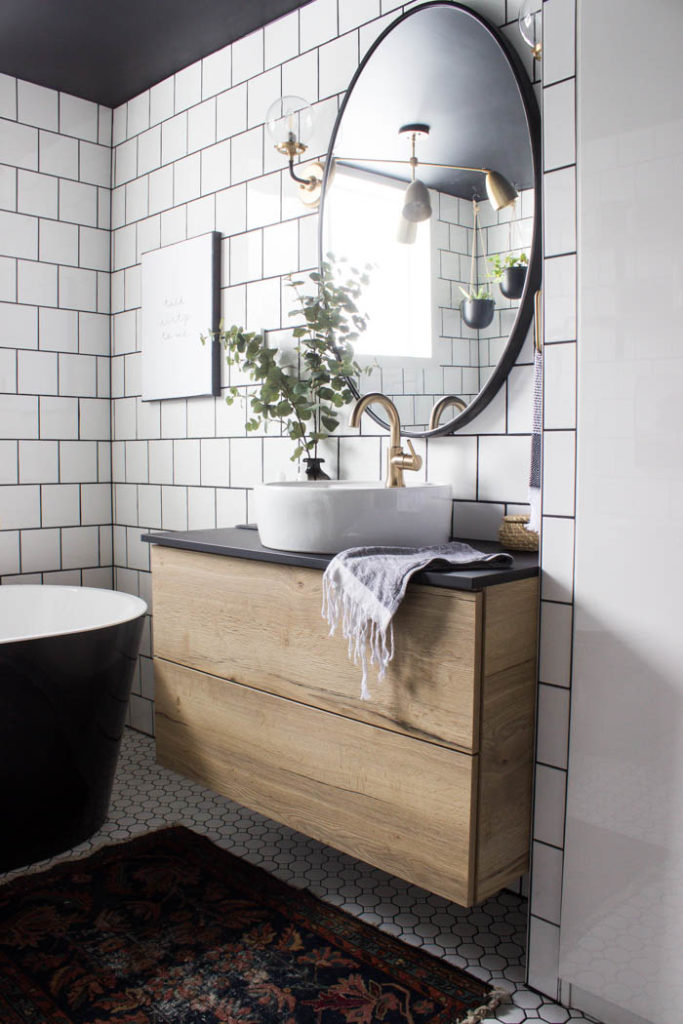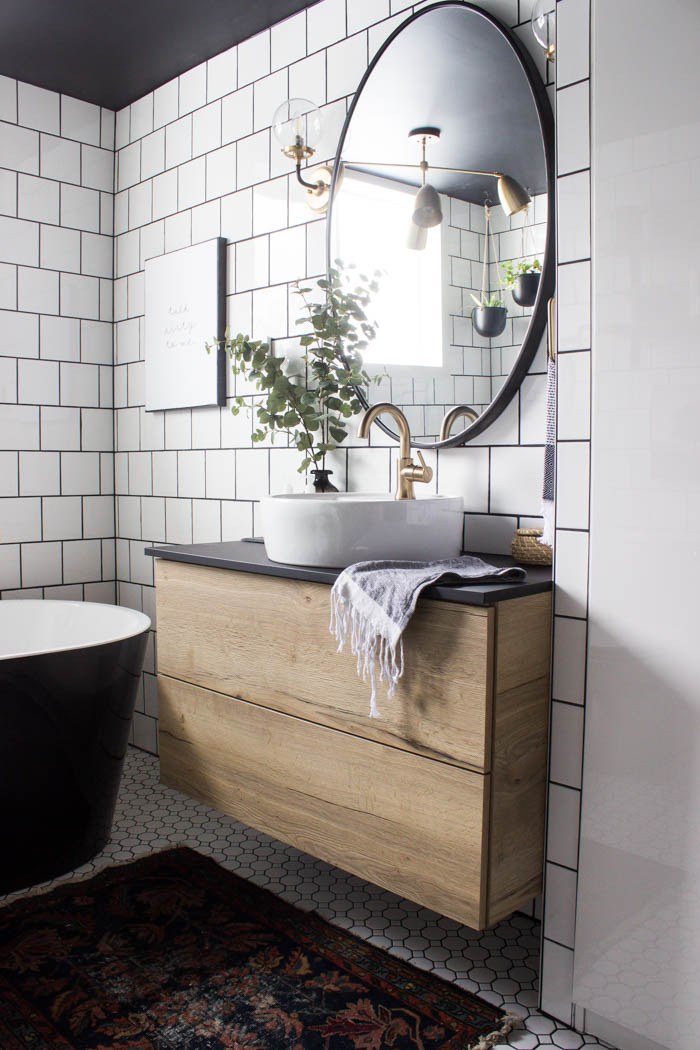 Or for another quick and easy transformation, check out our Dining Room Weekend Makeover!