Wow! This modern bathroom reveal is absolutely stunning! This is an incredible bathroom transformation that you have to see!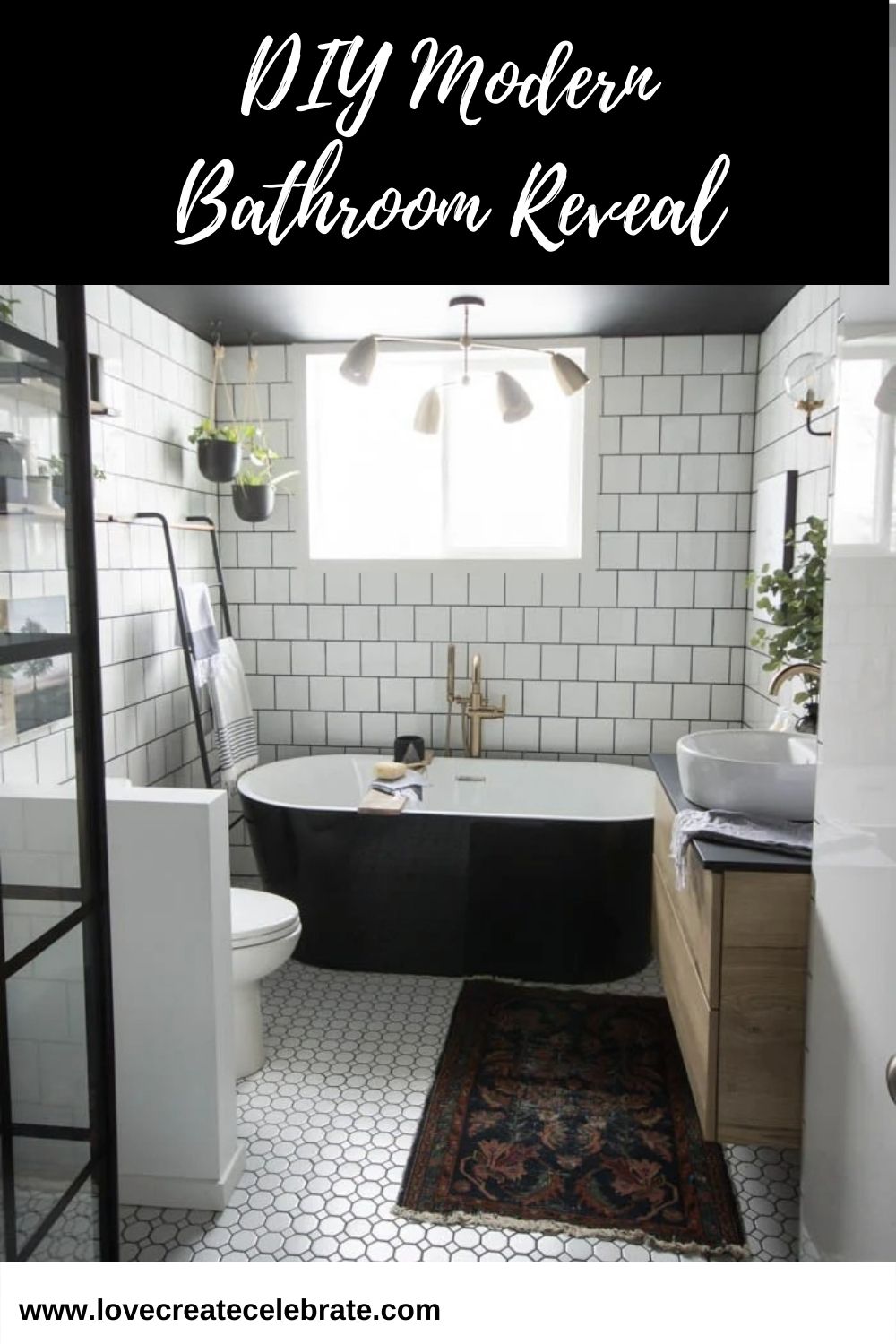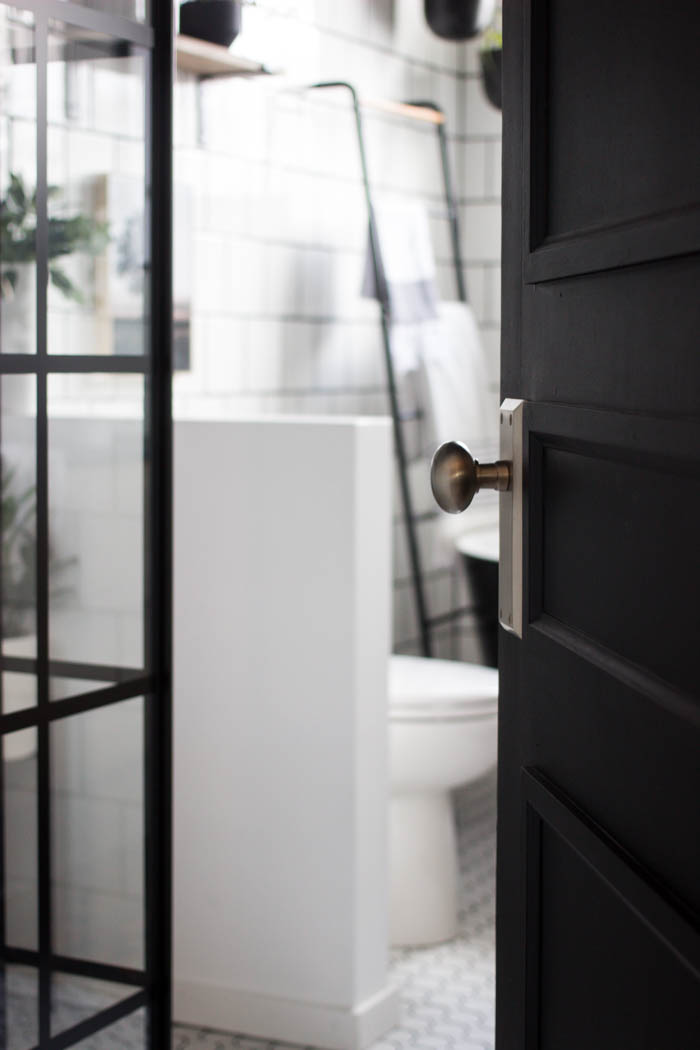 Come on in everybody! It's a beautiful day for a room reveal, isn't it?! If you've been following along, we've been participating in the One Room Challenge and transforming our outdated bathroom into a beautiful modern bathroom. We were a couple of days behind, and spent a few too many nights up past midnight, but we got it all done and we couldn't be more proud!
Just to remind you where we started….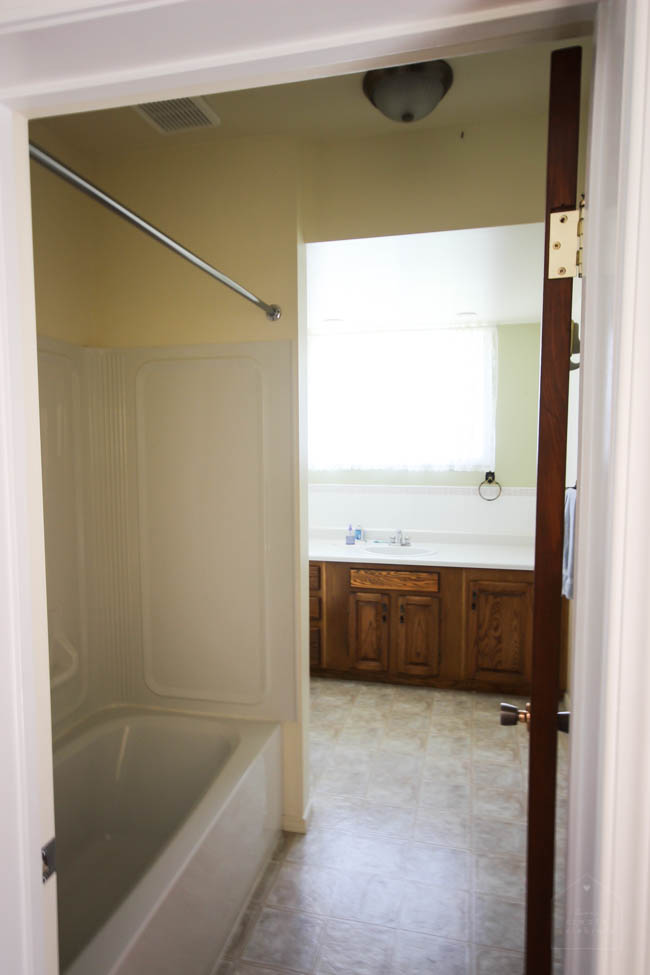 I don't even remember this space! This is our 6th time participating in the One Room Challenge, and each and every time I'm blown away by how much we accomplish in just a few weeks! I'll let the photos do most of the talking….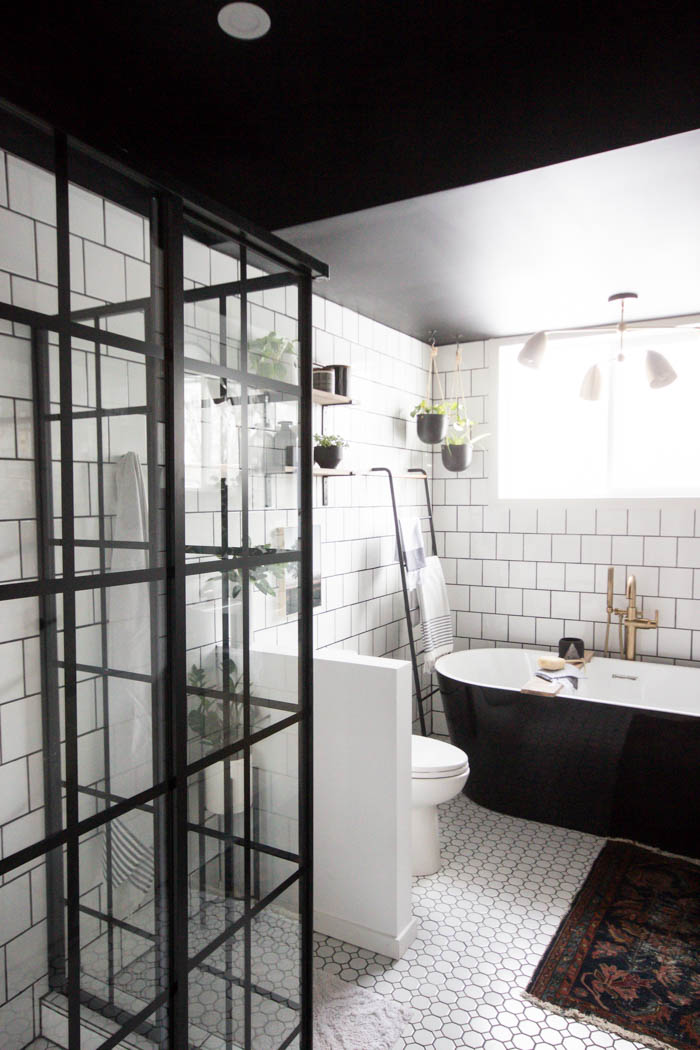 This is our view as we enter the bathroom! I can hear the chorus of angels now!
I'll start by sharing a video tour of our new space:
[show_shopthepost_widget id="3431988″]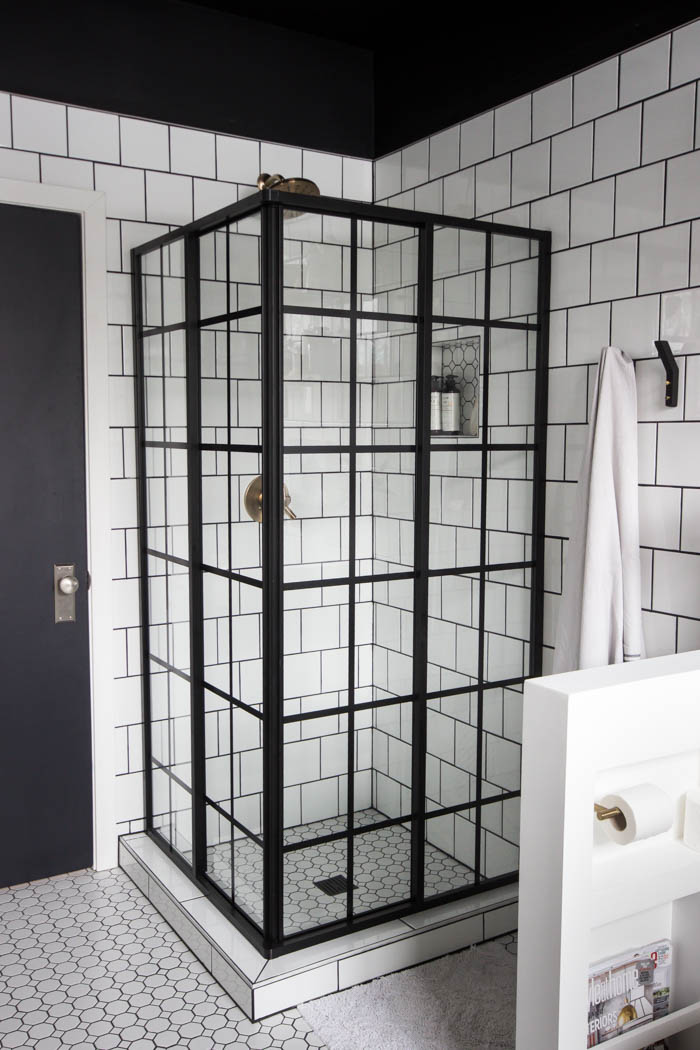 We started by putting in this gorgeous corner shower unit from DreamLine, that we picked up at Home Depot! It's a show-stopper. It's just stunning in the space.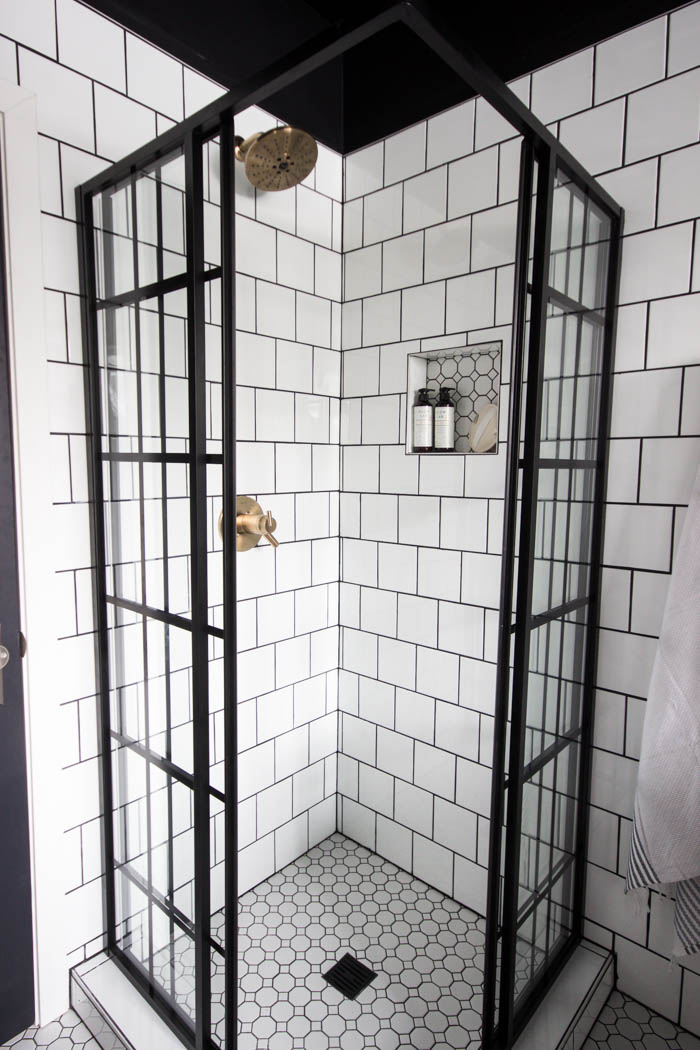 The simple 6×6″ square tiles on the walls and the white retro tile on the floor, all filled with a black grout brings so much character into this space!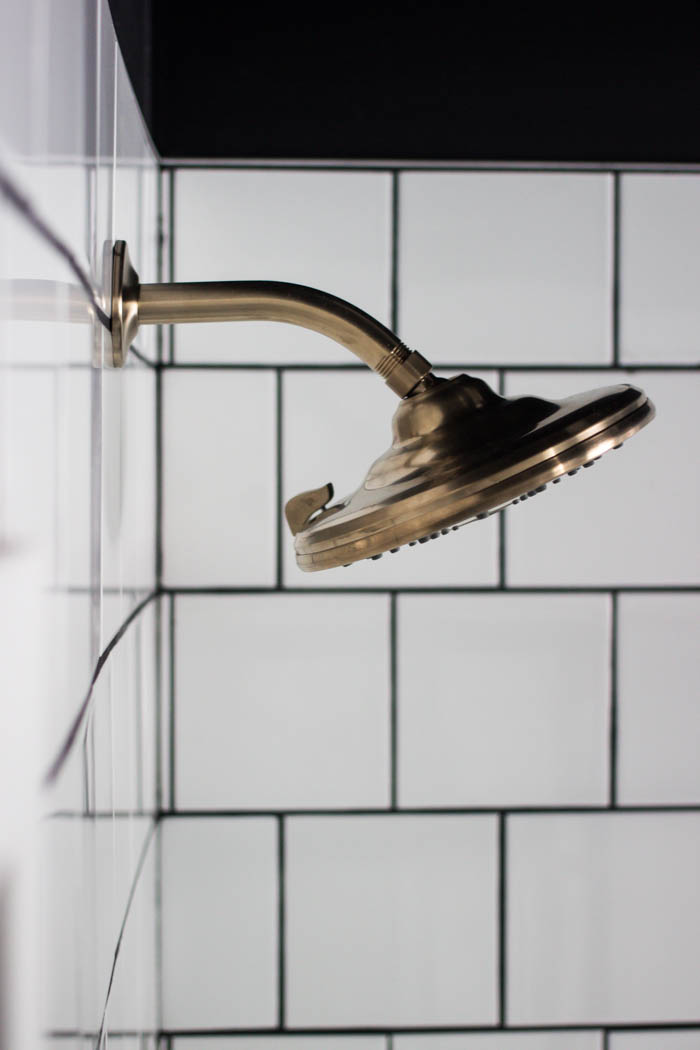 I'm so glad we went with the stunning champagne bronze faucets in this room. The whole line from Delta Faucet Canada is just beautiful. I love how the shower head pops against the black and white tile design.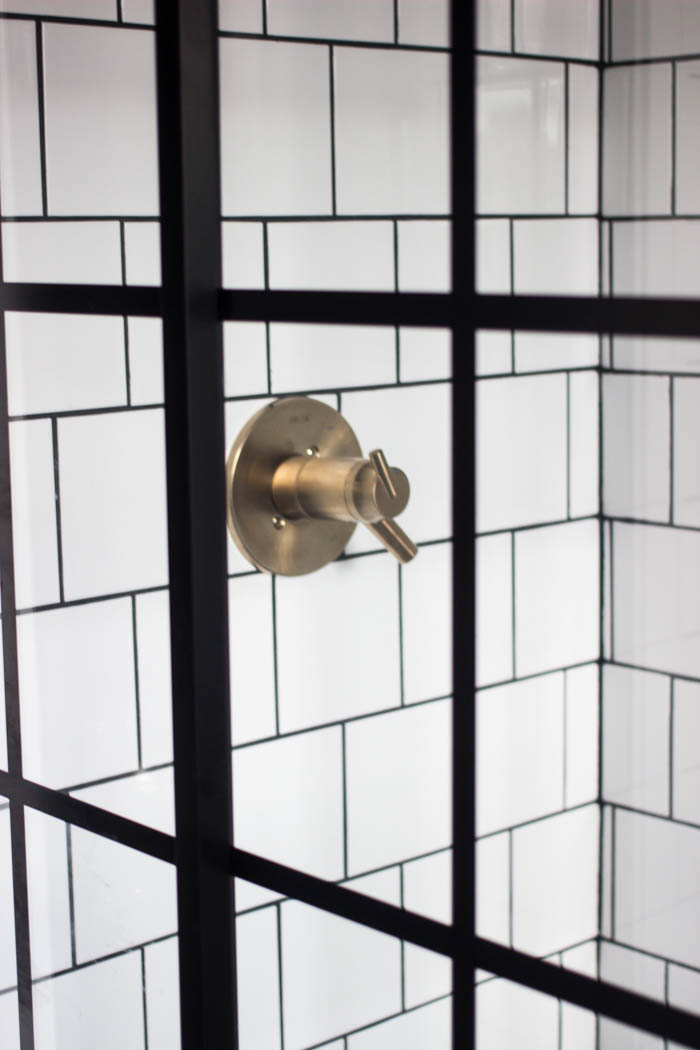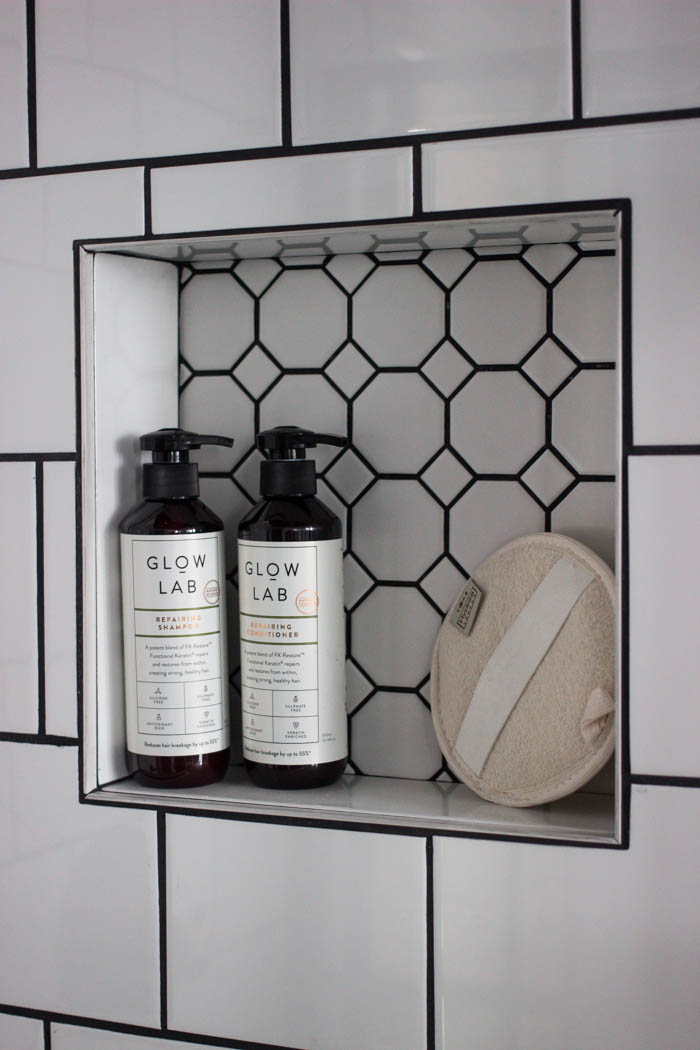 We needed a spot for all of our beautiful turkish towels post-shower, and this wall with these gorgeous (*swoon*) wall hooks was exactly what we needed!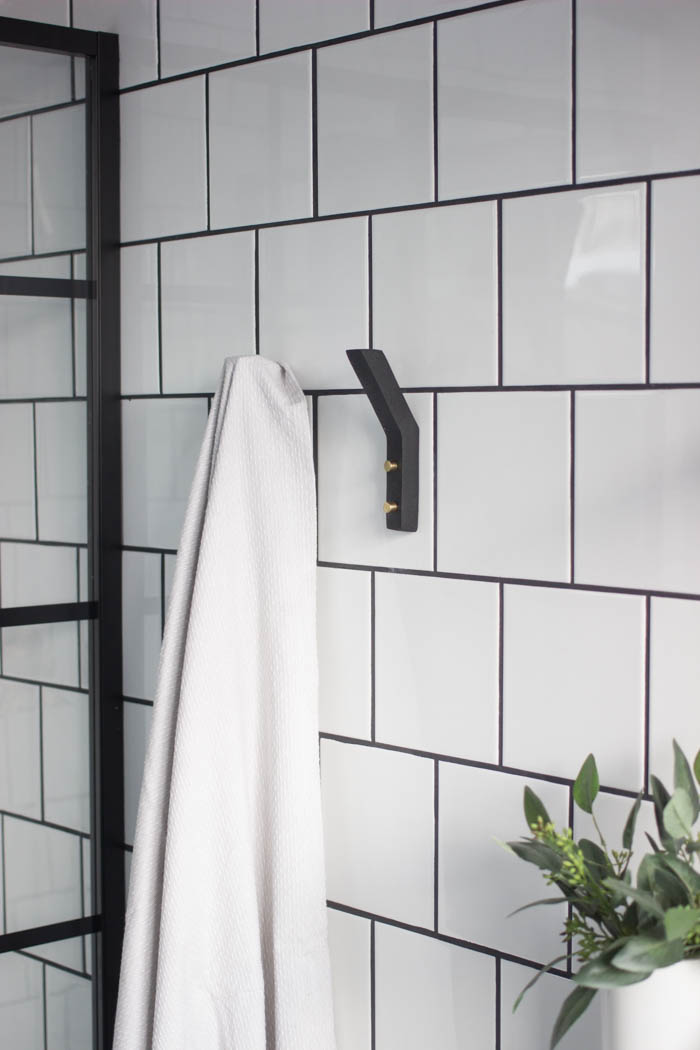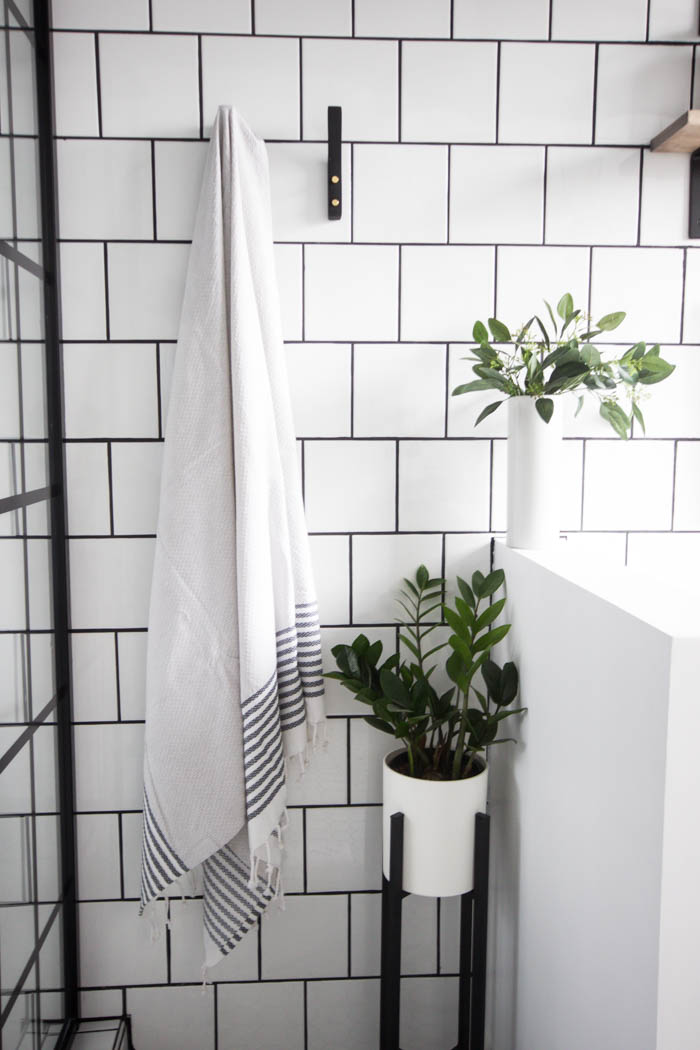 Oh! And did you notice the ceiling… it's black now. I've wanted to paint a black ceiling now for ages and this. is. why. How beautiful is that?!
[show_shopthepost_widget id="3431988″]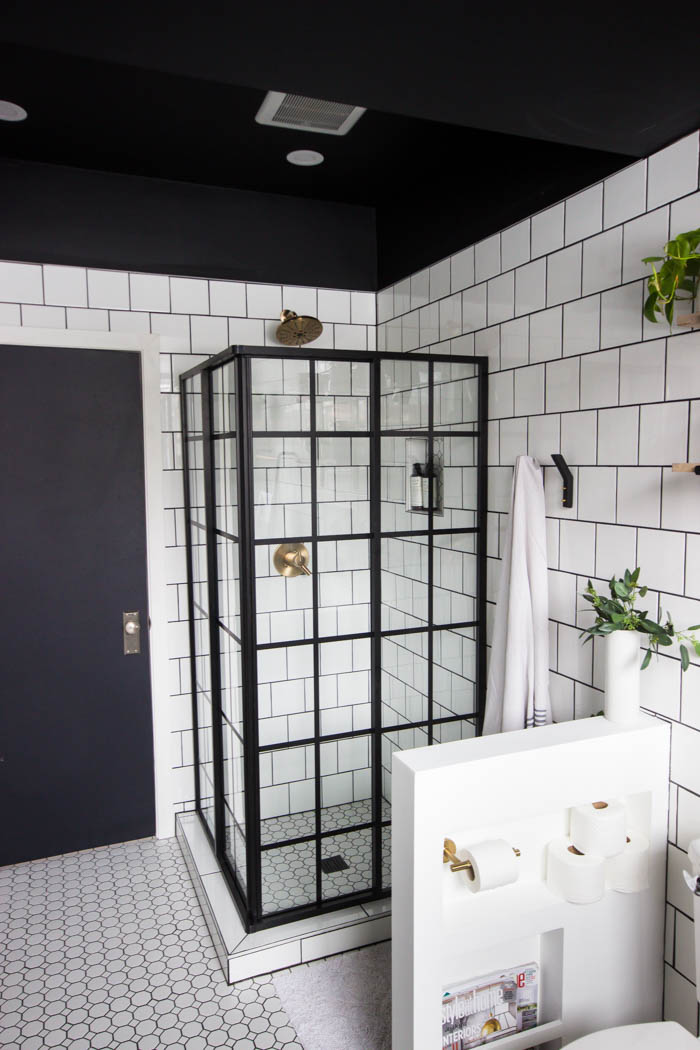 Our beautiful American Standard Cadet toilet is an enormous improvement over the old seashell lid! The concealed trap on these toilets from Home Depot is everything.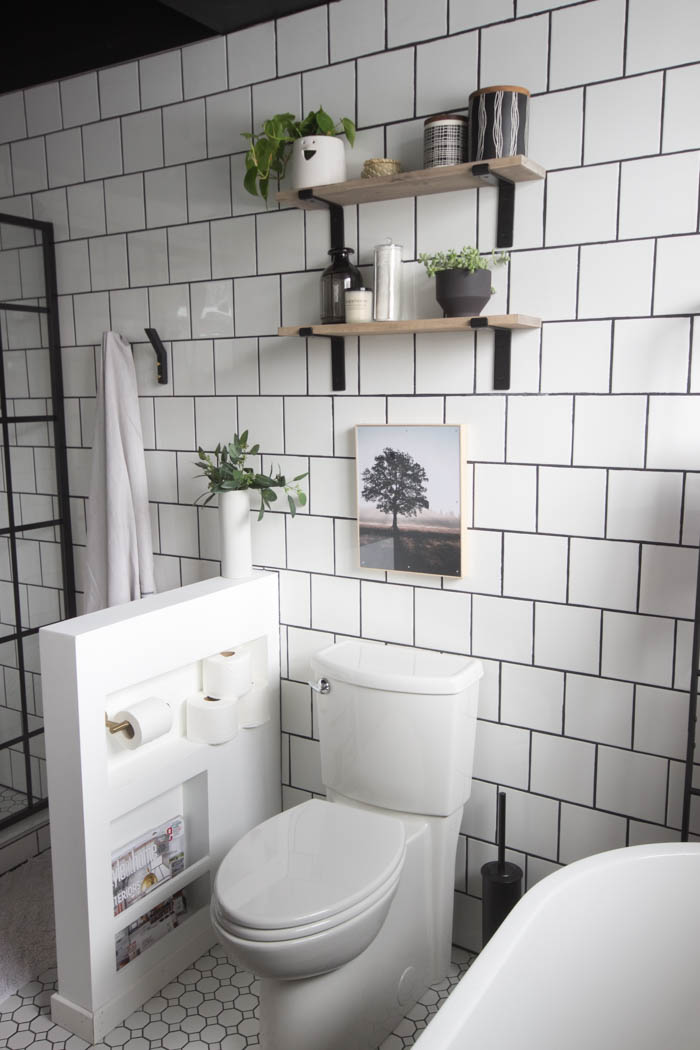 Since I didn't want a whole wall of empty space, we opted to create some super simple open shelving with these sleek black brackets.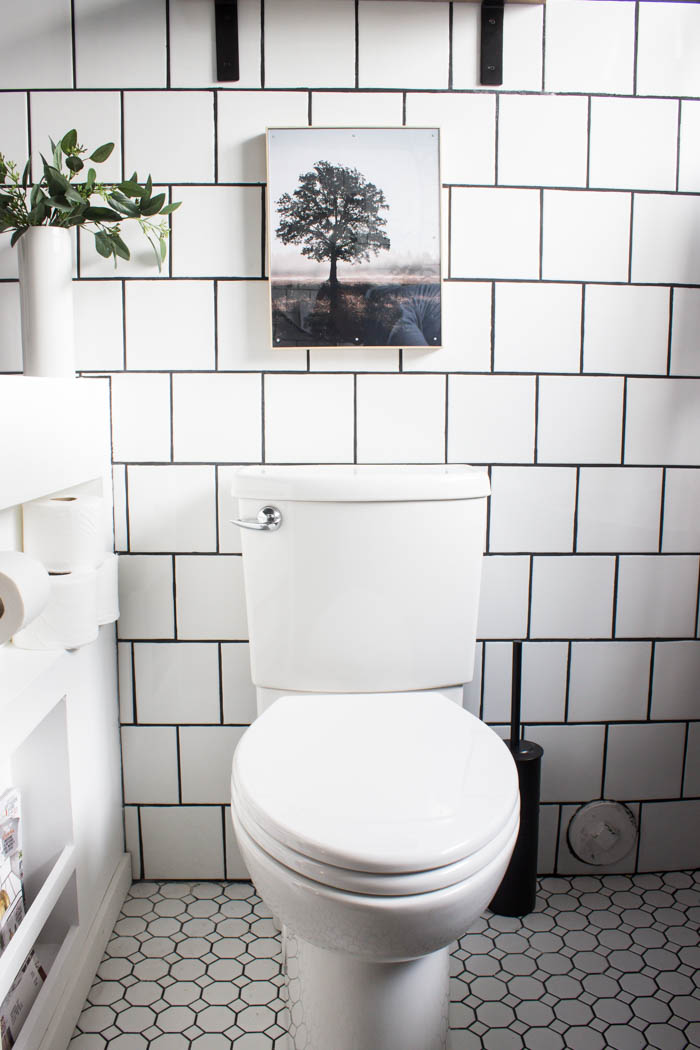 We also created this pony wall with hidden storage as a clever way to bring out toilet paper forward (there's nothing worse then reaching back to the wall for toilet paper! Am I right??), add storage for toilet paper, and add some reading for those that spend longer than 5 minutes in the bathroom… lol.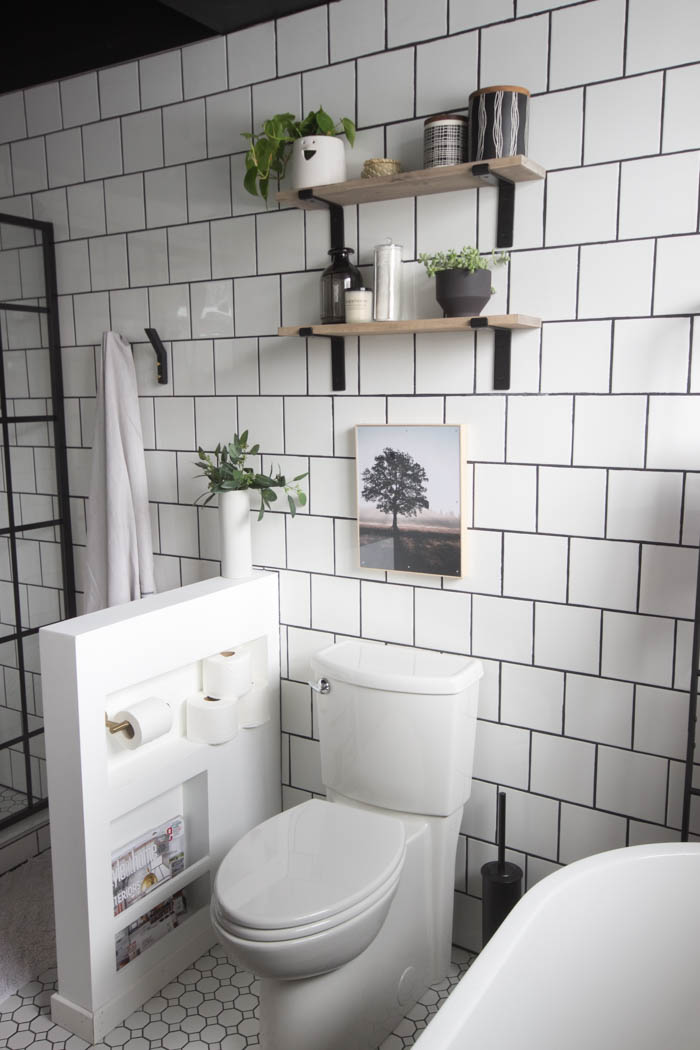 And the champagne bronze toilet paper holder is a perfect fit!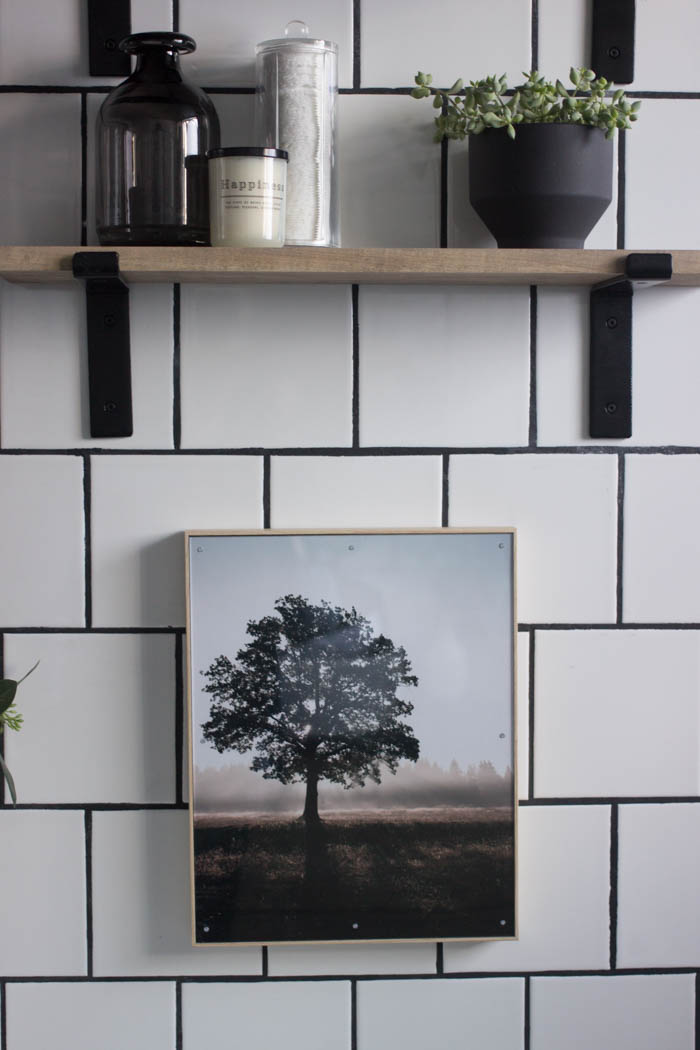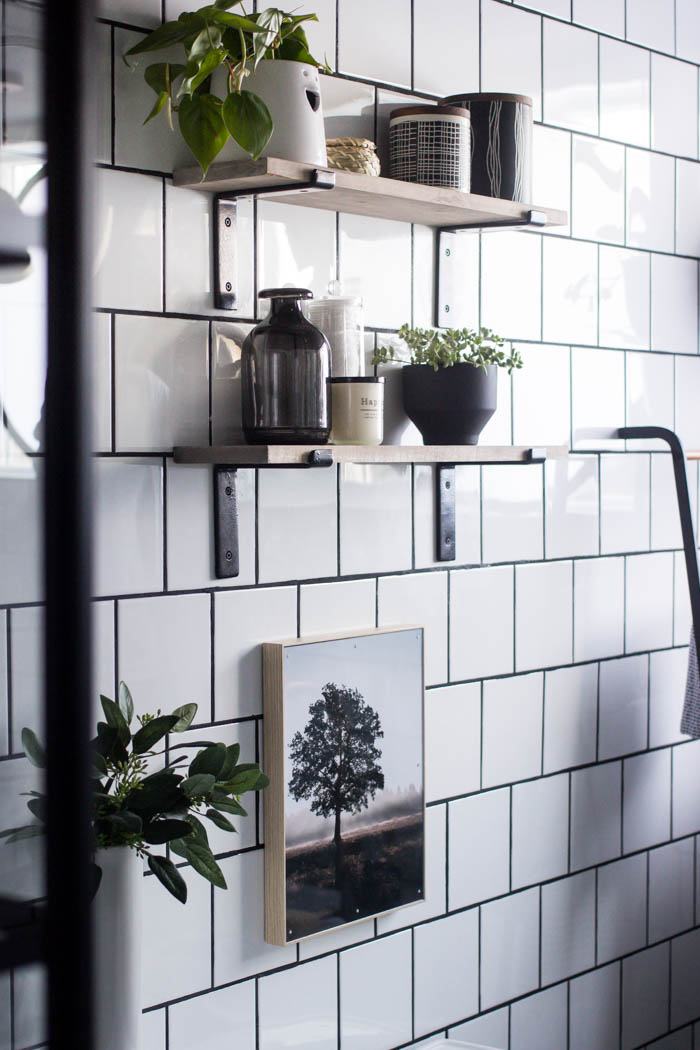 I brought some height to the room with my towel ladder, and some life into the room with the hanging planters.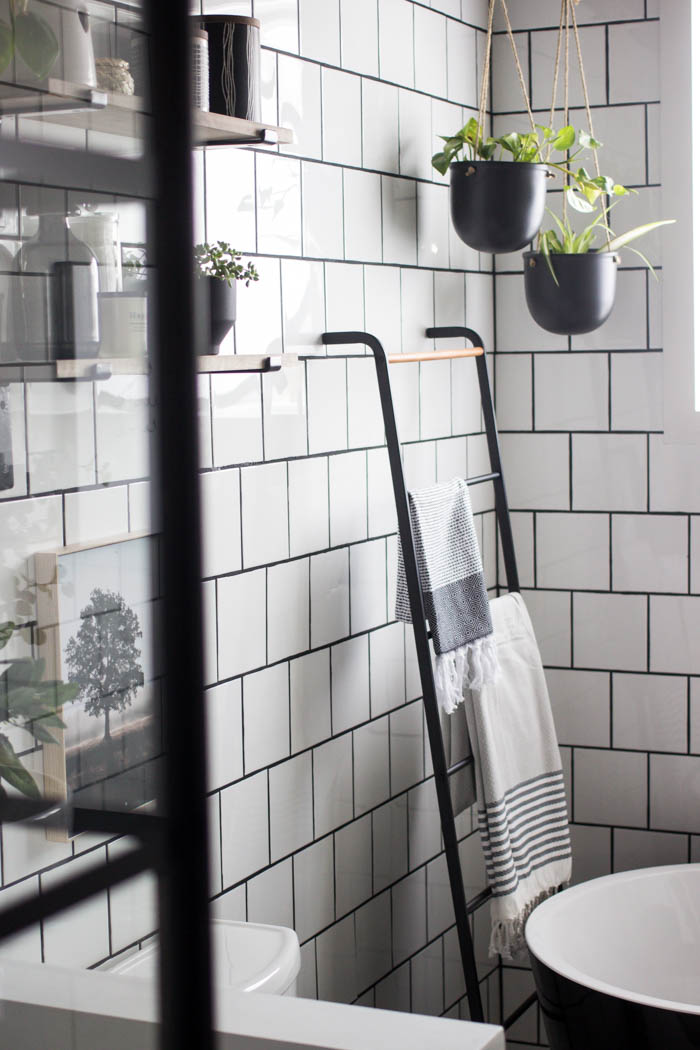 Then there was this stunning Obsidian freestanding tub from Universal Tubs. Can you believe this stunning tub is from the bog box store? This tub is the first thing you see when you peek into the room, and it's a beautiful focal point!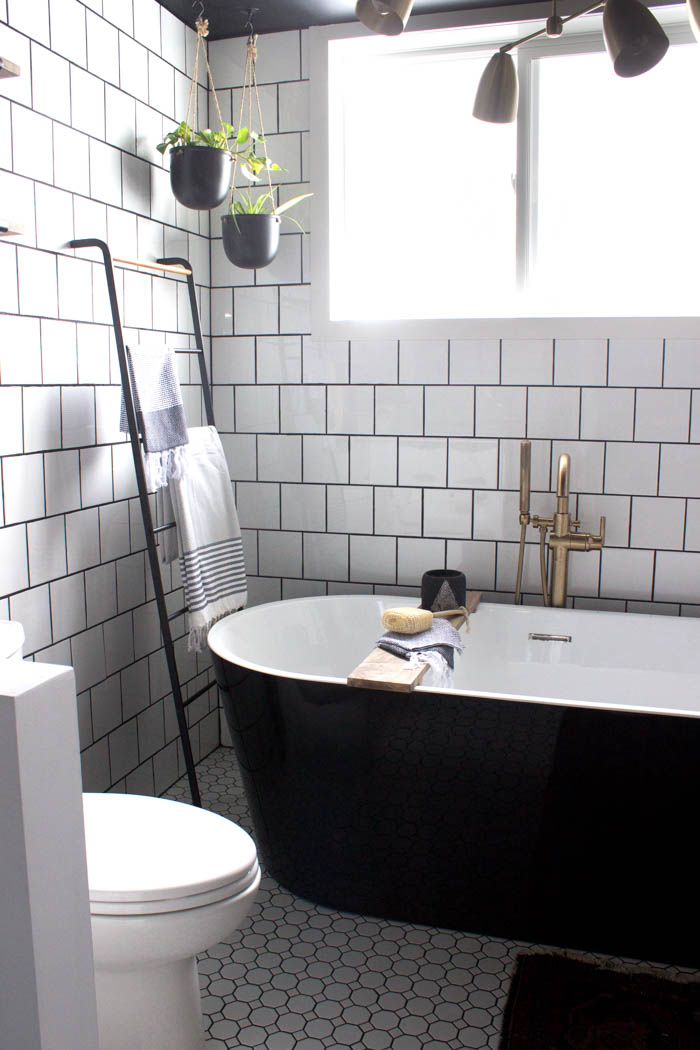 Does anything say luxury more than a freestanding tub with a standing tub filler?! I don't think so!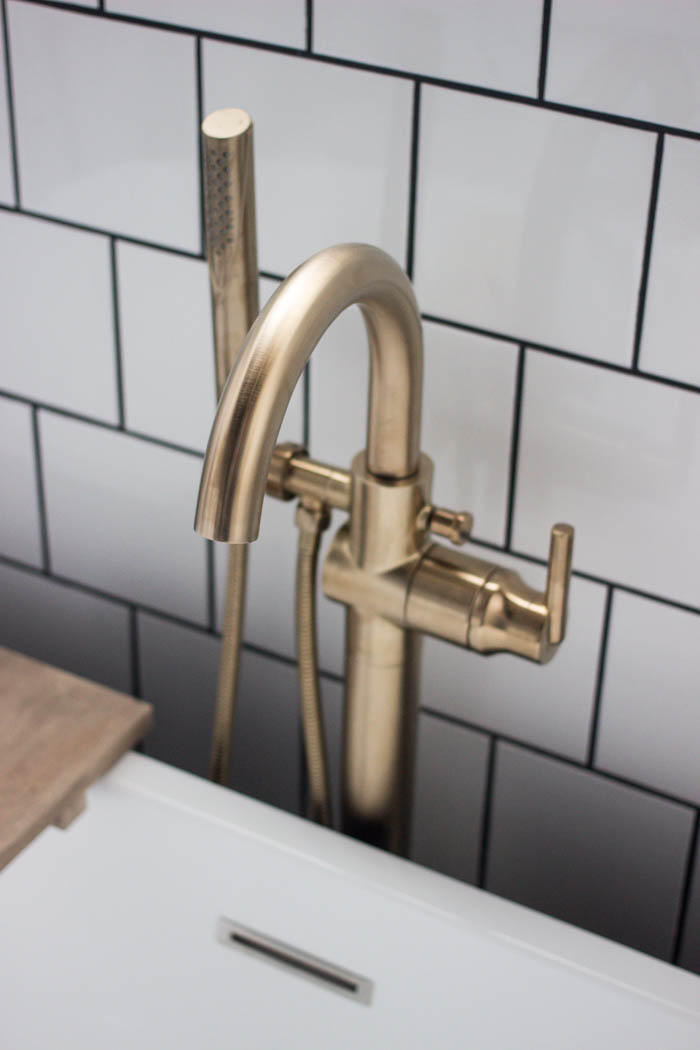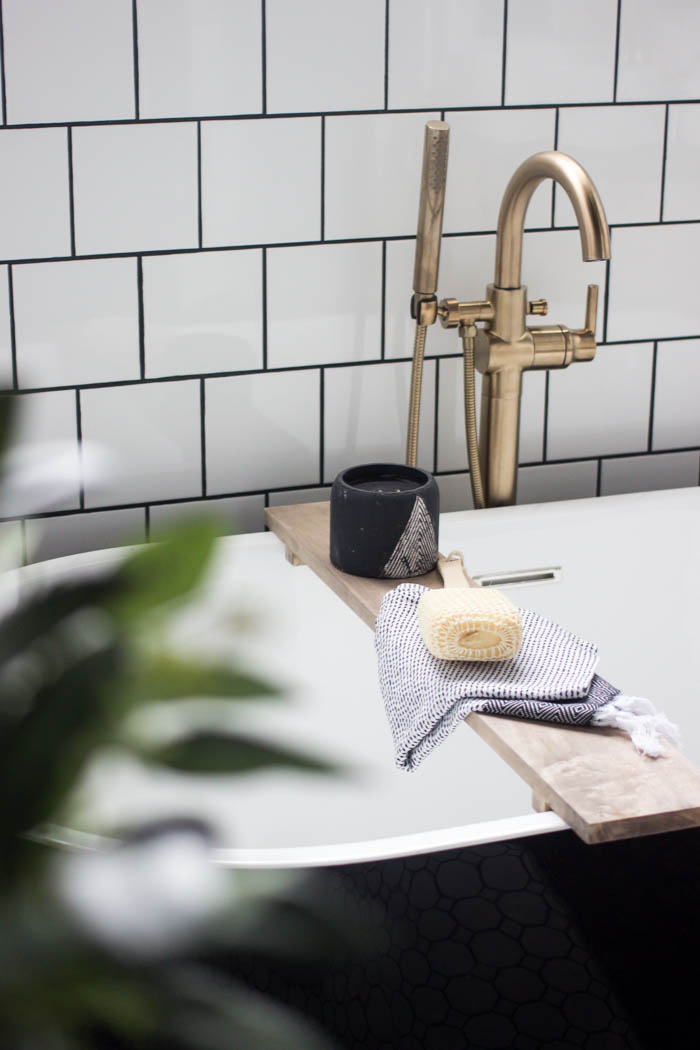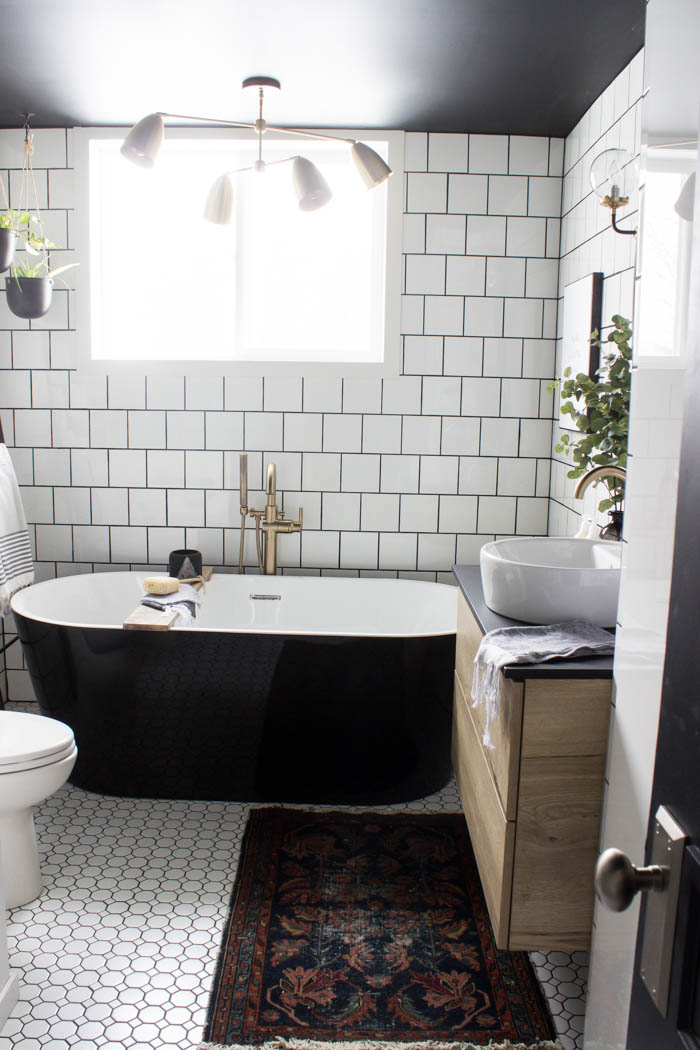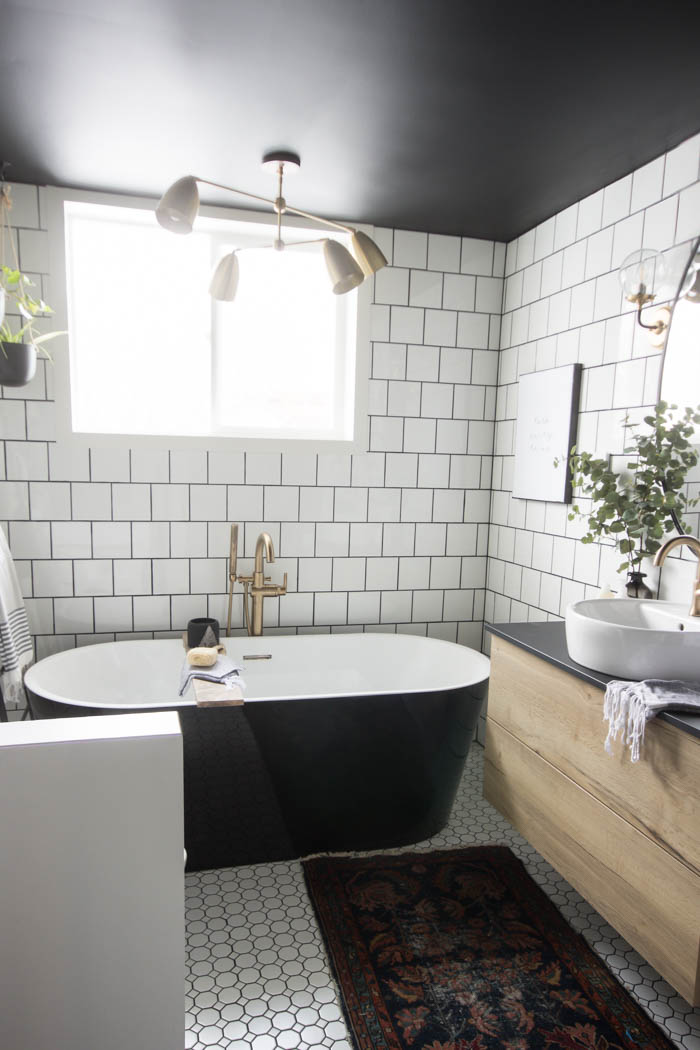 I had to idea to make this sign long before I started this renovation, and I'm so happy I made it happen (stay tuned for a tutorial soon!).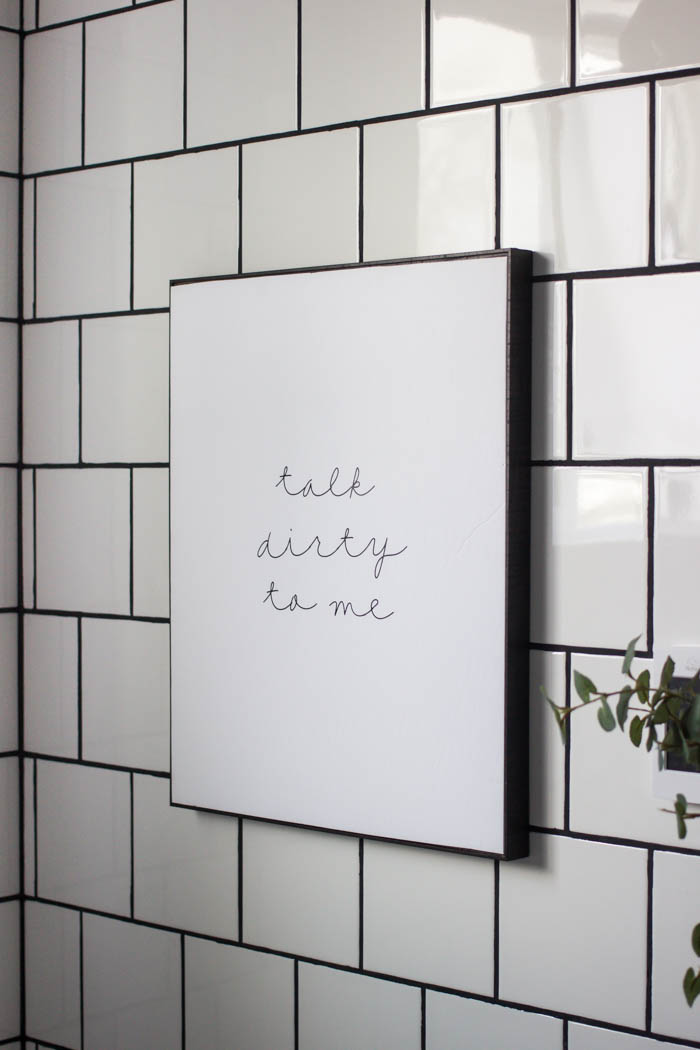 This vanity. What can I say?! We took a simple IKEA vanity, updated the look with Kitch and ended up with this this gorgeous wood vanity that looks custom made!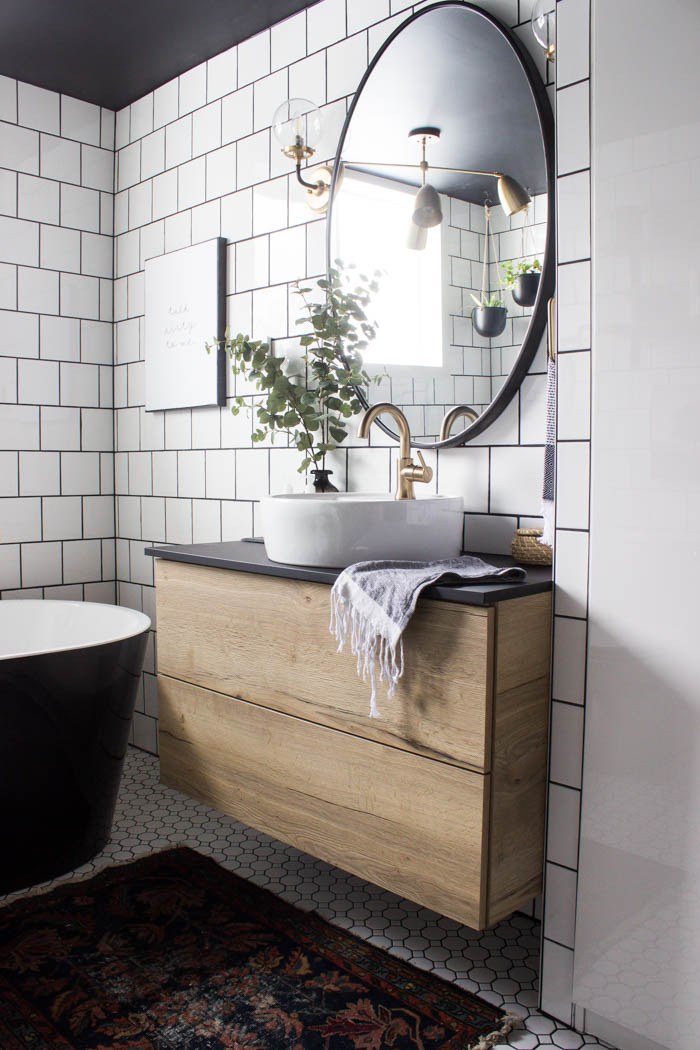 We chose to use the Natural Halifax Oak sides and fronts and it really adds warmth and texture to the whole bathroom.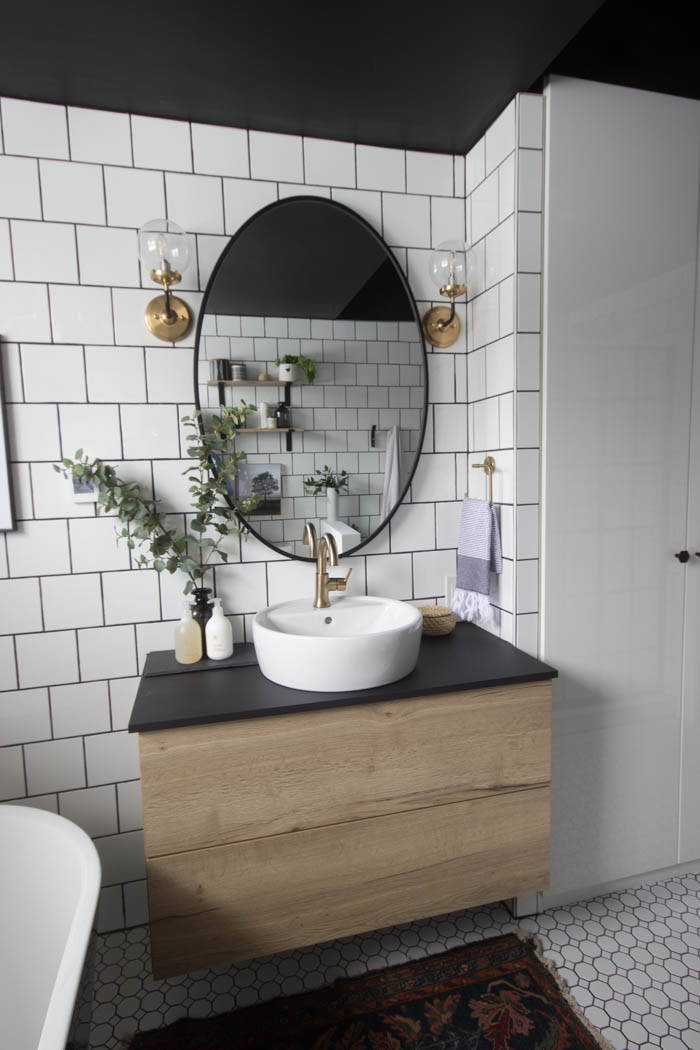 [show_shopthepost_widget id="3431988″]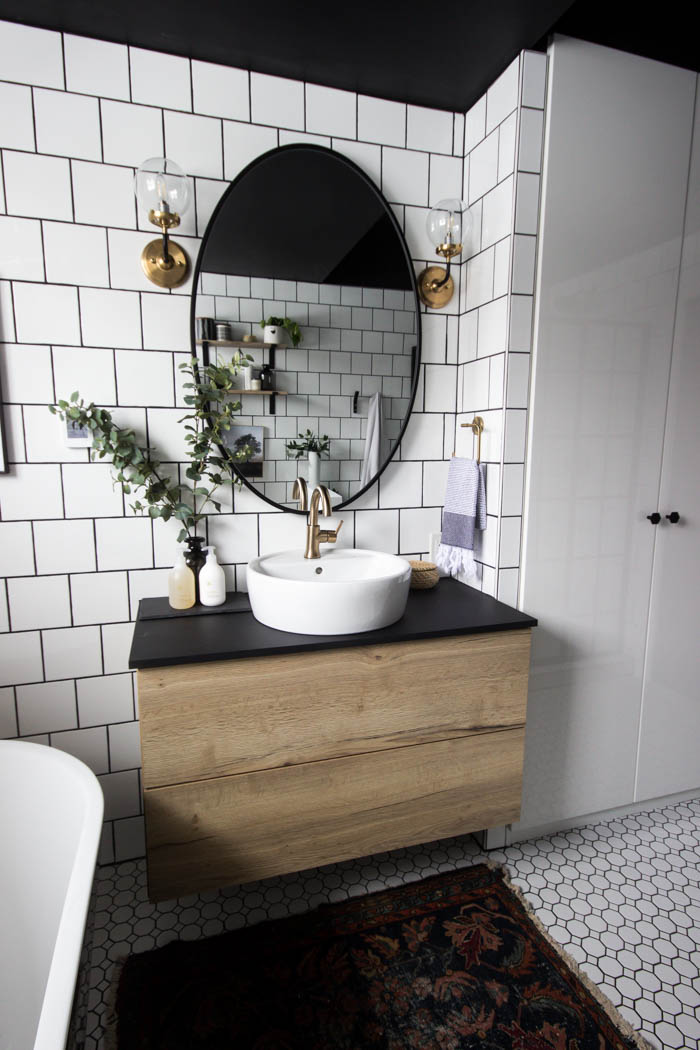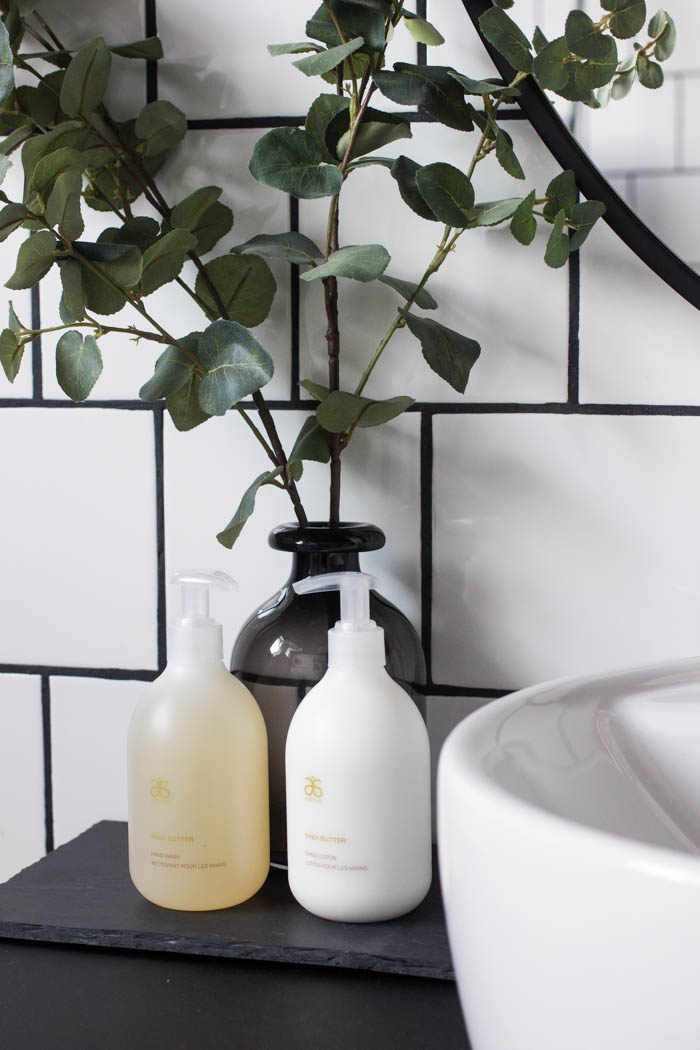 No vanity is complete without your favourite soap and hand lotions right?! These guys are all natural and great for your skin! Go try some, you will love it!
The last of our gorgeous faucet collection sits on the sink. This sink faucet was the perfect scale for our IKEA vanity.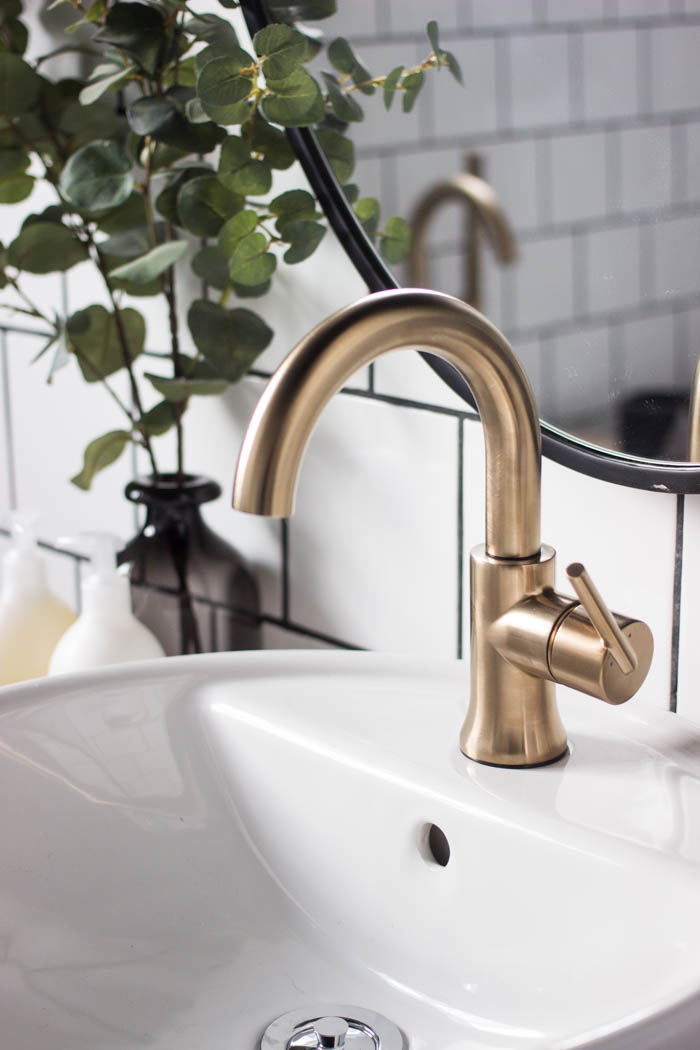 And every faucet needs a matching modern towel ring, right?!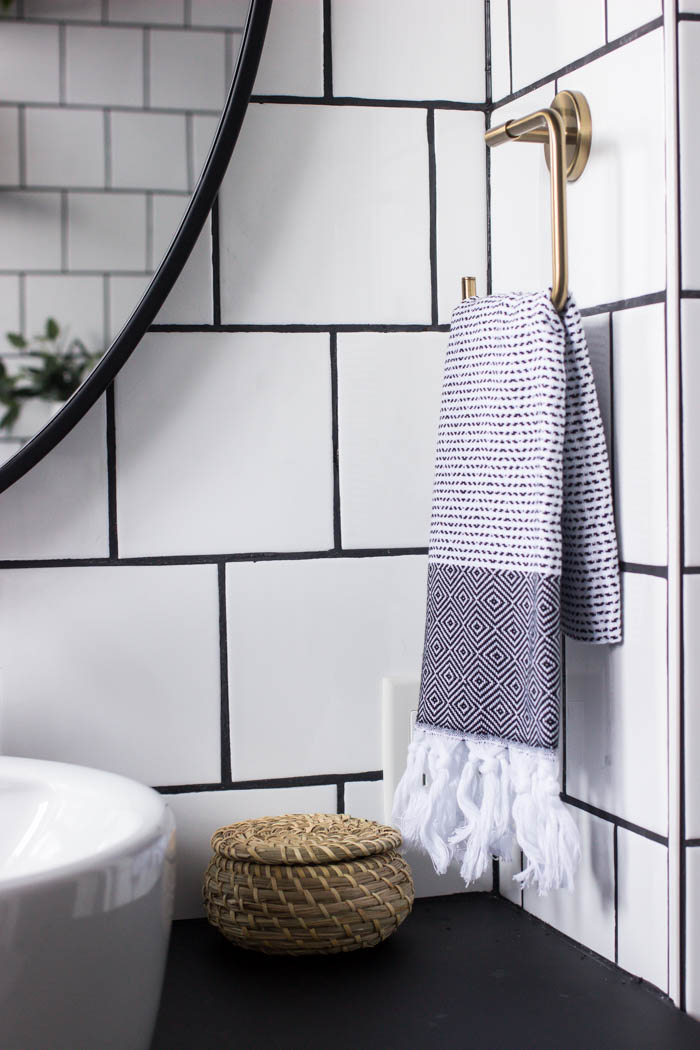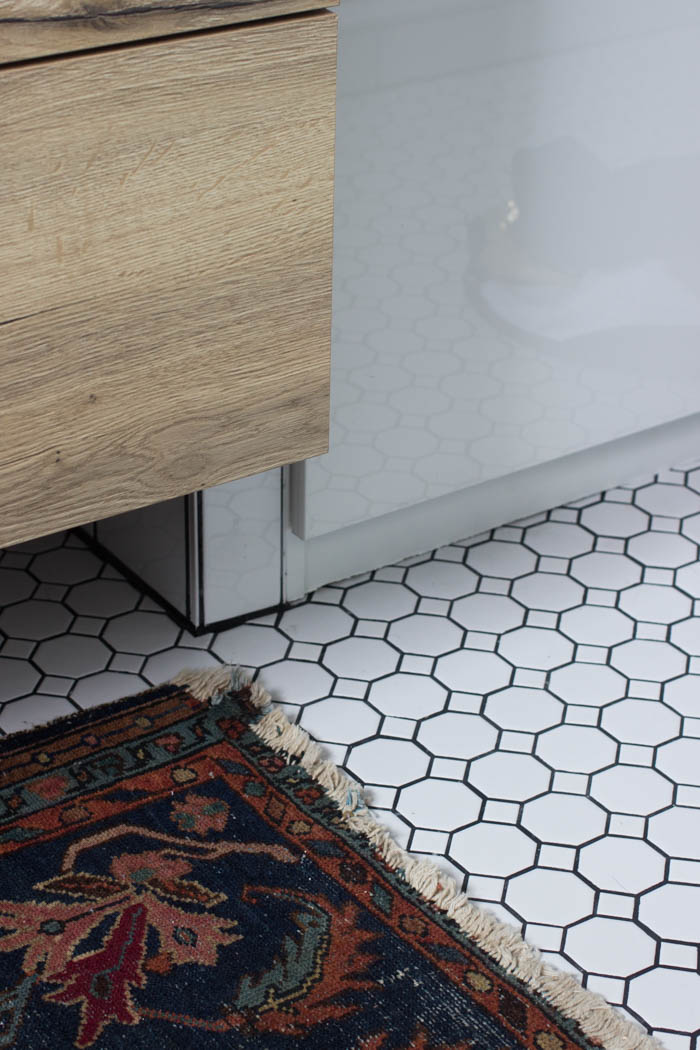 The final thing we did was add a TON of storage by building some IKEA PAX wardrobes into the side of the room. We had to move the wall a few inches to do it, but it was totally worth it!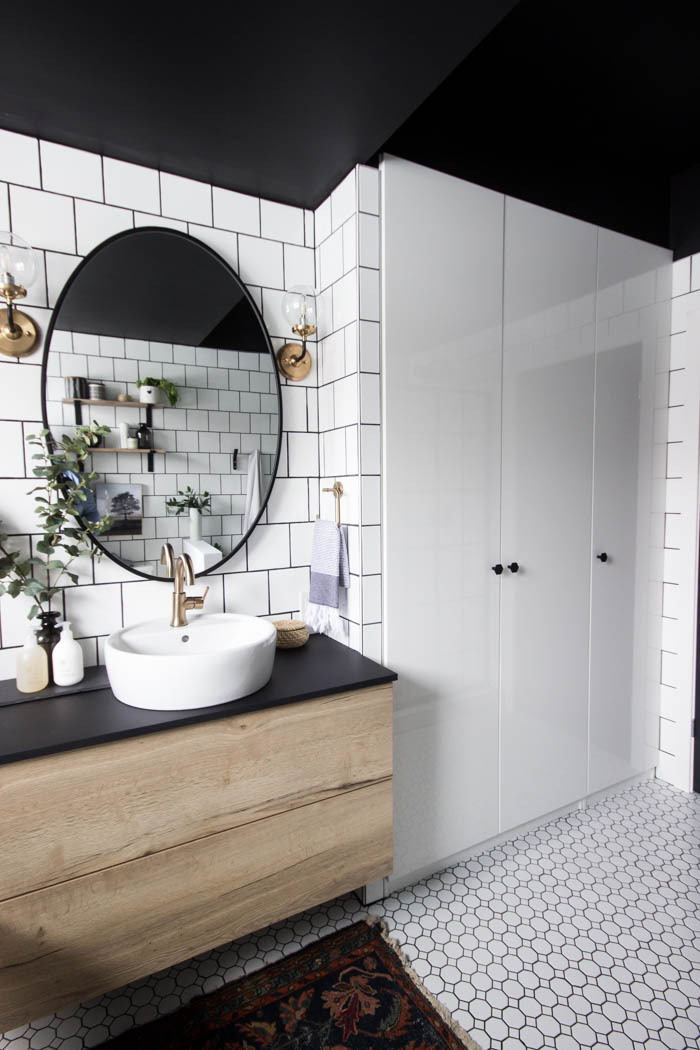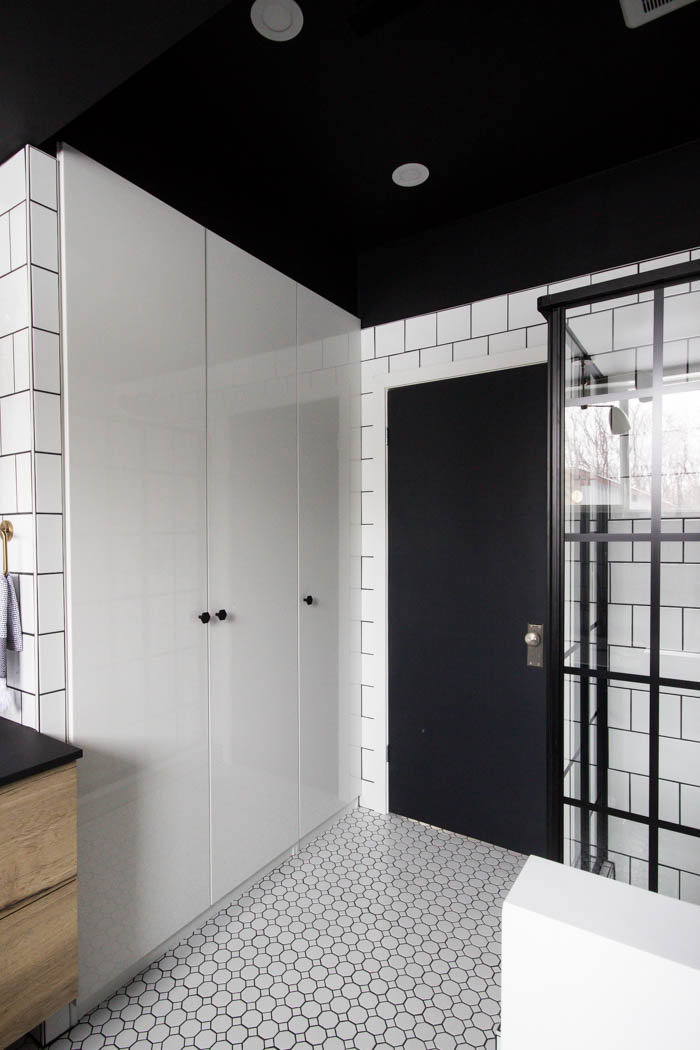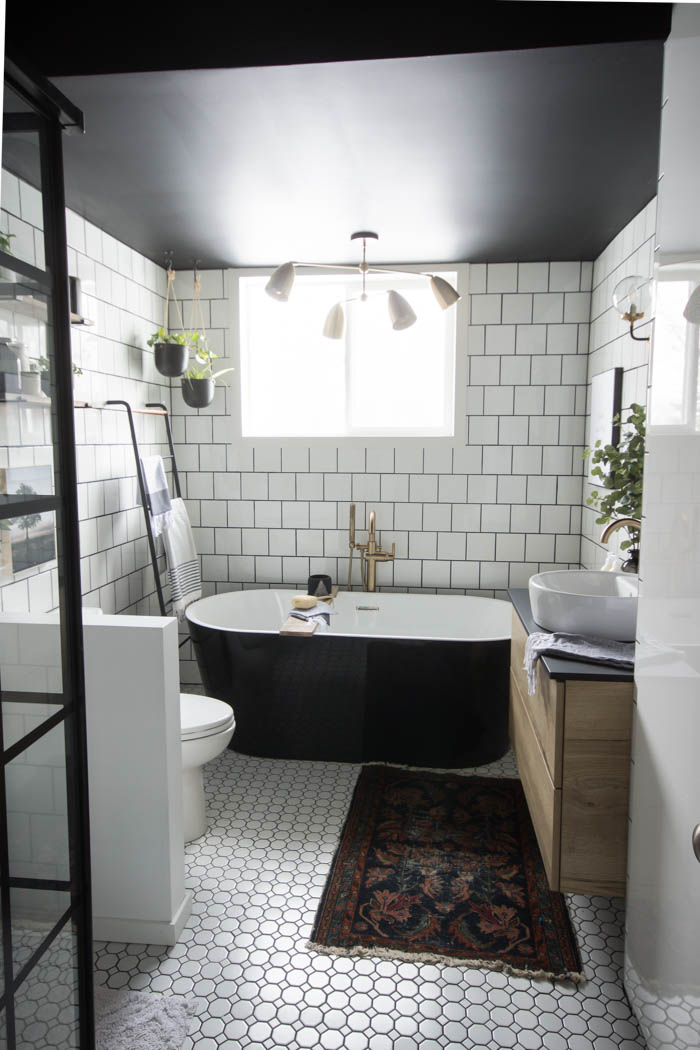 Sooooo…. what do you think of our new bathroom?!
Do you love it as much as we do?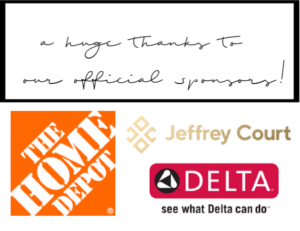 The Home Depot / Jeffrey Court / Delta Faucet
MODERN BATHROOM SOURCES: