Welcome back to my closet renovation! Last week I shared that I will be participating in the One Room Challenge hosted by Calling it Home (once again!). The challenge is to completely redesign any space in your home in only 5 short weeks, and then to share the big reveal on week 6. As we know from our daughter's Big Girl Bedroom and our Guest Bedroom transformations, it is definitely a challenge! We are only one week in, but I'm already feeling the pressure. Starting a Renovation Project is a lot of work!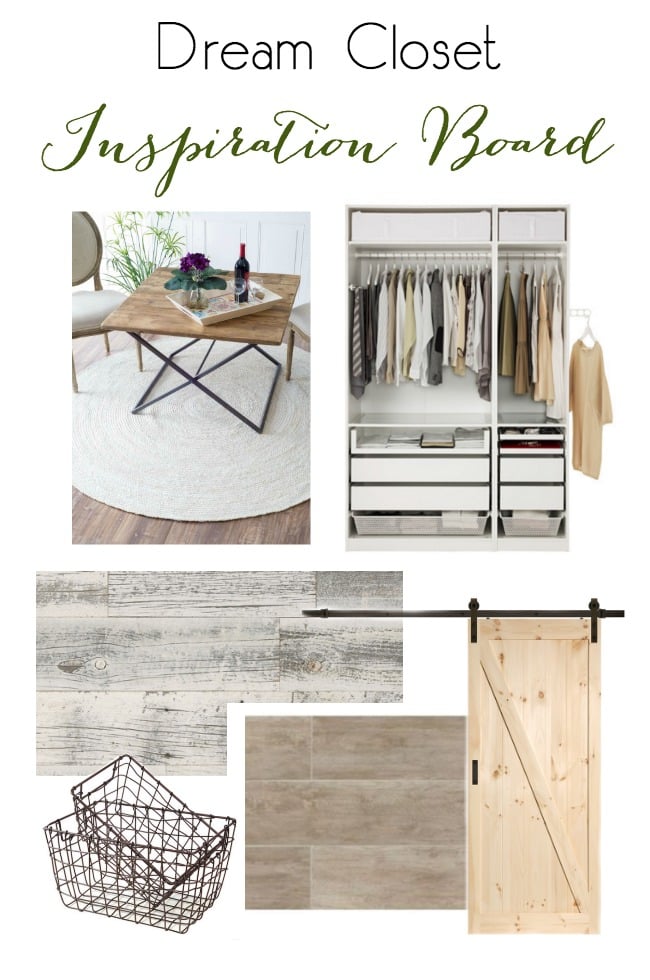 *This post was sponsored and may contain affiliate links. Thank you for supporting Love Create Celebrate! For more information, please read my disclosure policy.*
Week 1 / You're here / Week 3 / Week 4 / Week 5 / Week 6
Last week I was SO excited to share our design plans for my dream closet (despite not having a ton of space available!). This week we started the project, and I didn't realize just how much work it was going to be.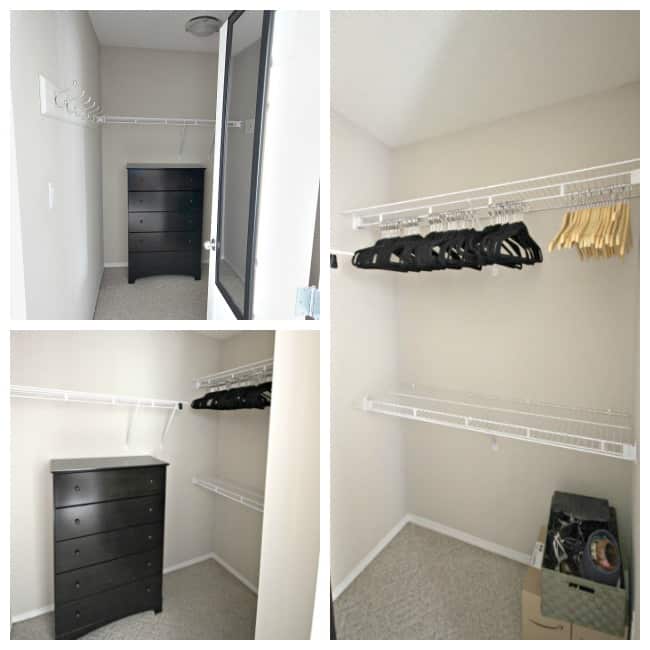 Step one – purge!!! I spent one night taking every. last. item. out of my closet and sorting them. Keep, give away, or throw away. At the end of the day I had two bins for of "keeps", one garbage bag full of "throw aways", and FOUR garbage bags of "give aways". That's FIVE bags total of clothes that I purged from from closet. Who out there is proud of me?! lol.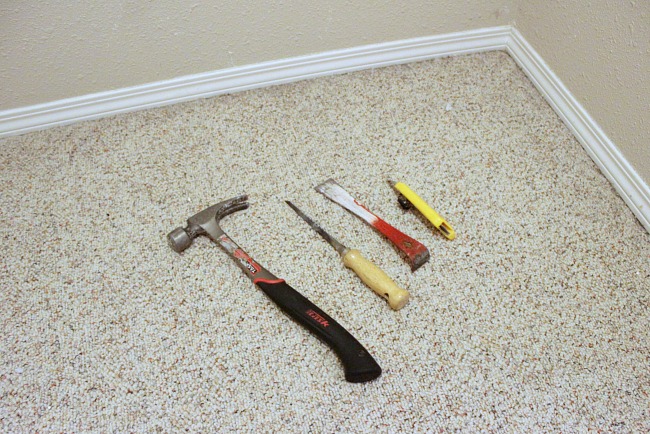 And then the fun part started: demo!
There are a few basic tools that you need to start a renovation – if you have these 6 basics in your tool bag, you can start getting dirty and find out what's behind those walls!
6 Simple Tools for Starting a Renovation Project:
Hammer
Pry Bar
X-Acto Knife
Screwdriver
Drill
Drywall Saw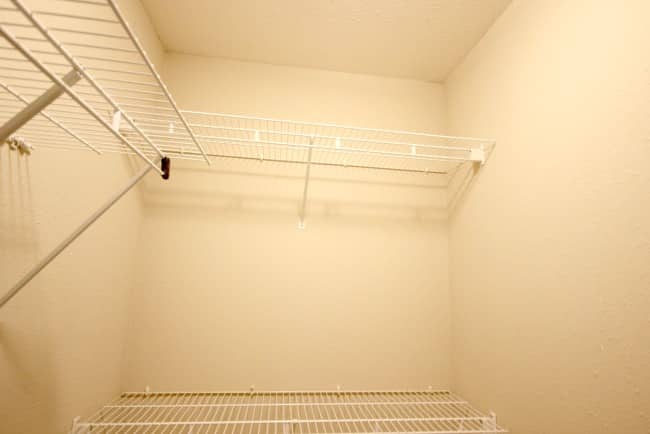 When you are starting renos, use a screwdriver to remove shelving, vents, outlets, etc and prep the space. It can be easier to get into corners than a drill. I prefer the handheld tools when working with electrical outlets.
The X-Acto knife can be used to help remove the trim from the wall. It helps if there is caulking or paint sticking the mouldings in place. Using the knife will help save the mouldings if you want to reuse them later.
Pry bars can then be used to remove all of the mouldings with the help of the hammer! Just hammer it in and pry it off.
When you're ripping off drywall, use your hammer between the studs to rip out drywall in sections. You can use the drywall saw to make more exact cuts when needed. When the drywall is removed, use your drill to remove the screws that may be left in the studs from hanging the drywall.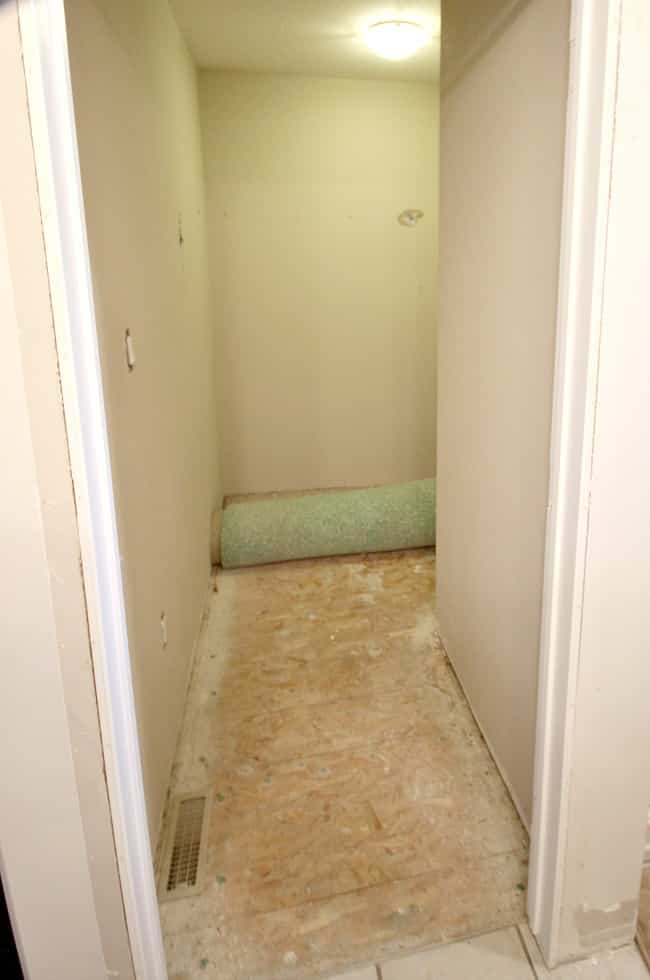 If you are removing carpet, just rip it out, and use the pry bar again to pry up the carpet nail strips.
That's really everything you need for starting a renovation project. The basics. A couple hours, and six tools later, you have a blank slate to work with!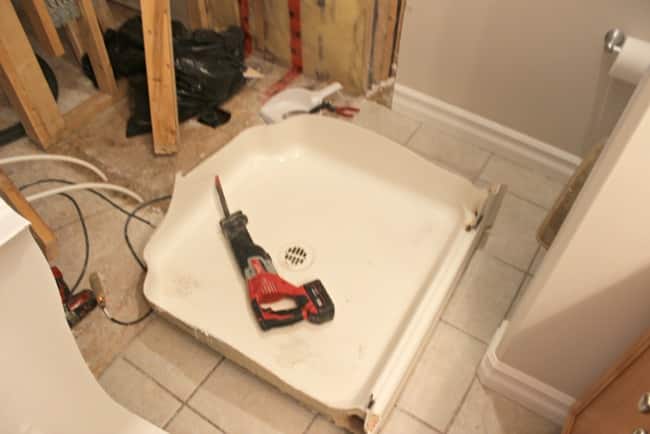 We also spent some time this week removing the shower that was attached to our master bedroom closet. Last week I shared how we are planning to reframe the closet and make room for a larger shower. It will be a long time until our new shower starts to take shape but I'm already excited!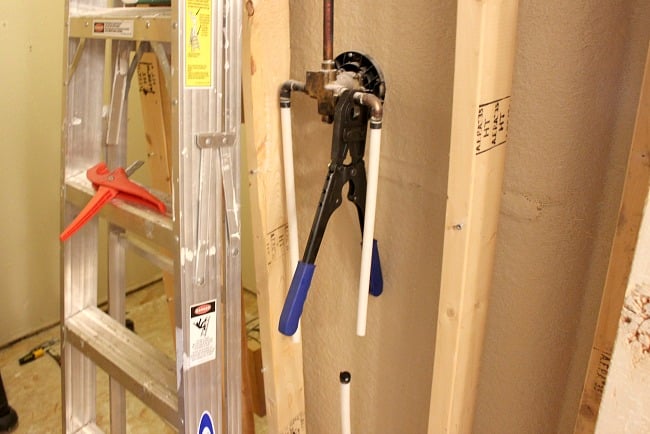 The last thing we did was shut off the water supply and change the pipes in preparation for moving the water lines (for the new shower). This week we are hoping to reframe the closet and move the water lines. There are also a couple of things that need to be moved because of the changed we are making. The entrance to our attic on the ceiling needs to be moved, as well as the air vents on the floor. Both sit above a below a new wardrobe that will be moving into the space… so I guess we just made more work for ourselves… lol. I keep telling myself it'll be worth it!
Here's how we are doing on our lengthy Master Bedroom Closet To-Do List:
Clean out closet (FULL purge!)
Complete demo
Reframe closet (& shower!)
Cut/build new door frame for barn door
Move electrical, vents, and water
Scrape popcorn ceiling
Paint walls and ceiling
Trim closet and doorways
Install sliding barn door
Stain sliding barn door
Install new tile flooring
Install Weathered Wood Ceiling Panels
Install new wardrobe
Buy a new rug
Build DIY closet lighting
DIY a closet mirror
DIY Drawer Pulls
Buy closet accessories
EEK! We have a LOT of work to do in a few short weeks! Wish us luck!
See more of my One Room Challenge Here:
Click HERE to see more great One Room Challenge Participants!