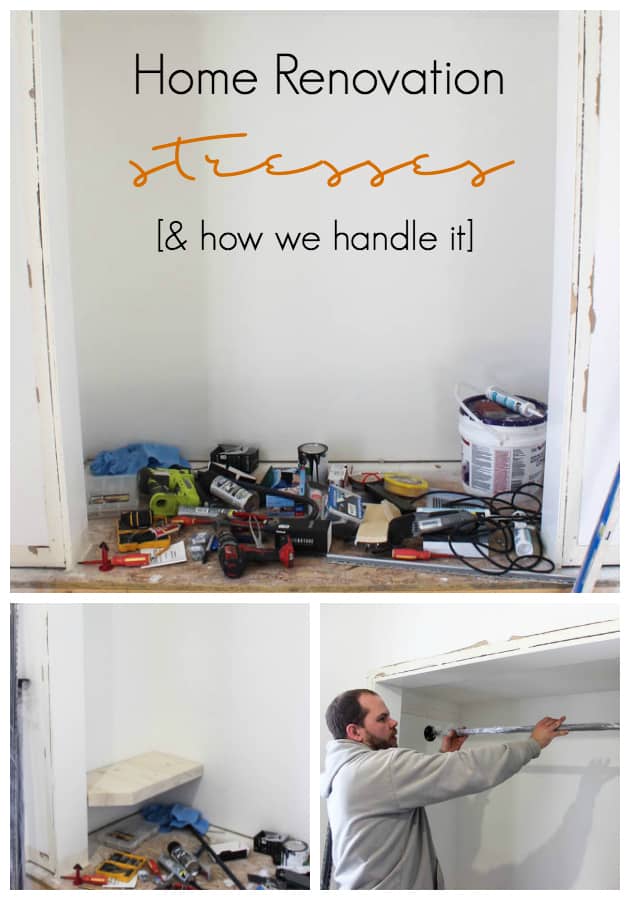 Alright, it's week two of our six week renovation challenge: the one room challenge. If you missed it, last week we revealed all of our Entry Design Plans and you guys gave us the BEST feedback! This week was not as productive as we would have liked… no where close actually. And when I think about having only five weeks left… I cringe a little, lol. Although this is our home renovation blog… so you'd think we'd be used to it! Along with this week being a bit unproductive, we also ran into a few design dilemmas… leading to our typical home renovation arguments… but I'll tell you more about that in a minute!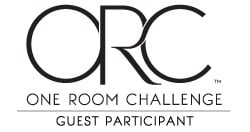 Catch up on previous weeks:
First there are a couple of things we had done in this space already that I hadn't shown you last week. We had painted all of the walls and ceilings white – the same white from our Home Colour Palette. So we are starting with a crisp palette! And I'm planning at least one coloured wall before this room renovation is done.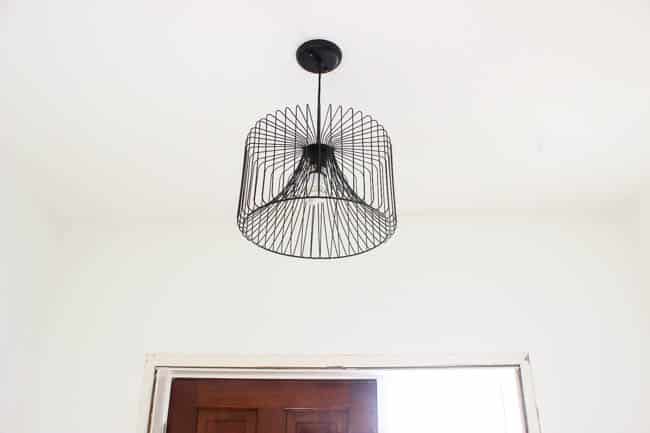 Second, is that we had already added a new light fixture. This cage light only put me back $50, and I loved the look of it! I'm not planning to replace it so hopefully it blends right in.
The bulk of our progress this week was getting the demo done.
We cleared all of the trim, removed the old flooring, and removed the carpet from the bench.
And then we got to my design plans, and realized that my husband and I had a few different ideas about what was happening inside this closet [read: I had the right idea and he didn't understand….lol ].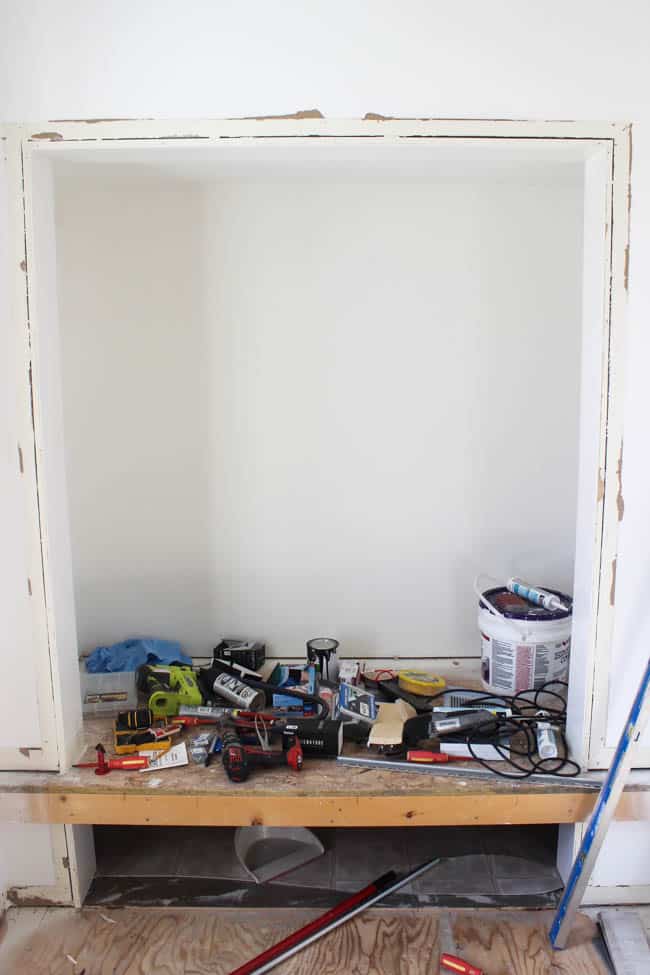 This inside of the closet is supposed to provide something we've never had in this room before: organization. And there are two ways we were planning to add to it: shelves and something to hang coats.
I say "something to hang coats" because my husband believed that this meant a large rod across the back of the closet and I thought it meant a few beautiful hooks. This is where we run into those home renovation stresses. Enter argument #1….
I say argument, but actually it's a very rational discussion, and it's a discussion we have over and over again. He takes the side of "function" and I take the side of "pretty". Yes, maybe a large rod is more functional for our family of almost 5 with approximately 20+ jackets, but hooks look prettier! LOL. Like this or this. I don't want an ugly rod to obstruct the view of my beautiful new shelves and baskets!
We settled this the way we usually do… talking until someone concedes, lol. Either I decide that I cannot give an inch on my design plans, or my husband decides that it doesn't have to be as functional as he wants, if it's going to look better the other way.
This time around, he won. We really do have a lot of coats, and absolutely nowhere to store them (until we build that dream garage with the mudroom…). So I'm going to purge a few coats, and hope that the closet still looks beautiful with a rod.
Our second "conversation" came because my husband kept using the words "built-in" when we were talking about the shelves in the closet. It went a little something like this:
Me: "You keep saying 'built-in', but it's gonna look like floating shelves, right?"
Husband: "Ya, like built-in floating shelves"
Me: "But just the shelves will be stained right? Behind and at the sides will be white. Like floating shelves?"
Him: "Ya… I think we're saying the same thing"
*spoiler alert – we were not!*
At seven months pregnant, I'm out for a lot of the work this time around, which means a ton of it is falling on the hubby's shoulders and his design plans. He was planning to build a large built-in with shelves and slide it into place in the closet. Basically the entire piece would be stained (although we could paint some white if we wanted – but it wouldn't look right). That means wood all up both sides of the closet – wood back, sides and shelves. What I was wanting looked more like what we have mocked up in the photo below.
Me: "No! That's too much wood!"
Him: "I thought you wanted wood"
Me: "Like floating shelves. Didn't you look at my design board?"
Him: "I thought you just left some out… floating shelves is way more work. I had a plan here."
Me: "Nope. Can't do it – its way to much wood. Time for a new plan."
Him: <crickets and an angry face>
You can't be a home renovation blog without sharing your arguments, right? lol.
But really… imagine this shelf, times four, with a dark or teak stain. Nice right? I won this one! Once he comes up with a new build plan, he's usually ok with my vision.
Renovations with your spouse are SO much about compromise. There will always be home renovation stresses! Every. Single. Room we do ends up with a form vs. aesthetics "conversation". You win some, you lose some. And at most, you stay mad at each other for a few hours… lol. Just never go to bed mad!
Since I'm an obsessive list maker, here's our home renovation to-do list:
Demo the space
Tile the floor
Tile the bench
Build new shelving for storage
Build new drawers for storage
Design feature wall
Build wood feature wall
Paint
Remove old door
Install new door
Buy a smart lock set
Buy some decor (i.e. baskets, rug, etc).
Order planters and faux or real plants
Install new modern moulding
So we got 1 out of 14 things done…. lol. That's not a bad sign is it?
WISH US A MORE PRODUCTIVE WEEK!
Find more great One Room Challenge design plans on the One Room Challenge site, or at Calling it Home!