Put together an amazing five senses gift, with these free chalkboard printables! Included free gift tags and ideas to ignite your senses and spark romance!
Have any of you ever struggled with putting together a creative gift basket?! It's hard to come up with unique gift ideas. For a birthday, an anniversary, a wedding shower, a Valentine's day gift? Gifts can be hard, especially ones that involve love and romance. That's why I created this five senses gift basket idea. And today I'm sharing a ton of great ideas you can include in yours, as well as some free printable tags.
I originally came up with the idea to make these five sense gift printables a few years ago when I put a Valentine's Day gift together for my husband. I had already bought a few little gifts, and I wanted something romantic to tie the items together, so I wrapped them up and labeled them by hand with "For your sense of TASTE" (chocolates), "For my sense of SMELL" (cologne), and "For our sense of adventure" (because it was Valentine's day).
These baskets can be as fun as you want, or as romantic as you want! If you're keeping it fun you can use the five senses to label his or her favourite snacks, drinks, t-shirts, books or magazines, and candles.
Or, you can lean to a more romantic gift idea. Really, is there anything more romantic than paying extra attention to our five senses? I love the idea of drawing attention to each one individually. You can fill up your gift baskets with romantic items and aphrodisiacs such as wine, chocolate, roses, perfumes and colognes, etc.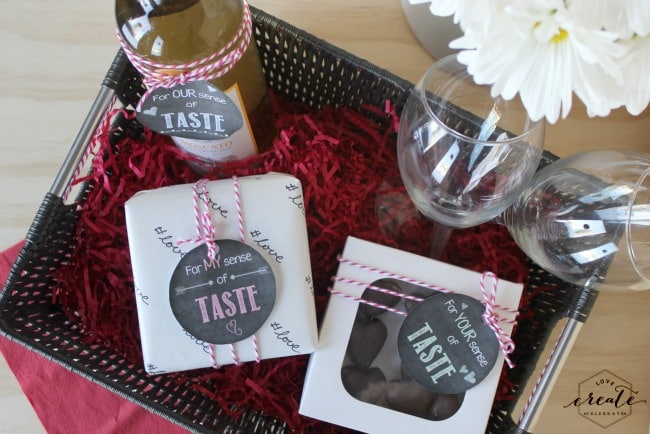 I loved the idea so much, that I wanted to create some great Chalkboard Printables that anyone could use to put this gift basket together at home!
Download your 5 senses gift chalkboard printables here:
My printables are always available to anyone on our e-mail list. When you enter your e-mail, you'll be prompted to download the tags instantly.
(You are also agreeing to our Privacy Policy)
As you see [above] I've created printables for "YOUR", "MY", and "OUR" senses! I've also included the Canadian and American spelling for "Sense of Humour/Humor" – have to make it easy for everyone!
I've also included 5 great labels [above] to you can use them for any event, any holiday, or just because :)
Mix and match these labels however you like!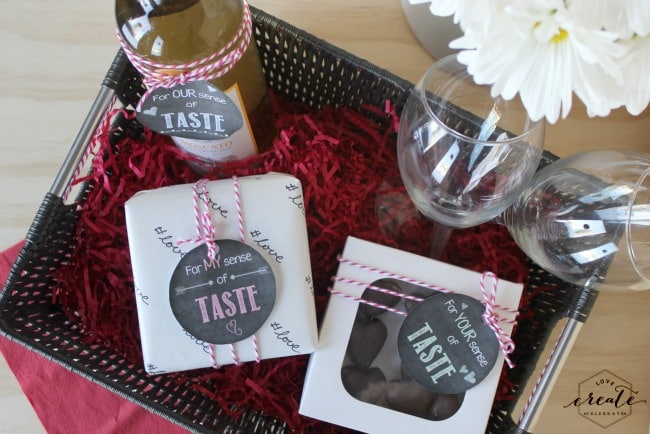 Ideas for your Five Senses Gift
If you're stuck for ideas, I've brainstormed a few of my favourites. You can put these ideas together to create one amazing gift basket. Depending on the gifts you choose, you can spend less than $20, or upwards of $200! It's all up to you.
There are so many more ideas than the ones listed here, so if you have more ideas, I'd love to hear them!
Ideas for Sense of Smell Gifts
candles
perfume/cologne
bath bombs or salts
flowers
car air fresheners
essential oils
nice shaving cream
spa sets
Ideas for Sense of Sight Gifts
movie tickets
framed photos
jewellery
magazines
books
sunglasses
camera
tickets to a play or musical
sleeping mask
Ideas for Sense of Sound Gifts
headphones
audiobooks
concert tickets
thoughtful voicemail
record player
Ideas for Sense of Taste Gifts
chocolates
alcohol
gum
reservations
cookies
homecooked meal
cigars
ice cream
spices or BBQ sauces
Ideas for Sense of Touch Gifts
massage oil
beard grooming kit
bathrones
back scratcher
clothing
cozy blanket
mittens
tools
Ideas for Sense of Humour Gifts
Games
Comic Books
Tickets to a Comedy Show
Funny Movies
Things related to inside jokes
Anything that would make them laugh
Ideas for Sense of Adventure Gifts
Extreme sports (e.g. skydiving)
Any sports equipment
Waterbottles for a hike/walk
Tickets or reservations for a trip
Romantic adventurous gifts ;)
If I'm ever giving a big elaborate gift, I think I would use these five senses gift tags to hide the big gift. Make it the last one they open, with the "sense of adventure" tag on it!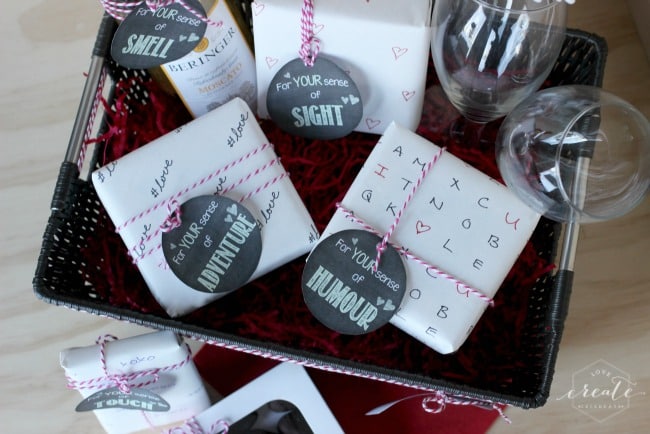 I love the idea of having a whole basket just for one sense, like the sense of "TASTE", or using a full 5 sense gift for all your senses, or any combination at all!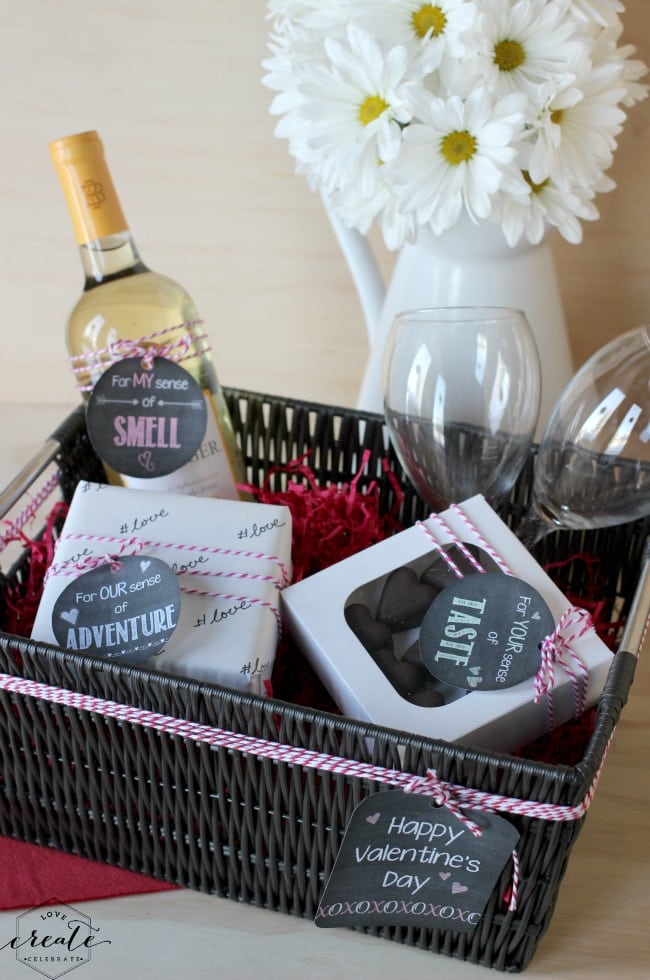 I hope you enjoy putting your gift baskets together!
If you need a homemade idea for the "Sense of Taste" gift, I'm sharing am AMAZING recipe for Bacon Chocolates (yes, you read that correctly!) too. They are delicious AND the perfect Valentine's gift for "him"!
If you use these labels, I would LOVE to see how! Follow me on Instagram to share!
If you're looking for some Valentine's Day home decor or gift ideas, here are some beautiful ideas!