Learn how to build a pergola in this tutorial. From planning, designing, to materials this tutorial will go through it all.
The front of our home always lacked any curb appeal or wow factor when you pulled up. It had always been on the on our wish list to complete but never a priority, until now. This year we updated our entire exterior siding, painted our window frames, and added new patio doors. When we first moved in we switched out the front door, but even with all that our entry was still missing something. So we went to the drawing board and came up with a plan to give the front of our home the curb appeal it was missing by building a pergola that was attached to the house.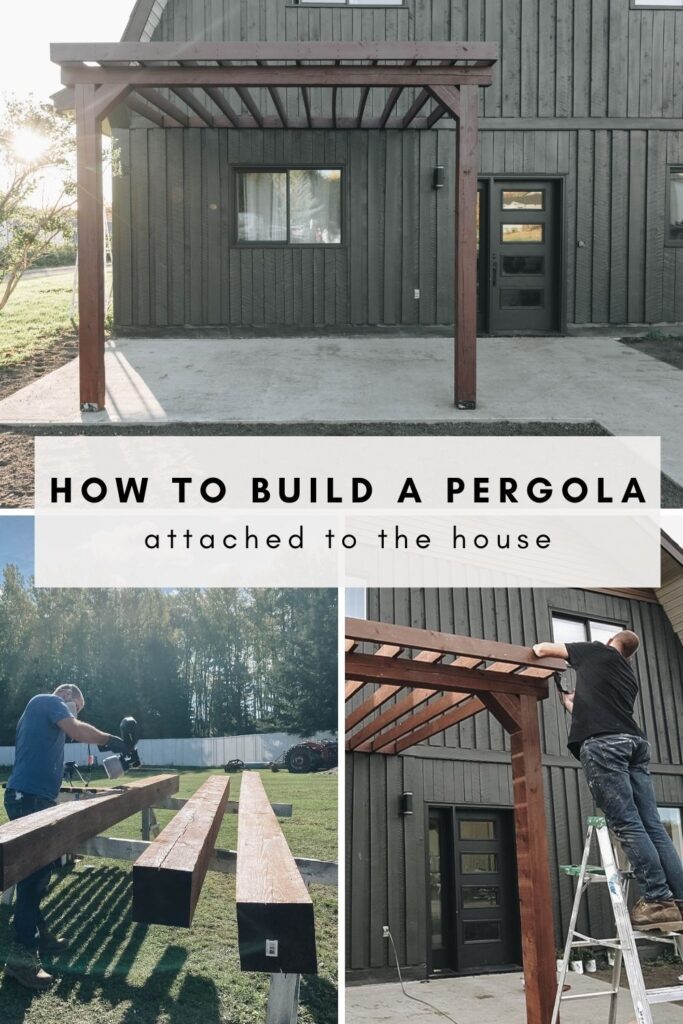 *This post was sponsored by Wagner and may contain affiliate links. When you buy a product through one of our links, we get a commission at no cost to you! Thank you for supporting our blog so that we can continue to bring you posts like these. For more information, please see our disclosure page.*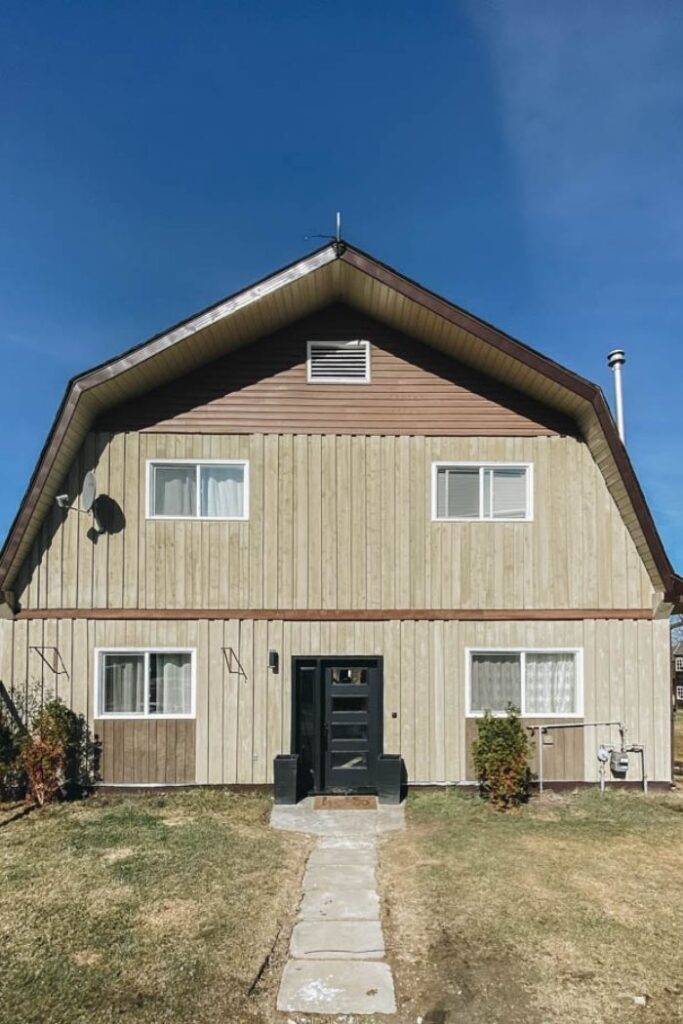 Inspiration/Planning
Before we started building we had to decide what we all wanted out of our front of house makeover. The photo above is what our front exterior looked like just a few months ago. These were some of the issues that we wanted to address:
The small pad at the front of the house lacked curb appeal and function to the entrance of our home.
Our back patio was west facing and really sunny in evening. Because of this we wanted another area where we could sit in the shade during evening hours
Our previous entrance concrete pad had settled, cracked, and was partly made out of patio slabs. This made snow removal cumbersome and allowed for ice to build up in winter. We wanted an area that would be easier maintain during the cold weather months
We also wanted something to balance the other brown tones already on our house (after painting!) and warm the entry up visually
Build Plans for Pergola Attached to the House
Once we figured out out must haves we came up with a plan. We decided to remove the old concrete and pour a new concrete pad and walkway. See this post here to read how we poured our own concrete slab on a budget.
We designed this pergola below to come off of the side of the house. We added two posts anchored into the concrete, two braces for structural support, and a ledger attached to the house.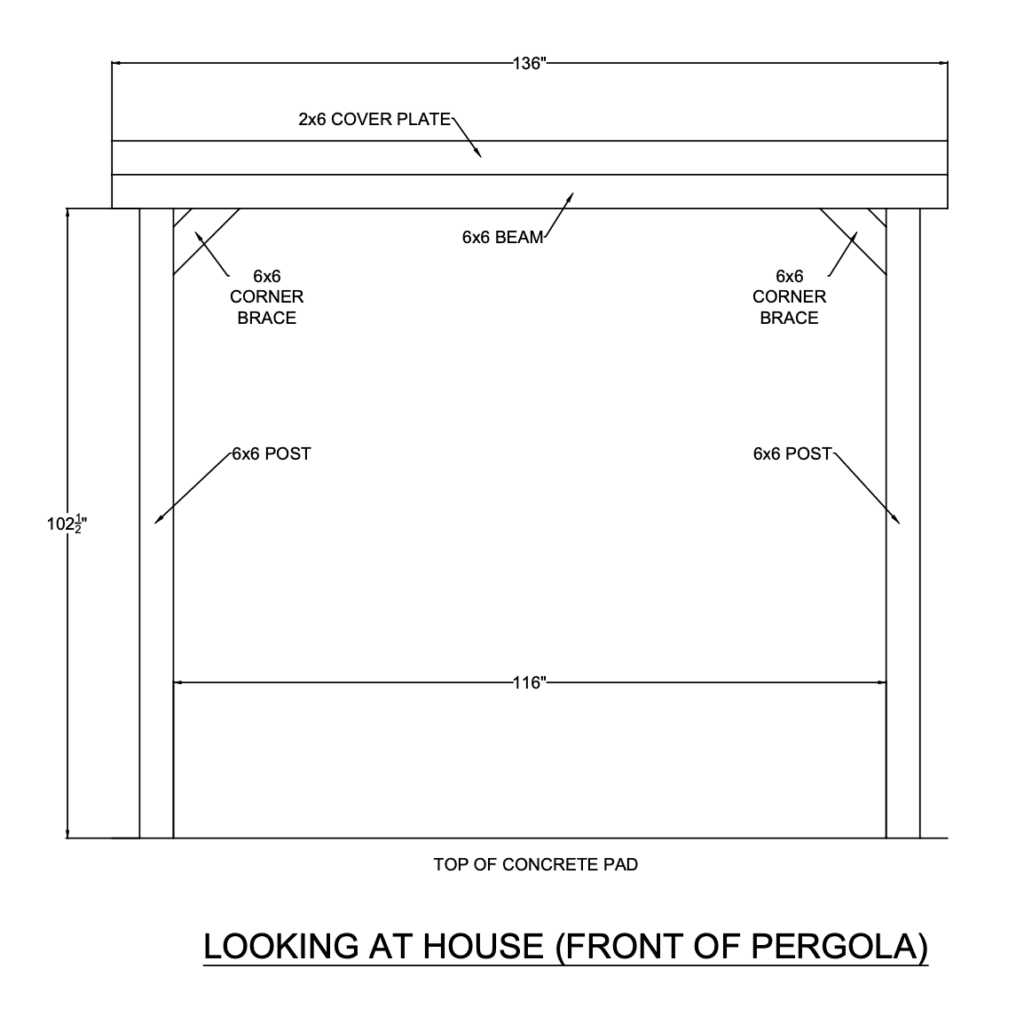 Attaching the pergola to the house would create a nice visual element as well as helping with some shade. We planned to use pressure treated wood to build the pergola structure. We would also stain it to tie into existing colours on our home.
For a custom look we planned to add some unique features including raised garden beds, removable gas service cover, a swing, etc. after the pergola was completed.
In order to figure out size of our pergola we measured out the area we wanted the new patio/pergola/walkway. We tried multiple shapes/sizes before ultimately determining the layout and area of the front patio pergola.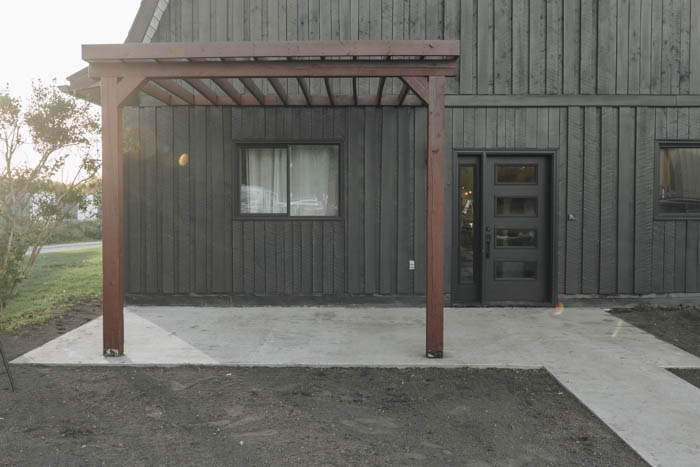 Adding a Pergola to a Concrete Pad
Due to everything involved we did a separate post on the concrete pad. Check our Ultimate Guide to Pouring Your Own Concrete Pad to get all the details on how to pour your own slab!
Because we were building our pergola at the same time as pouring our concrete, we added saddle brackets for the future pergola posts while the concrete was still wet (see more about this process below).
Building a Pergola Attached to the House
Material lists:
12 – 2x6x10′ Pressure treated
2 – 2x6x12′ Pressure treated
1 – 6x6x12 Pressure treated
2 – 6x6x12 Pressure treated
Here are the steps to building your pergola and attaching it to your house:
Permitting
Depending where you are located you may need a permit to build a pergola. Contact your local town/city/municipality to find out what is required for your area.
Locate Utilities
If you are digging, auguring, or trenching for any project you want to make sure you locate any utilities first. We knew we had a gas line running in the area so we had it located and flagged. This was to make sure that we didn't hit the gas line when auguring our holes for the posts.
Cut wood according to build plan
I cut my wood after staining, but had to go back and touch up the cut ends. If you use our plans or come up with your own build plan. You can can everything to size first (if your comfortable with the design and don't expect any changes). Or if your not 100% on your plan or if you have concerns of how level/square the house/post brackets are you are tying into, you can cut your wood as build to ensure a good fitment. Any bare ends due to cuts should be coated with stain afterwards to protect the wood.
Add Stain
To tie in all the colours of our home we decided to stain our pergola. This also help protect the wood from weathering and UV damage to extend the life of your project. We started by laying out all the boards on saw horses and using our new Wagner Flexio 2500 to stain the boards on all sides. We decided to stain the boards ahead of time because you wouldn't need to protect/cover the concrete pad or house after the pergola was is built. The Flexio 2500 is compact and easy to use, we save so much more time than if we were to use a brush or roller.
Things to take inconsideration when staining pressure treated wood:
Ensure your wood is dry
Depending on the type of pressure treated wood you are using it may be too wet or may not accept stain. To test you can "sprinkle" water over the wood. If the water absorbs in 5-10 mins you should be ok to stain. If the water beads and stays on top of the wood it is still too wet and needs longer to dry. We let out wood dry in our garage for 2-3 months before starting our project.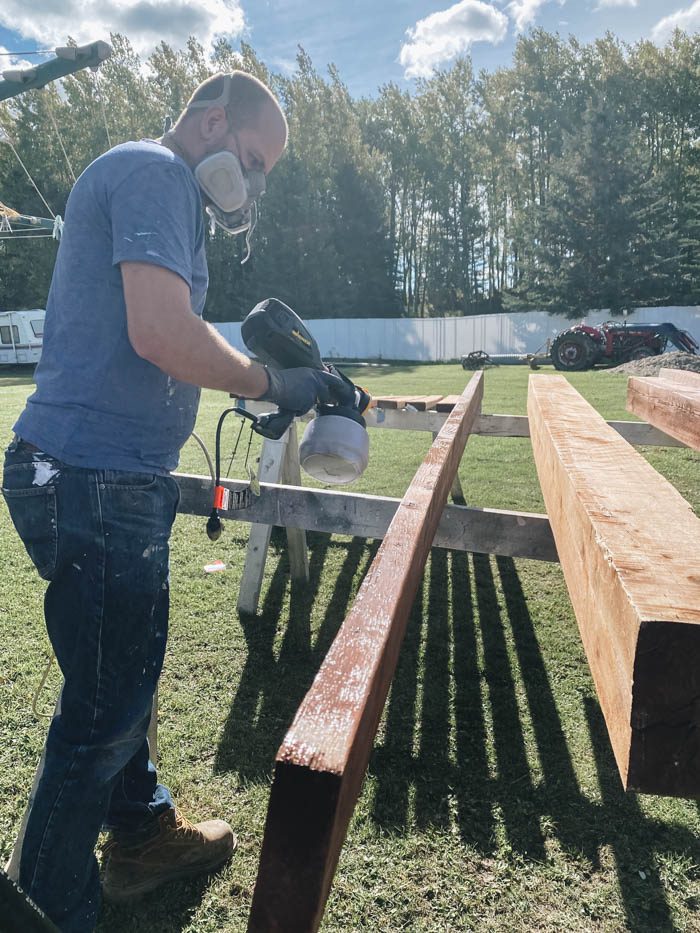 Determine what stain colour you want use.
We tested several types before choosing BEHR PREMIUM® Transparent Waterproofing Wood Finish in Chocolate. You can choose from transparent, semi transparent, and solid colour wood stains that all have multiple tints to choose from.
We used new wood, but if you are staining an older project you will want to remove any dirt and mildew from the wood. There are multiple cleaners on the market for this purpose to assist in cleaning the wood. You can use a hose or pressure washer to assist in the cleaning of the wood. If you need to clean, allow time for the wood to dry out (24-48 hours).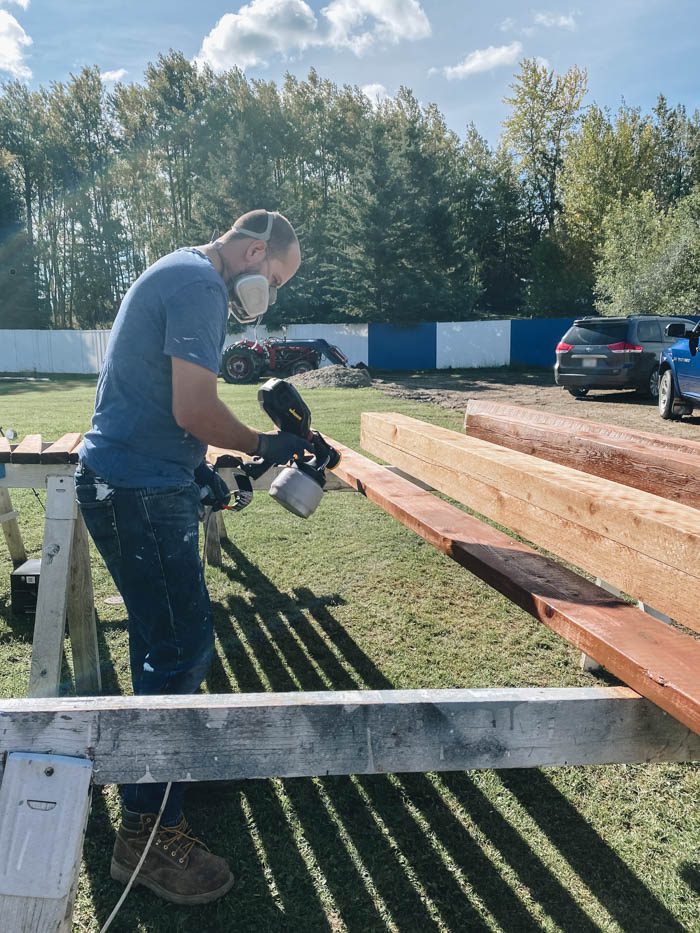 Apply you stain
We used our Flexio 2500 to apply all the stain. For the best results we set the air power switch to low and the material flow control to 2. This allowed for a nice even layer to be applied to the boards. When spraying, it's best to keep the flow consistent, and to avoid overlapping while spraying.
The sprayer was quick and easy to use and made the task of staining all of these large beams much quicker and easier!
Let you stain dry
We let the stain dry for 24 hours and than stater on the pergola build!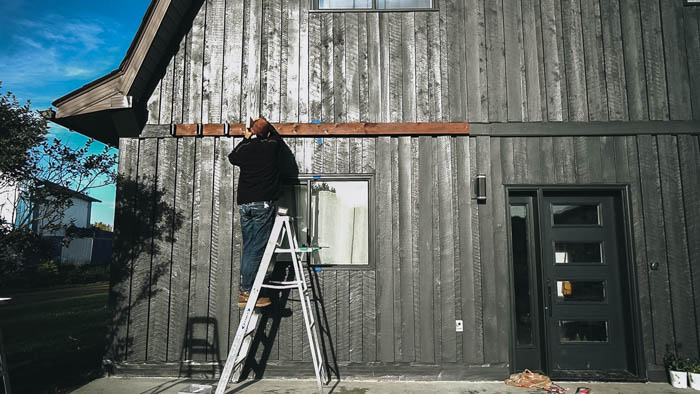 Install Ledger
First step to building your pergola is to Install a ledger onto your house. We had an easy location to install our header with minimal modification to the wood siding of our home (a horizontal board was already part of the design with drip cap/edge installed). Our ledger was installed 9′ above (from top of concrete to bottom of board) our new concrete pad.
You want to make sure the ledger is secured into the house's structure using a structural screws and into the studs or joist. We used 8 of these. lag screws to secure the ledger to our house. If you have vinyl siding or a siding that needs to be removed to ensure a proper structural connection, ensure you add the proper weather proofing materials (flashing, caulking, etc.) to prevent any water damage to your home.
We installed 12 concealed joist flange brackets evenly space (we had approximately 10 7/16″ between hangers) on the ledger. This would allow the pergola to be attached to the house via the purlins.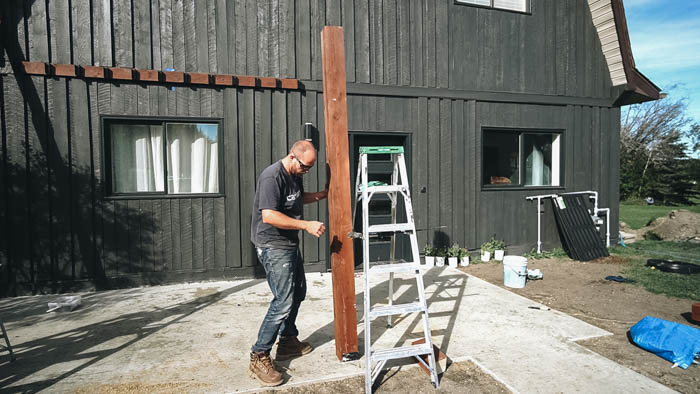 Install Posts
The saddle brackets were installed during the pour of the concrete pad. This allowed them to set/cure into the freshly poured concrete over top of concrete piles. These brackets will hold the 6×6 posts in place.
If you have an existing concrete pad and you want to build a Pergola over it you could use the same saddle brackets by drilling into the concrete with a concrete drill and bit and using an epoxy adhesive to secure the saddle into place. However if you are installing posts over an existing slab (being unaware of the pad thickness, rebar layout, or if there are any footings) you want to be mindful of frost, settlement, and ground conditions. Generally you want to have a concrete piling/footing that extends past frost lines or poor ground conditions under all your post locations. If you don't have a proper foundation for your pergola you could see movement in the structure, which may cause safety or visual issues down the road.
Next we secured the 6×6 posts to the saddle brackets and added some temporary supports. This would hold everything level until the structure was complete.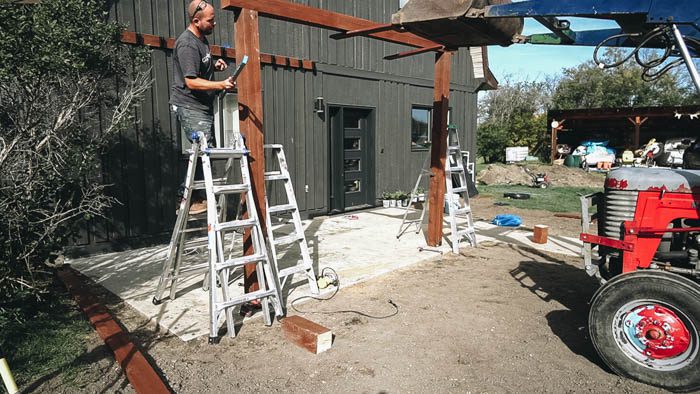 Install Beams
With the posts temporary secured and levelled we placed the 6×6 beam on top of the posts. We used 12″ long lag screws to attach the beam to the posts.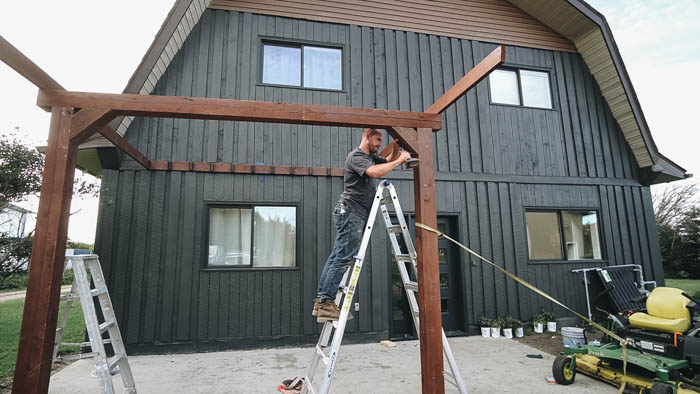 Install Bracing
To make the structure stable and remove any sway (due to the long posts) we added two 45 deg braces to the inside corners of the post and beams. We originally had 10′ posts and used the top cut offs from the posts to make the braces. The longest side the braces was 15 1/4″ long and had about a 3″ gap from the top and side of the beam/post. Before securing them to the post and beam we made sure everything was level and square. This is important as the braces will hold the structure in position.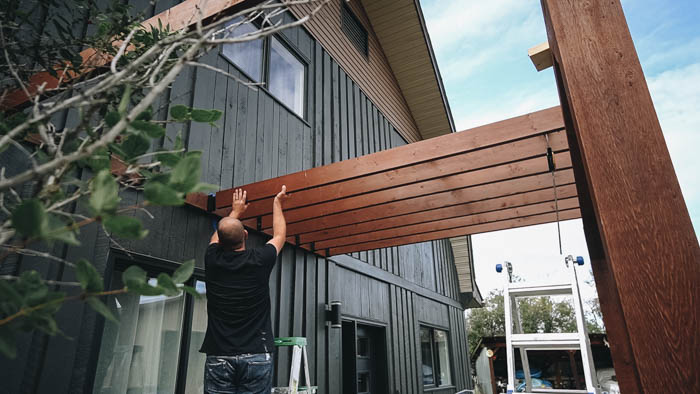 Installing top 2×6 Purlins
Next step was to add the top 2×6 purlin from the ledger to the top of the beam. Make sure your posts and beam are level. Secure you purlin to the house ledger using the brackets and toe screw the 2x6s to the beam. The beam from the hardware store was slightly twisted. To deal with any gaps due to untrue/uneven material you used a chisel to notch the uneven areas. This will ensure a tight fit between the beam and 2×6. You can see this in our youtube video.
Budget Breakdown of our Front Porch Pergola:
Wood = $750 (CAD)
Stain = $100 (CAD)
Hardware = $150 (CAD)
Now this does not include the cost of the concrete work, but even if you did include that (it was around $2500 CAD), this was still a really affordable makeover especially considering how it transformed the the space into a new usable/liveable area around our home.
Video of How to Build a Pergola attached to a House
Here is a video of the entire process on how we poured a new concrete slab (post here) and built a pergola attached to our house.
Our Finished Front Porch Pergola
Hopefully the above steps are helpful in your front porch pergola build! We couldn't be happier with how it turned out. The stain colour is perfect, the budget was right, and the finished product looks perfect at the front of the house. We look forward to finally using our newly created space.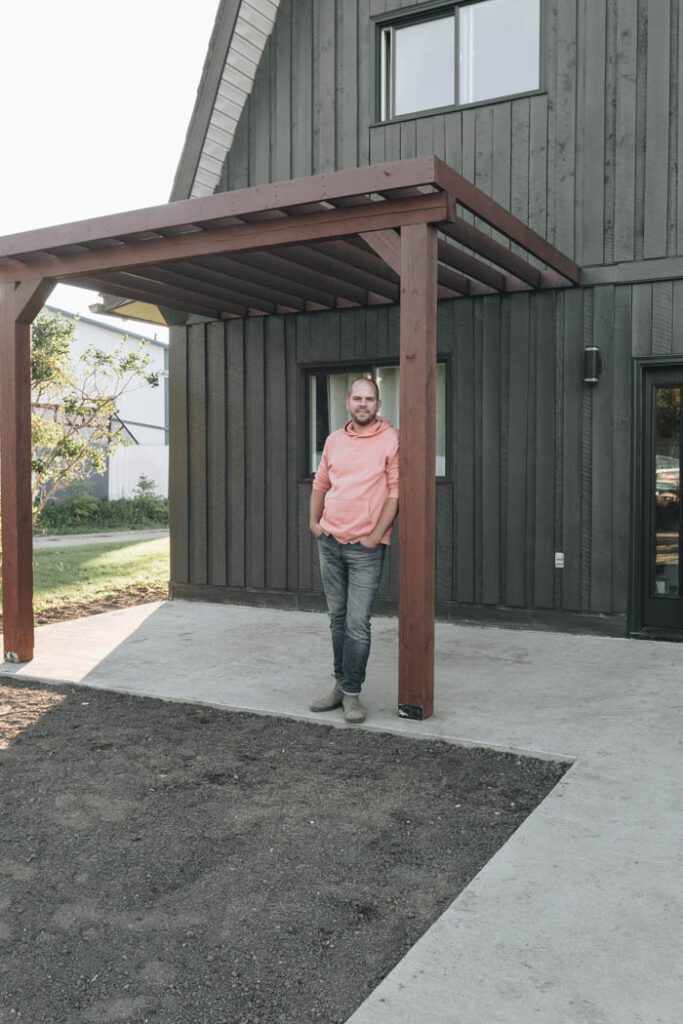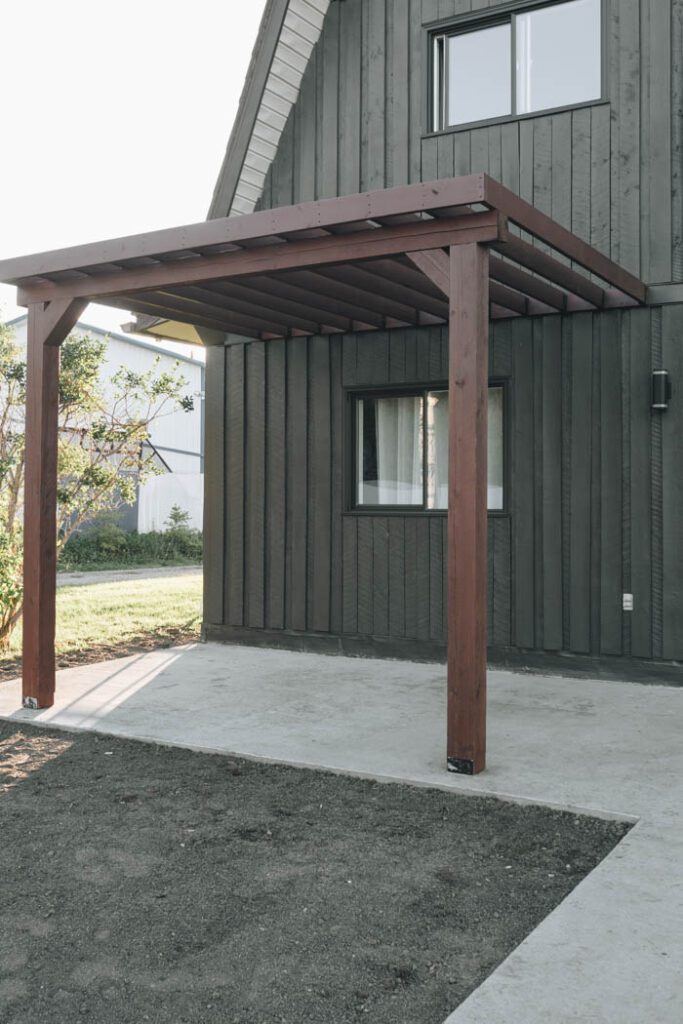 We can't wait to finish the space off with custom planters, lighting, and furniture. Stay tuned!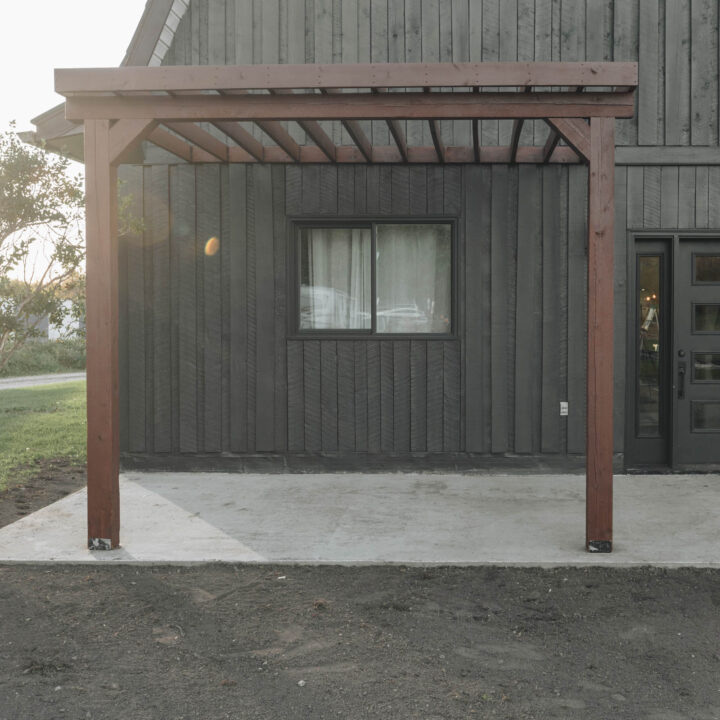 How to Build a Pergola attached to the House
Yield:
Front Porch Pergola
Learn how to do build a pergola attached to a house. From planning, designing, to materials this tutorial will go through it all.
Materials
12 - 2x6x10' Pressure treated
2 - 2x6x12' Pressure treated
1 - 6x6x12 Pressure treated
2 - 6x6x12 Pressure treated
1 1/2" deck screws (brown)
3 " deck screws (brown)
Instructions
Create a plan/design
Prep space
Cut wood according to build plans
Stain wood
attach ledger to house
install post
install beam
install bracing
install top purlins