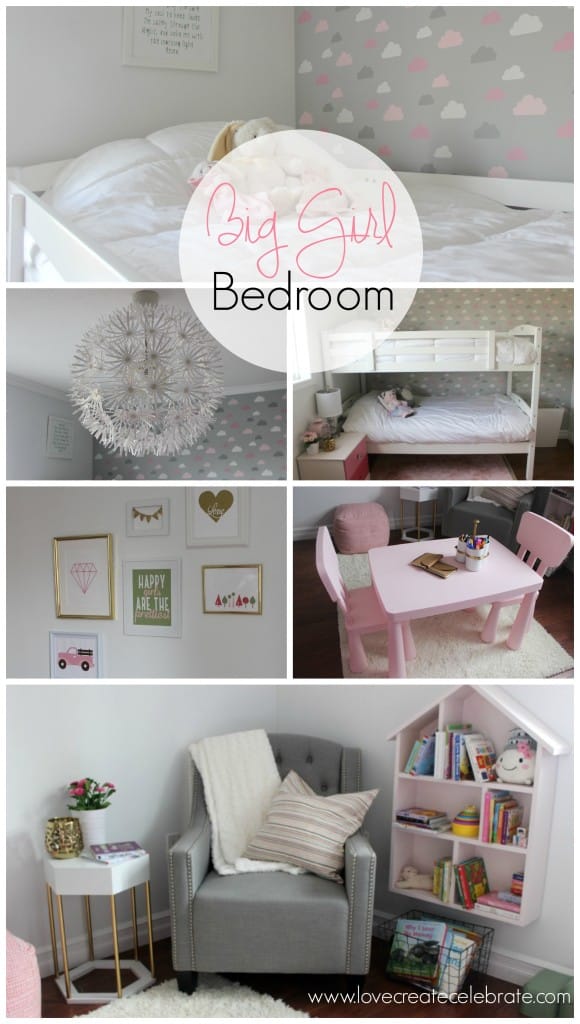 Can you believe reveal day is here already?!
Welcome to week SIX of the amazing One Room Challenge! This six week challenge, hosted by Calling It Home, encouraged bloggers to completely redecorate a room in their homes in only six short weeks! My husband helped me tackle my daughter's Big Girl (aka "Toddler") bedroom,. It's been six weeks full of hard work, excitement, and sometimes frustration, but we did it! Ready for theBig Reveal? I know I am!
If you want to catch up, here are the links from the first 5 weeks:
Week 1 / Week 2 / Week 3 / Week 4 / Week 5
In case you missed it, here's where the room started (sorry for the poor photos!). Just a big empty canvas – with great flooring, lol.
It really wasn't much to look at… I went through all of my bedroom plans in the original One Room Challenge post, and shared this inspiration board.
My plans changed a bit along the way, but we still ending up with an amazing room! We shifted away from the more elegant aspects of my inspiration board, to a more whimsical design that included clouds on the walls, animal hooks, and bookshelves shaped like houses.
I'll let the pictures do most of the talking. Starting with entering the room…
This DIY Birth Announcement, and the footprint art, were on my daughter's wall in her nursery before we moved them to her entryway.
I LOVE that every. single. piece. in this gallery wall was created by me, and holds some personal meaning for us. Stay tuned for the quick and easy how-to tutorials!
This beautiful shelf below is brand new! We just finished it and installed it. I was inspired to make our bookshelf into a house after the room took a more playful turn – very appropriate for my toddler. Such a beautiful place to store our many, many books.
… and a wire bin below for the overflow.
My criteria when looking for a chair was that it a) had to be comfy, b) had to be stylish, c) had to be big enough for us to sit in together while I read books to my daughter. I think we hit the mark on this one.
Initially I wasn't sure about placing two different rugs into one bedroom, but I think they work together perfectly. The white shag rug keeps its home in the cozy corner of the room.
The hexagon side table that we made ourselves may just be one of my favourite parts of the entire room! Love, love, LOVE.
Our closet was outfitted with an organizer from the very beginning! It makes my life a LOT easier.
It's been difficult to tear my daughter away from her new room. Which is great, because she will be in it for quite a few years… and be sharing it with her little sister one day :)
I hope you liked it! Please let me know what you think!!
Here's how we're doing we did with our lengthy six week "to-do" list:
Paint walls (including closet walls)
Paint baseboards, main door, and closet doors
Paint stencil feature wall
Purchase and install closet organizer
Cut, install, and paint crown moulding
Find thrifted dresser and re-paint/re-design it
Find thrifted mirror to re-paint
Purchase and assemble bunk bed
Find/make pastel accessories
Sew curtains
Sew duvet cover, pillow cases, and throw pillow covers
Find light fixture
Create art work for DIY gallery wall
Find a chair for her/me to read in
Find rugs for space
Make DIY bedroom hooks
Possible DIY night stand
Possible DIY bookshelf
My fabric never did arrive, so you'll have to stay tuned for the addition of curtains and DIY pillows, but I'm THRILLED with what we accomplished in such a short time!
Stay tuned for tutorials on our hexagon table, dressers, gallery wall art, & more!
Make sure to check out the other amazing room transformations at Calling It Home now.