A great list of things to do before starting a home renovation! Tips and tricks to get the smoothest renovation results the first time.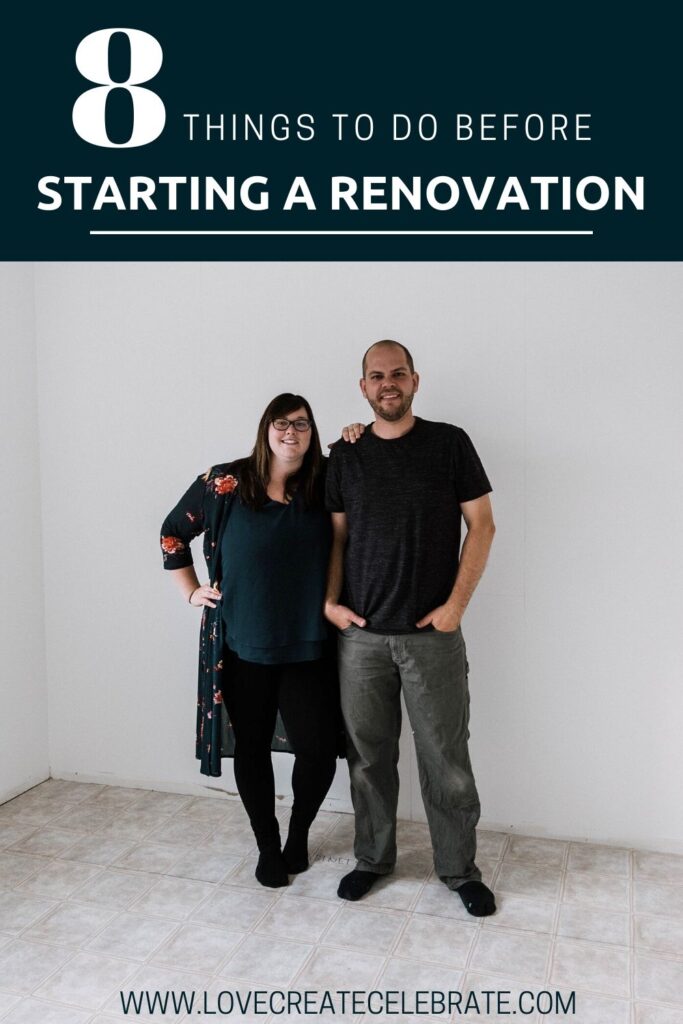 We've tackled a few renovations together. We've transformed spaces from top to bottom, gutted them, moved walls, painted and redesigned. Having done this over and over again, there are a few lessons we learned along the way. Some of our biggest regrets when it comes to renovations was not taking the time to plan enough ahead of time. We missed steps before the renovations even started, and we want you to learn from our mistakes so we're sharing 8 things to do before starting a home renovation that everyone should know!
You can see some of our favourite room before and after renovations HERE.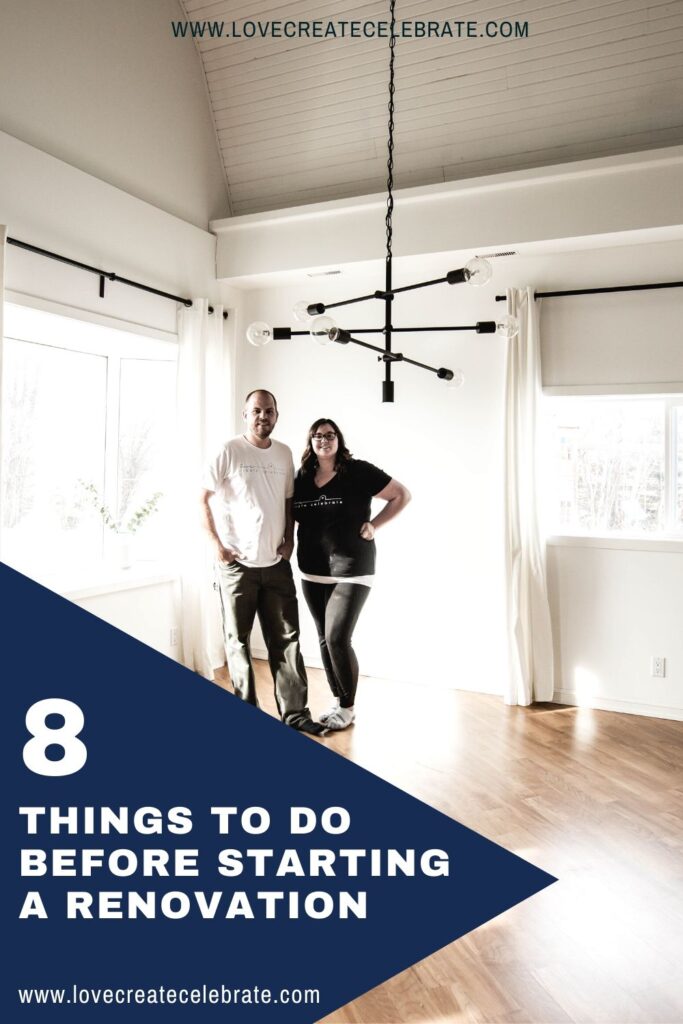 8 Things to Do Before Starting a Home Renovation
Take Before Photos
Always. Always take before photos. Even if you're just painting or adding floating shelves. It only takes two minutes and you will never regret it.
I took what felt like 100s of photos of this home before we started renovating it, but every time I tackle a new room, I still wish we had taken more photos and had more comparison shots.
Spend Time in the Space First
Renovations don't happen overnight. Demo day is always fun and exciting, but it can wait. It's important to spend time in your spaces first especially when it comes to big expensive renovations like kitchens and bathrooms.
By living in the space, you get to know the pain points and the must-haves. It helps you make a more accurate wish list moving forward. Do you need to move the sink? Do the heights of the cabinets bother you? Do you need twice as much space for dishes?
You can always make small, inexpensive changes before tackling a full room renovation, that make the space more inviting or enjoyable for you in the meantime.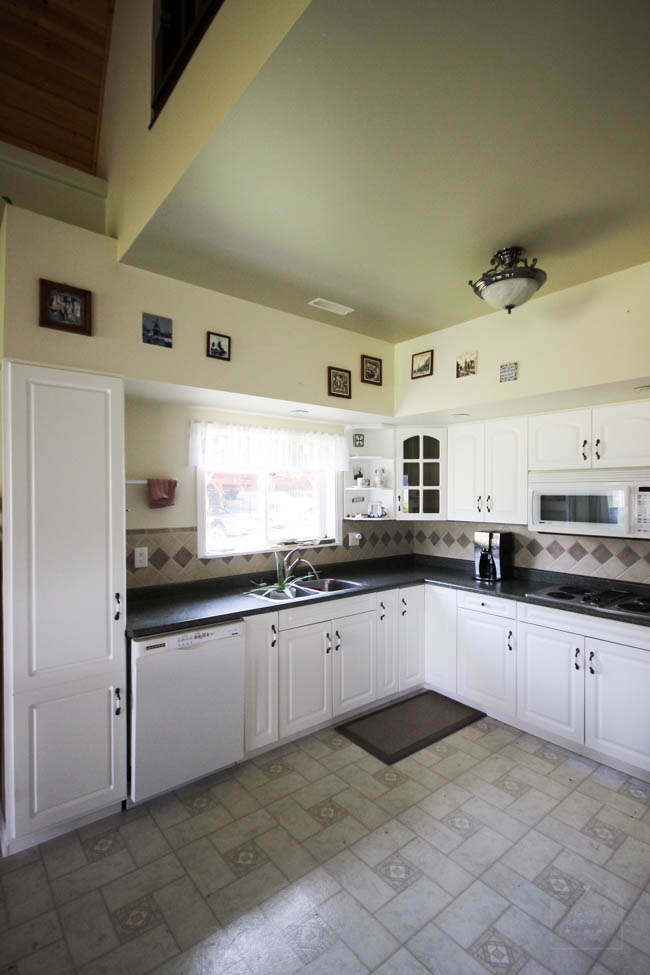 There's a reason that we have not tackled our kitchen renovation yet. We needed to see what we love and hate about the space, but we did tackle a few minor updates that make the space much more appealing for now. They are only temporary, affordable changes to the kitchen, but help me enjoy living in the space until we can afford the big, major renovation.
know the pain points, must-haves, wishes, etc – especially the really expensive rooms – like kitchens
Know what you want the final room to look like before you start
Obviously you don't have to have the entire room design figured out yet, but you do want to have a pretty good idea of how everything will come together.
My first step to this is always to scour Pinterest for inspiration. I have a board for all different room types (e.g. my Kitchen Ideas board). Whenever I'm cruising Pinterest, I put stuff on there. Then, when I'm actually ready to renovate I make a new board (e.g. "My Kitchen") and pull all of my favourite images from the big board onto there.
Then from there I look for themes in the photos, like colours, materials, finishes, etc. Then I try to find items in stores that fit in that design and create a mood board for the space.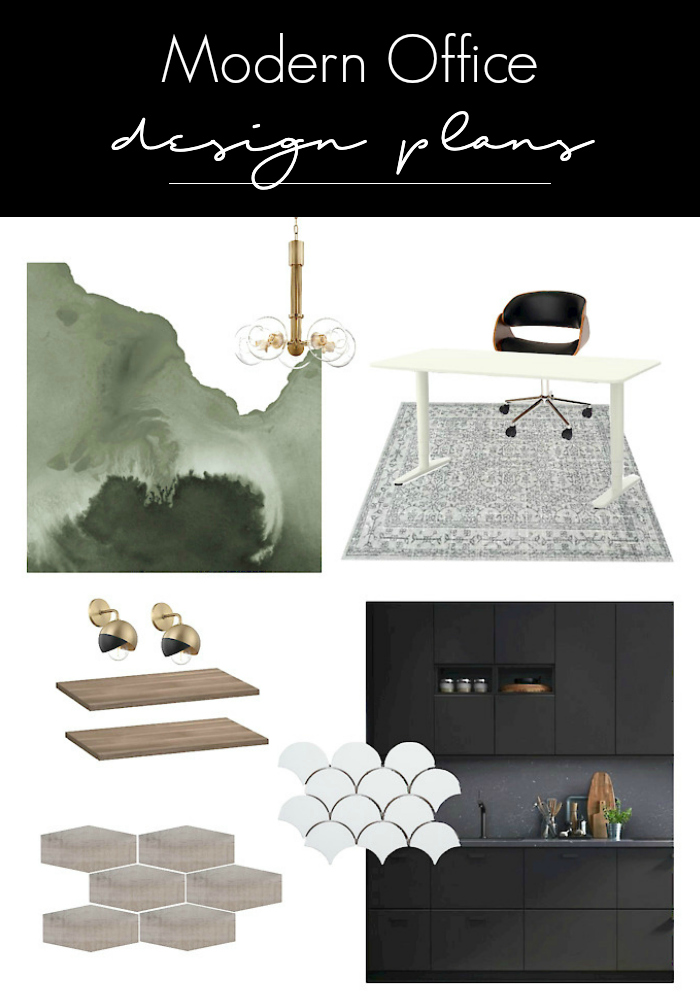 For example, here are the design plans I made for our Modern Office Renovation. It doesn't have to be the exact final furniture choices or finishes, but you do want to have an idea of how the space will come together.
If you've never made a mood board before, I'm planning to share a tutorial on how I do ours! But this video gives some great tips for putting a design plan together too.
Also, think about the level of finish you want. Is this your forever home? Your home for right now? Or a home you want to flip and sell? When we are renovating for our forever home, we pull out all the stops, and we wait to start our major renovations until we can afford everything we dream of in that space.
You can't make a gorgeous bathroom and then easily go back and add heated flooring later, and you don't want to put in new flooring, and then have to rip the vanity out in two years and mess up your new flooring job.
Draw out the floor plan
Drawing out the floor plan is another essential step before starting a room renovation. The main goal here is making sure that your scale of your furniture and renovations are accurate. There is nothing worse then ripping a room apart, and then realizing that you can't actually fit your cabinet in there, or sink shouldn't be that close to your toilet, etc.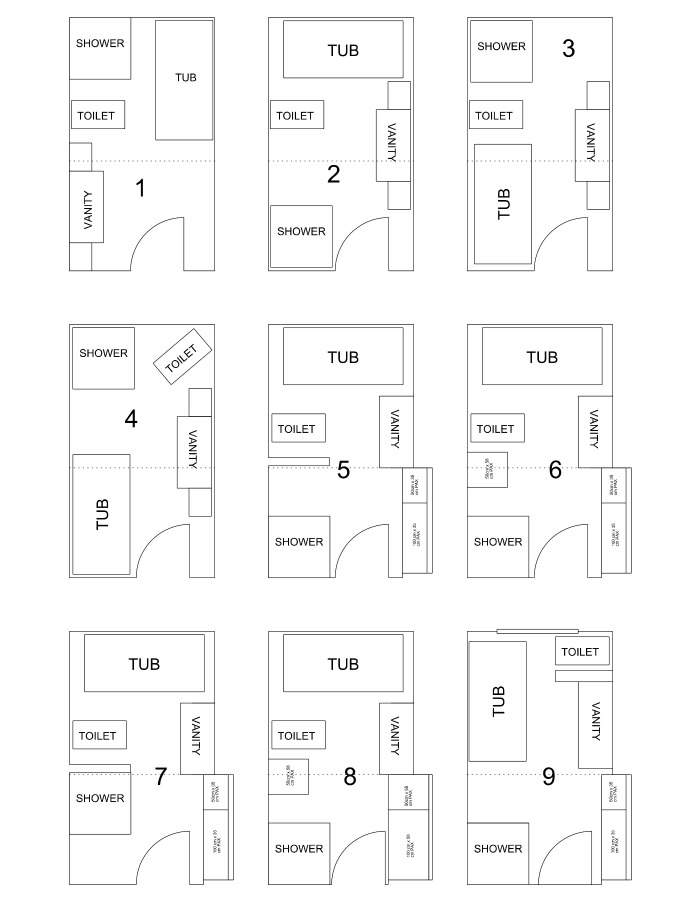 Here's an example of when we were trying to figure out our new bathroom layout. My husband is trained to use programs like AutoCAD so he does all of our floor plans right now, but there are other free programs like SketchUp and FloorPlanner that can help with this if you want to learn them too!
We often just draw the layout of the room, and then draw all of the individual furniture piece sizes (if we know them, or we use standard sizes), and cut out the pieces and move them around until we like a layout for the room.
Don't want to learn new software? Before we did this, we would just use painters tape on the floor to map out the size of our couch or table and see if the scale worked in the space.
Then if your layout doesn't work, that's when you can consider moving walls or changing layouts, or prioritizing your musts for the space.
Know What Projects to Pass Off
You want to be a home renovator or a DIYer, but don't have all the skills? Who cares! We are all for trying out new things, if you're got a good expert or electrician friend in your corner to help you out, try to change that electrical outlet or light fixture!
But if you've never tried electrical work, and are relying on a few YouTube videos, please don't try to rewire your whole bathroom.
Pass off the things that could cause safety issues, like electrical, plumbing, or moving walls.
Do Your Homework
Want to try it yourself? Go for it! But make sure you've done your homework! Here's a little secret about the internet… there's some false information out there!
I've seen instagrammers and influencers post "tips" that make me cringe because it's not the right way, or the safe way to do something! And sometimes just because I think "if you do it this way it would look so much nicer!".
I've seen DIY build plans for beds that will never last because they aren't actually structurally sound (according to my engineer husband!).
I've also seen sponsored "reviews" that I don't believe for a second… Honestly be wary of anything "sponsored" online. If you don't see the influencers using the same tools or talking about them when they aren't sponsored, then find a second opinion or review. We try to be 100% honest online, and only worked with sponsored content that we actually believe in, but that's not always the case online, unfortunately.
Want an expert? Find a known expert source online, or visit your local hardware store and ask an expert.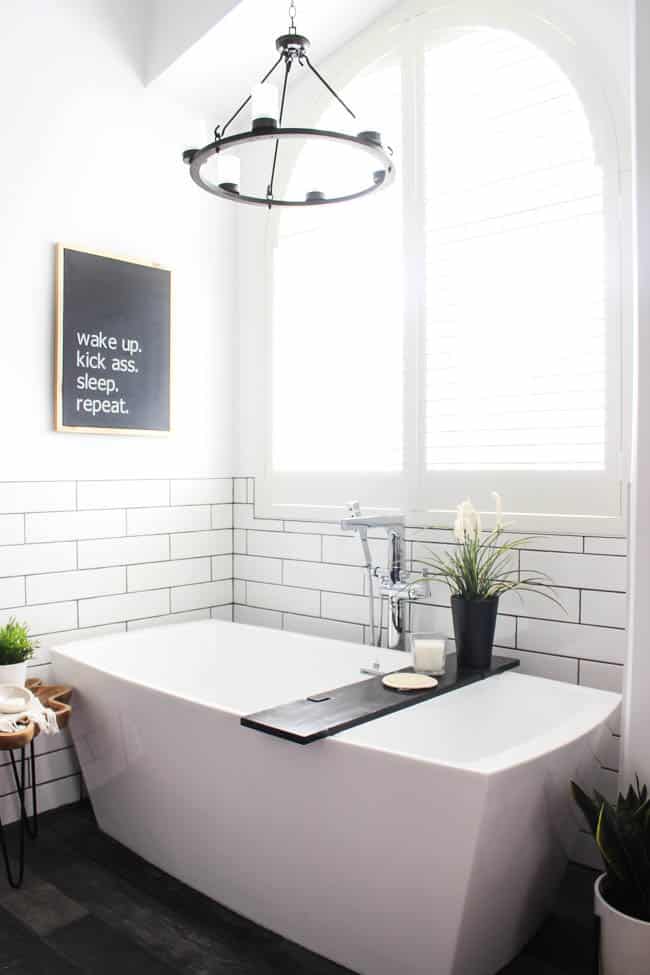 Know If You are Increasing the Value of Your Home
Are the changes you are making actually increasing the value of your home? And if not, are you ok with that? Is this your forever home?
If you're trying to flip or resell, you might want to consult a realtor first to see if your changes are worth the extra time and investment. If you're planning to live in your home for a long time, do what you want and enjoy it! Even if that means decreasing value.
For example, our old home had an open concept bathroom – the bathtub above, was actually only a few feet from the end of the bed. A space like that is not for everyone. You won't find buyers everywhere interested in that room, but it was perfect for us. We could have renovated to close it off, but we wanted the huge freestanding tub under the big window, and we didn't mind the space feeling open, so it was worth it to use to make a change that not everyone would want and wouldn't increase value.
Create a Realistic Timeline, and Add a Few Weeks
Finally, renovations never go as smoothly as you want them to. Try your best to create a realistic timeline. When we do this, I always add a day or two to everything my husband says.
Russel: "Framing will probably be 3 days, electrical 2 days"
Lindi: <writes 5 days + 4 days>
Then finish that timeline and add another week or two for "finishes". Every single reno we've ever done has migrated into those extra weeks, and we are fairly efficient renovators! Give yourself a grace period, and just know that it will take longer than you expect.
I hope you found some great tips in this list of things to do before starting a home renovation. If you have any questions that we didn't address, please ask.
Wondering about adding a feature wall to the room? Here's everything you need to know about accent walls!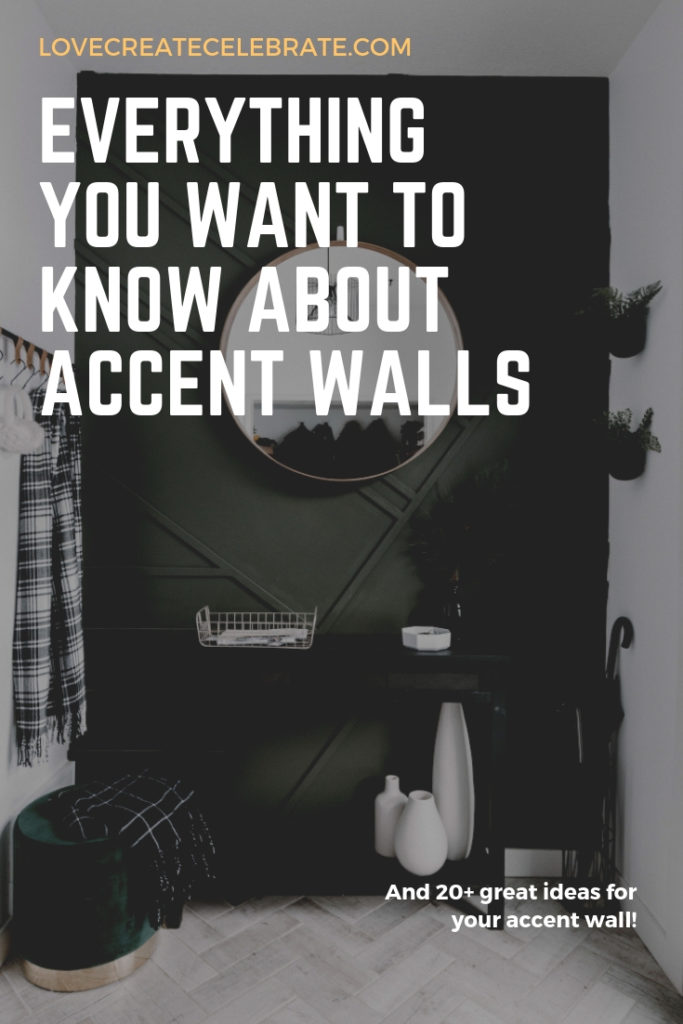 If you're looking to decorate a finished space, here are some Great Ways to Decorate for FREE!