A beautiful fluted DIY Utensil Holder! DIY on a budget, and organize your kitchen with an amazing utensil holder from dollar store supplies!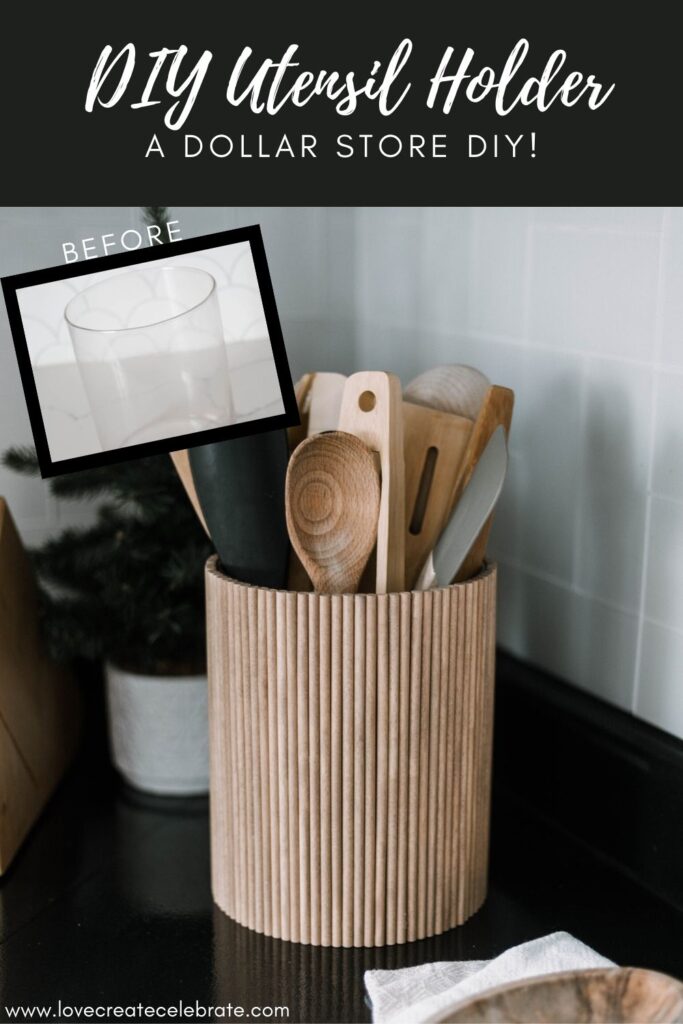 My kitchen cupboards were a mess. I'm not afraid to admit it, lol. They were in desperate need of some organization, so I hit up our dollar store this month and gave the cupboard under the sink, and the pots and pans cupboard some much needed love. Of course that also snowballed into a countertop problem…. lol. I made this fluted DIY utensil holder too, and I'm in love with the look!
*This post may contain affiliate links. When you buy a product through one of our links, we get a commission at no cost to you! Thank you for supporting our blog so that we can continue to bring you posts like these. For more information, please see our disclosure page.*
Whenever I see wood supplies at the dollar store, I scoop some of them up because it's usually very affordable, and wood is by far the easiest stuff to DIY with! Paint it, stain it, cut it, glue it… so many possibilities!
The big glass vase was a great dollar store find too, because it's big enough to be a planter, vase, or utensil holder. When I saw the two of these together, I knew I could make a fun textured pattern for a utensil holder rather then just a plain glass container on the counter.
What Does Fluted Mean?
Before I get into make the DIY utensil holder, I'll quickly explain why I went with this fun design! When we use the term, fluted in design, we're referring to the shallow grooves along a surface, usually vertically in design. Think of all those regal columns with long fluted edges in architecture! "Fluted" furniture and DIYs are becoming increasingly popular and it can be fairly inexpensive to create.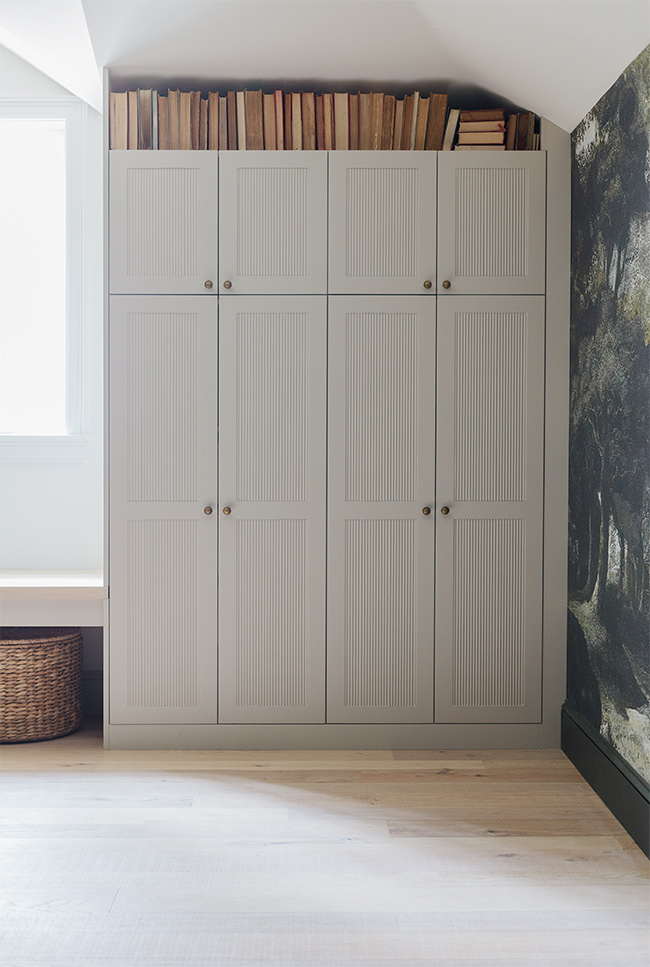 These beautiful fluted cabinet doors are a stunning example of someone DIYing this texture!
The DIY slatted sideboard is another example of this fun furniture trend, and shows off that flutted texture (and also might be one of my favourite ever DIYs!).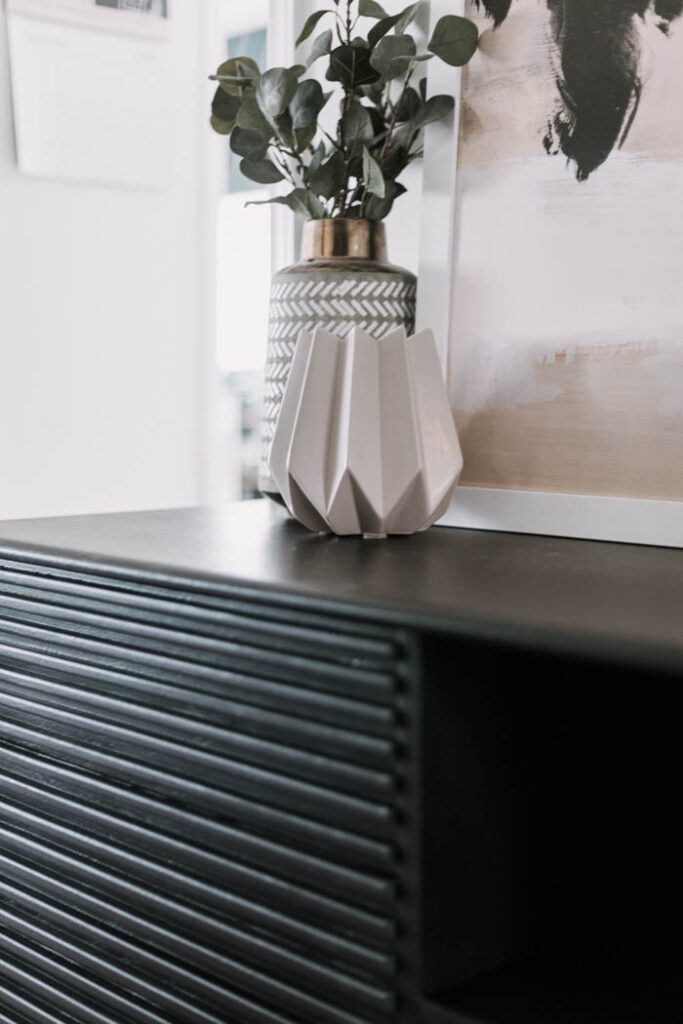 How to Make a fluted Utensil Holder
This project is super simple! Only requires one tool, a couple of dollar store finds, and a little bit of time.
For this DIY I used the glass vase from the dollar store, and I bought 10 packs of the dowels. I ended up opening 9 packs, and used 84 dowels I believe. At $1.25 per bag, that's still very affordable!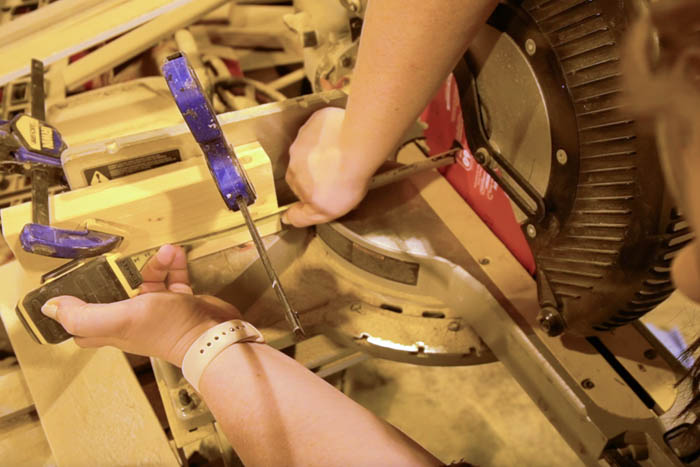 The first thing I had to do was measure the vertical side of the glass vase so that I knew what size to cut the dowels. Once I knew the height (just over 8″), I needed to cut the wood dowels.
I used my mitre saw for cutting, but you can use any saw. I didn't want to measure 84 times, so I measured the distance from the saw once, and clamped a scrap wood block in that position so I had a block to set my dowels against at a consistent length.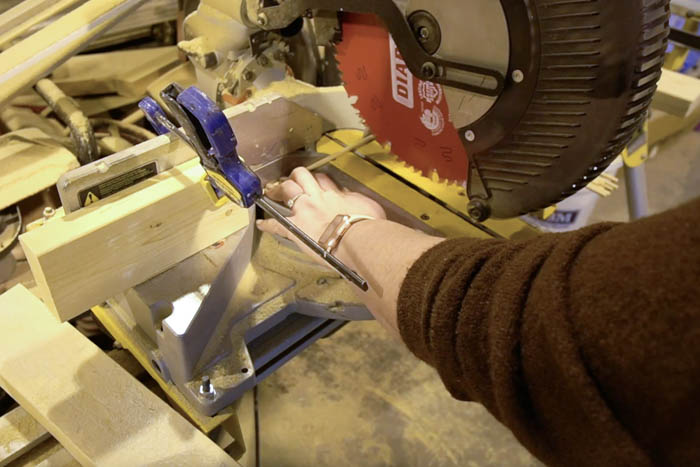 Once my block was set, I cut a dowel, double check that the height was right, and then got to work cutting 83 more!
When they were all cut, I decided to stain them. You can leave them natural looking too if you prefer. The staining was easily the longest part of this process, but probably still didn't actually take that long, lol.
After you stain you also want to apply a couple coats of varnish. Since this guy is sitting on the counter and likely will be some splashes or need to be wiped down, the varnish is necessary to protect it.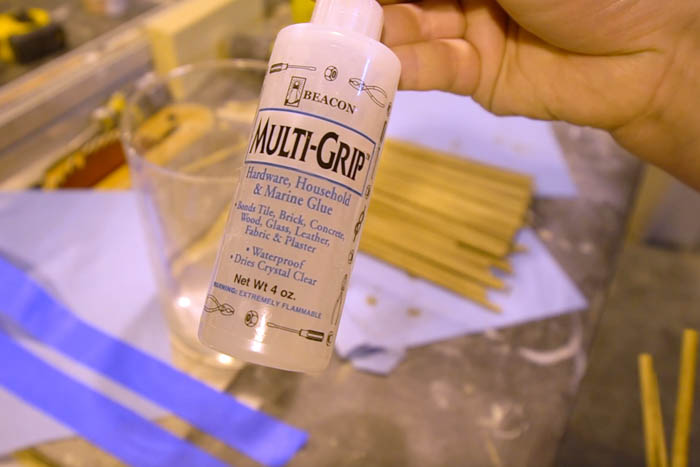 The final step is to attach the wood dowels. I wanted to use a glue that wouldn't be too noticeable, so if you looked inside you didn't see a bunch of ugly glue blobs, lol.
I tried a couple of glues, but the one that worked the best, was this multi grip glue! It took a few minutes to set, but was worth the wait!
I glued three dowels to start and let them set so that they wouldn't shift when I was gluing the rest in place after. The next day I glued the rest of the dowels down one at a time, and used some painters tape to make sure they all sat flat against the vase as I went.
Video of How to Make Your Utensil Holder
If you want to see this whole process, it's in this YouTube video! You can also see the dollar store hacks I used to organize my cupboards!
Our Fluted DIY Utensil Holder
I love everything about this DIY! It's super affordable, modern, and textured. It adds so much to the countertop visually, and it's practical!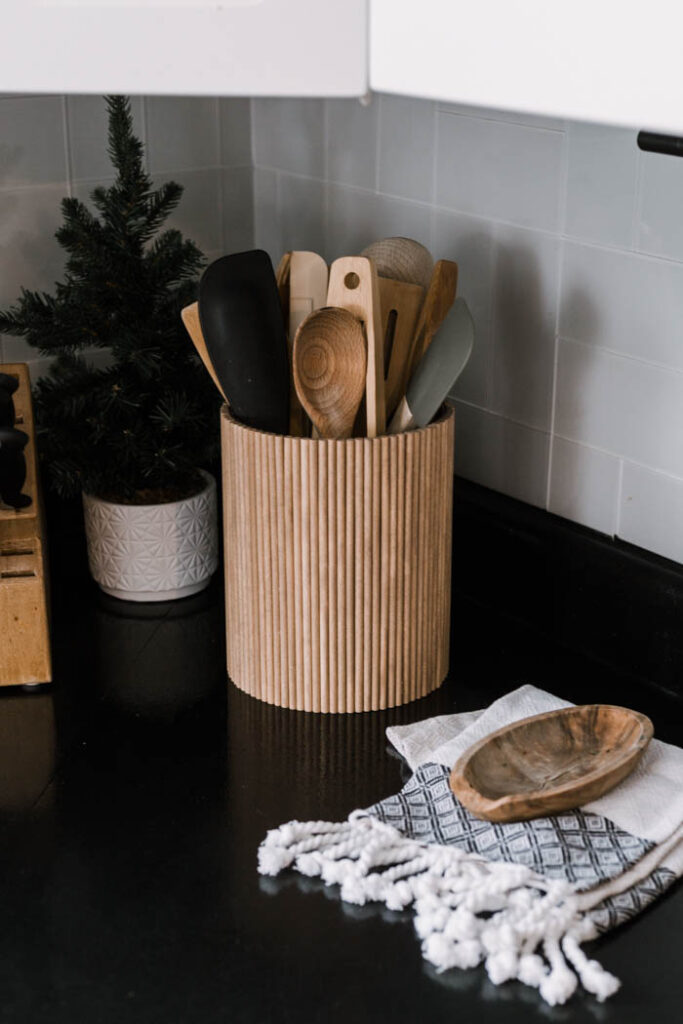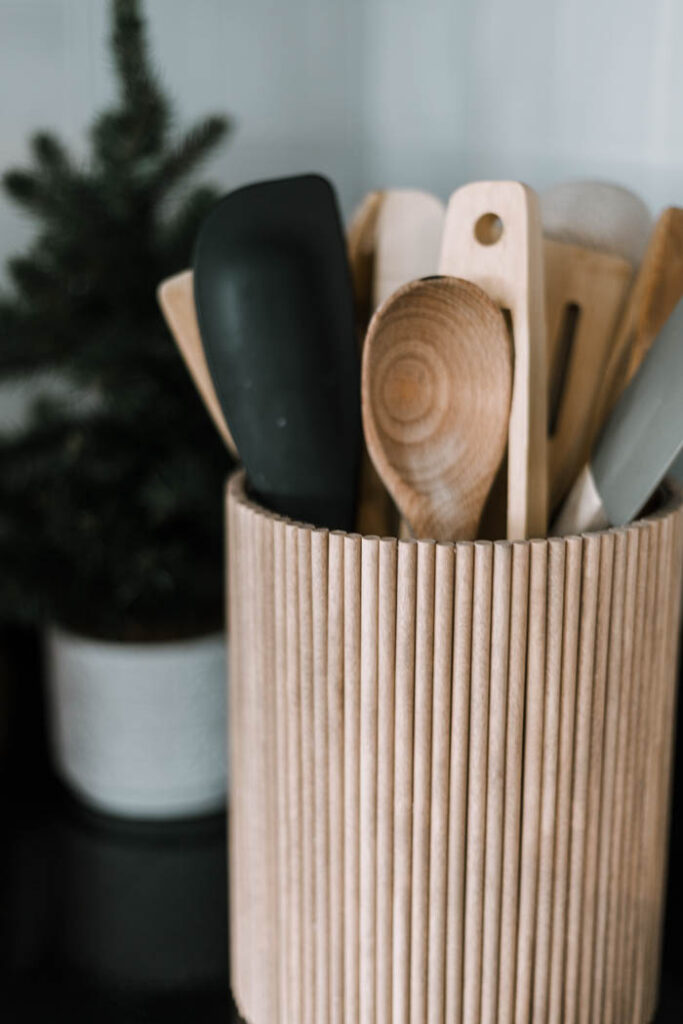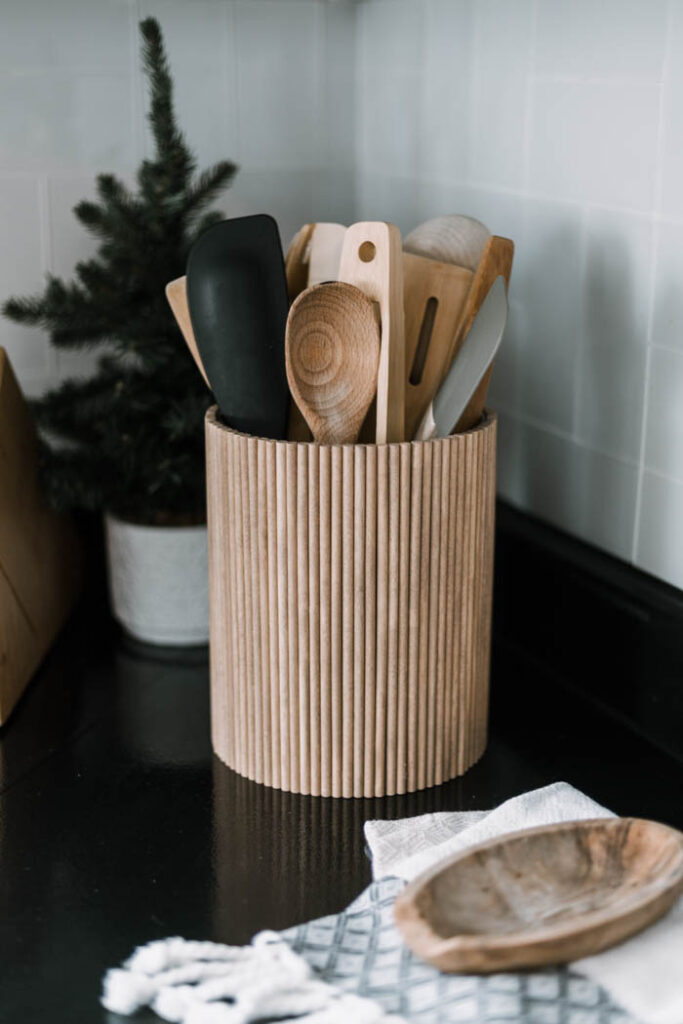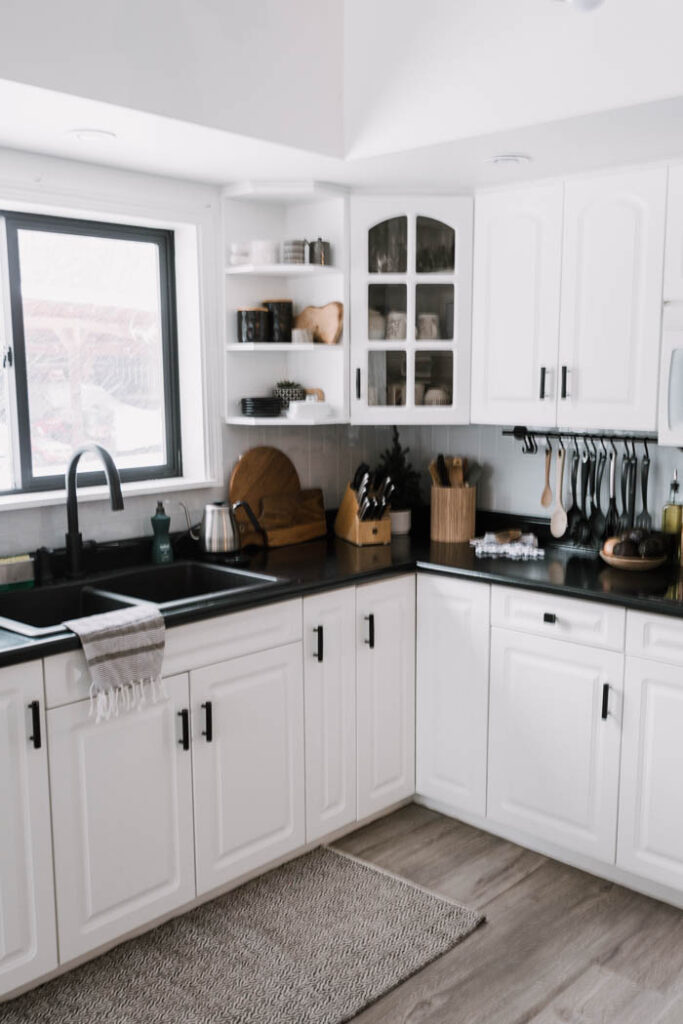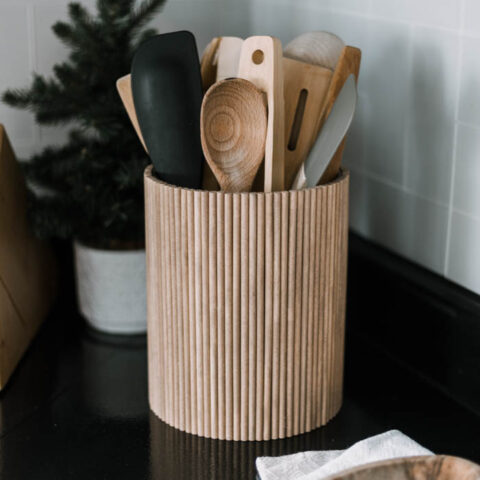 Fluted DIY Utensil Holder
A beautiful fluted DIY Utensil Holder! DIY on a budget, and organize your kitchen with an amazing utensil holder from dollar store supplies!
Materials
Glass vase
Wood dowels
Wood stain
Wood varnish
Glue
Instructions
Determine the height of your vase and cut your dowels down to size.
Stain dowels
Varnish dowels (at least two coats)
Attach stained wood dowels to glass vase
Recommended Products
As an Amazon Associate and member of other affiliate programs, I earn from qualifying purchases.
If you're looking for a fun furniture upcycle project, check out this DIY Slatted Sideboard!