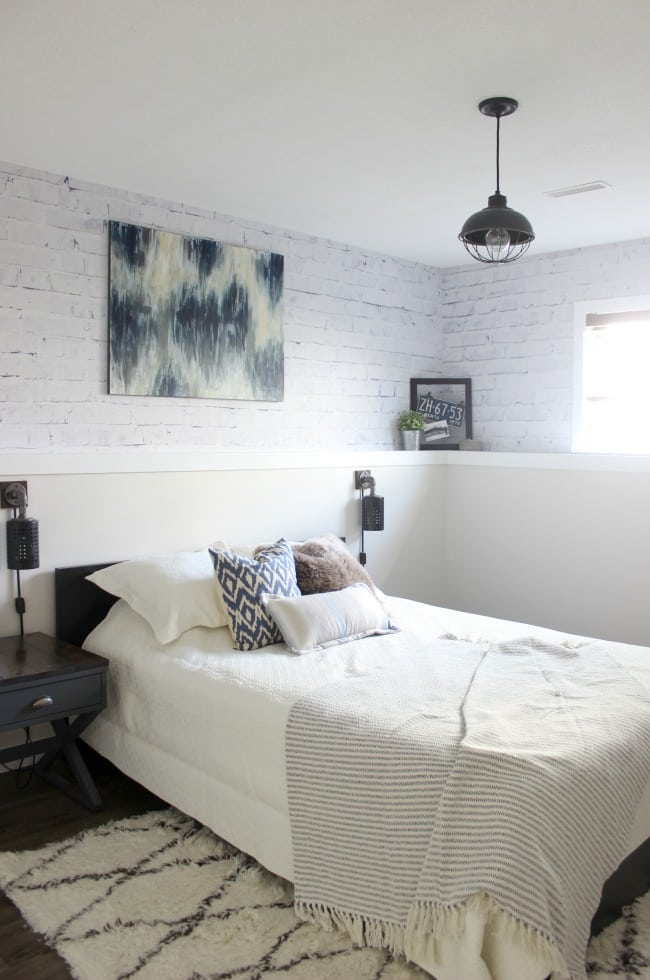 Reveal day is here! Six short weeks ago, I signed my husband and I up for the One Room Challenge, where we completely renovate a room in our home in just six weeks. Let me tell you, six weeks went by in a whirlwind, and I didn't get nearly as much done as I had hoped, but I'm SO happy with the results. I would never have imagined a guest room that was this beautiful in my home!
*This post was sponsored by my One Room Challenge sponsors – listed at the bottom of this post. For more information, please read my disclosure policy.*
Do you remember where we started?! Horrible paint, outdated lighting and flooring and very little cohesion. With visions of rustic woods, cozy fabrics, and eye-catching patterns, I got to work designing our Guest Bedroom. Let me tell you my friends, I think I've found my design style! I can't get enough of what I'm calling a Modern Industrial style.
Week 1 / Week 2 / Week 3 / Week 4 / Week 5
I'd like to pretend that I didn't know how much work it would be, but I can't… we put ourselves through the same gruelling challenge last year when we made over my daughter's Big Girl Bedroom. The truth is, even though we spent our Saturdays laying down new flooring, and our evenings painting trim and hanging new blinds, it was all worth it. I can't wait to have guests to share this beautiful space with!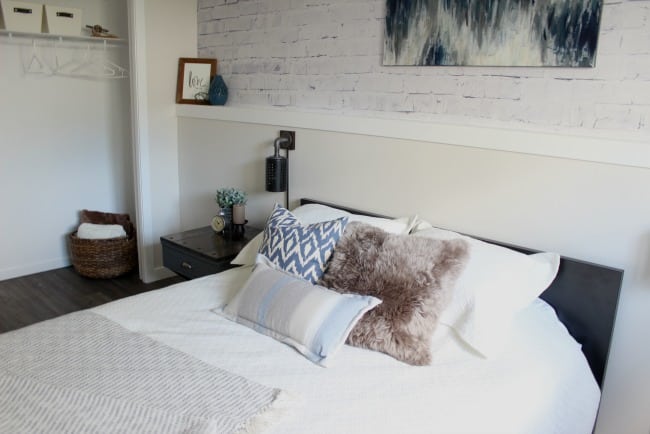 This room may have only been six weeks in the making, but I've been waiting forever to have a room like this in my home!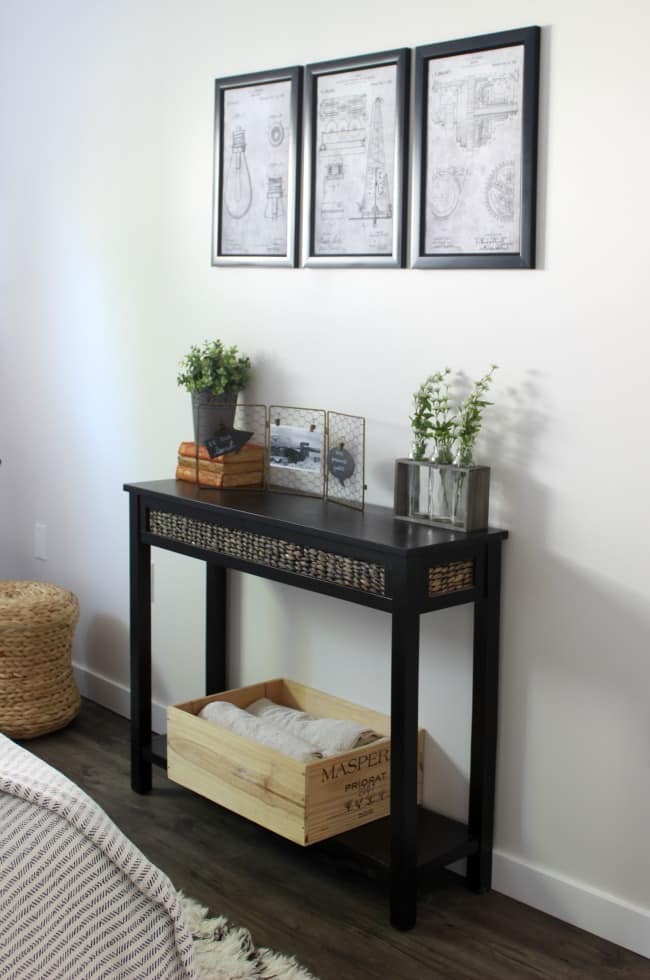 This bedroom makeover was no small feat. We changed every single surface in this room – including the ceilings and floors!
A fresh coat of paint did wonders for this basement space! Walking into the room, you can see immediately that White Heron by Sherwin-Williams was the absolute perfect colour to brighten up this dreary basement!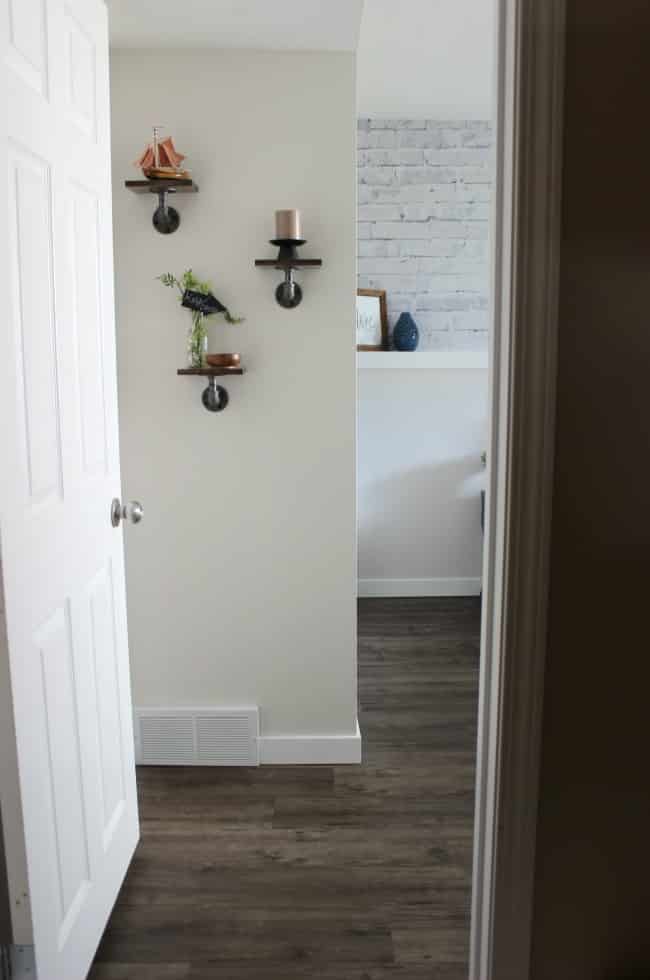 I love that the first thing you see when you come towards the room is these fabulous Industrial Display Shelves – a quick and easy DIY I did for the space!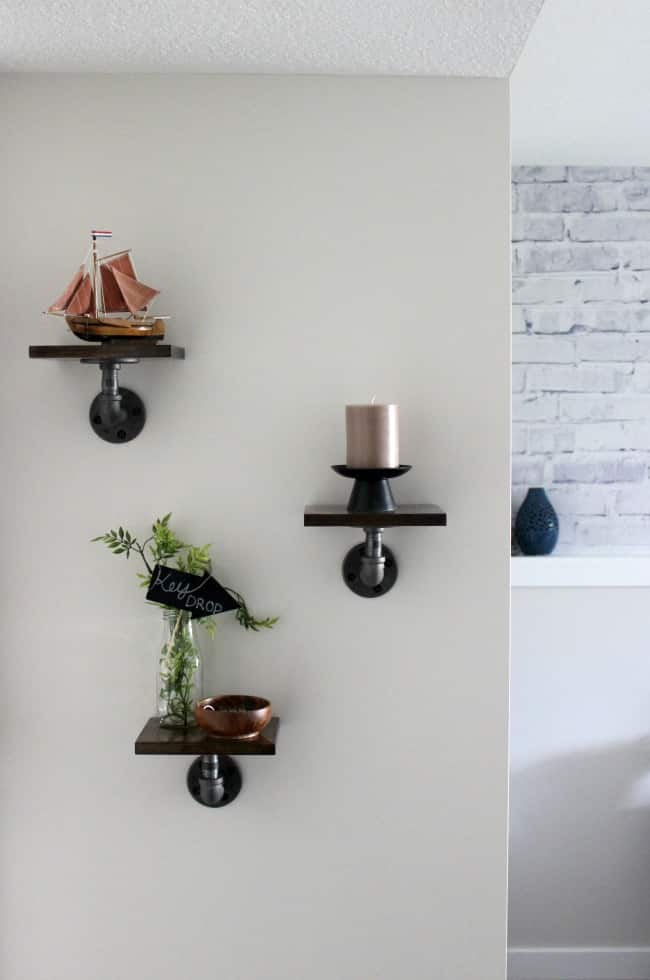 I also wanted to leave this easy key drop spot! I know that when I'm staying with someone, it's nice for my things to have a home.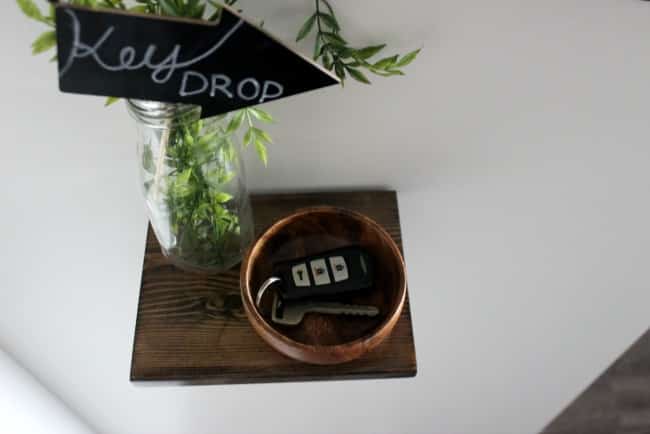 You can't have a guest bedroom without an unbelievably cozy bed…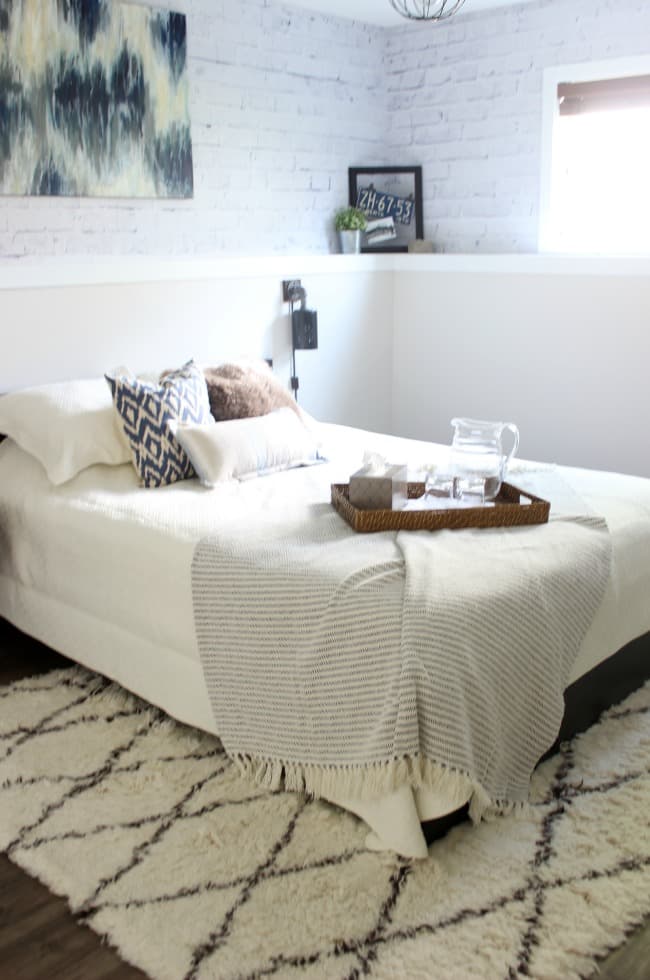 I bought white bedding and comfy throws to soften up the space. Industrial does not mean that everything has to be steel and dark. The faux fur and ikat printed pillows are trends that I am completely in love with!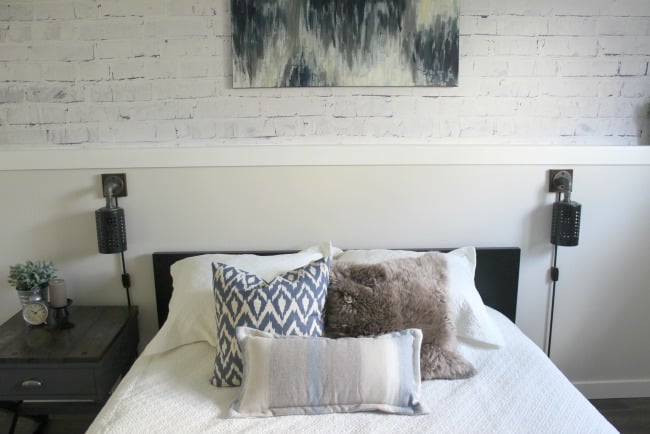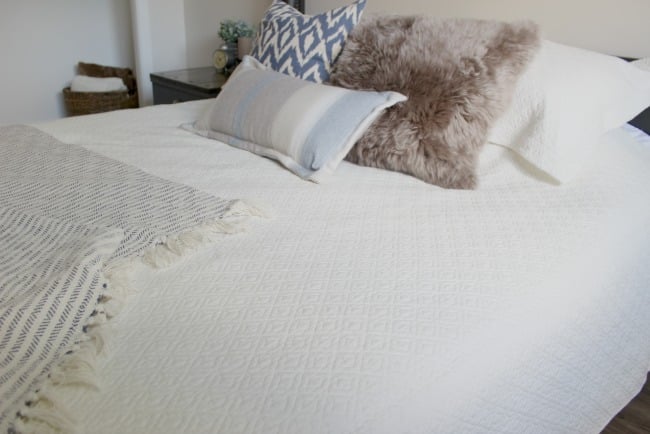 On either side of the bed, we hung our new DIY Industrial Sconces, which give off the perfect ambiance. Can you believe they were made from Ikea utensil holders?!
Of course, my old side table needed a makeover too…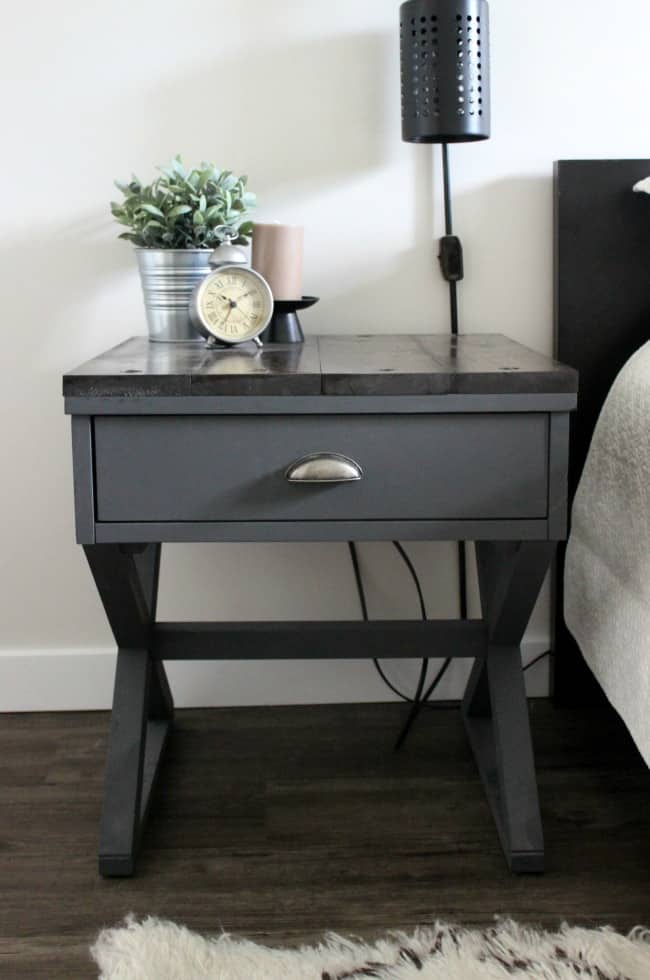 Since I'm making a dream guest room… I made sure to include a paper and pen!
As soon as I started dreaming up plans for the room, I knew I wanted to take advantage of the existing pony wall. I added an amazing White-Washed Faux Brick Wall Mural, which makes it seem like it was really a brick basement. I also used the shelf to make the room feel cozier by styling the space and bringing the blue and brown tones of the room together.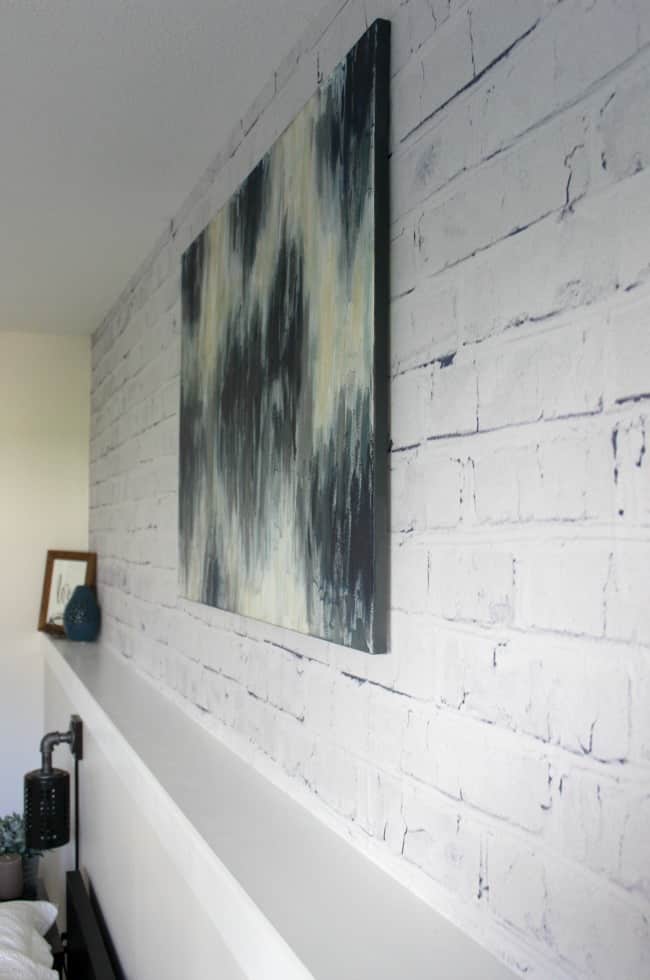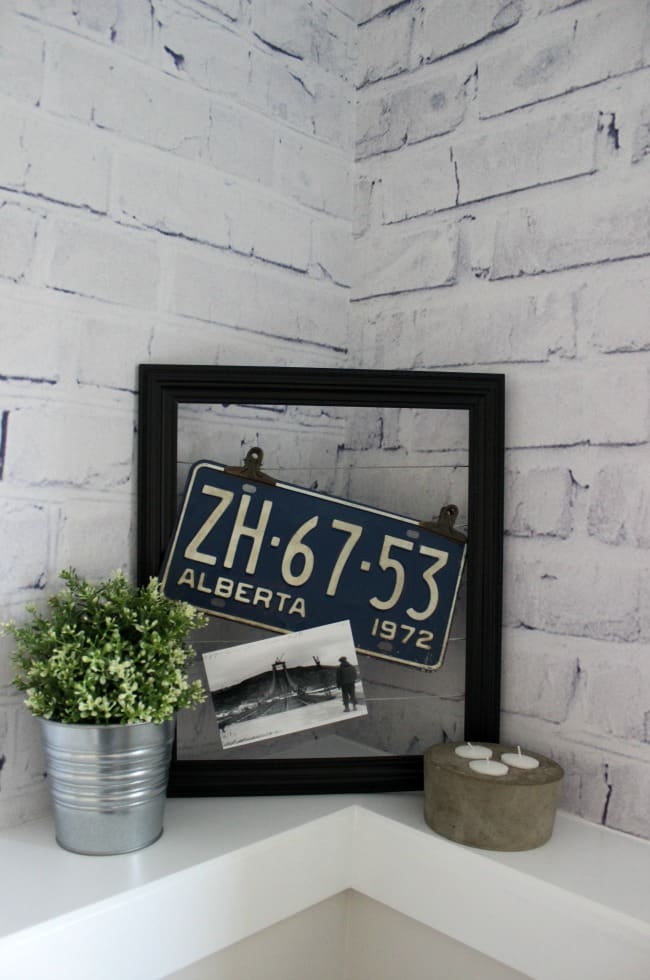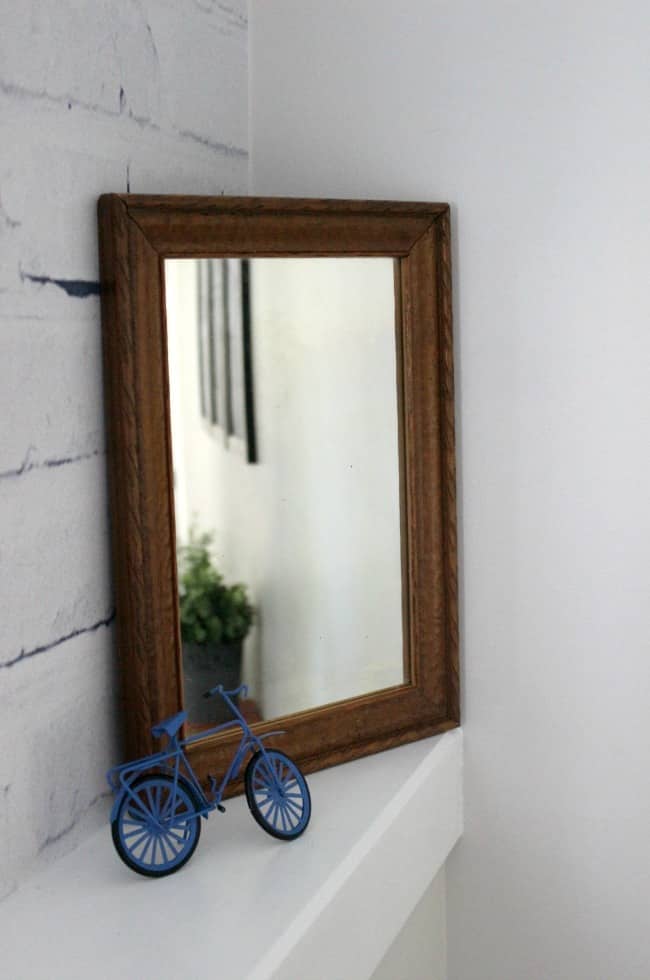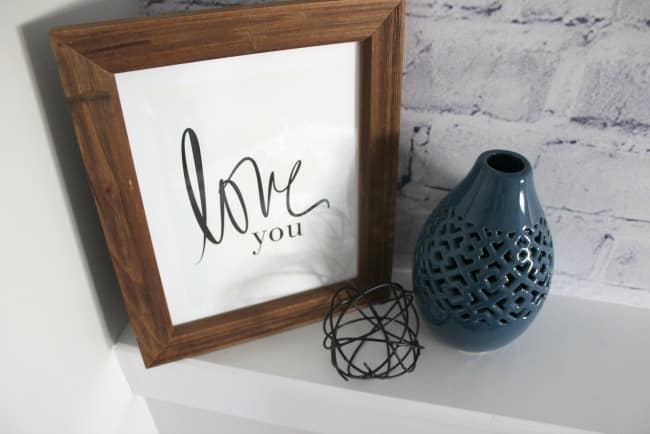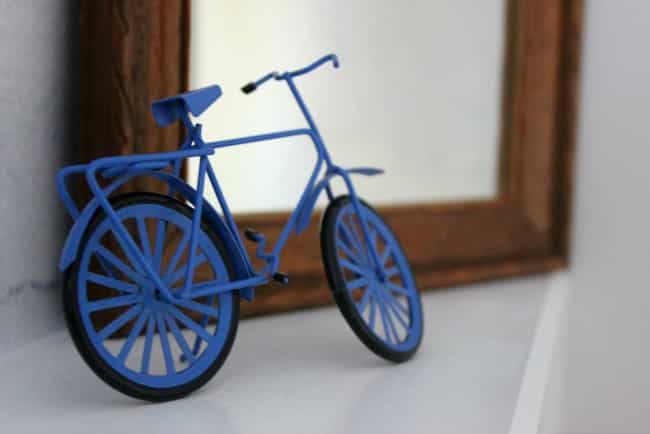 I love how the brick wall highlights the DIY artwork I made! (seriously… only took an hour! Tutorial coming soon!).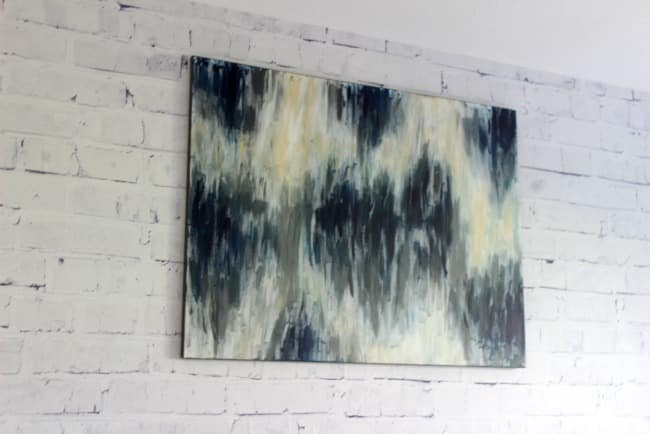 We also added brand new gorgeous Faux Wood Blinds. They really blend in with the room design now, rather than sticking out like a sore thumb (sorry old blinds…).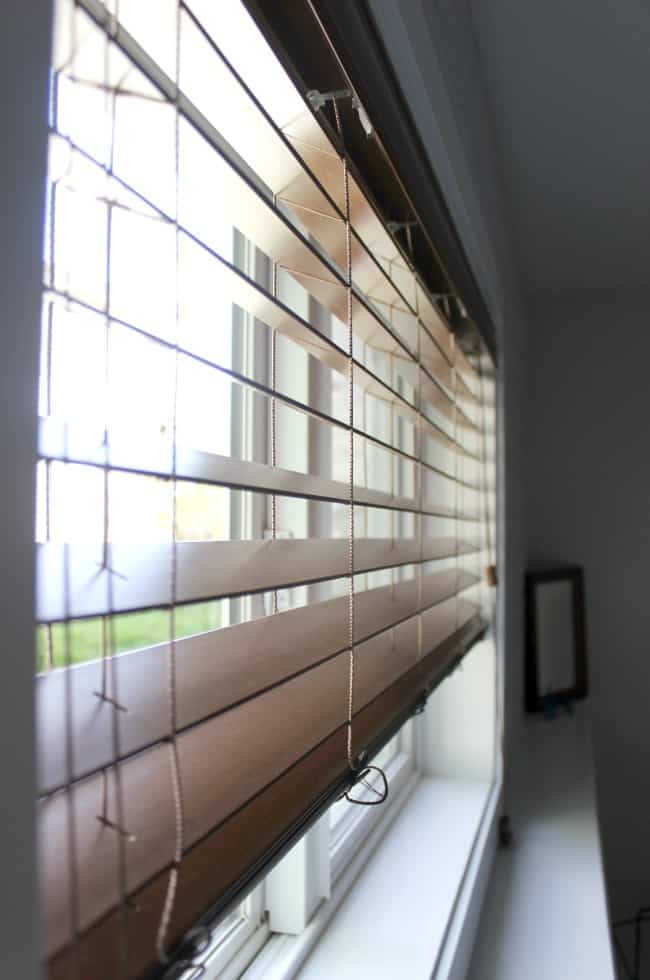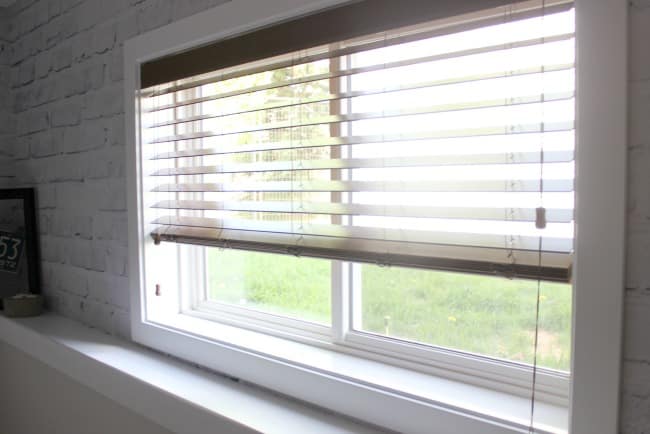 This gorgeous Industrial Pendant Light could not have fit my design style more perfectly…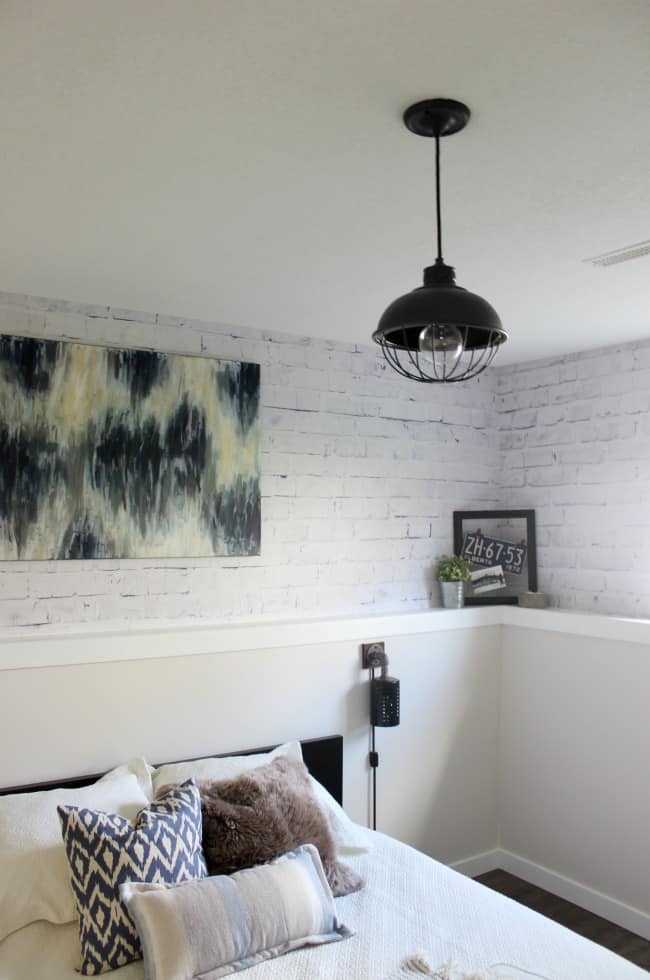 We couldn't leave the other side of the room empty, so we added a small sideboard and hung some gorgeous Patent Posters by Patent Prints on the wall. I love the industrial feel of these prints.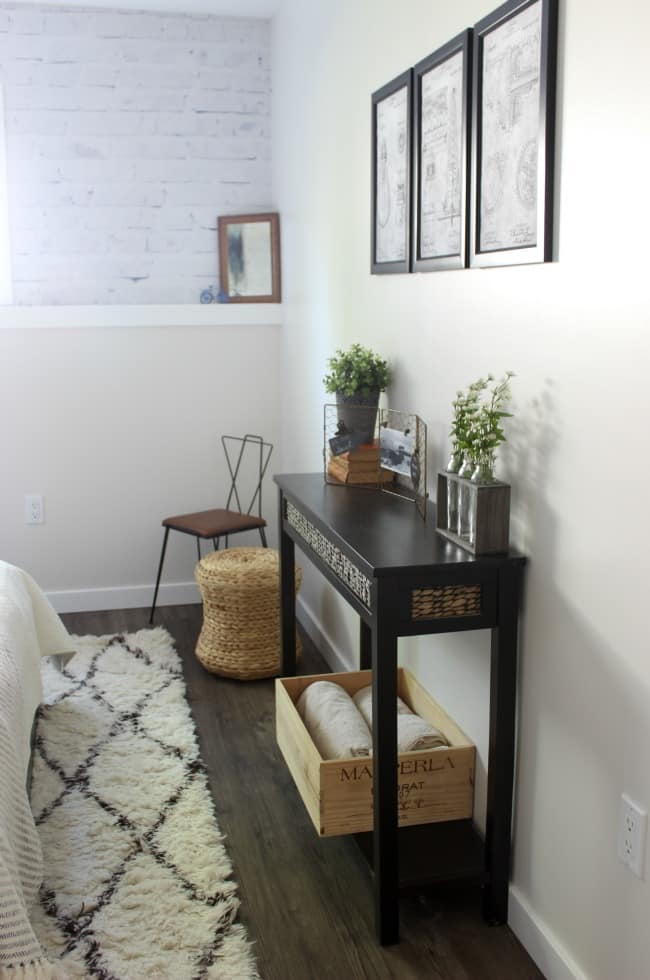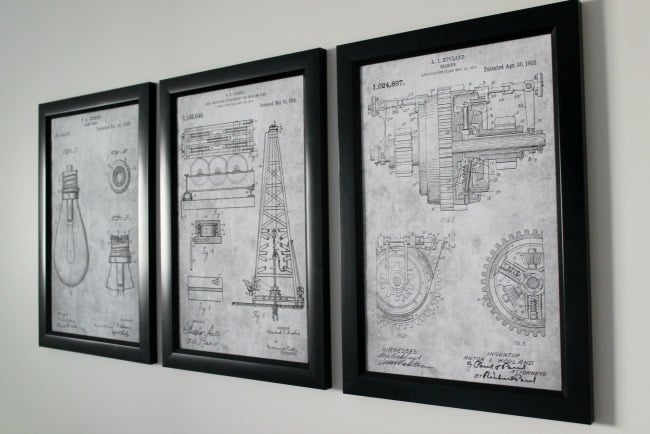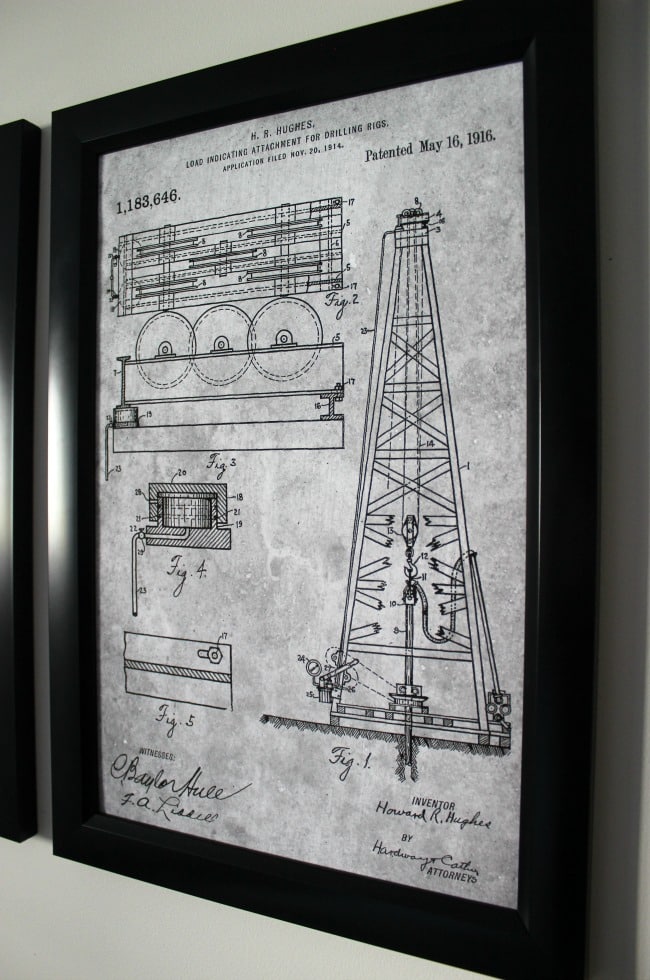 We added as many comfy and cozy features to the space that we could, from a revamped vintage chair, to a basket of spare blankets, to a super cozy shag rug! I'll let the pictures do the talking…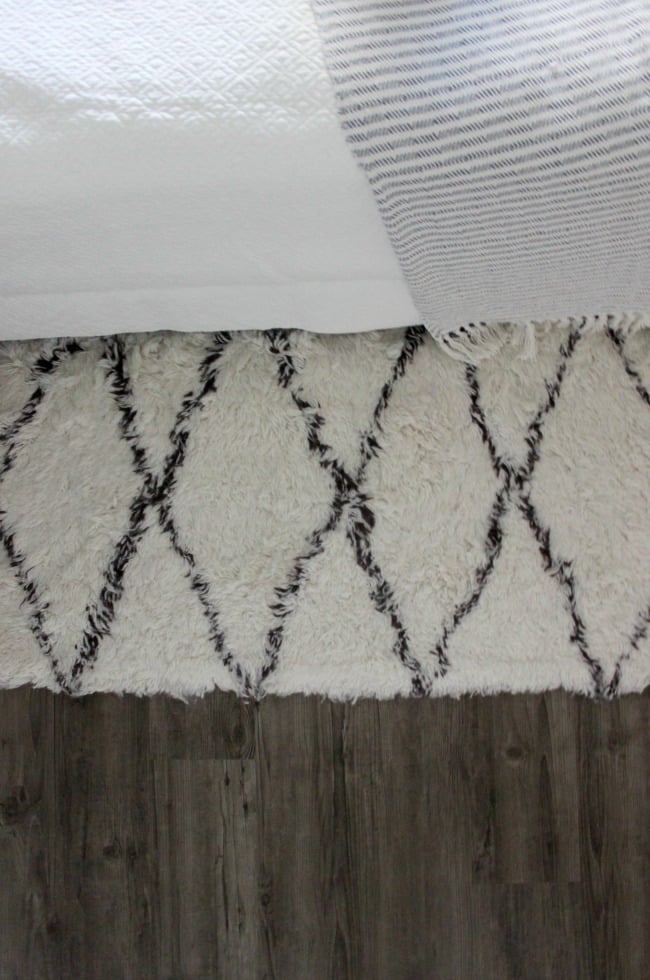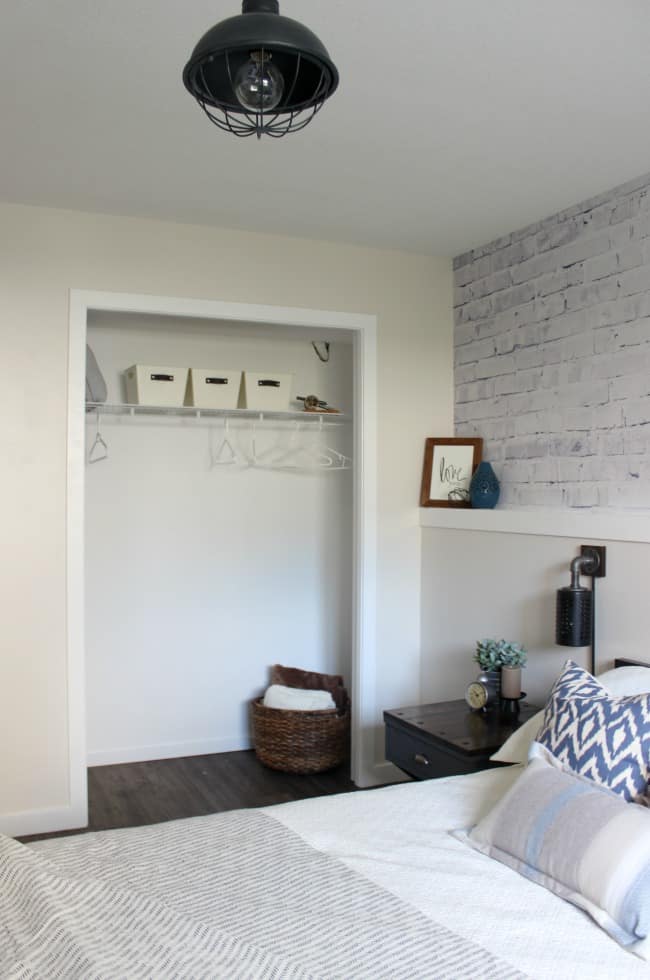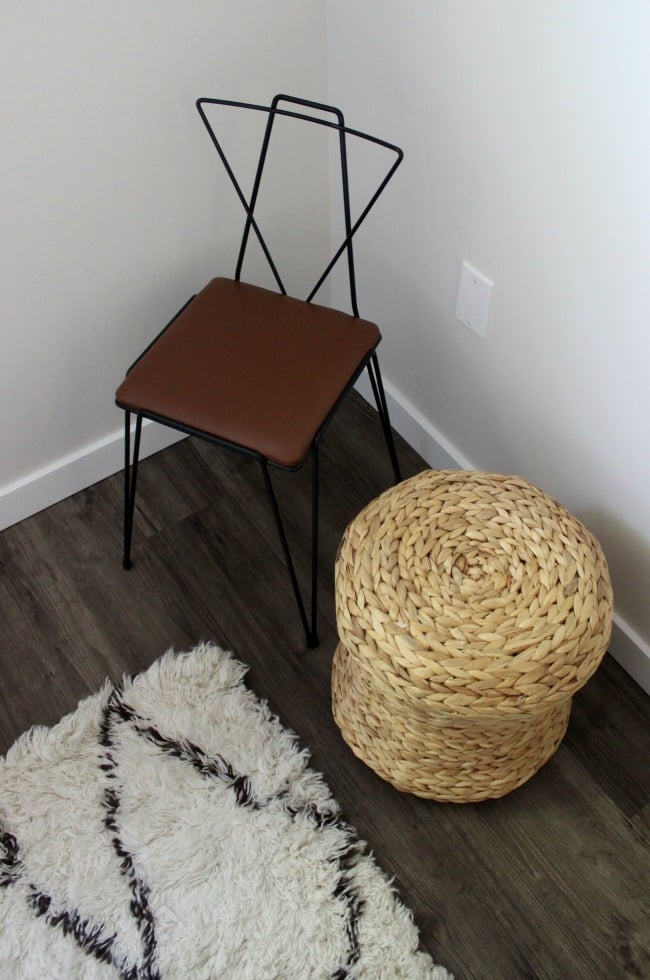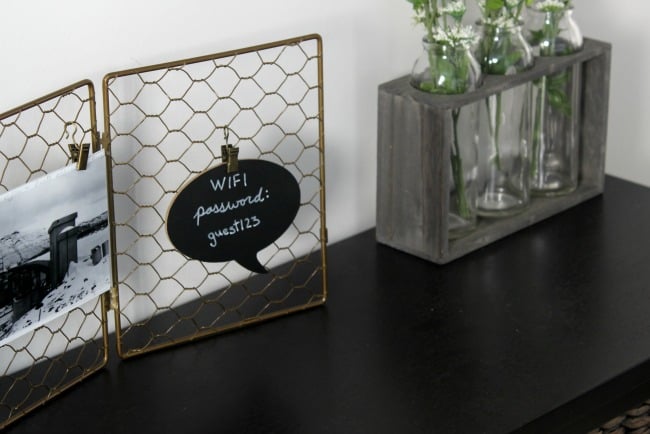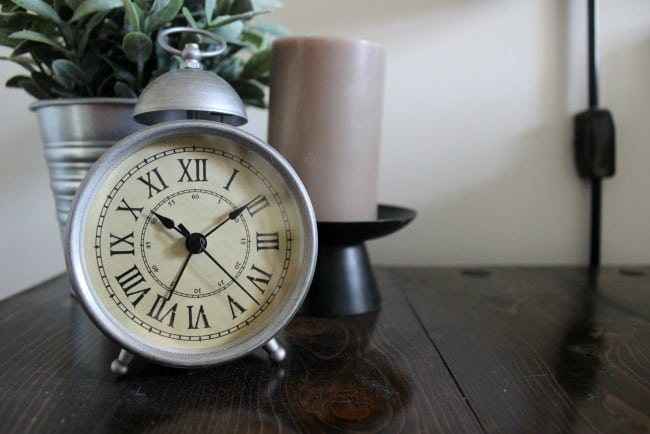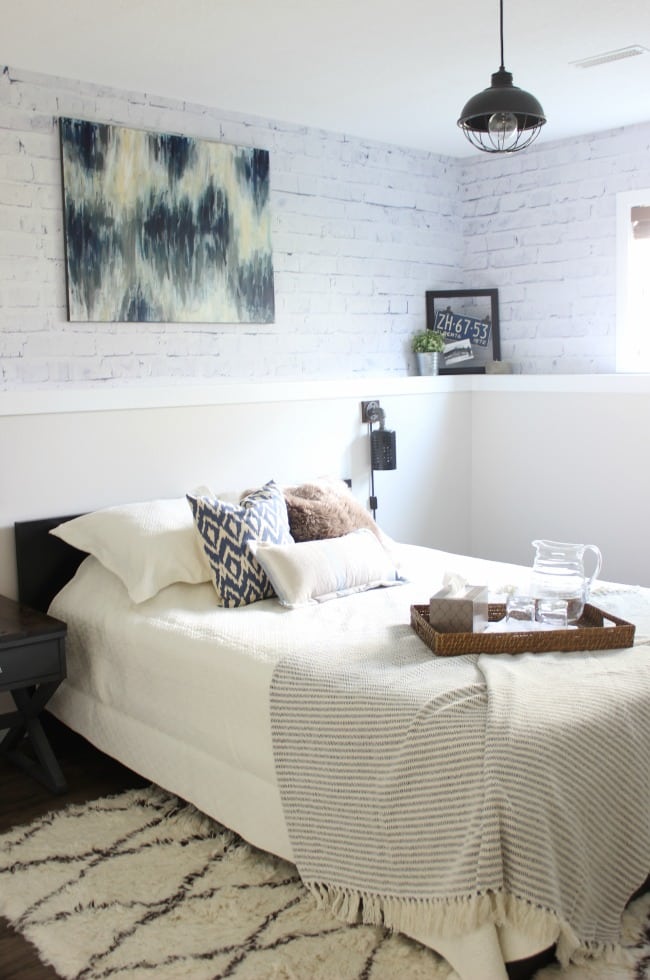 It's done! Somehow everything came together even better than I envisioned it! I'm in awe of everything we've accomplished in just a six short weeks.
A VERY special thank you to my #OneRoomChallenge Sponsors!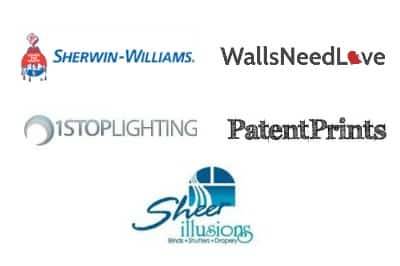 Sherwin-Williams / Walls Need Love / 1 Stop Lighting
Patent Prints / Sheer Illusions
And thank you to all of you for your support and encouragement along the way! Time to come visit us and see this cozy space for yourself!