Looking for the perfect masculine gift? Make your own DIY industrial watch holder for the special person in your life. It only takes a few supplies to make.
*This post contains affiliate links. For more information, please read my disclosure policy*
Do you have anyone on your list that is virtually impossible to buy for?! Either they have everything, or they only want expensive things (like my husband with his tools!), or they never want anything. That's why I love DIY gifts – they solve all those problems! The only exception is DIY gifts for men because there are never enough ideas out there. I made this DIY Industrial Watch Holder for my husband and it's the perfect gift to give that impossible-to-buy-for guy! I'm also join 15 other amazing Canadian bloggers who are sharing their great gifts, so don't forget to check them out at the end of the post!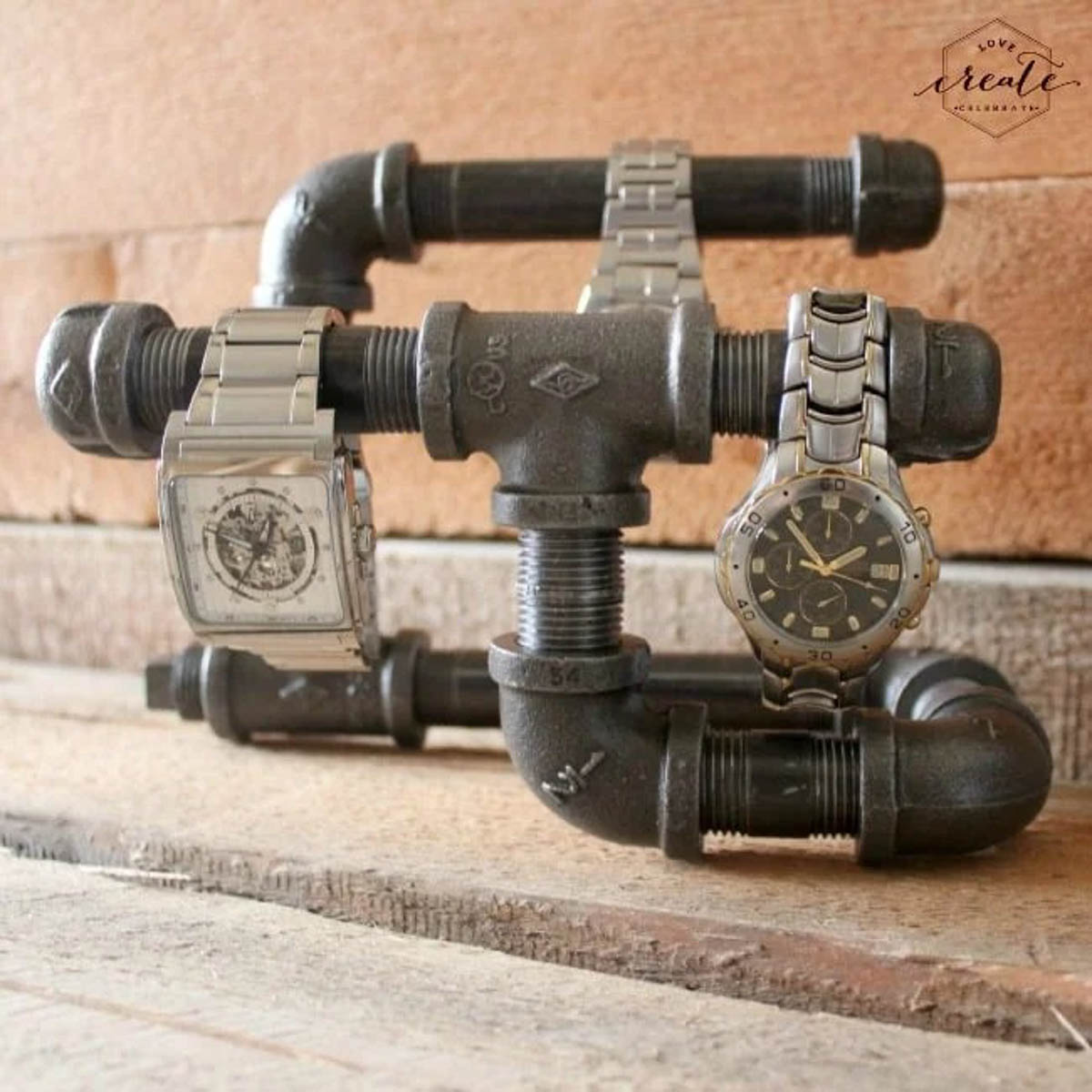 *This post may contain affiliate links. For more information, please read my disclosure policy*
I made this watch holder for my husband. You can design your own however you like as long as you keep in mind, 1) the piece has to be balanced (don't put all the pipe on one side!) 2) use hardware that all has the same diameter, and 3) make sure you don't close off the ends, unless you know your recipient has watches that unclasp completely.
If you'd like to follow my design, here is what I used:
(ALL 1/2″ diameter)
8 black steel pipe pieces of various lengths
[1 x 1.5″, 3 x 2″, 1 x 3″, 1 x 3.5″, 2 x 5″]
2 black steel pipe tees
4 black steel pipe 90 degree elbows
1 black steel pipe plug
3 black steel pipe caps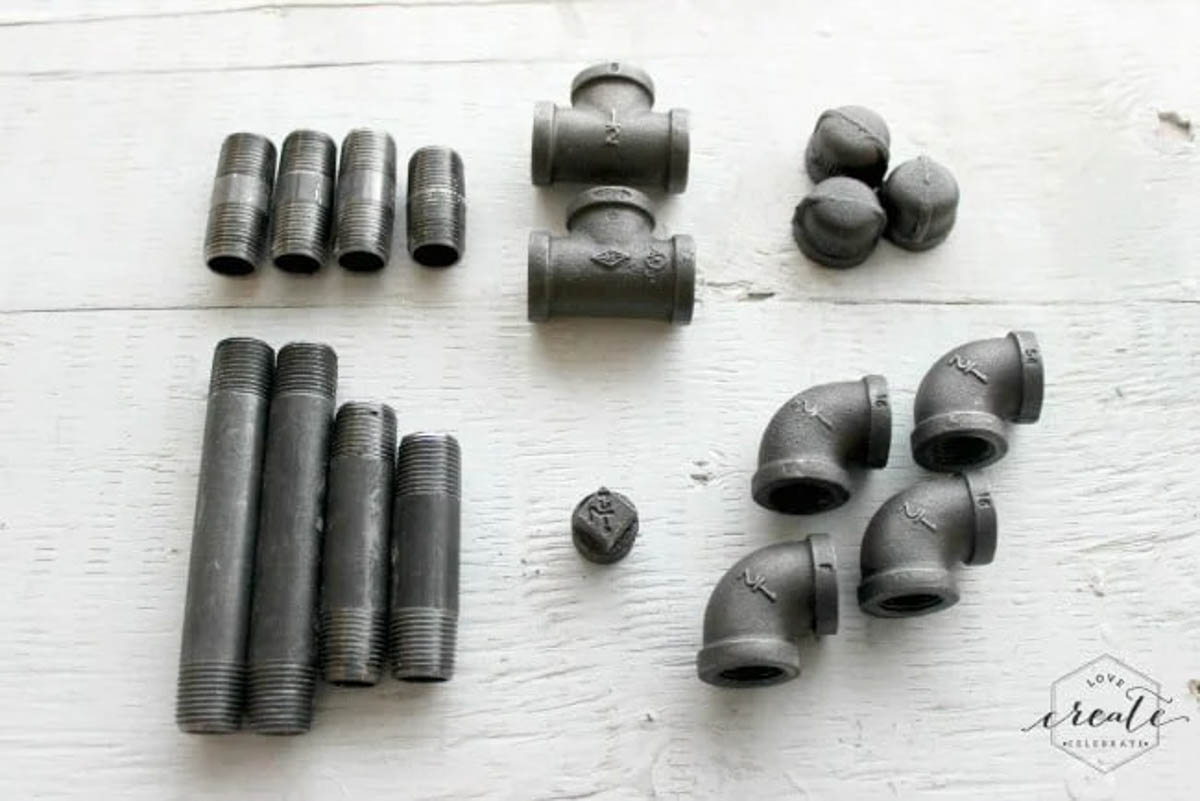 How to Build Your Industrial Watch Holder:
Using all of the above pieces, I assembled my DIY watch holder. You probably will want to wear gloves while you do this. I did this just by screwing on the pieces, one-by-one, until I couldn't twist anymore, and then forcing them a bit further so that they were at the correct angle. I often attached a piece of pipe at the end to act as a lever to pull the pipe together. You want it to be REALLY tight so that it won't budge or loosen later.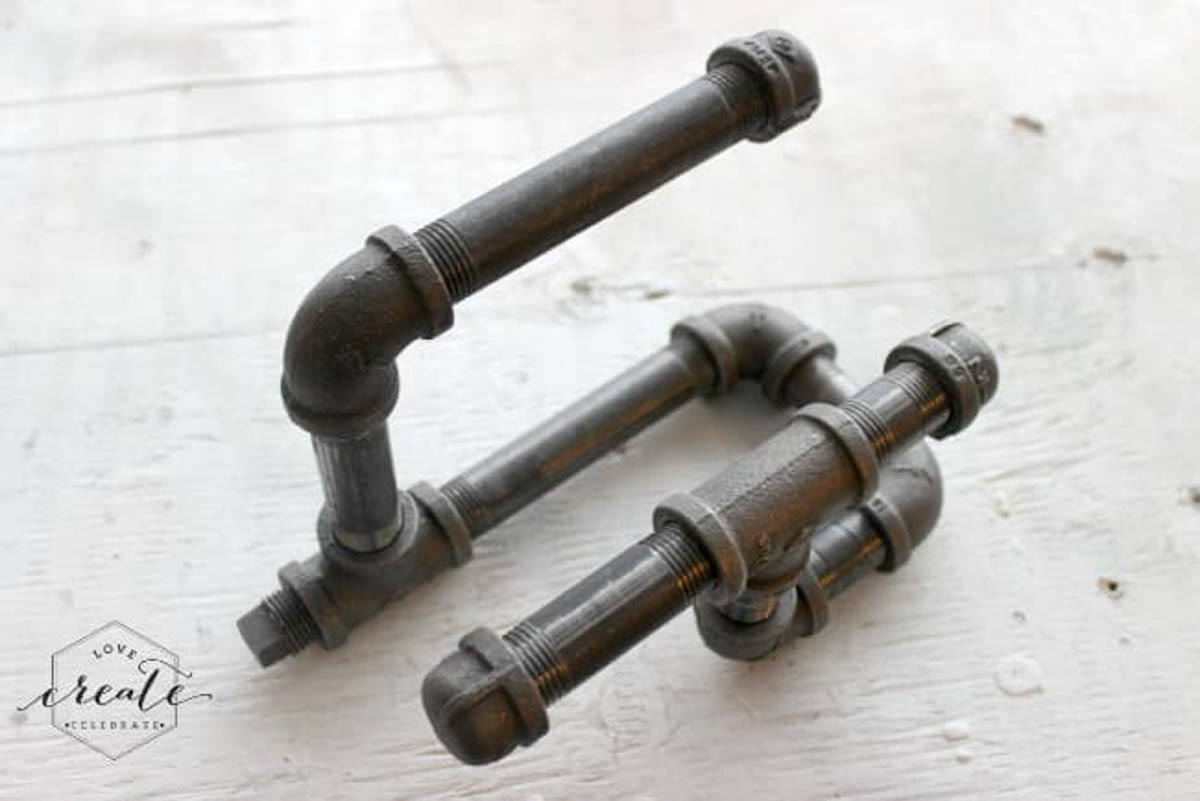 Once all the pieces were attached and in place, I used paper towel and Acetone to wipe all of the grease away. Once you are done wiping (doesn't take too long), you can spray the entire piece with Clear Matte Paint
(sorry, apparently I photographed the French side of my container!). Spray a few times, turning the piece to make sure you get all of the sides.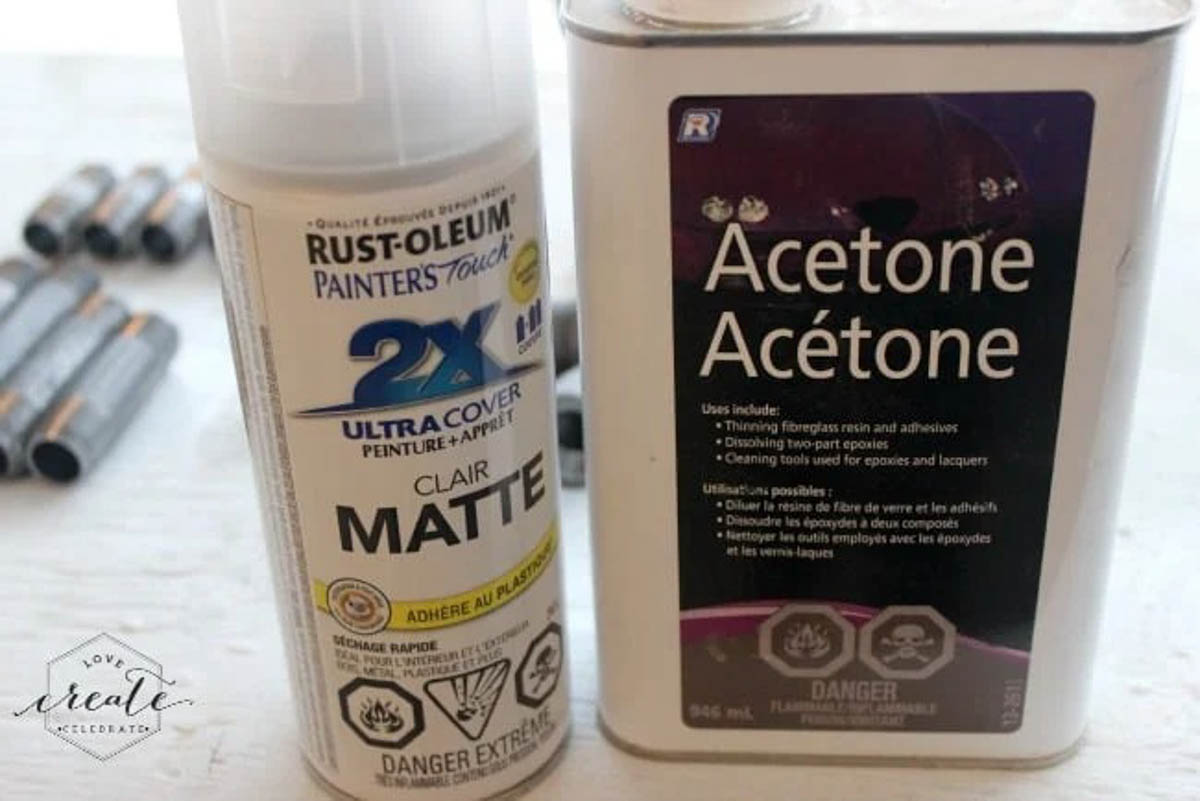 Instead of describing step-by-step which pieces I added, I'll show you some close-up photos to tell the story. Just follow the photos to piece everything together :)
You want to start at one end and move on from there. For my piece I started a this back end cap (top right in photo below), and slowly added and tightened one piece at a time.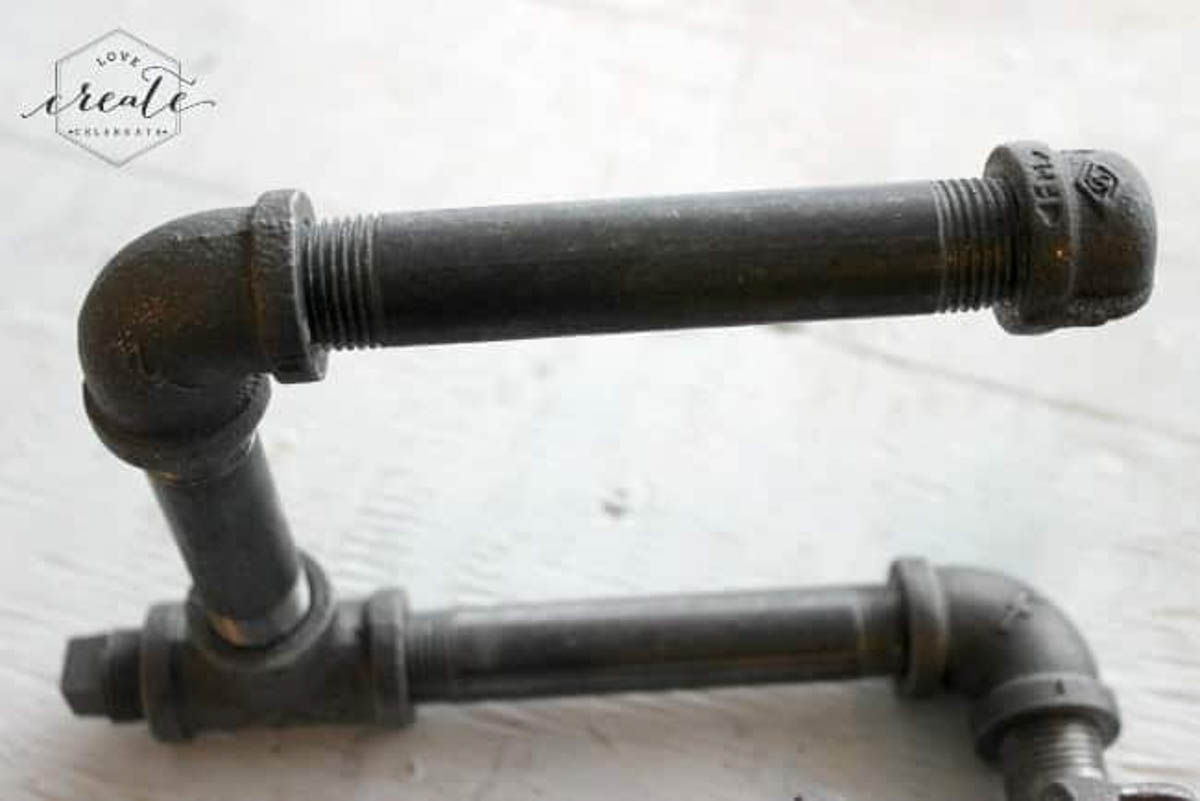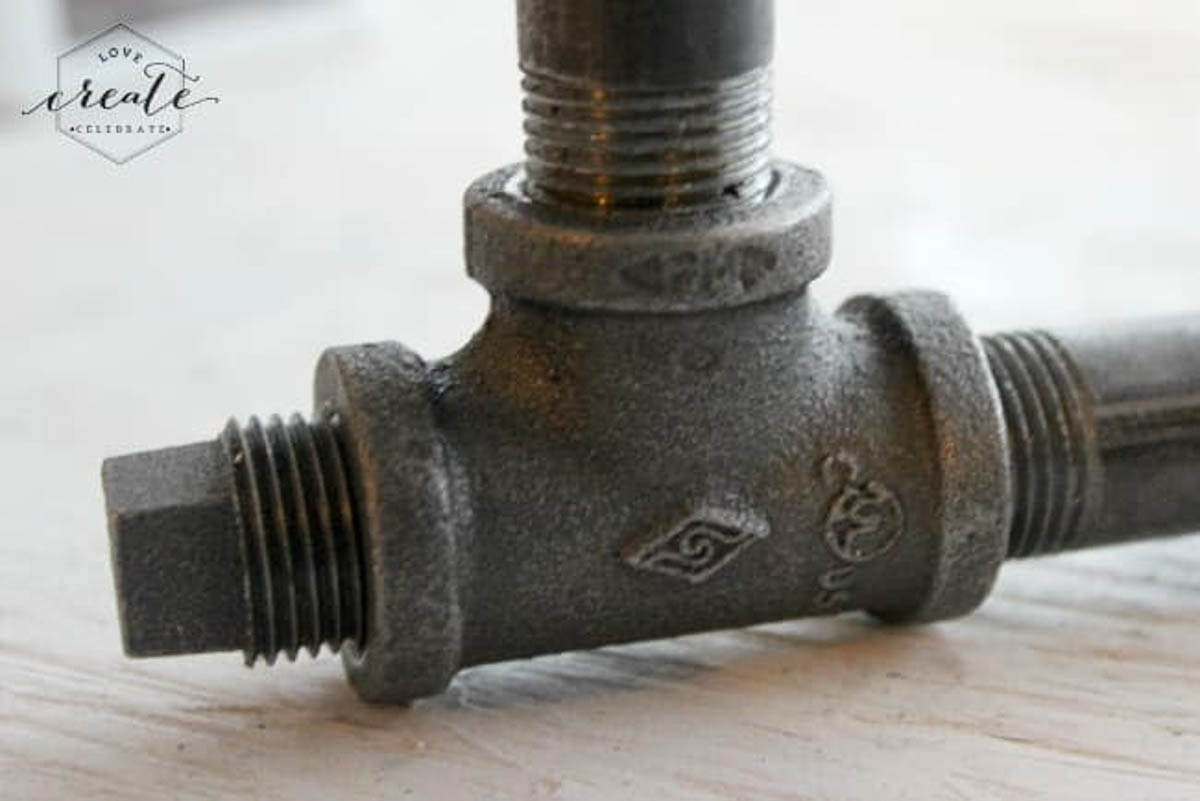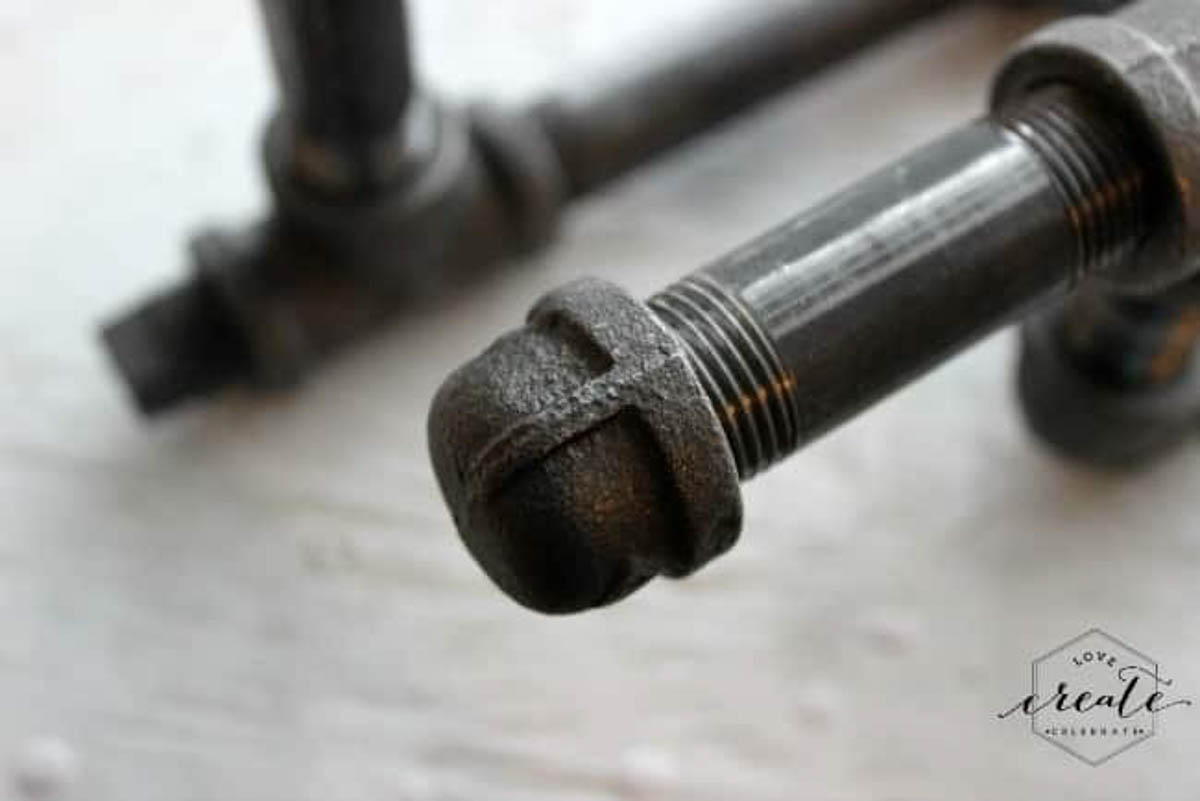 This whole watch holder DIY only took me an hour or two to build and clean – so fast to make. And bonus, it's a masculine gift he may actually like!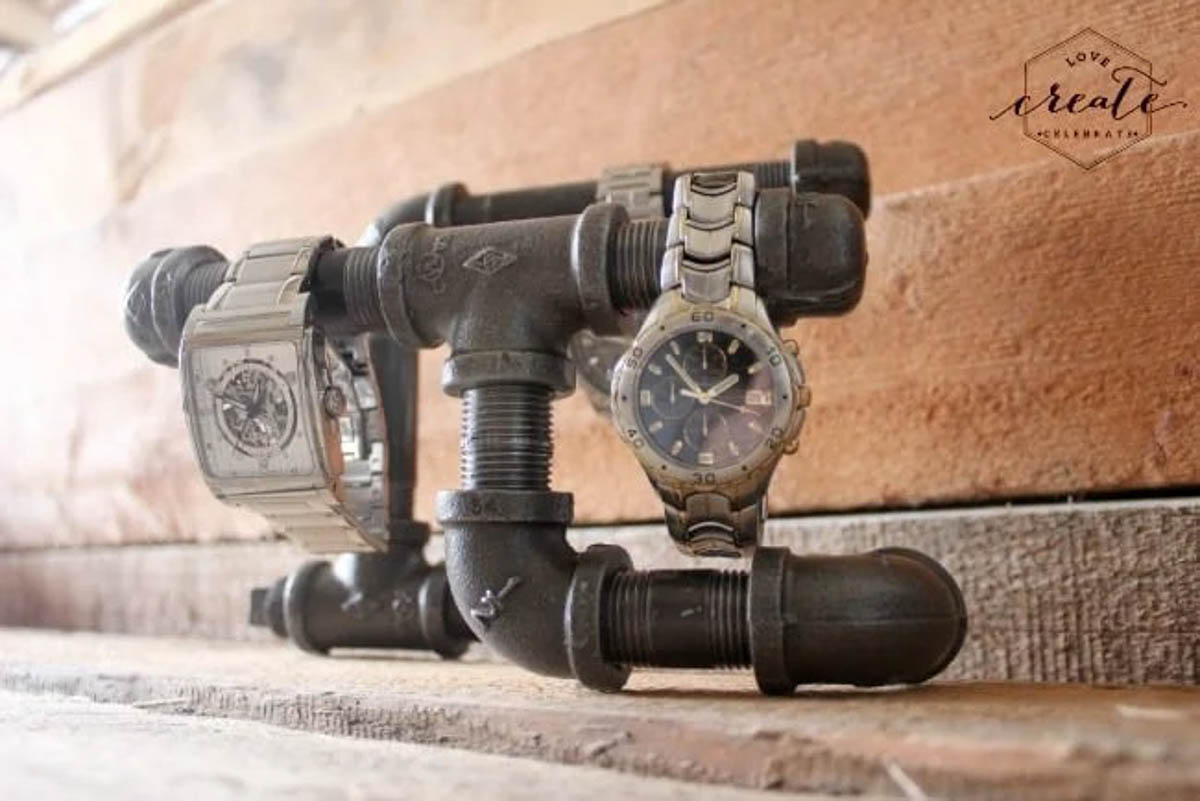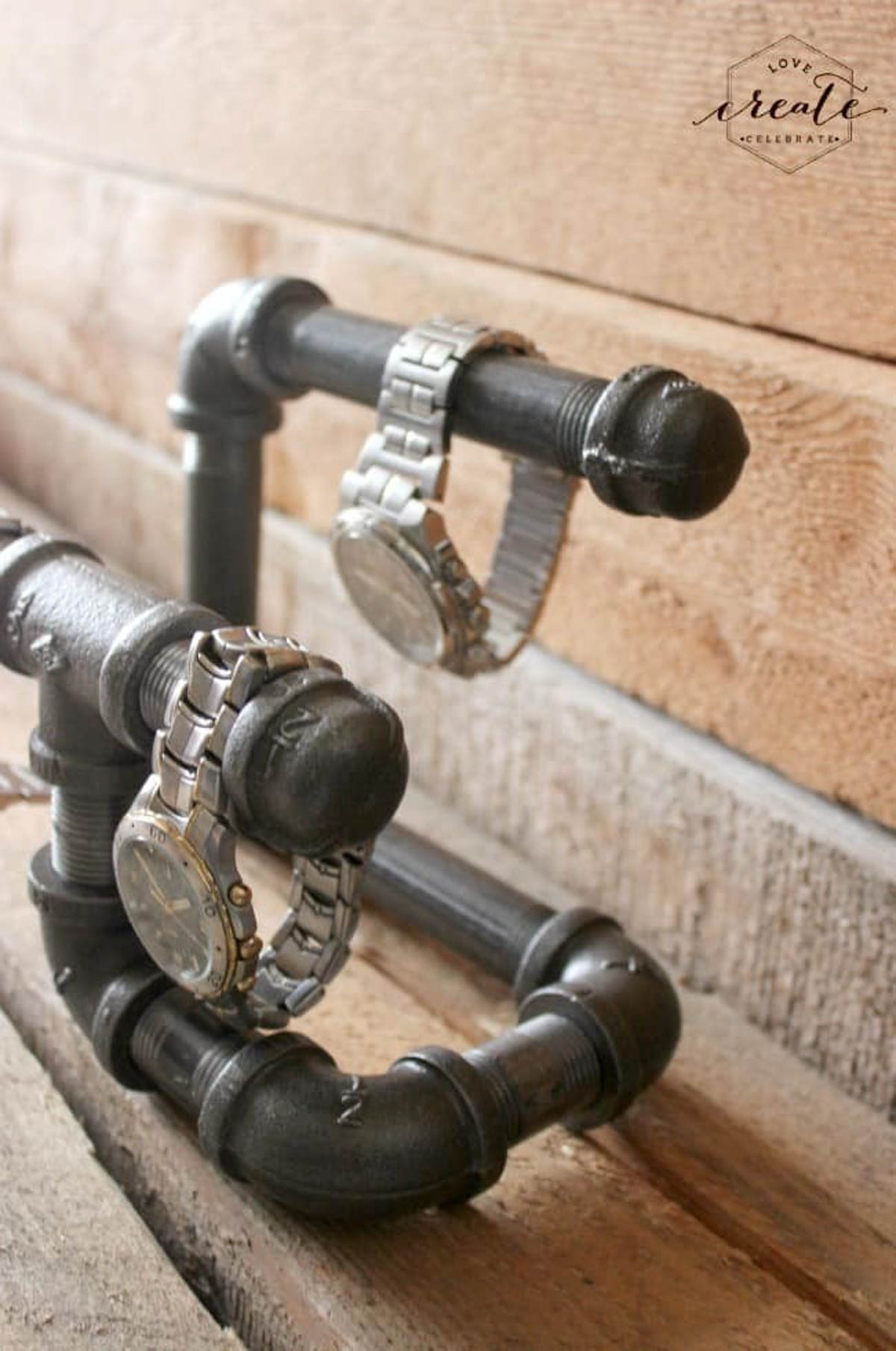 If you're looking for more great Gifts for Him, you may like some of these: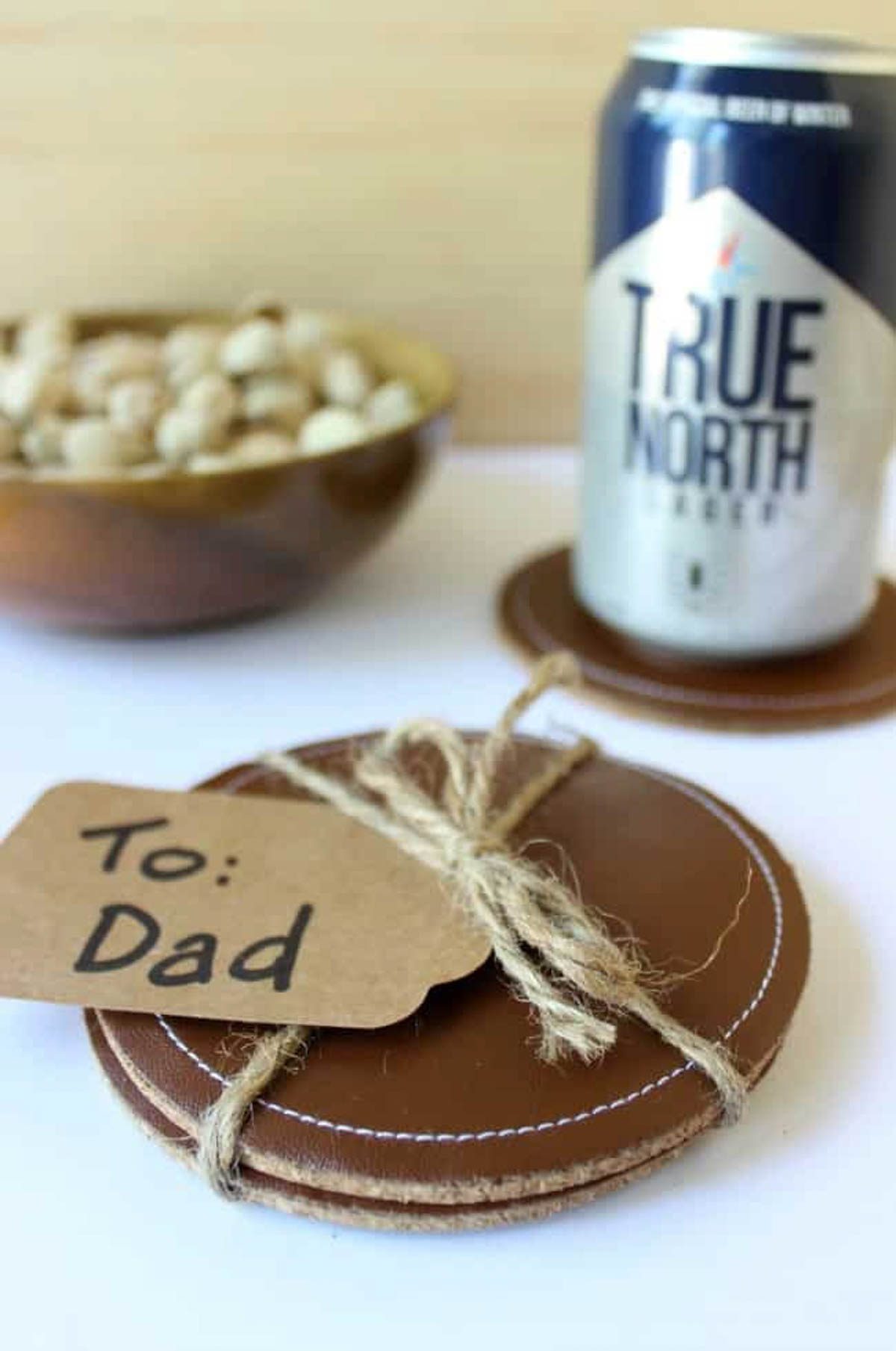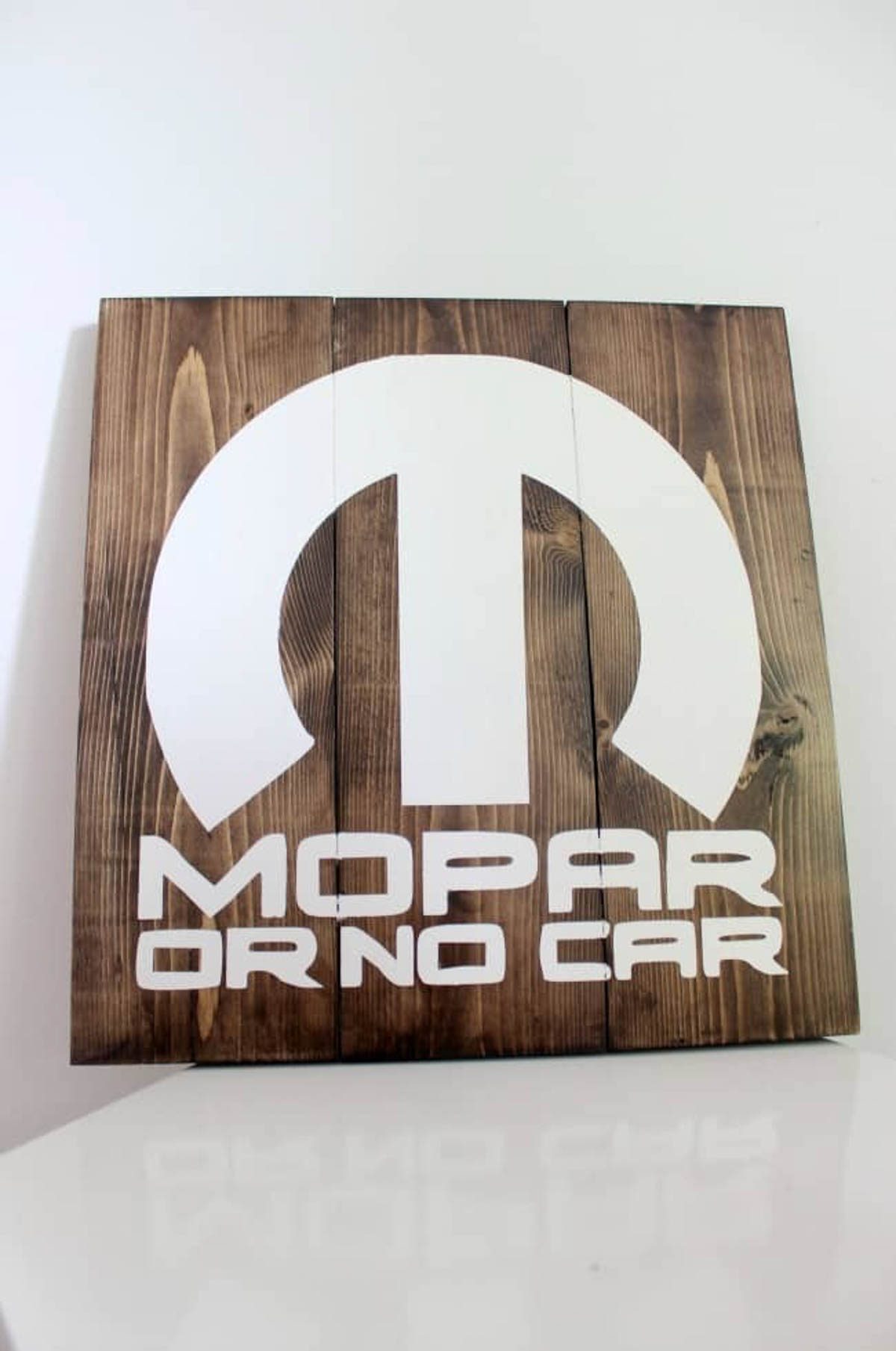 Now it's time for some more DIY Christmas gift ideas from my Canadian blogging friends. Get ready for some wonderful handmade gift inspiration for your holidays!
From the top, they are:
DIY Maple Candle (A Roots Knockoff) from Vin'yet Etc.
Homemade Candied Citrus Peel from Personally Andrea
Hand Lettered Ornaments from Lemon Thistle
Christmas Breakfast Gift Basket from Craftberry Bush
Homemade Apple Cider Vinegar from Sustain My Craft Habit
Cashew Coconut Brittle from Life Is A Party
DIY Serving Tray for the Coffee Lover from DIY Passion
DIY Cookie Cutters from PMQ For Two
Christmas Cupcake in a Jar from The DIY Mommy
DIY Growler Carrier With Dry Erase Label from Hello Creative Family
DIY Wood Slice Ornaments from The Sweetest Digs
Galvanized Letter Tree from New House New Home
DIY Animal Bookends from Lifeovereasy
Industrial Watch Holder from Love Create Celebrate
DIY Gifts for the New Mom from Fresh Crush
Homemade Barbecue Spice Meat Rub Gift from Time With Thea