Love the look of black window frames? If you want to paint your own, here's one quick and easy DIY tutorial! Get the beautiful modern black windows for any interior room!
We've been living with our newly renovated Kitchen for just over a month now and I'm still in love with the changes we made. So far everything has held up beautifully! One of the biggest changes we made in this space was our DIY painted black window frames!
We did our entire kitchen makeover in just one weekend, including new tile, DIY painted countertops, and theses black window frames and all of the changes were 100% worth it!
*The spray paint in this post was provided by Rustoleum. This post may contain affiliate links. When you buy a product through one of my links, I get a commission at no cost to you! For more information, see my disclosure page.*
My husband and I debated this "black window" idea for quite a while, lol. He had some valid reasons for not wanting to paint the window, primarily questioning whether or not it would last, but I knew that it would look amazing with a black window frame – so we went for it.
In a few years, we plan to add an addition to our home. When we do that, three of our current windows will no longer look outside, so we are planning to use these windows in our new garage in the addition. My husband's main concern with painting the kitchen window, is that it wouldn't match his other windows – he didn't want one black window and two white ones. So we set out to find a temporary solution that looked nicer than duck tape stuck on the trim. Our solution was Rustoleum Peel Coat Spray Paint!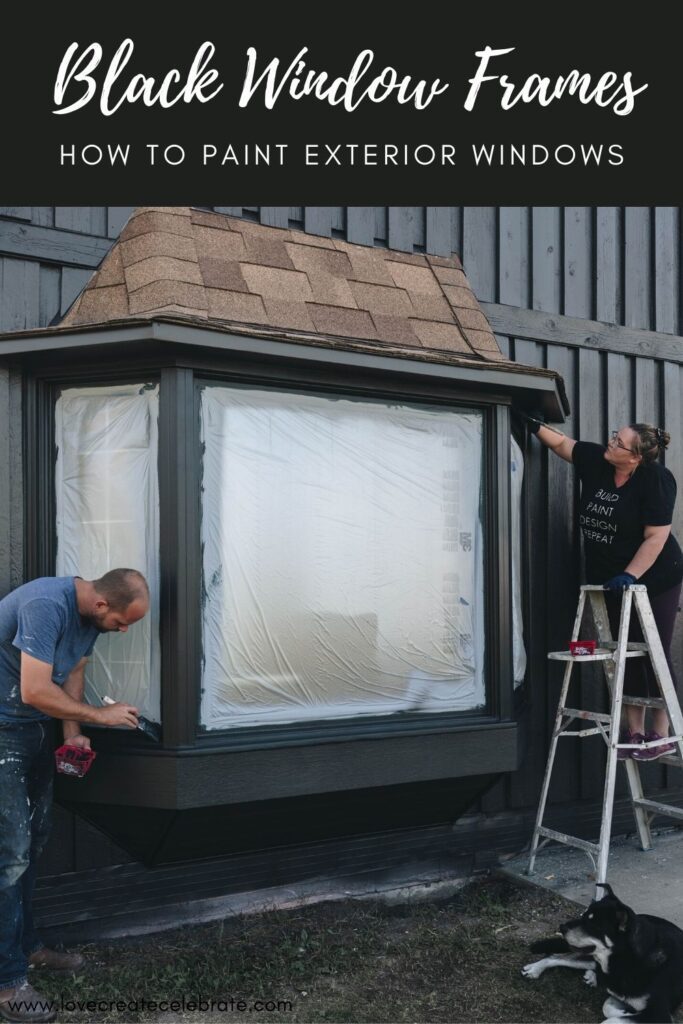 How to Paint Exterior Window Frames
The method we used to paint our window frames black here is different than the method we used on our exterior windows a couple of years later.
We did an entire exterior makeover, including painting the house and window frames. We shared a great tutorial on how to paint exterior window frames black, and gave a ton of tips for both vinyl and wood window frames.
For the exterior frames, we needed something that would withstand wear and tear, and the weathering, and that would allow us to open and close the windows properly, so we used a special formula of Sherwin Williams vinyl safe paint.
Check out all of our info on exterior window painting, including all of the things to consider BEFORE painting your window frames, and the special formula we used to get a black colour!
How to Paint Your Own Black Window Frames
For this indoor window frame project we were painting a window frame that we honestly don't typically open and close often, so we weren't concerned about the slides.
Materials Needed
Here's everything we used to paint our window frames:
Painter's tape
Plastic Film / Drop Sheets
Steps for Painting Window Frames Black
The first step was to tape off the area that was getting painted. We wanted to make sure everything from the counters to the window trim was protected because spray paint can cause some significant overspray.
The Peel Coat spray paint we chose to use is one that you spray on, and then can peel away at any time. This is not a window that we ever open.
If you do open and close the window a lot, you would want to consider painting everything except the slides (where the window moves back and forth), because that part painted would likely peel away over time anyway. You could also try the vinyl safe paint options we used on our exterior windows which may be longer lasting.
For us this was the perfect temporary solution for a window we don't often use.
Because I was pregnant at the time, my husband graciously did all of the spray painting for me. It took two coats to get the frame covered beautifully.
As soon as we peeled back the plastic and tape I knew we had made the right choice! The black frame looked stunning in the kitchen! Especially after the kitchen got it's beautiful weekend makeover!
Painted Window Review 2 Years Later
The next question on everyone's mind is, "Did it last?" and I'm happy to report that it did! Below is a photo of our kitchen over 2 years after we first painted the window, and although you can't see the whole window, you can definitely see enough to know there it has held up really well!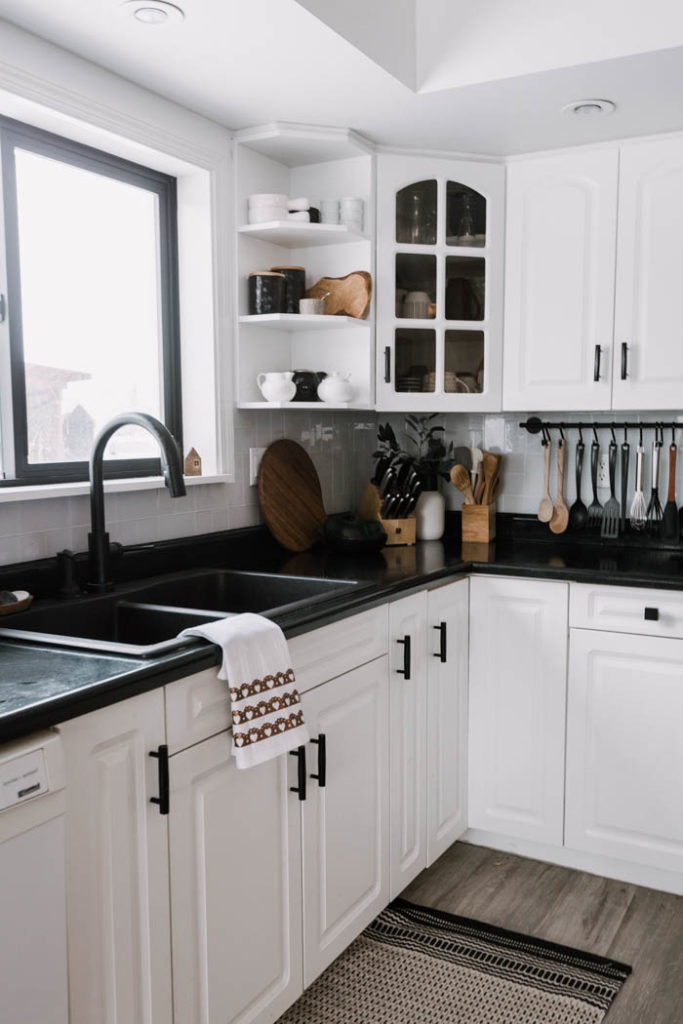 We did try to open the window a couple of times, and as predicted, it did scratch in the areas where the slides are. Other than that, the peel coat has held up really well, has cleaned beautifully, and still looks crisp and clean!
If you're wondering how anyone can renovate a room in just ONE WEEKEND, you'll have to check out this KITCHEN MAKEOVER!
*This post was originally published May 28, 2018 and has since been updated.