An easy family recipe for snowman cake pops. A fun and delicious treat to enjoy with family and friends during the winter season.
Do you have any traditional desserts you make during the holiday season?! Last year, I shared my Grandma's famous Bark recipe, which I make every single year. But I also like to break away from our traditions and try new recipes. These days, I'm especially looking for recipes that my kids will enjoy making and eating with me! That's why I chose to try making some Snowman Cake Pops this year.
Let me tell you… you will NOT regret putting these guys together! The first time I made these, my children were definitely too young to help with putting them together (imagine icing all over the kitchen! lol). But they absolutely loved eating them.
Not that my kids are a bit older, I try to do all of my holiday baking with them and these are definitely something they can handle now.
How to Make Your Snowman Cake Pops
I started by making the cake pops using this recipe from Wilton. This is the best cake pop recipe I've come across, so I'm not going to reinvent the wheel here! I'm just going to show you how I transformed these delicious guys into snowmen with a few of my secrets.
Once you have your cake baked, and mixed with the icing, forming perfect cake pop spheres is always a challenge, but it's much easier when you are making your cake balls into snowballs.
The great thing about snowmen is that the snowballs are never perfect! No need for perfection when making these ones. Just try to make one half of your snowballs a bit larger than the other have (for the bottoms and tops).
When it came time to add icing to the snowballs, I used a couple of spoons to help me rolls the cake balls, and then carefully scooped them out with a spoon and placed them onto the parchment.
If you put your parchment sheet right in the fridge they will cool much faster. I just opened the fridge door every time I wanted to add a new ball so that they could continue cooling while I got the next one ready.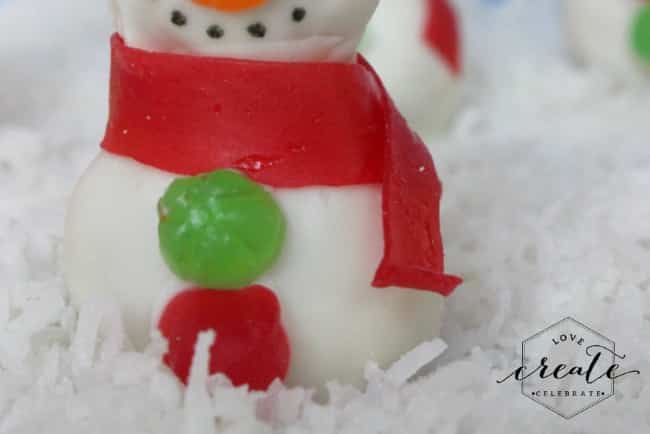 Candy Details
I used a little bit of melted icing to attach each of the candy pieces; from the fruit-by-the-foot scarf, to the jube jube buttons, to the Rolo and dark chocolate melt hat!
Each time I added a candy, I did the same thing as above, and popped it into the fridge to set. They will generally set very quickly in the cooler fridge temp than on the counter.
I added one candy at a time, and then used an edible marker to add dots for the eyes and mouth.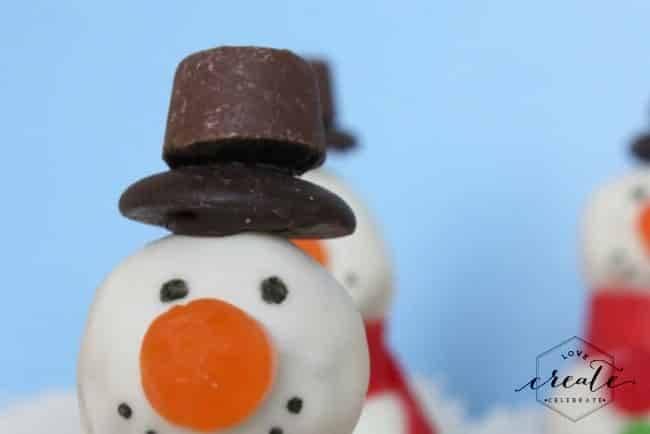 This recipe does require you to plan ahead. You need time to bake the cake, two hours to allow everything to set, and then time to decorate. The end result is well worth it though!
Recipe Printable
For those that like to print a hard copy, here is the full snowman cake pop recipe:
Snowman Cake Pops
Total Time:
2 hours
5 minutes
A fun and delicious treat for the winter season to enjoy with family and friends.
Ingredients
1 box cake mix
1 box of instant pudding and pie filling mix
4 eggs
1 cup water
1/3 cup vegetable oil
1/2 cup of ready-to-use icing
1 bag white chocolate candy melts
1 bag of dark chocolate candy melts
Mini rolos
1 pkg of fruit roll-up snacks
Orange, red, and green mini jube jubes
Black edible decorating pen
Instructions
The initial cake balls are given as per the Wilton Cake Ball Recipe (http://www.wilton.com/recipe/Cake-Ball-Pops). Preheat oven to 350°F.
Spray one 13 x 9 x 2 in. sheet pan or two 8 in. or 9 in. round pans with vegetable pan spray.
In large bowl, combine cake mix, pudding mix, eggs, water and oil; beat at medium speed with electric mixer 2 minutes. Pour into prepared pan.
Bake 30-35 minutes for round pans; 35-40 minutes for sheet pan, or until toothpick inserted in center comes out clean. Cool in pan 10 minutes; remove from pan to cooling grid and cool completely. Divide cake in half; freeze one half for future use.
In large bowl, use hands to crumble cake until no large chunks remain. Add icing; mix with fingers until well combined. Form mixture into cake balls. Chill in refrigerator at least 2 hours.
Melt Candy Melts according to package directions. Wait until candy is completely firm before dipping the pops completely in melted candy melts. For my snowmen, I tried to form two different sizes of cake balls (1 for the top and 1 for the bottom).
Once the cake pops have cooled for two hours, you want to melt a small amount of the chocolate melts to stick everything together. I began by dipping the top cake ball into the melted chocolate, and then placing it on top of the bottom cake ball. Each time I finished one, I put it back into the fridge to cool quickly.
Once the snowman is assembled, dip the jube jubes into the icing and stick them onto the snowman where you would expect the buttons and nose to sit. Then I cut my fruit roll-ups into strands and used a dot of icing to help them stick to the snowmen as well.
Next, melt the dark chocolate melts and dip the rolos into it, before sticking them to an unmelted dark chocolate wafer to form the snowman's hat. Then use another dab of the dark chocolate to stick the hat to the snowman.
Finally, draw eyes and a mouth onto your snowman using the black decorating pen. Enjoy!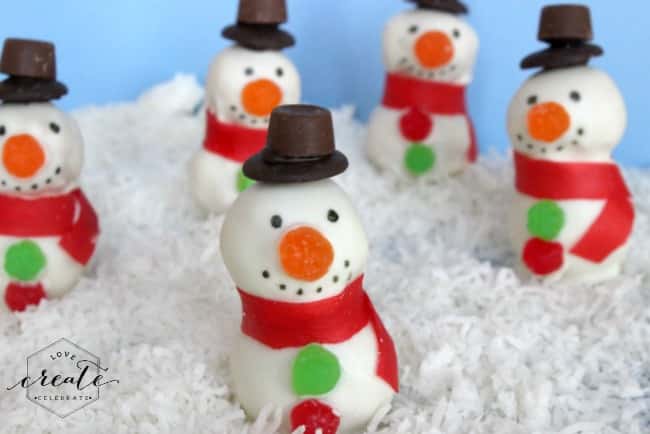 When the snowmen were done, I chose to place them in some coconut to look like fake snow. You could easily do this on a cake stand if you were displaying them for friends, kids, or a party. I hope you enjoy your snowman cake pops as much as we did!
I'm sharing this recipe as part of the Ultimate Cookies and Goodies party. Follow the link and enter for your chance to win some Paypal cash!!
And if you haven't had enough Holiday Goodies, check out these recipes: