*This post contains affiliate links. More more information, please read my disclosure policy*
Welcome to week four of the amazing One Room Challenge! This six week challenge, hosted by Calling It Home, is encouraging bloggers to completely redecorate a room in their homes in only six short weeks! My husband is helping me tackle my daughter's Big Girl (aka "Toddler") bedroom, and so far it's been an adventure! If you want to catch up, you can read about my Big Girl Bedroom Design here, our first week of projects here, and our Most Productive Week Ever here! Week four was all about the details :)
Have you ever tackled crown moulding?! It always, always looks beautiful in a room. I would never, ever have expected my husband to do crown moulding in a room, but he wanted to. I swear it was his idea! Who am I to stand in his way?! lol.
So he got to work! He measured walls and angles, and cut, and measured, and cut, and measured, and cut some more. It looked like a VERY frustrating job, but he did it. He figured out those frustrating crown moulding angles and he finished the moulding around my daughter's entire Big Girl Bedroom. I couldn't be happier with how it turned out! It looks SO amazing!
On top of that, he also put beautiful mouldings over top of the window, the bedroom door, and the closet door. This room started looking like a million bucks that afternoon!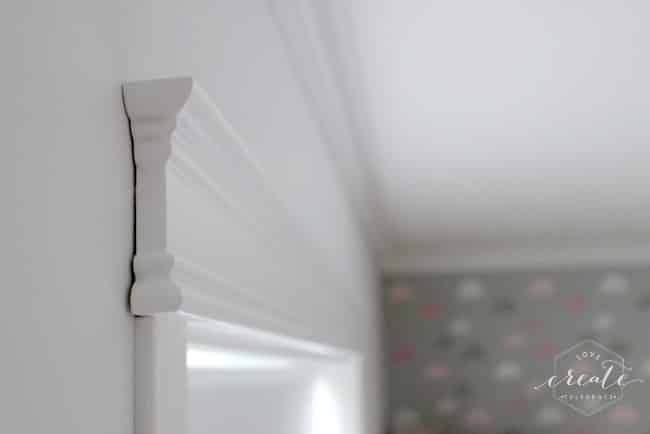 While he was on a solo mission to tackle the crown, I wanted to do my own woodworking project, so I decided to make some hooks for my daughter's little coats and backpack. Last week, I discovered that our room was taking a turn for the whimsical, and I decided to stick with that theme here.
I cut the shapes of some of the animals my daughter loves (i.e. birdie, owl, and butterfly) out on the scroll saw, painted them, and hung them up. A full tutorial will follow soon with better instructions, but here's a peak at how they look in the bedroom:
Finally, we decided to hunt down a light fixture this week. We had originally bought a drum pendant light with lots of bling on it, but once I saw it in the room, I knew it was the wrong light for the space. So my husband returned it, and I googled some cheap alternate lights. Since I wanted something that was within budget, and was easy to pick-up or ship, I limited my search to Target, Ikea, and Wayfair.
Here are 9 Pendant Lights I liked and debated on for our little girl's room:
Circle Pendant Lights – 1. Wayfair, 2. Ikea, 3. Target
Drum Pendant Lights – 4. Wayfair, 5. Wayfair, 6. Target
Chandeliers – 7. Wayfair, 8. Target, 9. Ikea
ALL of these lights are amazing! Just depends on how casual, or princessy you want your bedroom to be. Since we have been moving in a more whimsical direction, I decided on light #2 for our space. Can't wait to show you what it looks like!
Here's how we're doing with our lengthy six week "to-do" list:
Paint walls (including closet walls)
Paint baseboards, main door, and closet doors
Paint stencil feature wall
Purchase and install closet organizer
Cut, install, and paint crown moulding
Find thrifted dresser and re-paint/re-design it
Find thrifted mirror to re-paint
Purchase and assemble bunk bed
Find/make pastel accessories
Sew curtains
Sew duvet cover, pillow cases, and throw pillow covers
Find light fixture
Create art work for DIY gallery wall
Find a chair for her/me to read in
Find rugs for space
Make DIY bedroom hooks
Possible DIY night stand
Possible DIY bookshelf
For more inspiration, take a peak at my Kids Rooms Pinterest board.
Make sure to check out the other amazing room transformations at Calling It Home now!