15 gorgeous modern bathroom designs you will love! Full bathroom remodel ideas with details and inspiration for your next bathroom project!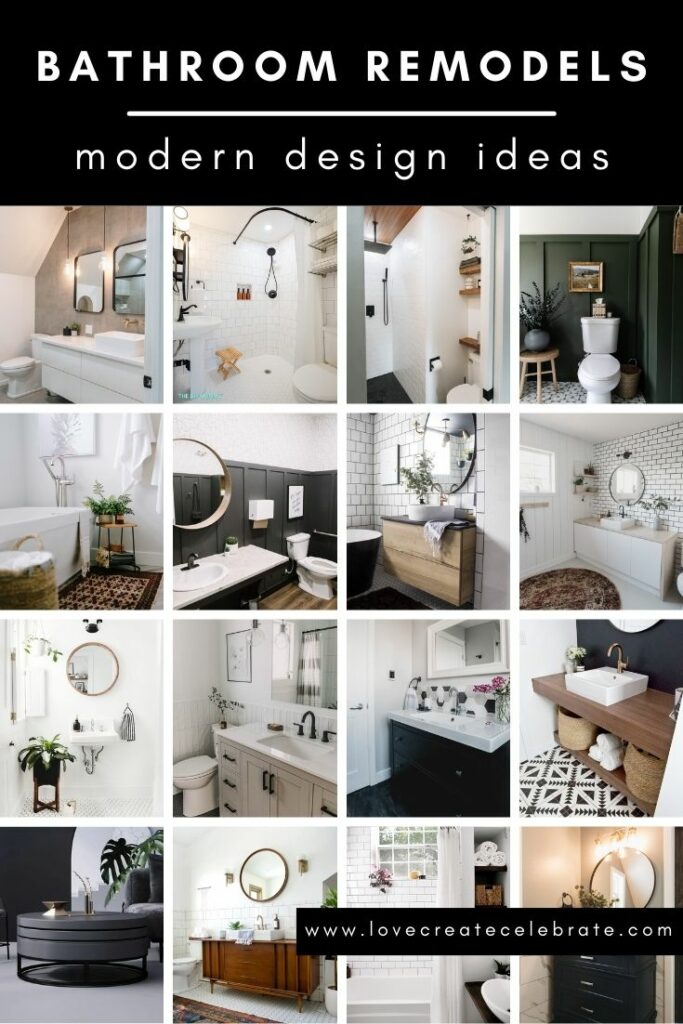 Do you have bathroom renovations on the brain? As a team, we have designed and renovated quite a few bathrooms! There are a lot of different bathroom design elements that we like
A lot of people think modern design is cold and stark with no personality. This just isn't true. In today's design world we are mixing design styles together to make beautiful, relaxing spaces that function and look amazing. Modern bathrooms are no exception.
Elements of Modern Design
Basic elements of modern design include clean, sharp lines, and simple form and function. It is a stark constrast to the antique and ornate elements of the traditional design styles that came before it.
How do you know if a bathroom has a modern design theme? Besides the look and feel of sleek cool lines and simple colour palates with neutral tones, modern design elements often go hand in hand with organization. A well-organized space with minimal décor clutter and clever storage solutions screams modern bathroom design.
Modern design elements are often accented with key features of other design styles to create variations of those styles. For example, Modern Farmhouse, Modern Coastal, Modern Boho, Modern Industrial, etc.
Here are 16 beautiful modern bathroom remodels that will have you heading to the home improvement store to start your own bathroom renovation.
Modern Bathroom Designs to Inspire You
16 Gorgeous Modern Bathrooms Designs
16 gorgeous modern bathroom designs you will love! Full reveals with details and inspiration for your next modern bathroom makeover project.
Are you inspired to start your own modern bathroom makeover? Remember, adding wood tones and patterns will instantly warm up your modern space.
For more DIY home decor ideas check out these 10 Budget-Friendly Home Decor Ideas