January is upon us! Do you have the itch? You know… the one we all get every January after the Christmas clutter disappears? The itch to start organizing and cleaning ALL THE SPACES. I've got it, and sorry, it's contagious. But I'm being proactive this year and sharing some stylish organization ideas. I'm talking beautiful ways to manage the clutter and functional ways to live with the day to day "stuff".
Stylish Organization Ideas:
Lets start with your kitchen. This is one of the most used rooms in the home and it has to be functional. This is anything that can be easily stored or put away, and yet still easily accessed.
The obvious is beautiful open shelving. Organize your dishes and storage jars in a way that is beautiful and functional.
Splurge on some matching utensils and store them by your range on a beautiful utensil bar or simple glass jar.
Of course, whenever possible, declutter all of those countertops by storing everything neatly in cupboards and drawers.
And if you can't keep your counters totally clean (heaven know I can't!), try installing some file folders on the side of the counter for all those miscellaneous papers, or using a stylish basket or tray on the countertop so that you can quickly gather up the counter mess.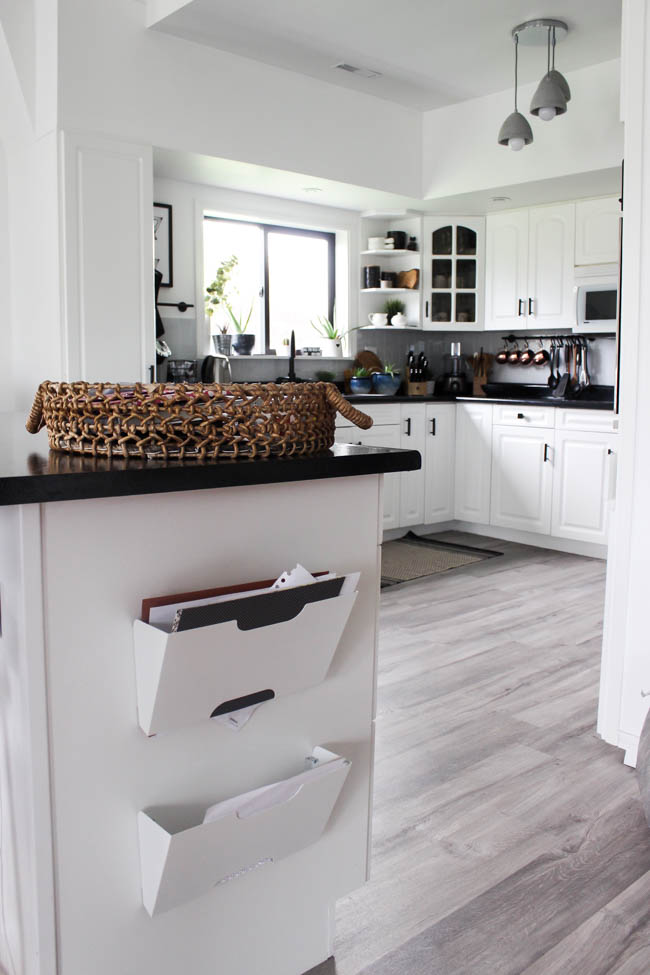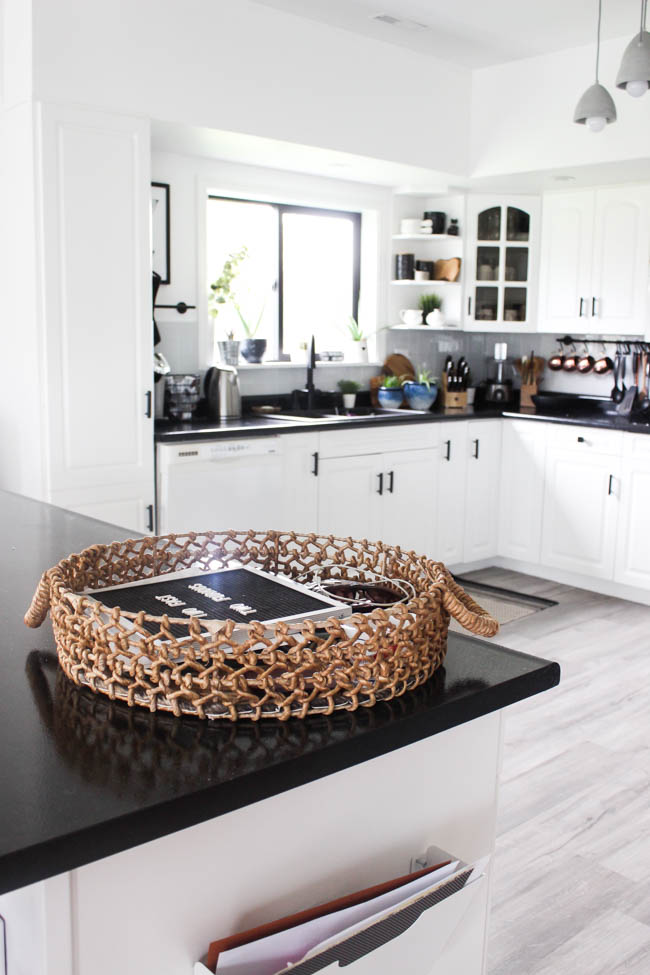 Let's move into the bathroom. Items like soap and toothbrushes are a must for the space, but they don't always look that pretty! Keep them looking less cluttered by anchoring them on a tray. I often do this in groups of three with varying heights and usually add greenery too. Floating shelves offer a great place to store away items when space is minimal leaving your countertop free. Conceal and store the not-so-pretty items in baskets so that they are still easily accessible.
Here are a couple of simple bathroom trays to help the counter appear more organized. The first is a simple slate tray to gather items, and the second is a larger tray for those with more everyday items on the counter.
Here's an example of some very functional open shelving to hold towels, extra toilet paper, and some everyday accessories.
Here's an example of using baskets to store items in the bathroom that aren't used every day on the shelves, and an open basket on the floor to easily store toilet paper!
As for the rest of the house, I have three amazing words for you: baskets, trays, & boxes. There are so many beautiful varieties out there, and many of them are inexpensive! Here's a few budget friendly ways to add some style to the rest of your home!
I love how the basket in the corner is used to store extra pillows and linens here!
Use a stylish basket to collect mail in the front entry.
Baskets and boxes can easily live inside or underneath a bedside table to keep the top looking clean, like this teen bedroom.
Stylish boxes can be very inexpensive and hide ugly clutter (like paperwork).
Are you motivated now? I hope you saw something to help you tackle the clutter and organize the chaos!