Love this bathroom makeover! The before and after of this DIY bathroom makeover is amazing! Two commercial hair salon bathrooms in just four days!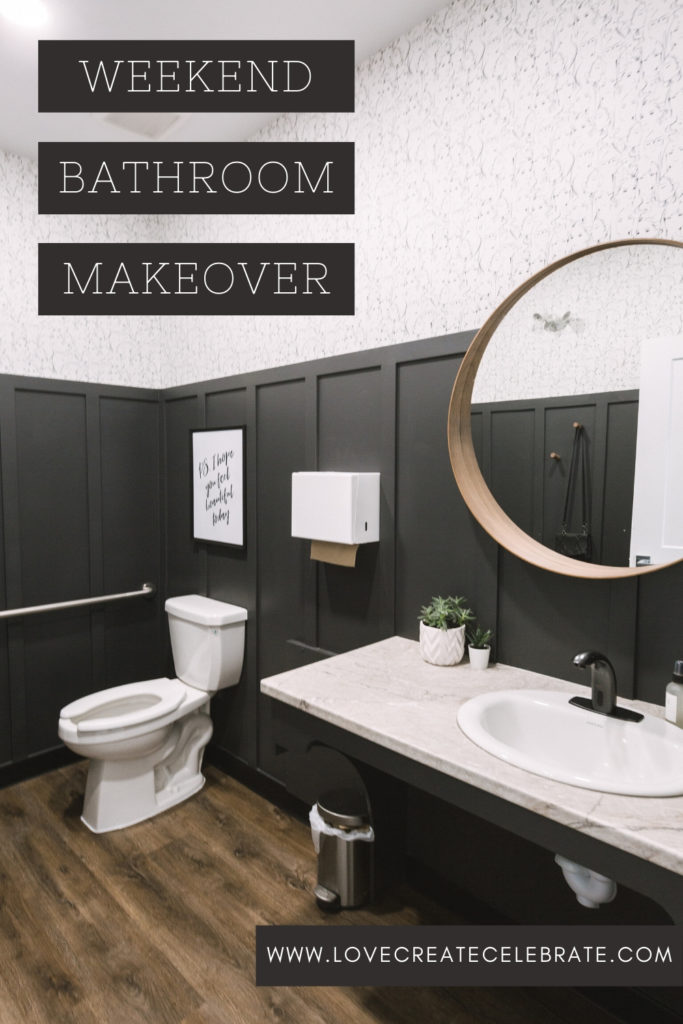 Russel and I have been thinking about venturing into doing work outside of our own home for a while now. So when the opportunity came up to transform a couple of local hair salon bathrooms we were so excited! This wasn't our first bathroom makeover, but tackling a commercial space outside of our home was a whole new challenge that we were excited to take on.
*This post may contain affiliate links. When you buy a product through one of our links, we get a commission at no cost to you! Thank you for supporting our blog so that we can continue to bring you posts like these. For more information, please see our disclosure page.*
The bathroom we took on were in The Headroom – a local hair salon. The hair salon already had an amazing vibe throughout the salon, but the bathrooms were a bit of a blank slate.
White walls, white ceilings, concrete floors, and crates for shelves. There was so much opportunity in there to add some personality into the space!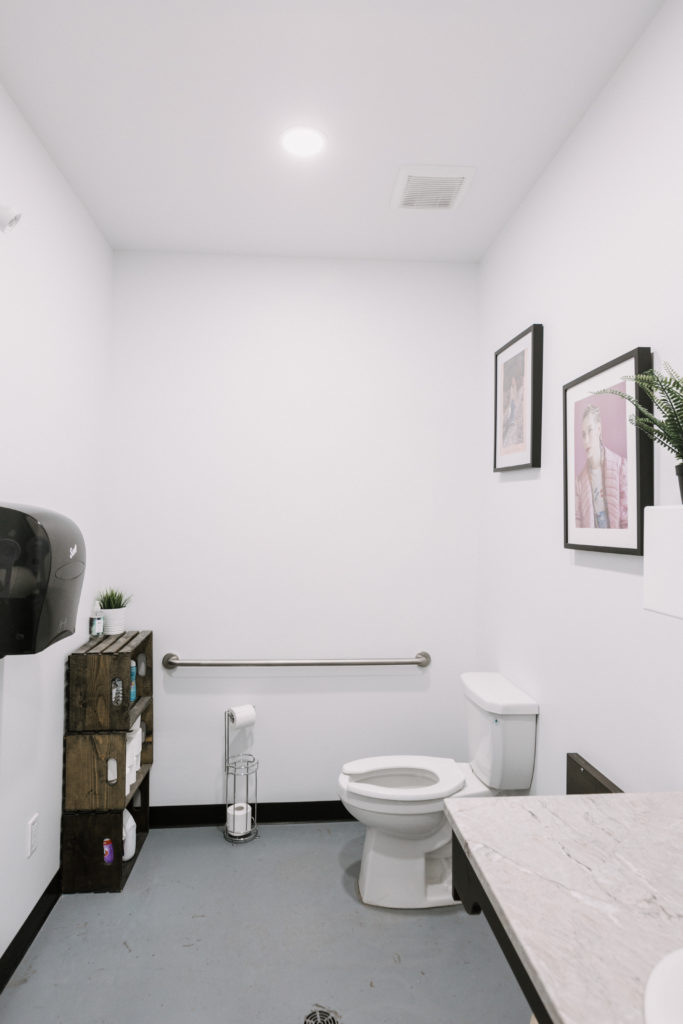 This is the second bathroom we tackled (in the same four days!). It's almost an exact mirror image of the first bathroom, just a little bit smaller.
Bathroom Makeover Design Plans
Before we started the bathroom makeover, we presented the salon owner with a couple of different design ideas. I created two mood boards for her, and this is the one that she choose to move forward with.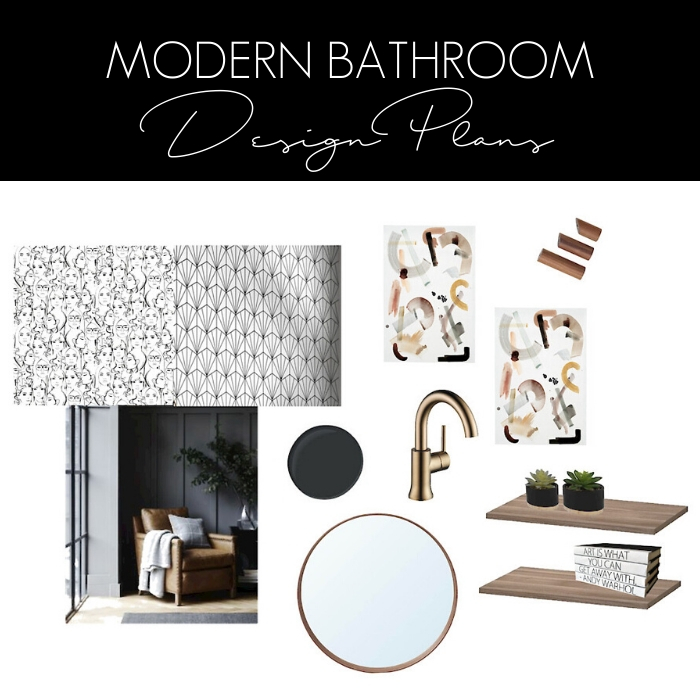 This design featured tall board and batten with a deep charcoal paint colour. A couple of different wallpaper options, some wall art, and some gold and walnut wood accents to warm up the space.
Here are all of the sources for the design inspiration:
DIY Bathroom Makeover
If you want to watch this entire renovation unfold from start to finish you can watch it all here!
TWO bathrooms in just FOUR days! And we taped everything so that you can follow along:
Don't forget to subscribe to our YouTube channel!
Finished Bathroom Reveal
We still can't believe that we finished these TWO spaces in just FOUR days! We put up board and batten, painted, wallpapered, installed custom built-ins, put down flooring and decorated. In just four days!
We may have needed an entire weekend to recover after that, but it was totally worth it! Here's what the finished spaces looked like: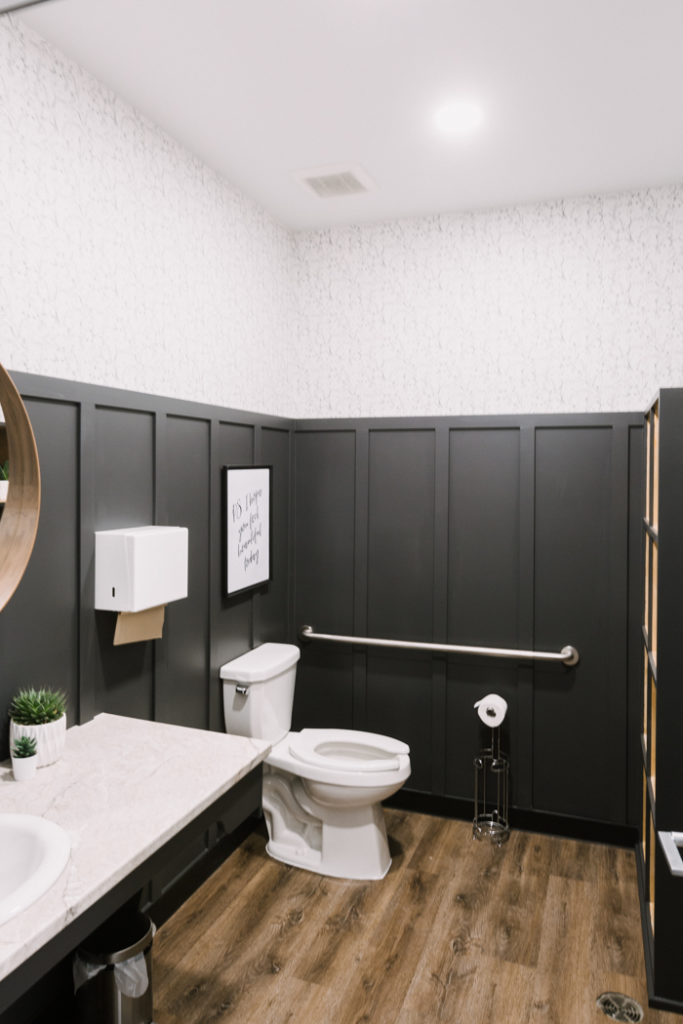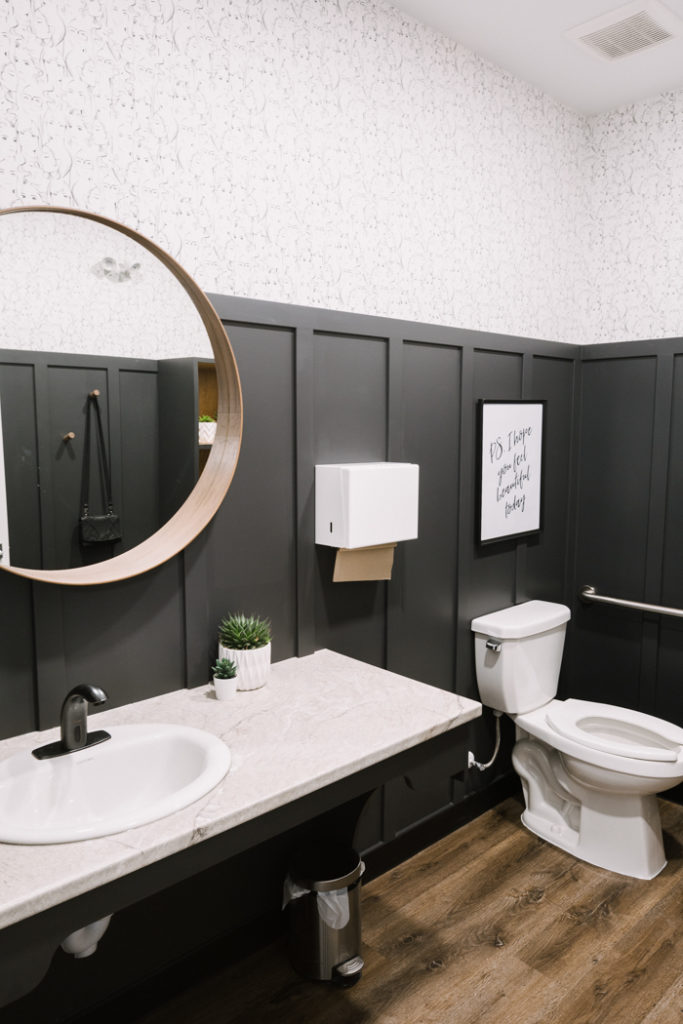 Adding small elements of wood throughout the room really warmed up the space and brought everything together.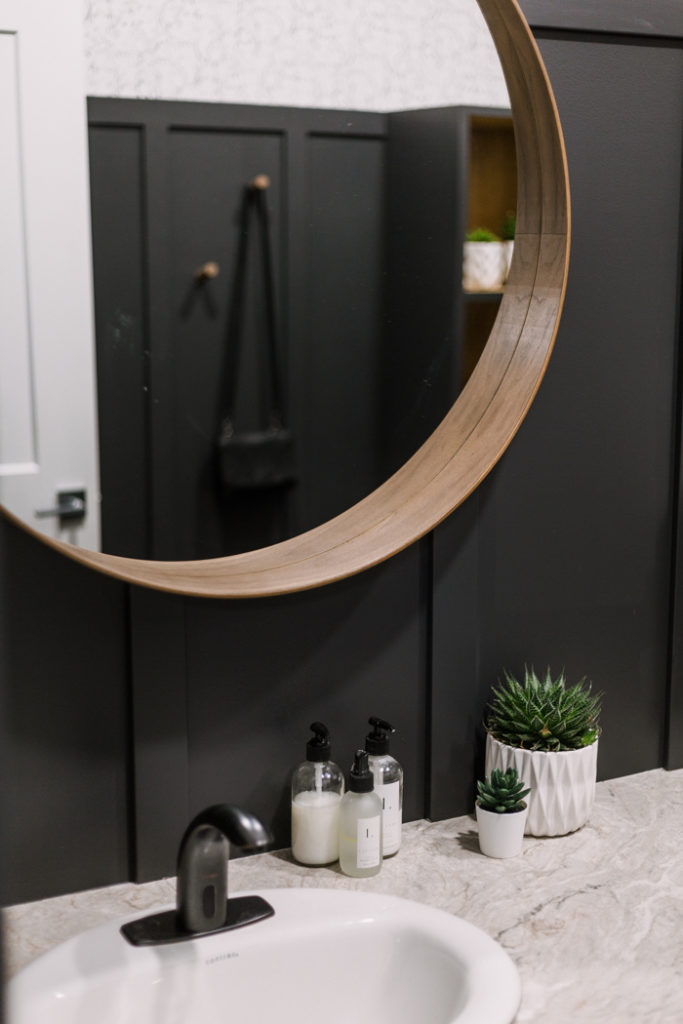 In my opinion, the wallpaper was a home run! It was so easy to install, and is just the most perfect design for a hair salon ever.
The pattern is busy, making it an easy one to use to wrap around corners, etc. But not so busy that it's overwhelming.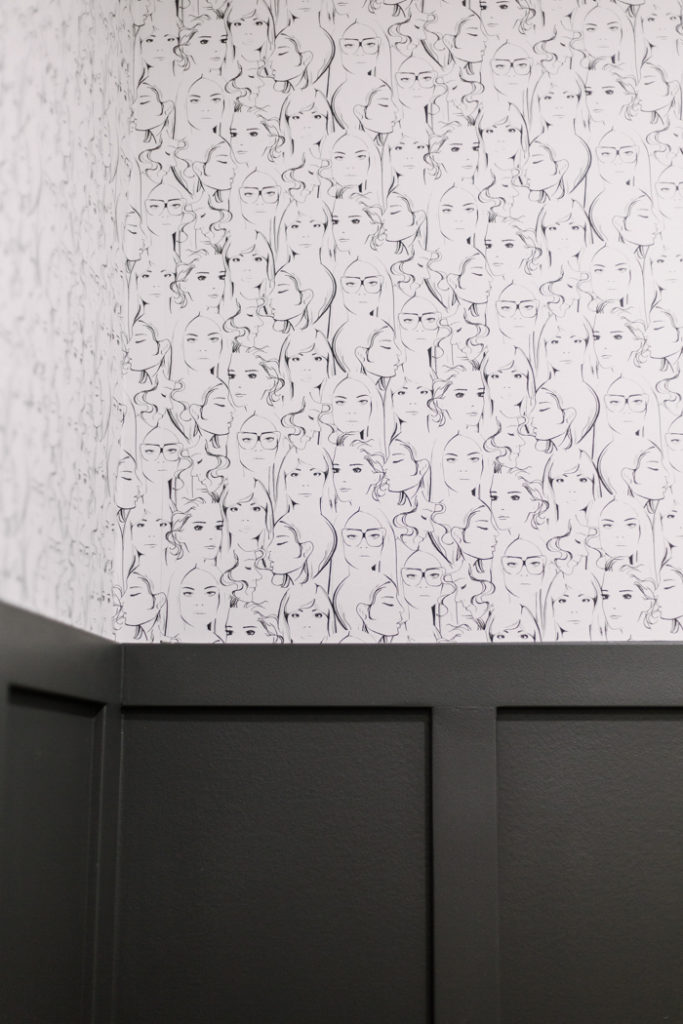 The built-in was a work of art. This guy wasn't made during the four days, but it was transported and installed.
This staff bathroom needed a storage solution, and adding this quick and easy built-in was a simple way for everyone to store the accessories, etc that they need between appointments.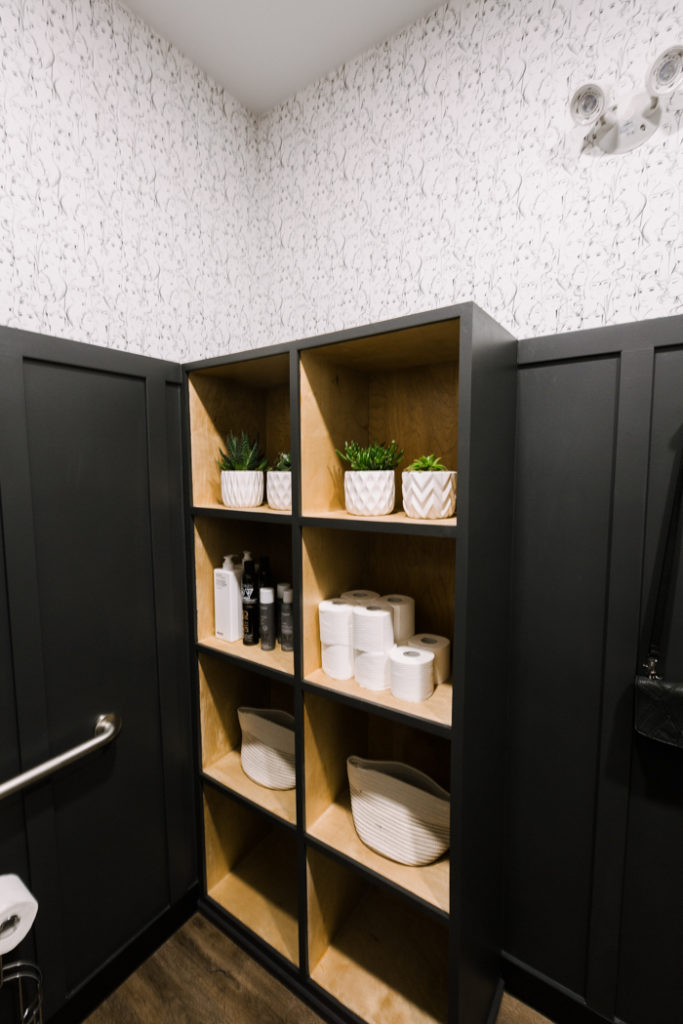 I absolutely love the wood inside and the painted outside to match the board and batten. It all came together beautifully.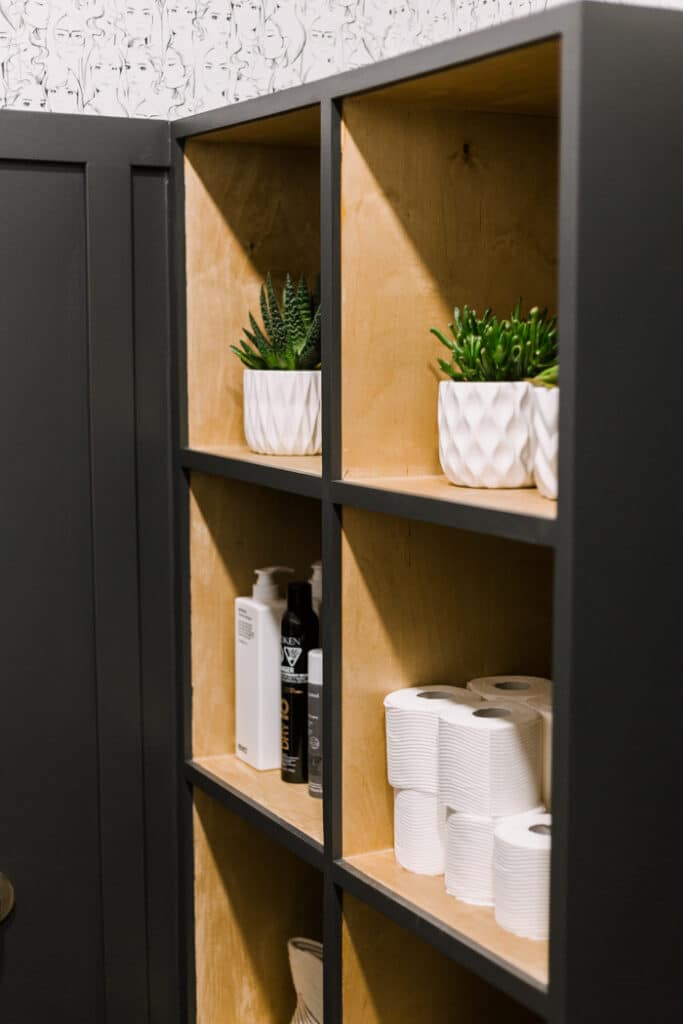 A few hooks for customers to hang their purse or jacket were a must for this commercial space, and these little walnut hooks were perfect.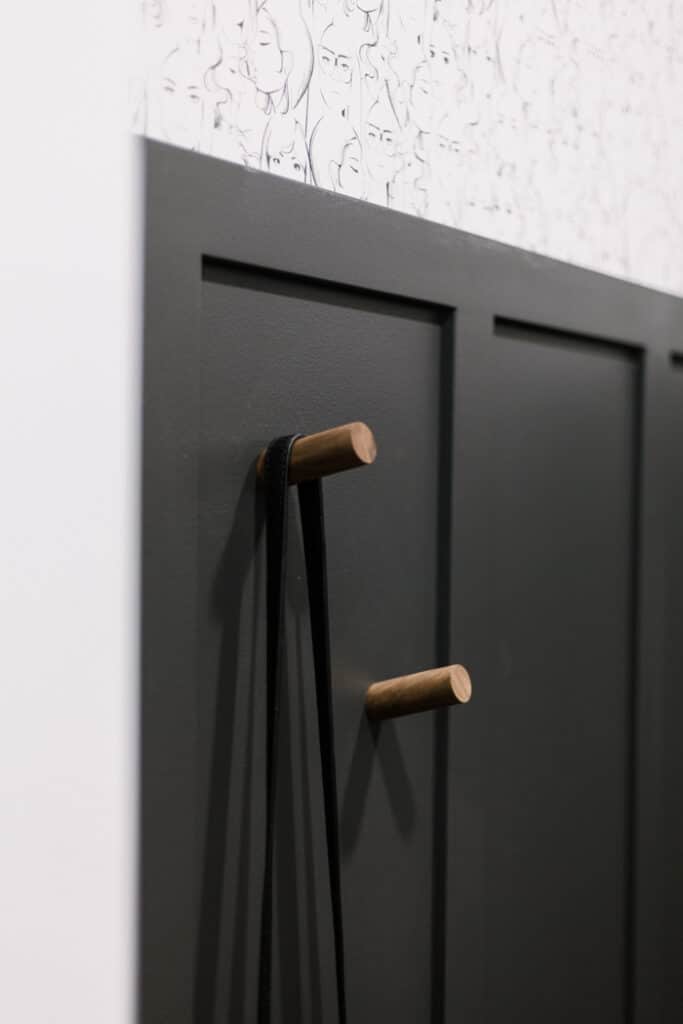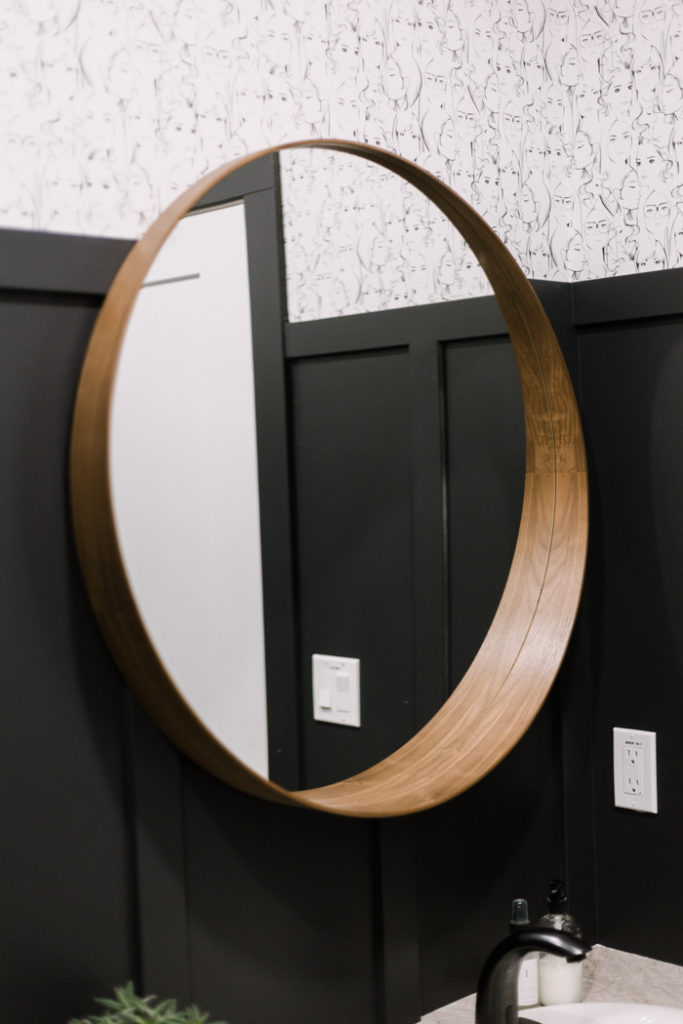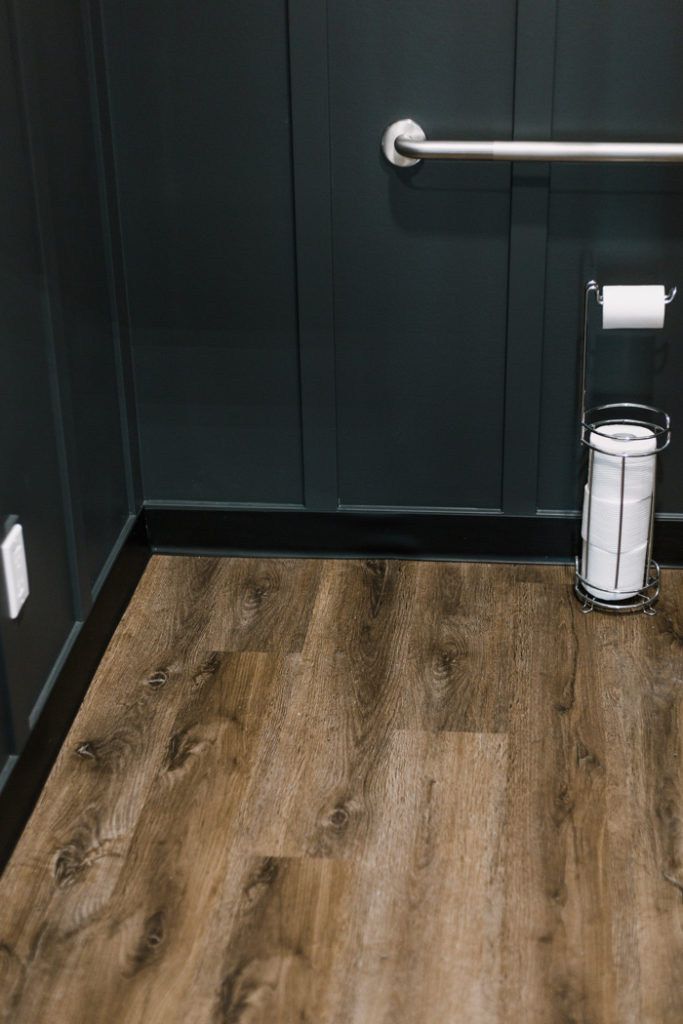 I had plans to add more art to the space, but when it came time to style the space, I didn't want to take anything away from the beautiful board and batten or wallpaper designs.
I decided just to add this one piece above the toilet to balance out the room, and I'm glad I held off there.
The second bathroom is almost identical to the first, but doesn't have the built-in storage as it's a bit more narrow.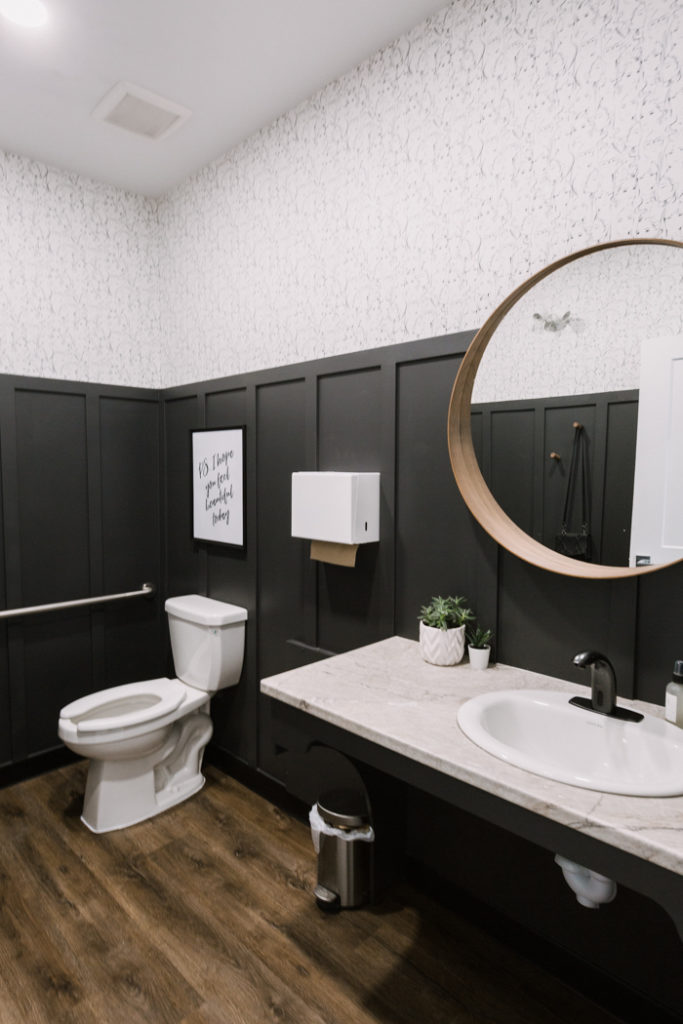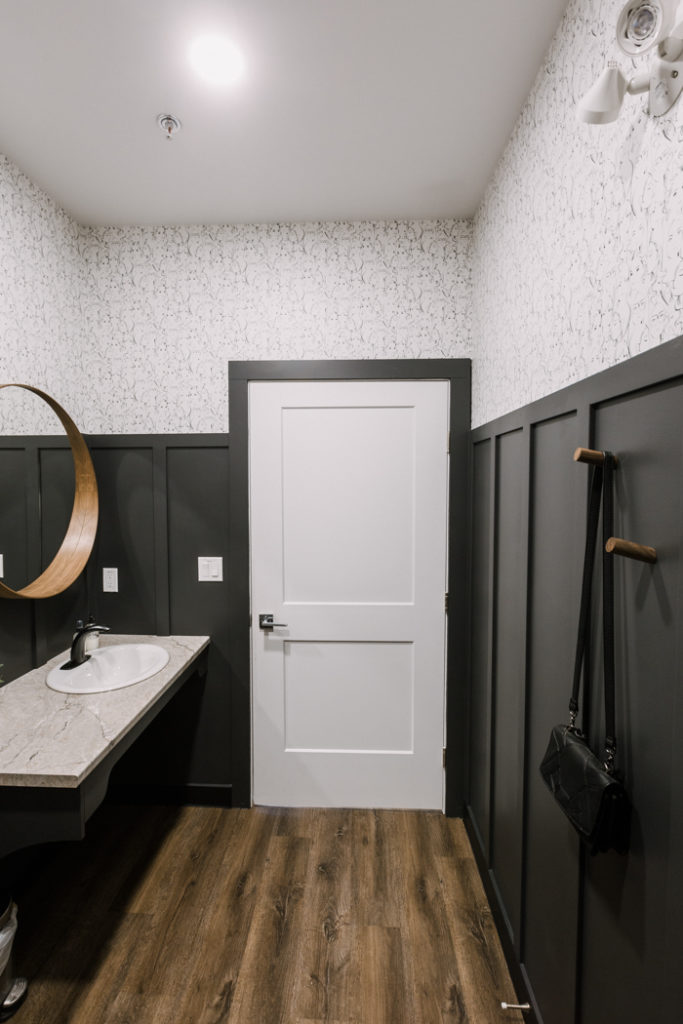 Hope you all liked this bathroom makeover as much as we did!
If you're looking for more bathroom ideas, check out our most recent Bathroom renovation!