How to Make a DIY Tire Swing for Multiple Kids! See how we painted, rebuild, and poured a base for our old worn out tire swing!
We wanted to create a play area outside for our kids. We started by building a new playground set we got from Costco, but we wanted to add something else. After searching our local buy and sell pages we found a old horse walker turned tire swing that just needed a little bit of TLC and a new backyard to be installed in!
*This post was sponsored by Wagner and may contain affiliate links. When you buy a product through one of our links, we get a commission at no cost to you! Thank you for supporting our blog so that we can continue to bring you posts like these. For more information, please see our disclosure page.*
You have multiple options when it comes to tire swings. You can find a tree branch to hang one off, buy a kit, or find a DIY solution. We got lucky and found a old tire swing that we could fix up. No double bowline knot to figure out or trees to climb for us!
Tire Swing Refurbish Process:
The story on how we found this tire swing was interesting. Russel actually saw it on the local buy and sell for $250 and offered $200. The seller was ok with this, but when Russel asked about size of the structure and if it could be taken apart (Russel couldn't fit it in his truck fully assembled) we didn't hear back.
Fast forward two months and the seller says he can deliver it and would lower his price to $50 so we said yes. Sometimes it pays to be patient!
We do have a in-depth post on How to Paint Metal in 4 Steps but see below for a quick run down on how we fixed up and installed our tire swing see below.
Tools Required:
Clean Rag
Degreaser / Acetone
Pressure Washer or water and rags
Disassembly
We got lucky as the person we bought it from also delivered and disassemble a bunch of the swing. But if your swing is too large, break it down into smaller manageable pieces. Generally these kind of items are all bolted together so taking them apart isn't too bad.
Cleaning
You want to make sure you remove all the grease and dirt is removed before you start painting. We used our pressure washer and some degreaser first to clean the entire swing. We used out Paint Eater to remove any rust and loose paint. Than cleaned all the surfaces off with acetone and a clean rag.
The Paint Eater made quick work of any loose paint or rust and brought the piece to bare metal quickly. Its ergonomic design makes holding it easy and is a great tool for surface prep on your DIY projects.
Painting
Once we got the metal surfaces all prepped we grabbed our cordless paint sprayer and some paint. We applied a even coat of paint to all the surfaces and let it dry. The Wagner Flexio 3550 worked great for this project, having no cord to pull around and its light weight design made it a perfect tool for this project.
Prep and Pour a Concrete Base
We poured a 0.6 m x 0.6m base about 0.4m deep (or 24″ x 24″ x 16″) concrete base reinforced with rebar for the tire swing to sit on. We made a anchor assembly with 4 x 3/4″ galvanized bolts welded together into a cage that was cast into the concrete for the tire swing to attach too (matching the bolt pattern of the existing tire swing base)
Assembly
We replaced, re-greased, and re-packed the top bearings to ensure a nice smooth ride before we set the tire swing up. With a couple extra hands we got the entire tire swing frame assembled and lined up to set onto the concrete base. We didn't add the tires yet at this point
Installing
With a couple extra hands we got the tire swing into place, secure the base plate with nuts and locking washers. We also drilled some holes in the bottom of all the tires so they wouldn't hold water. Than the tires were secured from chain attached to the top of the tire onto the tire swing frame.
We gave it a quick test and called the kids to check it out.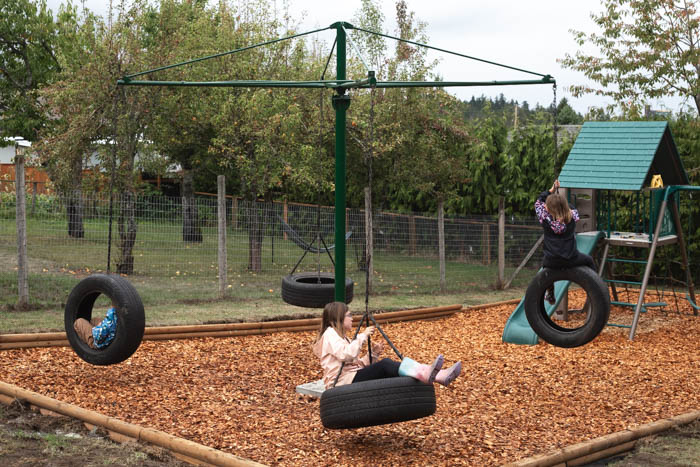 Be sure to be careful to consider weights, our playground is great for the kids but not really designed for adults to swing on. Depending on what you find it may or may not be suited for adult use.
Budget
$50 for Tire Swing and Delivery
$50 for new bearings and grease
$105 for new paint
$150 for concrete
$38 for new anchor hardware
Total cost was $393 CND which isn't too bad for a tire swing this size!
Full Tire Swing Reveal:
Check out out YouTube Video of the entire process here:
We couldn't be happier with how the swing worked out. Be sure to check out the entire playground build here where we prep the ground, install the mulch, landscape ties and build the entire playground! Be sure to check out our How to Paint Metal in 4 Easy Steps blog post to get all the details on how to paint your next metal DIY.
Would you put a tire swing like this in your backyard?