A beautiful modern farmhouse bathroom in a gorgeous loft. A mix modern, industrial, and rustic elements to create this white and grey farmhouse space!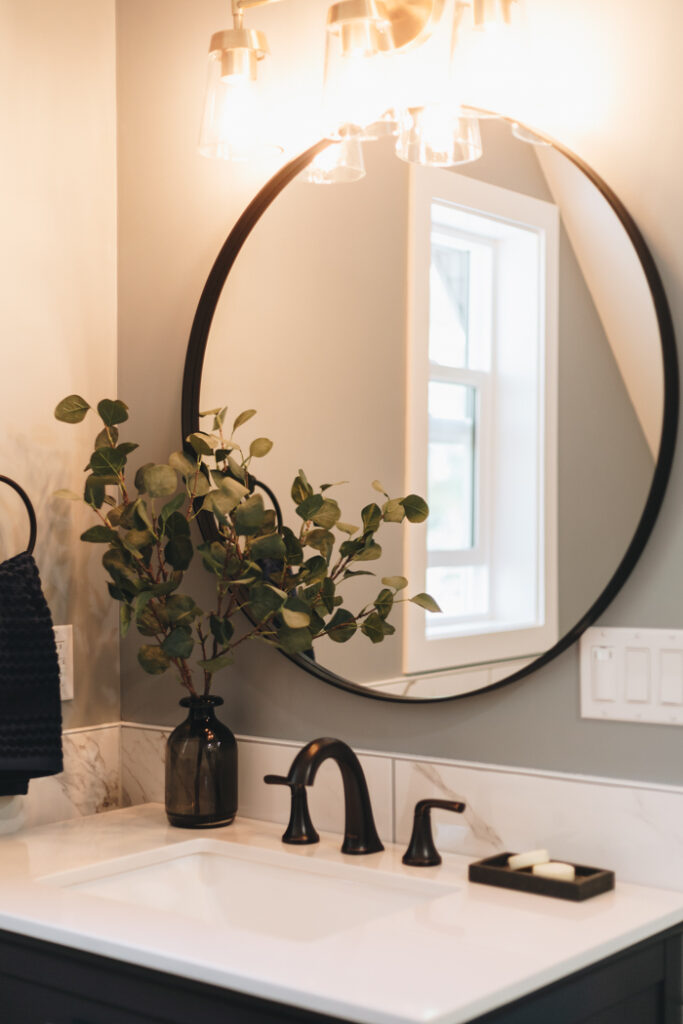 When I started designing, I dreamed that one day I would be stepping into other homes and spaces to help them with their remodels and design plans. We did it when we tackled local hair salon bathrooms, when we tackled a friend's dining room, and now, as we share this modern farmhouse bathroom from my brother and sister-in-laws home.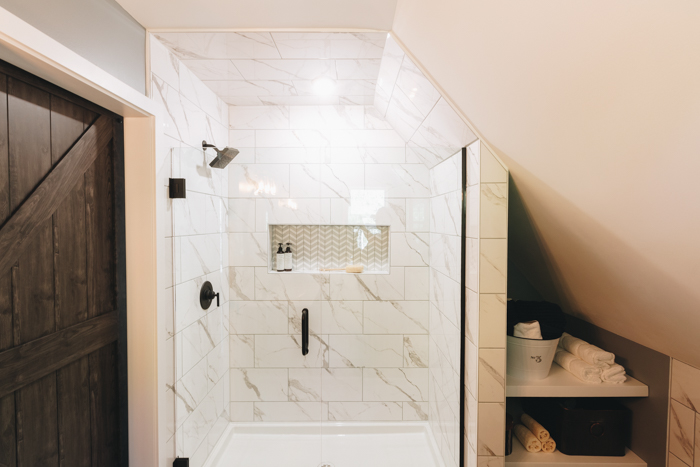 *This post was sponsored by Kreg and Build Something, and may contain affiliate links. As always, opinions are 100% my own. For more information, please see my disclosure page.*
My brother and sister-in-law were looking for some help choosing tile and bringing their vision for their loft bathroom to life with a bit of modern farmhouse style.
What is the Modern Farmhouse Style?
If you've been hanging around this space for a while now, then you already know that we share a lot of modern design, which centers around clean edges and sleek lines
Modern farmhouse is a design style largely made popular by Chip and Joanna Gaines on their show Fixer Upper.
Where it used to refer to someone referring to an actual farmhouse, now it refers to a combination of styles used in decor, including rustic, industrial, and country, mixed with modern.
The rest of the loft space shows off a rustic barn door, and shiplap walls, feeding into the modern farmhouse design as we enter this bathroom.
Modern Farmhouse Bathroom Tile Choices
Tile choices are a huge part of making a bathroom space come together! In the niche we chose to use this very fun chevron mosaic tile, and for the rest of the shower we used a beautiful white/grey larger marble tile. The clean white and grey tiles with the light grout colour added to the cool colour palette they choose, and fit beautifully into the bathroom design.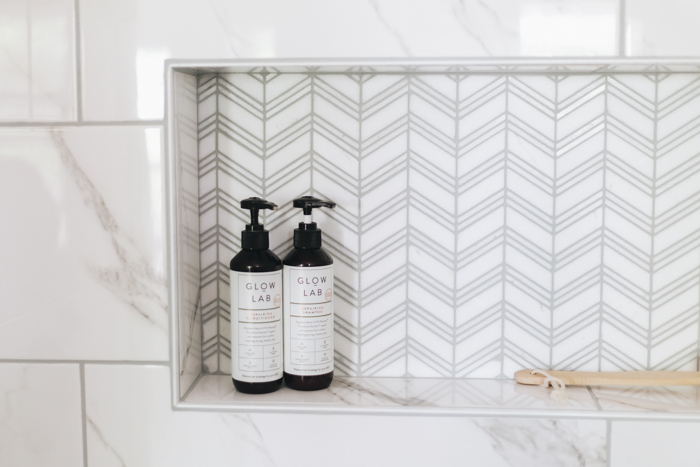 We carried the marble shower tile around half the wall of the bathroom, and filled the floor with the beautiful charcoal hexagon tiles, bringing in a touch of that raw material in the industrial side of modern farmhouse.
The Finished Modern Farmhouse Bathroom
When everything was complete, the modern farmhouse bathroom came together beautifully.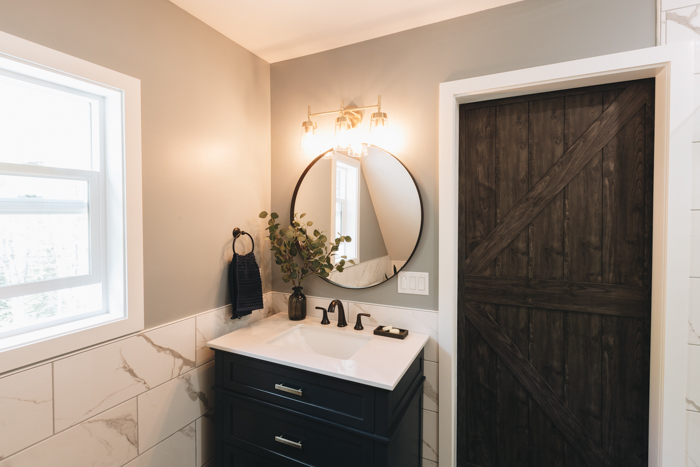 Here you can see the dark wood barn door that slides on the exterior of the bathroom, adding to the rustic/industrial vibe.
I took some photos of the space with the lights on as well because I love the warm glow in this room!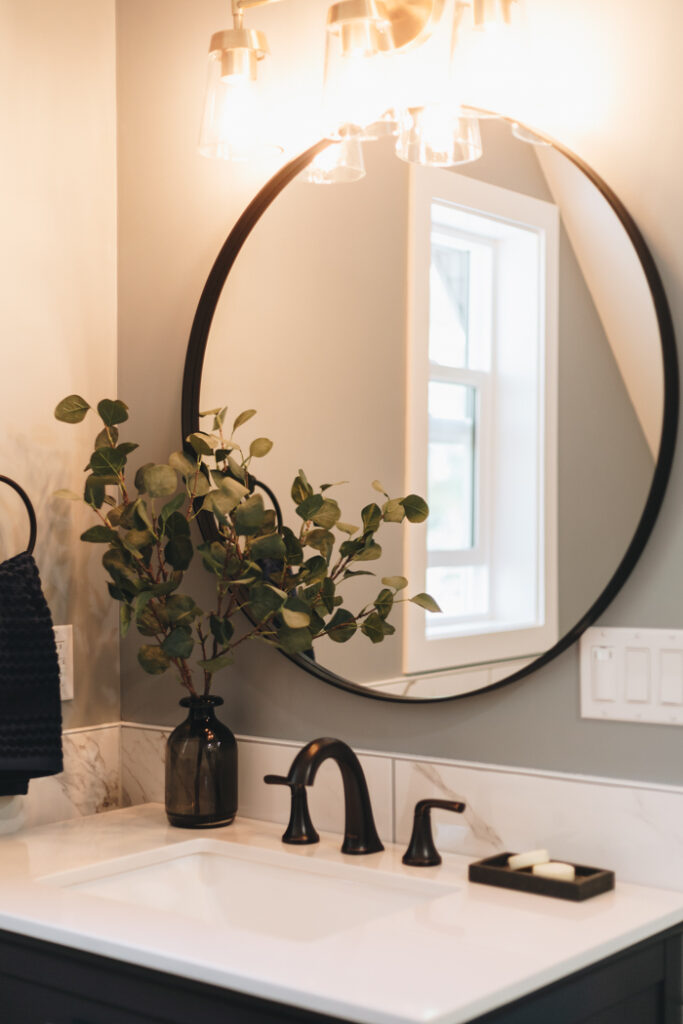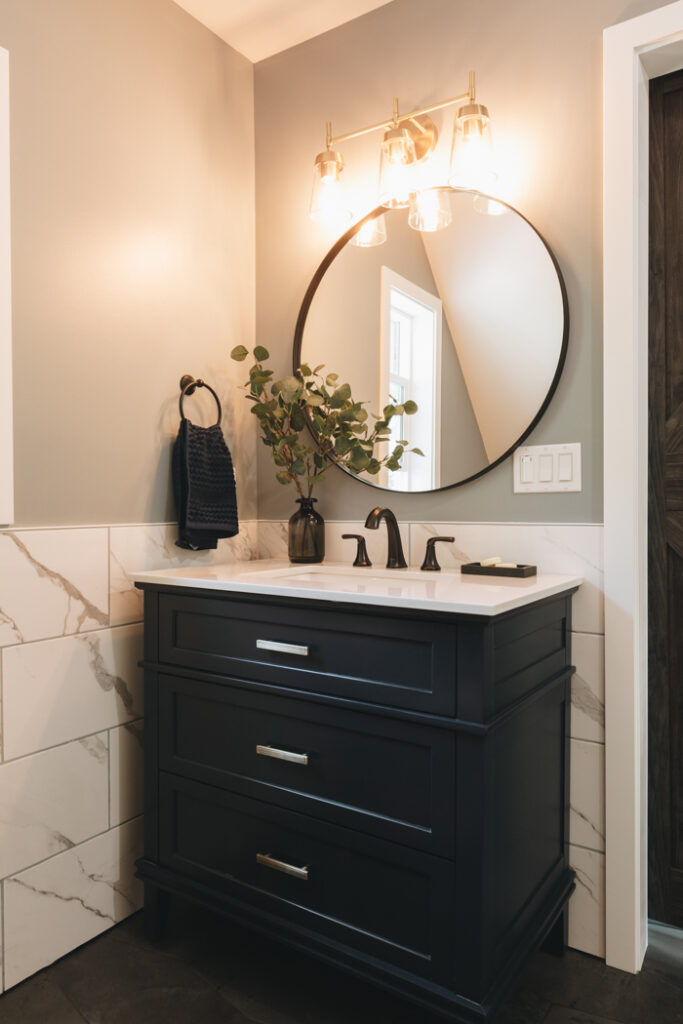 On the other side of the vanity is the toilet. You can really see the a-frame roof line in this loft bathroom here.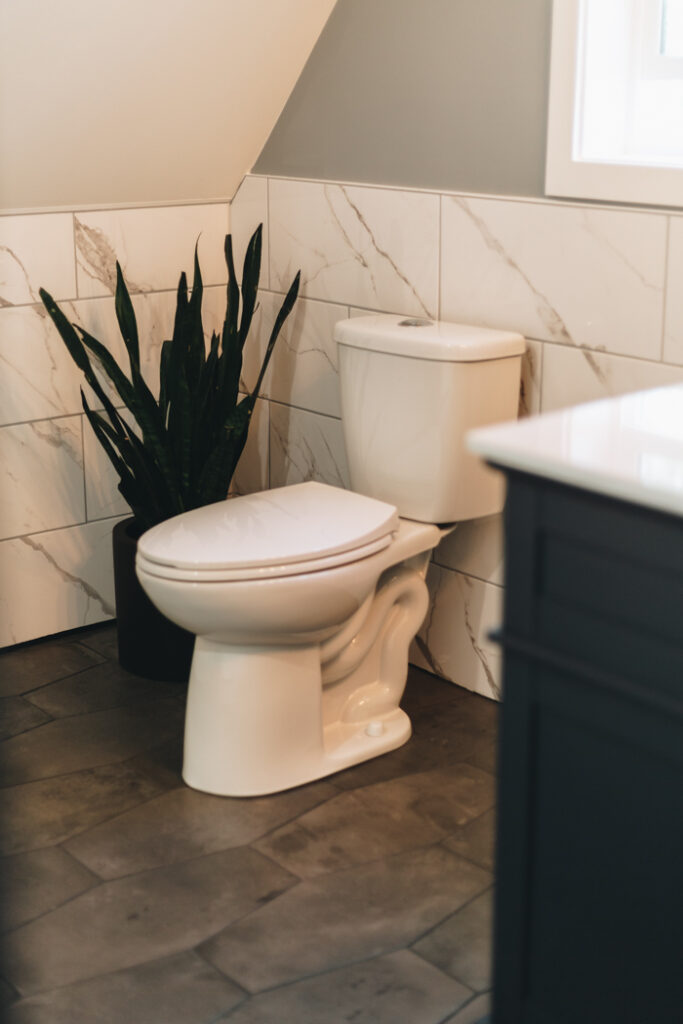 The final touch in this modern farmhouse bathroom is the big beautiful shower. To save some money, we used a standard shower pan, but still tiled around the ceiling and into the niche.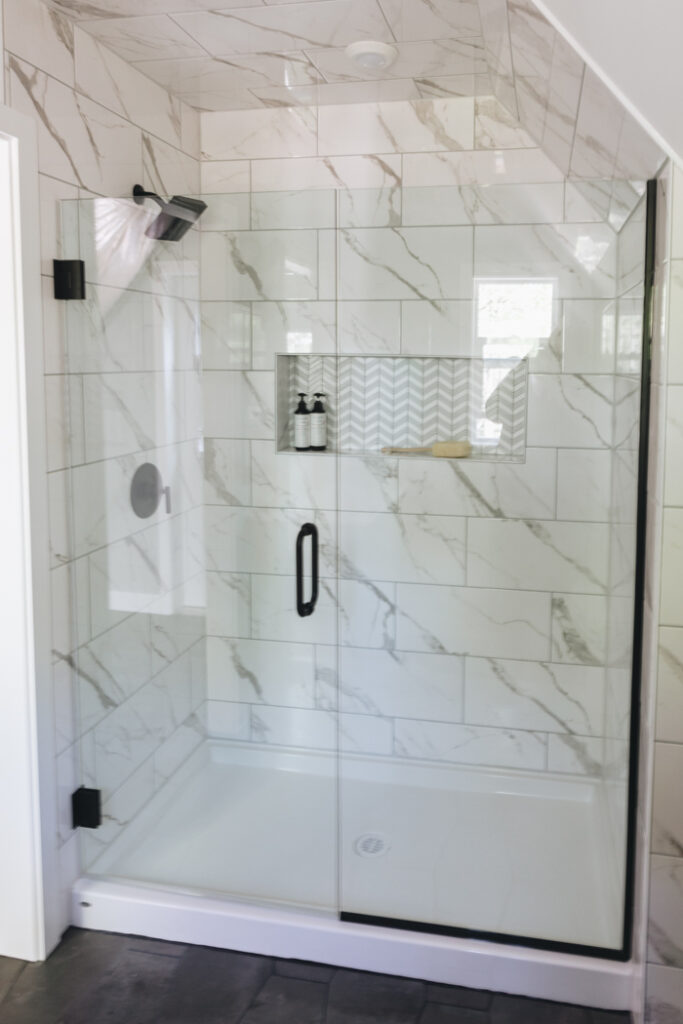 The larger marbled tiles are so beautiful in this space! The black faucets and accessories really pop against the clean tiles.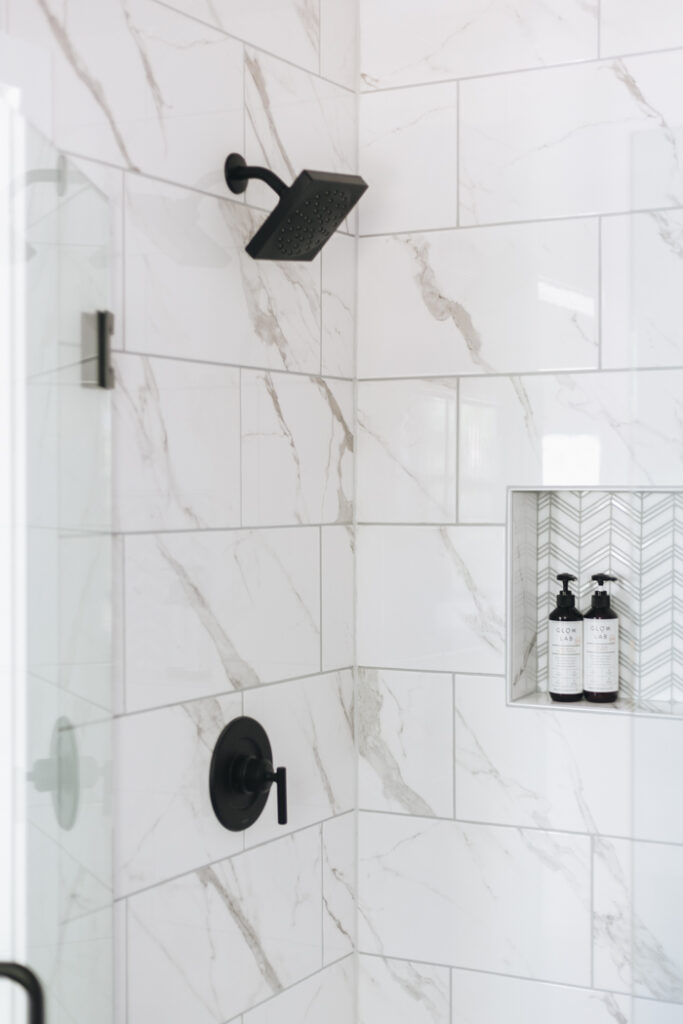 The chevron mosaic tile is my absolute favourite part of this bathroom. I LOVE love the pattern and the contrast to the larger marble tiles around it. Mosaics are always great choices for niches!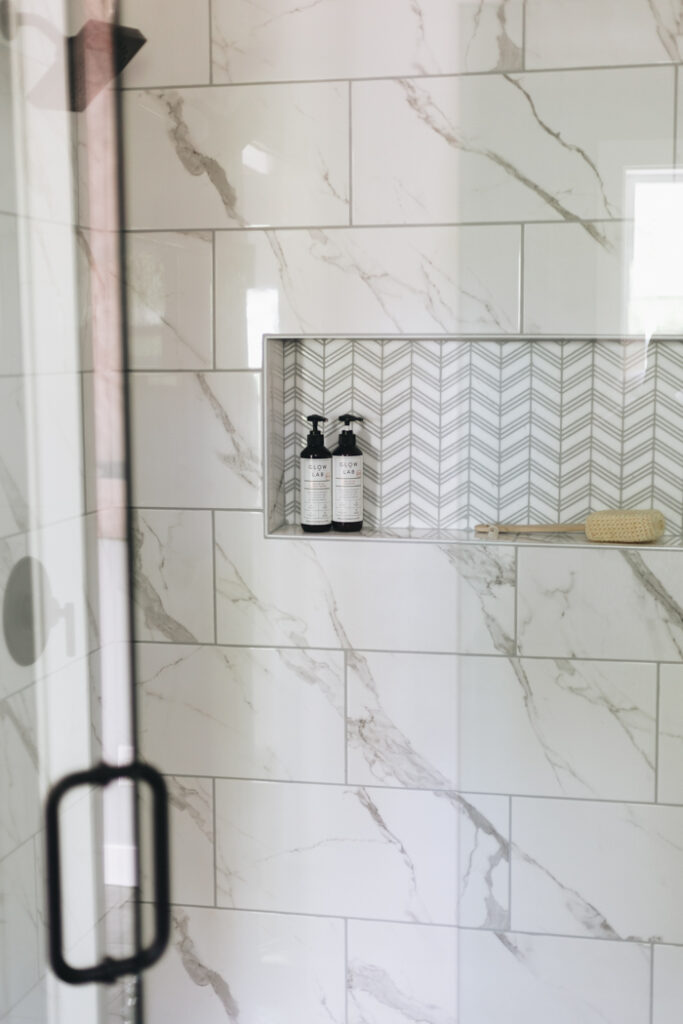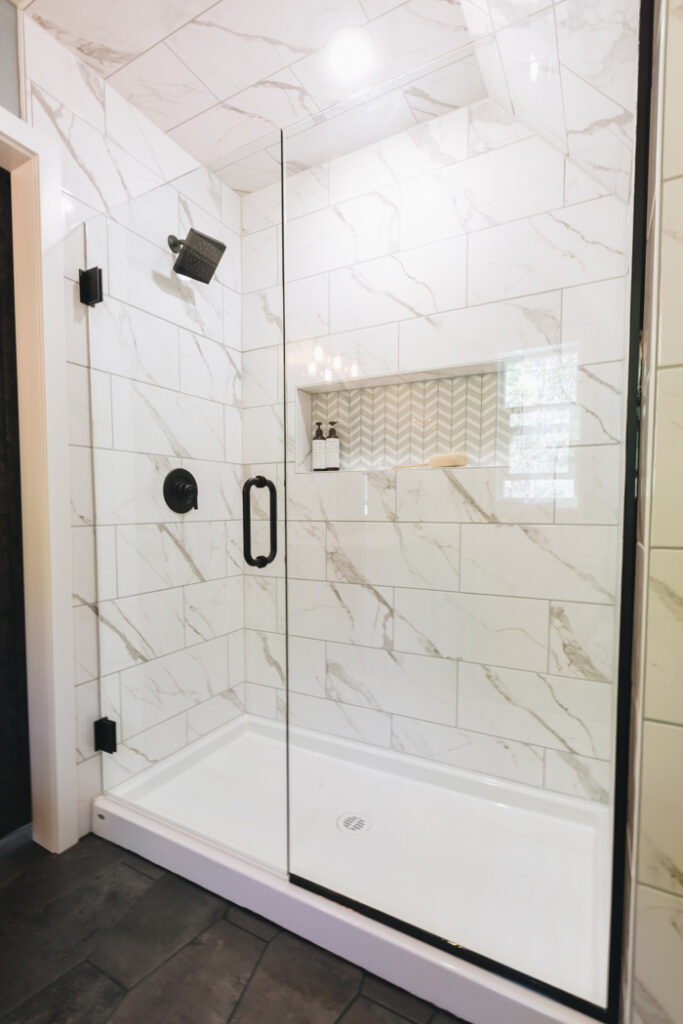 BIG NEWS
If you love seeing the tile in this space, you're going to love our big news! We are officially published DIYers/Designers. Five of the beautiful spaces that we've created, including this brand new gorgeous bathroom, grace the pages of a new coffee table book called "The Tiled Home".
Grab your copy now and find some amazing home decor inspiration! Everything from kitchens, bathrooms, mudrooms, and outdoor spaces.
We're so honoured to be included amongst pages of amazing DIYers and designers. Enjoy!