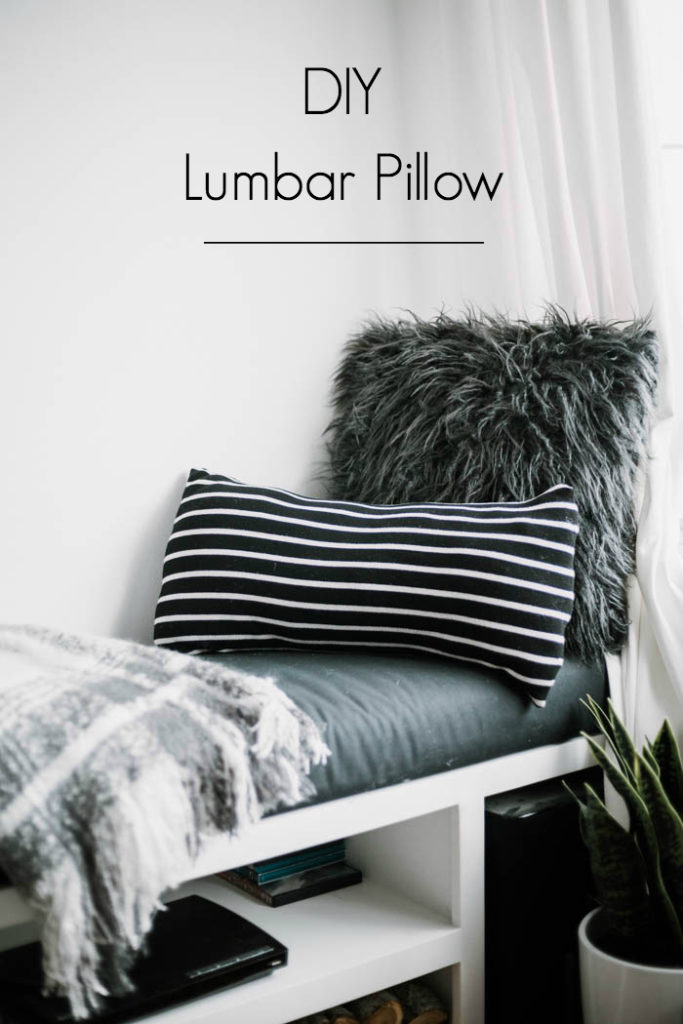 Are you a DIYer? I love DIY. I wish everyone loved DIY! One of the biggest reasons that people don't do DIYs these days is that they don't have the time. Time is precious – I get that! With three children, three dogs, and two working parents, we know all about having no time to do what you want. That's why one of the things I've promised to do more of this year was DIYs that take less than an hour. Those fast DIYs that you can decide to do in the spur of the moment, and still get done in an afternoon (with three kids hanging off of you! lol). This DIY lumbar pillow is one of these projects!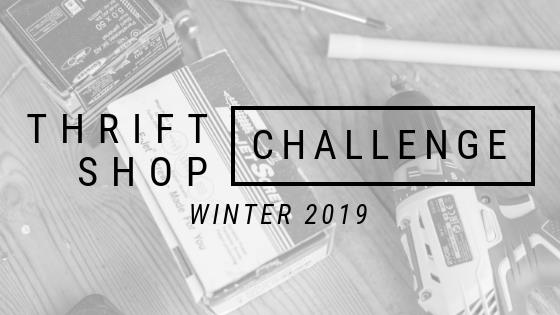 *This post may contain affiliate links. When you buy a product through one of my links, I get a commission at no cost to you! Thanks for supporting my blog so I can continue to bring you posts like these. For more info, please see my disclosure page.*
Today I'm joining some other amazing bloggers for our thrift shop challenge. We've all shopped our local thrift store and created something amazing out of something old and neglected. The links to the rest of the projects will be at the bottom of the post!
I went to the thrift store to have a look around, and if you've been around Love Create Celebrate before, then you'll know that I'm drawn to all things monochrome. I looked at this $4 sweater and through, I could definitely do something with that! Loved the stripes, the colours, and the texture – perfect for a pillow. And I kid you not, it took less than 20 minutes to make the whole thing (including child interruptions!).
Here's what you need for this project:
Thrifted Old Sweater
Febreeze (optional – depending on the smell of your thrift store, lol)
Fabric Scissors
Coordinating Thread
Beginner Sewing Machine
Needle
Cotton Batting
How to Make Your DIY Lumbar Pillow: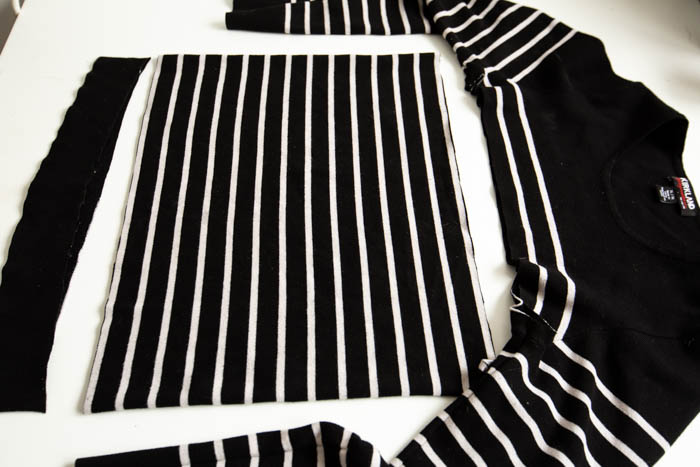 If you don't have a sewing machine, you can definitely do this whole project by hand sewing – the sewing machine is just much faster! Start by cutting off the top, sleeves and bottom of your sweater, so that you're just left with the body.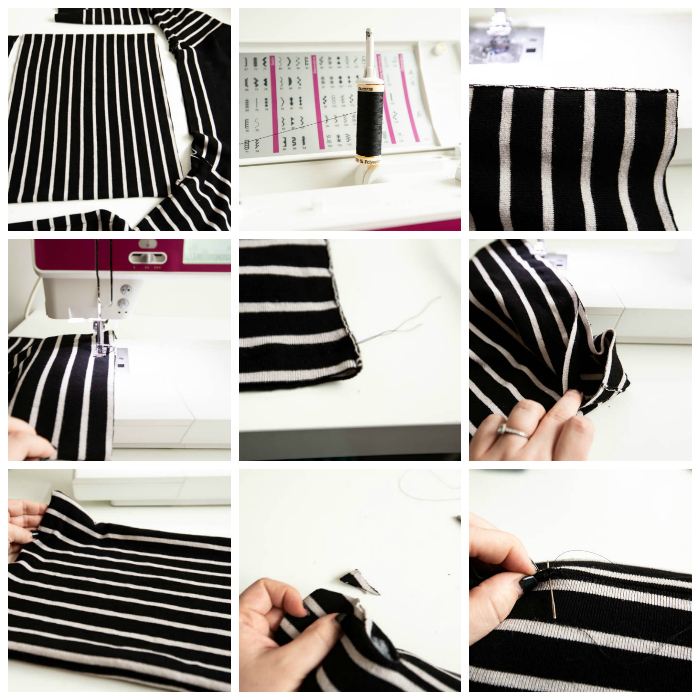 This collage shows the next steps of the project, from top left, to bottom right.
Thread some coordinating string through your sewing machine. Turn the body of your sweater inside out so that the seams are showing. Using your sewing machine, sew a simple straight line across the top. I recommend a seam allowance of at least 1/4″. I tried to line mine up so that I was sewing in the middle of the open black strips. If you try to sew close to a line and your sewing isn't perfectly straight (especially on the back side), it will be very noticeable. Do the same thing on the other side leaving a 3 inch gap that you will hand-sew later.
When the sewing is done, cut any excess fabric, especially in the corners, and turn the pillow right-side out. Stuff it full of cotton batting and hand sew the last few inches shut.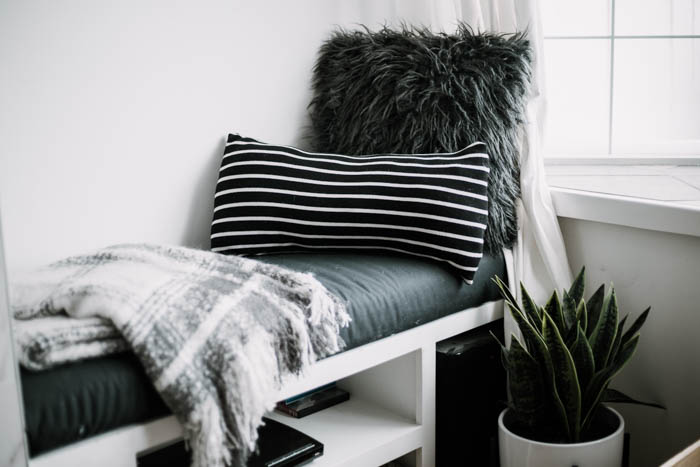 I love it! My mother-in-law was staying with us this weekend and she didn't believe me when I told her I made that pillow out of a sweater! It fits in so perfectly. I couldn't be happier with it.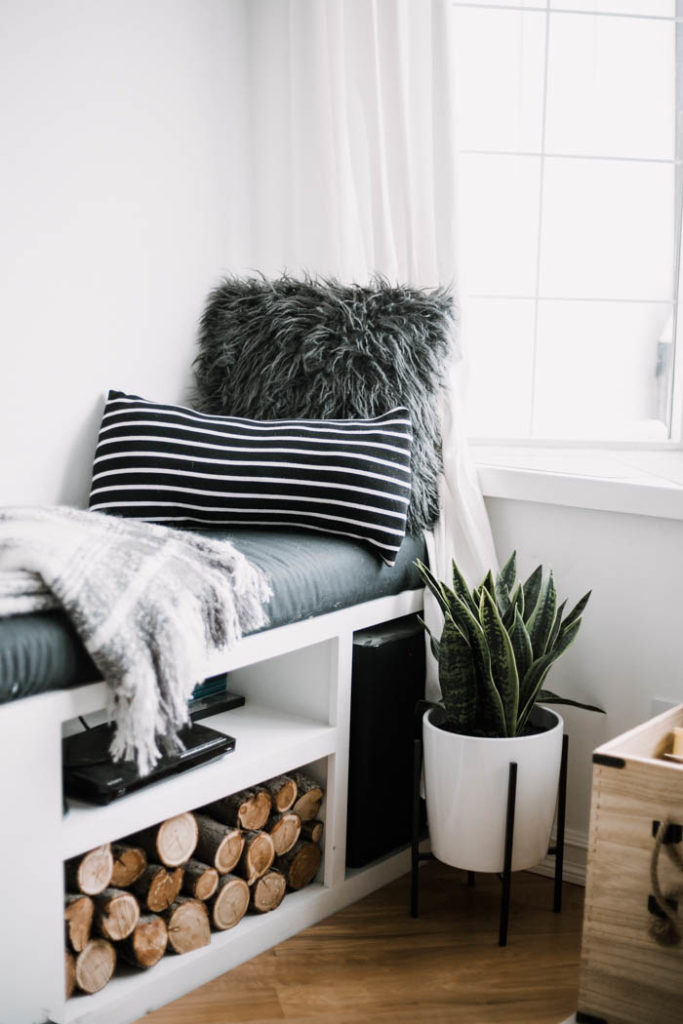 Here are some pictures of it on the bench in my living room, where it will probably live for a little while since it blends so nicely with the winter decor!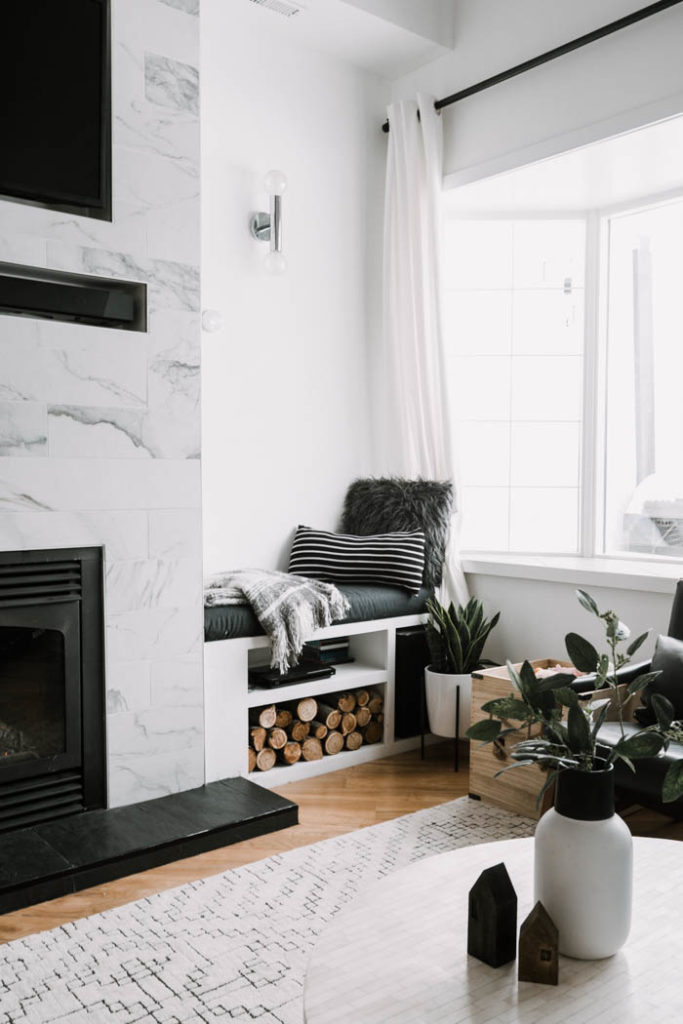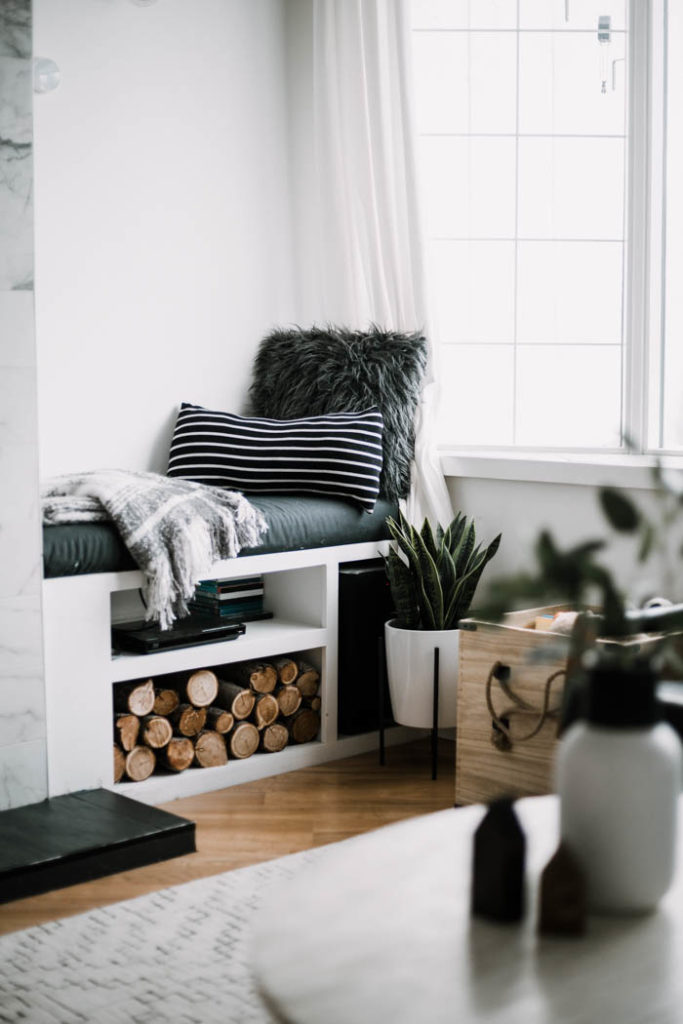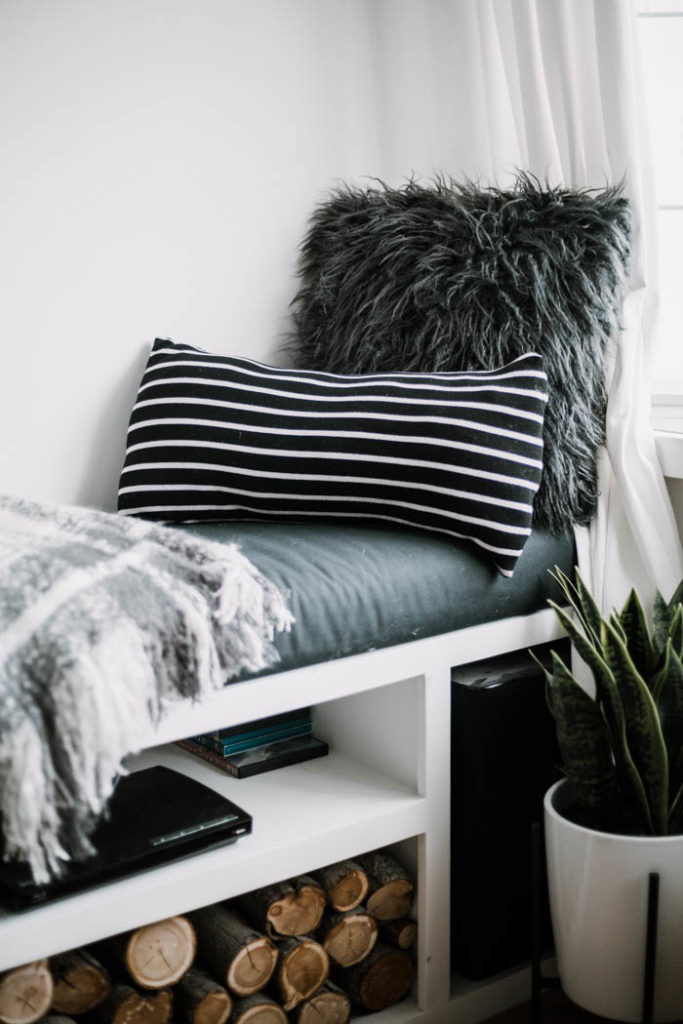 DON'T FORGET TO CHECK OUT THE OTHER AMAZING THRIFT STORE PROJECTS:
DIY Lumbar Pillow from Love Create Celebrate
DIY Lampshade Upcycled Sweater from Amber Oliver
Stoneware Jug Makeover from A Crafted Passion
File Cabinet Makeover from Love and Renovations
White Farmhouse Pitcher from Making Manzanita
Sled Makeover with Dark Wax from Green with Decor
Painting Furniture With Chalk Paint from Small Stuff Counts
DIY Picture Frames from Home Beautifully
If you're looking for other one hour DIYs, try these great projects: