A quick and easy DIY Hanging Planter that you can use indoors! All you need is spray paint and leather cording!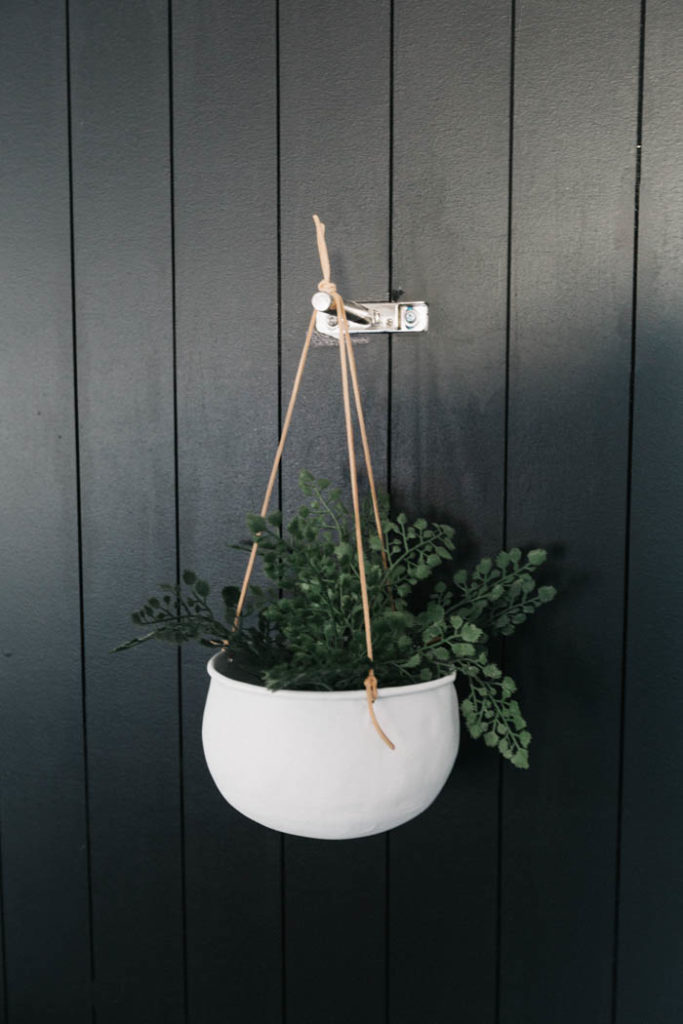 Every time I go to decorate a new room we've renovated, no matter what the space is, there's something I always add in: greenery! And pretty painted pots are easy to come by, but hanging ones? Not so much. Affordable ones? Not usually, lol. So I've DIY'd a few of my own in the past. I've got a couple of new dark feature walls coming soon to my home (yay!) and I really wanted some white hanging pots – which are even harder to find! So I found a gem at the thrift store that I'll be transforming, along with a few friends who are also upcycling their thrift store finds (links to al of the projects at the end!).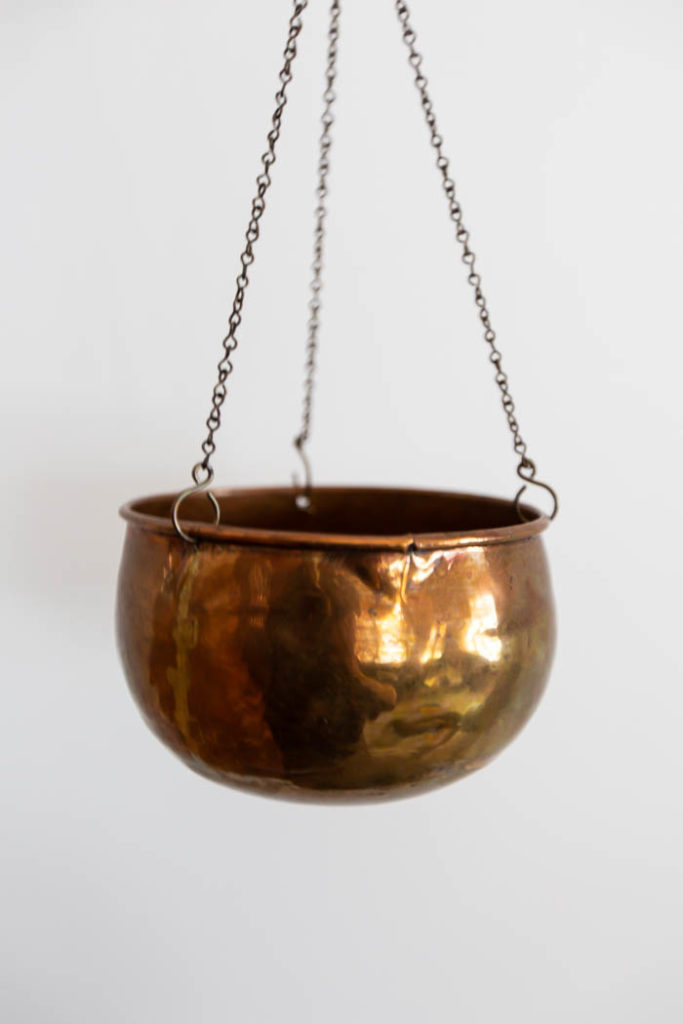 *This post may contain affiliate links. When you buy a product through one of my links, I get a commission at no cost to you! Thanks for supporting my blog so I can continue to bring you posts like these. For more info, please see my disclosure page.*
Thrift store upcycles are some of my favourite and for good reason! There are so many pieces of perfectly good furniture and decor that people give away and donate every day. And often they just need a couple hours of your time (although this particular project needs even less! lol). A little paint, new fabric, or new handles, and you can transform anything.
This is the guy I started out with. In another, more rustic-vintage decorating life, I probably would've loved this copper hanging pot, but it was the perfect little pot and I couldn't just let it sit on the shelves of the thrift store! Even thought the copper doesn't match my decor theme, it was a really easy project to repurpose.
Everything you need for this DIY hanging planter:
Old hanging planter (or just a pot that you drill three holes into!)
White Primer Spray Paint
White Spray Paint
Leather Cording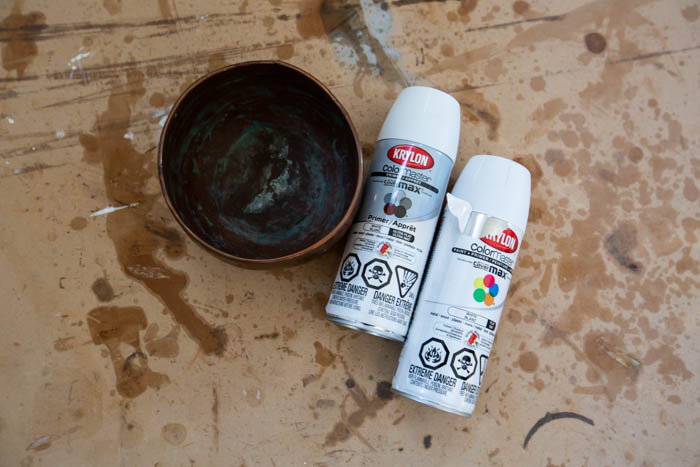 Since I was starting with a metal base, I knew I would need to put down a layer of primer before adding my paint colour (which just happens to be the same!).
I actually ended up doing two coats of primer before putting the paint on. Then I did three coats of the paint. I used a matte spray paint because I like the look better, but if you will be handling your flower pot a lot of moving it around, you may want to consider a gloss finish instead, as it will hide finger prints and marks better than the matte finish.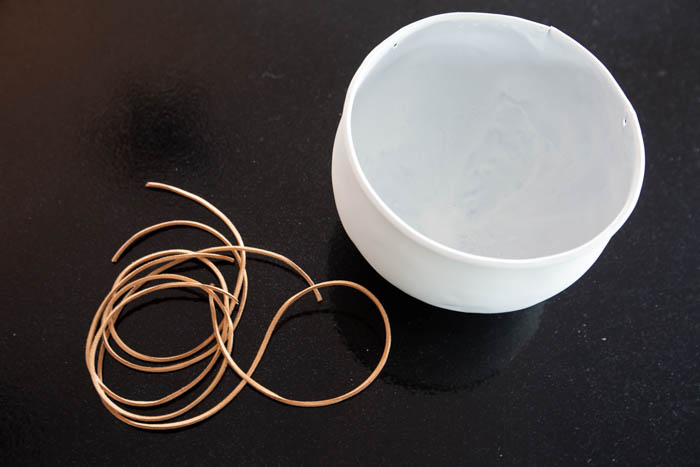 When your piece is painted, you can cut three pieces of leather cording. The length will depend on the size of your pot, and how far down you want it to hang. It's always better to have more and cut off the excess stuff after then to now have enough.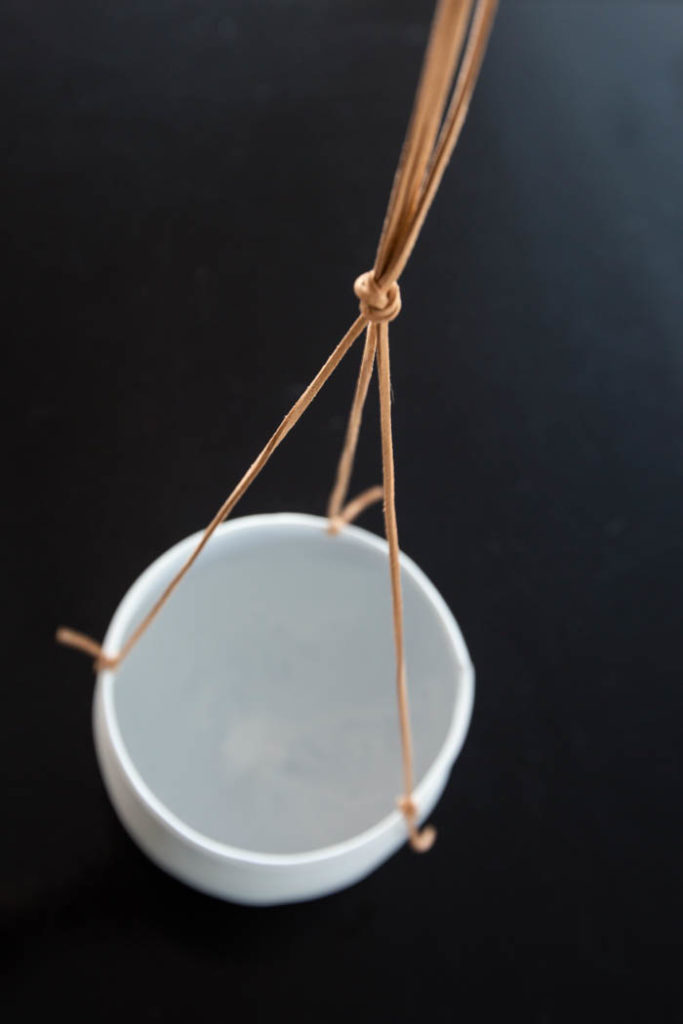 I strung the leather through the holes that already existed, and tied simple knots, then brought all of the cords up, levelled out the bowl, and tied a knot at the top.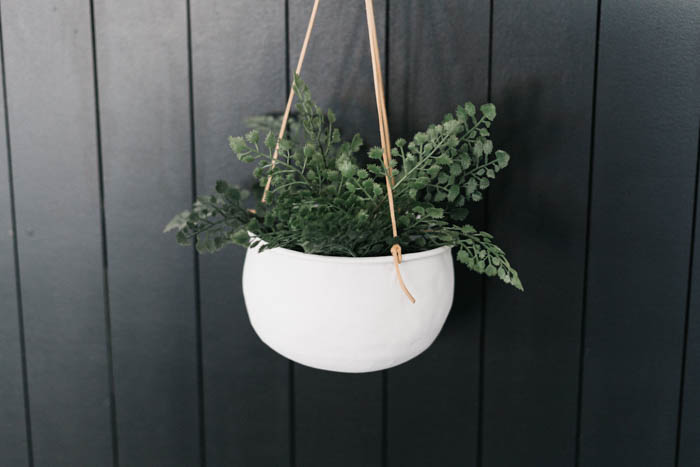 For now, mine is filled with faux greenery because I'm not very good at keeping everything alive, lol. But I might add a real plant soon! If you do, place some pebbles in the bottom and a coffee filter on top before adding the dirt and plant. This will help provide some drainage.
I thought I'd hang it in my entry for now, since our other dark walls haven't all been painted yet, and I already love it hanging in here! I guess that means I need another one for this room now…. lol.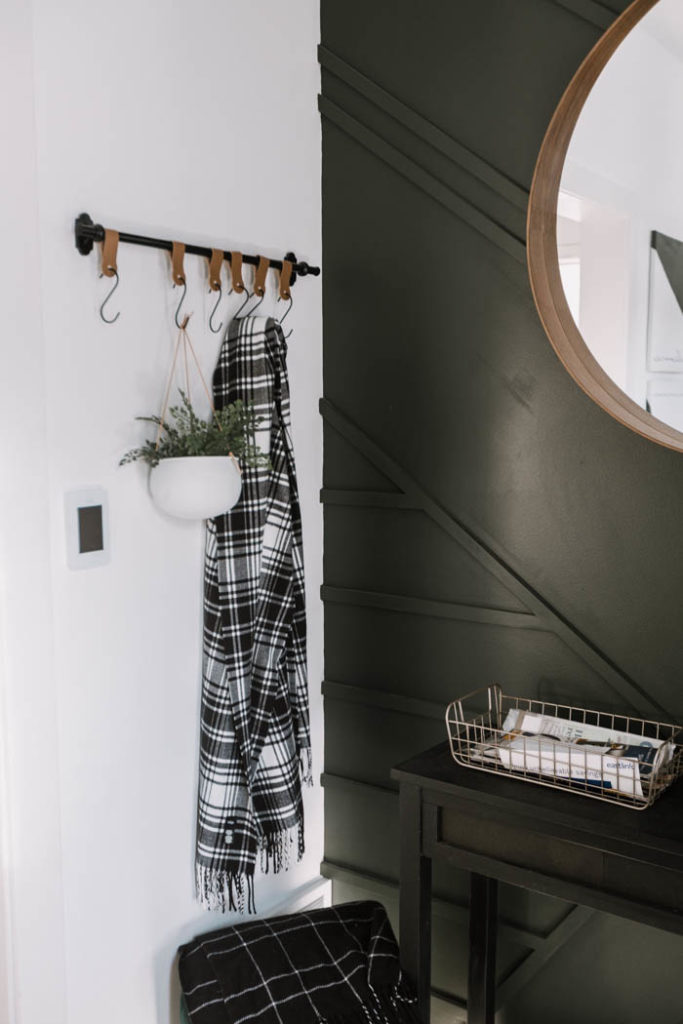 What do you think? Would you tackle this project?
Here are all of the other inspiring projects from this round of the Thrift Shop Challenge:
DIY Unicorn Bookends – By Brittany Goldwyn
Faux Marble-Topped Side Table – Love & Renovations
How to Paint Wicker Baskets – Small Stuff Counts
DIY Hanging Planter – Love Create Celebrate
Little Girls' Dress Up Mirror – A Crafted Passion
Nursery Artwork with Thrifted Frames – Green With Decor
If you like thrift store upcycles, you'll never guess how I made this Lumbar Pillow! Go check it out!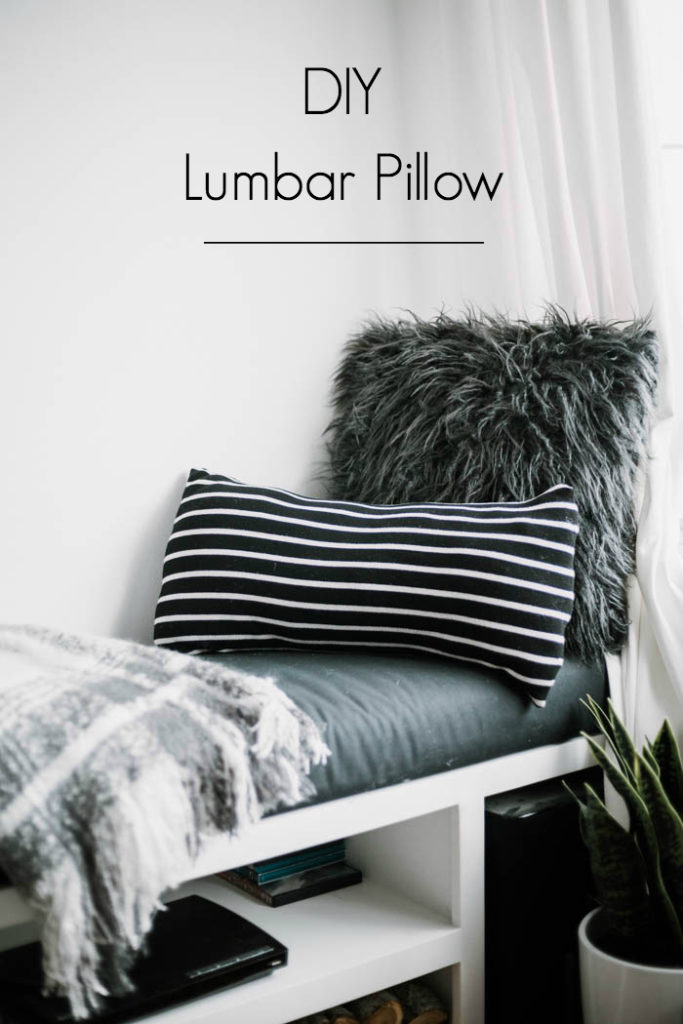 And if you like planters, this DIY Canvas Planter is one of my favourites!
(and also VERY affordable!)