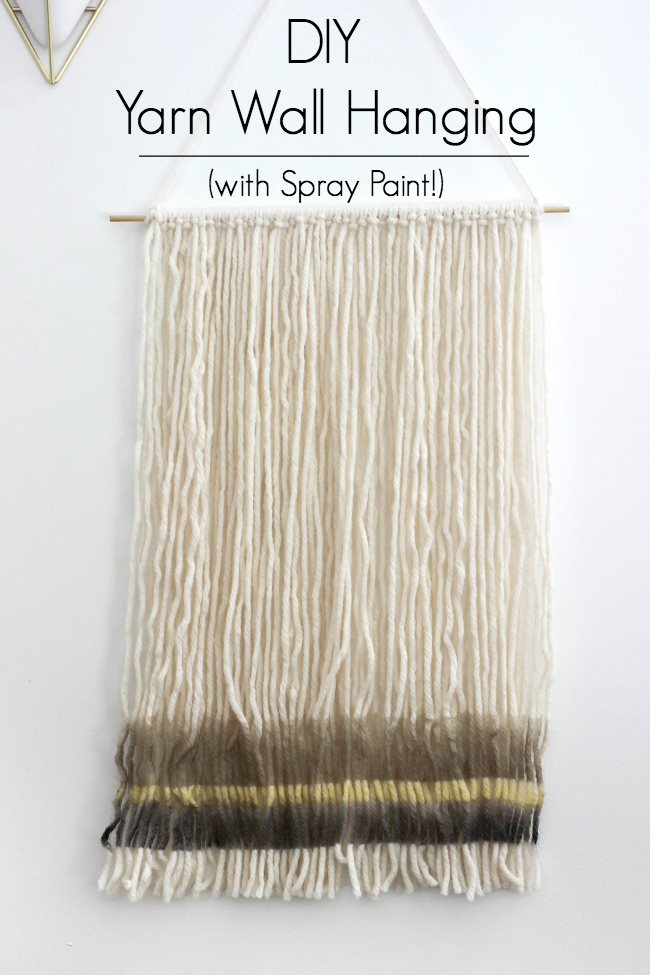 Have you seen a wall hanging you loved recently? They are everywhere! In stores, on Pinterest, and now in the boho-iest corner of my home, lol. I've been longing to make one of these for so long but couldn't muster up the energy to learn macrame. So I put off the project again and again. BUT, when I was asked to do a spray paint project, I suddenly thought that this might be my easiest every way of getting that DIY Wall Hanging I've always wanted, without too much money or time invested (the best kind of DIY!).
*This post was sponsored by Krylon. As always, opinions are 100% my own. For more information, please see my disclosure page.*
SPRAY PAINT! This stuff is magical. How did I not think up a DIY like this before?? This project will legitimately be the easiest wall hanging you've ever seen! And you can choose whatever colours you want to match your room! I chose to use deep grey, caramel latte, and bauhaus gold. They are all part of the Tiffany Pratt summer collection and they are all beautiful when combined.
Here's How to Make Your Own DIY Wall Hanging:
Start with a wooden dowel of any size and thickness you want. Next you need to cut all of your yarn. I had a whole spool of yarn, and used at least 3/4 of it, cutting strands from one hand, across the chest to the other hand.
Once your yarn is cut, tie on your pieces of yarn as shown in the photos above. Add yarn to your dowel until it is completely full.
Now it's time to spray paint! I used a couple of boxes to block the rest of the yarn so that I only have a small strip exposed while spray painting.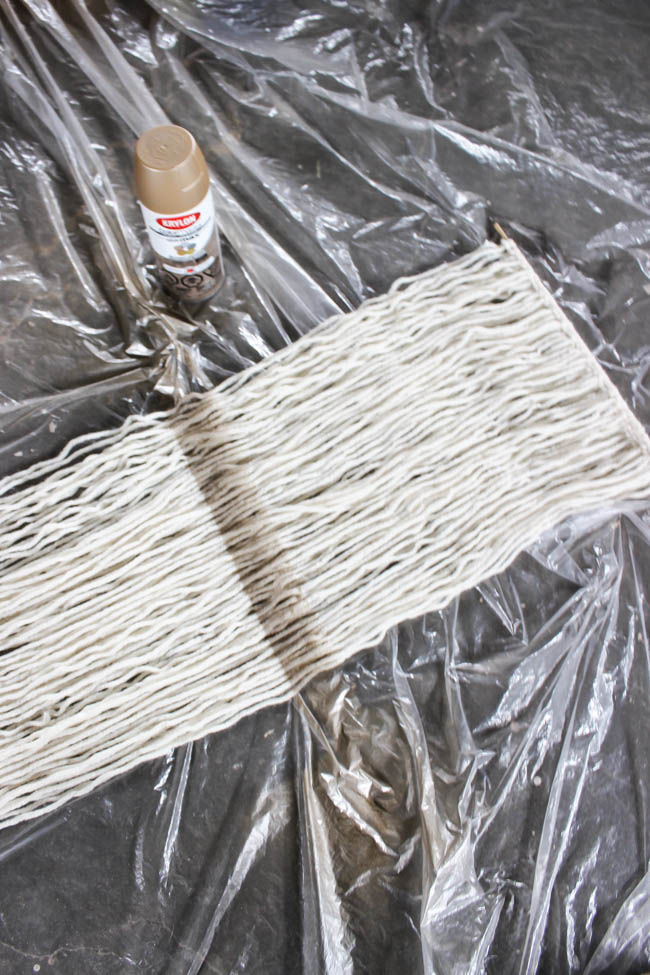 Do this as many times as you want, with an many colours as you want. I chose to do one strip each of the deep grey, caramel latte, and bauhaus gold. LOVE how the colours blended!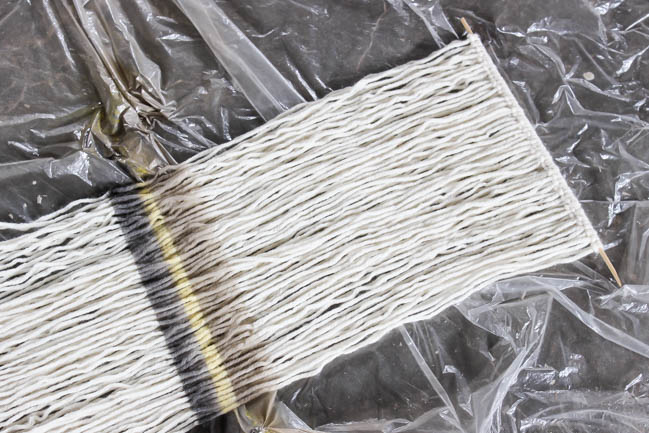 Before I started the project, I was really worried about the yarns twisting around and the colour getting all wonky, or the plain colour being exposed on the back. What I didn't realize, is that spray paint is sticky! Painting the three strips basically acted as glue, you would have to tug those strips of yarn to separate them!
Finally, cut off any excess yarn. Not going to lie… I tried to cut a fancy pattern at the bottom and failed, lol. Straight line for the win! But I actually love how the straight line looks. The perfect combination of modern and boho!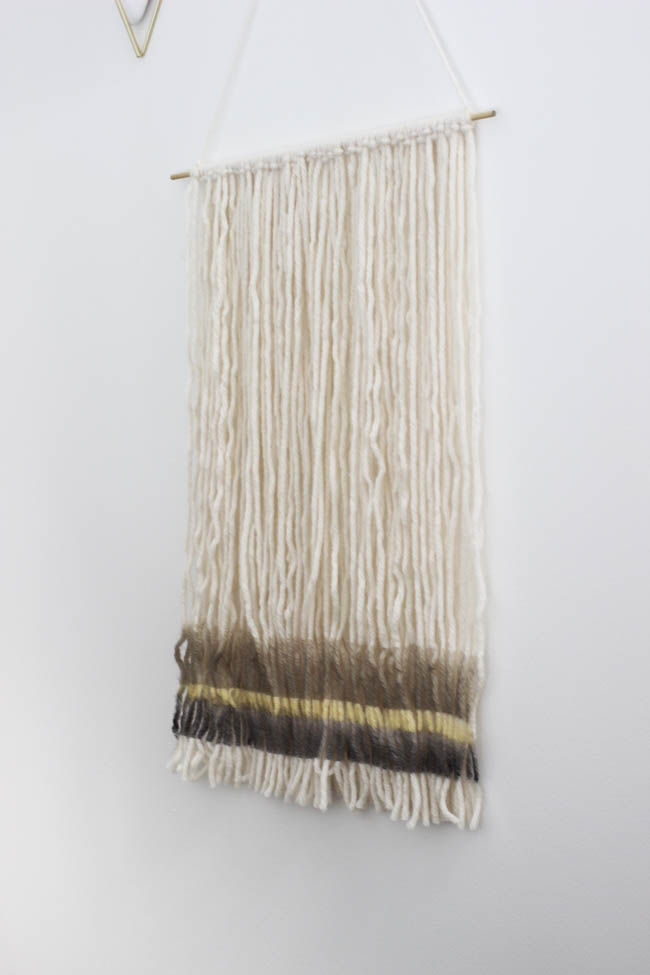 This simple wall hanging was the last piece of the puzzle in my simple reading/working nook. It's got a little bit of boho flair and the wall hanging was the perfect addition!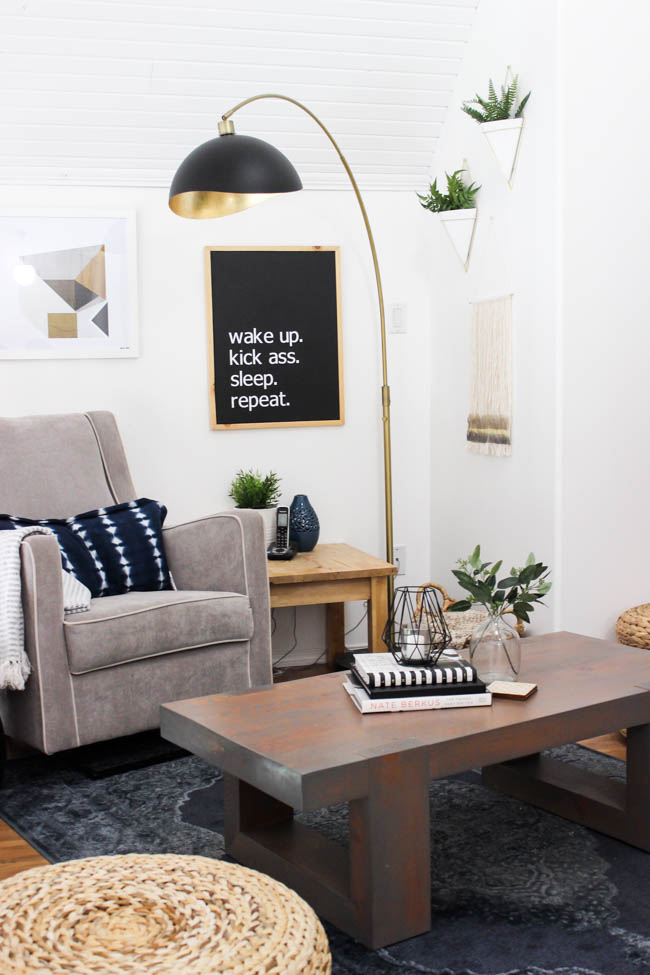 If you're looking for something else for your walls, maybe you'll love one of these projects: