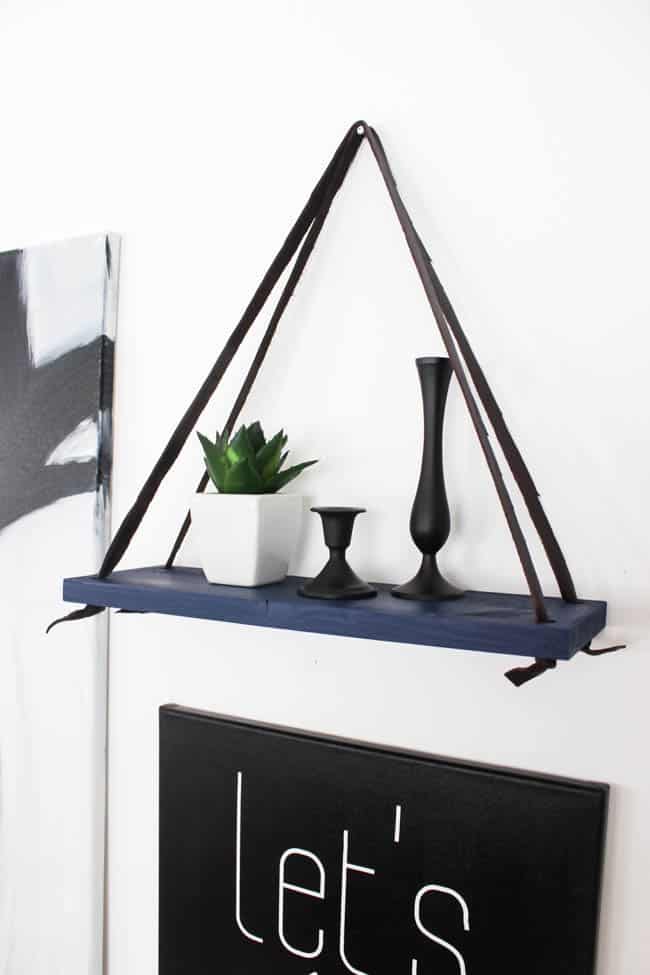 Do you have any walls in your home that just need a little something. When we were working on our Modern Living Room reveal, we had one very bare wall. I couldn't just leave it like that! So I came up with a few DIY wall art ideas, and made it into a cut little corner for the time being. This simple hanging shelf was my favourite piece!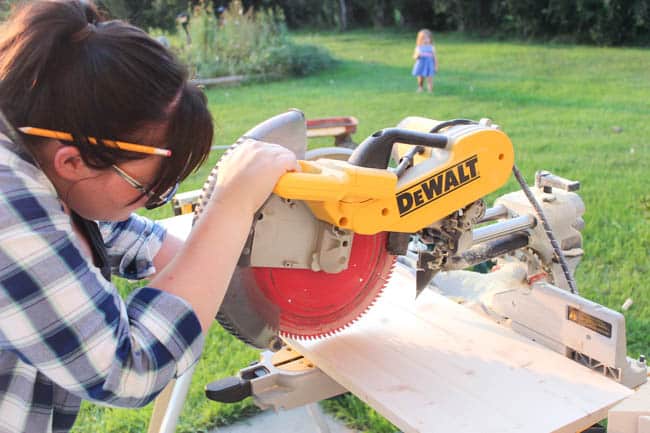 *This post contains affiliate links. When you buy a product through one of my links, I get a commission at no cost to you! Thanks for supporting my blog so I can continue to bring you posts like these. For more, see disclosure page.*
If you have some scrap wood and some leather you can easily make this modern hanging shelf yourself! I've seen people make similar shelves with rope as well if you want something a tad bit more rustic.
Materials:
Pine shelf board (3/4″ thick)
1/2″ forstner bit
40″ of leather – 1″ thick (or 80″ long and 1/2″ thick)
Fabric scissors
Americana Decor Dark Denim Paint
Tools:
Saw
Drill or drill press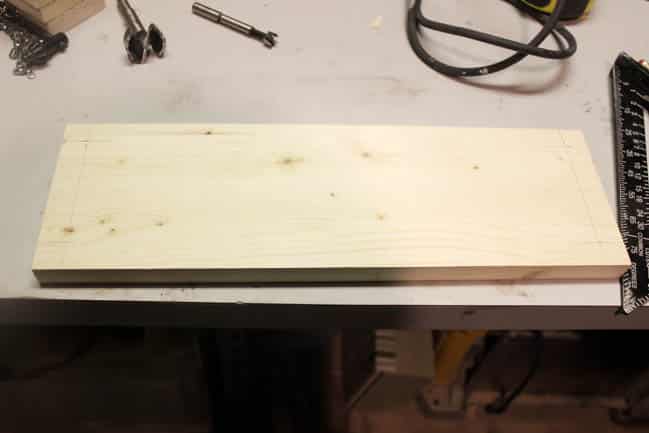 How to Make Your Own Hanging Shelf:
We had a scrap piece of pine board leftover from this project. The first step for your shelf is to cut your wood to 5″ x 16″.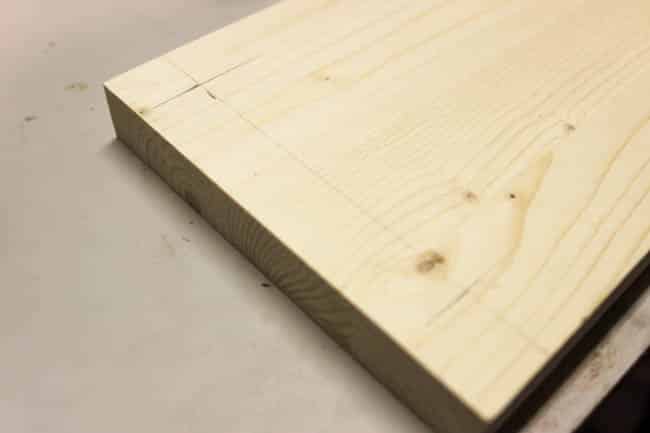 The next step is to measure 3/4″ from each edge and draw a straight line. The lines will intersect in the corners 3/4″ from each side to give you an exact spot to drill.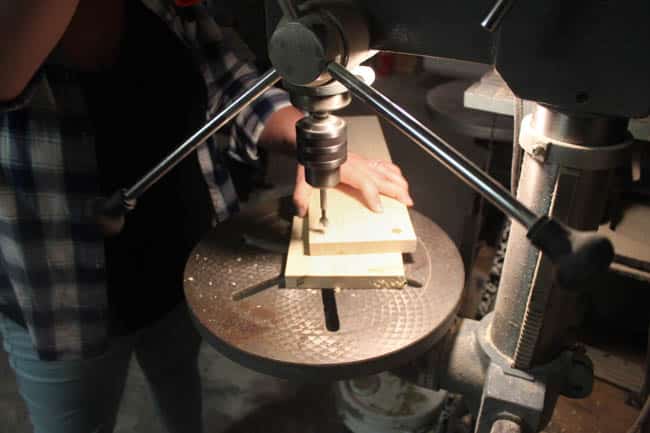 Next, you need to use your forstner bit to drill into the board at the measured spots. I placed a second scrap piece of wood underneath my board to make sure that the woodon the bottom would not split when the drill bit went through.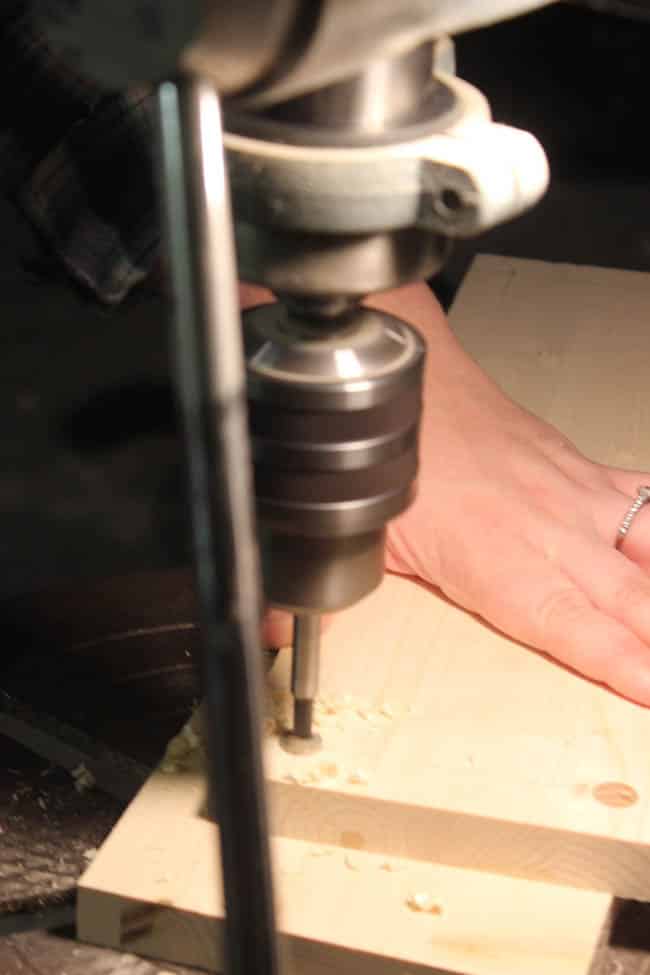 Once the holes are drilled, paint your shelf with your dark blue paint.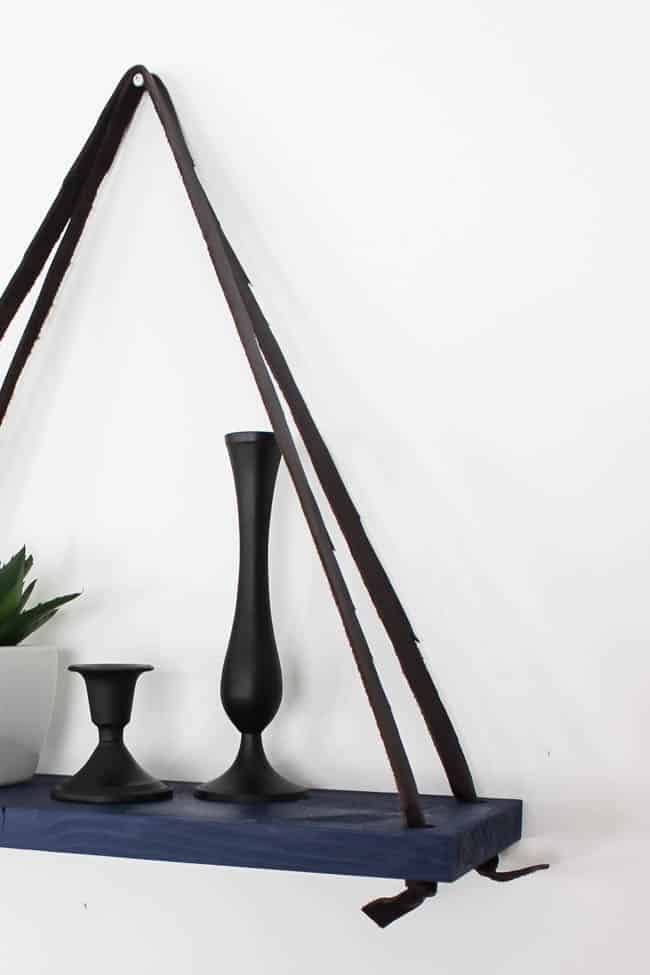 The final step is to cut your leather. Use fabric scissors to cut leather strips that are approx. 1/2″ in width. One leather strap should be 40″ and one should be 39″ – you need a slightly longer strap to reach the front two holes.
When you assemble this modern shelf you want to weave the leather through the hole and then tie a knot. Mine had approx. 1″ of leather left after the knot that I allowed to hang loose. You may want to use a level and hang the shelf against the wall to make sure it is sitting straight – if not, simply adjust the knots down or up slightly.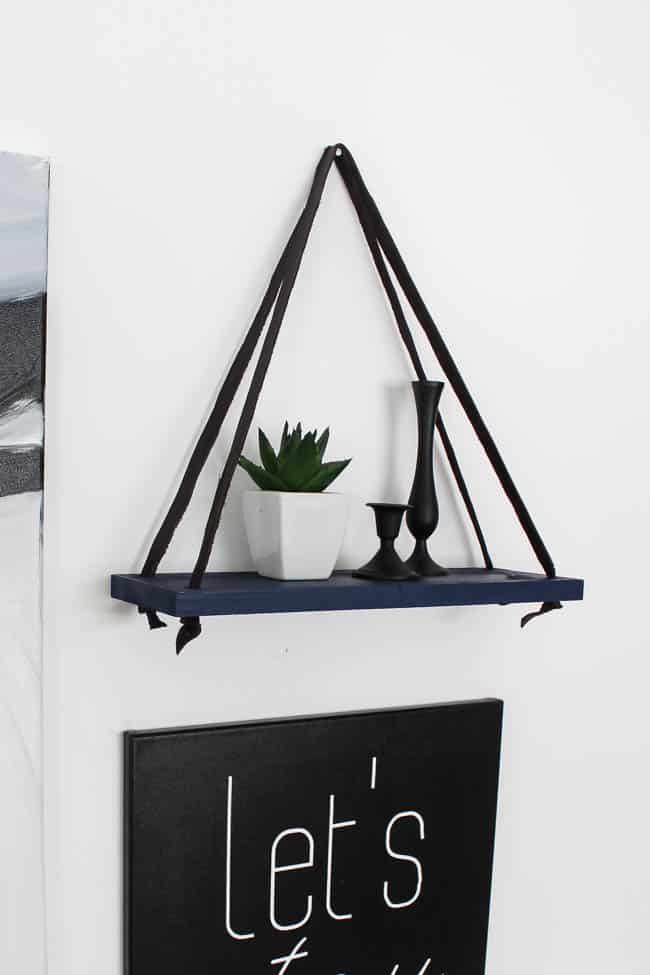 I absolutely LOVE this little modern shelf! I even made a second one (in another colour) that will be revealed in a new room soon (possibly a baby nursery…. lol).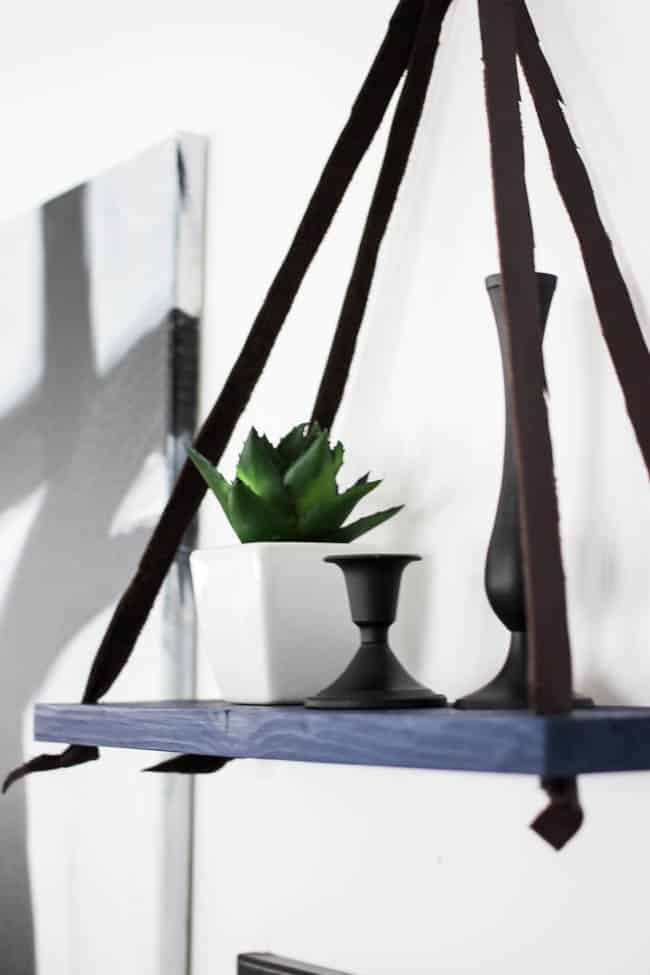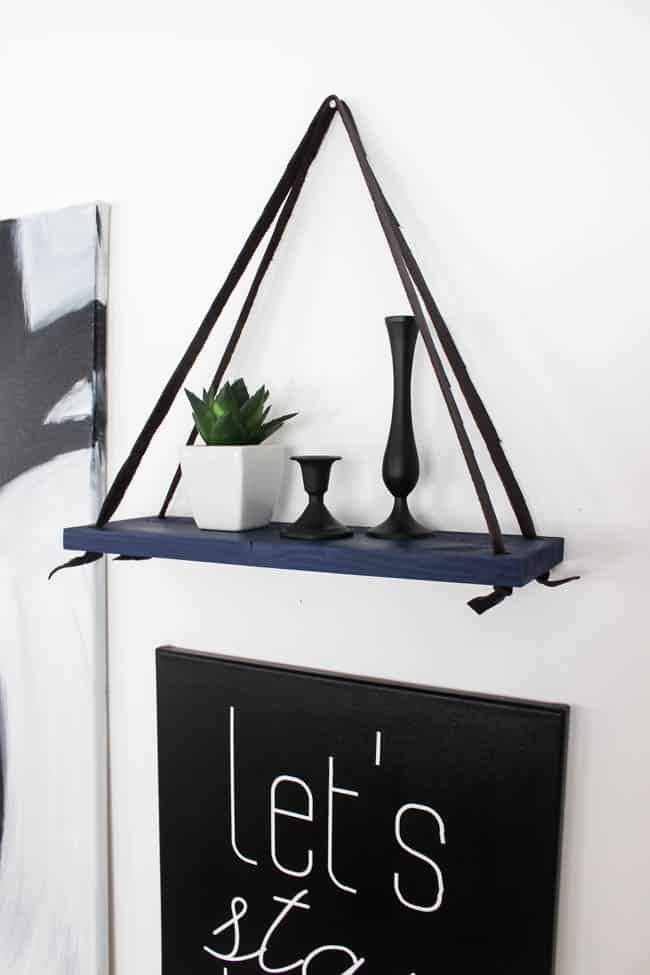 The hanging shelf was the perfect addition to our little corner :)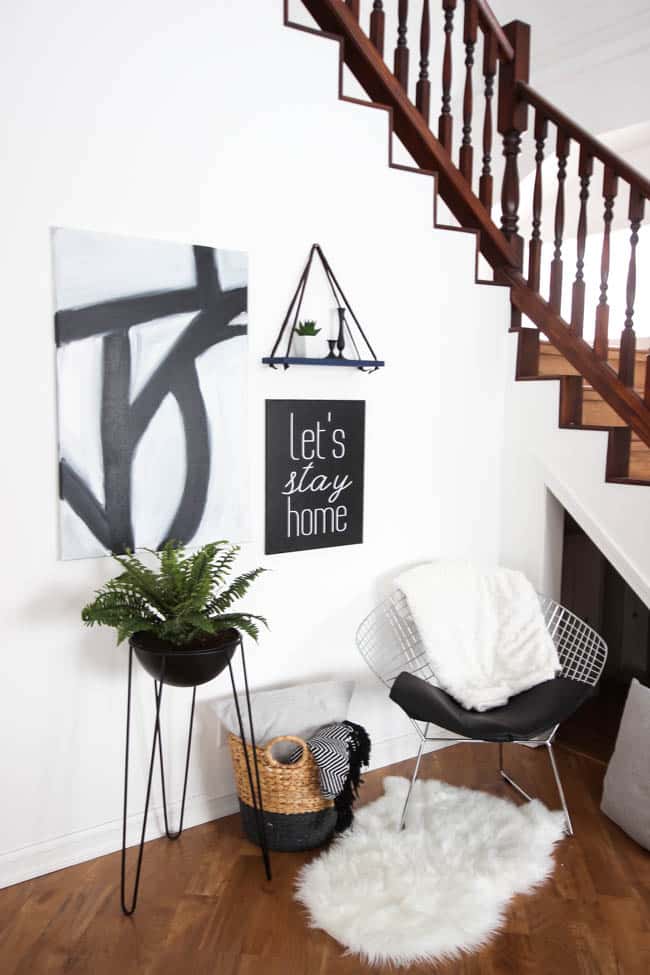 If you need another idea for your scrap wood, why not try this Bath Tray!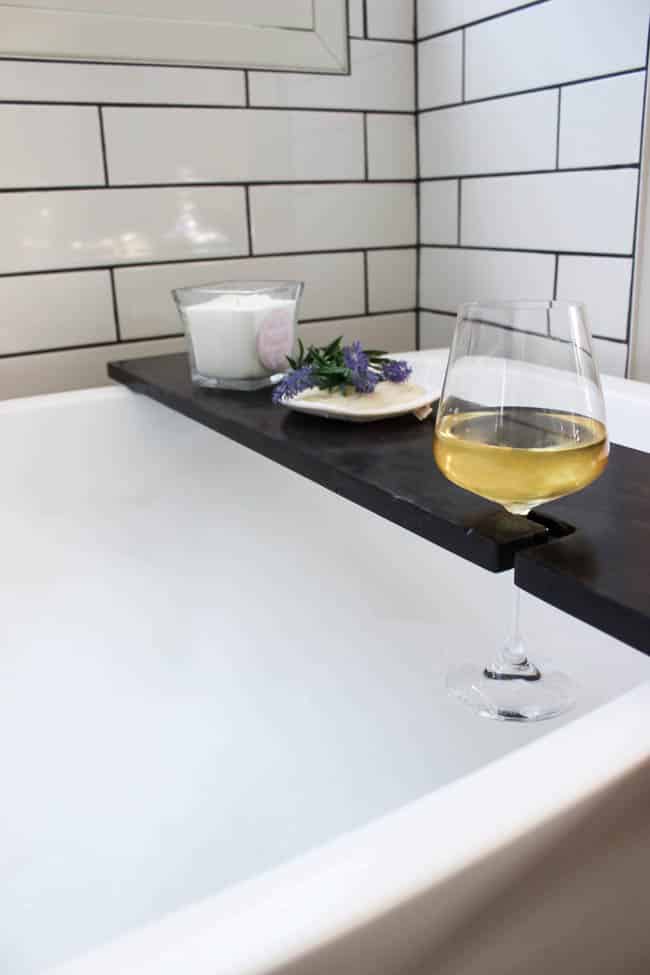 Don't forget to check out all the features of our finished High Tech Living Room!