It's a beautiful day to start a renovation, don't you think?! Today is SUCH an exciting day for me! If you've been following along here, then you know that we started my Dream Closet Renovation last fall, and even then, I was talking about renovating our bathroom. Our bathroom is functional, but it isn't "pretty". It's never been my style. My dreams of transforming our bathroom into an Industrial Chic oasis are finally becoming a reality! I can't wait to show you these plans.
Week 1 / Week 2 / Week 3 / Week 4
Week 5 / Week 6 / Week 7 / Week 8
Week 9 / Week 10 (Final Reveal!)
I'll start with the before pics. We have a bizarre room where the bathroom is totally open to the bedroom. The toilet is hidden in the corner though! lol. The tub is the most open part. In the picture above, you can see the footboard of the bed only about two feet away from the tiled in tub. At first it was strange, but now I love it. While I'm soaking in the tub, I can have the fire going from the fireplace and watch a chick flick if I want (TV above the fireplace). Give me a glass of wine and this picture is perfect! Except for the outdated tub of course… lol.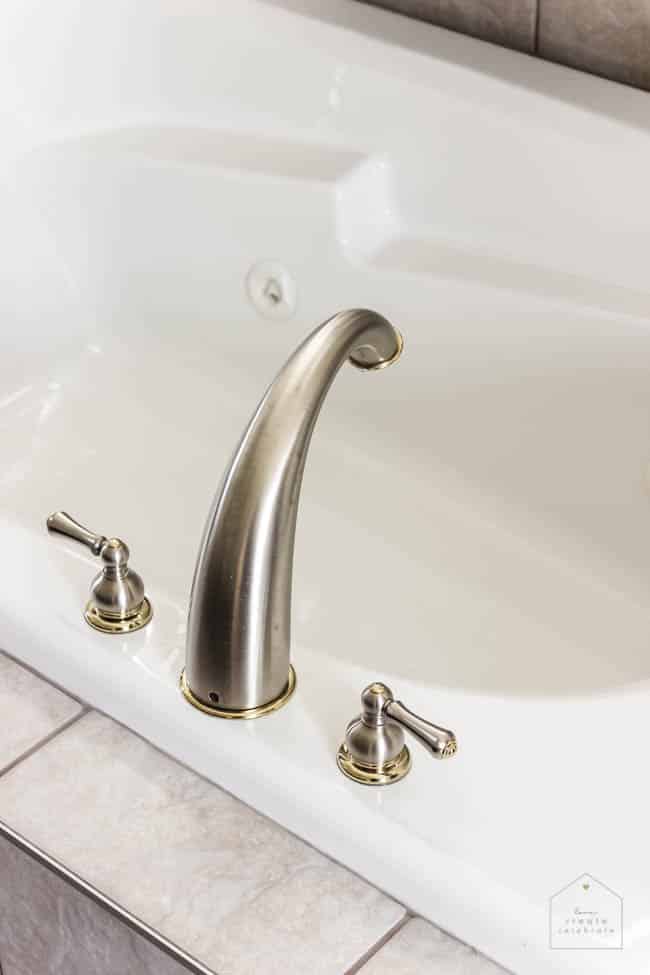 We have some very uninspiring blinds in the window that I'm looking forward to replacing too – it's not doing anything fabulous for our space.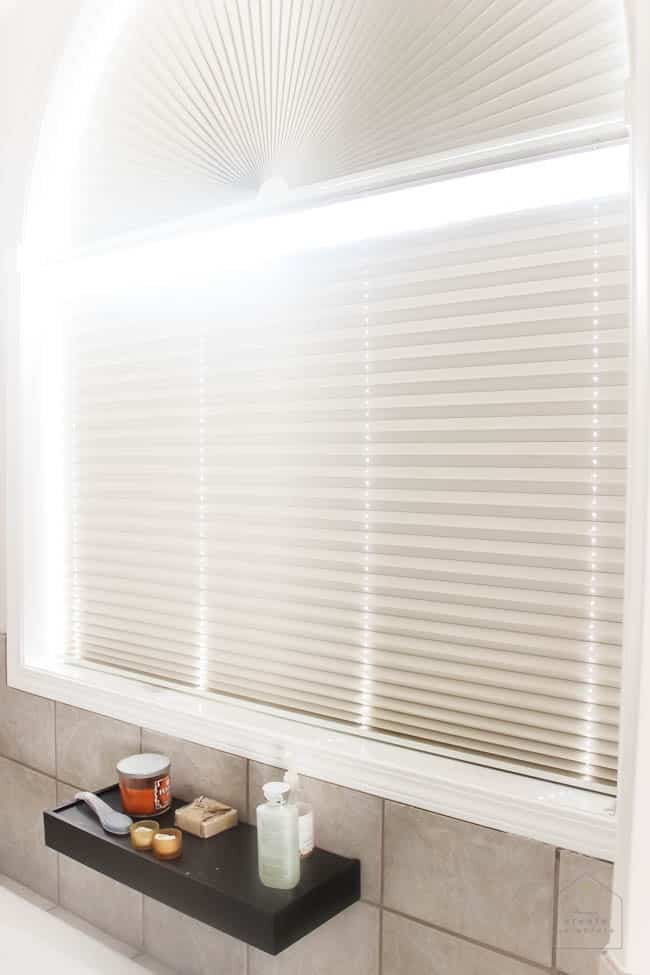 Behind the tub wall is our vanity… and yes, it is always this crowded, lol. There is so much about this vanity space that I don't like, The colour of the oak cabinets, the gross lights above the mirror, the shell-shaped sinks. Not modern. Not industrial. Not chic.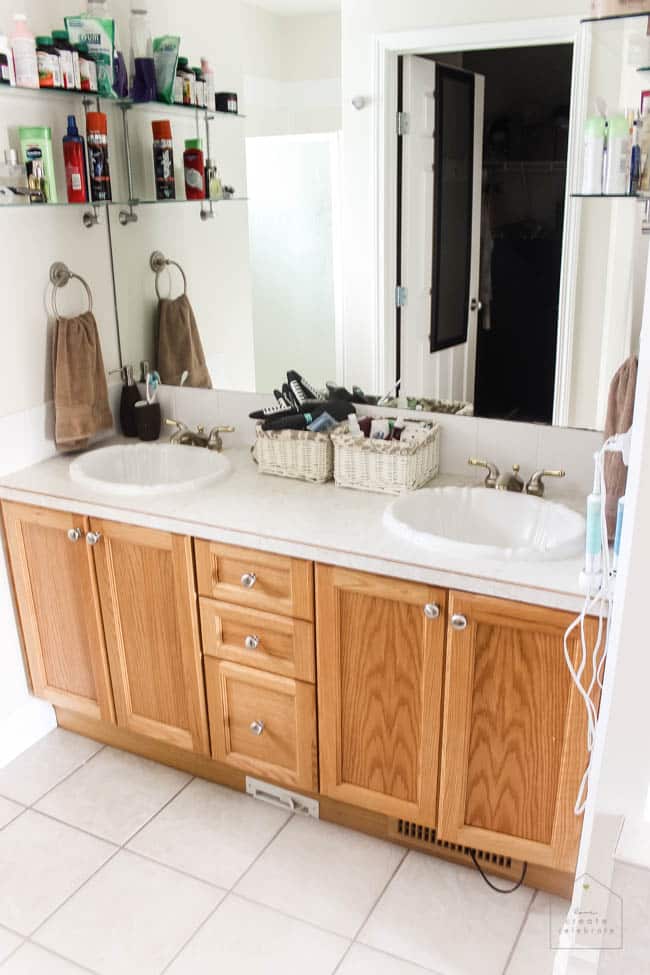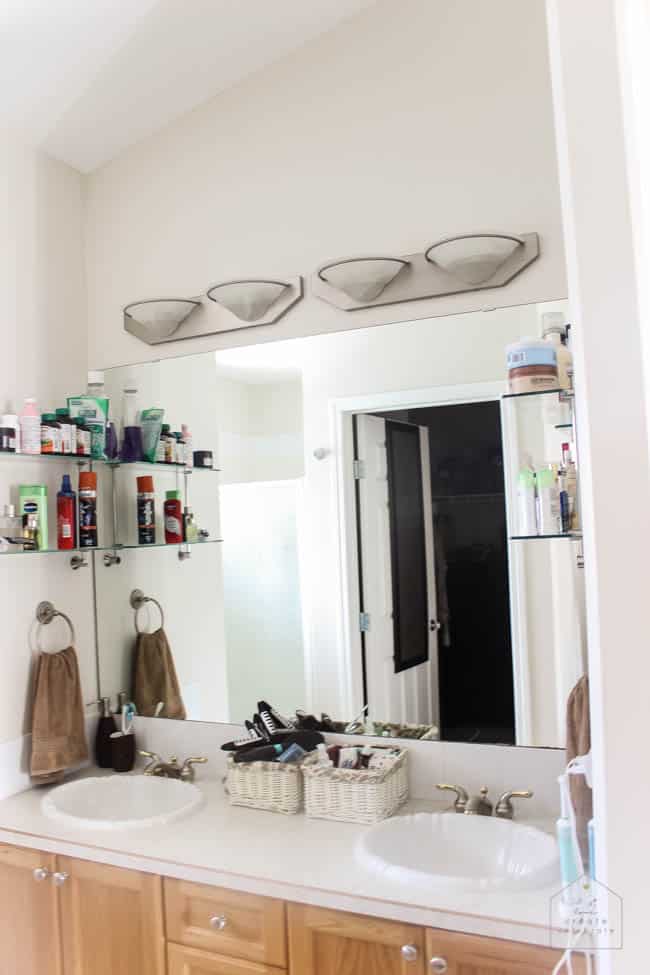 Our closet entry used to be across from our vanity… but we've already changed some things around there! I'll remind you next week… or you can check it out for yourself here.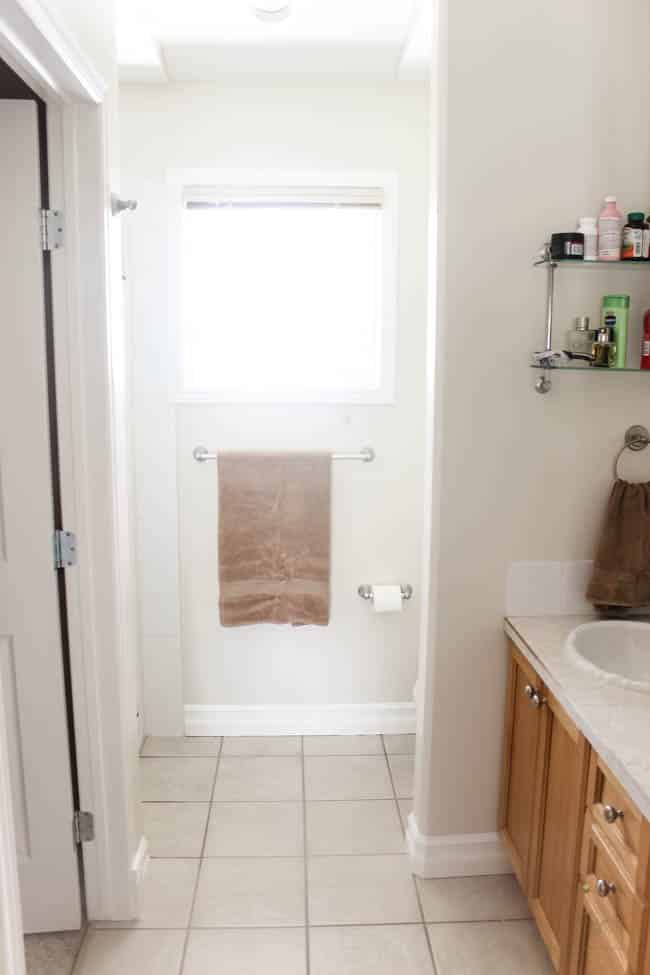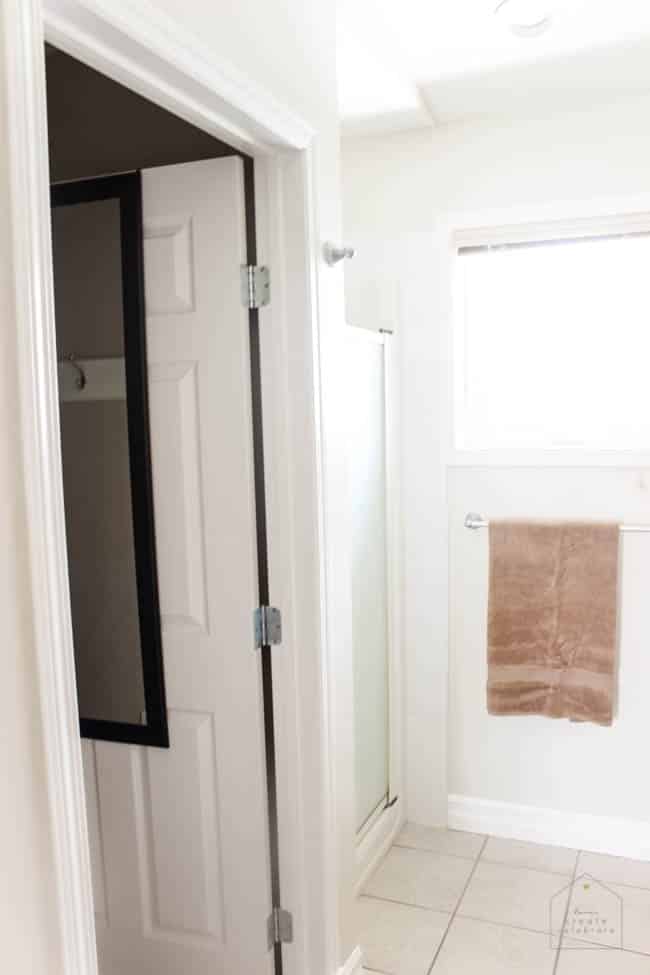 Then there's the shower… tucked away in a tiny square corner. I cannot tell you how excited my husband and I are to expand the shower! A full, tiled shower with body jets and a rain head.. it's a dream come true!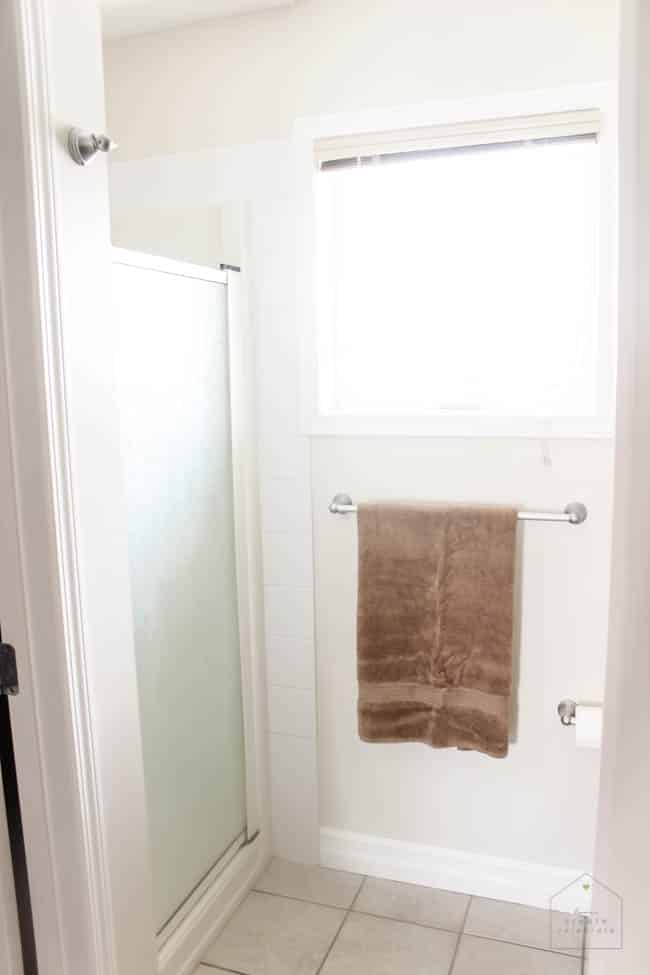 And finally, an outdated toilet with some towels stacked in the only storage spot we have.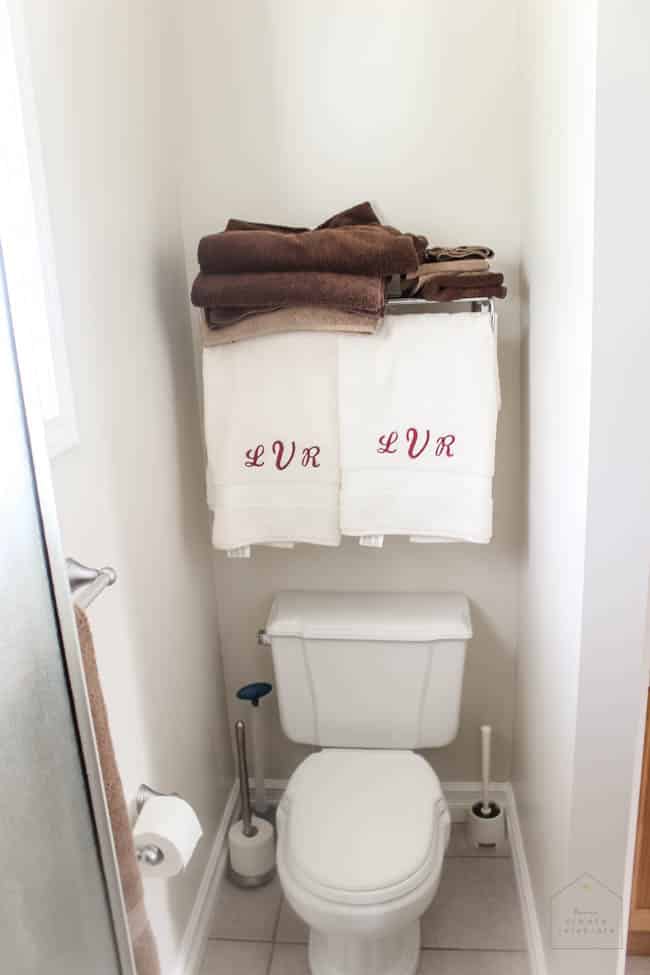 Never fear my friends! There are changes coming!
Starting here….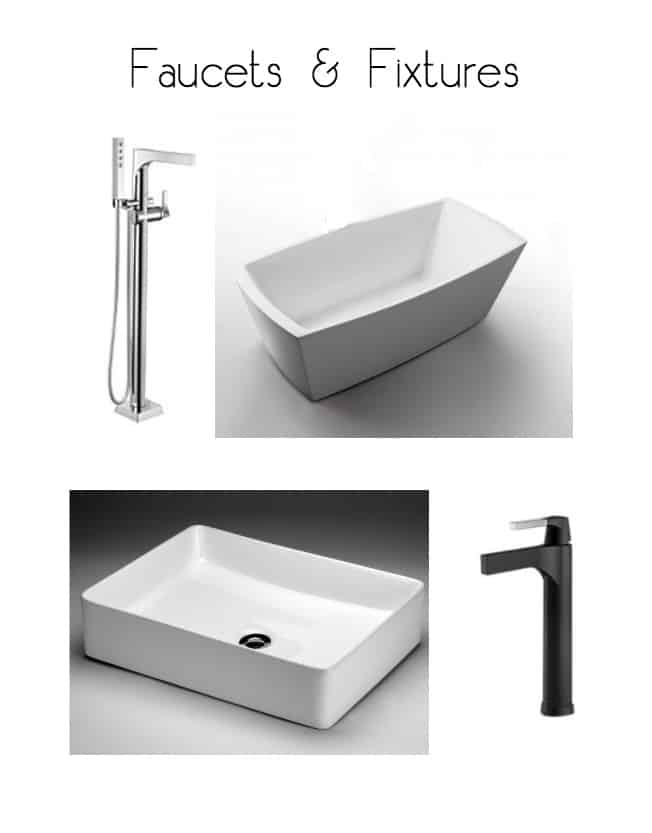 Are you drooling yet?!! Look at the beautiful square edges on that Rectangular Vessel Sink by Acri-Tec. When I saw these on The Home Depot website, I called my husband right away. Literally that second. Rectangular vessel sinks are a dream come true!
And then to top them off with gorgeous matte black faucet from Delta faucet. THIS faucet is everything.
Our old tub took up SO much space. Removing the tile, taking the tub out, and replacing it with a beautiful Freestanding Acri-Tec tub is something I'm beyond excited about!
And then to top it all off…. a gorgeous chrome tub filler from Delta faucet.
Then we couldn't update all of the fixtures and leave our outdated toilet… enter sleek American Standard toilet from The Home Depot!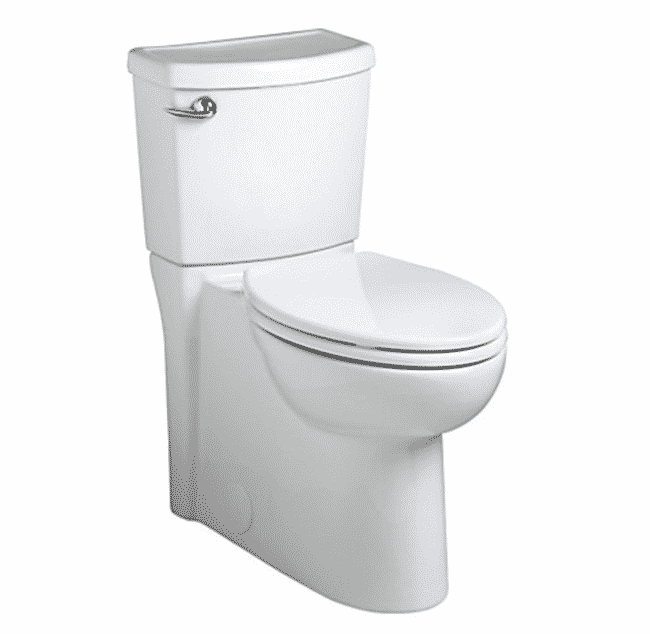 What do you think of our plans?! Does a modern bathroom appeal to you?! I'd LOVE to hear your thoughts!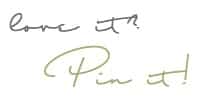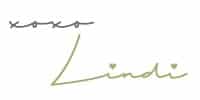 *This renovation was sponsored by The Home Depot Canada and Delta Canada. For more information, please read my disclosure policy*