Learn how to build a vine trellis. Create support for climbing plants outdoors with this easy DIY vine trellis made from scrap wood.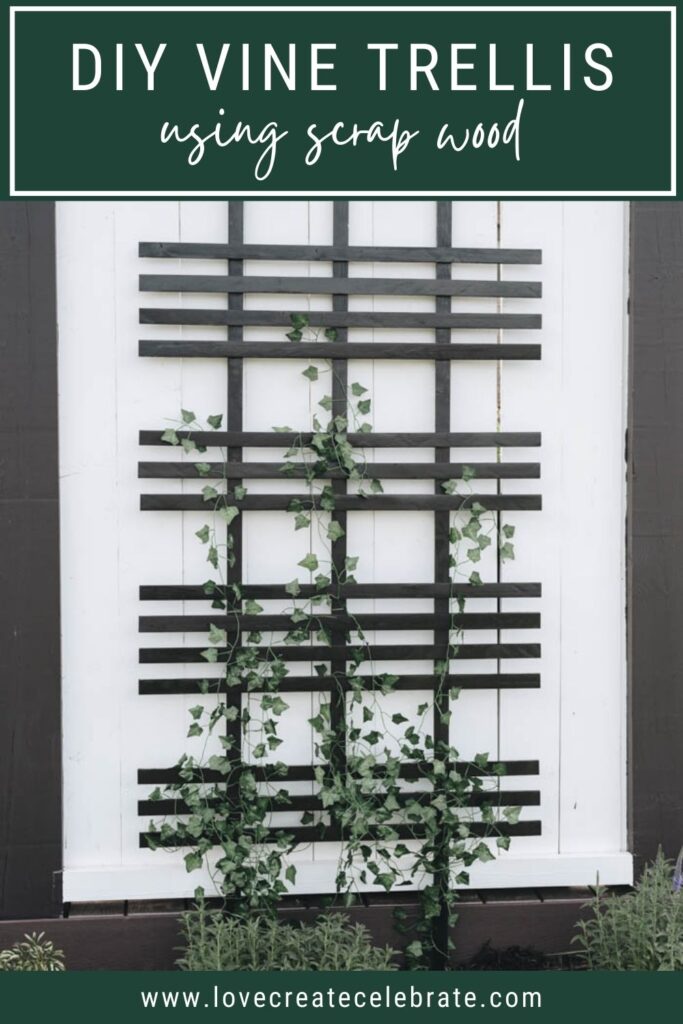 I want to add some vining plants to our landscape, but I also want to make sure they grow up and that they do not take over the garden. If you have ever wanted to try your hand at making one, I'm going to share my tips for how to build a vine trellis.
Last year we did a lot of work on our exterior, including painting the house, painting the window frames black, adding a concrete pad, and adding a pergola! Now it was time to add some decorative elements, like planters and this easy DIY vine trellis.
*This post may contain affiliate links. When you buy a product through one of our links, we get a commission at no cost to you! Thank you for supporting our blog so that we can continue to bring you posts like these. For more information, please see our disclosure page.*
What is a Vine Trellis?
A vine trellis is a vertical garden structure that helps your plants grow upwards. It typically is made with an open framework so that plants can easily grow vertically and twist around the structure. A trellis can be used for indoor or outdoor use, and can help add privacy to your yard.
Some benefits of a trellis include that they:
Allows more sunlight exposure
Allows pollinators to easily pollinate the area
Reduces exposure to fungal diseases
Increases air circulation
Deters insects and pests
Creates more space in your garden
What plants can grow on a vine trellis?
There are a lot of flowering and non-flowering plants that can grow upwards and take advantage of the vertical space that a vine trellis offers. Here's a list with some great vine plant options. Here are some of my suggestions:
Sweetpea
Virginia Creeper
Star Jasmine
Scarlet Runner Bean
Mandevilla
Climbing Hydrangea
Clematis
Moonflower
Honeysuckle
Black-Eyed Susan Vine
Hyacinth Bean
Bougainvillea
How to Make a Vine Trellis
We had a lot of scrap wood in the shop so I decided to make a vine trellis using some of the 2×2 boards we had, but if you didn't have scrap wood, it would be a very affordable DIY with only a small amount of lumber. It's an easy DIY outdoor project you can knock out in a day or less.
Materials
Scrap 2×2 boards
Table Saw
Nail Gun
Step-by-Step-Tutorial
Cut your 2×2 boards into 1/2 inch strips, I got two from each board. I didn't have enough 2×2 scrap boards so I also used some 2X4 scrap boards as well.
You will need 3 at the full 8 ft. length and 17 – 3ft. pieces if you want to follow the same design.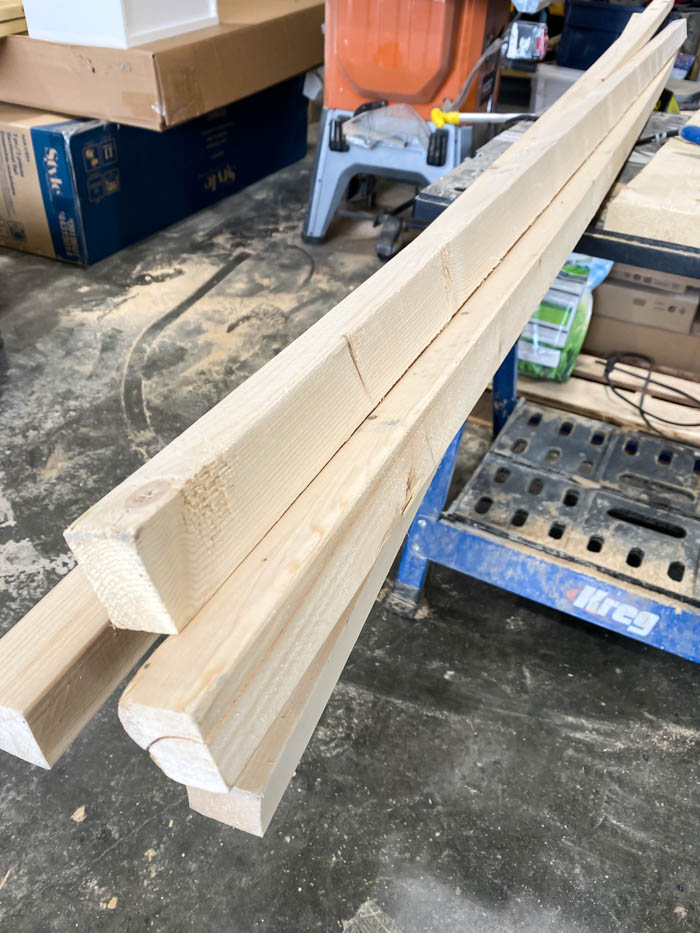 Space your vertical pieces (8ft pieces) 8 inches apart. I created a spacer out of scrap MDF to help keep the spacing. Attach the 3ft pieces to the 8ft pieces from the back so the nails won't show and space them in a 3, 4, 3, 4, 3 pattern up the vertical strips.
Then cut of the bottom of the middle vertical piece so your vine trellis just has two legs.
Stain the entire piece with the color of your choice, I used Black Ebony, then coat with an outdoor varnish in multiple coats to protect the finish from the elements.
Put it in the ground and it's ready for your vining plants!
Our Finished DIY Vine Trellis
Here's how our vine trellis turned out. I'm really happy with the modern minimalist vibes of this piece.
I have to confess that I couldn't find any vining plants near us because I built the trellis in August and all of our greenhouses were sold out, lol. But I filled it with some faux ivy to give you an idea of what it will look like. Shhh…don't tell anyone! haha.
I promise I plan on adding real vining plants to it as soon as I can find some.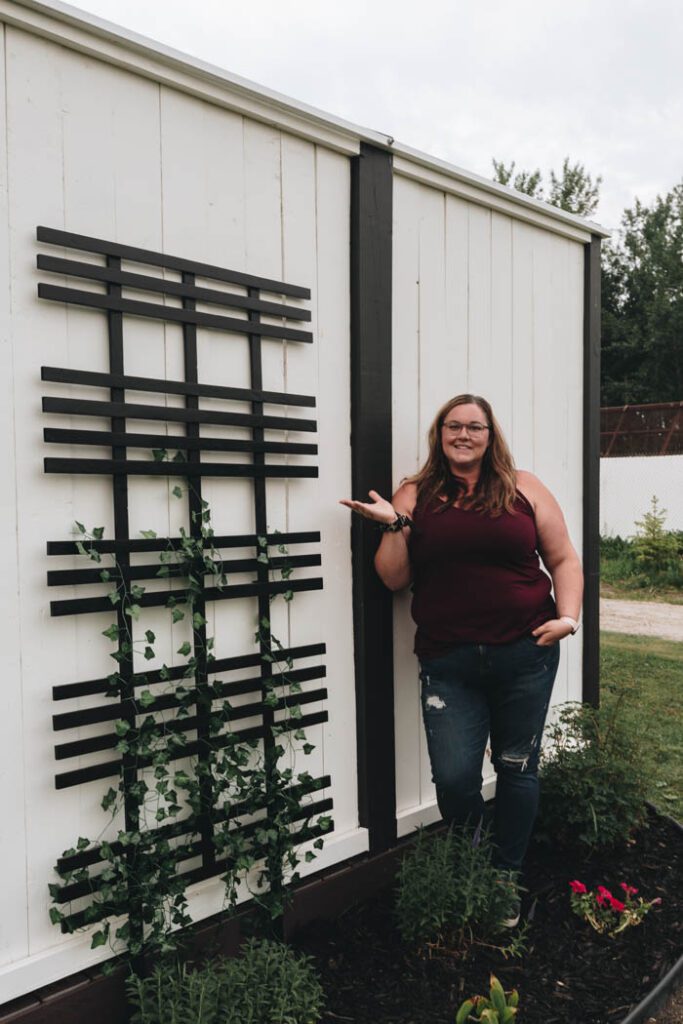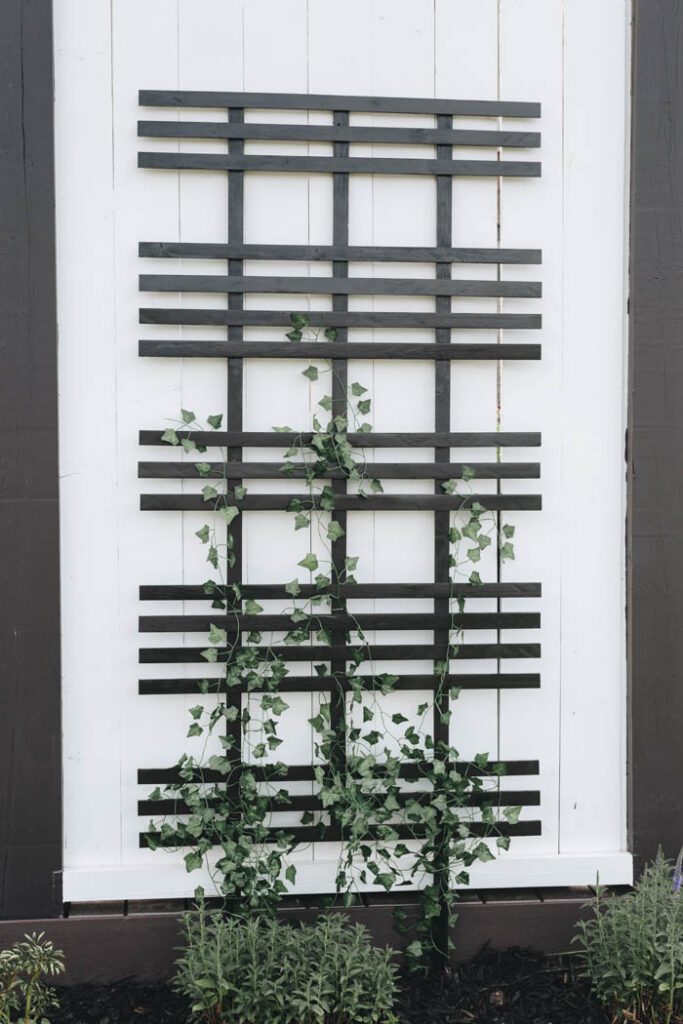 Video tutorial for Vine Trellis
These outdoor scrap wood projects are part of my scraps made modern series and this episode also includes an easy DIY side table made from scrap wood.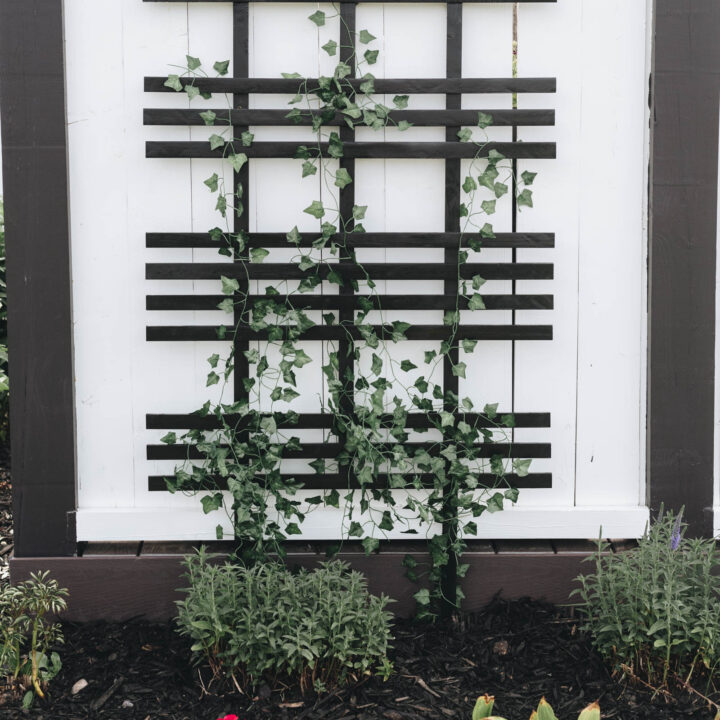 Vine Trellis DIY for Your Climbing Plants
Create support for climbing plants outdoors with this easy DIY vine trellis made from scrap wood. Follow the video and written tutorial to make your own trellis for climbing plants.
Instructions
Cut 2x2s to length
Attach 3ft pieces to vertical pieces using a nail gun
Stain and finish with outdoor varnish.
For more outdoor DIYs check out How to Build a Large Planter Box, and DIY Herb Garden