Wondering what material to use for your shower bench? Here's everything you need to know!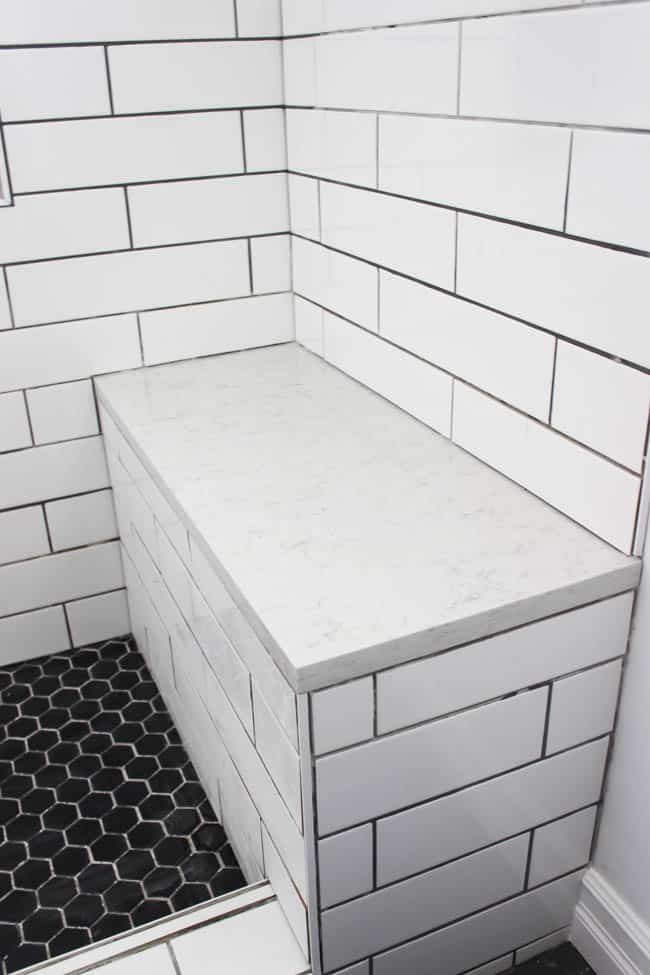 When we decided to renovate our master bathroom, 99.9% of the reason was because we wanted a nicer shower. A nice shower is something that never goes out of style, and there's nothing better than having a large, fresh space to warm up in after a long day's work. For our new shower we knew we wanted tile, fancy faucets, more space and, last but certainly not least, a shower bench.
When done right, shower benches are really stylish and unique [see all of the amazing Bathroom Design Plans here]. I think they add just a little bit of more class and personality to a nice bathroom. On the more practical side, shower benches improve home safety by helping to prevent falls from happening in the shower. They're also relaxing to use after being on your feet all day (especially if you've been chasing after children like I am!) and can be a great storage shelf to tuck away your shampoo and soap bottles.
I'm happy to report that my shower bench dreams are finally coming true! But through the renovation process, some hurdles were harder to get over than others and figuring out what material to use for a shower bench was one of them. I couldn't find the information I wanted anywhere! I kept wondering: Why are people paying for more expensive materials? Is it just because of how they look? What type of materials have to be maintained? Which is the easiest to install? What are some of the more cost-efficient options? So after some research, I figured out some answers on my own and am happy to share what I discovered. Hopefully after reading this, you won't need to stress about figuring out what material to use for a shower bench in the future!
What to consider when picking material for your shower bench:
A few things to consider when picking material for your shower bench include:
Budget (as always),
Esthetics, and
Maintenance
We had a little more wiggle room in our budget for a shower bench and knew we wanted a higher-end look that was easy to maintain.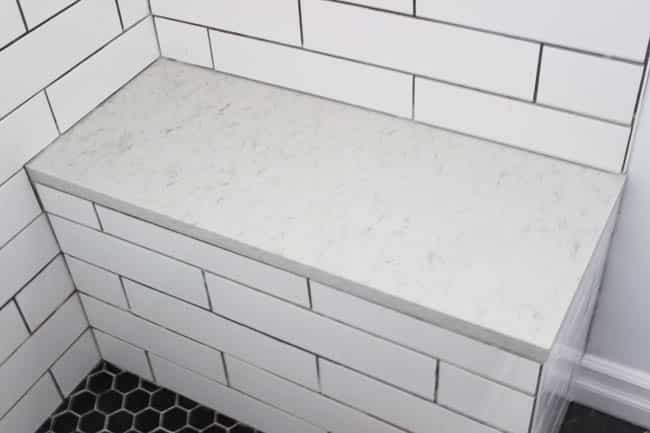 When it comes to your shower bench, there are a few main choices (from what my husband and I could figure out!):
Granite
Marble
Tile
Teak (wood)
Quartz
Granite and Marble
Granite and marble are both beautiful, but can get expensive too. They are both porous stones, which means they absorb liquids relatively quickly. If you use a porous stone for a shower bench, it would need to be sealed very well to begin with. Sealant also wears off over time, especially in a heavily used and wet place like a shower, so it would need to be resealed every now and then. Because granite and marble are expensive and high maintenance, we decided they weren't for us. But both stones can really take the look of a shower to the next level.
Here's an example of a beautiful marbled floating shower bench:
You can see a tiny bit of the beautiful black granite bench in this picture:
Tile
Continuing the tile from your shower walls onto your shower bench is a great option, and fairly affordable if you have a reasonably priced main tile (like our subway tiles). Whether you want a full shower bench or a floating shower bench, using the same tile that you have in your shower can be a great option. However, we liked the idea of having some contrast with our subway tiles and decided that we wanted a solid colour for the top our shower bench. Also, tile can be hard to clean – so ultimately we decided that this look wasn't for us.
If you were doing a tiled shower bench, you could do one just like this corner floating shower bench from My Life from Home:
Teak
Teak is another great, affordable option for a shower bench. Teak shower benches are not cold when you sit down on them and they are much cheaper than stone. Teak holds up very well to excessive moisture, unlike most other woods, and usually teak furniture stands up very well over time. Using teak, you could even opt for a bench that folds up or a mobile bench that you could pick up and bring into the shower. This is a great option for smaller spaces or if you're looking for something that's multi-functional. Teak also offers a fairly neutral look and can match with almost any bathroom and shower. The downside of using teak is that watermarks and stains can develop. Also, teak can patina (tarnish) and discolour over time, so you would need to sand and apply oil treatments every once in a while. We wanted something more permanent in our shower and something a little more low maintenance, so we decided against a teak shower bench. However, overall it's relatively low maintenance and a great budget-friendly option.
Here's a great teak shower bench that you can move in and out of the shower easily!
Quartz
Then there is quartz. Quartz is manufactured, meaning it's not a natural stone. But being man-made, it is also a non-porous material, so you don't have to apply sealers or worry about re-applying later. We liked the idea of this low-maintenance feature. Plus, a solid surface such as quartz can also be less work then cleaning, for example, subway tile. And less cleaning is always a plus in my books!
However, quartz can get expensive (as much as granite sometimes) but as mentioned, we had a little bit of wiggle room in our budget. We also did a bit of hunting around and found a cheaper off-cut (leftover) piece from Mercanti Granite and Quartz! Mercanti Granite and Quartz is a local store that specializes in supplying and installing granite and quartz countertops, as well as sinks and faucets. They didn't seem surprised when we talked to them about using an off-cut slab for this project and helped us find the perfect piece. Buying a leftover piece of stone is a great option that many people don't know about when they're shopping around, however most local retailers will offer it – you just have to ask! The only downside to this is that sometimes you might not get exactly what you want, but it's always worth checking into.
The Shower Bench We Chose
We also really liked the look of quartz. We thought that a full, more solid colour would contrast nicely with the subway tile that's in our shower and on the base of the bench. It was also a bit of a higher-end look for our bathroom.
Seeing as quartz was in our budget, low maintenance and what we wanted esthetically for our space, we decided this was the material we were going to use.
We opted for a quartz slab with a little bit of brown in it: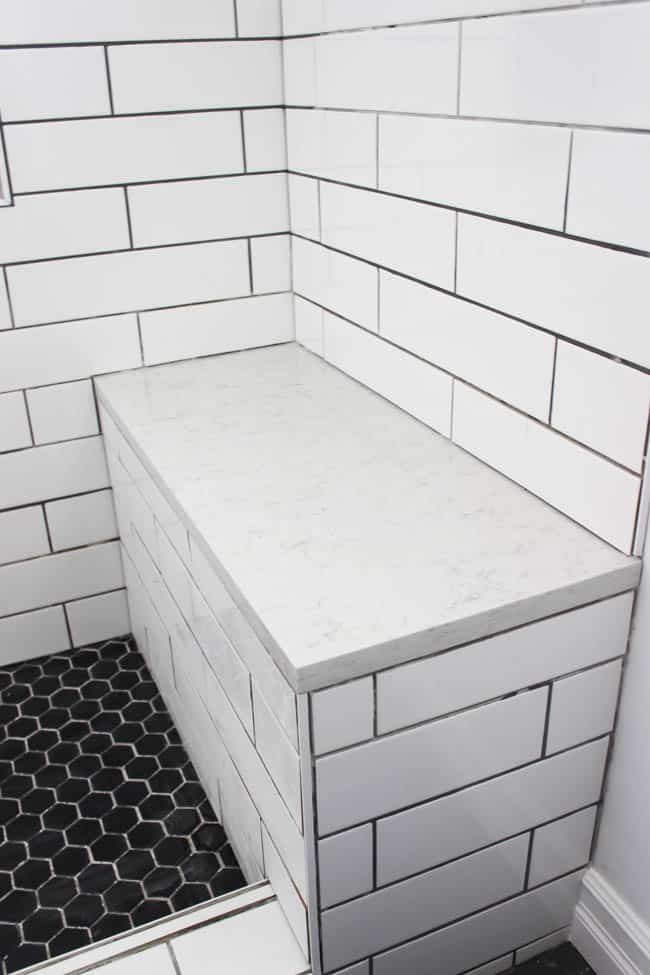 Even though the bathroom renovation isn't quite done, I think the subway tile shower bench with quartz looks amazing! I'm so happy with it and can't wait to use it. I hope sharing this experience is helpful for you during your bathroom renovation process!
If you're looking to install your tiled bench, here's a great video for how to frame it in properly
What do you think?
Are you looking to install a shower bench in your bathroom? Or do you already have one? What were some of the challenges you faced when picking and installing one?
FIND MORE BATHROOM RENOVATION UPDATES HERE:
Week 1 / Week 2 / Week 3 / Week 4
Week 5 / Week 6 / Week 7 / Week 8
Week 9 / Week 10 (Final Reveal!)
See our COMPLETED MODERN BATHROOM here.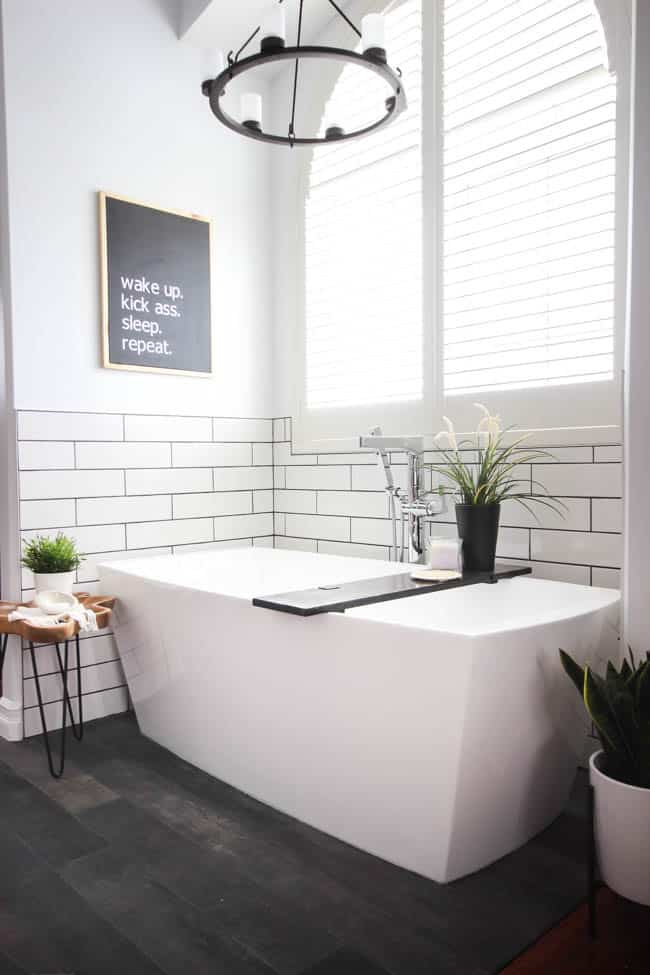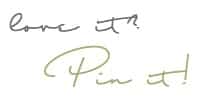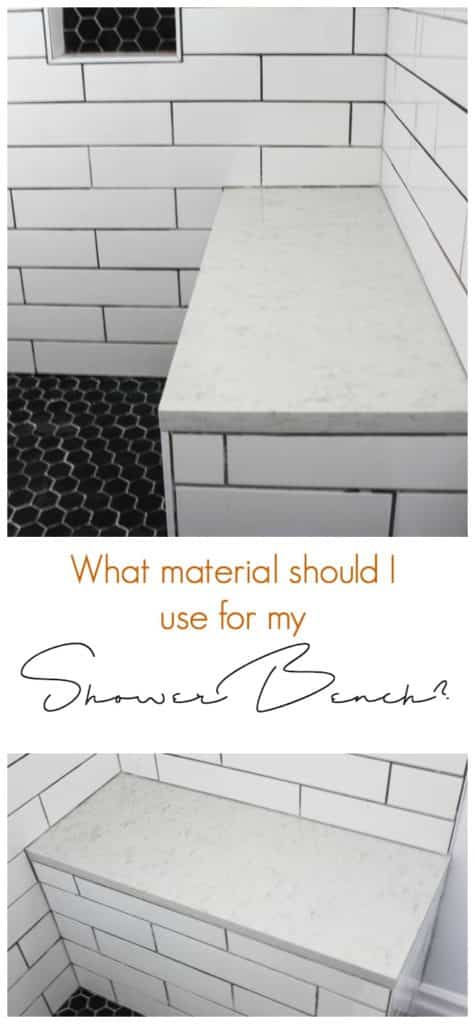 *This renovation was sponsored by The Home Depot Canada and Delta Canada. This post may contain affiliate links for your convenience. For more information, please read my disclosure policy*