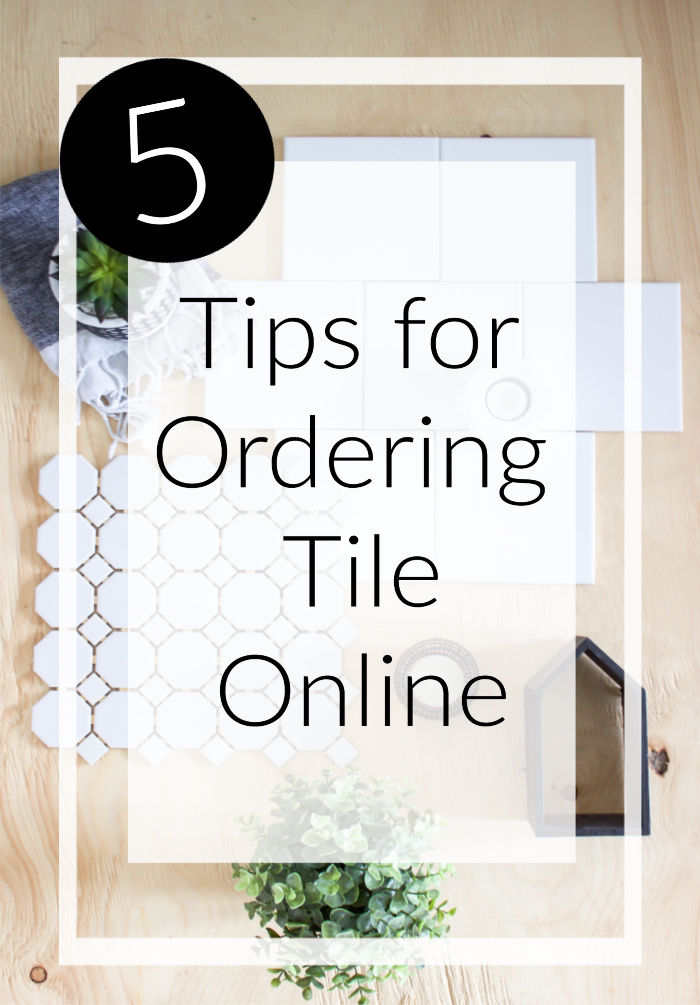 We are getting there! It's week 3 of the 6 week One Room Challenge. We are almost at the half-way point of our bathroom renovation, and this big job is only getting bigger and bigger! If you checked in last week, then you'll know that we are renovating our main bathroom this time around and finished off the demolition in no time! This week I'm showing off some of the not-so-pretty progress we've made, and sharing our tips for ordering tile online (which can always be a bit uncertain….).
*This post was sponsored by Jeffrey Court. As always, opinions are 100% my own. For more information, please see my disclosure page.*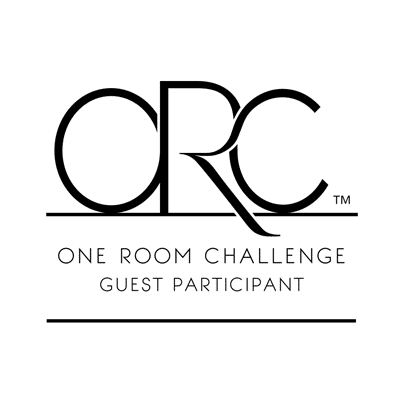 If you missed the last couple of weeks, catch up here:
Last week we had demo'd every inch of this old bathroom. This week we are getting dirty! VERY dirty! LOL.
Our home doesn't have a basement (which apparently is weird in Canada, but normal in many parts of the US). So in order to move plumbing around, we had to chip into the concrete floor. Luckily for us, my husband's family built this house (read more about that here!) and took pictures every step of the way. We used their photos to figure out where some of the pipes ran.
The pipes that we had to join into over here (that led to our washing machine and main water line) were 15 inches under the concrete floor! My husband was sure that they were there because of the pictures he saw, but if he hadn't known for sure, he probably would've given up and started digging elsewhere!
(Thank you to my MIL for being so diligent!)
We put in new plumbing, filled the space back up, and covered the holes with concrete. It took a few days to finish the re-plumbing, but it'll be worth it!
The next thing we did was re-frame the new wall. We only ended up moving it 7 inches (I know…. we're crazy) but 7 inches gives us the passageway we need to have our fixtures where we want them, and ALSO lets us put in some much-needed storage. So it's totally worth it!
One section is being left open to bring our bathtub into the bathroom before we close off the space (because we have a very narrow door). And did I mention we moved the door over 7″ too?? lol. It allowed us to have more space for the shower so we re-framed that too, lol.
This wall above might not look like much, but it was a ton of work for Russel! It shows off many nights of moving plumbing lines, moving electrical for new vanity lights and heated flooring, and creating new lines for the utility room on the other side (since we will eventually move our laundry to this wall!). PHEW – so glad this part is done!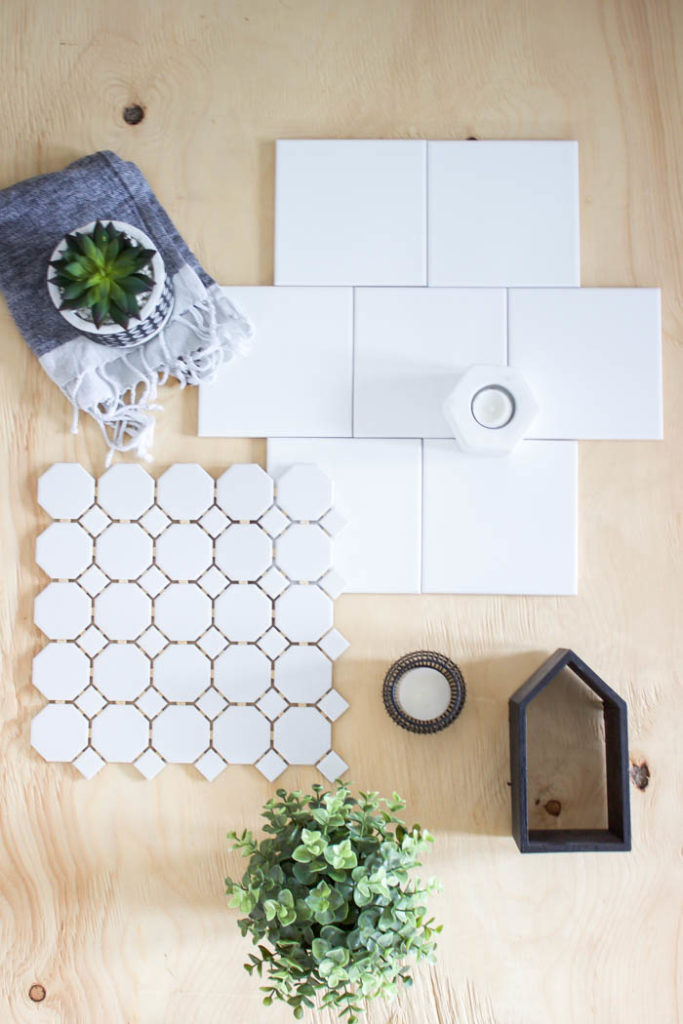 So let's move onto something more fun! These were our final choices for tile in our beautiful modern bathroom. The white retro octoagon tile is for the floors, and the white 6″ square tiles are for the walls.
We have all of the tiles at home now, waiting to go up, and they look beautiful! Buuut, ordering tile online isn't always easy! You don't know for sure what it looks like in person, you can't be sure if you'll have enough, and you can't always be sure they will look great with your design! Here are some tips for ordering tile online that should help your process go smoother:
Tips for Ordering Tile Online:
1. Search for Ideas – If you search an online shop and find a tile that you like, try searching Google or Pinterest for more inspiration before you order. The names of the tiles don't always work, so try searching more descriptive things, like "square farmhouse tile" or "glossy blue tile" to get more results. Also, many tile companies, like Jeffrey Court Home Depot, have their own Instagram pages full of inspirational photos that you can search for and get inspiration.
2. Get Samples – Does this go without saying?? Sometimes we don't want to spend the money on extra tiles, but it's so worth it! We ordered about 8 different samples for this project. Some we excluded as soon as we saw them because they were too dark or too veiny for our style.
3. Lay out your designs – Ordering samples also gives you a chance to see all of your design choices together. Put them beside your paint chips, lay them up against the wall and next to the flooring. It really helps you visualize the finished space.
4. Make your calculations easy – When it comes to calculating square footage for your space, many tile companies have online tile calculators, like the one on the Jeffrey Court site for my square tiles. These calculators will usually tell you exactly how many boxes of tile you need. But make sure to add another 10% because there are always pieces cut that can't be used! And if it's your first time tiling, consider ordering 15% extra because usually the first job comes with a few extra throw-aways.
5. Use a reputable source – The worst thing that could happen ordering tile online, is that the tile is poorly shipped, and breaks, or the company doesn't accept returns or keep the manufacturer's warranty. Make sure to do a bit of research first! Companies like Jeffrey Court will actually send you to the Home Depot site for the order, and that's definitely a reliable place to buy tile!
I hope those tips help if you're considering buying tile online!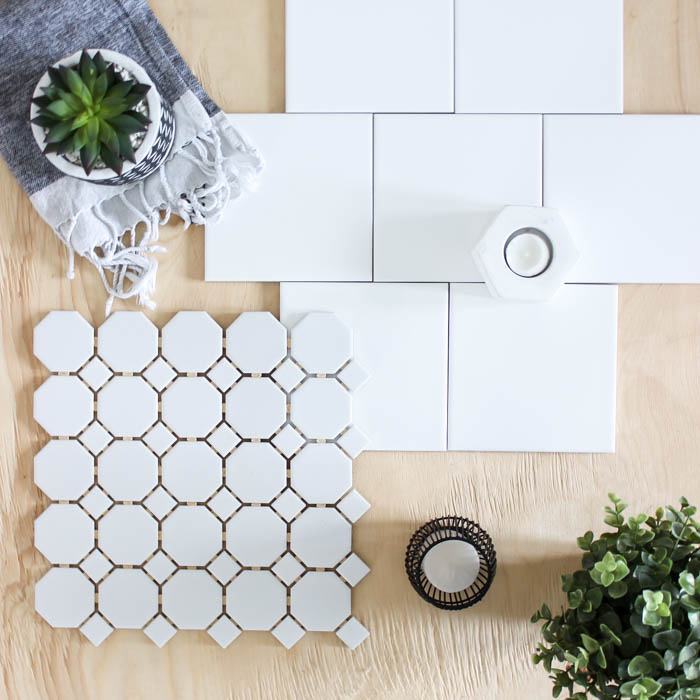 As always, my obsessive list-making skills come out! Here's our modern bathroom to-do list:
Demo the space
Choose fixtures and faucets
Move plumbing
Move electrical
Re-frame new wall
Decide on finishes for vanity and storage wardrobes
Install curb-less drain
Install heated flooring
Tile floor
Tile walls
Buy rug
Buy accessories
Install fixtures and faucets
Build shelving
Build plant stand
WISH US LUCK!
Find more great One Room Challenge design plans on the One Room Challenge site!