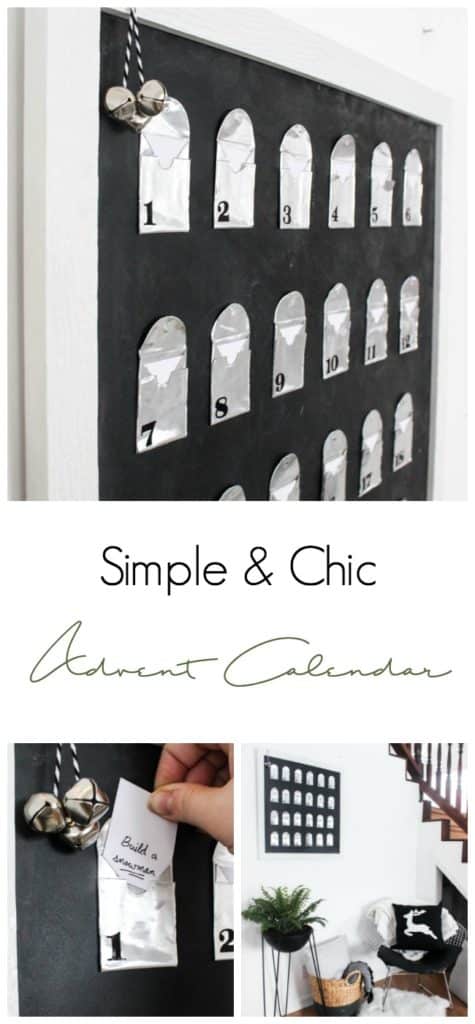 It's almost time to start counting down the days to Christmas! As a kid I always looked forward to using the advent calendar. Except we had one calendar and four children, so I got one chocolate every four days, lol. But I was still excited about it! This year I'm making a fun one for my kids that I actually want to have up on my wall. Hope you like my advent calendar!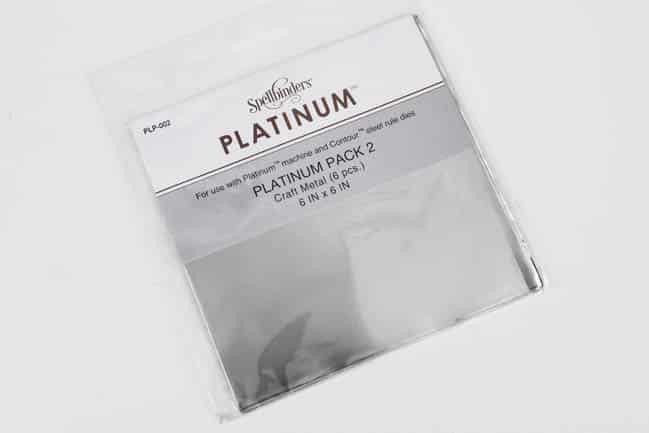 *This post was sponsored by Spellbinders and may contain affiliate links. When you buy a product through one of my links, I get a commission at no cost to you! For more info, please see my disclosure page.*
The first time I found this craft metal, I knew I would create something with it. I love mixing metals into my decor and veering back towards a touch of industrial style.
Materials:
Power Tac Glue
Double sided tape
Black Vinyl
White cardstock
Large square chalkboard (similar)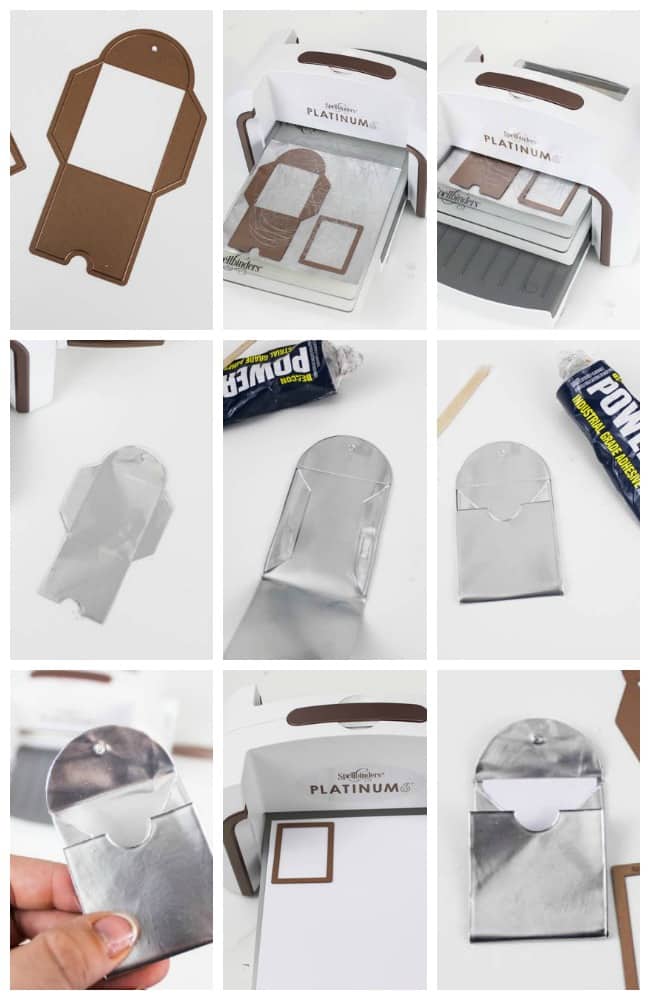 How to Make Your Own Advent Calendar:
Following the directions in the photo above (top left to bottom right), all you have to do is cut the craft metal with the Notched Mini Envelope Etched Dies, and then use the white cardstock and the rectangle from the etched die kit to cut the white paper inserts.
Once the envelope is cut, use Power Tac glue to glue the craft metal together. Then you can use the same glue or tape to attach your envelopes to your chalkboard or wooden background.
The next step is to use your Platinum 6 machine to cut vinyl numbers from 1-24 for each of your advent calendar envelopes. Peel off the backing and stick them to the front.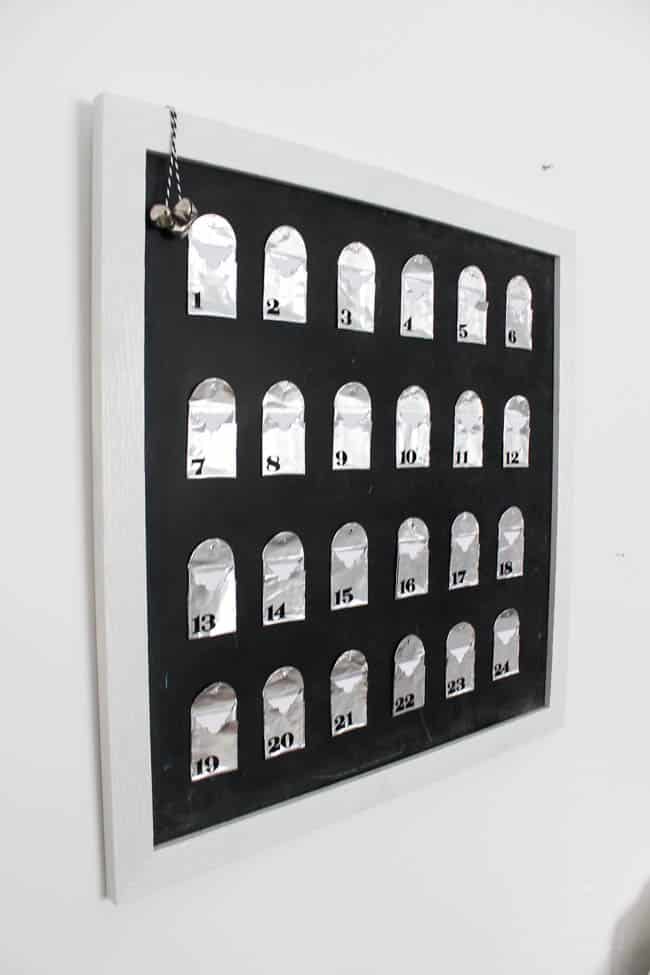 Love the mix of the metal added to the black and white. It's so classic and chic!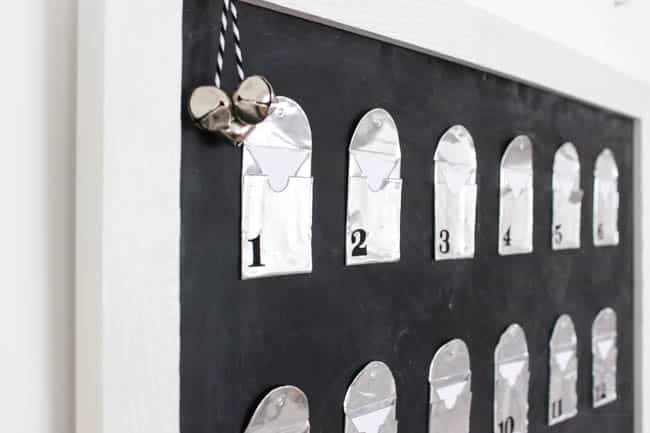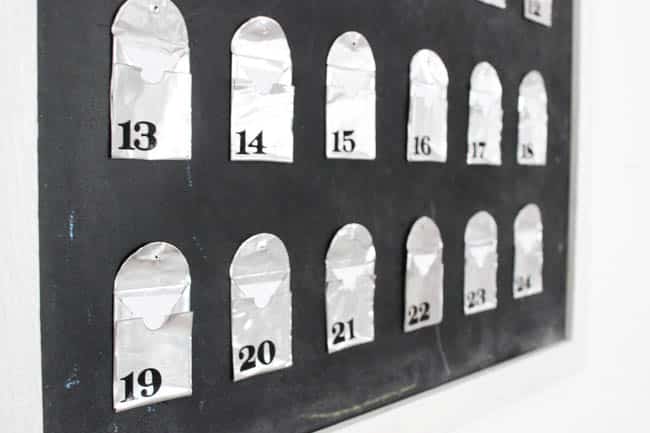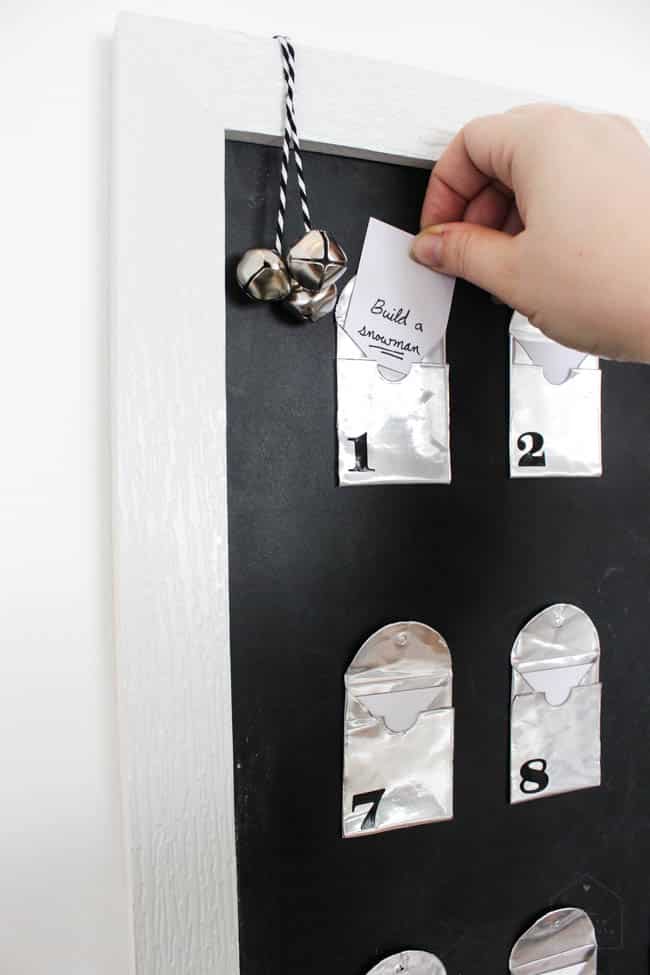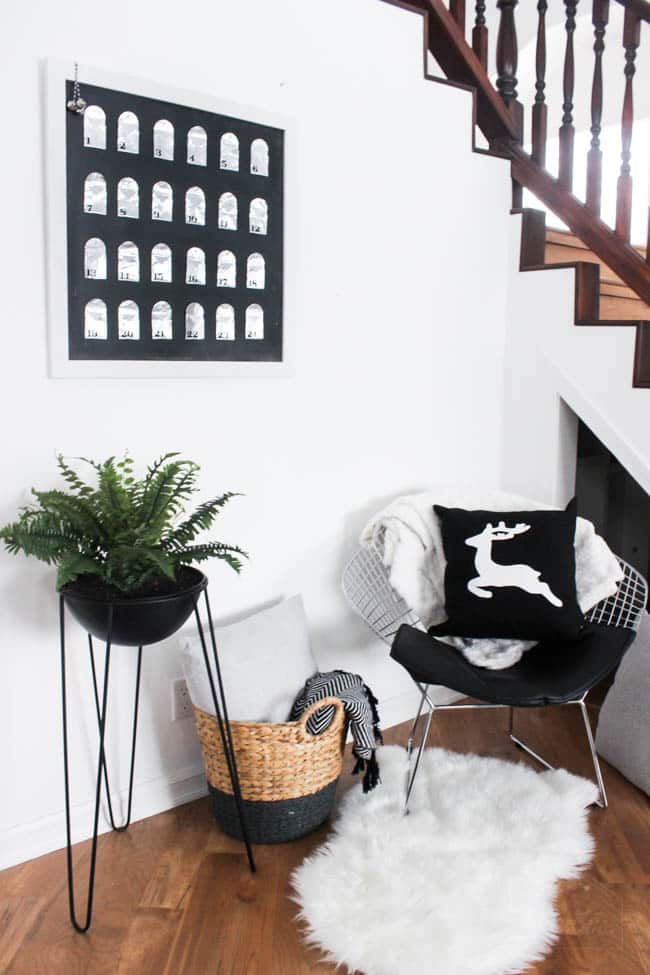 One of the things that I like the most about this advent calendar is that my kids are going to get a ton of fun family activities out of the month!
If you need help coming up with some advent activities, here's a list of 50 ideas!
Build a snowman
Make Christmas cookies
Do a Christmas craft
Open a gift (save this one for Christmas Eve!)
Go tobogganing with Dad
Play a family game
Watch a Christmas movie
Make Nuts 'n Bolts (or any family recipe!)
Go ice skating/play a game of hockey
Sing Christmas carols
Write a letter to Santa
Drive around to see the lights
Read a Christmas story
Deliver Christmas cookies to friends/family
Dance to Christmas music
Make Christmas cards for friends/family
Visit a live nativity
Decorate cookies
Call Grandma & grandpa to sing carols (someone far away)
Go caroling
Buy gifts for a child/family in need
Wrap Christmas presents
Go shopping with Mom/Dad for the other one's gift
Make snow angels
Make ornaments as a family
Build a gingerbread house
Do a random act of kindness
Decorate the tree
Make hot chocolates
Make a gift for a family member
Go skiiing
Build a snow fort
Have a pyjama day
Go window shopping
Bundle up and go for a wintery walk
Take Family Christmas photos
Make a popcorn garland
Go cut down a Christmas tree
Collect pine cones
Put up a wreath
Make hot cider
Donate canned pantry food
Make peppermint bark
Relax by the fireplace with Christmas music
Make reindeer food
Make Christmas "cookies" with playdough and cookie cutters
Read "The Night Before Christmas"
Find some mistletoe and hang it in your house (& kiss under it!)
Make a snow globe
Go see Santa Claus
And if there are only so many that you like, you can always do two of the same activity, like making cookies or doing crafts!
There's another way you can use these envelopes too, I used them with clothespin for some beautiful wall art in my Christmas Kitchen Home Tour.