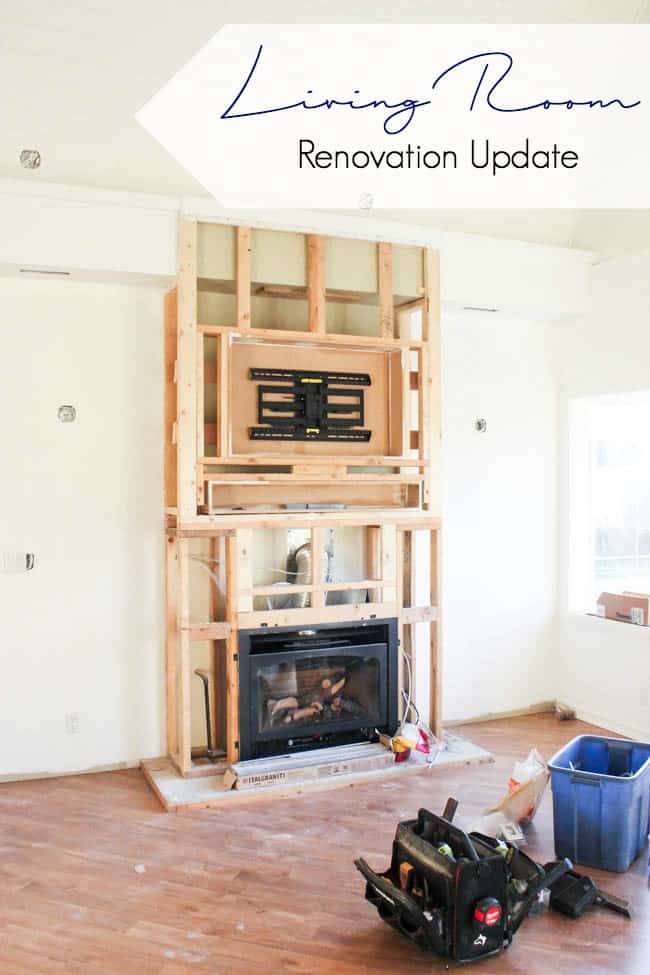 Has it been a week already?! This one room challenge seems to be going faster than the rest of them! Last week I shared our design plans for another One Room Challenge. I don't know where the time is going, but it's somehow week 3 already, and we still have a LOT of work to do! Here's what we have tackled so far on this living room one room challenge.
*This post was sponsored by Para Paints. For more information, see my disclosure page.*
If you want to catch up and see our progress, follow the weeks below:
Week 1 / Week 2 / Week 3 / Week 4
Week 5 / Week 6 / Week 7 (reveal)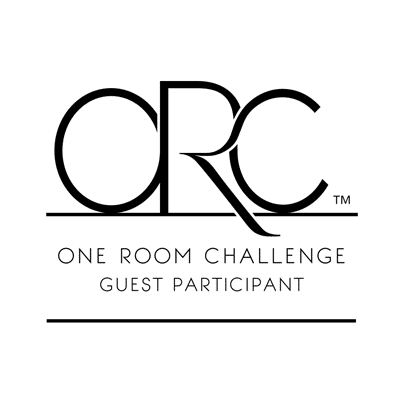 Just as a reminder, here is the space that we started with (above). Our first, and most controversial decision, was to paint all of the walls and the ceiling white!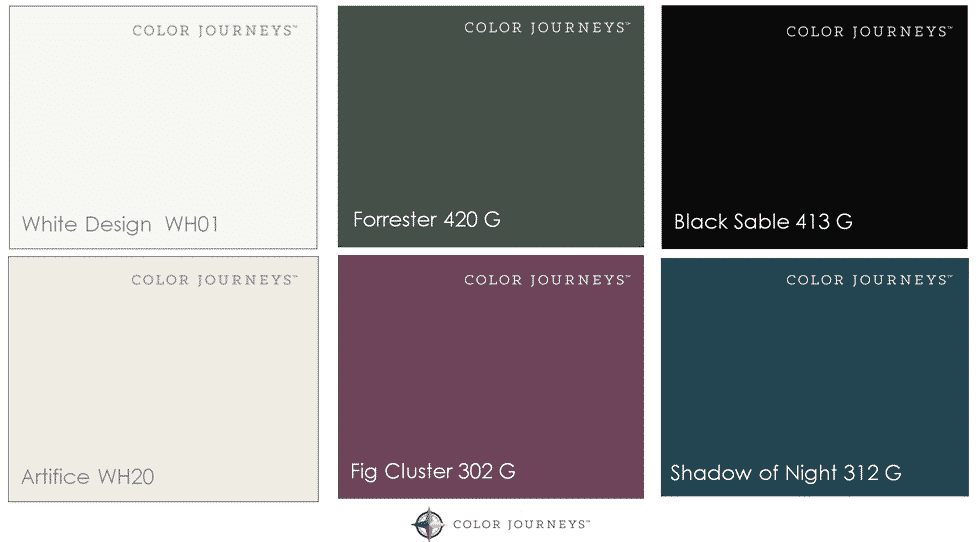 I wanted everything to be a beautiful crisp white, so I used my favourite white right now, which is White Design (previously Jojo Whitewash) from Para Paints. It's from my whole home paint colour palette and I LOVE the colour.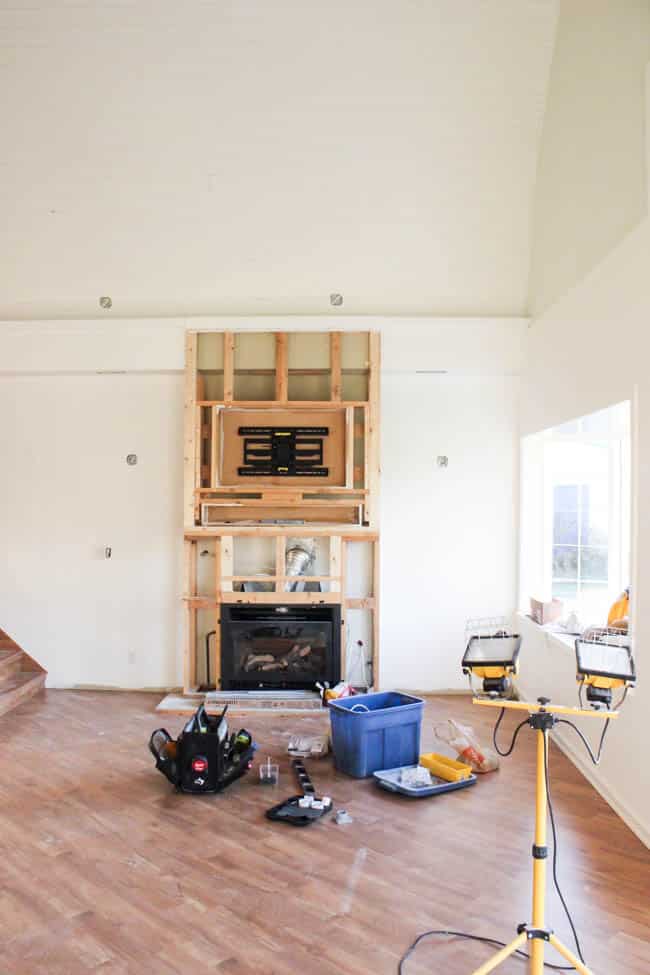 How beautiful is this white?! We actually decided to paint the entire house white. Every wall and the large pine vaulted ceiling. There was NO way that I was gonna get up on that scaffolding, so we hired this one out (shocking for us! I know!). We really never hire anyone, mostly because we are too cheap. But this was a must and our painters did an amazing job! The whole home is so bright now. Paint really can make the biggest difference!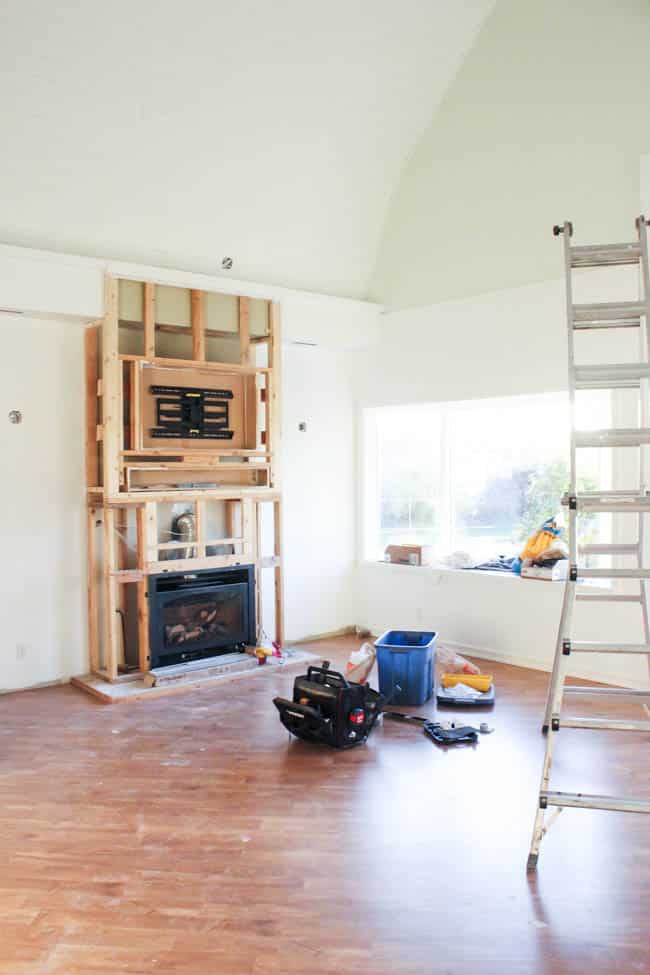 And then I made a mistake…. See the top right corner of the above photo… see the different paint colour? I thought I wanted that wall to be a slightly different colour, just slightly beige to add some depth to the wall…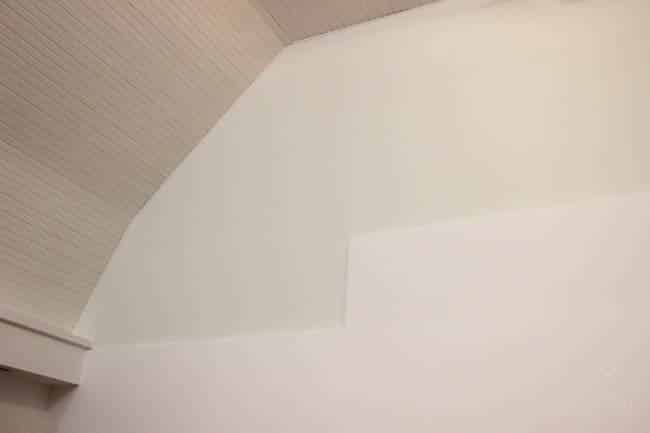 So I asked the painters to paint it in the Artiface colour from Para Paints. Well… here's proof: bloggers make mistakes. LOL. When the painters were done and they removed all of the tape and equipment I went to the house to see it all. I loved the white so much, but was shocked to see the feature wall had a greenish tinge. I had painted samples on the walls, and put the "beige" and white beside each other … I thought it would be great!
The paint is a beautiful colour, I must say. I will probably use it in my daughter's bedroom now that I've seen how it goes on!
I tried to convince myself that I liked it on this living room wall for about an hour, until I just couldn't keep up with my act. The conversation with my husband went something like this…
Me: "Ummm….. Nope. I don't like it"
Hubby: "Whhhhaaaat???"
Me: "I don't like it. I need it repainted"
Hubby: "What? No! We already paid them! They're gone! No!"
Me: "Yep. I can't live like this. I need it painted"
Hubby: "Nope. No way"
Then this went back and forth for an afternoon. Eventually I won, lol. So the scaffolding is still up and our painters are coming back – hopefully this week – and the walls will all be white :) Sorry hubby! Please still love me!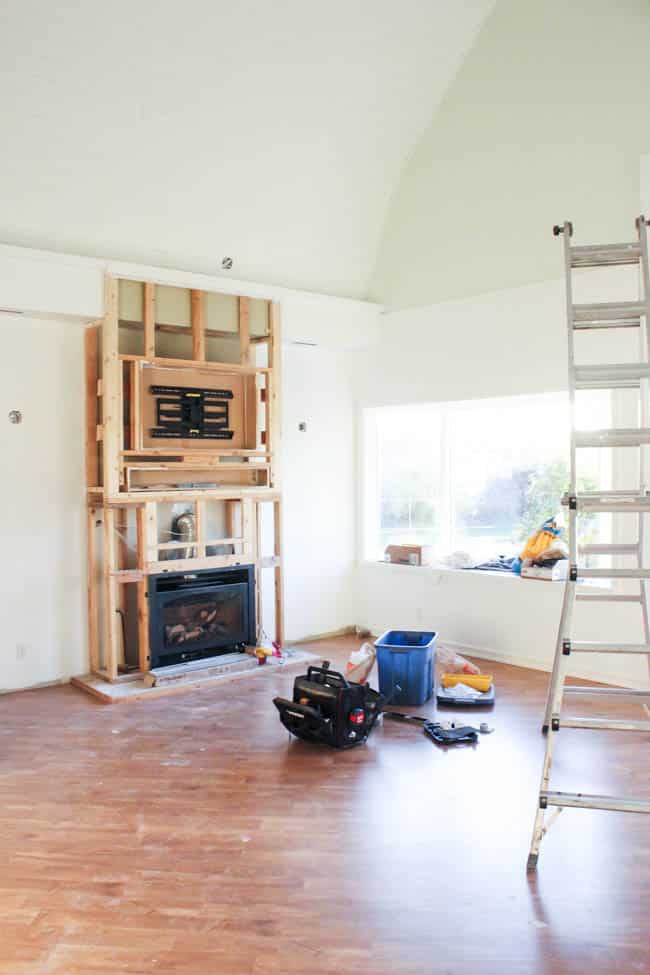 Aside from that one blemish… did you notice the built-up fireplace?! It's all framed in! We are using the existing fireplace, but we made a custom box for our sound bar and TV. They are a perfect fit.
Then the hubby was busy with a few other projects: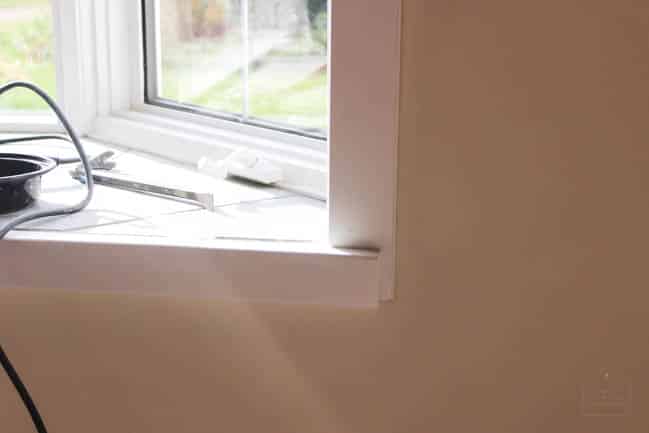 My man was busy changing out all of the traditional moldings for beautiful square modern ones.
They look SO good! Now we just have to do the rest of the house…. lol.
He also ran electrical to add two new sconces on either side of my fireplace. And I've picked out the perfect sconces that I'm excited to show you soon ;)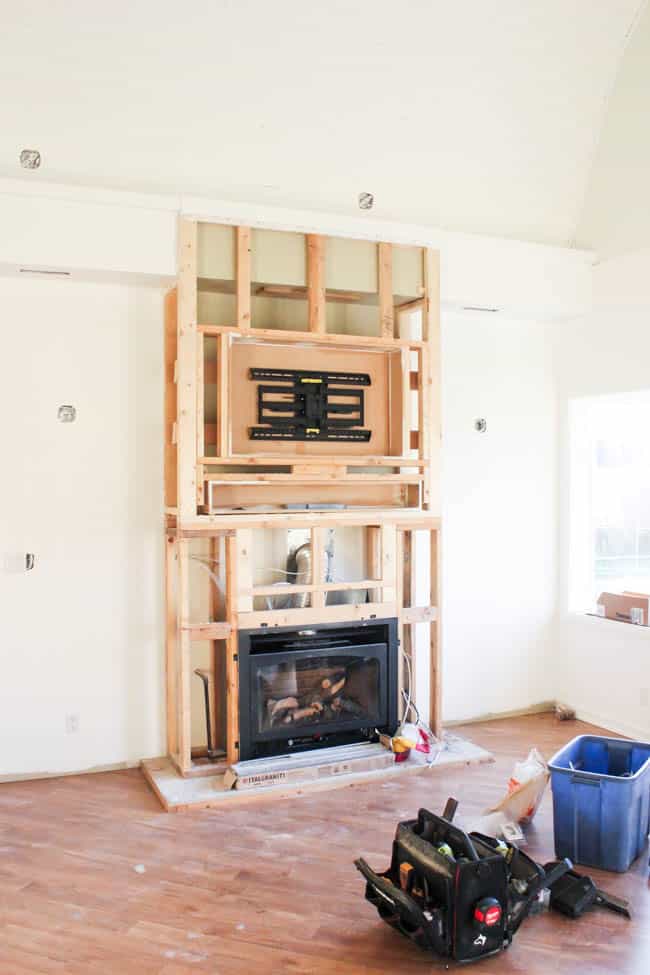 So that's how far we got! Do you think we can get it all done in three weeks?!
Since I'm an obsessive list-maker, here's how I'm doing on my living room to-do list:
Figure out a colour scheme for the room
Paint walls
Paint Ceiling
Buy a couch
Buy new accent furniture
DIY some throw pillows
Build side tables
Build fireplace frame
Tile fireplace
Build bench beside fireplace
Make a bench seat
DIY some artwork
Wire and install new sconces
Replace all switches and outlets
Pick out new decor pieces
Please share your thoughts! I'd love to hear what you think of our progress!