It's happening again! If you've been following Love Create Celebrate for a while now, then you probably already know that I LOVE participating in the One Room Challenge. For those who haven't heard, it's a challenge where hundreds of bloggers renovate and/or redesign a space in there homes in just six weeks. It's a crazy, whirlwind six weeks were we stay up late, argue with our significant others, and pull some of our hair out. But in the end it's always worth it! This time around we are planning a beautiful new modern entry.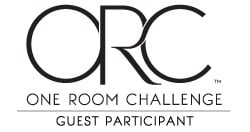 Not only are we tackling our 6th one room challenge, but we are adding a whole new level of difficulty to the mix! This time around I'm 7 months pregnant while we are starting. That means two things. One, my husband is stuck doing all of the heavy lifting and smelly painting on his own. Two, there's a very real chance we won't get done. LOL. Fingers crossed baby doesn't arrive early!
If you're curious, here are a few of the spaces we've completed in the past:
So what exactly are we tackling this time around?? About six months ago we moved into our new home, affectionately known as Green Acres. The first space we renovated in this home was our Living Room, during the last one room challenge. We gave that space a beautiful contemporary design, and we plan to do the same thing in our new modern entry as well!
Here are some of the photos from when we first moved in: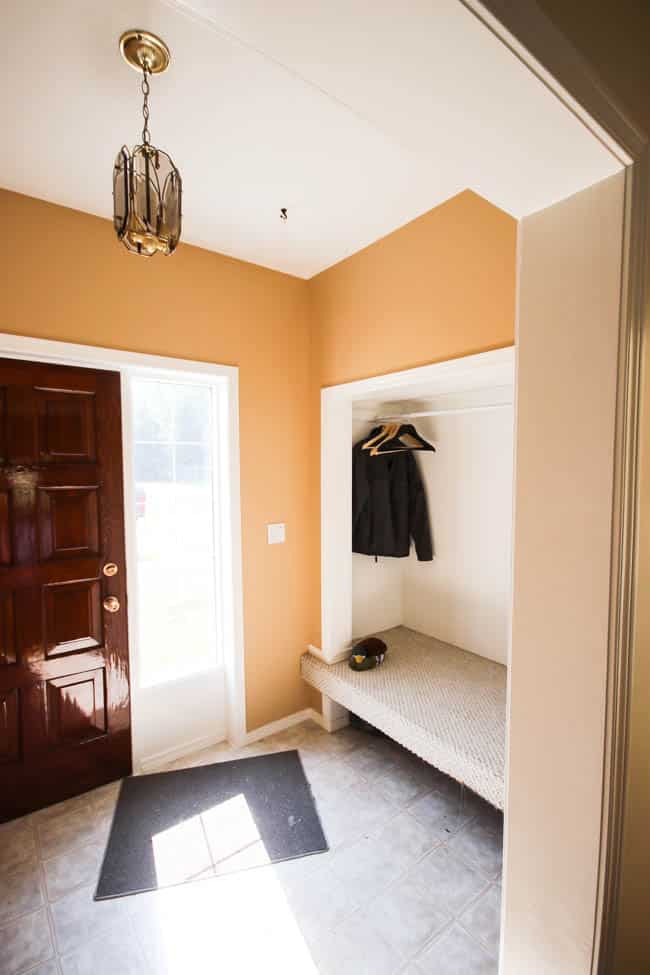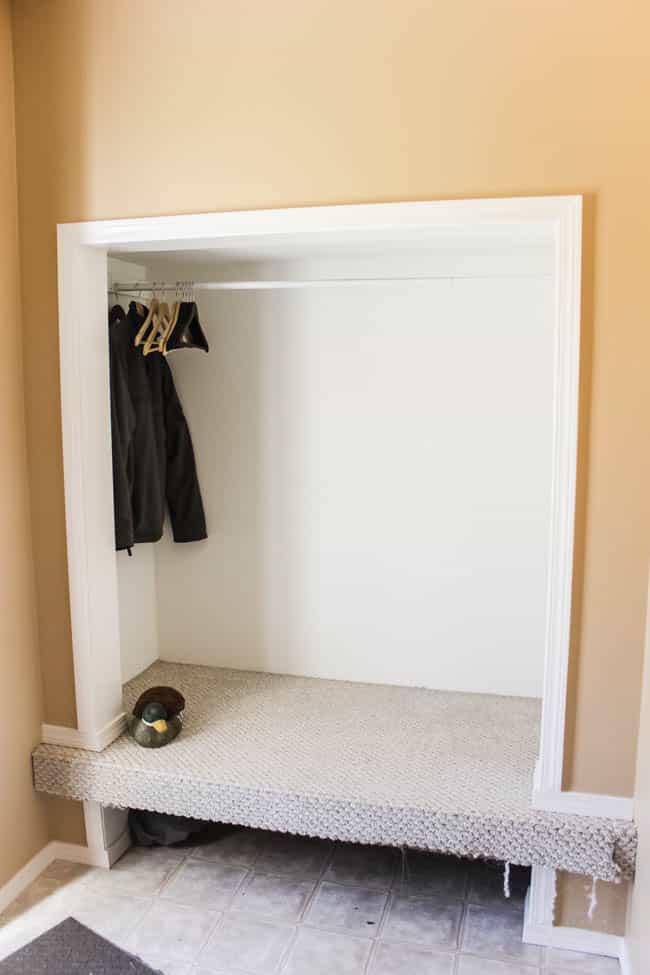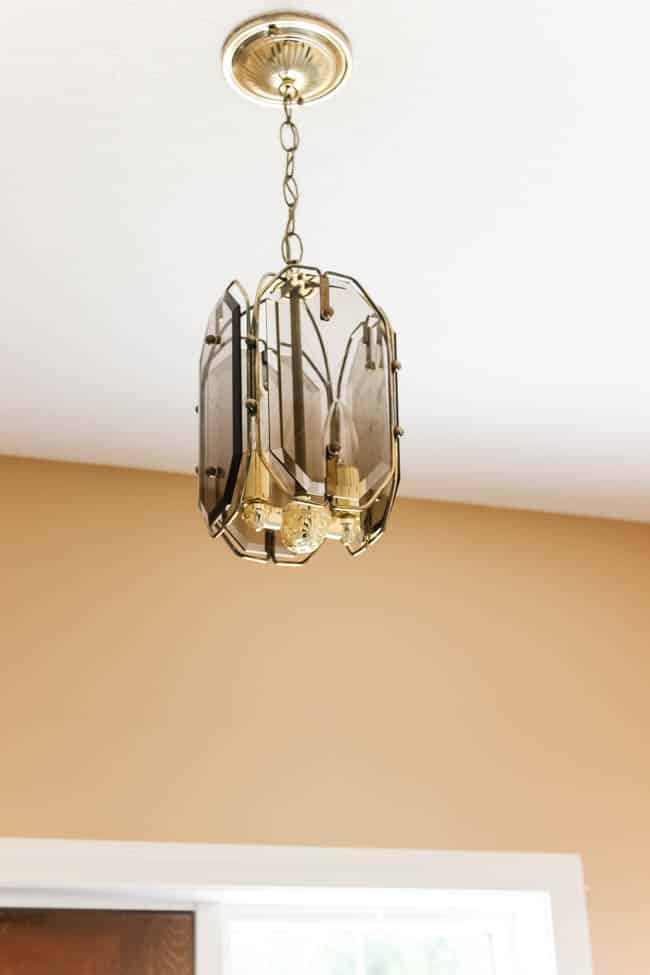 Linoleum floors, outdated light fixtures, peach walls… there's a lot in this space that doesn't match my design style. Our plans are to transform this into a functional, modern mudroom by changing the flooring, painting the walls (some of which is done already!), putting in a new modern front door, and creating storage. Here are the design plans: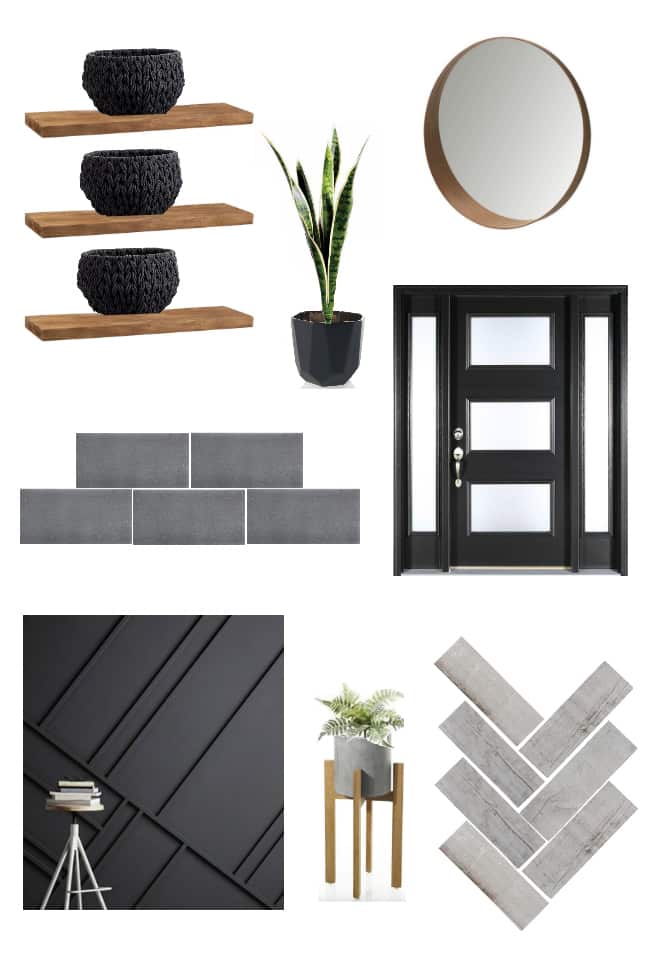 BAHHH! I'm excited just looking at these plans! Here are some of the highlights…
A new entry door is going to make ALL of the difference in this space! More light coming in, more contemporary design, and more curb appeal. This isn't the exact door we are getting, but it's the closest I could find to give you an idea! There are so many gorgeous designs available, it was hard to choose a favourite, but I promise it'll look amazing!
And you all know how much we love tiling! We couldn't resist adding some beautiful tiles to our modern entry.
These faux wood tiles caught my eye right away! We're going to try our hand at a herringbone pattern (as in the design board) on the floor of the entry and I think it's going to look amazing!
These stone tiles have a beautiful slate look to them! We're going to try our hand at tiling our bench with them. I love the non-traditional size of them and I'm hoping it really lends some extra character to the space!
Then no room of mine is ever complete without plants! So I'm adding a few decorative features.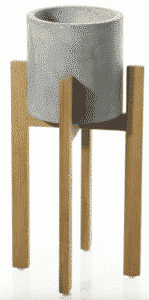 Loving the vibe and texture that a wood and concrete planter is going to add to the room!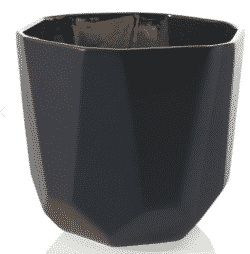 And you know I can't resist a beautiful black planter!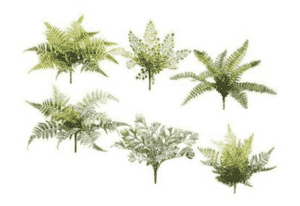 And then there are the beautiful faux ferns that we need to fill the planters! I'm trying my best with real plants these days… but these are so beautiful and so much easier to maintain! lol.
Since I'm an obsessive list maker, here's our modern entry to-do list:
Demo the space
Tile the floor
Tile the bench
Build new shelving for storage
Build new drawers for storage
Design feature wall
Build wood feature wall
Paint
Remove old door
Install new door
Buy a smart lock set
Buy some decor (i.e. baskets, rug, etc).
Order planters and faux or real plants
Install new modern moulding
WISH US LUCK!
There are a couple of changes that we've made already, in the last six months that we've lived here and I can't wait to show you next week. Stay tuned!
Find more great One Room Challenge design plans on the One Room Challenge site, or at Calling it Home!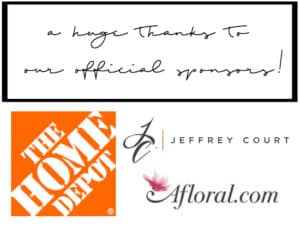 The Home Depot Canada / Jeffrey Court / Afloral
Check out the next few weeks: