This extreme bedroom makeover takes a bedroom from boring to stunning by adding a walk-in closet, a fireplace, a vanity, an ensuite and more!
The primary bedroom is one of the most important rooms in your home! We took over a year to slowly make our primary bedroom dreams a reality. We took the time to add everything that we wanted, from a brand new bathroom, to a fireplace, and walk-in-closet. Check out this whole extreme bedroom makeover to see just how for this bedroom has come in the last year!
*This post may contain affiliate links. When you buy a product through one of our links, we get a commission at no cost to you! Thank you for supporting our blog so that we can continue to bring you posts like these. For more information, please see our disclosure page.*
Our Extreme Bedroom Makeover
Today we're showing off our extreme bedroom renovation. It is definitely "extreme" considering that we added an entire bathroom, extended the closet, added a fireplace and added a vanity.
Before we could show you the results of this extreme bedroom renovation, here's what the room used to look like. Here's what our bedroom looked like when we moved into this house.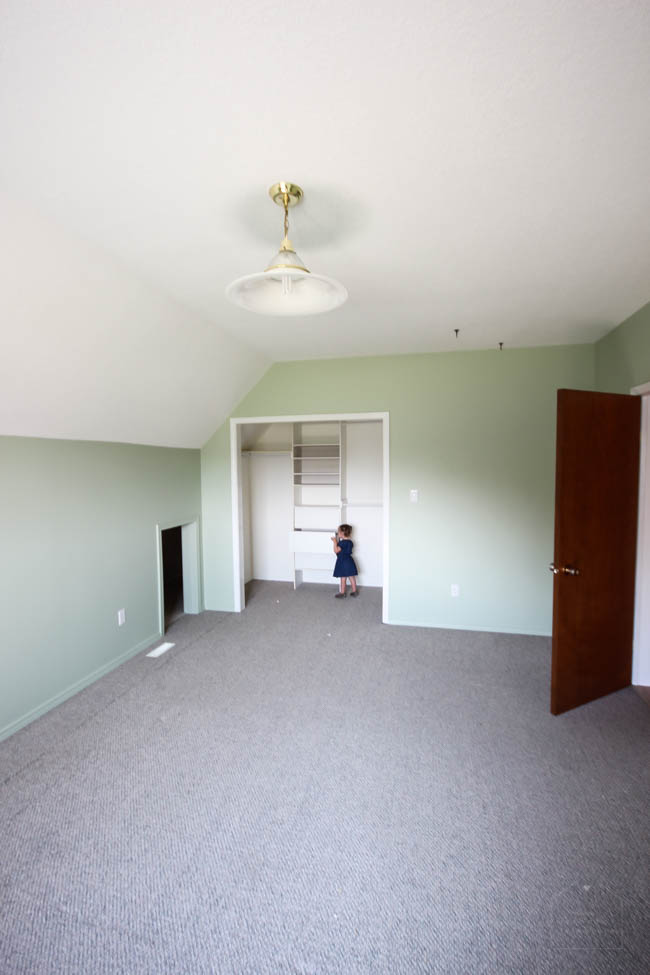 It's actually a very large bedroom, which gave us lots of opportunities to customize the space. However, it was very outdated. Old carpets, outdated light fixture, a closet that wasn't functional, etc.
Before we transformed it into the bedroom we wanted, we had actually painted everything white and first turned it into a bedroom for our kids.
We spent a weekend transforming this room into a shared bedroom for our three kids, and they stayed in here for a couple of years before we took it back as the primary bedroom. One feature from this space as a kid's room that we kept was this black slat wall that we had done in the corner of the room.
We have full videos of most of these projects on our YouTube channel, so you can check out each project in our extreme bedroom makeover.
Ensuite
The biggest part of this extreme bedroom makeover was taking the space on one side of the room, and turning it into a small modern bathroom and a walk-in closet.
We had to do some planning ahead of time, because we needed to demolish the existing closet structure. Then we had to rebuild a new wall a few feet into the room, which included two pocket doors. One for the walk-in closet and one for our new bathroom.
Adding the ensuite was definitely the biggest undertaking in this whole extreme bedroom makeover, but it was totally worth it. I'm also really proud that we did everything ourselves in these spaces.
We had a bathroom across the hall from this bedroom, and before we laid down any new flooring, we ran plumbing across the hall under the floor to the space that would become our new ensuite. When the plumbing was where it needed to be, we were then able to properly floor the hallway and bedroom (and then bathroom too).
A few of our custom DIYs in here included our wood ceiling, our IKEA hack vanity and some DIY plywood floating shelves.
The wood ceiling and the plywood added so much warmth to an otherwise monochrome space, and were both incredibly easy DIY projects to do!
Adding this ensuite to our primary bedroom is not only just aesthetically pleasing and functional, it's also an investment because we know it's going to add value to our home to have another bathroom.
Our finished ensuite was a tiny 32 square feet. We used every inch of it that we could but we couldn't come up with a way to hang our towels that would look nice and be functional, so our compromise was to put some hooks right outside the bathroom.
You can find all of makeover details and sources in this post about our small modern bathroom reveal.
Walk-In Closet
Because we had already built out this wall when we did the ensuite and added the pocket doors to both sides, we were now ready to finish off our IKEA Pax Hack, a.k.a. our walk-in closet.
As we implied, we used all of the space beside the bathroom for our new walk-in-closet, fitted with IKEA pax wardrobes. To give this closet that built-in custom look we added moldings to all the faces and bases so that you don't see any of the seams between the original cabinets.
We customized some IKEA Pax units to fit into the slanted ceiling and built some additional storage to make the most of this space (fill in space beside the pax wardrobes, etc.), and then spent some time trimming everything out and painting it so it looked seamless and cohesive.
The end result is really beautiful and perfect for the room. Every piece of clothing has a specific home, which left us not needing a dresser, or any additional furniture in the bedroom.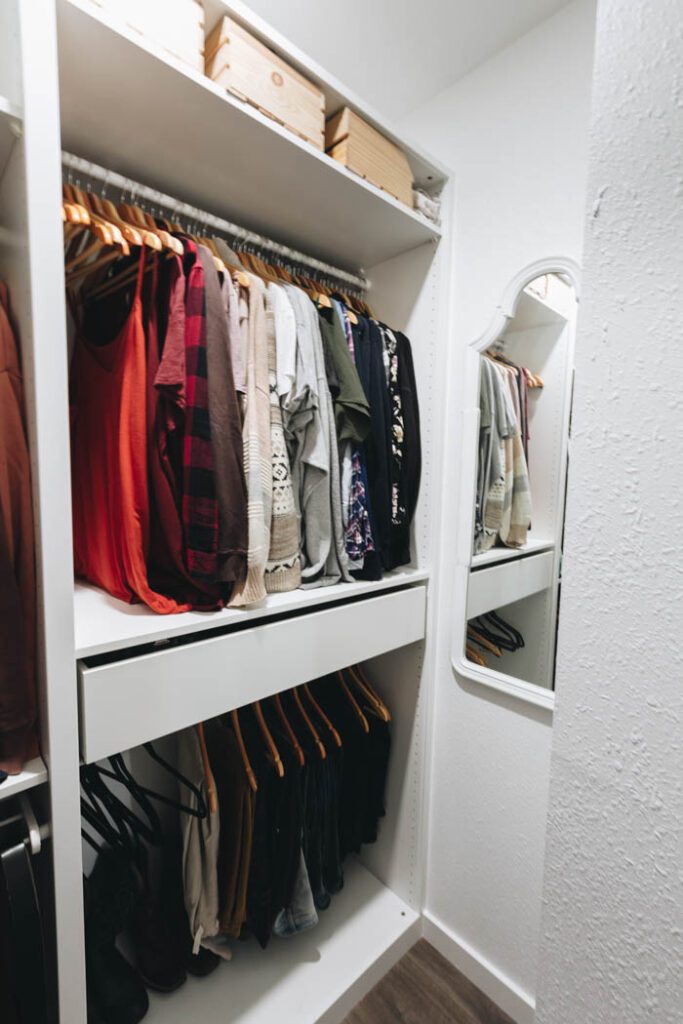 Fireplace
Our first home together had a fireplace in the bedroom, and I have always loved that feature! It was always on my wish list for this home, and we were finally able to make it happen.
The slat wall that we mentioned earlier when this was a kids' space was a really beautiful textural element to work around. It looked just as beautiful in the kid's room as it does in our primary bedroom. I'm really glad that we kept this feature, and took advantage of it the next year by adding a fireplace and surround in front of it.
We build a DIY electric fireplace surround (for under $100!) for our sleek, modern fireplace insert. We use this fireplace constantly throughout the winter. It was definitely a worthwhile addition to our extreme bedroom makeover and didn't cost us very much to add it.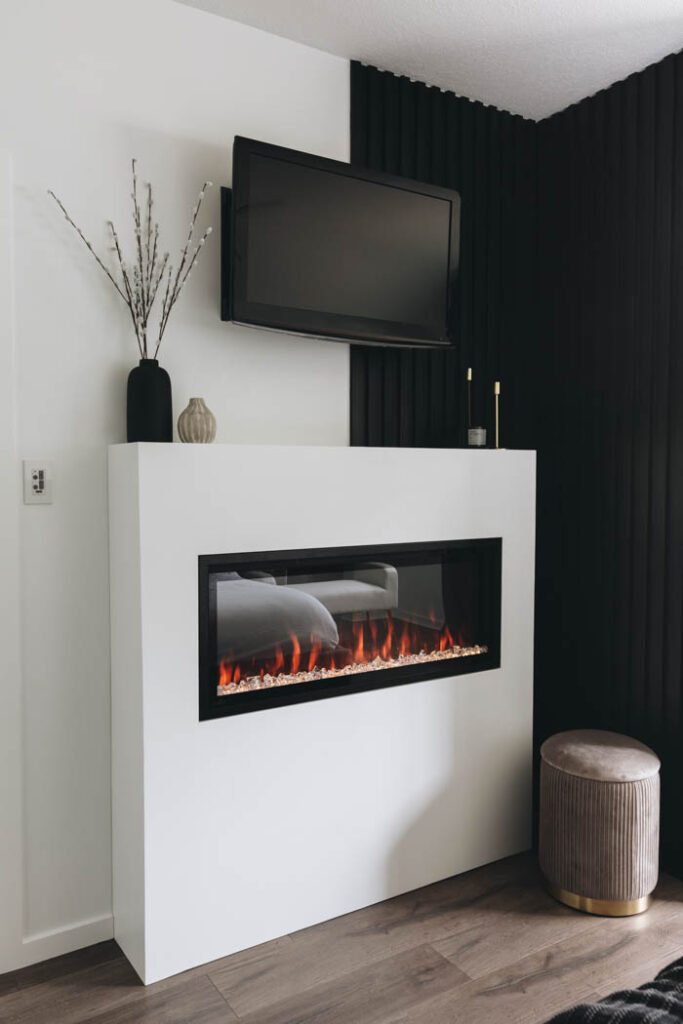 Because of the fireplace model we got, it can also stay on without emitting heat to add ambiance to the room. But with winters that get to -40 Celcius, this fireplace has definitely been put to good use already!
Makeup Vanity
Then we moved on to our last big project in our extreme bedroom makeover, which was my makeup vanity. The plan was to include a mirror, a little floating vanity, and then a stool or bench underneath.
We used resin on the vanity top and create a faux marble countertop. This was one of our first resin projects, so is was a bit of a DIY experiment, but we were really impressed with how the faux marble look came out. We would definitely try this again because it turned out beautifully and looks so realistic.
Reading Nook
At this point our bedroom was almost finished, and honestly so was our budget, but I had one last purchase to make. I really wanted some kind of chaise or lounger in the corner as a place to relax and read or watch tv, and I ended up finding one within our budget from IKEA. It was really the only option I could find under $500 that I still liked the look of, so we assembled that and put it in place.
Since our home only has one main living room with a television, this little corner has become an important space! It's my place for me to relax, work, read, and escape the noise of my children, lol.
Video Tour of Our Full Bedroom Makeover
If you'd like to see how this primary bedroom makeover happened, from start to finish, check out the video below for the whole DIY transformation!
The Finished Extreme Bedroom Makeover
The entire primary bedroom makeover came together beautifully! We got everything we wanted in this space, from an ensuite to a fireplace to a walk-in-closet, and a few extra bonuses!
I couldn't be happier with all of the custom finishes we've done. So much of our own labor and time went into this space, but it was definitely worth it. After more than a year of working on this space and transforming it, it's really nice to finally see it finished. I've spent a lot of time relaxing in here and it was definitely worth all of the effort.
I hope you guys enjoyed seeing our extreme bedroom makeover come together it has been a long journey. I couldn't be happier with how it looks, how it feels and how much time I want to spend here.
More Extreme Bedroom Makeovers!
Check out this video for a makeover of the kid's bedroom, finished in just one weekend! Here's what the room looked like when our kids were little, before we took it for the primary bedroom.
Don't forget to subscribe to our YouTube channel for more great home makeovers!!
For another stunning household space makeover, check out this Reading Nook and Loft Makeover!