Gorgeous Modern DIY Blanket Ladder! Follow this easy tutorial to make your own sleek, minimal blanket or towel ladder in no time!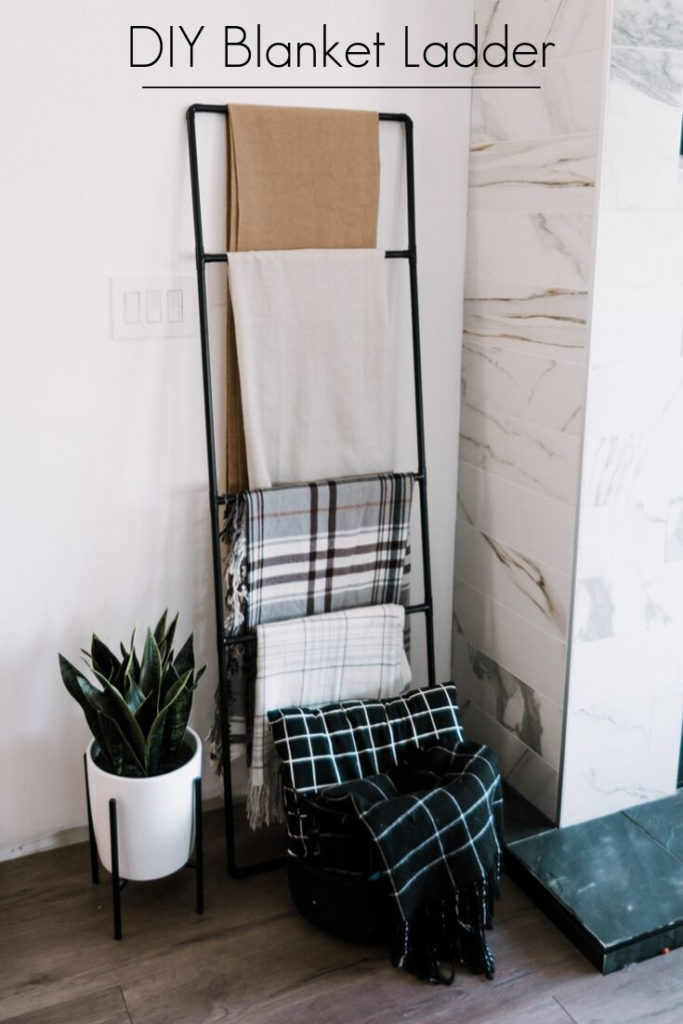 Here's the thing about social media… it's not always real! lol. A couple of weeks ago, I shared on Instagram about how I have a few pieces in my home that migrate between rooms and photos. No, I do not have three of the exact same mid-century flower pot… I just moved it between the office, living room, and hallway. Same goes for my blanket ladder. I shared some lovely pictures of it in the bathroom and some in the living room. But friends…. it was the same ladder being moved around. Until NOW! Because I finally got myself together a built a brand new Modern DIY Blanket Ladder, and you're all going to want to build one too!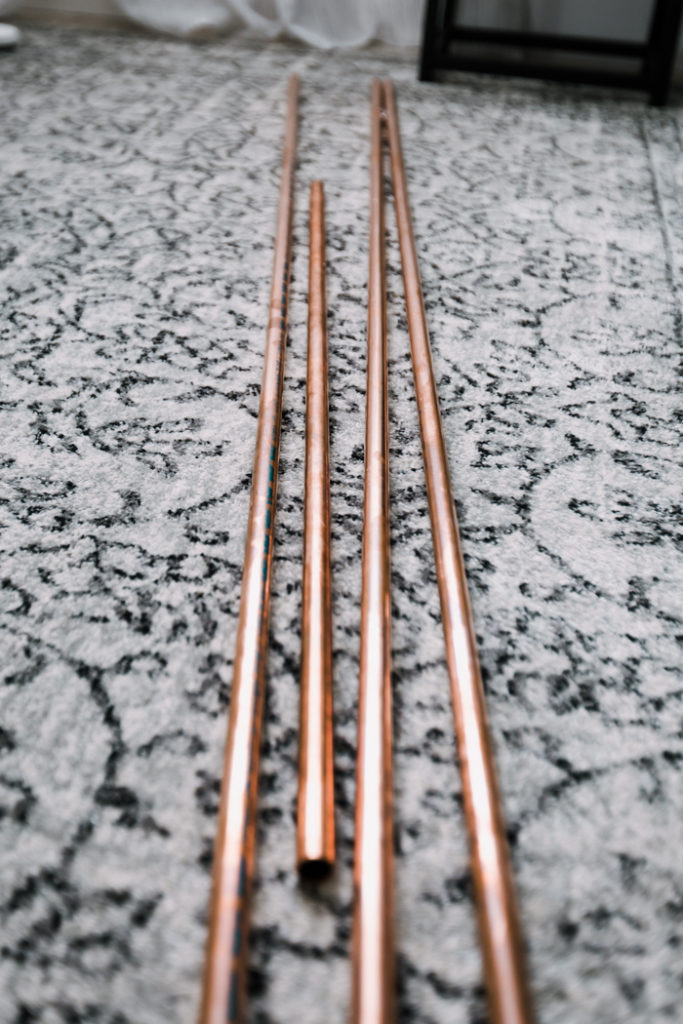 *This post may contain affiliate links. When you buy a product through one of our links, we get a commission at no cost to you! Thank you for supporting our blog so that we can continue to bring you posts like these. For more information, please see our disclosure page.*
I love working with copper pipe. It's sturdy, easy to use, and doesn't require any power tools! I've done several copper pipe projects in the past, and it's the first product I thought about when I wanted to do this project!
If you want to save a little bit of money, you can use wooden dowels instead of the long copper pipe pieces. It will change the look a little bit because of the way wood absorbs paint vs. copper, but will look almost the same!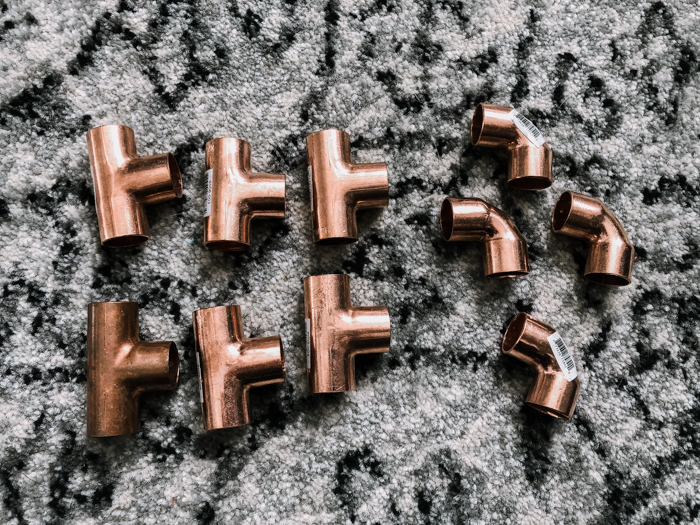 Materials Needed to Make A Modern DIY Blanket Ladder
18 ft. Copper Pipe
6 Copper Tees
4 Copper Elbows
If you want to skip over all of the DIYing, here's a pretty affordable Modern Blanket Ladder that I have in my other room: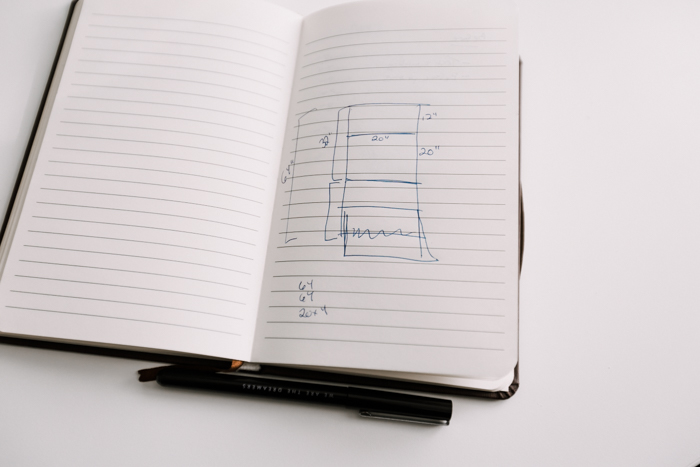 DIY Blanket Ladder Video Tutorial
Whenever I can, I try to incorporate a visual tutorial so that I can help the DIYers out there like myself, who want to watch a YouTube video of the process.
Here's the quick video for this DIY Modern Blanket Ladder:
If you enjoyed the video, don't forget to SUBSCRIBE, so you can be the first to learn about new videos!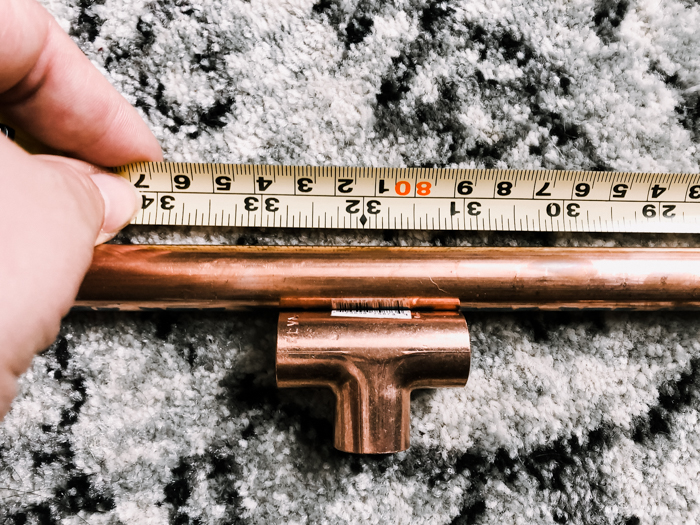 DIY Blanket Ladder Instructions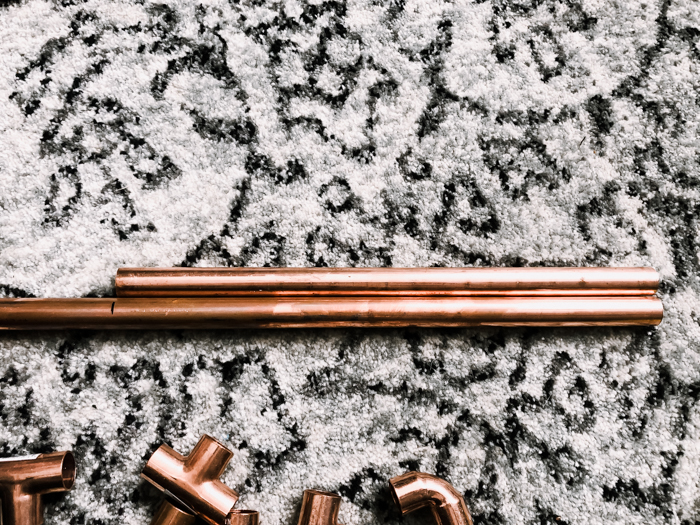 The first step is to cut all of your copper pipe pieces into 20″ pieces (x8) and 12″ pieces (x4). Measure the first piece, and then once you've cut one piece, you can just line it up with the copper pipe and make a mark with a sharpie for where to cut the next one.
In the video above, I share two different ways to cut copper pipe. One with a power tool like the one above, and one with a simple handheld $20 tool that you hold!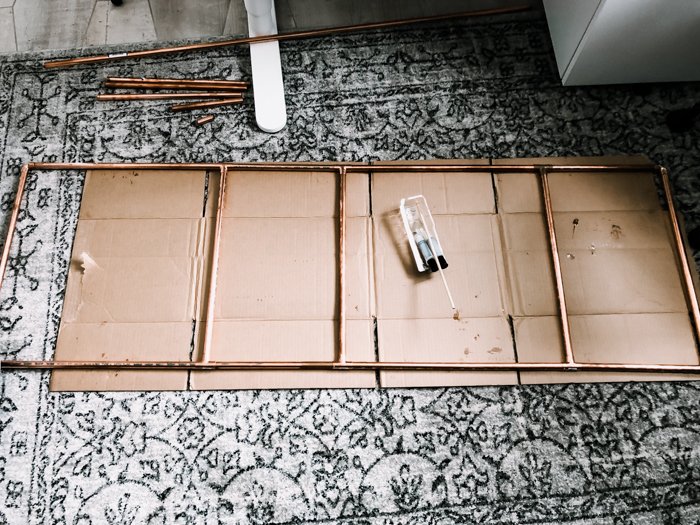 The next step is to glue together the copper pipe ladder. To do this, first line up all of the copper tees, elbows, and cut pipe so that it makes the design above.
I wanted to rungs to be at different heights to add a new, non-traditional design element to the piece! I made two sections that were 20″ x 20″ and two sections that were 20″ x 12″. I love the squares and rectangles, and I especially love the unconventional look when the towels are hanging on it (trust me…. you'll see!).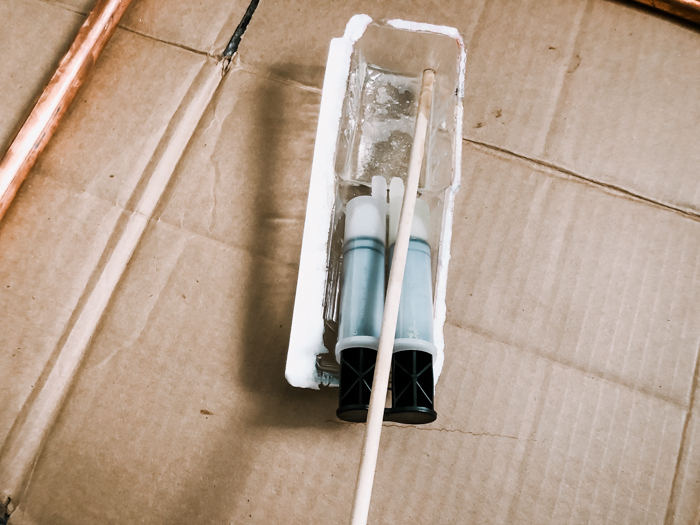 I used a two-part epoxy to glue everything together and a small wooden dowel to get the glue inside the copper pipe fittings.
This glue is easy to use, easy to apply, and fast to dry. I'm talking five minutes! So it's a great option, but you need to move quickly and make sure your piece stays flat while the glue sets.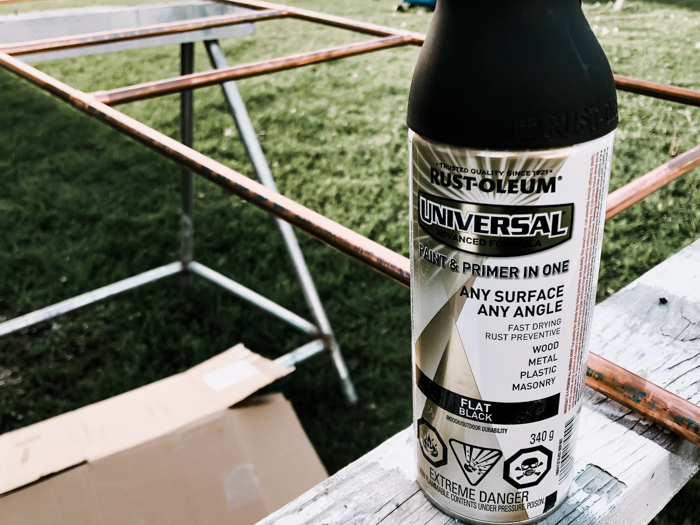 The final steps were to spray and protect the ladder. I used a flat black spray paint on mine and had to do about 3 coats of spray paint on both sides. I finished it off with a clear coat to protect the ladder's finish.
This is how the ladder looked without any hanging blankets or towels and I LOVED it already!
Our Finished Modern DIY Blanket Ladder [or Towel Ladder]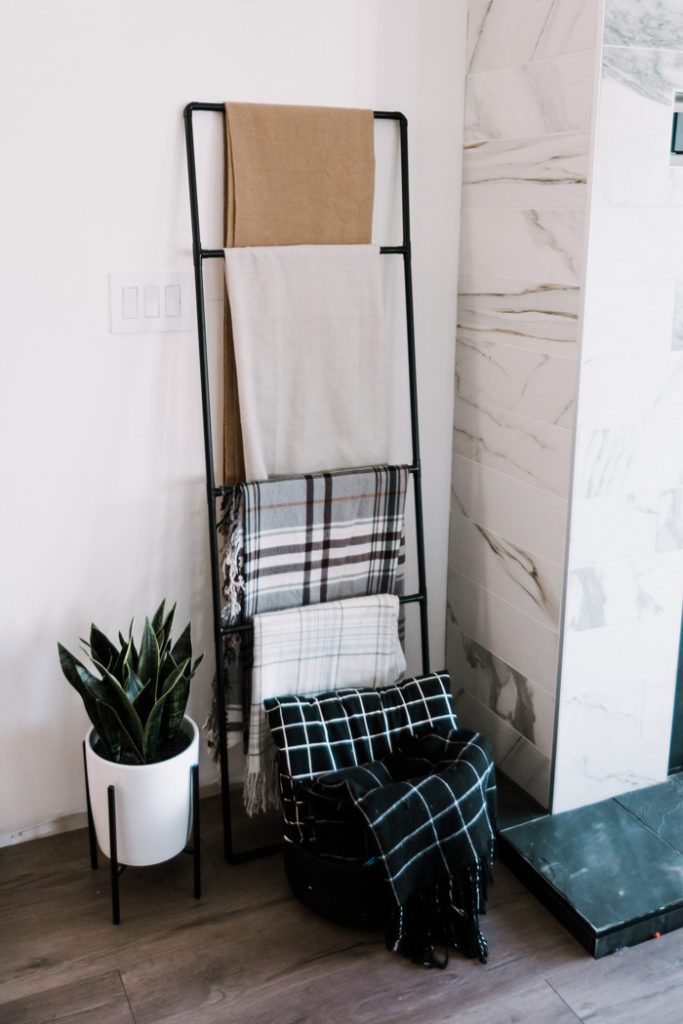 Copper pipe was the perfect choice to make this piece! It is sturdy and strong, but still lightweight. Plus the 1/2″ pipe looks so chic and minimal. It's the perfect piece to rest against the wall in a bedroom or the living room.
The versatility of this piece is also in the different ways it can be used. I actually really love the look of this ladder in our bathroom. Leaning against the wall in the bathroom, holding all of our pretty turkish towels. It's the perfect accessory for the space.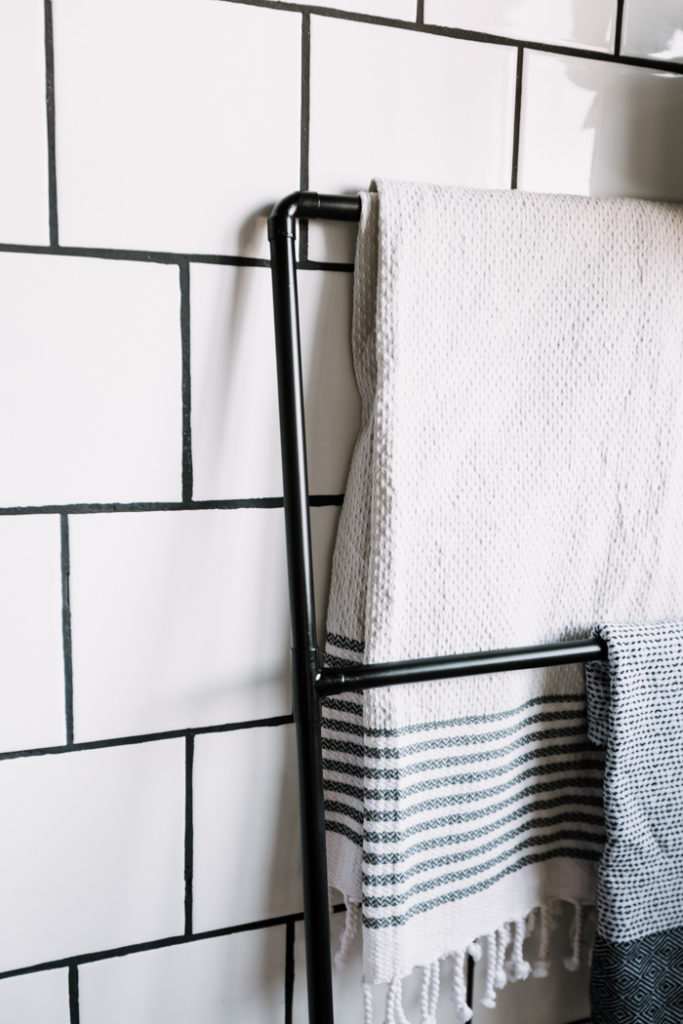 I hope you liked this modern blanket ladder tutorial! If you re-make it, but sure to let me know, or tag me on Instagram – I'd love to see!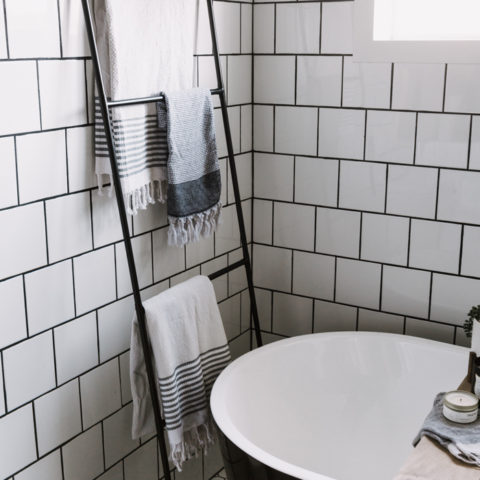 Modern DIY Blanket Ladder
Gorgeous Modern DIY Blanket Ladder! Follow this easy tutorial to make your own sleek, minimal blanket or towel ladder in no time!
Materials
18 ft of 1/2" copper pipe (or dowels to save money!)
6 copper tees
4 copper 90 degree elbows
2-part epoxy glue
Black spray paint
Clear spray finish
Instructions
Use the copper tubing cutter to cut your copper pipe into sections. You will need 8 20" pieces, and 4 12" pieces. Use a sharpie to mark your copper pipe properly.
Lay out your ladder design to make sure your pieces all fit. I did the ladder 20" wide, and then height wise, I did a 20" section, then a 12" section, the 20", and then 12". See the diagram in the post for more details about this ladder structure.
Mix your two part epoxy and glue all of your copper pieces to the elbows and tees. Start at one end of the ladder, and more upwards, making sure to keep everything flat and level. Wood dowels are great for getting glue inside the copper pieces. Allow glue to set (only takes 5 minutes).
Spray paint the entire ladder matte black.
Spray clear coat to protect the finish.
Notes
This can be used as a blanket ladder or a towel ladder in the bathroom!
Recommended Products
As an Amazon Associate and member of other affiliate programs, I earn from qualifying purchases.
If you love the look of this copper project, you might also love our DIY copper candlesticks!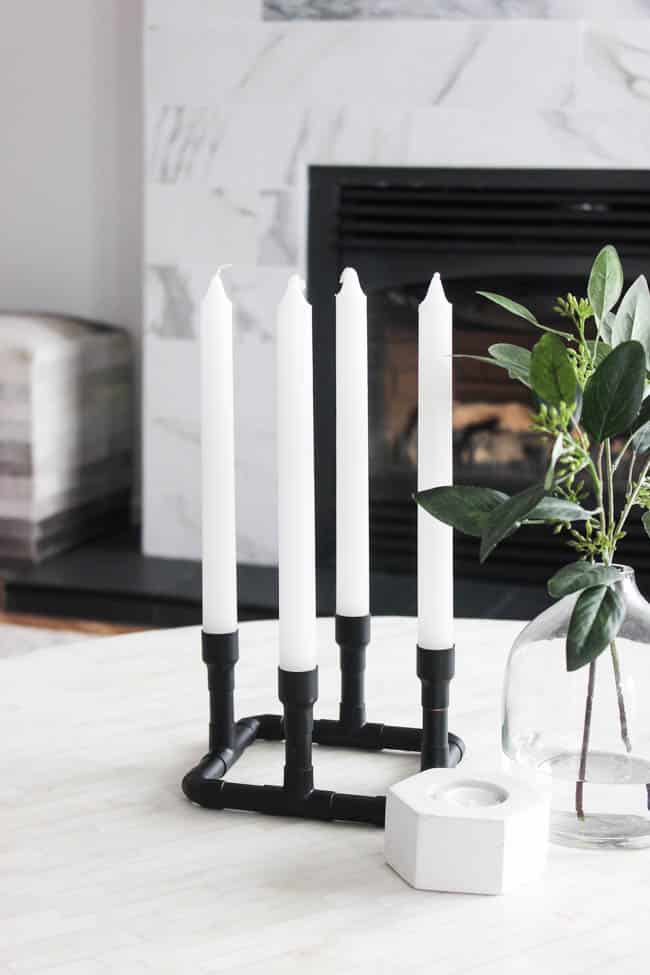 And if you liked the bathroom, be sure to check out the entire renovation and room reveal HERE! Including the beautiful wood vanity!