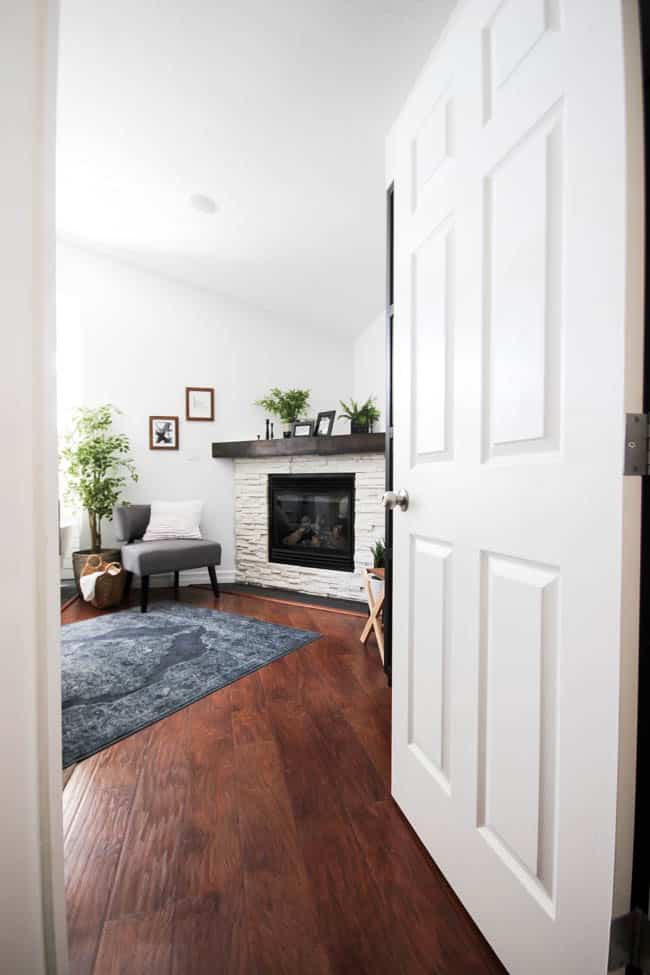 Come on in! Welcome to my new master bedroom! After six very short weeks, we were able to completely transform our master bedroom into a modern space that fits our styles and personalities a LOT better! It's a BIG change from our previous bedroom, and a big change from the original design plans too! My renos and designs are rarely the same as my initial designs since I'm always designing and tweaking as I go. Linda at Calling it Home challenged us to renovate a space in our homes in less than six weeks, and I jumped on board again, creating a master retreat that I'm very proud of!
As a reminder… this is what our master bedroom used to look like…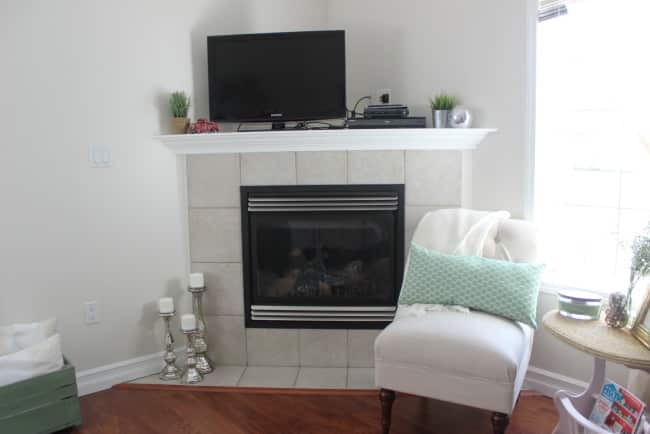 *This post was sponsored and may contain affiliate links for your convenience. For more information, please read my disclosure policy*
It looks quite a bit different now! lol. the first thing you see when you walk in are my husbands closet cabinets. I added some masculinity to them by adding some DIY leather pulls (tutorial still coming!).
We had an empty space beside the window that was just screaming out for a bench. I looked in a few stores and found some that would work, but they were in the $300-$400 dollar range (OUCH!), so I drew a design and my husband made this little bench seat in ONE DAY! I'll share the plans soon :)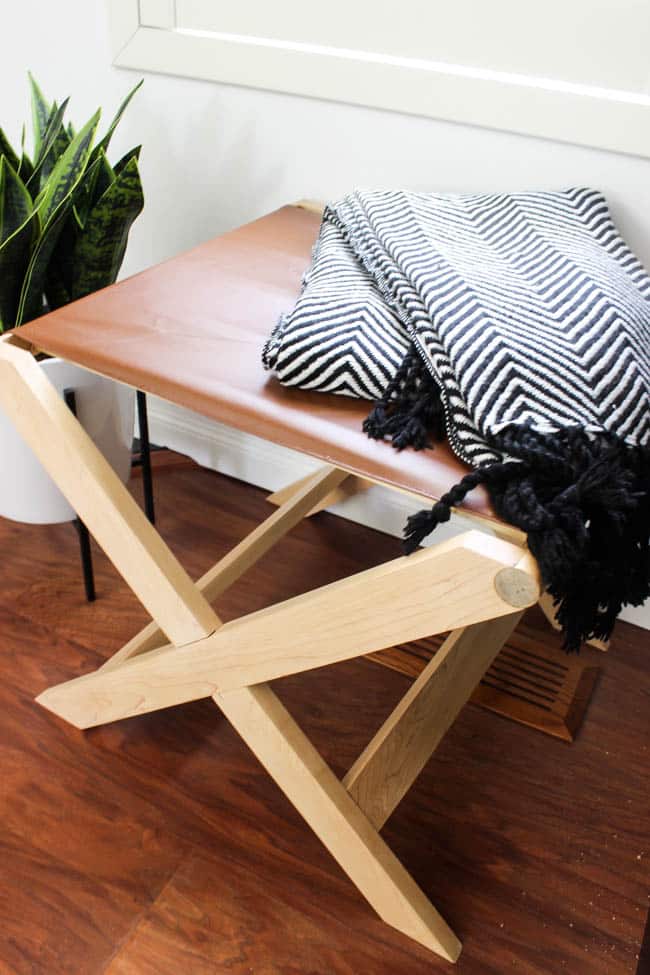 I had this shutter put in by a local company, Sheer Illusions, and I couldn't believe what a big difference it made! Such a beautiful, sleek touch for the space!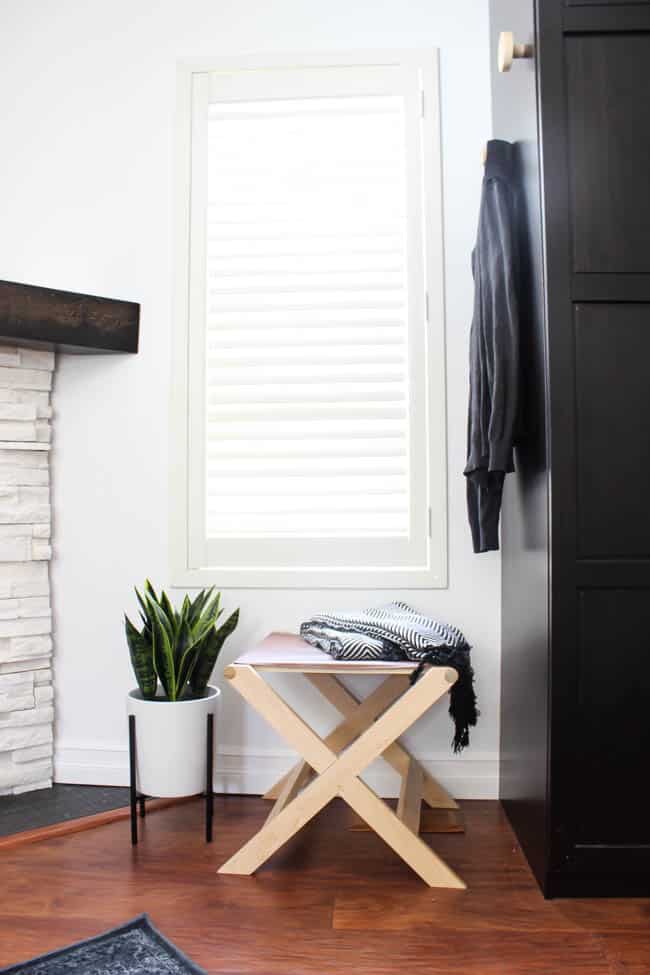 We took our old mantel and gave it a face lift with my favourite dark stain (ebony), and then added a new white brick facade.
The other side of the fireplace was looking a bit bare, so I added a comfy seat and some decor to cozy it up a bit!
Honestly… we will probably put the TV back over the fireplace eventually, but for now we are enjoying our books at night instead.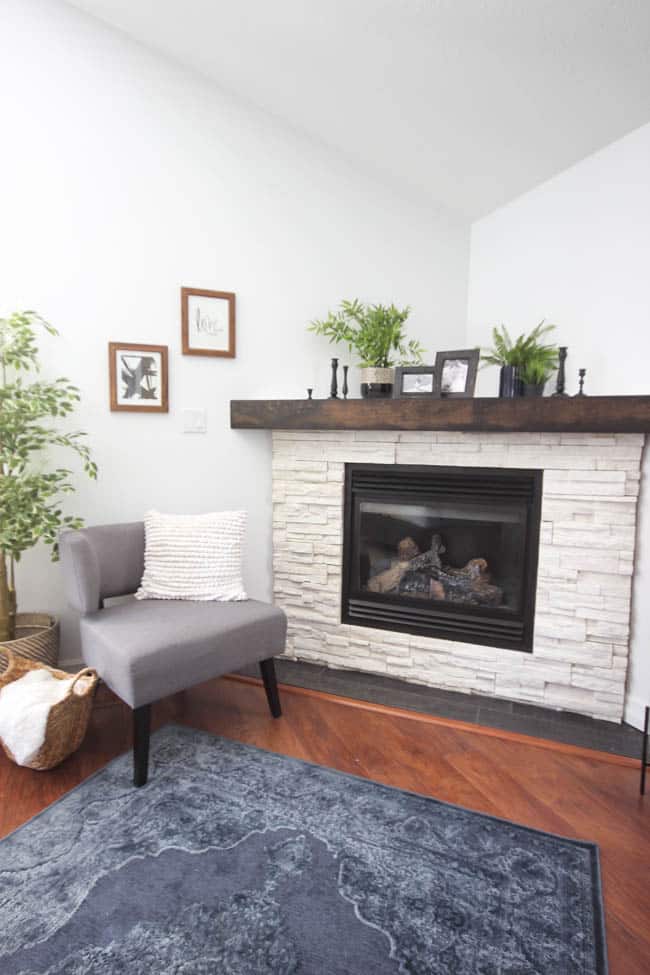 I added a couple of vases to the mantel to add a ton of character, including this black and white beauty.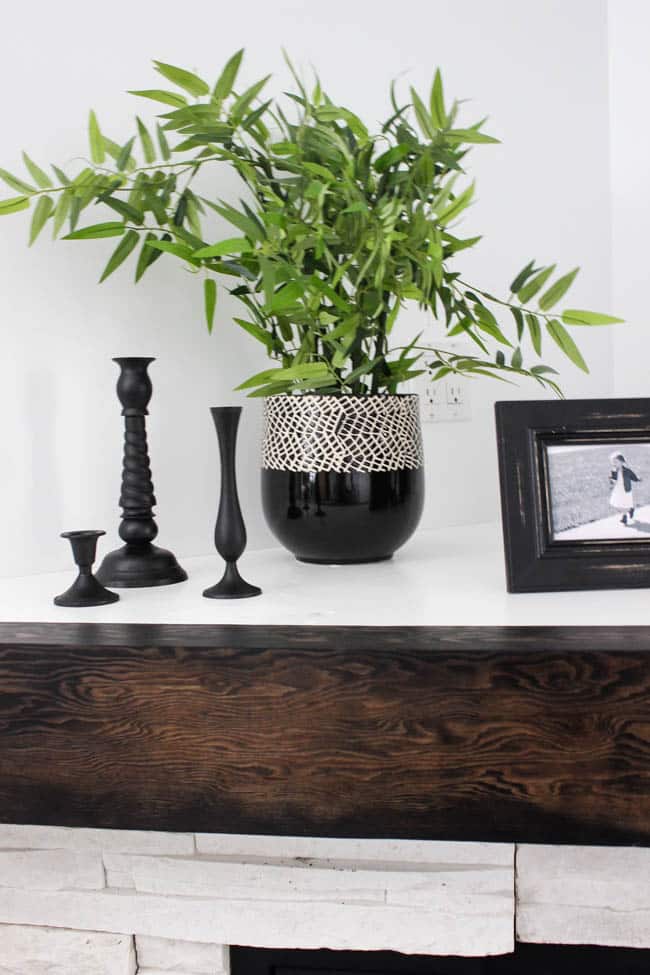 I also added this navy vase with this (very realistic) faux fern. There are no better plants than faux ones for me! lol.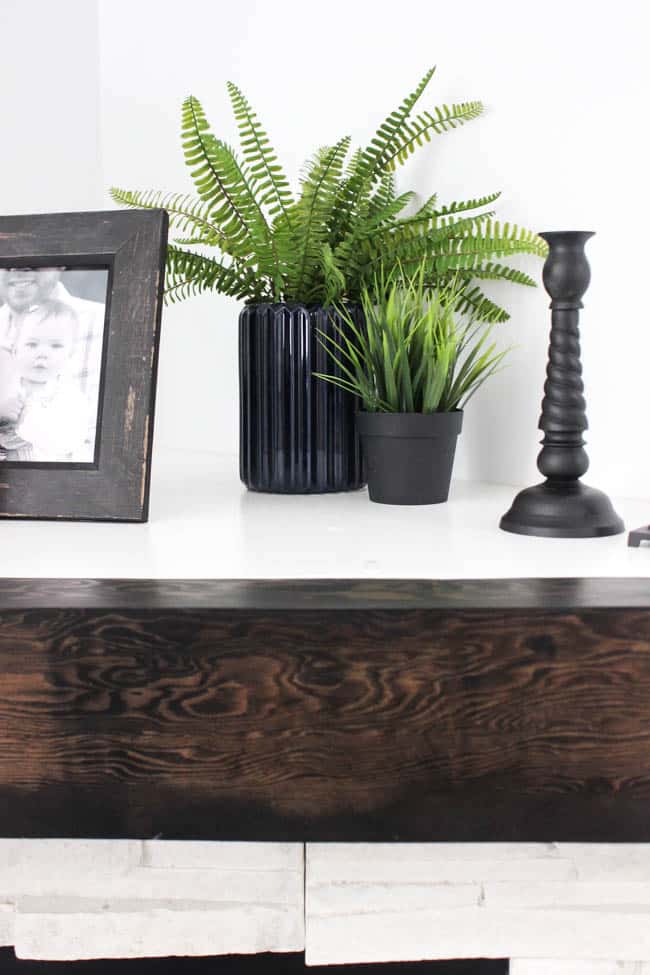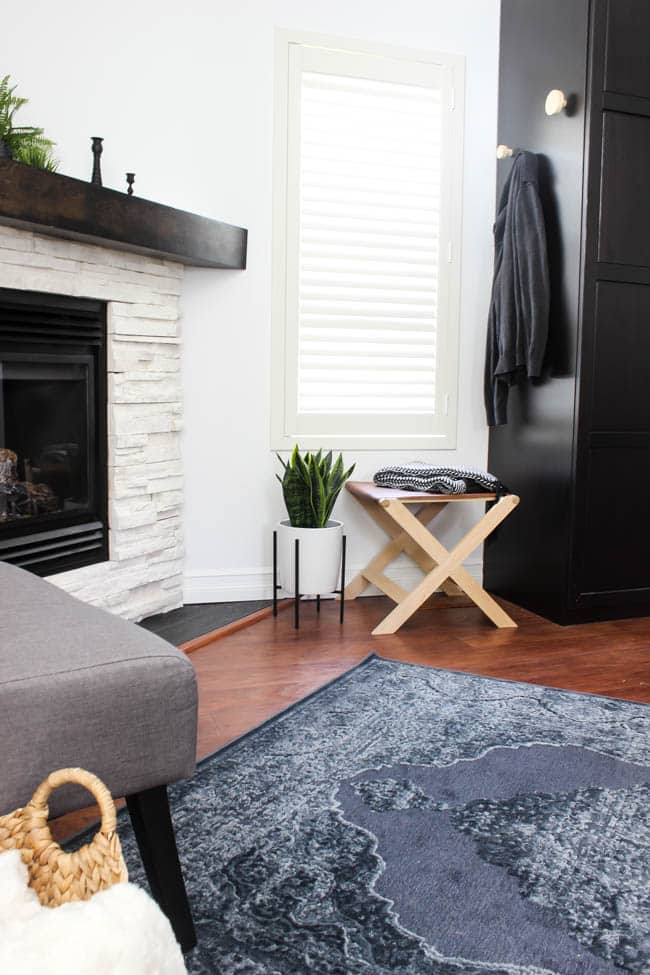 Originally I was going to place my rugs directly on top of each other, but our room is a bizarre shape, and I was afraid that this beautiful blue rug would be too hidden under the bed. I wanted to show it off!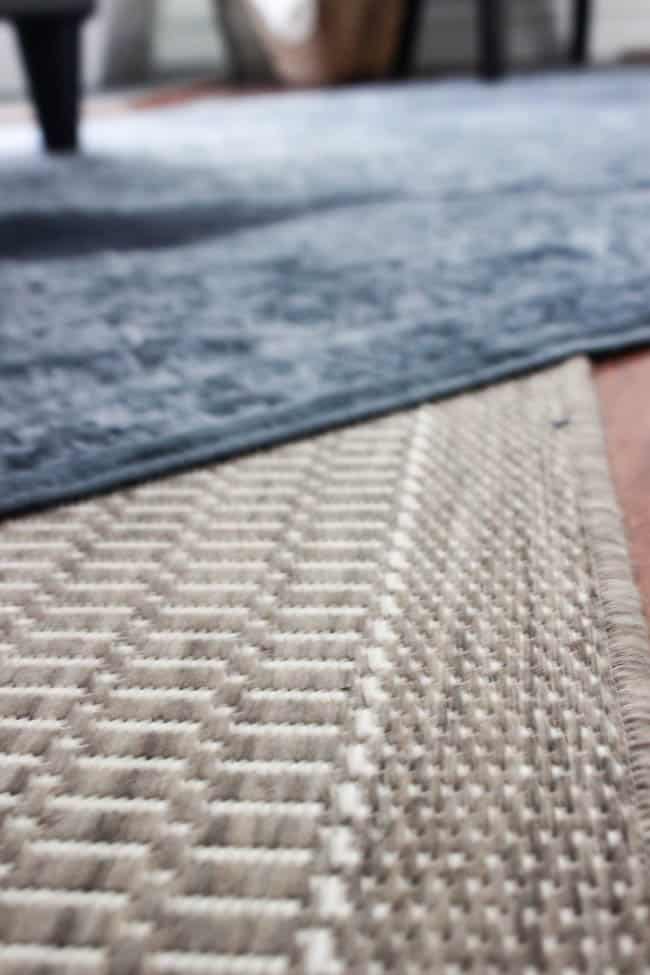 My solution was to layer the rugs at an angle – one under the bed and one leading the eye to the fireplace. LOVE the results!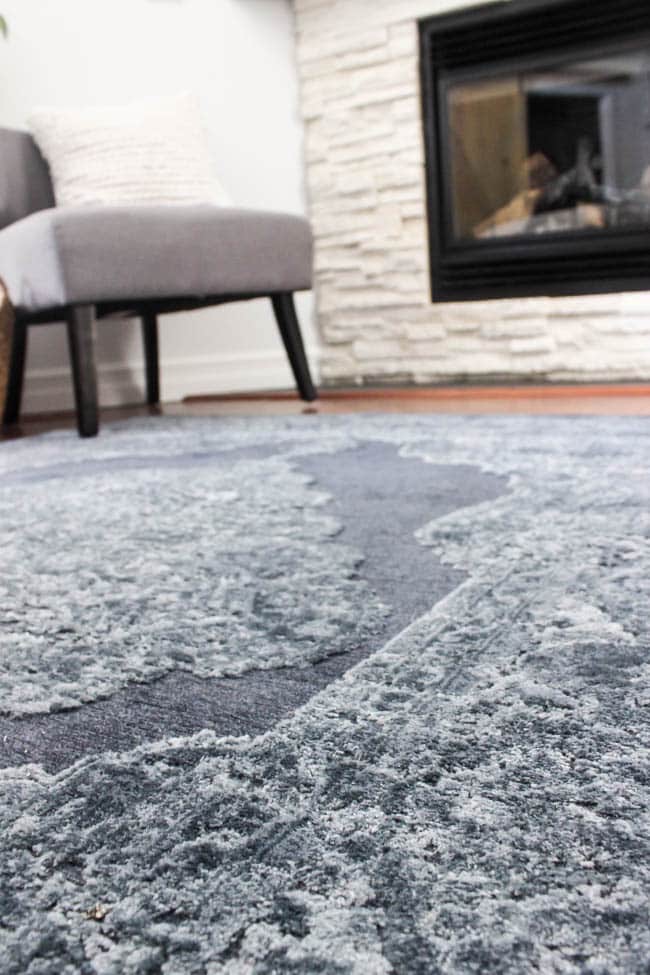 Remember when I asked you what my DIY circles were for? Whoever guessed hooks was our winner! We hung some up for the hubby and some up for me. All stained with my favourite natural stain.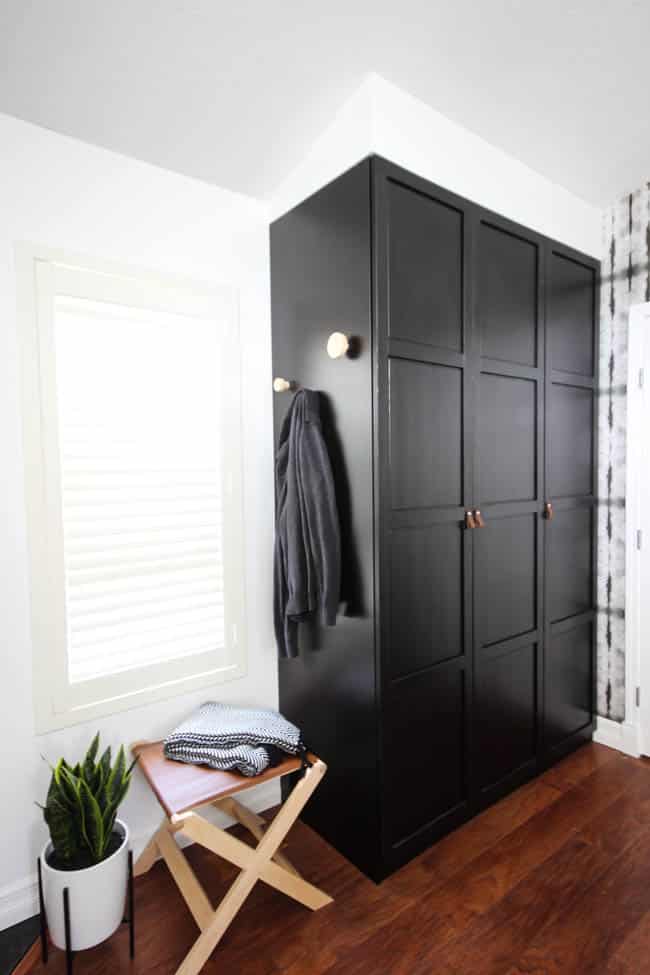 And then there's the important part of the bedroom: the bed!
My husband wouldn't let me go without a fan in the bedroom. Deal-breaker for him, lol. But I found this gorgeous matte black fan and never turned back.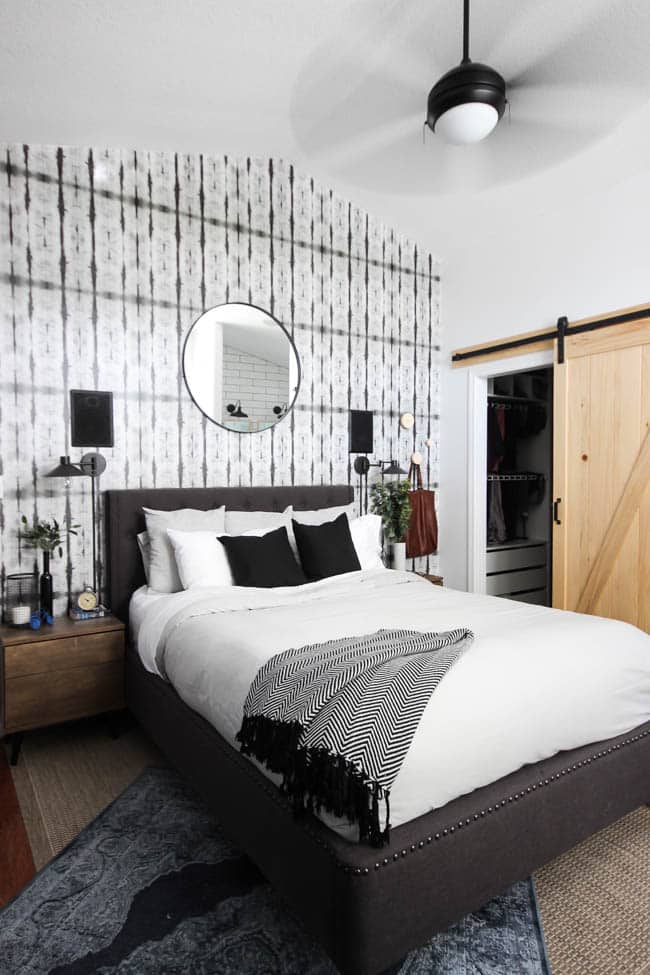 This bold black and white wallpaper steals the show. It looks SO good!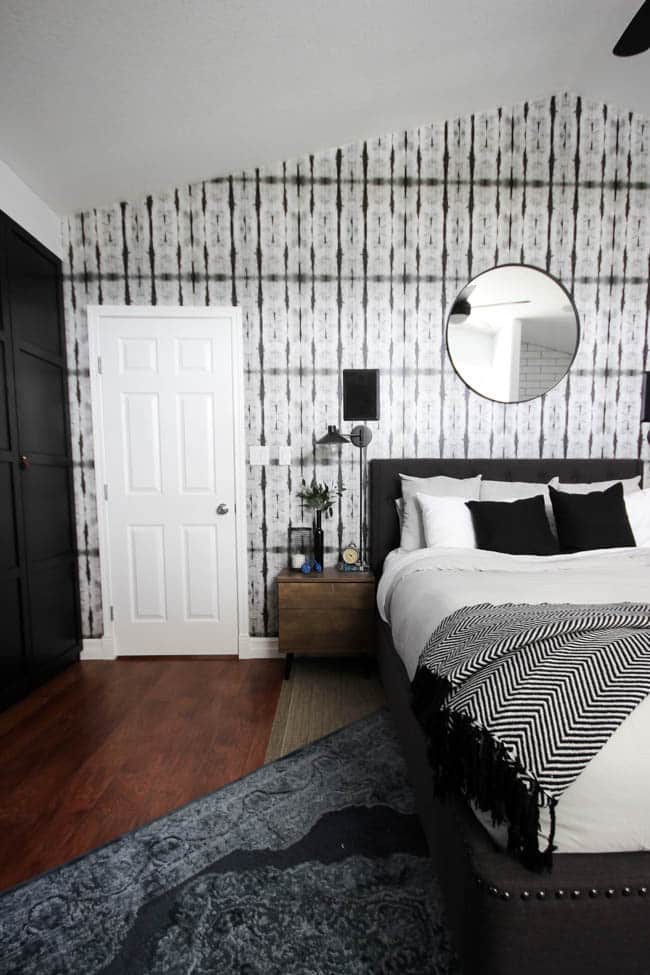 I asked for everyone's advice on what do do for my side tables – you guys had so many great suggestions! I was originally going to paint old nightstands in my favourite paint line – midnight blue or coal black, but once the wallpaper was up, I had to switch gears. I decided to go with wooden nightstands, and I'm so glad I did! The simple eucalyptus stems were the perfect simple touch of greenery.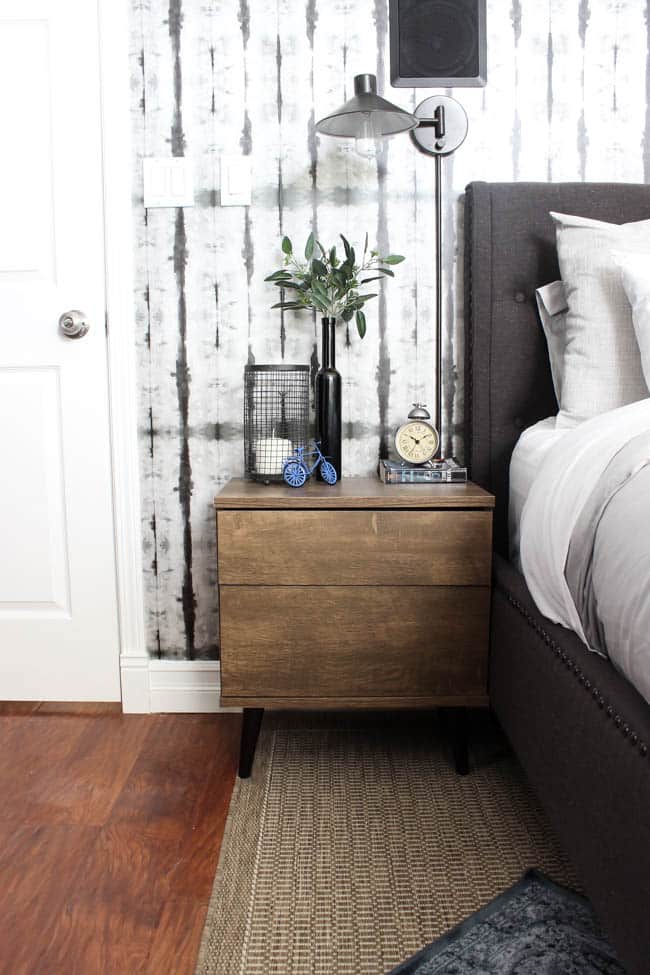 The jute rug under the bed was such a good choice. It's surprisingly comfortable and fits the room perfectly!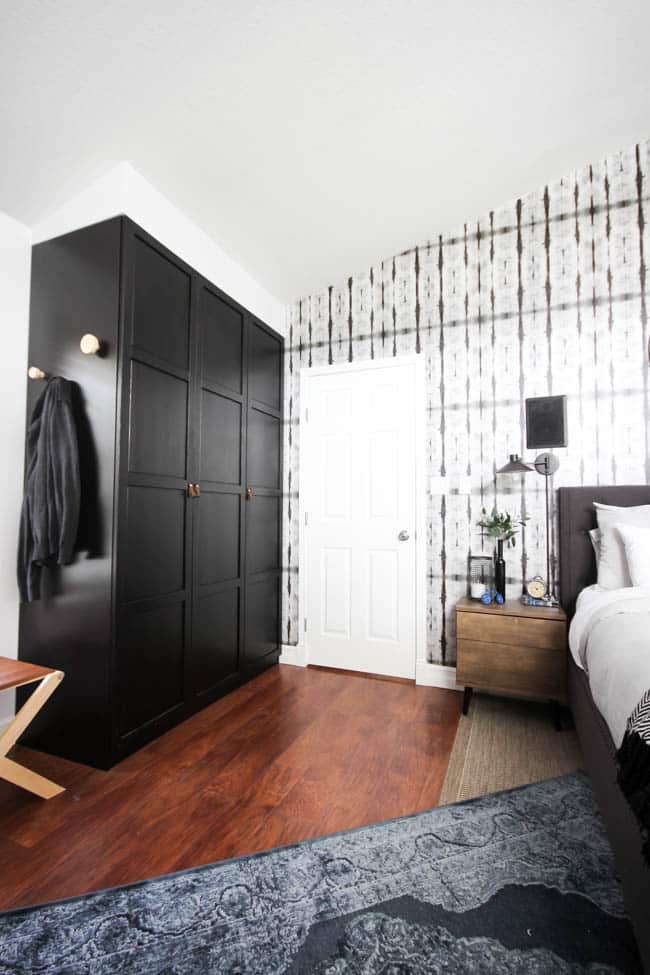 This simple modern mirror was a lifesaver! It broke up the pattern in the wallpaper, keeping it from being too overwhelming, and added some softness at the same time.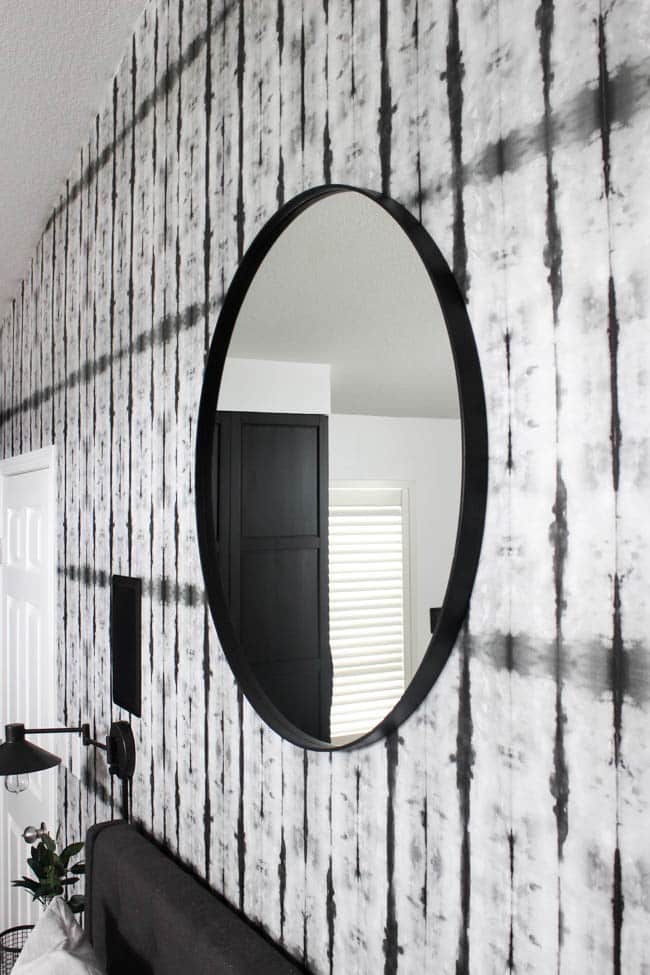 Getting a new duvet set was a must for this room! I found a set that was the absolute softest of greys. Perfect colour for the space and still very light – which I wanted in the room.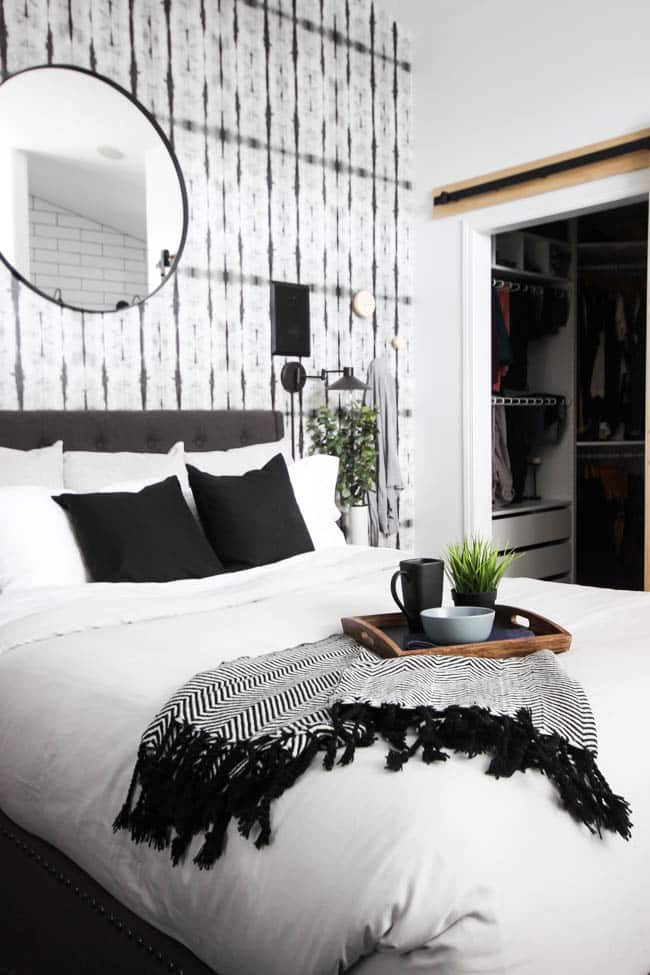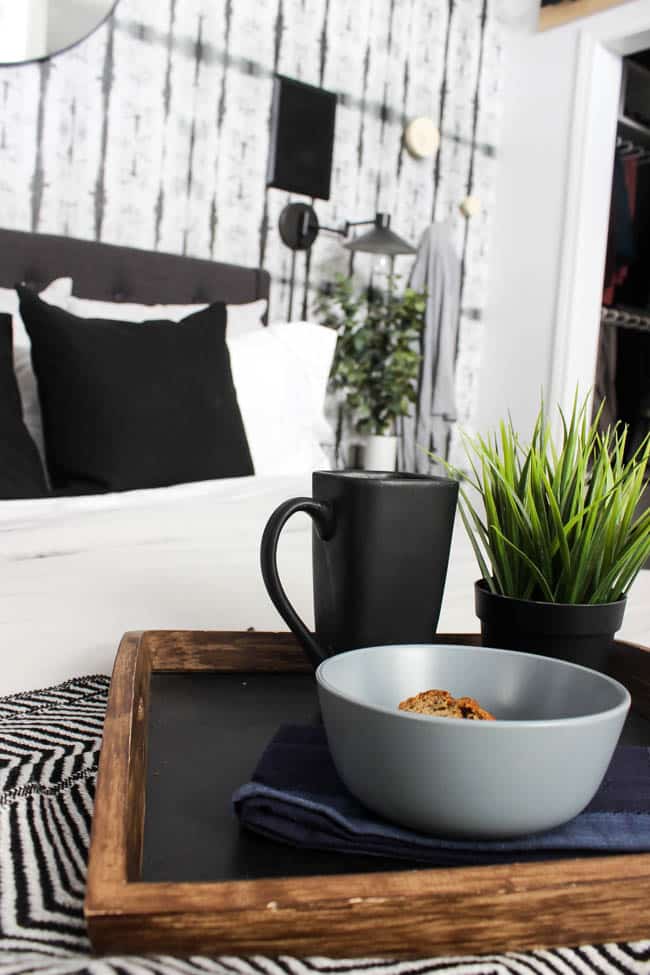 I couldn't decide on colours to add into the space, so I mostly stuck with black, white and grey. Until I found this red velvet pillow and threw that into the mix too :) Still hoping to add some more navy I think, or a deep green – maybe with a great pattern?! I just couldn't find what I was looking for in the last week of the challenge!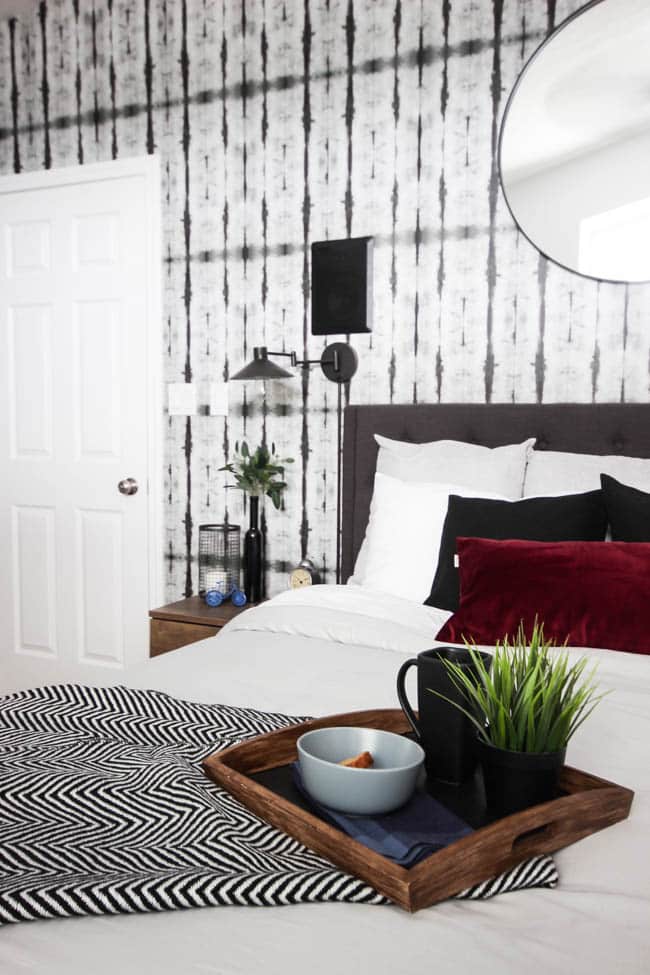 On the other side of the bed is the beautiful barn door that we installed for my dream closet.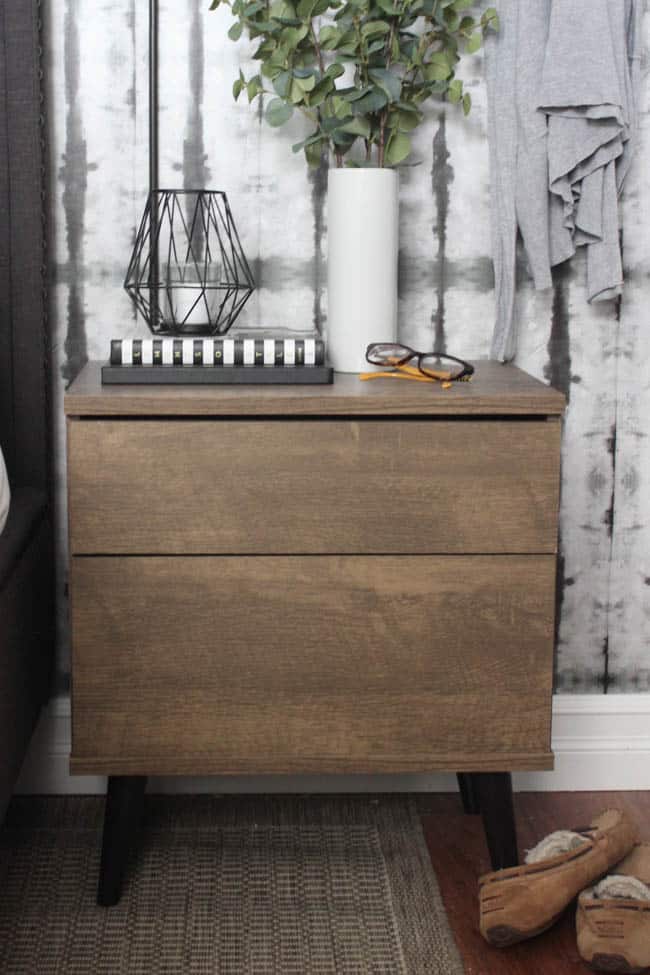 I just grabbed a few of my favourite pieces for the nightstand. I almost bought some new pieces from HedgeApple, which has some great home decor, I'll make what I have work for now! lol.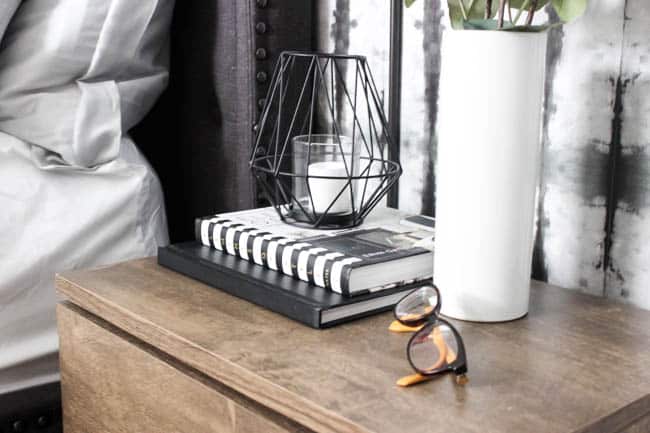 The faux eucalyptus stems are so real looking. I'm always so shocked at how beautiful the faux florals can look these days.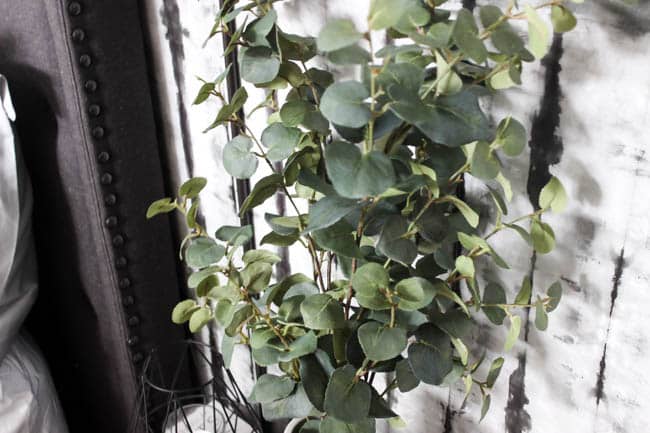 Another great room done! I still can't believe the transformation in there. It's always such a thrill to see my designs come to life!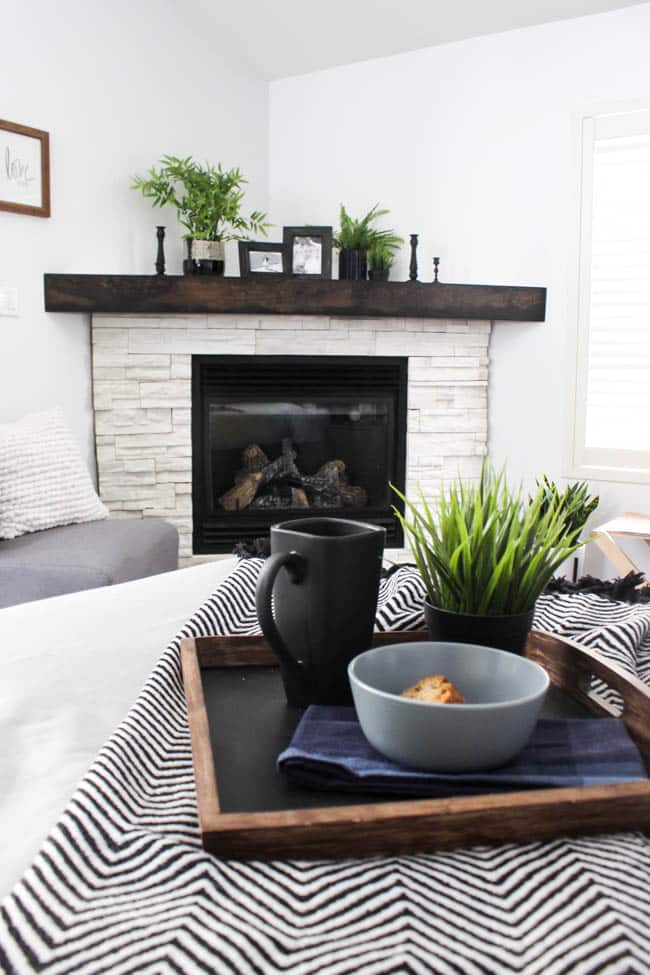 If you need me, I'll be resting by the fireplace, reading a book :)
You can find sources for all of the products pictured HERE.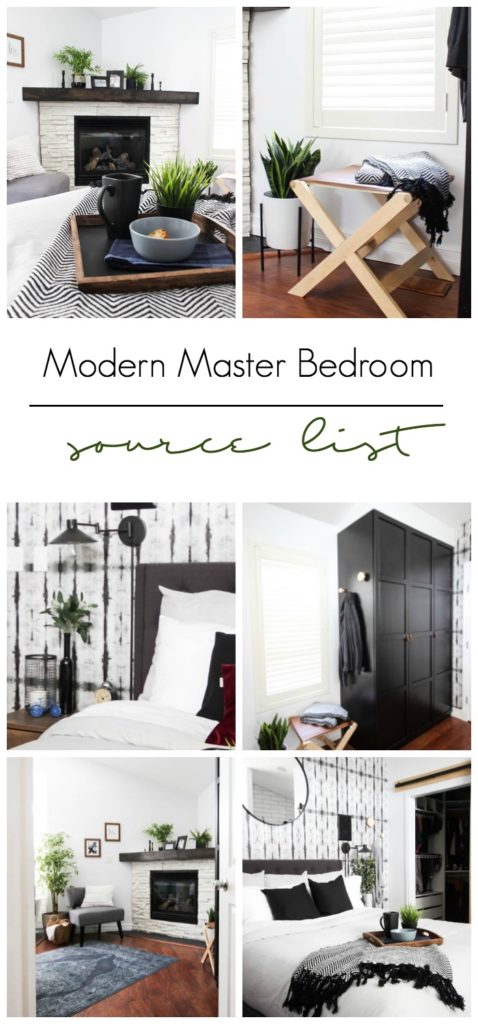 I absolutely could not have transformed this space without our amazing sponsors! SO thankful for each of these fabulous brands!
Wayfair / Plush Rugs / Milton & King
Afloral / Fusion Mineral Paint
Click HERE to see more great One Room Challenge Participants!