A DIY Wall Mounted Coat Rack that's perfect for any space! This coat rack can fit any decor style and is perfect for any small space, entryway, or bedroom!
In my humble opinion, there is no such thing as too many hooks in a home. We have hooks and hangers all over the place. Entryway, hallway, bedroom, you name it, we've hooked it up. But somehow we still end up with coats on the floor. Or hung over chairs. Or sweaters under dressers. Everyone needs more hooks! This DIY Wall-Mounted Coat Rack won't solve all of our problems, but every little hook counts!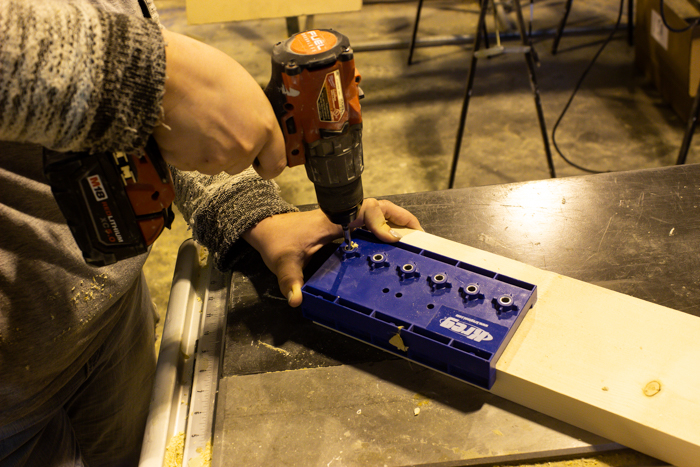 *This post was sponsored by Kreg and Build Something, and may contain affiliate links. As always, opinions are 100% my own. For more information, please see my disclosure page.*
Have you heard of the shelf pin jig? It's a great tool! It's main purpose is to help with custom shelving. Have you even looked into a cupboard and see all of the little holes on the sides? The ones that allow the shelves to move up and down? That's what this nifty guy does. Creates evenly spaced holes for shelving.
But there are a ton of other fun ways to use a tool that evenly spaces out holes, if you want to get creative! Each month I partner with my Modern Handmade Home blogging friends, and this month we are all showing off unique projects using the Kreg Shelf Pin Jig.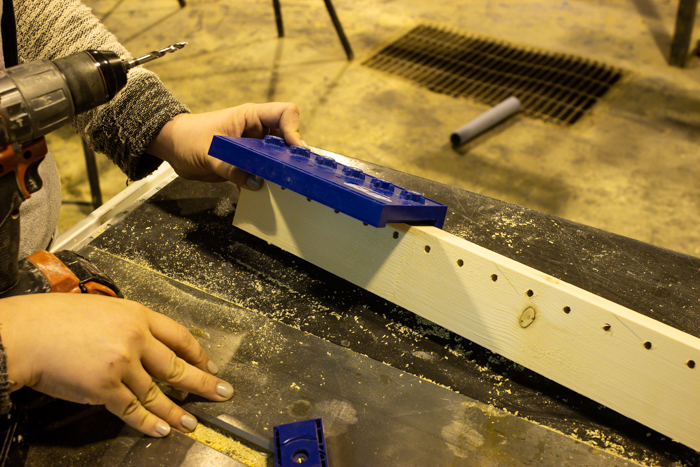 Materials Needed to Make this Modern Coat Rack
2×6 Wood Pine Board
Mitre Saw
Table Saw
Drill
How to Make a DIY Wall Mounted Coat Rack
If you want to make this DIY wall hook, the full tutorial is available on Build Something! If you haven't heard of Build Something, it's a website built by Kreg Tools to give you access to a ton of amazing DIY woodworking project plans.
The step-by-step instructions are also available in the video below!
Now that you've checked out the tutorial, you can see how handy that little Shelf Pin Jig really is!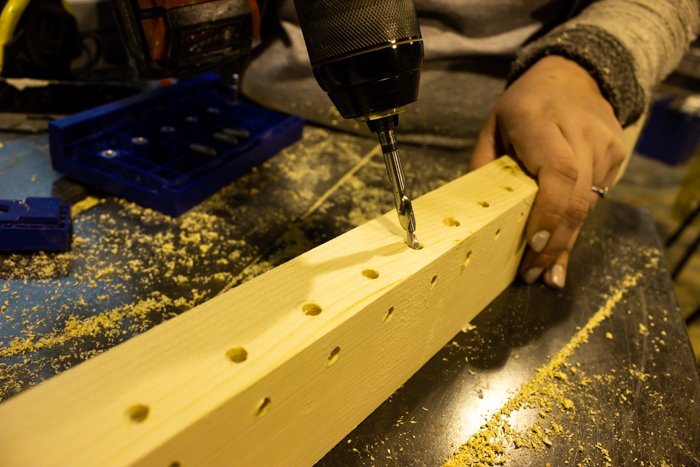 If you watched the video, then you'll see that I drilled holes into both sides of the board, to meet at the center. I thought the holes on either side of the board would be wide enough to slide the "S" Hooks through. Unfortunately, they didn't quite fit…. arg. But I found another solution.
When I had the holes drilled, I knew that the whole on either side connected (I could see right through!), but the turn was slightly too tight for my hooks. If this happens to you, simply use the same drill bit to go over the holes at a slight angle – make sure you go deep enough to open up the inside corner edge of the connecting holes.
A tiny bit of tilt is all you need to open up the holes enough to get the "S" hooks through, and finish off your modern coat rack. My suggestion would be to do a small amount of widening, and check the hook, repeating this over and over until it fits perfectly.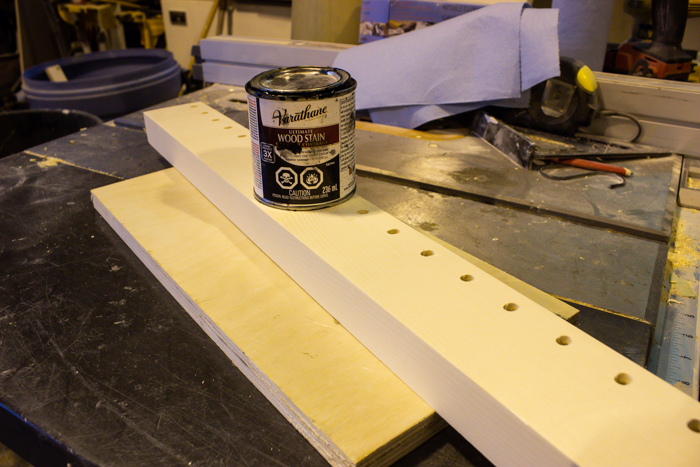 Obviously you can stain your wall mounted coat rack any colour you want! I love the look of this black wood stain (Ebony), so that's what I chose to use, but I think this coat rack would look beautiful in any colour. If you're having trouble getting your stain in the holes, I shared a quick tip in the video above!
Our Finished Modern Coat Rack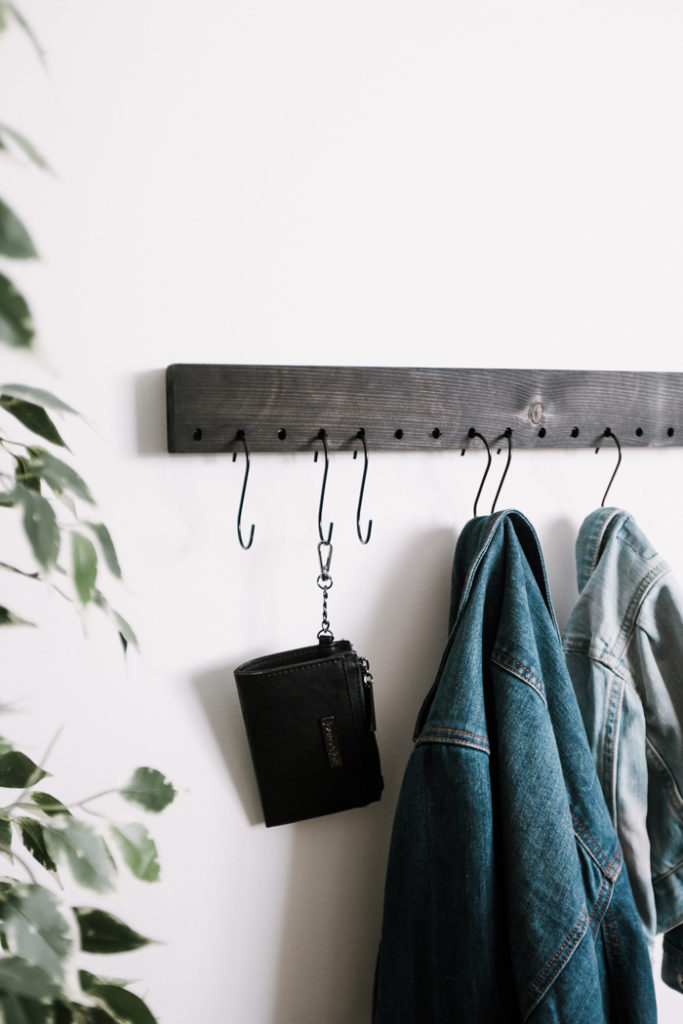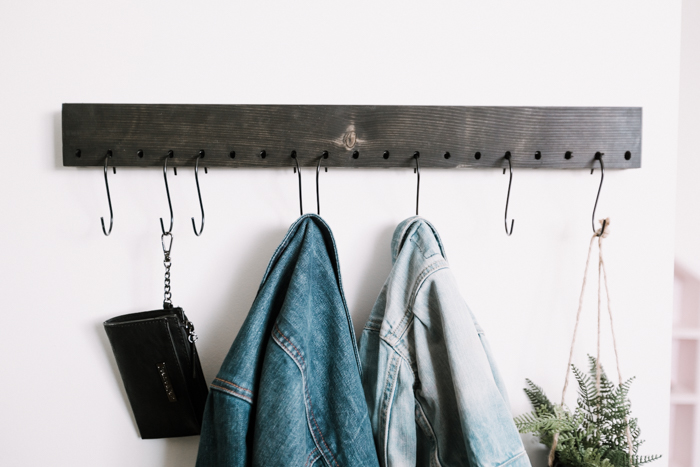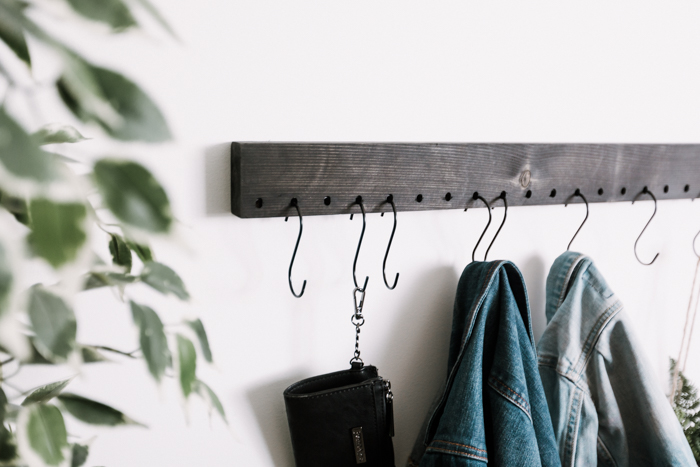 Don't forget to check out the other Modern Handmade Home projects using the Shelf Pin Jig!
Lemon Thistle
Harlow and Thistle
The Learner Observer
If you're looking for a coat rack, you may also love these DIY wall hooks using leather and an IKEA utensil bar!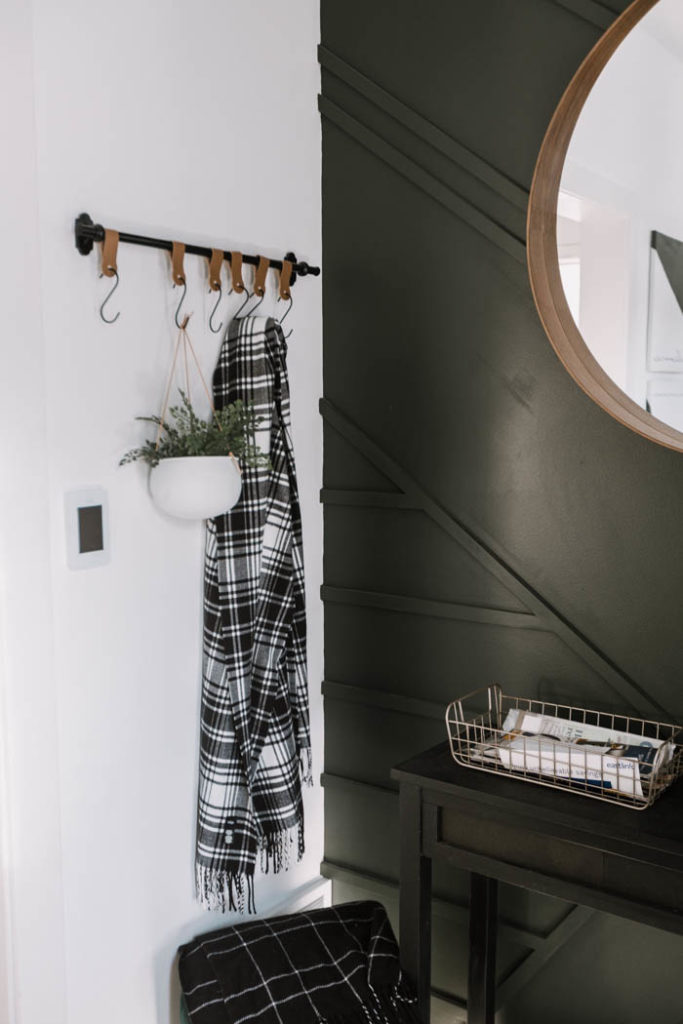 And if you're wanting to organize your life, this DIY Office Grid might do the trick too!