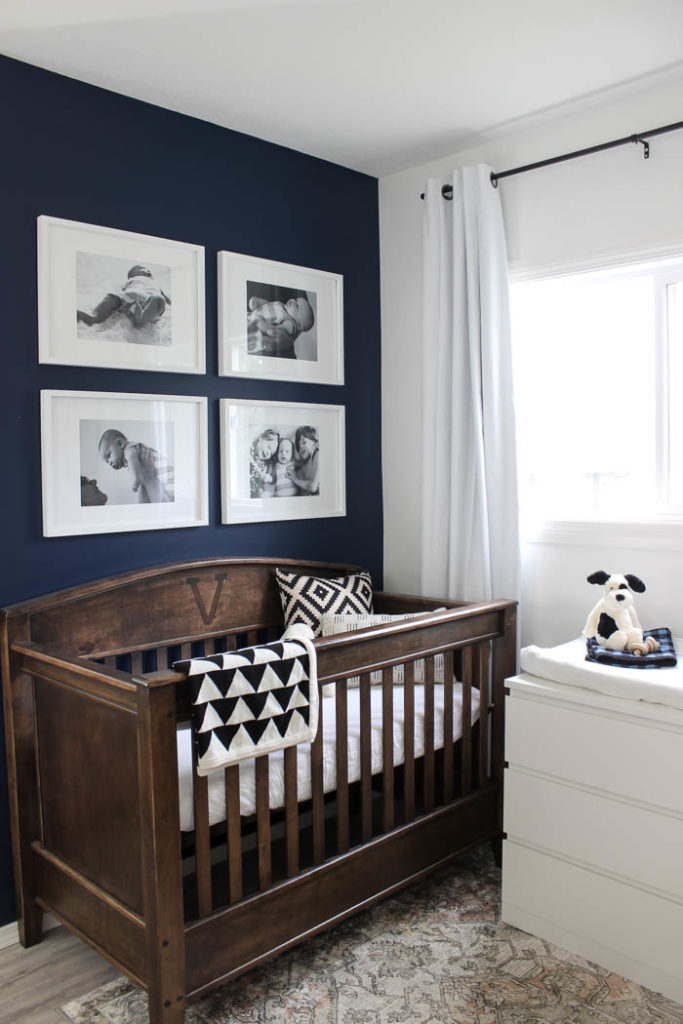 When my husband and I decided to move to our new home we only had two children. We had (and still have!) grand plans for our new home, including renovating from top to bottom and building an addition, which would add a third bedroom at some point. Before we even moved in I found out I was expecting our third child. So we found ourselves as a family of five with only two upstairs bedrooms! But somehow we still made our baby boy a small modern nursery.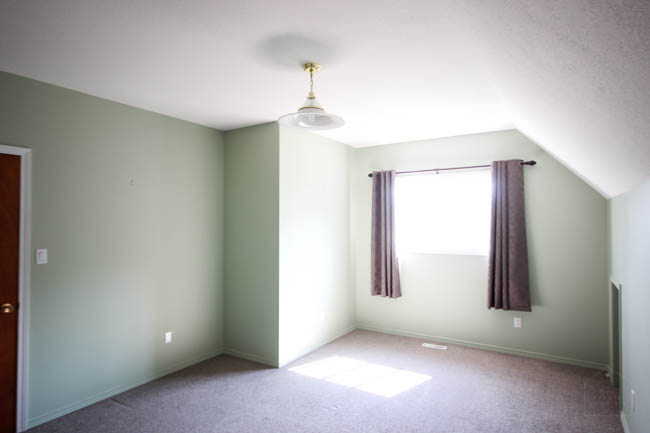 *This post was sponsored by Para Paints. As always, opinions are 100% my own. For more information, please see my disclosure page.*
With only two bedrooms upstairs, our girls were already sharing a room and a baby would probably disturb that quite a bit, lol. So we decided that the baby would stay with us (which seems normal, but I had never done that with either of my older girls!). Above is a photo of the far side of our master bedroom before we did any renovations to it. Since it was actually a fairly big room, we decided that this small space could act as the baby's corner.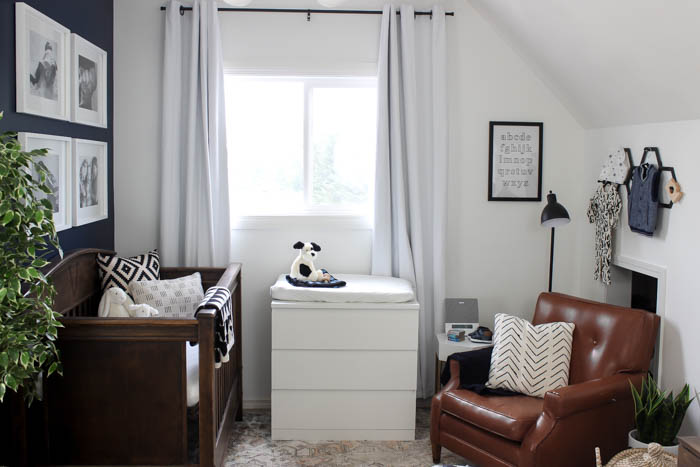 If you know me… you know that I couldn't just plop a crib in there! I needed to give it a little bit of personality. Almost like his own tiny nursery.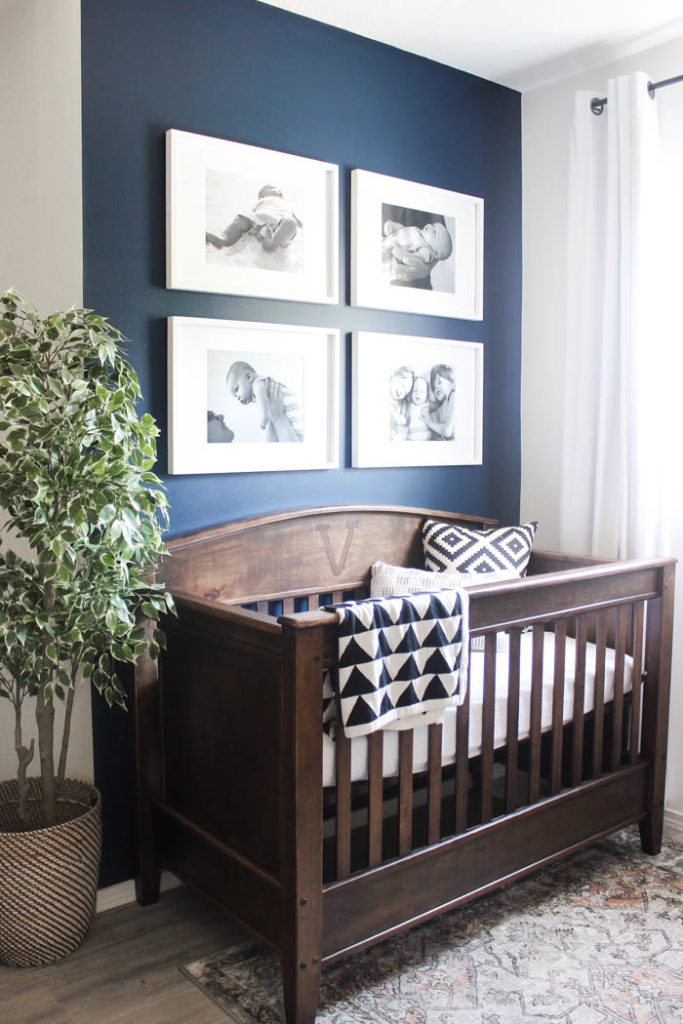 The room was perfectly divided by the section of wall that jutted out, but I wanted to define the space even more than that. The best way to define a space? Paint.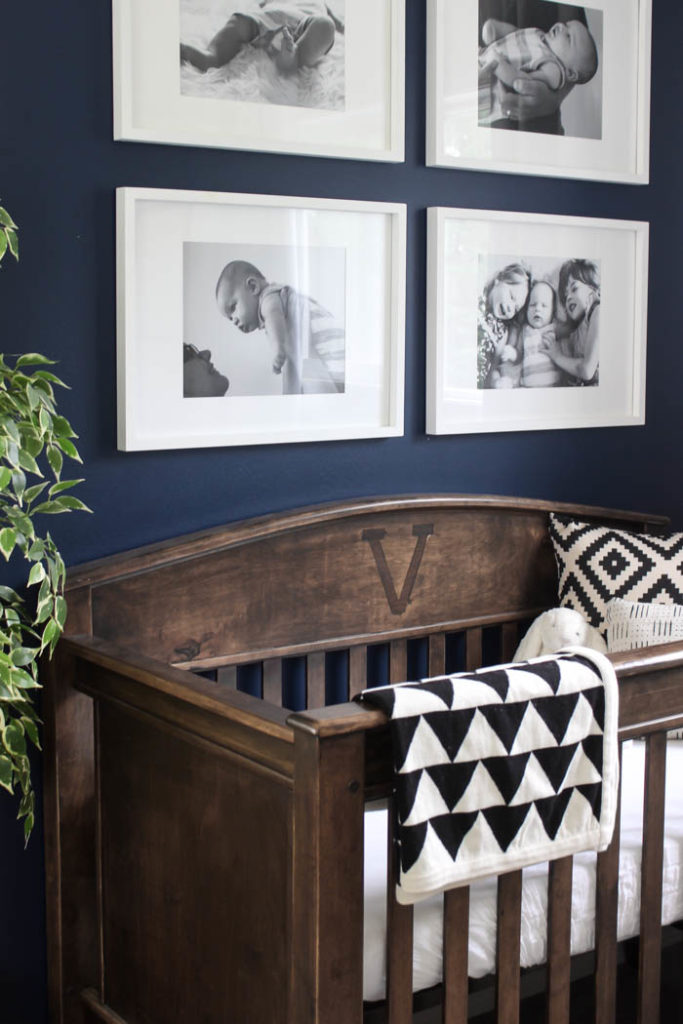 I didn't take me long to decide what paint to use. We had already used Para Paints for all of the white walls in our home, and for the closet on the other side of the bedroom. Both times I loved the results! I could've gone with a different colour from my Whole Home Colour Palette, but I loved having a touch of blue on both side of the bedroom.
Shadow of the Night from the Color Journeys collection is just the most beautiful tone of navy blue I've ever had on a wall. The brown from our handmade crib looks beautiful against the blue. Absolutely beautiful.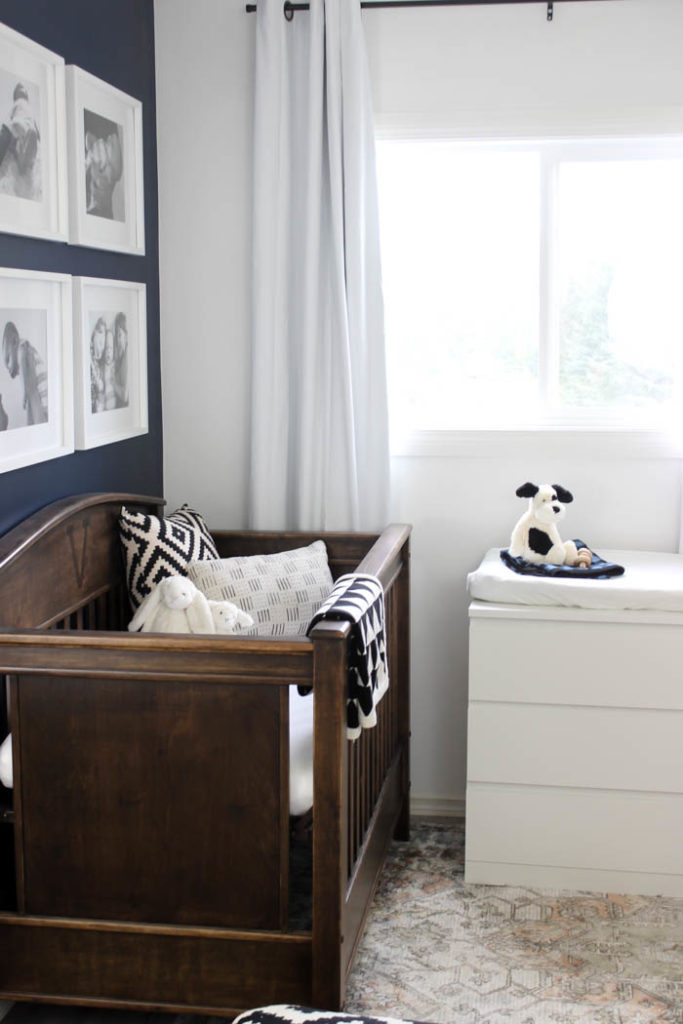 Once the crib had a home, we knew we could spend some energy on the rest of the modern nursery.
All we really needed in our small nursery was a change table, a place for clothes and diapers, and a chair to nurse in.
With all of the furniture in place, it can look a bit crowded, but it doesn't feel crowded. It just feels cozy. Everything we need. Including the leather chair that my husband tried to get rid of once! I fought him on it because it's honestly the most comfortable chair ever.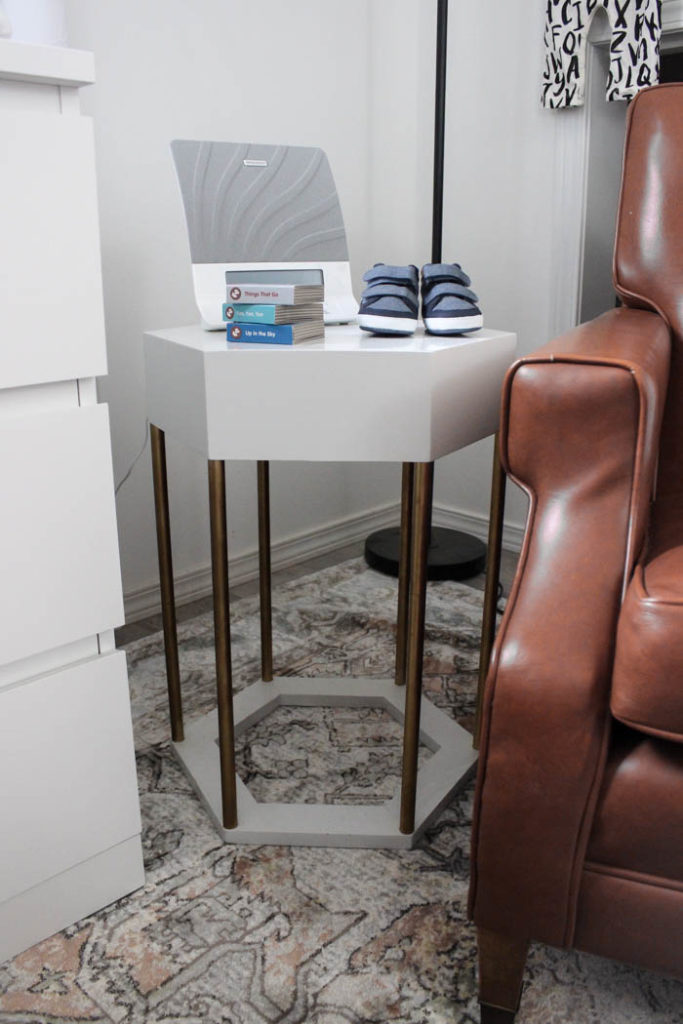 Since we needed a side table, we added this little hexagon one that we built years ago.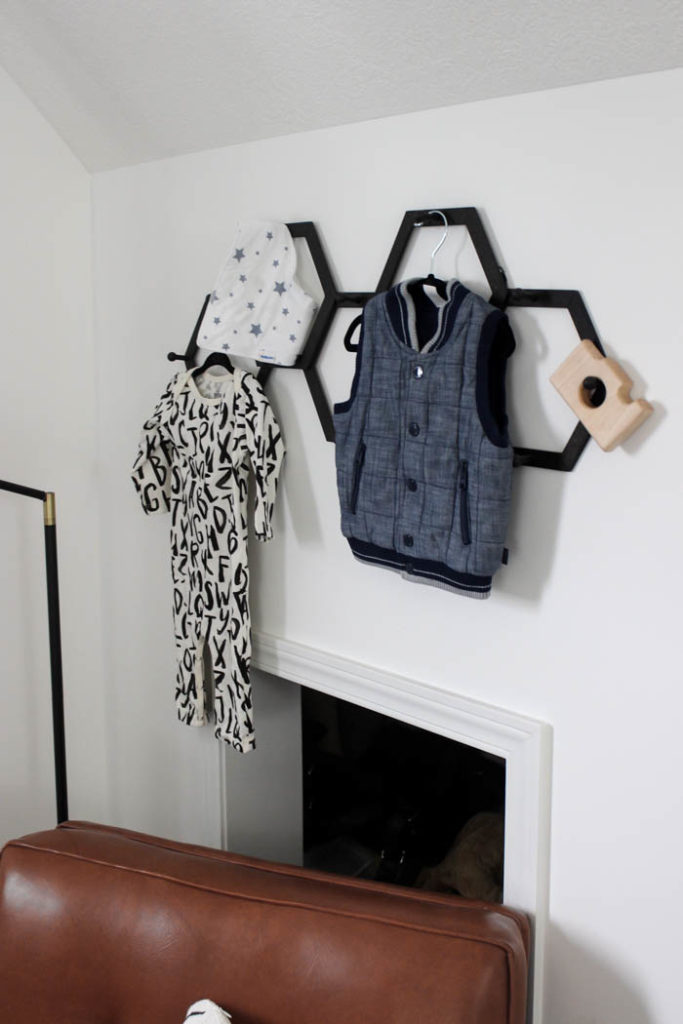 Even though it's a small space, this little modern nursery has everything our son needs, and everything his mama needs to look after him!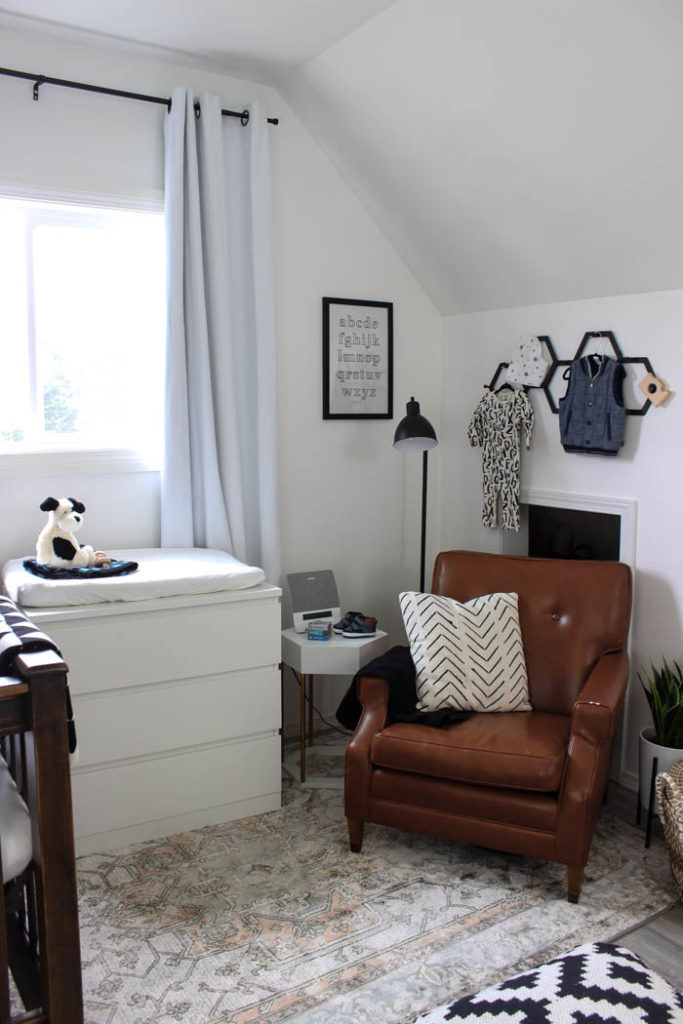 Our final touch was to add a simple gallery wall after my son was born. The white pops so beautifully on that blue painted wall and pulls it all together!
SHOP THIS MODERN NURSERY
[show_shopthepost_widget id="3277256″]
HERE ARE SOME BROWN CRIBS WE LOVE:
[show_shopthepost_widget id="3600418″]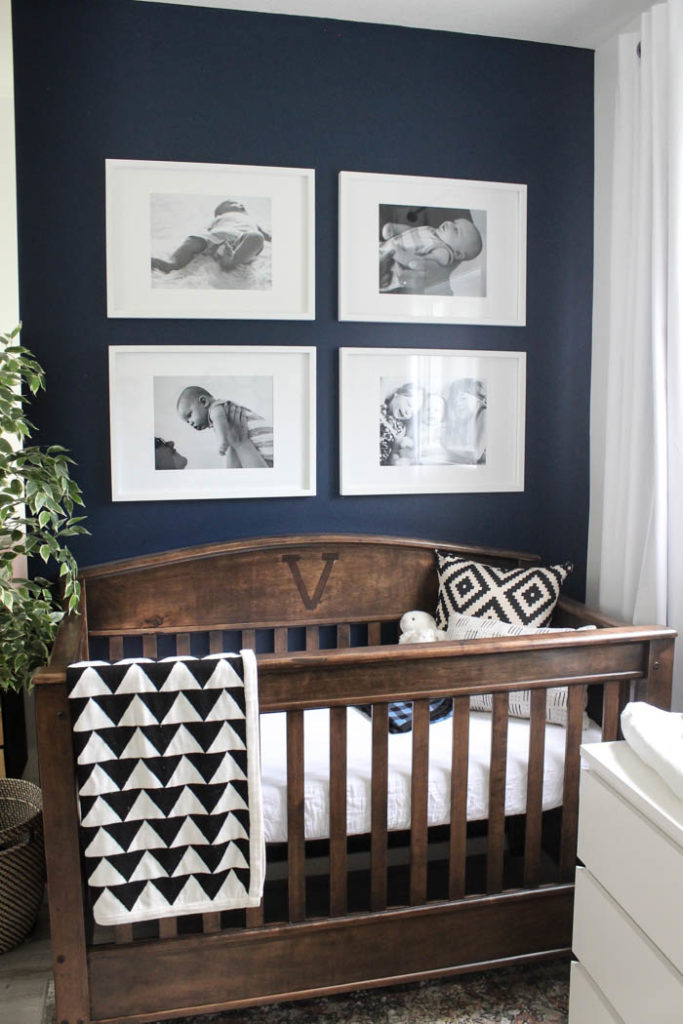 Hope you like what we've done with this small nursery!