A stunning DIY pendant light! Learn how to make an easy hanging pendant light from a thrifted lamp shape! Upcycle any light shade!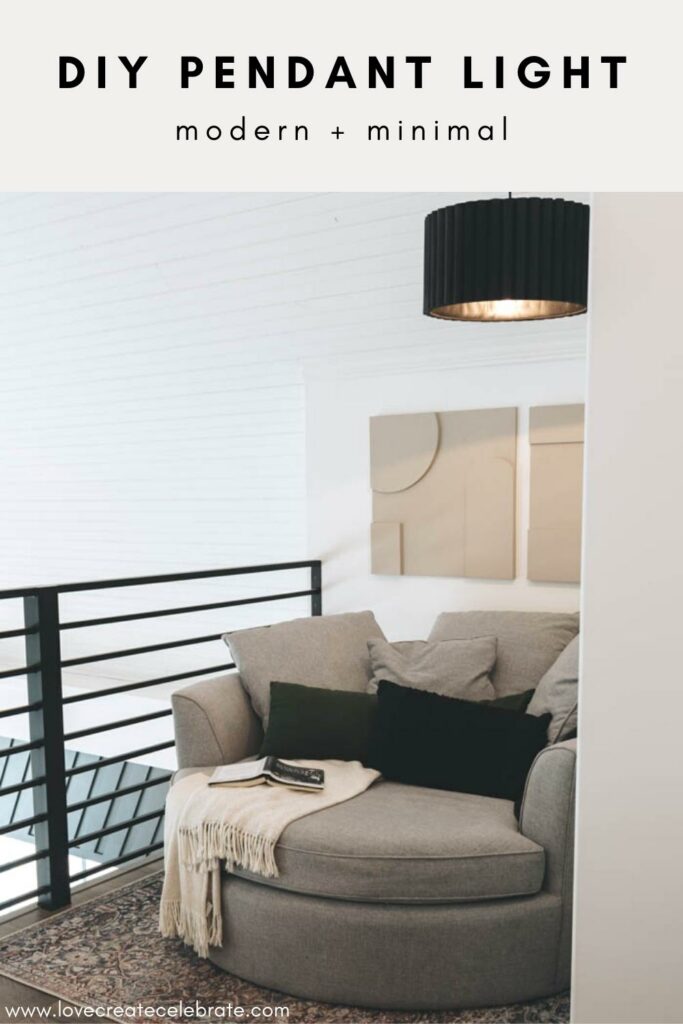 Beautiful lighting can be crazy expensive. I was looking for a large-ish pendant light for my upstairs reading loft and the the price tag for anything that looked modern or minimal was $200 or $250 on the low end and over $1000 on the high end. I knew I could somehow make a DIY pendant light for less, so I went on the hunt!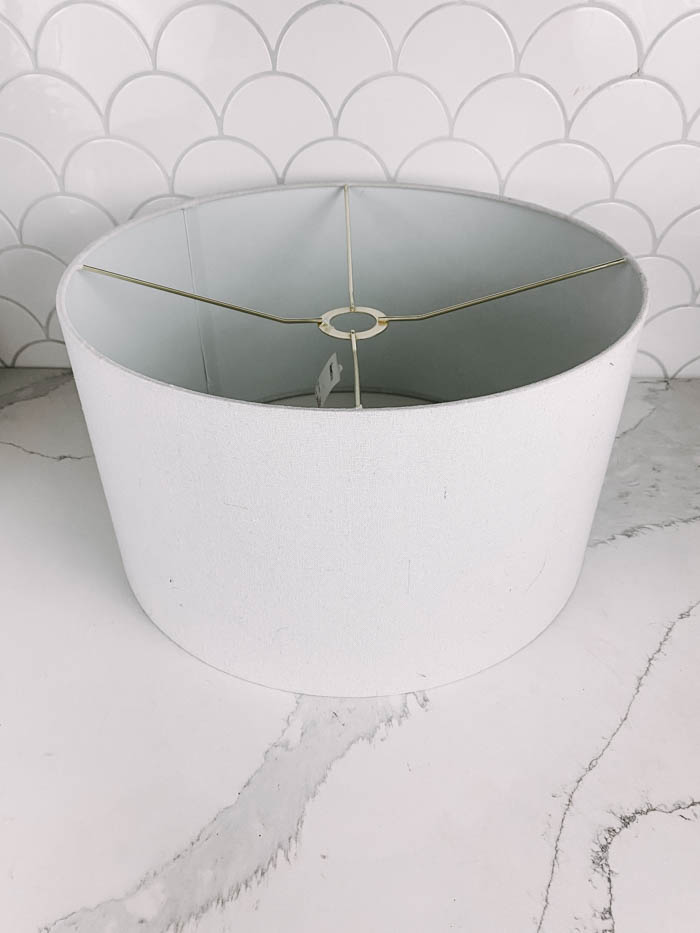 *This post may contain affiliate links. When you buy a product through one of our links, we get a commission at no cost to you! Thank you for supporting our blog so that we can continue to bring you posts like these. For more information, please see our disclosure page.*
I was keeping my eye on thrift stores for an old pendant, and you can often find them there, but when I found this lamp shade for $15 on sale at Homesense, I couldn't pass it up! It was the perfect size and shape for our upstairs reading nook loft. The colour and style were too traditional for my taste, but I knew I could upcycle it into something beautiful that suited our space.
Fluted Pendant Light Inspiration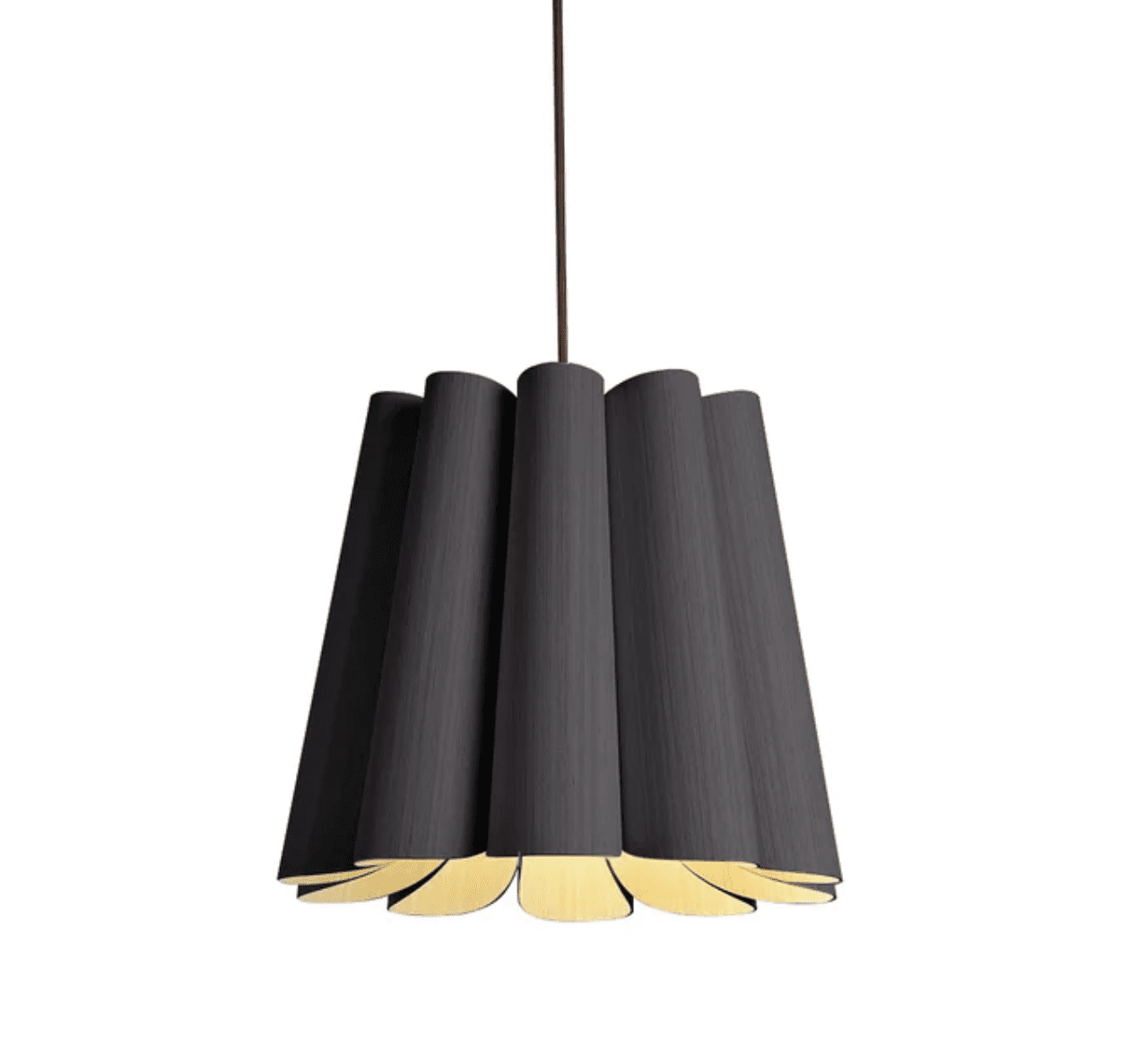 Black Lamp Shade – $800 / White Lamp shade – $300
I love the style and design of both of these fixtures! They both look a bit modern, but also have a nod to traditional design, and I had been waiting for an idea to strike so that I could make my own, easy DIY version.
DIY Pendant Light Tutorial
If you want to make your own DIY pendant light, the process is super fast and easy, and doesn't require any power tools!
Materials Needed:
Thrifted lamp shade
Half-circle circles
Black Spray Paint
Fabri-tac glue
Utility knife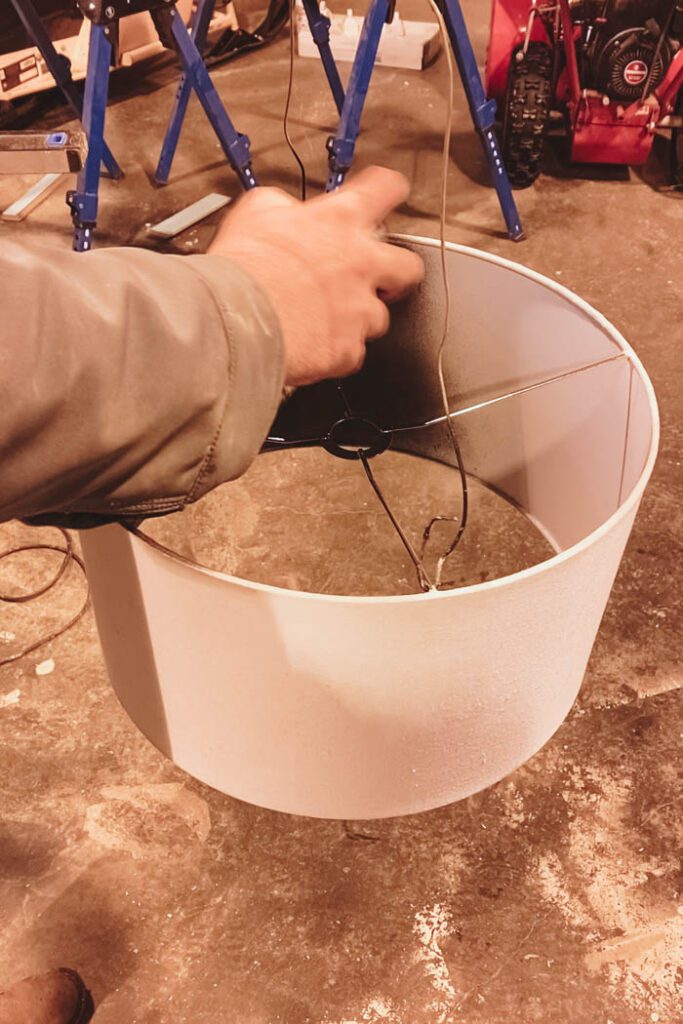 How to Make a DIY Pendant Light
The first step in making your DIY pendant light is to spray paint the existing fabric lamp shade. Since I wanted to make a black light fixture, I needed to spray paint the interior and exterior of the shade so that white didn't show underneath the design when I was done. If you are keeping your pendant light the same colour as the shade you got, you can skip this step!
This lamp shade was made with fabric, so it did require a few coats of spray paint before the paint wasn't soaked into the shade. However, this is just to prevent other colours from showing through, so this coating doesn't have to be perfect.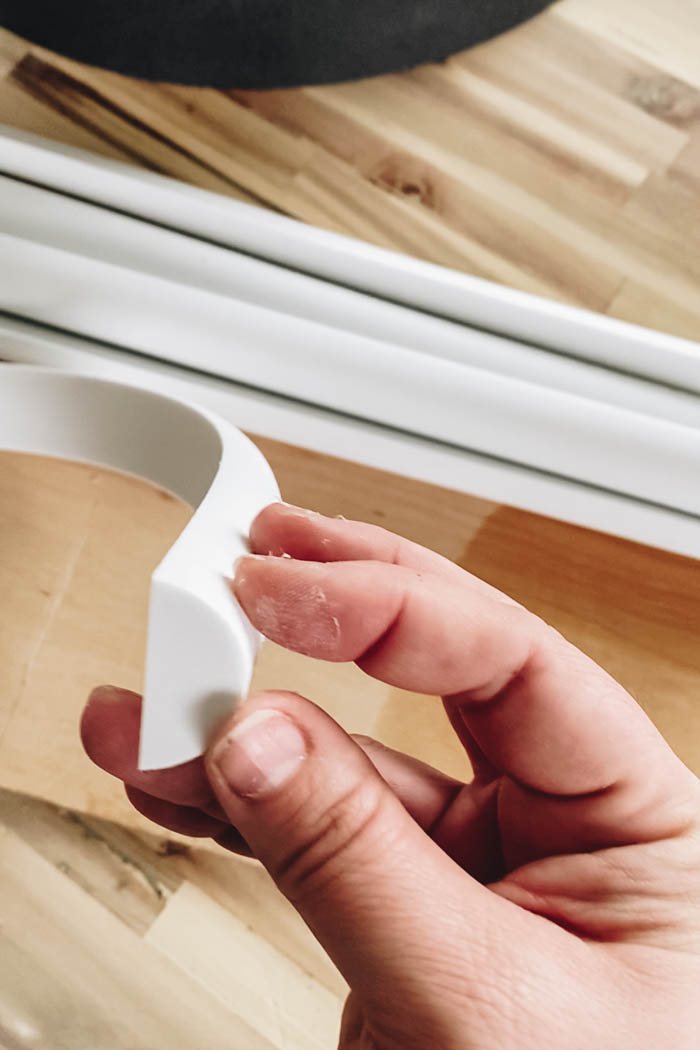 The photos above show my half-round dowels. They are flexible and made of foam. I was genuinely so excited when I found these at the store because I knew I could DIY something and add some amazing texture.
It was serendipity that I found that lamp shade, and discovered these foam dowels in the same week, because they were the perfect way to add that trendy fluted texture into my home again. I decided to cut the dowels down and glue them around the outside of the lamp shade
If you're not familiar with the fluted textures, you can check out this DIY sideboard makeover I did, or this simple fluted utensil holder, to get more information.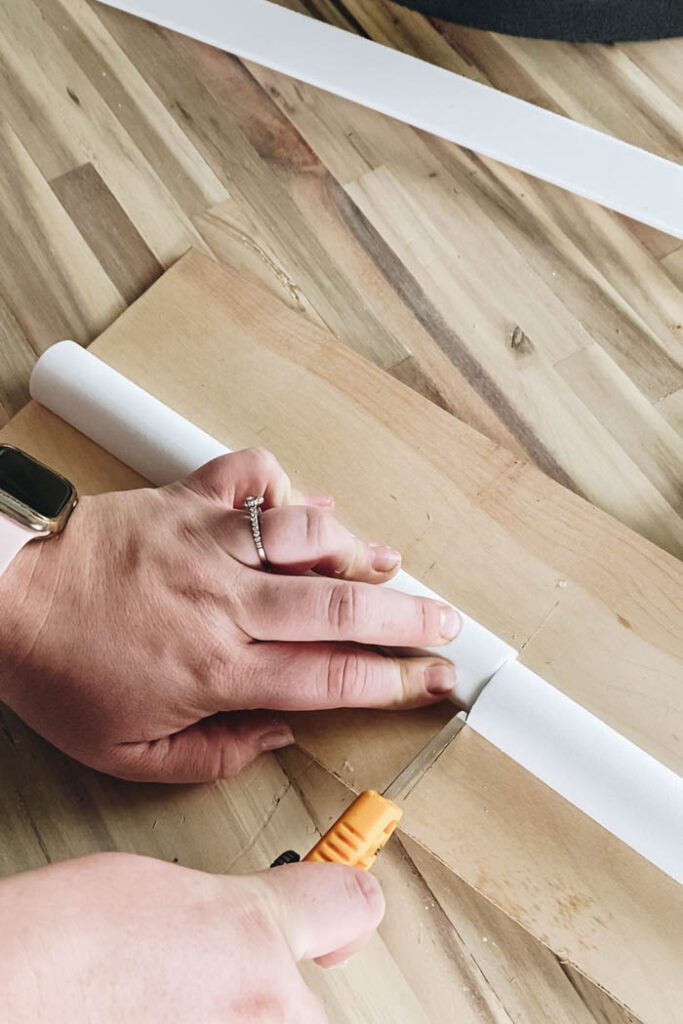 Since my lamp shade was pretty big, one of these dowels could only be cut down twice for two pieces, which means I had to buy quite a few dowels, lol. But in the end $30 for foam dowels (cheaper if you get the discounts) is still waaaay cheaper than buying a new pendant light!
The best way to cut these foam dowels was with a utility knife. That gave me a very straight and even cut, unlike scissors, which tended to give an uneven cut however I tried them.
For the cuts, I marked the measurement I needed for all my foam dowels onto a scrap piece of wood that I can cut against. Then, one-by-one, I placed the dowels onto the board, and cut to the length I had marked with the utility knife.
To attach the foam to the fabric, I used a glue called Fabri-tac. It's a crazy strong fabric glue, and that dries fast and goad on clear. I've used it on several different DIY fabric projects, and highly recommend it if you have a fabric shade to glue onto!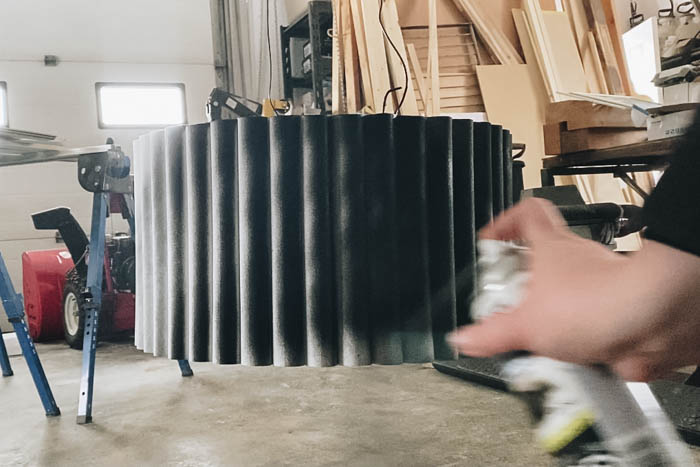 Finally, you can spray paint the entire piece with the colour of your choosing – in this case, black. Again, you will likely need a few coats of spray paint because the first coat or two will be soaked into the foam. You'll also need to spray from every angle to make sure that the paint gets into all of the different crevices between the dowels
How to Add a Light to a Thrifted Lamp Shade
If you found a thrifted lamp shade, it probably didn't come with any lighting hardware, but that's very easy to fix.
You want to buy a pendent bulb that can either be hardwired (if you know how to do the electrical) or that comes with a plug. This pendant light cord gives you both options! Whether you are saavy with electrical work, or have a plug nearby, you can make one of these two lighting cord options work.
Our Finished DIY Pendant Light
I'm so proud of the finished product. This DIY pendant light cost less than $50, and looks amazing in our reading nook! The ambiance at light is perfect.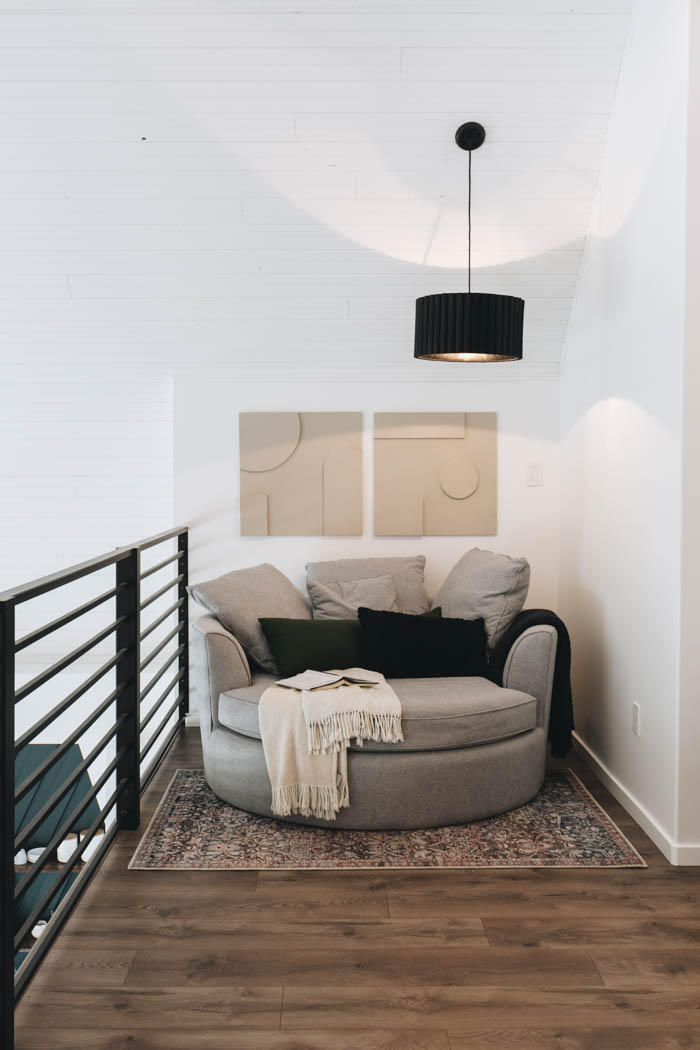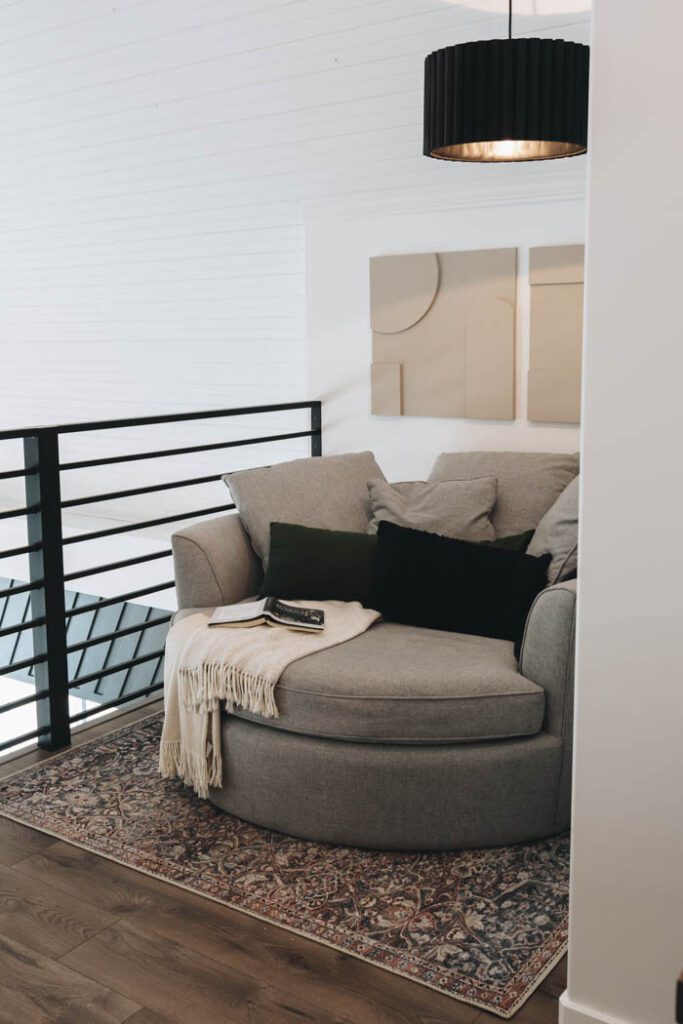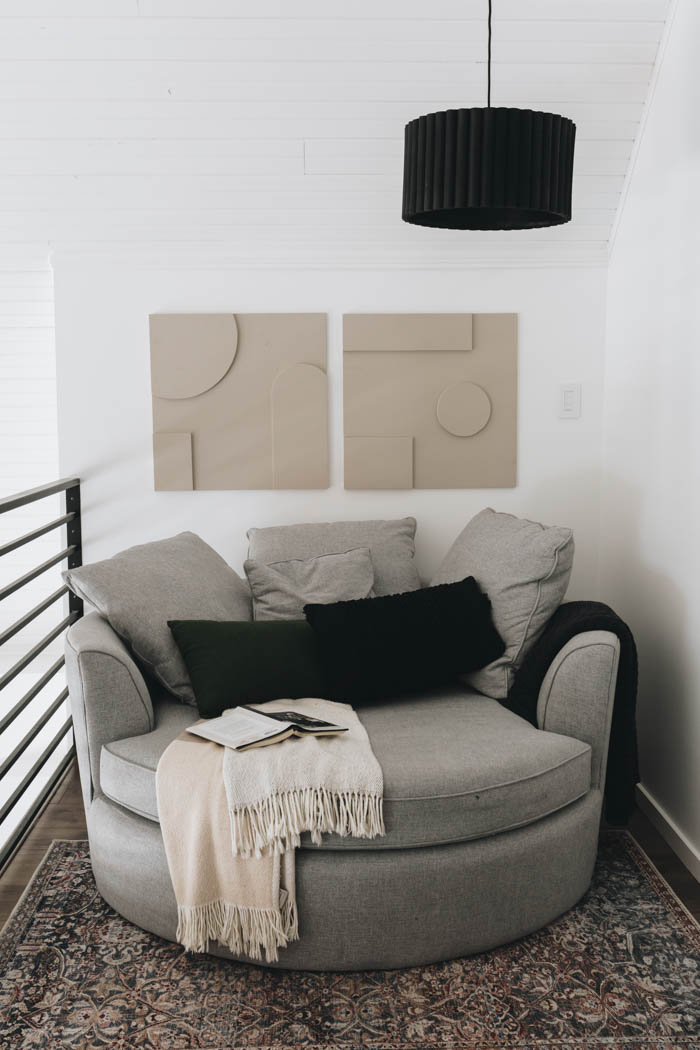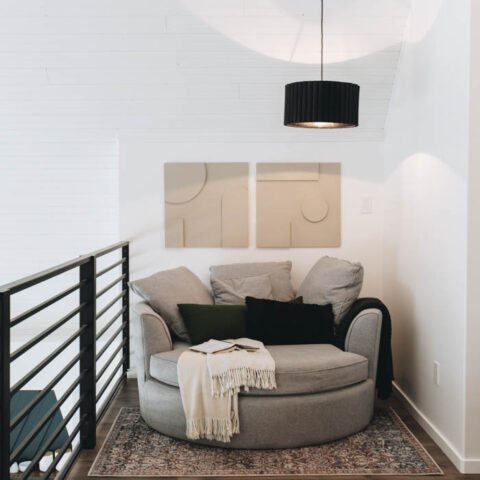 DIY Pendant Light
A stunning DIY pendant light! Learn how to make an easy hanging pendant light from a thrifted lamp shape! Upcycle any light shade!
Materials
Thrifted lamp shade
Half-circle foam dowels
Spray paint
Fabri-tac glue
Single bulb pendant light cord
Instructions
Spray paint thrifted lamp shade, in the colour you want your pendant light to be (I chose black but you can do any colour).
Use a utility knife to cut half-round dowels to the same height as your lamp shade.
Glue dowels in place around the lamp shade using fabri-tac glue.
Spray paint the outside of lamp shade again with the dowels in place. This will take multiple coats of spray paint as the paint soaks into the dowels. Spraying with primer first will help reduce the number of paint coats needed.
Attach single light socket and cord to your lamp shade
Hardwire or plug in new pendant light (depending on which lighting wire option you chose)
Recommended Products
As an Amazon Associate and member of other affiliate programs, I earn from qualifying purchases.
If you enjoy high-end looking decor on a budget, make sure to check out the 15 Amazing DIYS for Less Than $100!