Easy to follow tips and tricks to learn how to cut and install crown molding for beginners! Including how to put up crown molding over tile!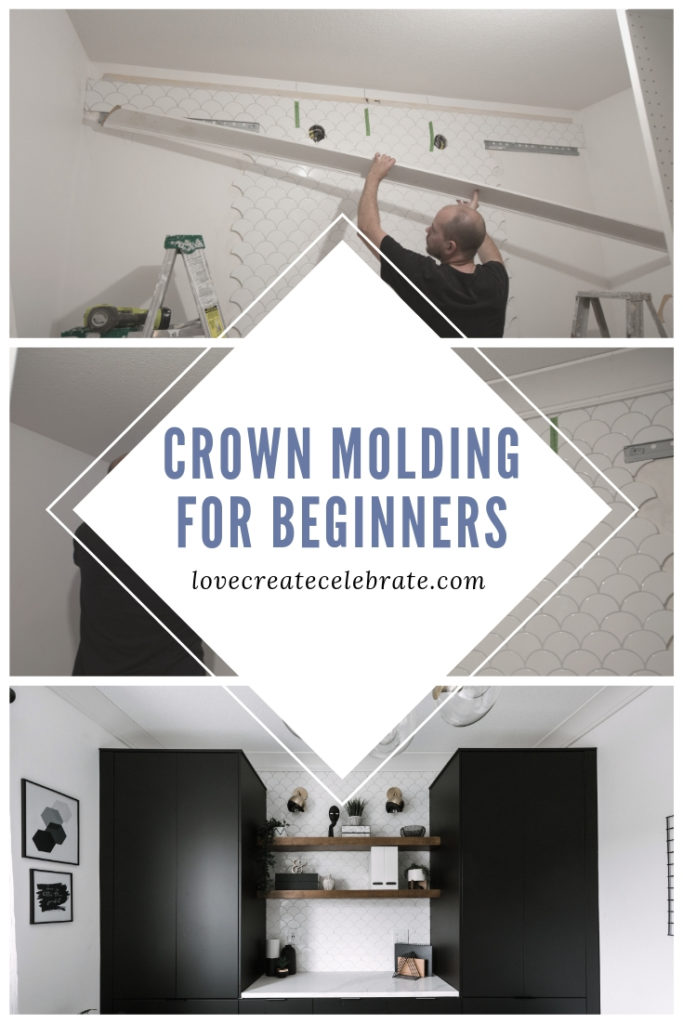 Have you ever tried putting up crown molding? It's one of those finishing pieces that makes a world of difference in a space. We often look at spaces on Pinterest or Instagram and think they look totally put together, and so many times, it's the small finishing details that brings the space together. I bet if you go look, a ton of your favourite spaces have crown molding and you didn't even notice! It can be difficult or intimidating to put up though, which is why we are sharing Crown Molding for Beginners tips, and showing off how to we put crown molding over tile for our office space.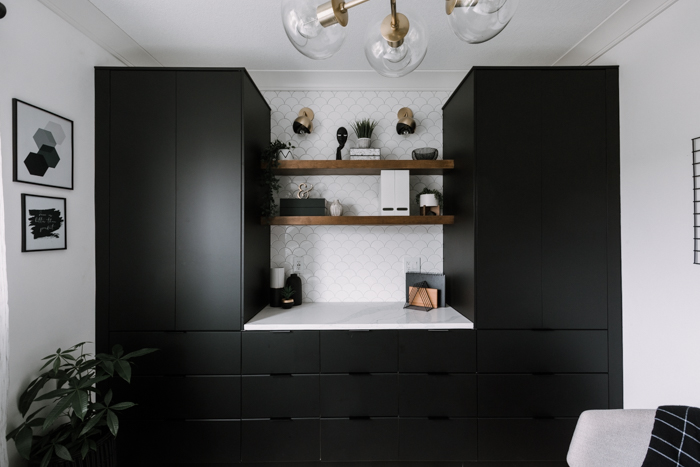 *This post was sponsored by Metrie. As always, opinions are 100% my own. The post may contain affiliate links. For more information, please see my disclosure page.*
This is the office that we took all of our crown molding photos for and you can see how beautifully the moldings finish off the space! I'm going to show you everything you need to know about putting up crown molding, but one of the trickiest things about this space was figuring out a way to put crown molding over tile.
Everything You Need to Install Crown Molding
Wherever you are installing crown, there are a few tools that will make the job easier. This is everything we used to install our crown molding.
Materials Needed:
Wood Board (same thickness as your tile)
Tools Needed:
How to Install Crown Molding Video Tutorial
The easiest way to learn crown molding is to learn from someone else and have them actually point to each individual item and step. That's why we created a video tutorial to help make everything a little bit easier to understand: Crown Molding 101.
How to Install Crown Molding Over Tile
If you have every thought about putting crown molding above a tiled wall… you might've gotten stuck there and stopped thinking any further, lol. Crown molding is usually put up with a nail gun, and since you can't nail into tile, you have to find another solution.
The way that Russel and I put up crown molding over tile in our office was a very clever solution (all Russel's idea… lol)! I'm sharing how we did it before I share the cutting and installation steps because if you're renovating and want to tackle a tiled wall with crown, you will want to think about this first!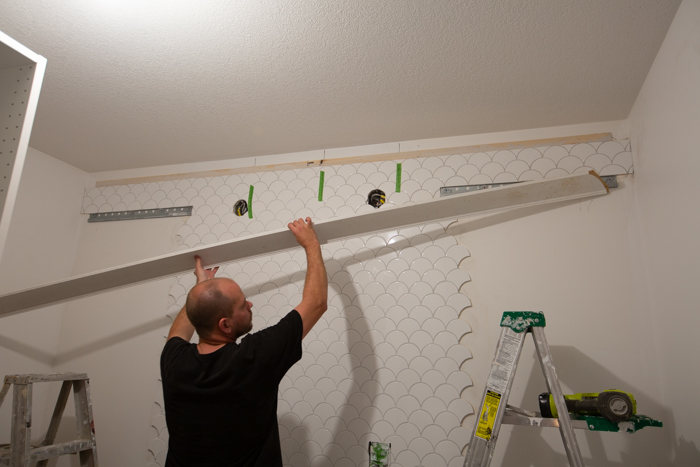 How to Attach the Crown Molding
The biggest problem here is figuring out how to attach the crown molding to the wall and still have it looking great. You could stop tiling at the crown molding, but it looks sooooo much nicer when the crown looks like it sits on top of the tile. When the tile sticks out further than the crown above it, it takes away from your beautiful finish.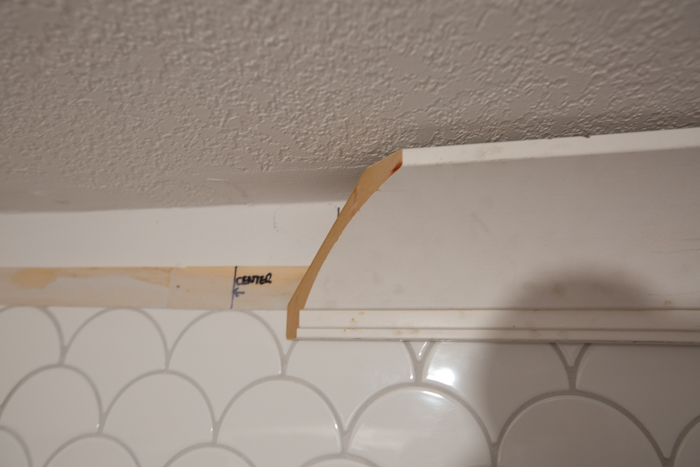 So what did we do?
We added a wooden board to the wall. We cut a small board, the same width as our tiles that were going up. We used our crown molding as a guide, and nailed the board to the wall slightly above the bottom of the molding.
Then we tiled right up to that board when we tiled the wall. This way we had something to nail in when we put the crown molding up, but it still looks like the crown is still sitting on top of the tiled wall.
When your tiled wall is done, you can cut and install the correct piece of crown for your wall. I'll explain how to cut and install the moldings below.
How to Cut Crown Molding
Crown molding is often considered complicated because there are a lot of measurements and considerations to think about. In the video above we tried to break down all of these different terms and measurements, but I'll list some of them here as well.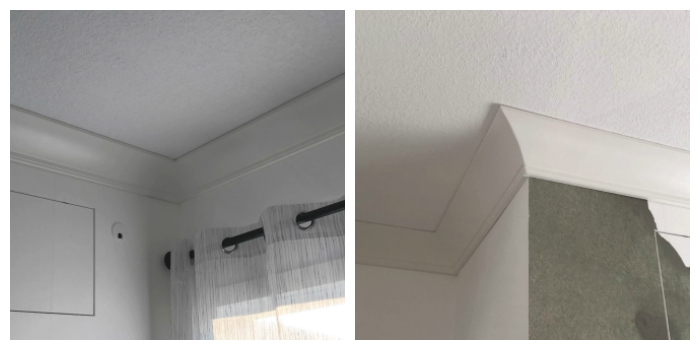 Inside vs. Outside Corners
The first thing to understand is what an inside edge is versus an outside edge of crown molding. The photo above shows an inside corner on the left and an outside edge corner on the right – basically is the corner going inward or outward.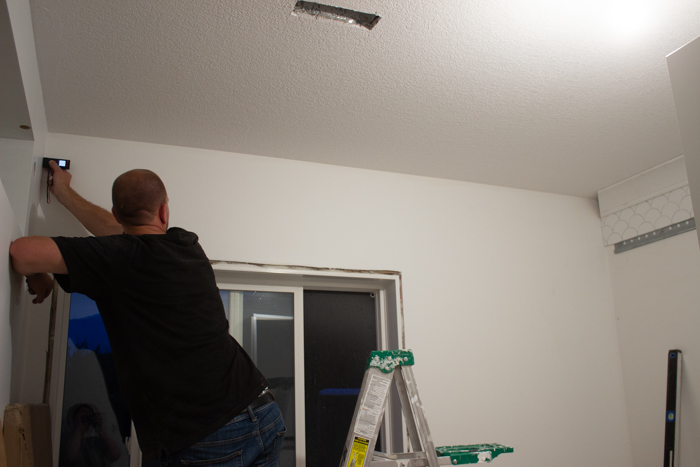 Corner Angle and Wall Length
The next things you have to measure are the wall length (or how long your crown molding will be at it's longest edge), and your corner angle. We use an angle measuring tool or a digital angle measure.
Don't assume that your corner angles are a perfect 90 degrees. They often are not, and a single degree can make a big difference in how nice your moldings fit together.
Bevel Angle vs. Mitre Angle
When you are cutting crown molding, you will need to adjust the bevel and mitre angles on your saw. The bevel angle is the angle of the entire saw arm, as shown in the picture on the left above. The mitre angle is the adjustment you make at the base of the saw, as shown in the photo on the right above.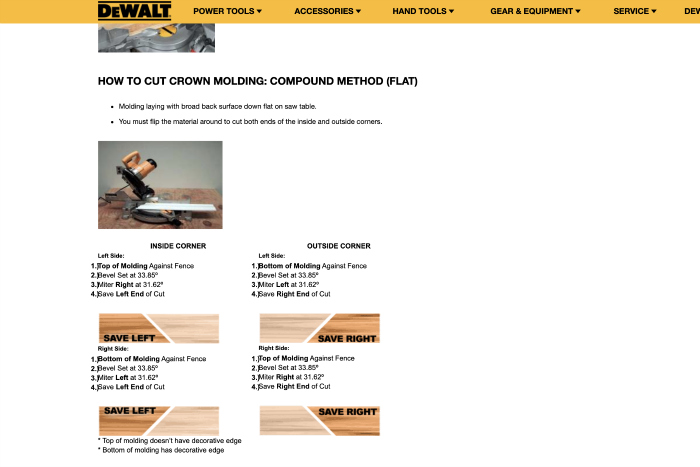 What Angles to Cut for Crown Molding?
Above is a photo from this Dewalt website. This website is a great resource for all of the angle and cuts you need in order to properly install crown molding.
They list a couple of different methods for cutting your molding. The method we used is the one shown above – compound method (flat). Since our saw doesn't have a nice way of measuring and adjusting the bevel angle, we actually had to use our digital angle measuring tool to find the right angle (which you can see us do in the video).
Since we can't easily adjust that angle, we wanted to set it once and forget it, which is what you do in the compound flat method. We had to change our mitre angle from left to right, and adjust our moldings so that either the bottom or top was against the fence, but we kept the bevel angle the same the entire time.
In order to cut your mouldings, you just have to follow their four steps, and know whether you are cutting an inside or outside edge and which piece of the board you are saving (keeping). If it sounds complicated, watch the video above – you will watch my husband talk his way through an entire piece of molding.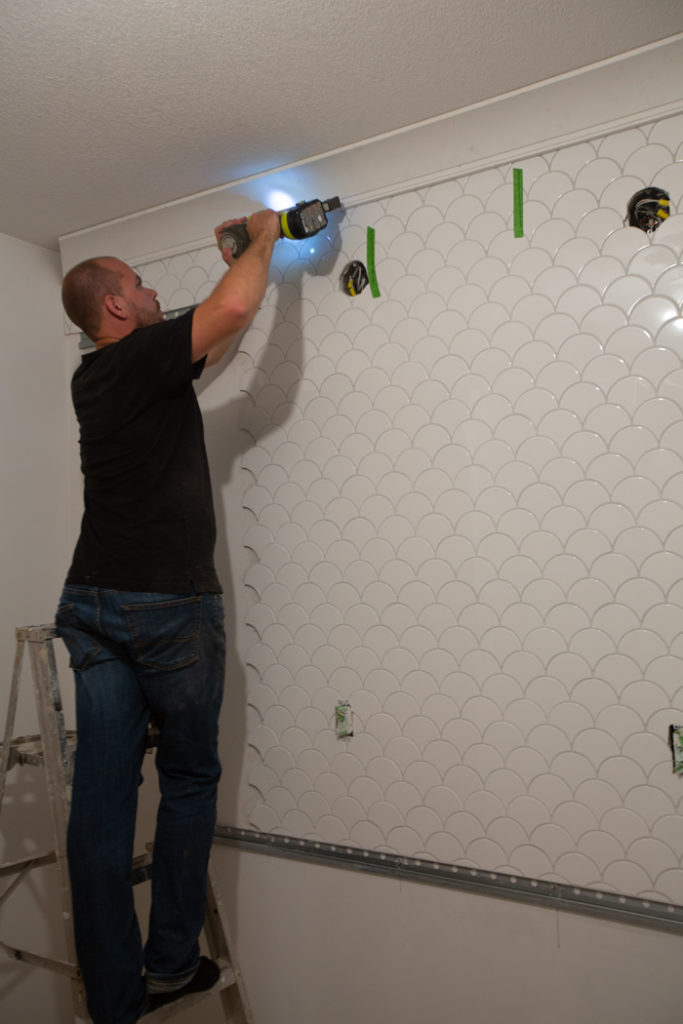 How to Install The Crown Molding
Once your crown molding is cut, there are just a few steps to install it. First do a dry fit to make sure that it fits perfectly and lines up in the corners. When you are ready, use a nail gun to nail the molding in place at the top and bottom of the moldings. There should just be small gaps in the corners, if any, and the moldings should line up evenly at the top and bottom.
You should always use silicone in the corners. Apply it on every corner edge when you're done. Use drywall compound to fill in any holes made by the nails, sand them when they are dry, and paint your moldings after they are up on the wall.
Our Finished Crown Molding
I love our new Home Office (go check it out if you haven't yet!) and I love the way that crown molding makes the space seem "complete".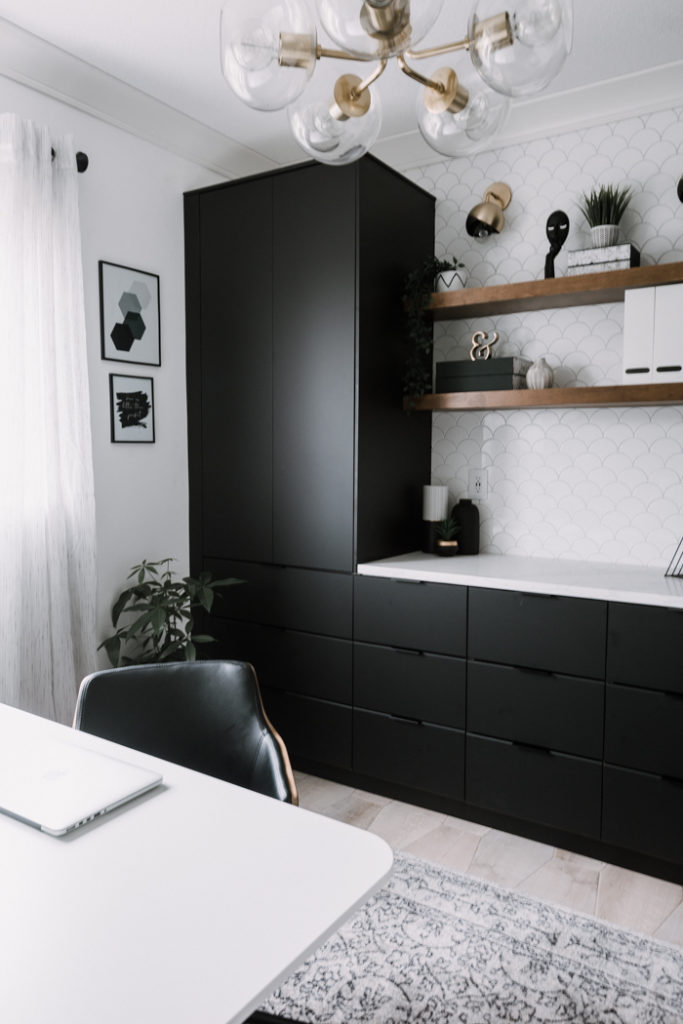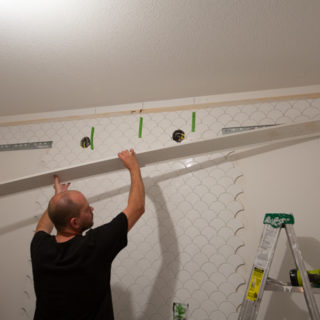 How to Install Crown Molding Over Tile
Easy to follow tips and tricks to learn how to cut and install crown molding for beginners! Including how to put up crown molding over tile!
Materials
Crown Molding
Wood (same thickness as tile)
Silicone
Tools
Mitre Saw
Angle Measuring Tool
Laser Distance Measuring Tool
Instructions
Cut a strip of wood, thinner than your crown moulding, and the same width as your sheets of tile.
Using a piece of crown molding as a reference, nail the board to the wall slightly above the bottom edge of the crown molding. The tile should be able to go slightly under the crown molding, but the wood is still there to be nailed into.
Start tiling directly under the board
Mark the location of your studs (we did this with painters tape)
Cut your mouldings according to the guidelines in the post.
Nail your cut moldings in place by nailing through the molding into your wood board.
Recommended Products
As an Amazon Associate and member of other affiliate programs, I earn from qualifying purchases.
If you're wondering how we did those amazing Walnut Floating Shelves over tile, it's an IKEA HACK! Check it out!