Looking for cozy reading nook ideas? Get inspired by this upstairs loft reading nook with comfy seating, beautiful cabinets and bookshelves!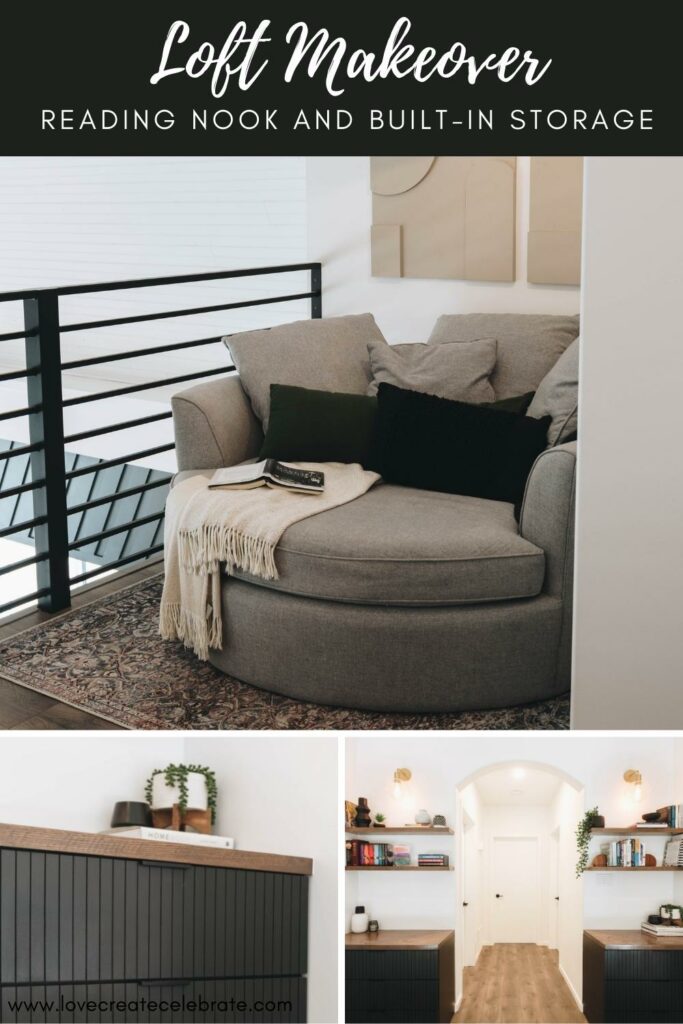 When I need time to relax, there's nothing I love more than reading a book. Finding a corner in my home (& in my bedroom), to create a cozy reading nook has always been a priority of mine. Finding comfy seating that would allow me to cozy up with my kids and read together was a bonus.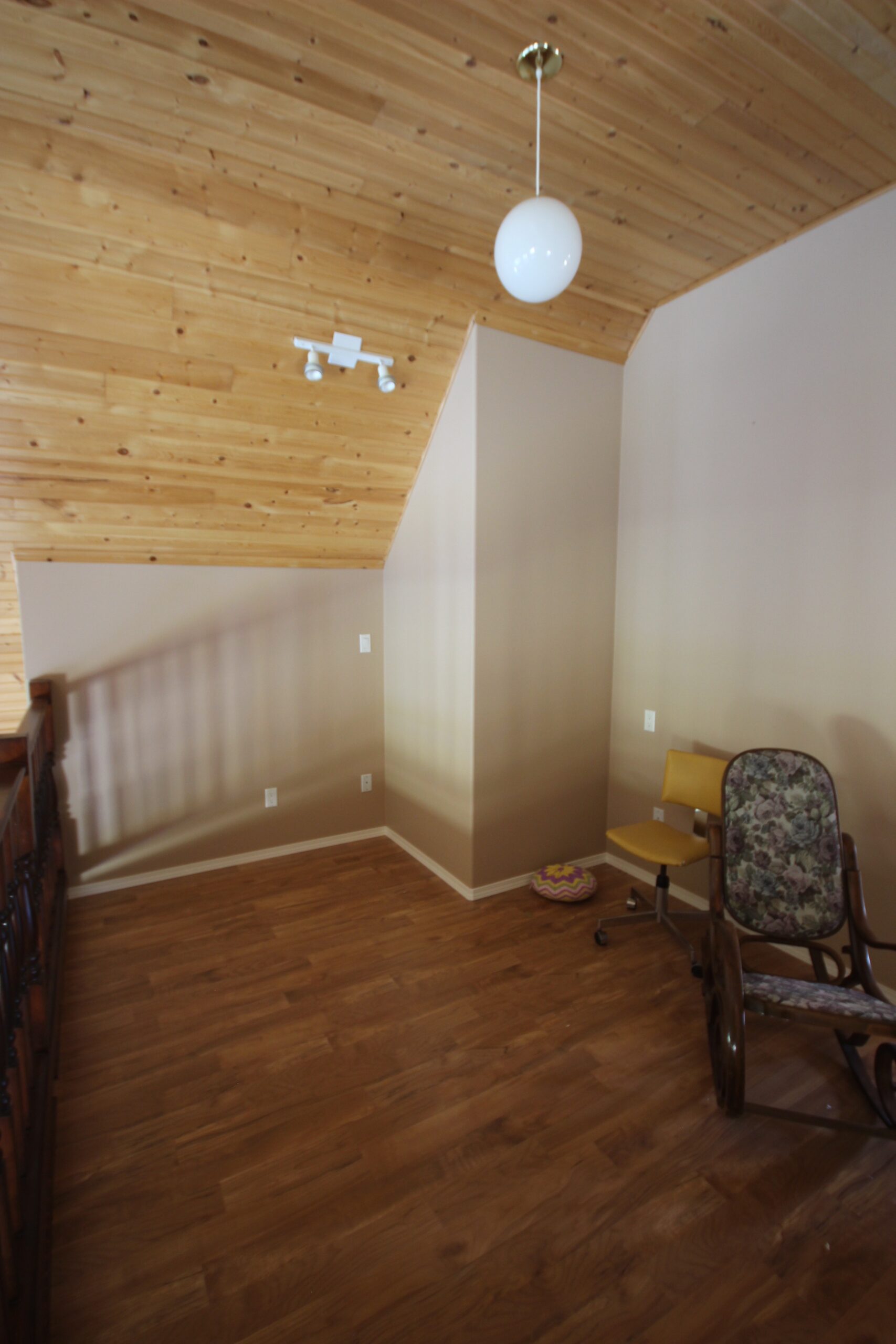 *This post was sponsored by Wagner and may contain affiliate links. When you buy a product through one of our links, we get a commission at no cost to you! Thank you for supporting our blog so that we can continue to bring you posts like these. For more information, please see our disclosure page.*
Key Elements for Our Cozy Reading Nook
The photos above are before photos of our loft space. It's an open space upstairs that overlooks our main living floor living room and dining room.
Our upstairs loft has always been a bit of a conundrum because of the awkward spaces, walls, and corners, but the cozy corner overlooking the main floor was screaming for a little modern reading nook, so we decided to finish the whole loft with this plan in mind.
A few things that we already did to get this space ready were:
Paint everything with a nice white called Bit of Sugar from Behr Paint
Add new flooring everywhere
Reframe the hallway walls – this actually made the loft smaller, but allowed us to have more space for our bathrooms (upstairs shared bath and primary bedroom ensuite on the other side)
Some elements we needed in the space were:
Comfy seating (enough for 2 or 3!)
Bookshelves
Storage (not necessary for the reading nook, but necessary for life, lol)
Cozy reading lighting
Nice overall vibe/atmosphere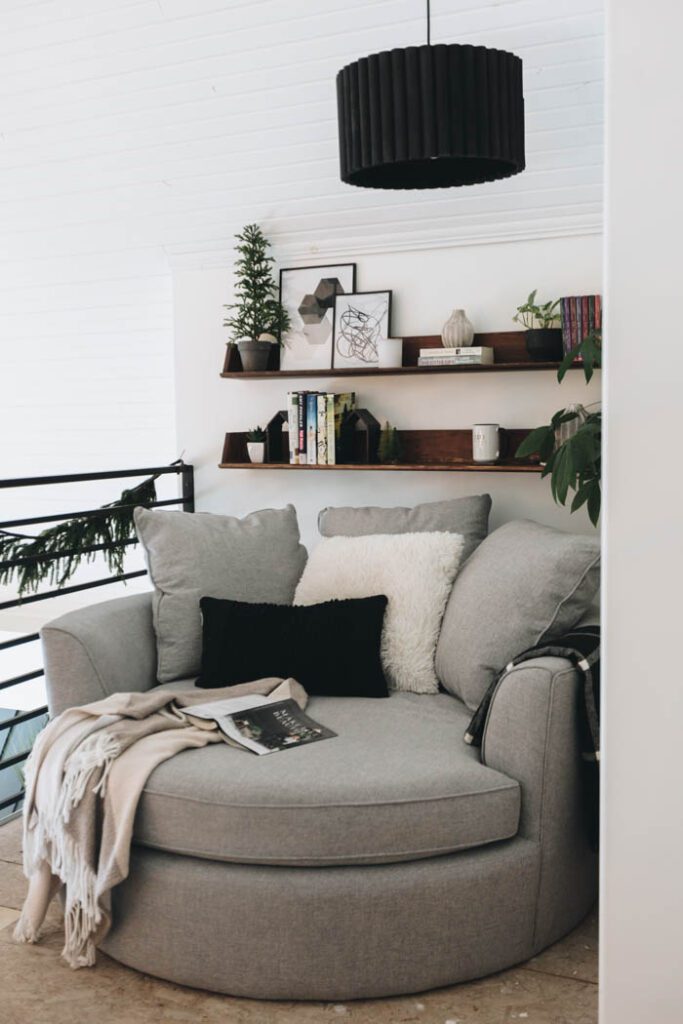 Adding Bookshelves and Storage
Finding a big cozy chair was easy! The hard part was creating functional storage (that looked like it belonged in a reading nook), and adding book shelving of some kind.
Initially I added shelving behind our big cozy chair, but I found that it didn't hold as much as I wanted it to, and it was awkward to reach behind the chair to get anything, so we quickly swapped that out for some DIY textured art and decided to add floating shelves in the hallway instead.
We saved time and money by using IKEA cabinets as the base for our built-in cabinets, and by using some oak slabs we already had to build our own floating shelves.
In the interest of saving time, we also used our Flexio 3500 Paint Sprayer to finish everything! We've used this paint sprayer for so many projects, but it's so versatile and definitely the best paint sprayer for furniture!
A few reasons we love our Flexio 3500 for finishing furniture pieces:
It's much faster than brushing or rolling
The sprayer easily gets into cracks and crevices, which is harder for other painting tools
It creates a smoother finish
It's still easy to clean up your paint sprayer
It sprays primer, paint, stain, and varnish easily!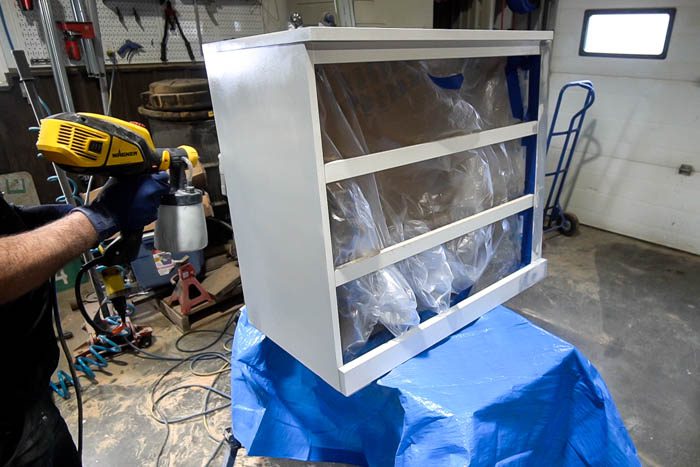 When we did our IKEA Malm cabinet hack, we primed and painted the piece, and used our paint sprayer to finish both.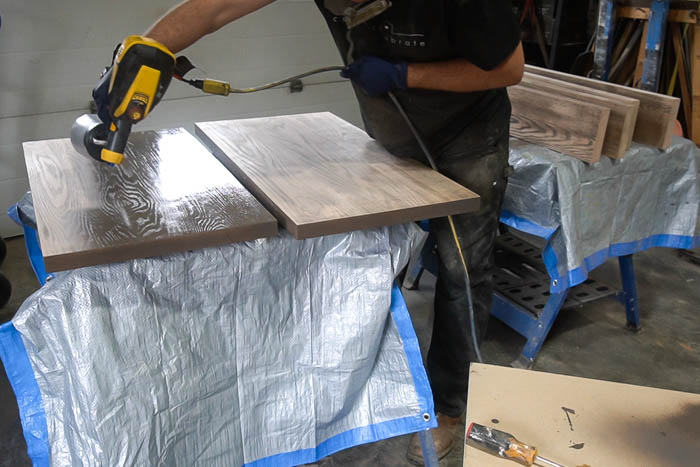 When we built the floating shelves and countertop, we used the sprayer to spray both the stain, and the varnish.
Reading Nook Furniture and Lighting
We found the absolute perfect chair for our reading nook.
Believe it or not, that pendant light is actually a DIY! It's an upcycle for a light shade that I bought at a discount! It was a simple project, but I love how it looks above the big cozy circle chair, and I love how it directs the warm light glow downward.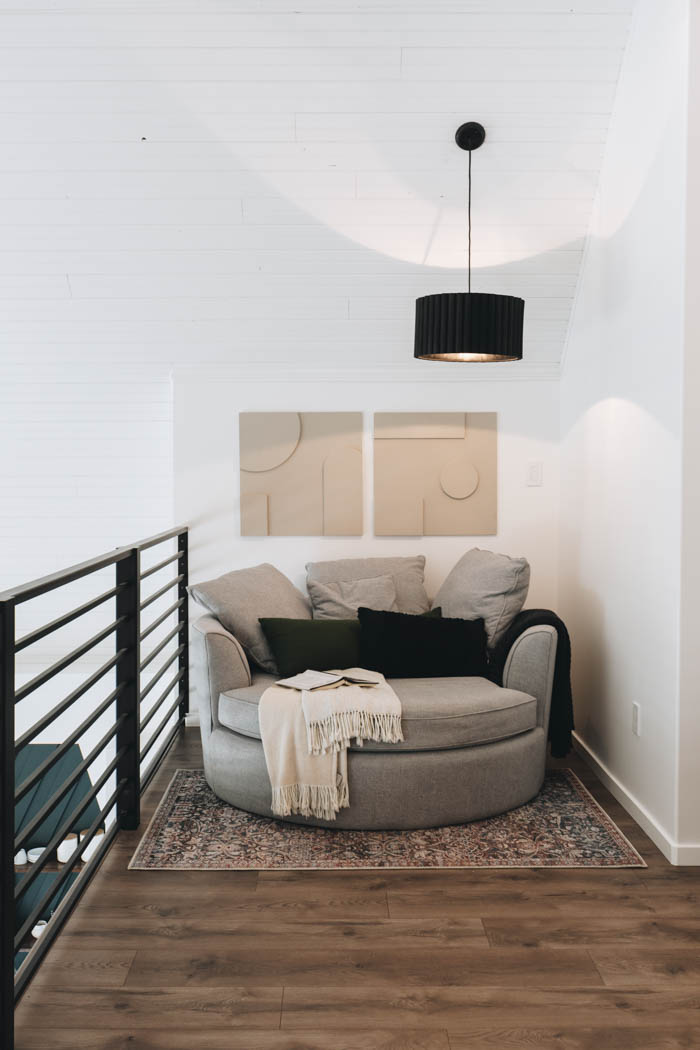 The sconces above the floating shelves were a great addition to the space as well and really helped bring together the cozy vibe of the space.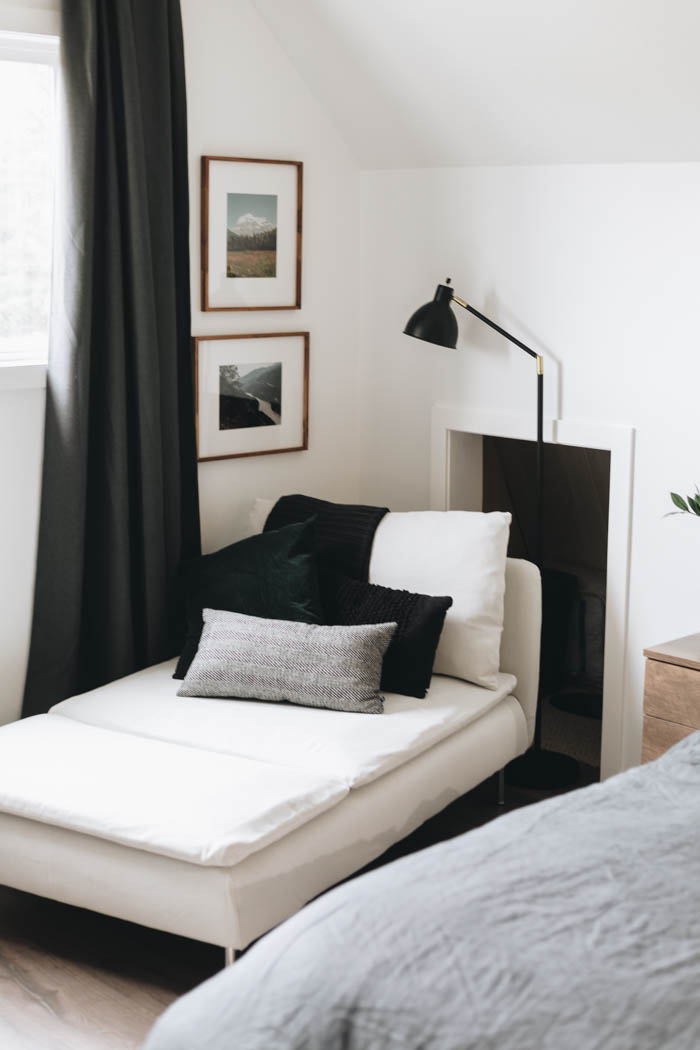 If you're looking for other seating or lighting options, the reading nook in our bedroom has a lounger and a standing lamp instead! This lounger was perfect for our bedroom nook beside the window because it was comfy, but still minimal & modern, and didn't take up too much space.
The standing lamp completed the bedroom reading nook. It was super affordable, and definitely gives enough lighting for a cozy reading spot.
Video Tour of Loft Makeover and Reading Nook
If you want to see our loft take space, including the DIY tutorials, our amazing paint sprayer in action, and a tour of the space, check out the video below:
Don't forget to subscribe to our channel for more budget-friendly makeovers!
Our Finished Reading Nook
We are beyond happy with our finished loft! The cozy chair, the lighting, the DIY cabinets and shelves! It all came together beautifully to create the perfect modern reading nook, and used that loft space in the best, most functional way!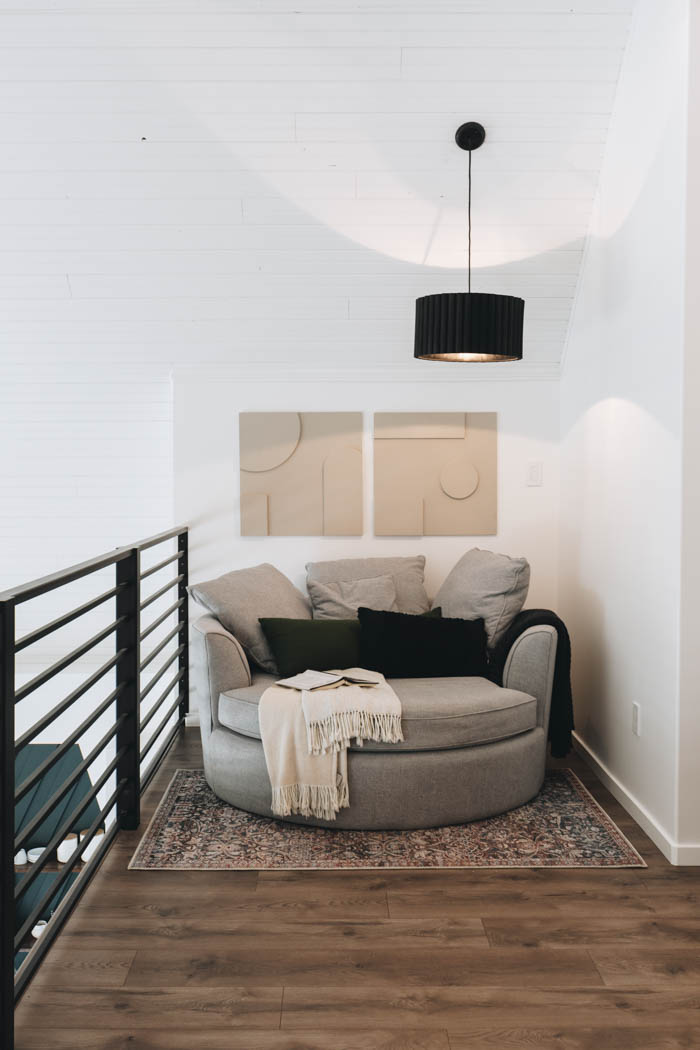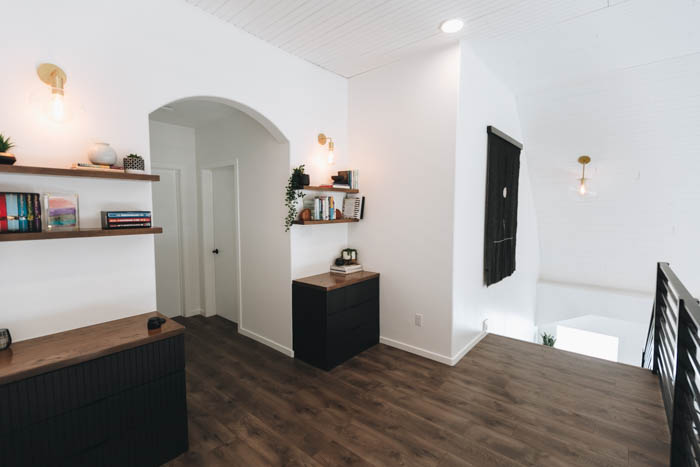 Looking for more reading nook ideas? Here are a ton of amazing DIY shelf ideas that would be perfect for any book collection!