These Triangle Pallet Planters are a great way to add an updated spin to your patio. Check out these free plans to make your own.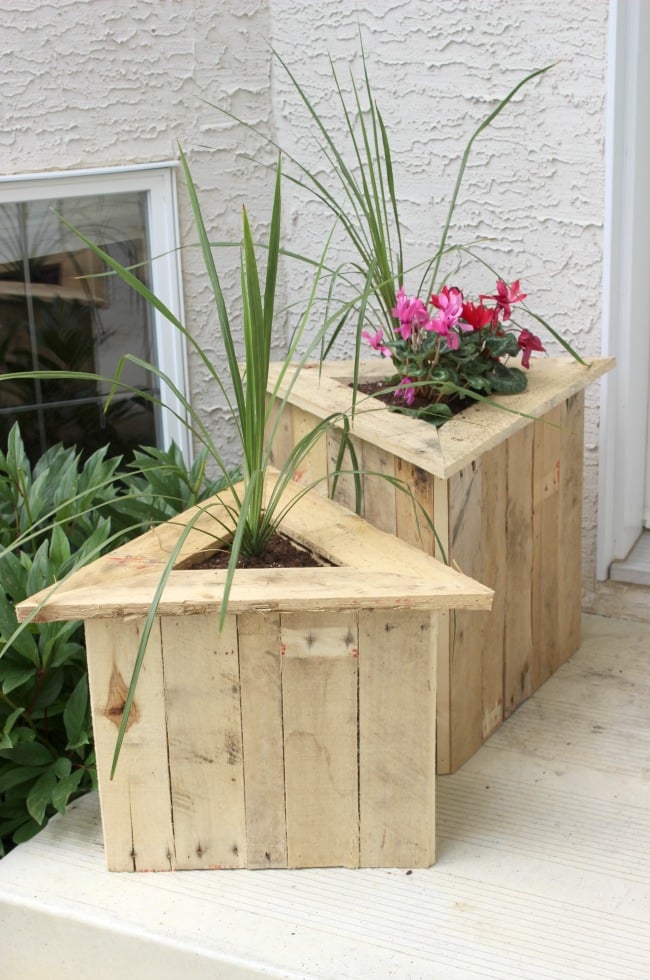 Well first off, it has been a long time since I've shared a build project with you! To jump back in we're making these quick and modern triangle pallet planters. In addition to this project I promise I have a few more great builds in the works and more down below since we all know that one project is never enough!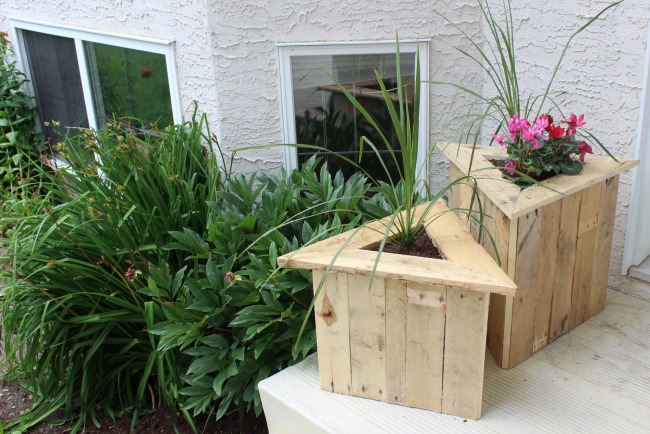 *This post may contain affiliate links. When you buy a product through one of our links, we get a commission at no cost to you! Thank you for supporting our blog so that we can continue to bring you posts like these. For more information, please see our disclosure policy.*
The best part of this project is that you can easily make a pair of these in one evening. They add an amazing and updated look to the front porch or balcony. Just imagine it on this beautiful deck.
Once you finish building these you can fill them with a variety of flowers and/or herbs depending on your preferences. Personally, I love, love, love some greenery in my spaces since it adds some brightness and simply looks good!
How to Make Triangle Pallet Planters
For starters, this project is fairly simple to make, especially if you follow the directions listed below. The one part of that project that may take a bit of time is cutting up the pallet. Once the pieces are cut the assembly will go quickly. Then after you make these for the first time you will enjoy them in your space so much you might even make more!
Materials Needed to Make the Planters
Pallet
2x2x6 board (per planter)
2ft x 2ft piece of 1/4″ thick plywood (per planter)
Sawzall
Mitre Saw
Table Saw
Nail Gun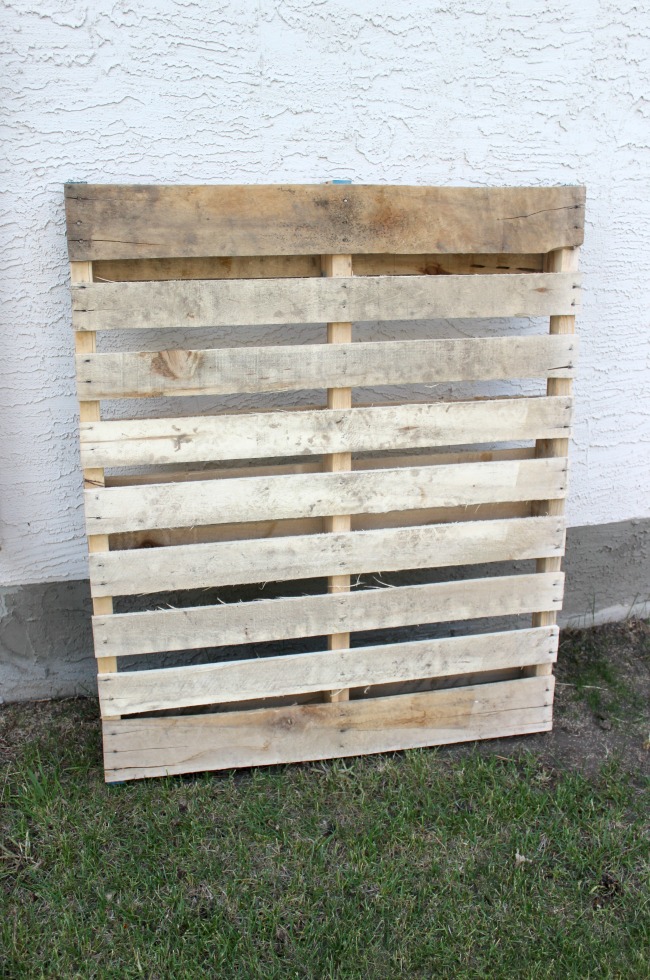 I was able to get my pallets from my brother-in-law who owns his own company and he was kind enough to give us some that he doesn't use anymore. If anyone out there has a great pallet source let me know! I'll take them off your hands and I'll be sure to share some new projects.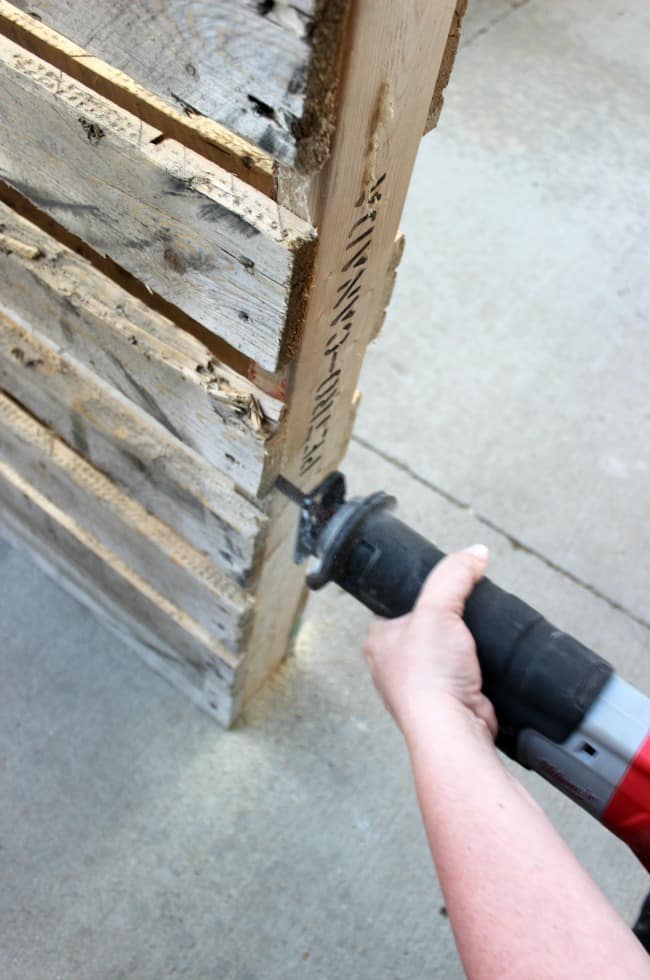 Instructions for Building the Planters:
Start by tearing apart your pallet. The easiest way to do this is to use your sawzall to cut all of the edge connections right through the nails. Next, you will then cut through the middle of the pallet. As my husband always says, "The Sawzall saws what? It saws all!" haha.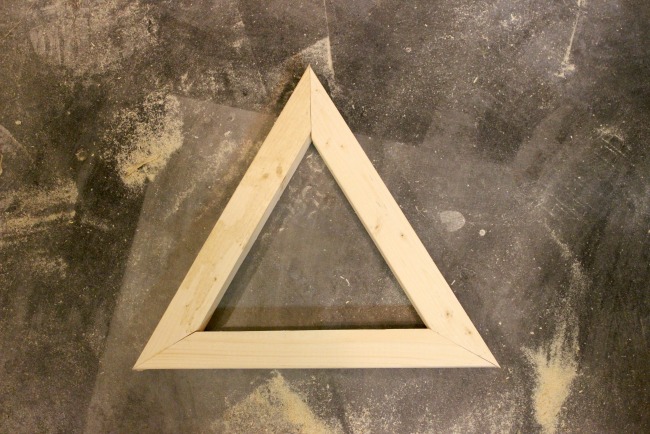 Cut your 2×2″ boards to make your two base triangles. Choose the length you want and measure that as the outside edge. You will then set your mitre saw to a 60 degree and make a 60 degree cut inwards on both sides. Nail those pieces together. Make two of these. For my small planter, my triangles measured 15″ on the outside edge. My large ones were 17″.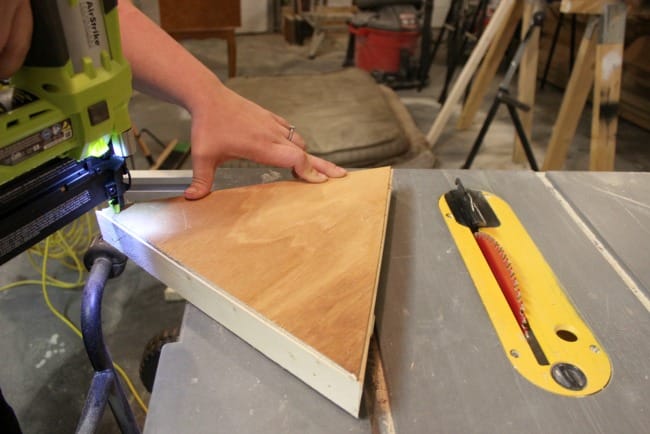 Trace your triangle onto your plywood board, and cut out the shape on the table saw. Nail the plywood triangle to the bottom of one of your triangles, which will be your base.
Next, you will cut up your pallet boards. I cut my boards to 15″ long for the smaller planter, and 17″ long for the larger planter. You'll need a total of 15 boards.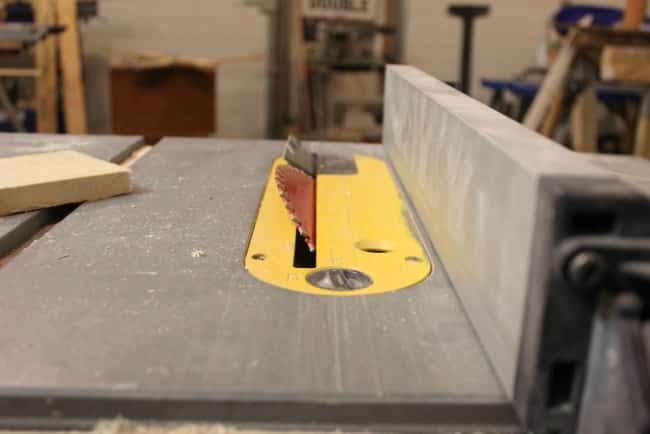 Set your table saw to 45 degrees, and cut one corner off each of the six boards.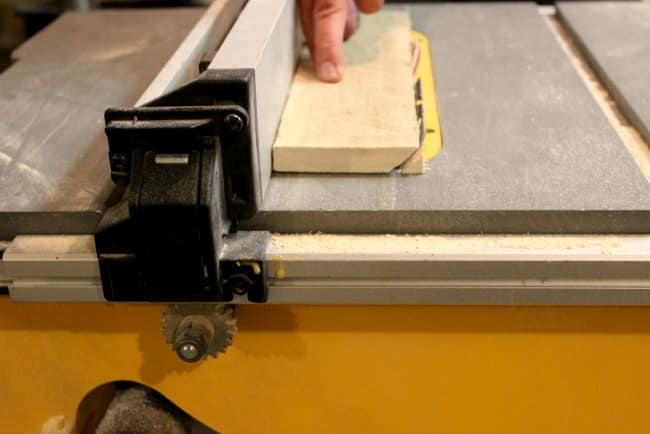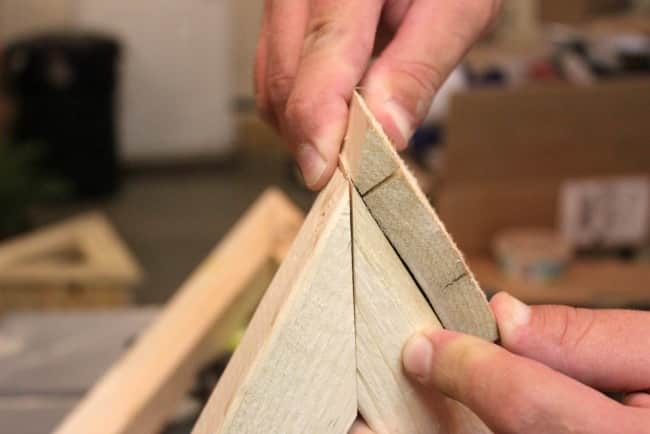 Nail two boards in place at the corner of your triangle. Once completed, you will have one gap at the edge – you will fill this gap with the piece you previously cut (see next picture).
You will use the nail gun to nail down a couple of the boards to fill in the gaps.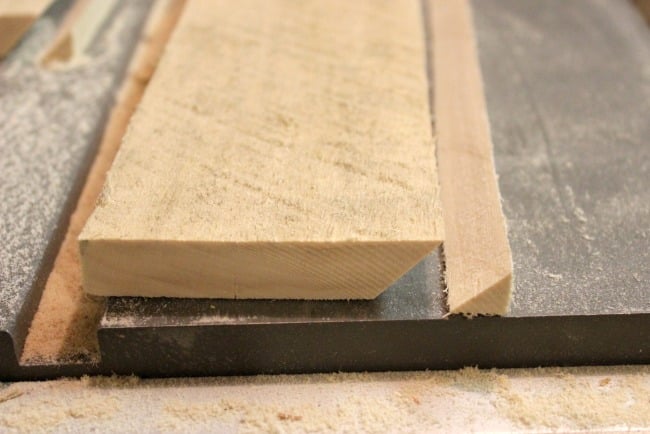 Do this with all three corners.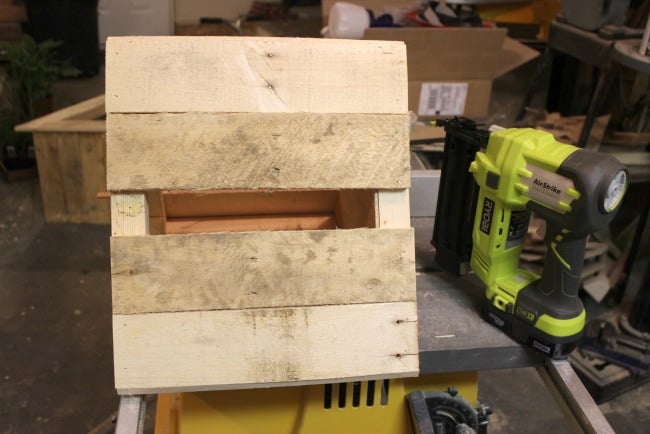 You will be left with a space that you have to measure. Measure that gap and use your table saw to cut a wood piece of the same width. Nail that board in place.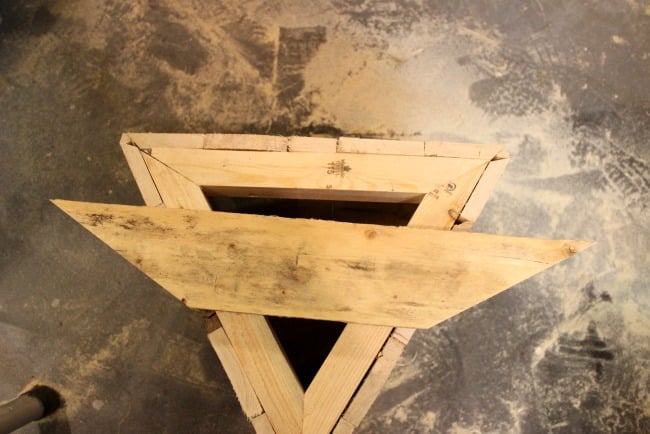 Finally measure the length of the inside edge, mark it, and make a cut at 60 degrees with your saw. Do this three times to make the top of the planter.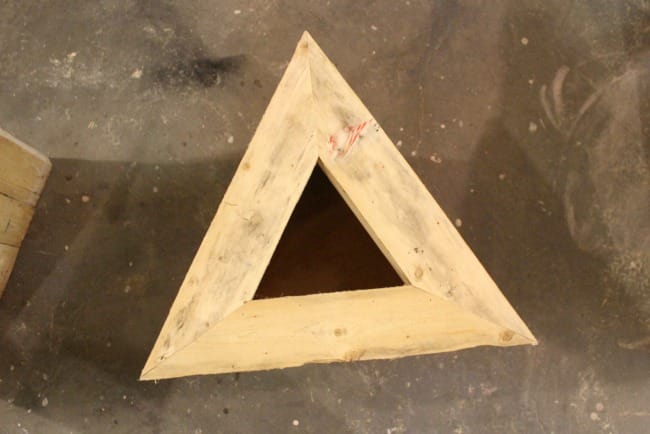 Next, nail the top in place and then you are done building!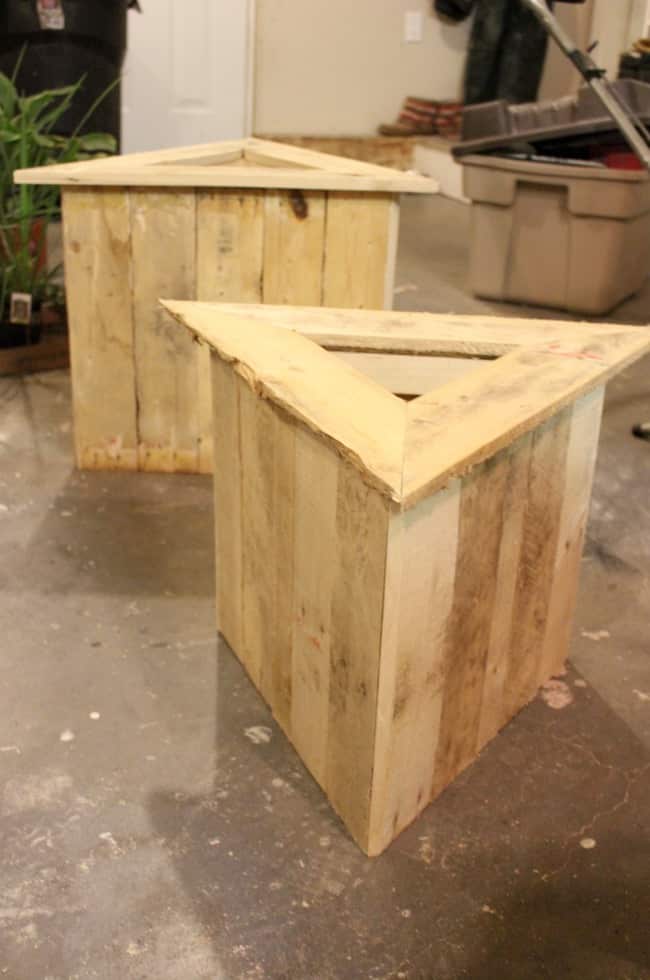 Once you've finished building you can add some soil and plants. Now you can finally place them on your deck to admire :)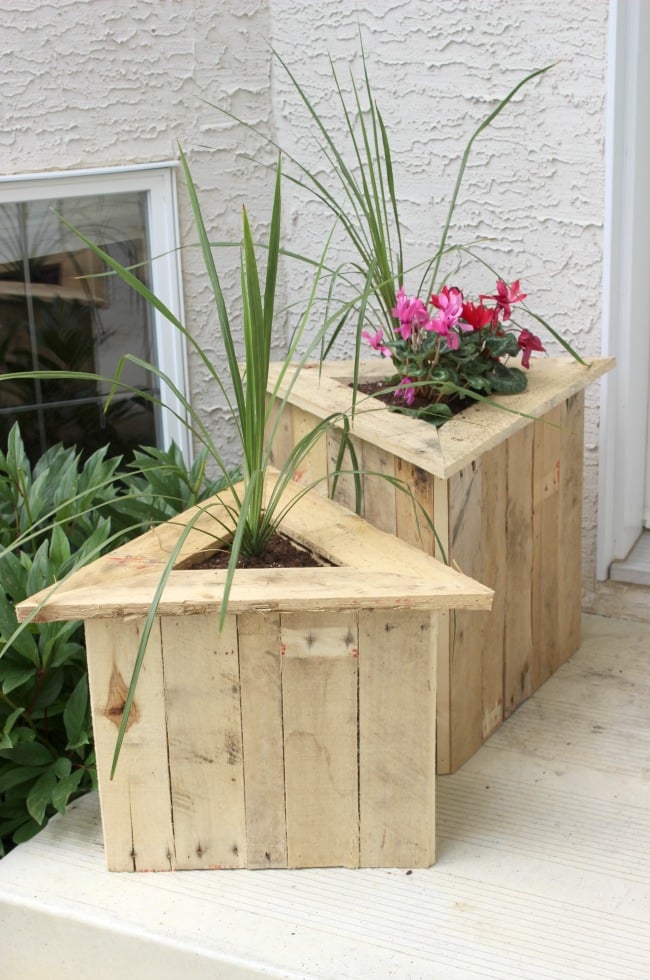 These triangle planters are one of my favourite projects as I love incorporating geometric designs into my builds and designs. They bring so much character and creativity into spaces around my home. Make sure to keep an eye out for new geometric design projects that are coming if you love them as much as I do!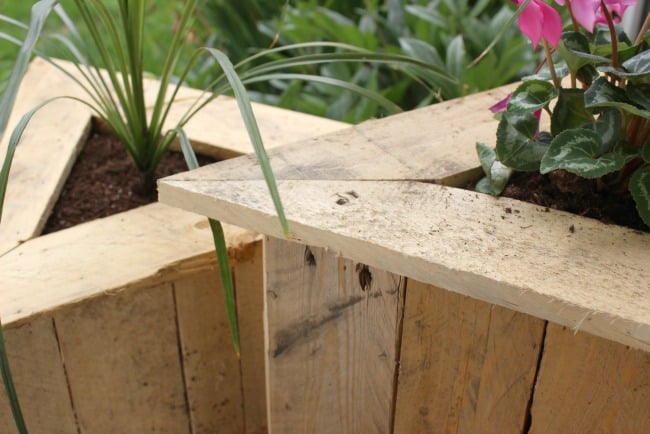 Triangle Pallet Planters
Triangle pallet planters are a great way to add a creative spin to your patio. Check out these free plans to make your own.
Materials
Pallet
2x2x6 board (per planter)
2ft x 2ft piece of 1/4" thick plywood (per planter)
Tools
Sawzall
Table saw
Miter saw
Nail gun
Instructions
Tear apart pallet with Sawzall
Use Sawzall to cut pallet down the middle
Cut 2"x2" boards to assemble the triangle base
Set miter saw to 60 degrees and cut inwards on both sides
Nail cut pieces of triangle base together
Trace triangle base on plywood piece and cut out shape
Nail plywood to base
Cut the pallet boards
Set table saw to 45 degrees and cut one corner off each of the six boards
Nail two boards in place at the corner of triangle
Fill gaps with boards previously cut
Measure remaining gap and cut wood of same width and nail in place
Measure inside edge, mark it, and cut at 60 degrees with saw three times for top of planter
Nail top in place
Fill with soil and plants
But that's not all, if you're looking for more great planters, check out the ideas below!
If you have limited balcony space but still want to enjoy having beautiful planters be sure to check out this quick Hanging Wall Planter tutorial. This project is made only with dollar store supplies!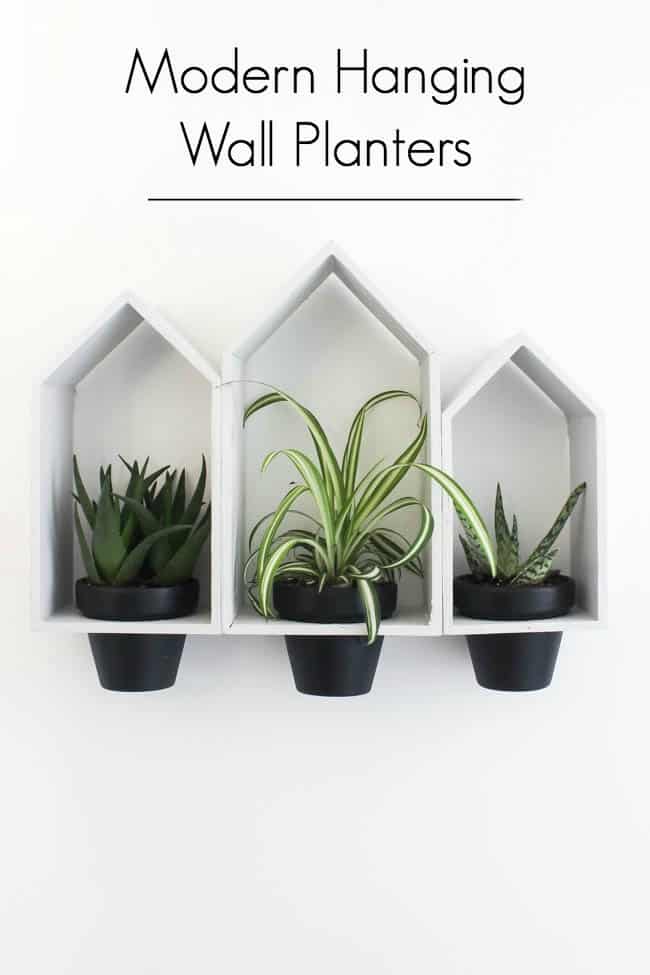 And if you're still up for making more planters, you're in luck! Head on over to Pretty Handy Girl to take a look at her amazing Mini Planters.