Looking for an adorable ornament idea? These DIY mini deer pallet ornaments are so cute and come together so easily. You'll love how they turn out.
If you're a regular blog reader here, than you already know that I love using my Cricut Explore. I love it so much in fact, that I've teamed up with 12 amazing Canadian bloggers to show you just what a Cricut Explore can do! We have made 12 festive ornaments using our Cricut. I can't wait for you to see what everyone is up to, including these DIY reindeer ornaments that I created.
*Some of the materials in this post were provided by Cricut and Beacon Adhesives. This post may also contain affiliate links. For more information, please read my disclosure policy*
DIY ornaments are the easiest way to personalize your holiday decor. I've made so many ornaments over the years. At least one a year without question.
As my tastes and styles have evolved or changed, I've also seen the styles and colours in my ornaments evolve. I loved the idea of making some little rustic ornaments this year, and since pallet signs are so popular, I thought I'd try my hand at a miniature version.
How to Make Reindeer Pallet Ornaments
I used leather for the deer head in this project—mostly because I really wanted to cut leather on my machine! But, you can use vinyl, or felt, or any material you like.
Since I've made these, I've also seen others recreate them simply by drawing a deer in place, or my tracing an image they saw online.
Materials I Used for the Reindeer Ornaments:
White Leather
Thick Popsicle Sticks (dollar store)
Scissors
Wood Stain
Jute String
Instructions for Making Your Own DIY Reindeer Ornaments
When you cut leather on your Cricut Explore Air 2, you may need a deep cutting blade. My leather wasn't terribly thick, so the regular blade did the trick.
If you have the new Cricut Maker, then your machine will already be able to cut thick leather with the knife blade! There's no need to add transfer tape or do any of these instructions below.
If you are using an older Cricut, there are two reasons for using transfer tape on the back of the leather: It keeps the leather firm and it protects your Cricut cutting mats from the fibrous material. (You want your mat to last as long as possible!) It does a perfect job of cutting the miniature deer ornament!
First, cut the transfer tape so that it covers the piece of leather you are cutting. If you know that you are only using a small portion of the leather, don't waste as much transfer tape as I did! Cut it down to size first.
I did two versions of these deer, because I wasn't sure which one I liked better. The ones pictured in this post are the smaller deer heads in the photo. You can access my design HERE, when you sign in to your Cricut Design Space.
Next, set the dial on your Cricut to "custom," and then select "Leather – 2mm" from the options menu.
Your Cricut will automatically do 3 or 4 cuts, and the deer should come out perfectly!
Next, grab those popsicles and cut them for the mini pallet. The four across were 3.5″ each, and the top and bottom pieces were just over 3″ each.
Once they are cut, you can use wood stain to stain the popsicle sticks if you want to. I chose to use a dark walnut stain, because I love the contrast of the dark stains against the white leather.
If you are using a different material for the reindeer, you can also switch the stain colour, or paint the "pallets", or leave them in their natural popsicle stick colour!
When it comes to glues, I can be very picky! (Does that make me sound like a snobby DIYer?! lol.) I just don't like glue guns leaving strings and globs, and not letting my projects sit flat. Power-Tac was the perfect glue for the job!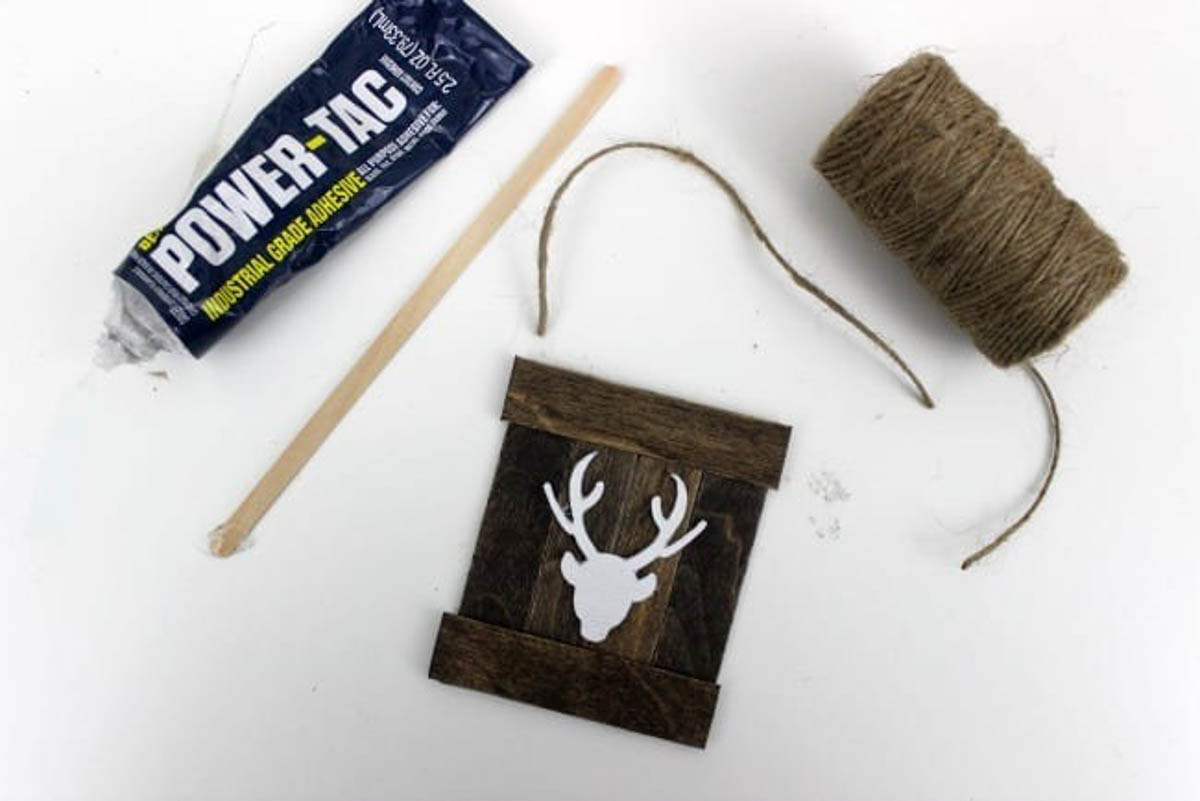 I used the Power-Tac glue to attach the pallet popsicles, and the jute string to the back. It holds so well, I won't have to worry about it breaking anytime soon!
What do you think of my little rustic ornaments?! I've already seen so many people recreate these little reindeer ornaments and I love seeing every version!
Different colours, materials, and images, but the little popsticle pallets remain the same. I love the idea of mass producing these guys in a classroom or to give as present toppers.
There is nothing more special than receiving a personalized gift over the holidays, and I know that these little reindeer ornaments would be sure to impress anyone who received one!
If you love this DIY, you might love these Wooden Tree Ornaments too!
If you liked this miniature deer ornament, don't forget to check out the other great Christmas Cricut Ornaments from my Canadian blogging friends!
More DIY Christmas Ornament Ideas
From top left, they are:
Christmas Garland from The Learner Observer
3D Christmas Tree from Woman in Real Life
Star Ornament from The Inspired Home
Penguin Ornament from A Boy and His Mom
Handlettered Ornaments from Teacups and Things
Paper House Christmas Ornament from Fresh Crush
Easy Christmas Ornaments from Sparkle Shiny Love
3D Snowflake Ornament from Brooklyn Berry Designs
Mini Deer Pallet Ornament from Love Create Celebrate
3D Gingham Trees from Rambling Renovators
Glitter Monogram Snow Globe Ornaments from Bawlers and Crawlers
Paper Geometric Christmas Ornaments from Life is a Party
Atomic Starburst Ornaments from PMQ for Two
If you love rustic ideas, don't forget to check out my easy DIY rustic advent calendar!
If you like simple, rustic ornaments, here's another great one I did with my Cricut Explore!