Build this DIY Kids Indoor Playhouse in no time! This simple, modern playhouse is perfect for the bedroom, playroom, basement or reading nook.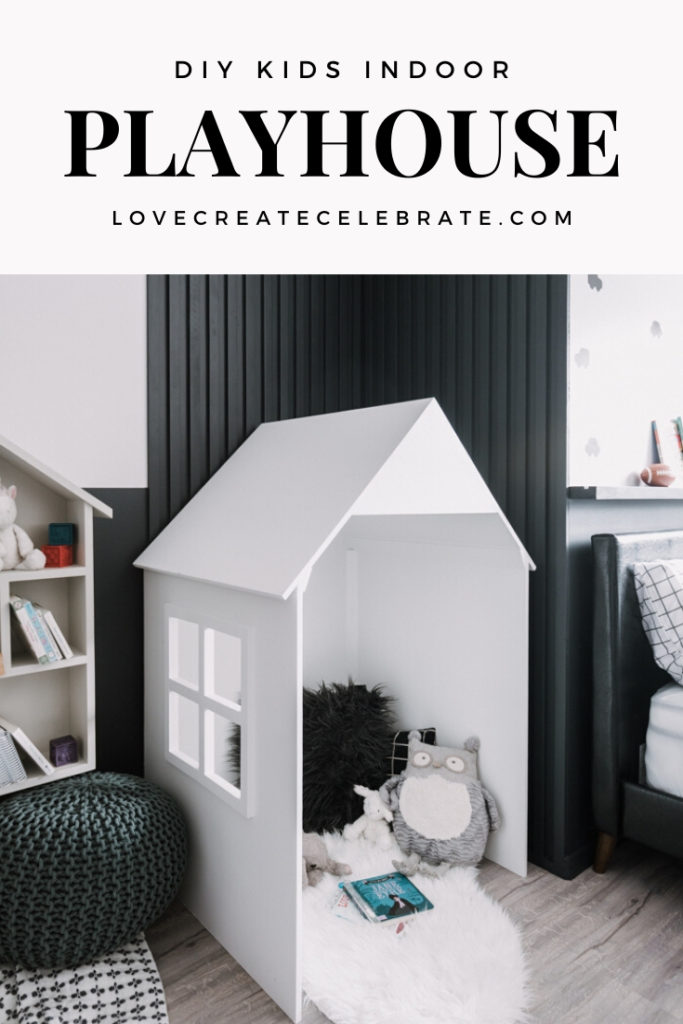 When I was a kid, I dreamed of having a playhouse. Spoiler alert: I never got one. My brother and I would build giant cardboard houses, and forts under the stairs. We would be devastated when someone knocked it down or broke it. I will never, ever stop giving my kiddos cardboard boxes to play with, but I also wanted to give them a fun place to play and hide that couldn't be destroyed. We built this DIY Kids Indoor Playhouse in just two days and our kids LOVE it!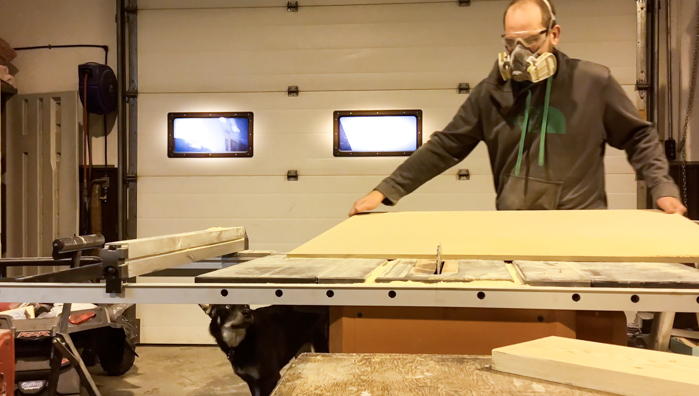 *This post was sponsored by DAP Canada and may contain affiliate links. Thank you for supporting our blog so that we can continue to bring you posts like these. For more information, please see our disclosure page.*
Have you seen a little kids tent in someone's home? They are so popular, and there are a ton of really beautiful ones out there now! Since I'm a DIYer, I thought I would try my hand at one. I spent an entire afternoon sewing one just to realize that all of my measurements were off and it was a complete flop! lol. #pinterestfail
After that, I realized that maybe I should revamp my idea to something that suited our skill set a bit more…. so Russ and I decided to build a little playhouse for the kids. Someone that they could play and read. And something that looked cool and modern to us!
This little playhouse was born, and was such a fun project to build and secretly reveal to the kids!
How to Build a DIY Indoor Playhouse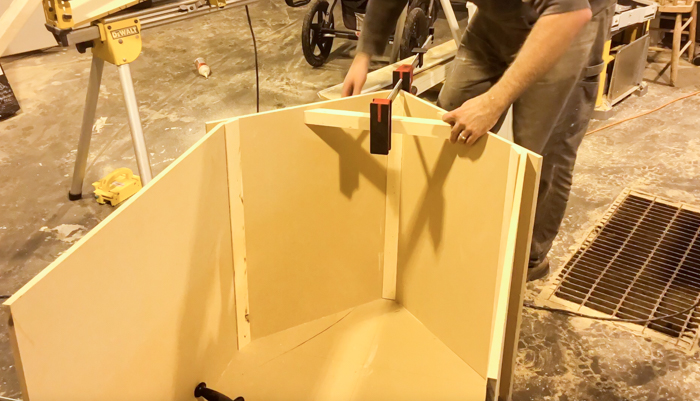 The build plans for these houses are available for free below and all of the instructions are available below in the printable box!
Overall the project was super easy to do. We just cut the MDF boards down to size following the build plans, attached them, and then cut and added all of the reinforcement pieces to the corners and joints.
We also cut a window out of the side, which is totally optional. You can add one and switch it to the other side depending on your room, or add one to all three sides if you want!
Some of the tools that we couldn't have completed this project without are the DAP® WOODPRO® All Purpose Latex Wood Filler, the Fast Dry White Acrylic Latex Plus Silicone Caulk, and the DAP PRO Caulk® 8 Piece Caulking Tool Kit.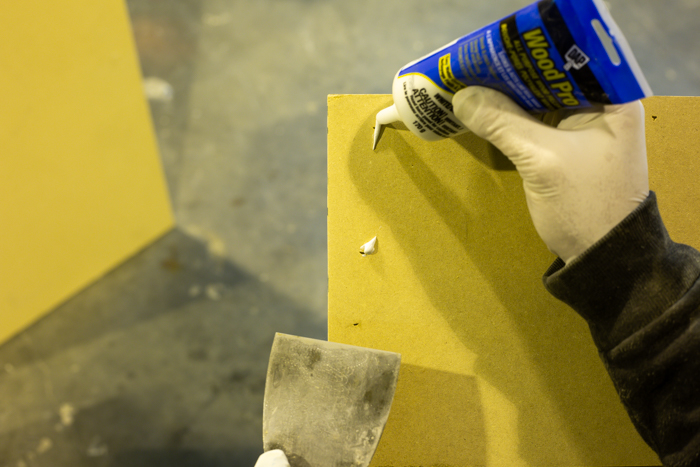 Once the house was built and assembled, we used the WoodPro wood filler to fill all of the nail holes in the MDF. We just dabbed a bit on, spread it with the putty knife, and let it dry. When it was dry, we sanded it down so that we were ready to paint.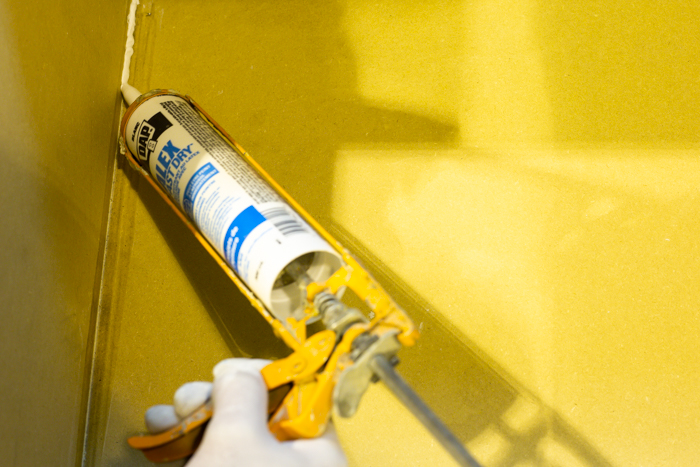 We also used the caulking in all of the edges and corners. The caulking fills all of the small imperfections and gaps, and gives everything a nice crisp look, improving the overall finish of the build.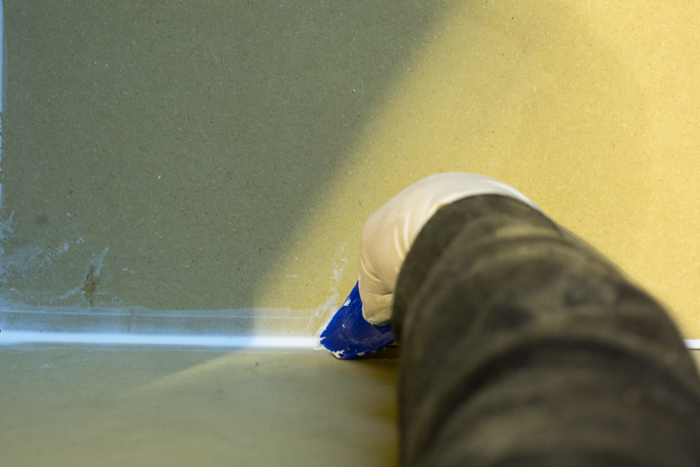 And if you have one, these little sealing tools for caulking, you'll be so glad! Save your fingers and start using one of these to scrap an even line of caulking across your corners from now on! It made for a perfect finish!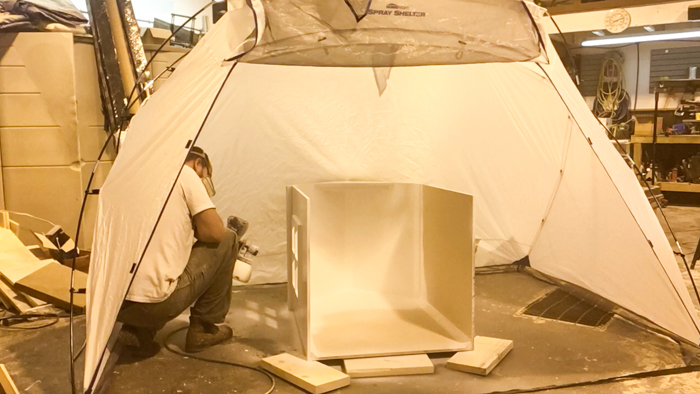 When you're done, paint the entire playhouse any colour you like. We used our paint sprayer and spray tent to paint it quickly, but you can definitely roll it or brush it if you wish.
Our Finished Playhouse
I could not be happier with this project! In retrospect, this build feels so much more like "us", than the tent project did!
The design is cute, clean, and modern, and the kids LOVE playing in it and peeking through the window at one another!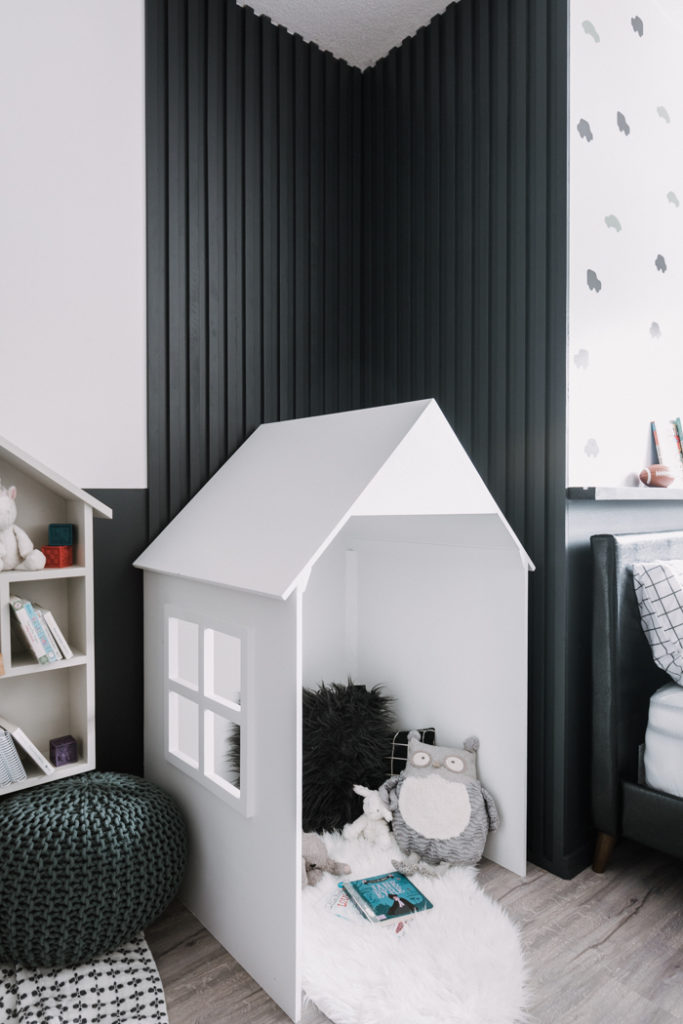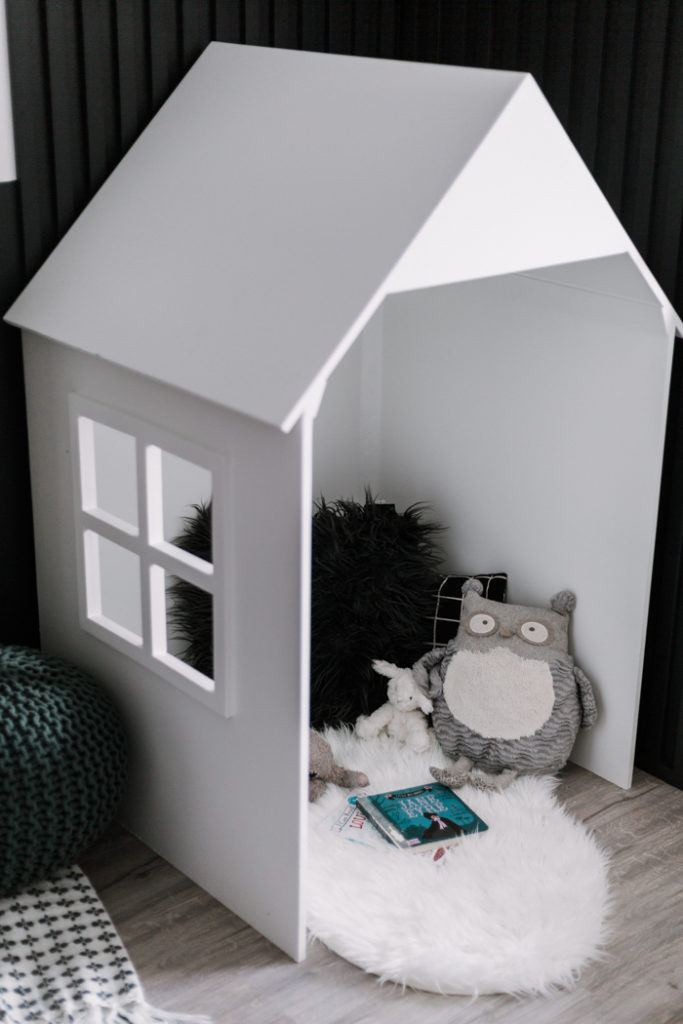 I tried to take a few candid shots of the kids while they were playing in it too! It's so cute to see them all snuggled in there together!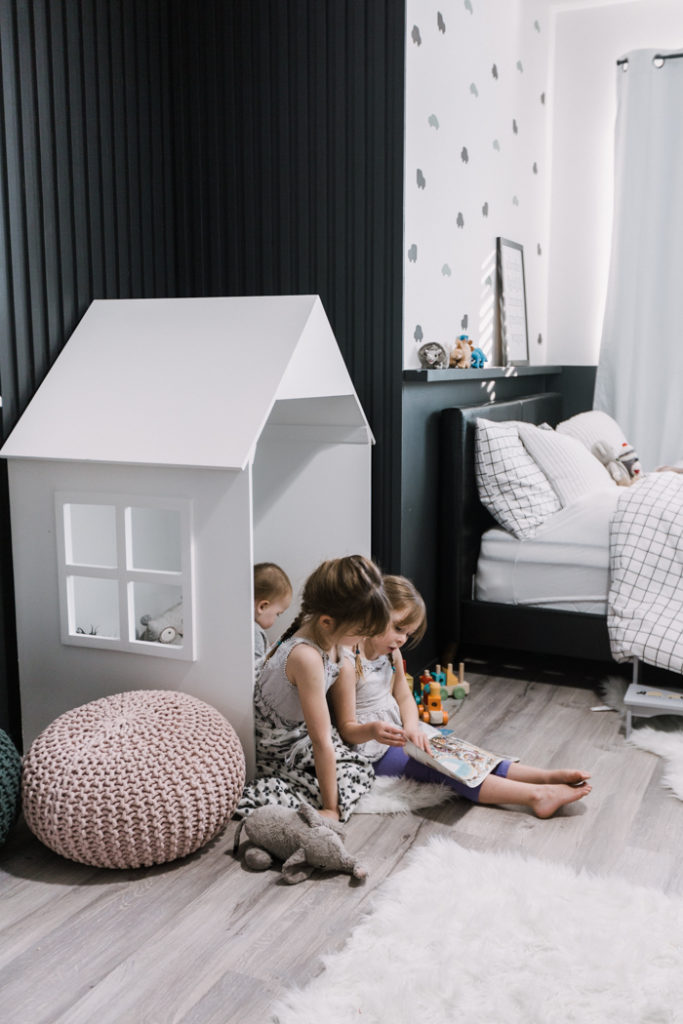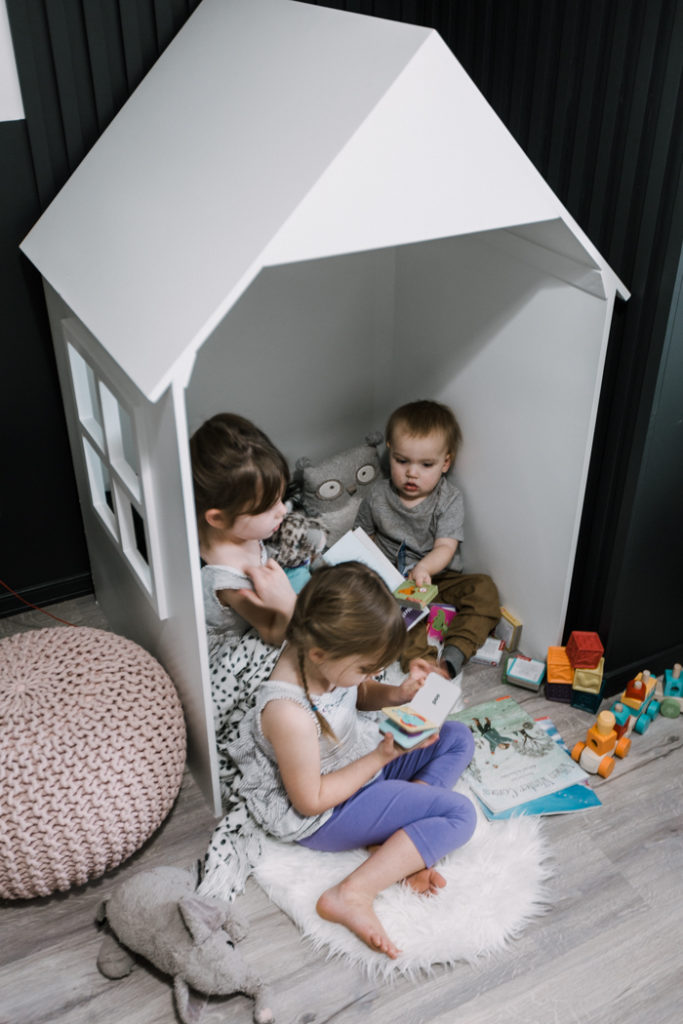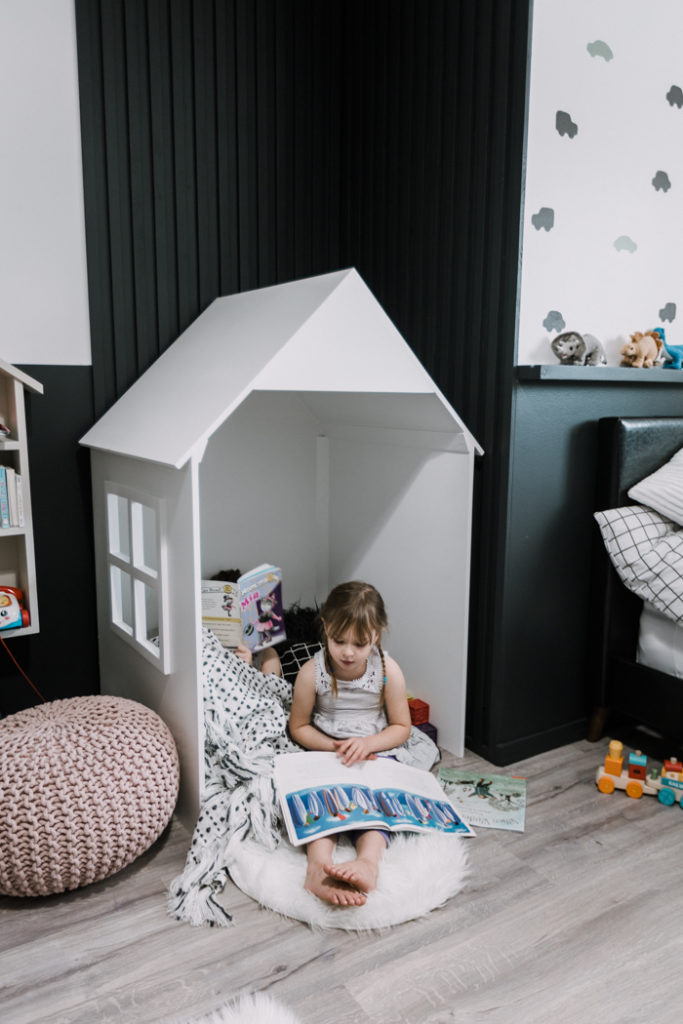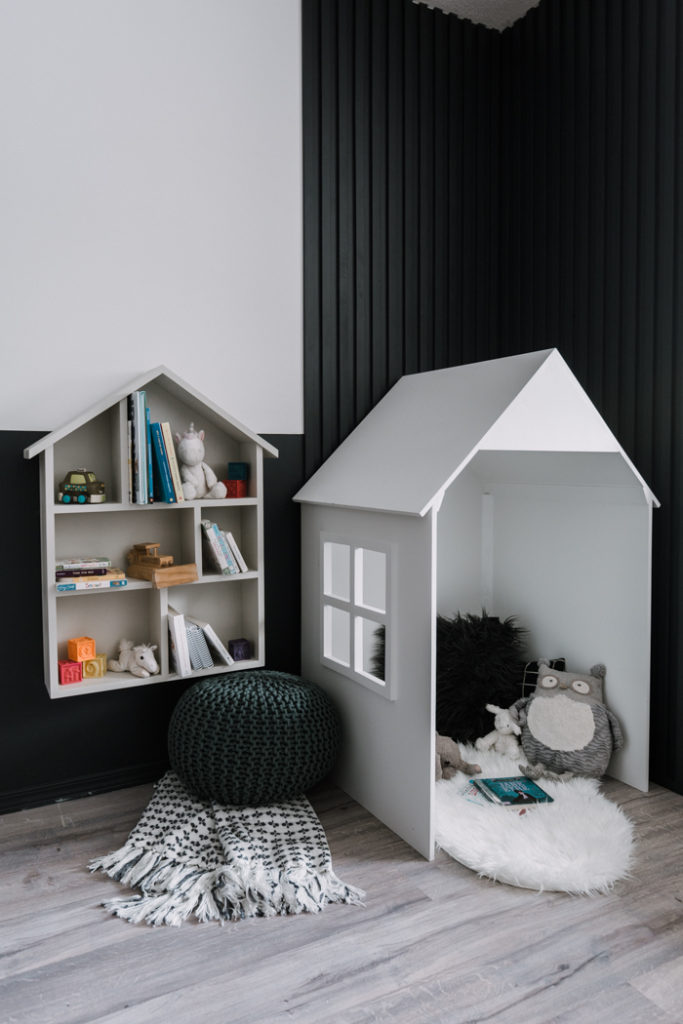 Kids Indoor Playhouse Build Plans
Our kids are loving their new playhouse! We really wanted to share the plans before the holiday season, so that anyone who wanted to build this little playhouse as a Christmas gift could!
The build plans are free for anyone that joins are e-mail list! The plans will be available to download immediately.
Enjoy!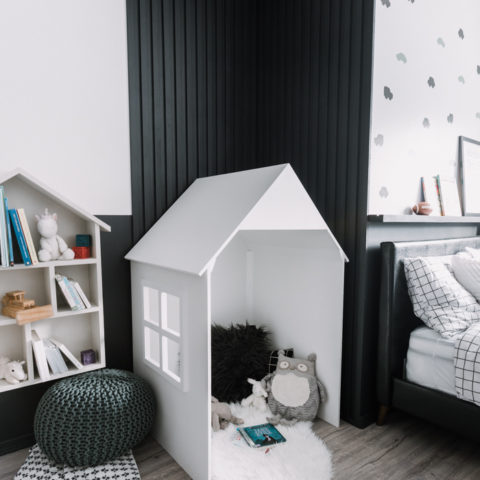 Kids Indoor Playhouse
Yield:
Kids Indoor Play House
Build this DIY Kids Indoor Playhouse in no time! This simple, modern playhouse is perfect for the bedroom, playroom, basement or reading nook.
Materials
Two sheets of 4'x8' MDF x 1/2" thick
Two 2'x4' x 8'
DAP WoodPro Latex Wood Filler
DAP Alex Fast Dry White Acrylic Latex Plus Silicone Caulk
DAP PRO Caulk® 8 Piece Caulking Tool Kit
DAP Weldwood Original Wood Glue
Primer
Paint
Tools
Table Saw
Feather Board (optional)
Mitre Saw
Drill
Brad Nailer
Jig Saw
Sander
Putty Knife
Paint sprayer or brush and roller
Paint Spray Booth(Optional)
Instructions
Cut down your MDF sheets into the pieces shown in the build plans. Note that some of the pieces have a 45 degree angle cut into them - see drawings for details.
Begin Assembly with two sides (Parts D) and back (Part E). Using clamps (or a helper if you have access to another set of hands) hold the pieces together. Part E will sit in between Parts D. Glue and brad nail the edges together.
With the sides (Part D) and back (Part E) in place you can now place the roof panels (part C) on the top. Glue all the edges and nail into place.
With the frame built you can begin reinforcing the joints/edges with Parts A, B, and G. Cut Part G from a 2x4 and install near the peak of the roof as per the drawings. Holding it level and screw into place. You will need to set it back 1/2" to allow for Part F to sit flush with the roof edges.
Cut Part A and B from a 2x4 using your table saw. For Part A you will cut the two 22.5 degree angles first, then cut it down to width. You may want to use a feather board to help hold the piece against the fence. You can use this same procedure to cut Part B, but will cut to 45 degree angles on the one face instead of the 22.5 degree angle.
Cut the Parts B to length and install in the both corners where Parts D and E meet. I used glue and brad nails to secure.
Cut Parts A to length and install at the edge where Parts D and C meet. I used glue and brad nails to secure.
Take Part F and glue the edges, and nail into place near the Peak as shown in the drawings.
(OPTIONAL) We installed a window on the one side of Part D, you can install a window on one side, both sides, all sides, or none depending on how you want your final house to look. The process would be the same for each window. To cut/install a window locate and draw out the 4 holes in the side(s) you wish to have a window in. I use a drill bit the same diameter as my jig saw blade to drill out the 4 corers of each window hole (16 holes in total). The inside "cross" is 1" thick (TYP). Once you have the holes drilled you can use a Jig Saw to cut out the four holes. Once the holes are cut I used some of the scrap MDF left over and cut 1" wide strips. I used these strips to blockout/trim the window frame. These were glued and nailed into place.
Let glue dry (follow the recommend cure time)
Fill all the nail holes with DAP WoodPro Latex Wood Filler and a Putty Knife. Let wood filler dry and sand areas smooth. you can also use the wood filler to fill in the areas on the window frame to make it look like one piece (no visible joints).
Using DAP ALEX FAST DRY™ Acrylic Latex Caulk Plus Silicone place caulking along all the edges, joints, and any areas where you may need to fill in gaps. Use the radius sealing tool from DAP PRO Caulk® 8 Piece Caulking Tool Kit to smooth all the caulk. We used the Standard radius (round) end but you can use any of the corner profiles you think looks best for your project
Once the caulking is dry give the house a light sand and prep it for primer. I always recommend using a primer first when building with MDF. The paint and primer all in one products I have used in the past just don't seem to cover as nice. Priming first all gives you a chance to fix any defects that show up once you prime and before you apply the final top coat.Using a paint sprayer and booth really speeds up the painting process and gives a great final look. The booth helps control over spray and works great for a project like this.
Once the primer is dry you can paint the house. Once the paint is dry move it into your kids room and let them enjoy for hours of fun!
Notes
Before building, double check the door opening of the room you want this house to go in. Our kids room door opening was 30" wide so we designed the house to fit through that (it is 29" wide). But door opening can vary from 24" to 36" so you may want to check the doors you need to move through first to ensure you can place it in your home.
Download free build plans at Lovecreatecelebrate.com
Recommended Products
As an Amazon Associate and member of other affiliate programs, I earn from qualifying purchases.
If you haven't seen how we transformed this bedroom in just THREE DAYS, then you need to check out our latest WEEKEND MAKEOVER!
You can also see the kids reactions to their new bedroom and new playhouse in a video!